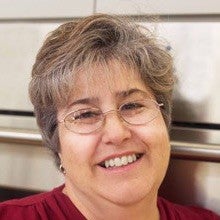 About MaryJane Robbins
Employee-owner from 2005-2022
MaryJane, affectionately known as MJ here at King Arthur Baking Company, grew up in Massachusetts before moving to Vermont in 1990. Prior to this she taught pre-school and kindergarten in the Upper Valley area for 15 years. Drawing on those skills, MJ joined our Baker's Hotline and teaching staff at our Baking School in 2007. Teaching beginner bread classes blended her two passions perfectly, while teaching children's classes was a natural fit.  
In 2009, MJ joined the blog team, writing over 150 posts on creative cookies, cakes, and all things Halloween; she also became our catalog cookie decorator for the next several years. During this time MJ created many recipes: Her crowning achievement has been watching the phenomenal popularity of King Arthur's Caribbean Rum Cake ("my baby," as she calls it).  
MJ currently works from home on our Hotline supported by David, her husband of 30 years, cats Stormy and Tessa, and family and friends.   
Posts by MaryJane Robbins
Recipes by MaryJane Robbins