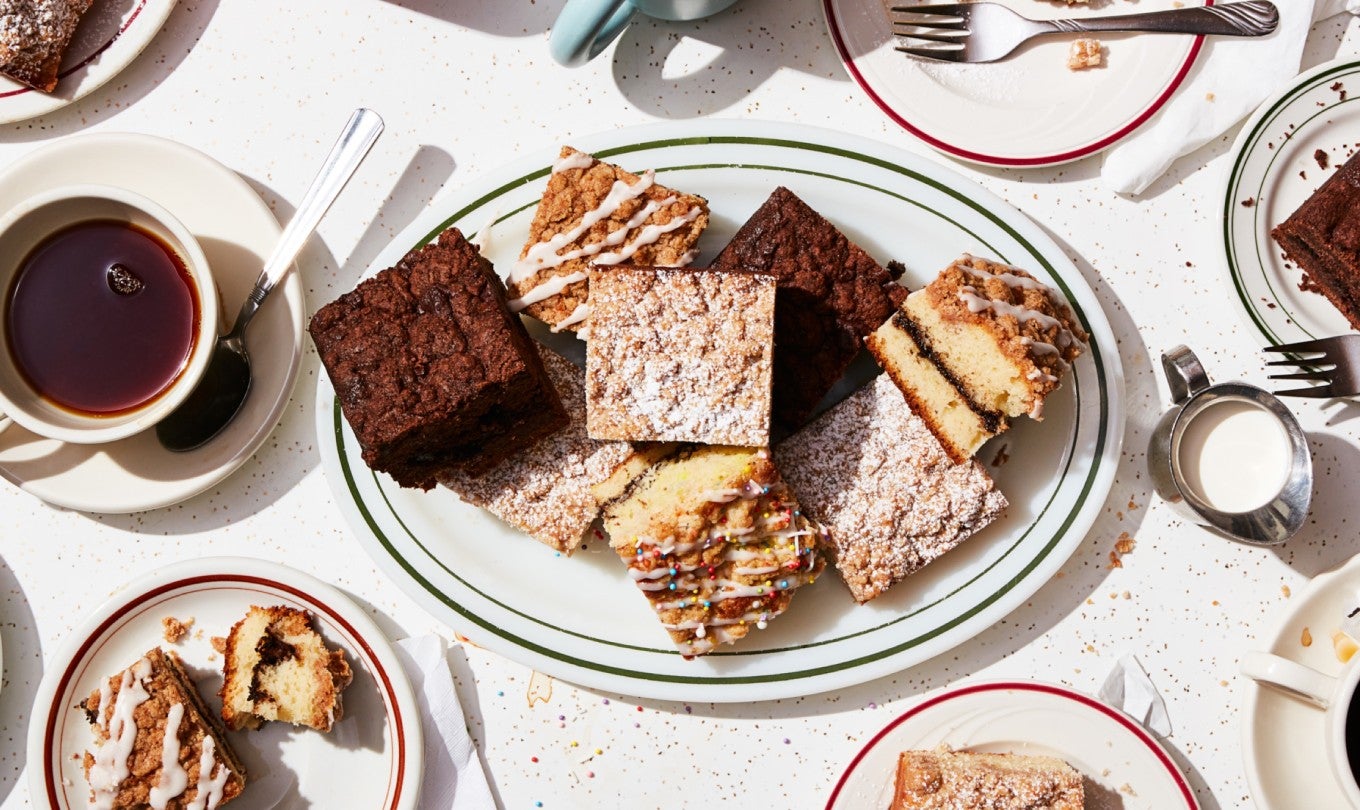 Recipe of the Year: 2023
10 cakes for 10 years
A cake that can do anything
Our 2023 Recipe of the Year journey started with a simple goal: to perfect the classic coffee cake. After a few months of tinkering, we landed on a failproof recipe that marries the most tender cake (thank you, reverse creaming) with the crispiest crumbs. Watch how to make it step-by-step.
But instead of a single recipe (and in honor of our 10th Recipe of the Year), we created 10 variations of this incredible coffee cake. We'll be revealing new versions throughout the year, so don't pick a favorite just yet — there's lots more coffee cake on the way.
How we perfected a classic

Reverse creaming
Mixing the dry ingredients with the butter to form a paste limits gluten development and results in a tender, moist cake.

Cornstarch
The secret to the crispy crumbs? Confectioners' sugar, which includes a touch of cornstarch that takes the topping's texture from soft to crisp.

Hint of tang
Using buttermilk or Greek yogurt in the cake balances the sweetness, and the acidity helps keep the cake soft.

Something special
Whether it's three doses of chocolate, bright stripes of jam, or a ribbon of cinnamon filling, each coffee cake has a special ingredient that gives it big flavor.
3 drops, 10 flavors of coffee cake
Winter
Collection
4 fun coffee cake flavors for every occasion. See them below.
Spring / Summer Collection
Three bright, fruity flavors are coming your way on May 1st!
Fall / Holiday
Collection
Cozy coffee cakes for cold weather, dropping September 1st.
Drop One
The Winter Collection
Four recipes to celebrate the season
Birthday Coffee Cake
LOTS of sprinkles for celebratory energy. Almond extract for nostalgia. Cocoa filling for chocolate frosting vibes.
Crumb Lover's Coffee Cake
50% less cake, 50% more crumb. A coffee cake for people who eat crumbs with a spoon.
Triple Chocolate Coffee Cake
Chocolate milk in the batter. Cocoa in the crumb. Mini chips in the filling.
Cinnamon-Crisp Coffee Cake
The recipe that inspired the rest. Ultra-soft cake. Crispy crumbs. A hidden layer of rich cinnamon filling.
Learn more
Feed your curiosity