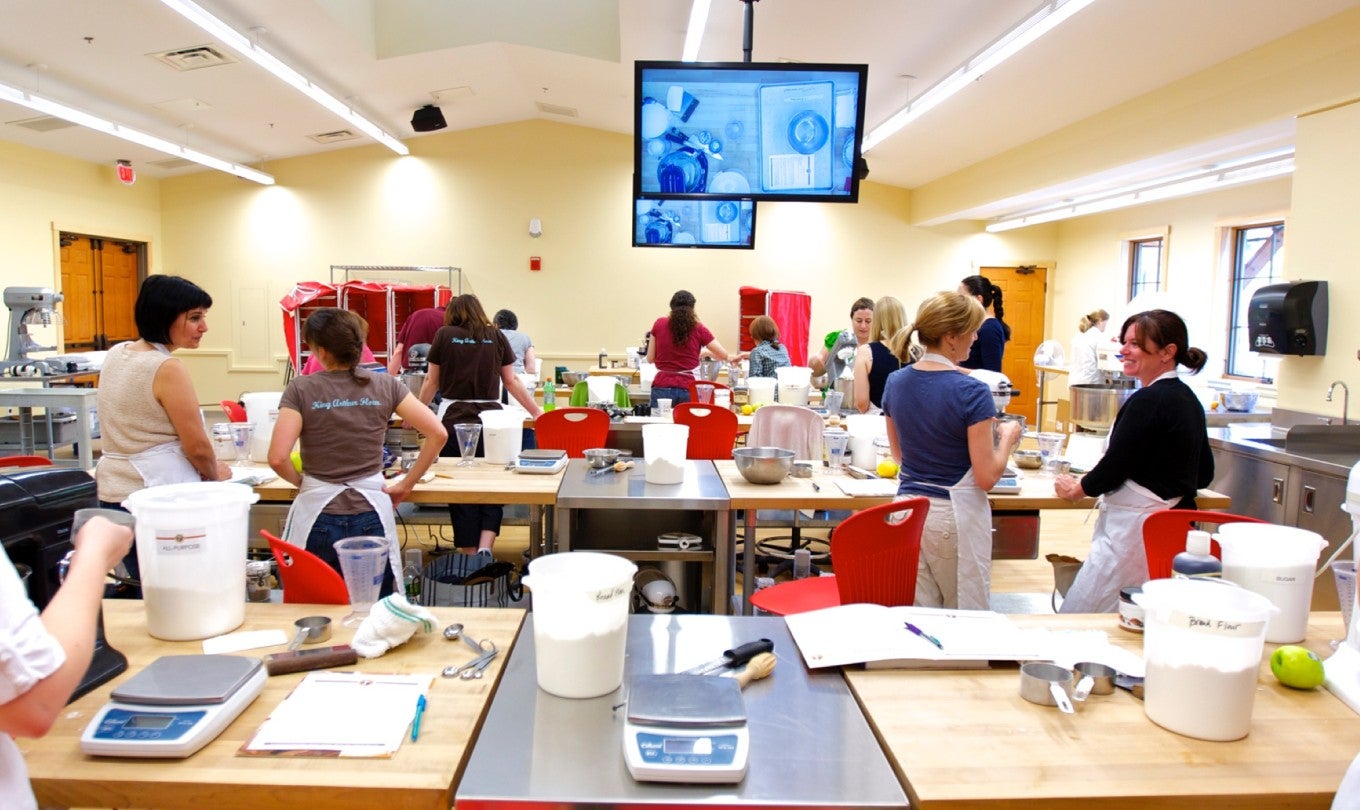 Baking School
What to Expect
King Arthur Baking Company welcomes bakers of every age and skill level with a variety of classes for young children, seasoned professionals, and every baker in-between. Our classes feature our own faculty of baking professionals, along with an impressive array of visiting instructors, eager to help you improve your baking expertise. If you have questions about any of our classes, please feel free to contact us. We look forward to baking with you!
Contact the Baking School
We will gladly assist you by phone during our office hours, or send us an email any time.
Email: bakingeducation@kingarthurbaking.com
Call: (800) 652-3334
Please leave a message and we will return your call as soon as possible.
COVID Policies
Social Distancing and Increased Sanitation
As we re-open, we'll observe strict social distancing measures: 
Enrollment is reduced to allow one student per 6-foot bench. 
All students and staff are required to wear a mask for the duration of class. 
Students will remain at their designated workspace. 
No sampling or eating in the classrooms, with the exception of water, which will be provided.
Increased and enhanced cleaning of all classroom surfaces.
Screening for fever and respiratory symptoms for all staff and students.
All students and staff must daily confirm they have had no contact with a possible source of COVID-19, that they have no respiratory symptoms (cough, sore throat, congestion, runny nose), and that their temperature is below 100.4°F.
Modified Cancellation and Refund Policy
During this time period, we reserve the right to cancel a class at any time. We'll notify you as soon as possible and refund your tuition in full.
If you're unable to attend class due to health or safety concerns, please contact us immediately to allow for a transfer or refund of your tuition.
We appreciate your understanding as we work to make your class as safe as we can and may add or remove measures as guided by our state and company regulations.
General Information
How to get here & where to stay
Please visit our information pages for each location:
King Arthur Baking, Norwich, VT
The Bread Lab, Burlington, WA
What to bring
We provide all equipment, small tools, and ingredients necessary to class participation. Because you'll likely have baked treats to take home after class, you may want to bring a cooler if your trip is long. Space constraints prevent us from providing storage for student baked goods.
What to wear
Please dress in comfortable clothing that you don't mind coating with flour. We recommend closed-toe, protective shoes and minimal jewelry. We provide aprons and side towels.
Start time
Classroom doors will open 15 minutes before the class is scheduled to begin.
Dietary concerns
Please contact us prior to your class if you have food allergies or other dietary concerns, so that we may try to accommodate your needs.
Policies
Phones, cameras, and recording devices
We welcome cameras in the classroom to record details of production for later reference; but please, no video recordings. Please silence mobile phones in the classroom.
Kids
We love to bake with kids, and we have a number of classes designed for children, including classes where children bake with their parents. Any child accompanied by a parent is the parent's responsibility and must be closely supervised at all times. For safety reasons no infants are allowed in the classroom.
Groups & private events
We're happy to schedule private classes and events around our existing schedule, and we'll work with you to design a program that will fit your group. We require a minimum of 8 students for private classes. To schedule a class, please contact us.
Waitlist
Our waitlist registrations are free, and we'll contact you by email as soon as a cancellation arises. When the cancellation is short notice, we email the entire list at once and admit the first student to reply.
Payment
Payment is required to secure your position in class. We accept all credit cards, along with King Arthur Baking gift cards. If you wish to pay by check or cash, please contact us.
Cancellations
In the event that your class is cancelled due to bad weather, low enrollment, or other circumstances, we will notify you as soon as possible by email and issue you a full refund.
Refunds
Virtual Classes
All online classes are nonrefundable.
If you are unable to attend your class for any reason
With at least 48 hours notice: You may transfer to another session of the same class as long as there are spaces available. No transfers to other classes are allowed.
Less than 48 hours notice: Transfers are no longer allowed, but you will still receive the recording of the class you are registered for.
In Person Classes
If you cancel your reservation for a single day class
More than 1 week notice: Full refund (less the 10% registration fee).
Less than 1 week notice: No refund.
If you cancel your reservation for a multi-day or guest instructor class
More than 3 weeks notice: Full refund (less the 10% registration fee).
Less than 3 weeks notice: No refund.
Terms & Conditions
All registrants must agree to our terms & conditions prior to registering for a class.
Online Classes
Are your baking classes demonstrations, or do we bake along with the instructor?

You bake right along with us! We'll help troubleshoot and talk you through all the techniques required for each step. We recommend aiming your camera so that the instructor can see your workspace, but it's not mandatory.

How do I know what I need for class?

After registering for a class, you will receive a confirmation email that will include recipes and a list of the necessary ingredients and equipment required.

What if I can't find ingredients/don't have the equipment required for the class?

Recognizing that some things are hard to find right now, we've focused our virtual classes on recipes made with basic ingredients and equipment that you are most likely to already have in your kitchen. We list some easy substitutions on the ingredient sheet as well as optional items. For classes where we feel using a stand or electric mixer is best, we will mention it in the class description.

I want to take a class with a friend/family member. Do I need one registration or two?

Each registration is for one device. If you are baking together in the same kitchen, only one registration is required. If you are each baking from your own homes, two registrations are required. You'll want to register for each spot separately as the zoom link will go to the email associated with the account of the person who purchased the class.

How can I give someone a virtual class as a gift?

The best way is to purchase a King Arthur Baking Company Gift Card. This way the participant can choose the class topic, date, and time that works for them. Also, when they register, all the class information and Zoom links will be sent to the recipient, rather than to the purchaser's email address. To redeem the gift card, the recipient will need to call or email our office at bakingeducation@kingarthurbaking.com or (800) 652-3334. There is no expiration on the gift cards, and they can be used for Bakers Catalogue items as well.

Alternatively, you may register for another person directly on our website, but the class materials and Zoom link will be sent to the purchaser's email. You would then need to forward those emails to the person(s) taking the class.

Will there be individual attention given to each student?

We have limited class sizes to ensure that everyone receives the required attention for success. Not only will you have an instructor on camera guiding you through each step, but a second instructor will be monitoring the chat, answering questions, reiterating key points, and offering tips and encouragement.

Will my product be finished at the end of class time?

This depends on which class you have signed up for. In some classes (particularly some yeasted products which require longer rising times), items may still be baking at the end of class. In these classes, your instructor will go over how to tell when your item is fully baked.

What if I can't make it to the class/forget to log in at class time?

We don't offer refunds for virtual classes, but if you realize in advance that you won't be able to attend the class, we can transfer you to the same class at a later date. If you realize you missed the class after it ran, you are still entitled to receive the class recording. These recordings are for enrolled students only and should not be shared with others.

What do I need to have ready before class?

Have your recipe handy, and we recommend gathering the tools and ingredients called for on the lists you receive with your confirmation email. No need to measure everything out ahead of time — we'll do that together. If any other things need to be completed ahead of class (for example, bringing butter to room temperature), those items will be highlighted on the list. Have your device connected to the internet and set up so that the instructor can view your workspace. We recommend logging on to class 10-15 minutes early to iron out any technical difficulties. Aside from that, just be ready to have fun!

My class is starting soon, and I still haven't gotten a Zoom link! Help!

Zoom links are sent out 1 hour before the start of class. If you aren't in that window yet, no need to fret. Double-check what time the class is taking place, making sure to take your time zone into account. If you are in the 1-hour window and aren't seeing the emailed link yet, check your spam folder. If the link still can't be found, email us at bakingeducation@kingarthurbaking.com for assistance.
Professional Classes
Check-in
Most classes have hours Monday through Friday from 9:00 to 5:00pm. Please check in for class at 8:30am Monday morning to allow time for registration. Should you arrive early, please do not enter the classroom before 8:30am.
Attire
The Baking School requires professional attire for all professional classes. This includes shoes with closed toes, and a chef's coat. If you do not own a chef's coat we can supply you with one for the class upon request. Please do not wear shorts or jewelry other than a simple wedding band while class is in session.
Equipment
We provide all equipment, small tools, and ingredients necessary to class participation.
Lunch
We serve lunch for students daily; if you have any food allergies or dietary concerns, please contact us ahead of time so we may try to accommodate your needs.
Cancellations
In the event that your class is cancelled due to bad weather, low enrollment, or other circumstances, we will notify you as soon as possible by email and issue you a full refund.
Refunds
Should you wish to cancel your registration in a professional class:
More than 3 weeks notice: You will receive a full refund (less the 5% registration fee).
Less than 3 weeks notice: No refund.