It's happened to me, and it's happened to you. You are sitting peacefully on the couch, watching TV and knitting a pair of socks. Something on the movie of the week goes by and your mind stirs a little.
What did that character say? Was it something about cookies, or pies? Did I hear the words "holiday baking"? By now, the action has moved on and you settle back in to counting stitches. A minute passes. Suddenly you sit bolt upright, the cat leaps away, and you shout, "The teachers and the mailman!"
As your family exchanges glances and checks to see if you're still of this planet, you hastily explain that you've forgotten presents for the teachers' gift exchange tomorrow, and you know your mail carrier is leaving on his holiday vacation as well. You know how much your baked goods are appreciated, but you fear you may have to resort to coffee shop gift cards this year after all.
Have no fear, dear fellow baker, we are here to help. Our recipe for one big batch of brownies, baked in a half-sheet (18" x 13") pan then gilded with ganache and a variety of festive toppings, is just the thing you need to have those home-baked goods ready in a flash.
You'll be amazed at how one tray can be transformed into the loveliest of gift packages with items straight from the pantry – and in less than one evening, too.
Let's get started; the brownies will be in the oven by the time boy loses girl in the movie.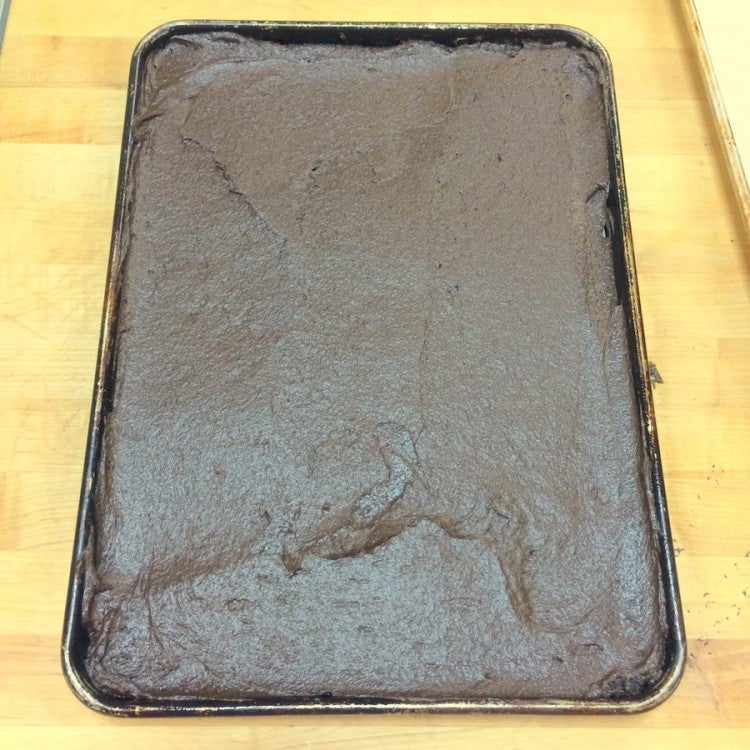 Start by whipping up a batch of our Fudge Brownies, using the big batch version listed in the baker's tips section. The measurements are all right there, along with baking time and temperature, but I'll just give you a quick rundown here:
6 large eggs
2 cups cocoa
1 1/2 teaspoons salt
1 1/2 teaspoons baking powder
1 1/2 teaspoons espresso powder
1 1/2 tablespoons vanilla
1 1/2 cups butter
3 cups sugar
2 1/4 cups King Arthur Unbleached All-Purpose Flour
3 cups chocolate chips
Place into a parchment-lined half-sheet pan.* Bake in a preheated 350°F oven for 40 to 45 minutes, or until the brownies test done as described in the main recipe.
When the brownies are done baking, move the pan onto a rack to cool. If you need to speed up cooling, you can place the pan outside in a sheltered spot. I often place cooling pans in my closed gas grill that stays on our deck all winter. Chilly and safe from snow.
*no half sheet pan? You can use two 13" x 9" pans instead.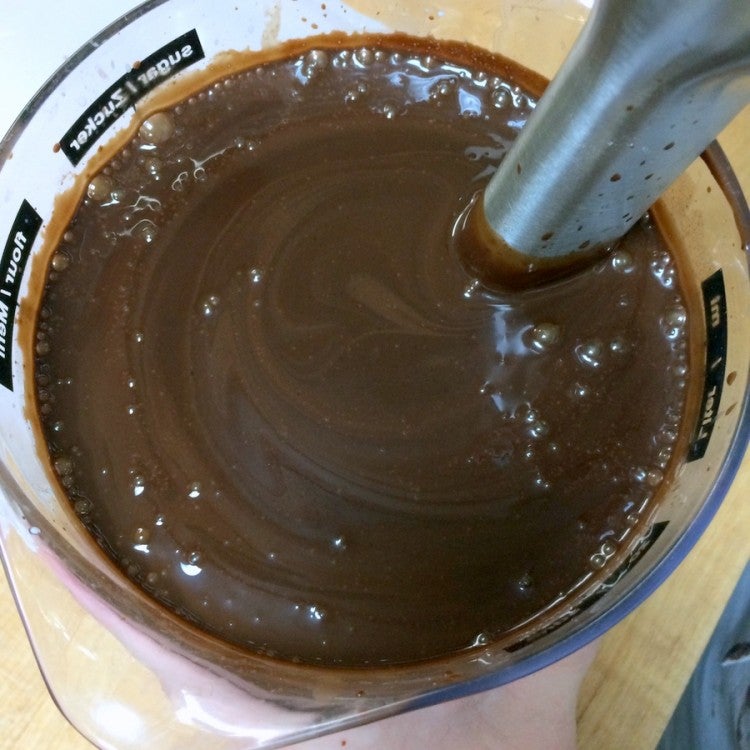 While the brownies cool, whip up a batch of ganache: I cup heavy cream heated to boiling added to 1 1/2 cups dark chocolate, stirred until melted and smooth, makes a thick, pourable ganache that will set up firmly enough to slice neatly.
I picked up the neat trick of using an immersion blender to bring your ganache together from guest chef Jacquy Pfiffer at our Baking Education Center. Zip, zip, and it's done!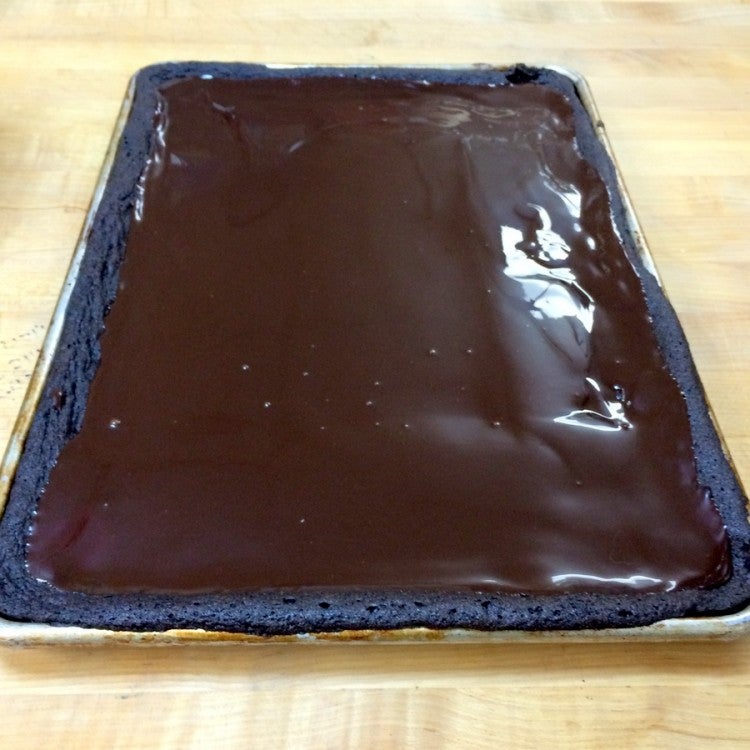 The brownies are baked and just barely warm to the touch. Pour on the ganache and spread it evenly. I can't say enough good things about using an offset spatula for this task.
Easy-peasy.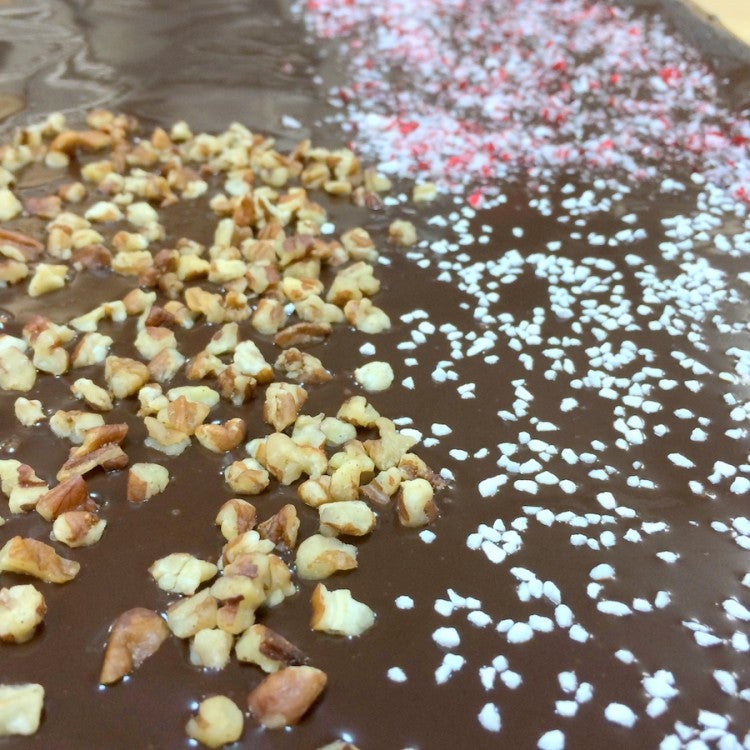 Now for the fun part. Explore the pantry and find all the fun toppings you've gathered this year. Pearl sugar, nuts, sprinkles, peppermint crunch, colored sugars and decos.
Have a little vanilla glaze hanging out in the fridge? Swirl it over one section. Grab the candied cherries too, they look amazing on individual squares of brownie.
I like to divide my pan into quarters, and use a different topping on each section. Once cut up, no one will know they came from the same tray; they will think that you baked for DAYS to get these beauties.
Decorate as desired, and set aside to let the ganache firm up completely. If you have time, overnight is a good option. If you are pressed, back to the great outdoors or the freezer to speed things along.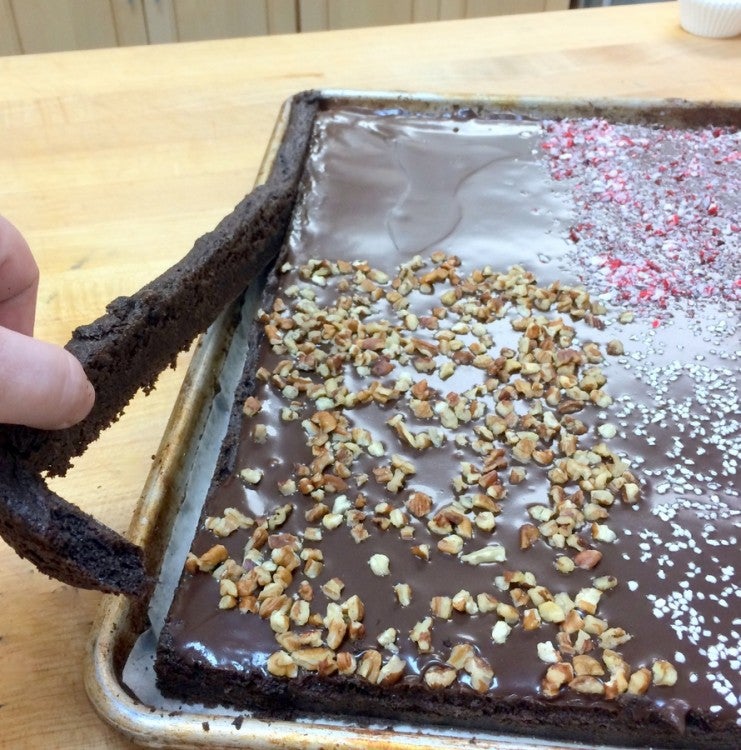 Susan Reid, fellow baker and sister in a large family has a technique she refers to as "fending off the vultures". It's a loving way of referring to those who hover around the workbench, hoping for a little taste of the goodies you are preparing.
Use a bench knife or other sharp knife to trim off the edges of the brownies, and stack them on a plate as "brownie sticks". This gives the peeps something to nibble on while you finish your preparations.
Carefully use the parchment paper to lift the sheet of brownies out of the pan, then slice to your desired sizes.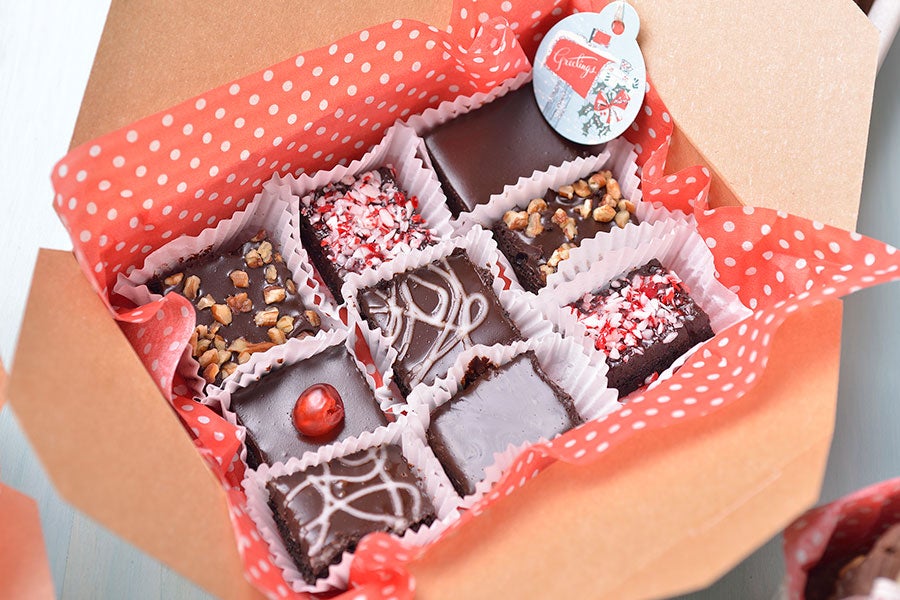 A few pretty cupcake papers, a clever To-Go Treat Box and you have a designer gift for anyone on your list. A Special Delivery for your postal carrier, a Gold Star gift for a hardworking teacher, a Bon-Bon Bounty for your boss, the list can go on and on.
Please make, rate and review our recipes for Fudge Brownies (Big Batch version).
Print just the recipe.
Find other great food gift ideas.
Jump to Comments