Bake a better boxed lunch
Tips for lunchbox-friendly baking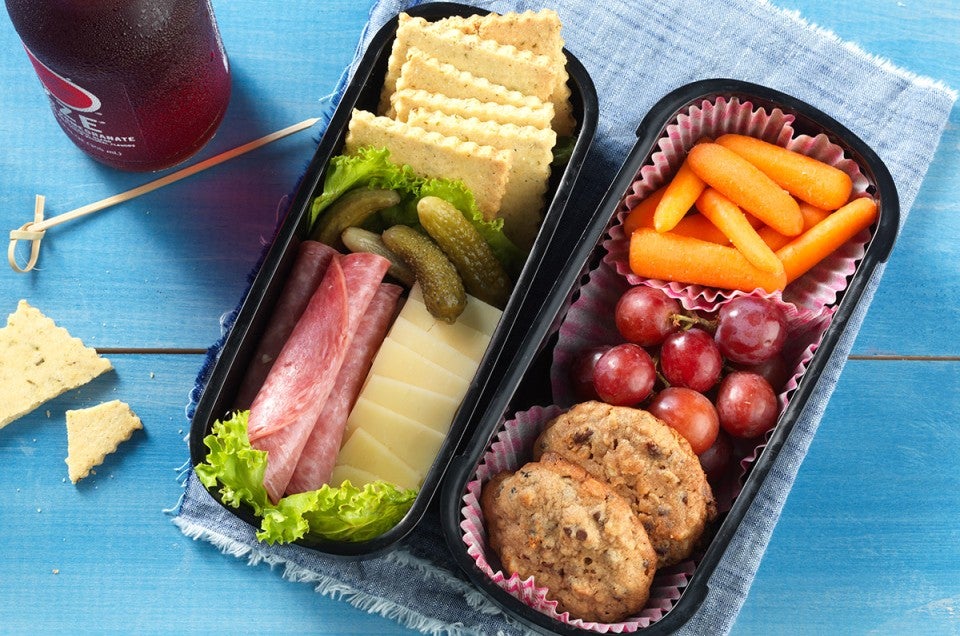 As many of us watch the seasons changing, it's a harbinger of changes not only to wind and weather but to schedules as well.
Back to school, back to work, back to backpacks and briefcases and boxed lunch.*sigh*
Boring old boxed lunch.
A slab or two of deli meat between the last two crusts of bread, and maybe a granola bar tossed together in a flash. Sure, your stomach will stay fed but your soul will be hungry for more flavor, more beauty, more home-baked goodness.
Oh, did I say "you"? Believe me, I've made some pretty poor lunchbox choices in my day. I mean, milk chocolate chips count as dairy, right?
Happily, you and I are better bakers now and have an arsenal of terrific recipes for filling up our tummies, hearts, and souls. Let's check out the recipes in the photo above, and chat a bit about how a few little changes can really elevate your noontime nosh.
Boxed lunches are an excellent way to add small portions of nutritious and delicious items in your diet. By cutting down on the size of your servings, you not only eat less but you can eat a greater variety of items. This keeps your taste buds awake and excited about what's coming next.
I use a standard stackable bento box to make my lunch today. Bento boxes have become wildly popular and widely available in the States over the last few years. More on this later.
On the left we have some Cabot cheddar cheese and turkey salami on a bed of lettuce, cradled with a few gherkin pickles. Add some homemade crackers for stacking: Gluten-Free Almond Flour Crackers.
I have to say, I'm completely in love with this cracker recipe. It's so customizable: you can make cheese crackers, chili pepper crackers, French herb, anything that tickles your fancy. With a grand total of five ingredients, you can whip up a batch in the evening after dinner and they'll be done and cooling before an episode of NCIS is over.
Now, let's take a look at the right-hand side of our luscious lunch...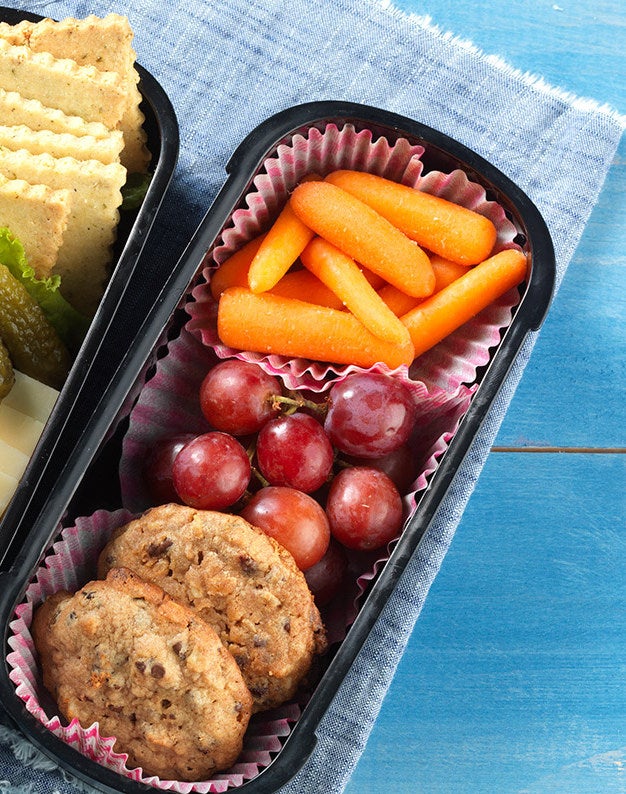 First, you'll see that a good portion of this side is fruits and veggies. As much as we love baked goods, don't forget your "5 a Day."
Notice the colorful ruffled papers? To help control portion sizes, you can use cupcake/muffin liners, silicone cups, or even tasty greens as a wrapper. I've found that paper liners also help control moisture, so that your freshly washed grapes don't turn your cookies soggy.
Speaking of cookies, a little baked sweet is nice to finish off your meal. Try baking drop cookies using our teaspoon cookie scoop, to get smaller cookies. You can easily pack two instead of one, making your boxed lunch fuller and more satisfying. Joy's Brown Butter Cookies with Chocolate Chips and Pecans certainly satisfies my lunchtime sweet tooth.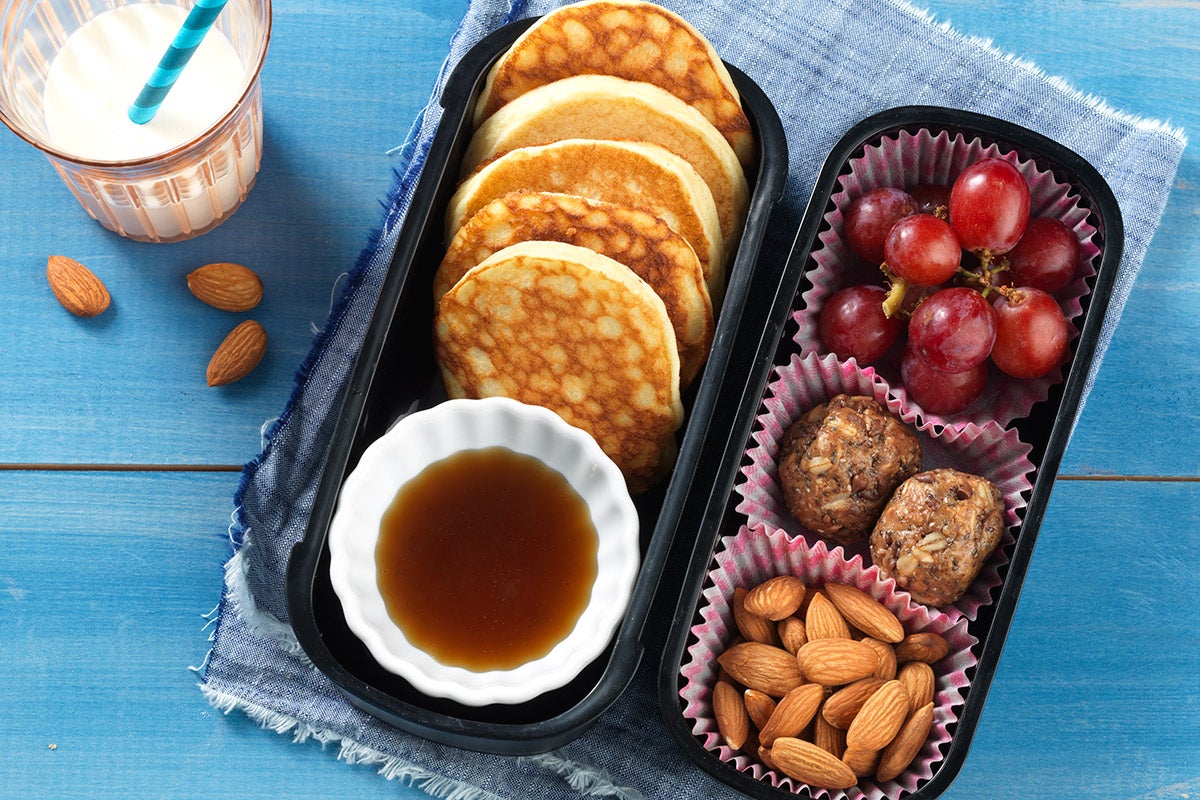 Of course, your lunchbox doesn't have to be filled with lunch items, now does it? Breakfast for lunch or dinner is a big hit around our house, so why not pack yourself a hearty meal using your early morning favorites?
The boxed lunch above happens to be gluten free as well as pleasing to the eye and taste buds. A few silver dollar-sized pancakes, some fresh Vermont maple syrup, and healthy whole almonds give you sweetness and crunch. Our No Bake Energy Bites provide protein and whole grains; add some sweet red grapes for a refreshing finish.
Notice the pretty little white dish of syrup? While you can pack your boxed lunch with plastic containers (and I do so, too, to prevent spills), why not pack an extra container for serving? A little bit of beauty from a dish, spoon, napkin, or straw can really make the difference between having a dull dinner or a magnificent meal.
I mentioned at the beginning of the post that I was using my bento box for packing my lunches. "Bento" has become rather synonymous with fancy lunch in the past few years. However, true bento eating is quite specific in regards to proteins, rice, fruits, etc.
To learn more about authentic Japanese bento and to see some more lunch ideas, one of my favorite sites is Happy Little Bento. Just like the title says, it's all about making lunchtime happy!
We hope you're inspired with our boxed lunches. Please share your ideas, tips, and tricks for baking a better boxed lunch in the comments. Oh, and if anyone has successfully packed a cream puff for lunch, I NEED to know!
Jump to Comments