Coconut macaroons three ways
Easy add-ins to make your sweets special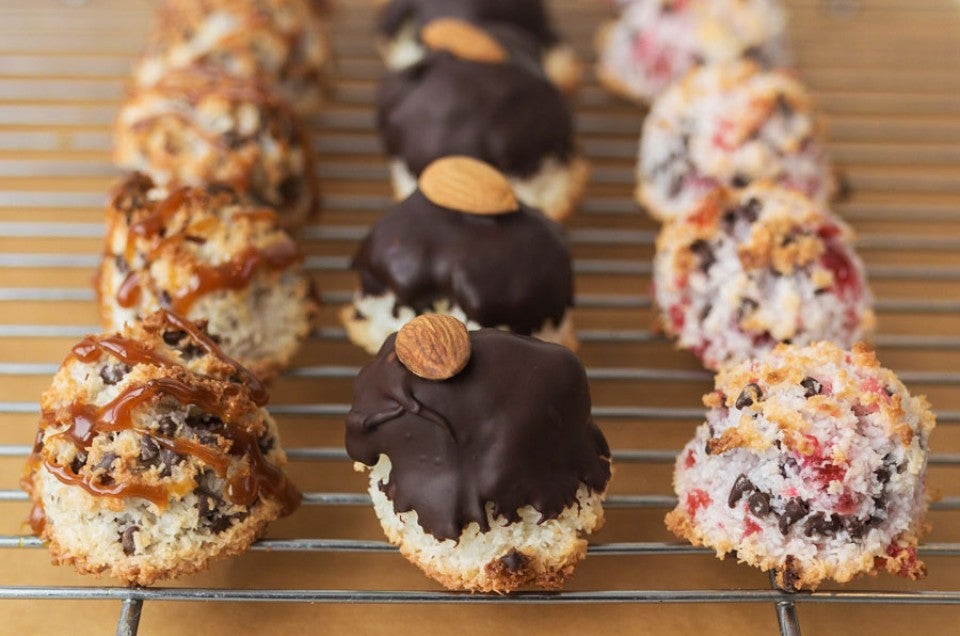 Sometimes when I'm sitting in my poofy chair with a chubby poodle in my lap, watching a classic noir movie like "Laura" or "Rebecca," I feel like I should have a tray of bonbons by my side to make the setting complete.
My stash of Belgian chocolates depleted after the holidays, I'm ready to get a little funky and creative with a family confection favorite, coconut macaroons.
I have to say, before I discovered our King Arthur Flour Coconut Macaroon Mix, I never ever made macaroons from scratch. They were purchased at bakeries only; I thought they were too fussy to be made at home.
Would you believe that this mix only requires boiling water? That's it, just water. Mix, scoop, and bake for snowy white, sweet-and-chewy macaroons with toasty tips and crispy browned bottoms.
Hold on to your Bogart, though, we're going to make three variations that will have you putting your lips together and whistling in appreciation. Use our convenient mix; or make Our Bakery's Coconut Macaroons from scratch.
First up, chocolate cherry coconut macaroons.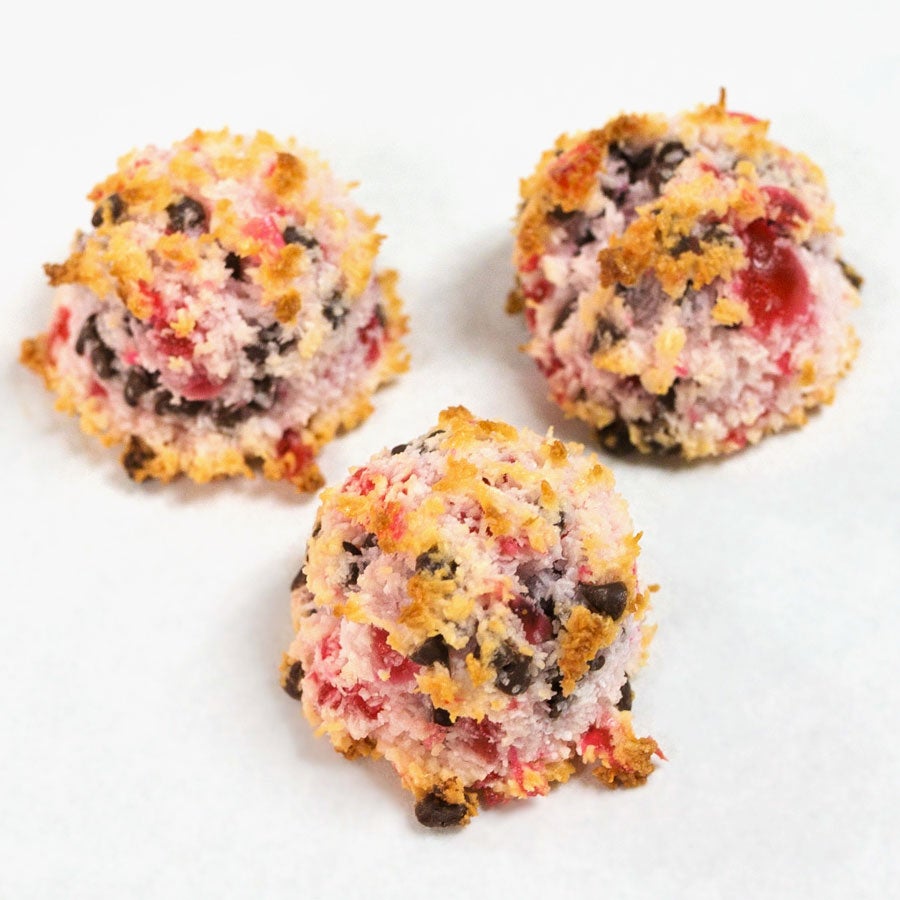 Chocolate Cherry Coconut Macaroons
Once your coconut macaroon dough has been made and cooled (if necessary), stir in:
1/2 cup mini chocolate chips
1/2 cup diced candied cherries (or maraschino cherries if you prefer)
1/4 teaspoon cherry flavor
I made my first batch without the cherry flavor, and they were good. But with the flavor, they were outstanding! Do try to use it if you can find it. 
Scoop, bake, and cool as directed on the package, or in the recipe.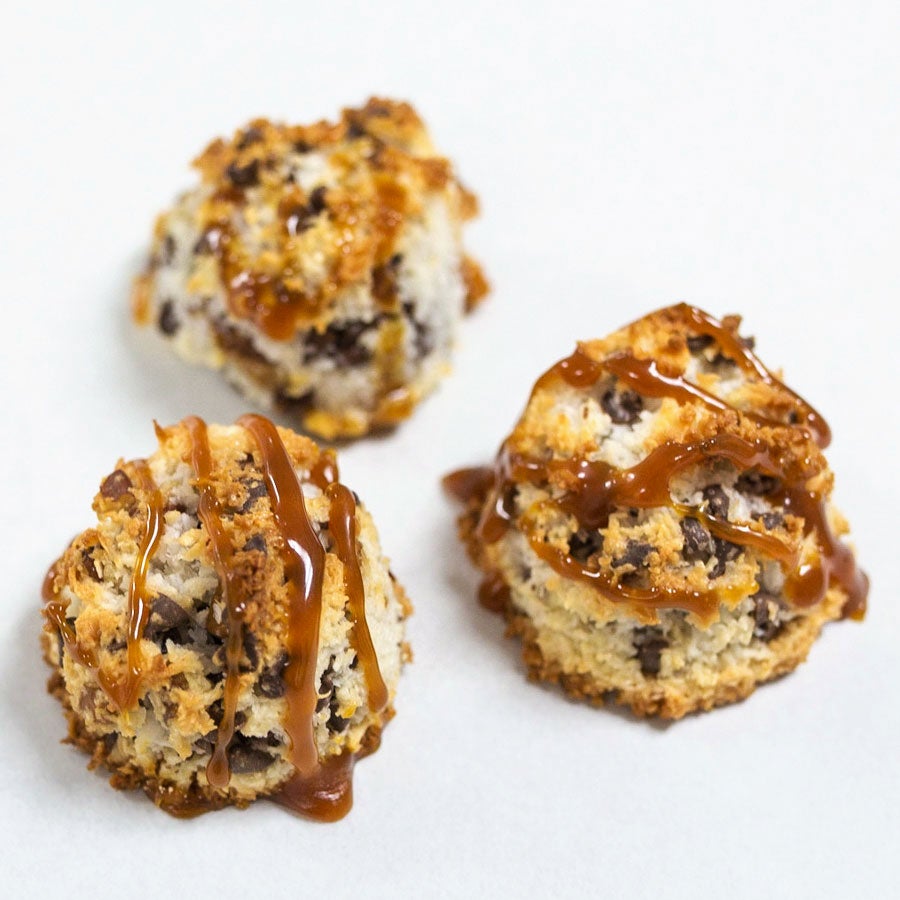 German Chocolate Macaroons
This next version is based on the topping for German Chocolate Cake. Sweet coconut, chopped pecans, and chocolate chips, drizzled with homemade caramel sauce.
Using our earlier proportions of 1 total cup of added ingredients,  add 1/2 cup mini chocolate chips and 1/2 cup diced pecans to your coconut macaroon batter. Bake as directed on the box or in the recipe.
Cool the macaroons to room temperature, then drizzle with caramel sauce. Be sure your cookies are cooled, or the sauce will soak in instead of remaining on top.
If Bogey said "A hot dog at the ball park is better than steak at the Ritz," then I think a macaroon at home is better than a macaron in Paris – especially when you're watching "The African Queen" with your honey.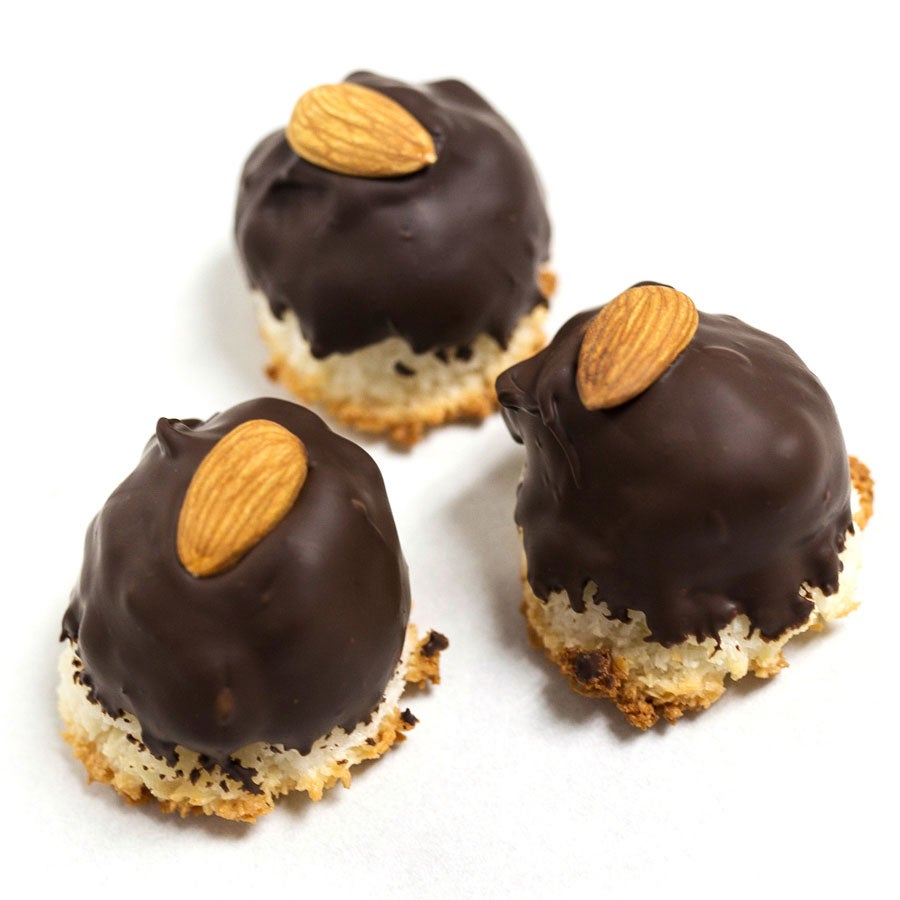 Joyful Almond Macaroons
Speaking of sharing with loved ones, if you know someone who's a fan of Almond Joy candy bars, up the game and make them some homemade coconut macaroons with all of their favorite flavors.
For this version, bake your macaroons plain. Cool completely, then place on a baking sheet in the freezer for at least 30 minutes, to firm up.
To make your dipping chocolate, melt 1 1/2 cups of chopped chocolate or good quality chocolate chips in a double boiler. Pour it into a narrow bowl, so that you have a deep well of chocolate to dip into.
Following my fellow blogger Posie's tips for chocolate dipping, submerge your frozen coconut macaroons until they are nearly covered. Leaving a little space at the base shows off the toasted coconut  goodness, and an almond on top completes this joyful treat. ( I know, I couldn't resist the pun.) In fact, any of these versions can be dipped in chocolate – it's all up to you.
Once the chocolate sets, you can store these at room temperature; no need for the freezer again.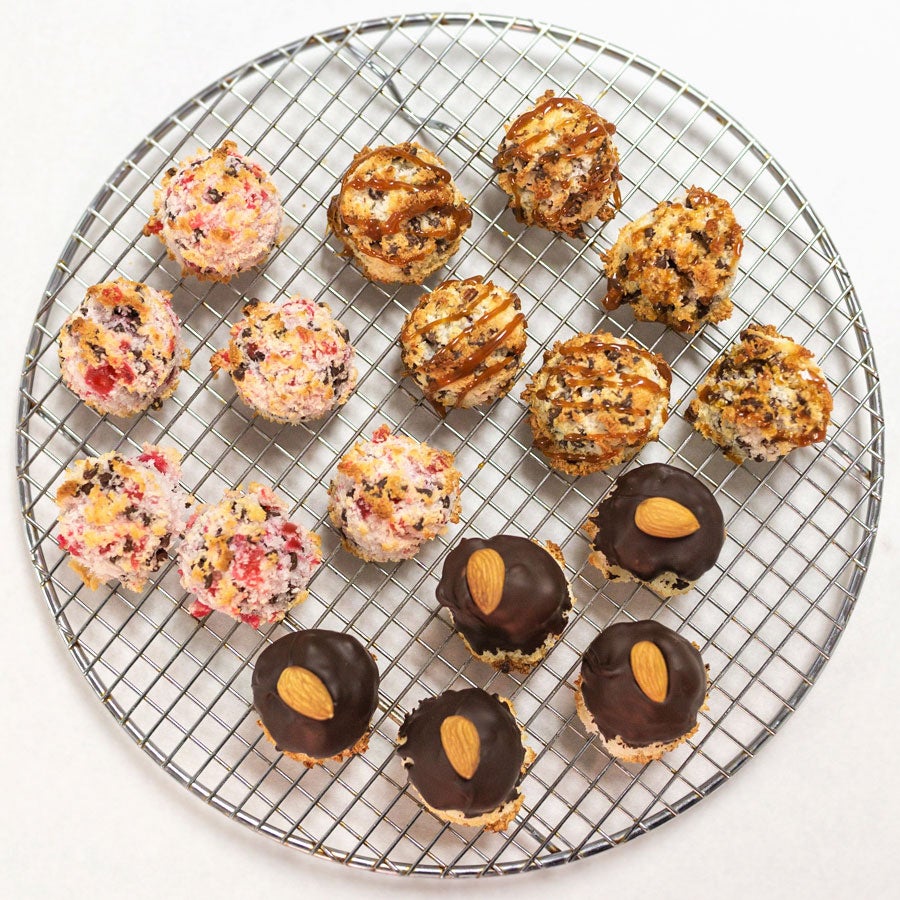 There now, isn't that lovely? I think I'm ready to fire up the old Philco for another afternoon of classics. Hey, New Englanders: do you remember the Creature Double Feature on Saturday afternoons? Channel 56 was the place to be for all of your B-movie favorites. Having a plate full of these is just what the doctor ordered.
We hope you enjoy these variations on coconut macaroons, and would love to hear about your own twists in our comment section below. While you're there, feel free to give us your favorite classic movie recommendations – memories and quotes, too!
Please make, rate, and review our recipe for Our Bakery's Coconut Macaroons.
My thanks to fellow employee-owner Nic Doak for the photos in this post.
Jump to Comments