Cake decorating tips
How-to videos for perfect cakes, right before your eyes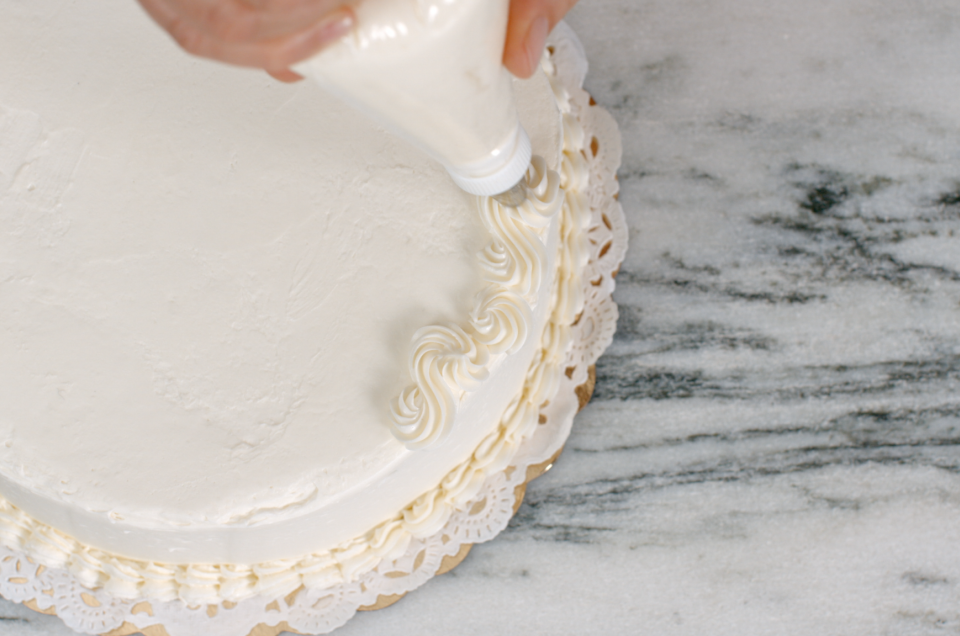 I know you're reading this post for our best cake decorating tips, and here's the first one I have for you. Treat yourself, eat the cake.
Pizza and cake. I could truly eat pizza and cake every day of the year, and twice on Sundays. And given the choice between the two, I'm almost sure I'd take cake every time.
There's just something about a moist, tender slice of cake full of rich flavor, with a bit of icing between the layers to cool your tongue with buttery silkiness.
Whether you've never made a cake from scratch before or you're a long-time cake baker, we have some outstanding cake decorating tips to share with you. Join King Arthur Flour baking instructor Melanie Wanders, and over 2,000 fellow bakers (including me!) in viewing our How to: cakes video series.
Break out the mixer, whip up a batch of our Golden Vanilla Cake and some Italian Buttercream. Then follow our cake decorating tips step-by-step – to the perfect cake.

Cake decorating tip #1: perfect sizing
First up, if you're going to make a layer cake you'll want nice even layers. Besides being the most accurate way to measure ingredients, your scale can be your best friend for evenly dividing batter and dough. Most of the mixer bowls in our test kitchen have their weights written on the bottom in grams, making the math easy when you calculate the batter weight.

Cake decorating tip #2: done to a turn
By now, the scent of baked cake is wafting through the air – which is the first indication that your cake is done. To really make sure your cake is baked completely though, you'll see how to test with a toothpick, and how to check your cake's edges for doneness.

Cake decorating tip #3: hassle-free handling
More than any other step, removing the cake from the pan can be the most intimidating and the most frustrating. We've all experienced the heartache of a stuck cake or a broken edge (thank goodness for trifle).
See how using cooking spray and parchment circles to prevent sticking, and how gentle handling will keep your cake (and you) from falling to pieces.

Cake decorating tip #4: Creating a crumb coat.
Once upon a time, I used to pick the crumbs out of my frosting with a toothpick, bit by bit. I'd never heard of a crumb coat, and if I had to choose the one cake-decorating tip that changed my cake world, it would be this one: frosting a cake without any unsightly crumbs. Learn to crumb-coat your cake, and you can put that toothpick through the olive in your martini, where it belongs.

Cake decorating tip #5: A smooth finish.
Achieving a smooth surface on cake can be the bane of many a baker, myself included. Too thick over here, too thin over there... But once you learn the secrets to where (and how) to spread your icing, and how to hold a straight edge, your cakes will have the perfect sleek, creamy surface.

Cake decorating tip #6: Using cake decorating tips and piping bags.
Piping bags and decorating tips are the hidden heroes of fancy decorated cakes. Whoever first decided to put icing in a bag and squeeze it out was truly thinking outside of the box – or bag, as it were. By adding a coupler, changing tips for a new design halfway through piping requires only a simple twist of the fingertips.

Cake decorating tip #7: Piping perfect swirls.
Once you've learned to fill a piping bag and added a few metal cake decorating tips to your stash, the array of decorations you can create on your cake is endless! Twist to the left, or twist to the right, lift and swirl – a simple movement of the wrist is all it takes to design the cake of your dreams.
We hope you've enjoyed our cake decorating tips videos. The entire series can be found, along with many other great videos on our site. We've certainly enjoyed sharing them with you. Please do share your tips with us, too, in our comments section below.
Jump to Comments