As I sit down to write out the intro to this blog, I'm already thinking that I want to try this recipe a different way. I do love it as is, but now my brain is still twirling and I want to head back to the kitchen again.
I'm sure you've all done that before, too. You get the coffee cake in the oven and start to do the cleanup, when you suddenly wish you'd added blueberries, or streusel, or flax, or...
Pepperoni pizza? Man, I could really have gone for Hawaiian ham and pineapple. Coke? Dang, I can almost taste the Dr. Pepper.
I'm sure as sunshine that you've made your morning cup of coffee with caramel creamer and find yourself longing for a sip of French vanilla, am I right?  Happily, there's an easy fix for that one – just have a second cup of coffee! Or a third. Who's really counting, anyway?
In this case, I've already decided to give a different twist to this apple pie French toast, but I'm going to keep that to myself for now, and we can check in on it again at the end. I'll see if you've had the same thought as me (I'm guessing some of you will); and I'll plan out my next move.
Let's begin with the basic "recipe." It's not printed out anywhere, as you get to pick and choose your own favorite parts from your favorite family recipes.

For example, the recipe for the filling can be your favorite apple pie filling recipe, or even cinnamon applesauce.
You can cook your filling on the stove top, or in the microwave; it's really up to you. I decided to go with the stove this time. Place in a large pot or skillet:
about 6 cups peeled, cored, and sliced baking apples; Granny Smiths are fine
1/3 cup sugar
3/4 teaspoon Apple Pie Spice
2 tablespoons boiled cider
3 tablespoons King Arthur Pie Filling Enhancer (you can thicken with your favorite thickener, too)
pinch of salt
1 tablespoon lemon juice
Cook over medium heat for about 15 to 20 minutes, or until the apples have cooked down to your liking. Some people like chunky; I like softer apples. Feel free to taste and adjust spice and sweetness as you go along, as well.

While the filling is simmering away, you'll want to slice up a fresh loaf of bread. Here's a little trick on how to make a nice little pocket to hold your filling.
First, slice the bread about 1/2" thick, cutting until you're about 3/4" from the bottom. Stop slicing just short of going through the bottom crust. Slice again about 1/2" thick, this time slicing all the way through.
You'll end up with a 1"-thick slice of bread made up of two layers held together at the bottom. A perfect pocket, and easier than trying to poke into a thick slice of bread with a sharp knife.
One loaf of bread should give you four nice big pocket slices, enough to feed four hungry folks.

Fill each pocket of bread with 1/2 cup slightly cooled apple filling. And now, egg it up.
The basic ratio for French toast batter is 1 egg + 1/4 cup milk per two slices of bread, or 4 eggs plus 1 cup milk per 4 servings (8 slices bread).
Whisk your eggs and milk, plus a little vanilla or cinnamon if you like. My hubs likes cinnamon in the "dip," but I'm happier with leaving it out. Baker's choice rules!
Dip both sides of the filled sandwiches in the egg mixture, trying to coat them evenly. Don't worry if your bread hinge breaks at this point; it happens. Fry the bread in a buttered skillet over medium heat until golden brown, about 2 to 3 minutes. Flip the sammie and fry on the other side as well.
If you have a large griddle you can fry several servings at once. If you need to fry one at a time, keep the other cooked pieces in a warm 200°F oven until you're ready to serve.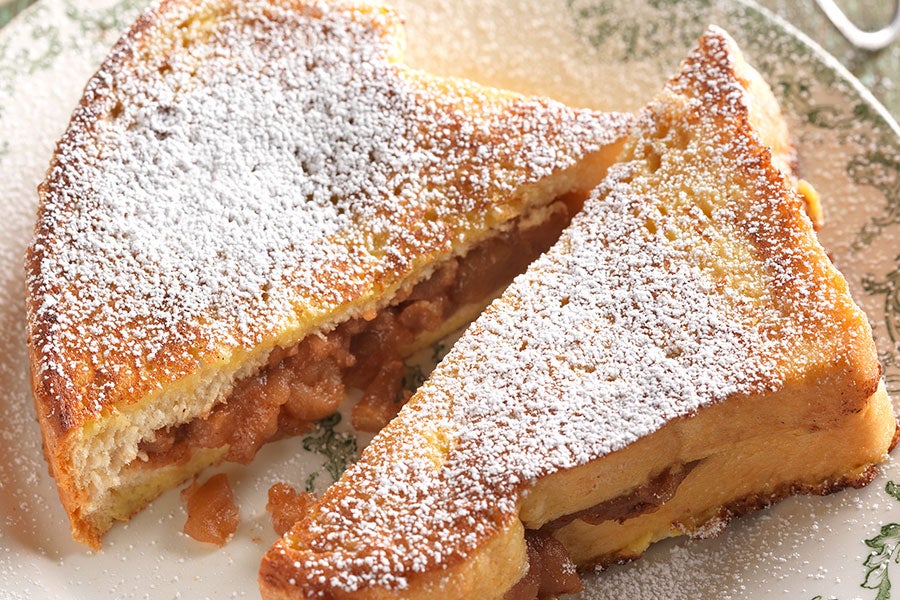 Serve hot with maple syrup, boiled cider  or just a dusting of confectioners' sugar.
Now that we have breakfast in front of us, what's the next twist?  I'm thinking of making this into an overnight French Toast, or a strata.  Layer of bread, layer of cinnamon filling, layer of apples. Bread, filling, apples again, then the egg mixture.
I think it would bake up lovely and puffy and a little good gooey-ness in the center. I'm not sure if the egg mixture would seep into the apples and if that would be unappealing, or if it would work to hold it all together. What do you think? Has anyone tried something like that? Care to share your thoughts? Just send along a comment below.
By the by, don't forget there's no printable version to hunt down. Feel free to use the bread recipe and filling recipe I did though, they were a great match!
Jump to Comments