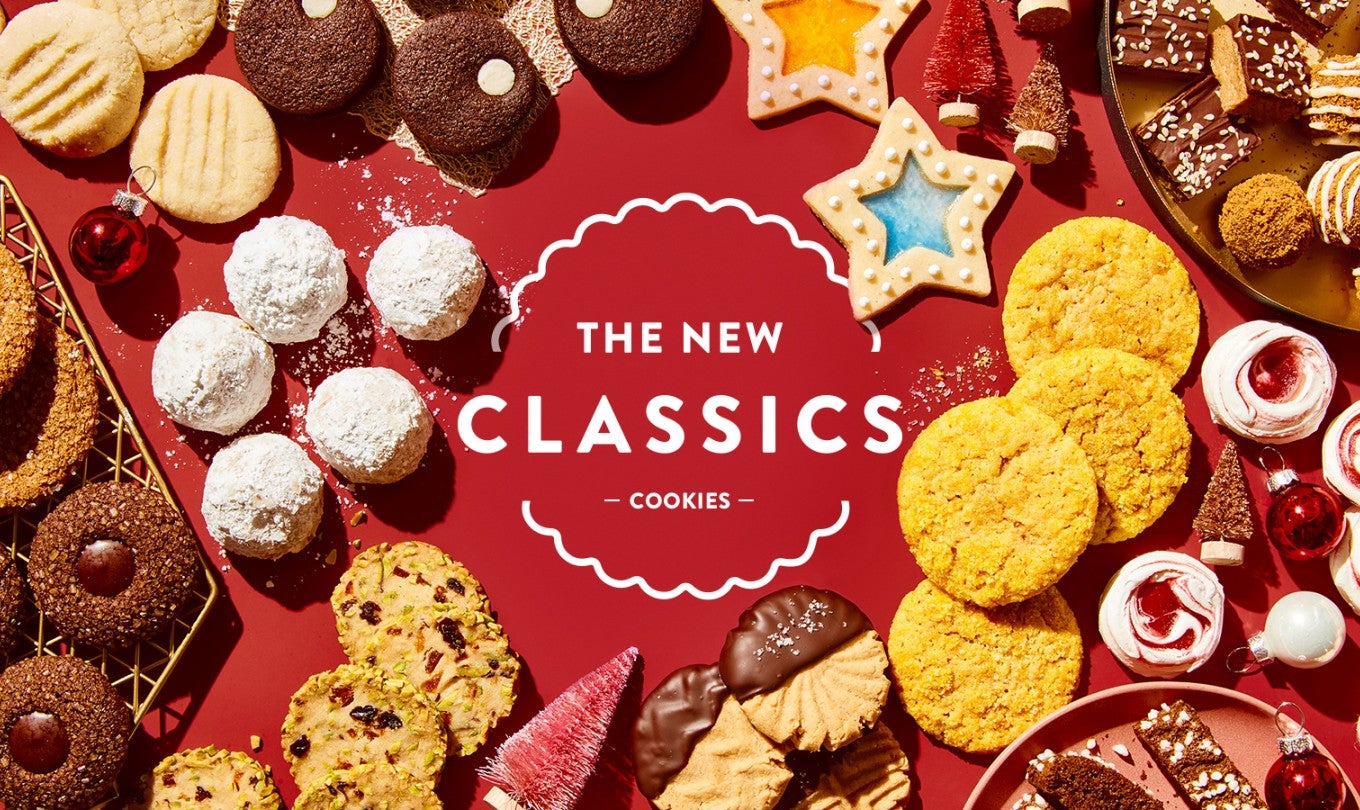 Cookie Traditions, Tweaked
Call it a cookie plate makeover. The 14 cookies below will ring familiar to holiday bakers (Hello, ginger cookie! We see you, shortbread!), but each one has something new for 2021: A fistful of whole grains, a squeeze of citrus, a shot of rum. They aren't traditional cookies yet, but put a few on your cookie plate this year and we think they'll stick around for many more.
Stained Glass Cookies
Classic holiday cookies get decorations on top; these beauties have the decoration baked right in. Place them on a platter or put them on a tree — either way, they're going to be stars.
Get the recipe
Cranberry-Lime Swirled Meringues
An homage to pastry chef Joanne Chang, these sweet meringues are tempered by a zesty swirl of cranberry coulis.
Get the recipe
Organic Cookies & Cream Cookies
OK, there are some classics you just can't improve upon — unless, as we've done here, you go organic. Make these with our Organic All-Purpose Flour and serve it with a glass of Organic Valley milk for the ultimate sustainable snack.
Cola de Mono Alfajores
The iconic sandwich cookie, shot through with all the flavors — Espresso! Pisco! Clove! — of the classic Chilean Christmas cocktail.
Get the recipe
Tahini Chocolate Bars
All other bar cookies, bow down: This 10-minute number is faster, easier, and boasts a savory hint of sesame to offset the sweetness.
Get the recipe
Whipped Lemon Shortbread
Lighter, fluffier, and more lemony than the classic, this shortbread has yet one more distinctive feature: the nutty flavor of our Masa Harina.
Get the recipe
Spiced Rye Ginger Cookies
Spice is nice, so we turbocharged the classic ginger cookie with doses of cinnamon, cardamom, and black pepper. And that nutty flavor in the background? That's thanks to our Organic Medium Rye.
Get the recipe
Gluten-Free Chocolate Molasses Thumbprints
The traditional thumbprint is dressed for day. This gluten-free version (made with our Measure for Measure) is ready for night with shiny ganache, sparkling sugar, and an intoxicating mix of cocoa, ginger, and molasses.
Olive Oil-Orange Sugar Cookies
Sugar cookies put you to sleep? This one — packed with orange, cardamom, and turmeric — will wake you up.
Get the recipe
Eggnog Rum Balls
You can't take the rum out of a rum ball. But you can add brandy, eggnog, and a cream cheese filling — and you can watch them disappear.
Get the recipe
Horchata Polvorones
Cinnamon, vanilla, and rice flour provide the horchata vibes here. (The rice flour also makes these vegan cookies gluten-free.)
Get the recipe
Pistachio-Crusted Icebox Cookies
An almost — almost — savory slice-and-bake, these cookies are as perfect with gelato as they are on a cheese plate.
Get the recipe
Malted Brownie Biscotti
How do you build a better brownie? Add malt, and turn them into extra-crispy biscotti. Crispy edges forever!
Get the recipe