The King Arthur Flour Company marks its 225th anniversary this year. And we're celebrating by exploring some of America's favorite recipes, decade by decade, starting in 1900. Join us on this fascinating stroll through American food history.
If you're a Boomer, you almost certainly remember the tumultuous 1960s. The oldest members of the Baby Boomer generation graduated from high school in 1964 – the same year the youngest ones were born.
1964 was a pivotal year. The war in Vietnam, an event that would define our childhood and young adulthood, was still a small conflict somewhere in the Far East. Elvis was shocking our parents, but crew-cut Pat Boone continued to croon as well.
The Beatles? On February 9, 1964, 70 million people tuned in on their rabbit-eared black and white television sets to watch the Fab Four's American debut on the Ed Sullivan show. Their final number, "I Want to Hold Your Hand," represented the typical first step in the American girl's life plan: love, marriage, motherhood.
Stay-at-home mom? They were the norm, not some new societal trend.
Moms cleaned the house, did laundry, checked homework and, of course, prepared meals – three a day, plus probably an after-school snack as well. Lunches got packed in brown paper sacks; dinner was a sit-down affair, usually served as soon as Dad walked in the door from his job.
And breakfast? You ate it at the table, from a plate (bacon and eggs) or bowl (cereal). Breakfast on the run? No such thing.
Until July 14, 1964. That's the day Kellogg's iconic grab & go breakfast, Pop-Tarts, hit the shelves.
"You can eat 'em in the dark, eat 'em in the park, eat 'em in a rollercoaster..." when the introductory TV ad. In other words, forget anchoring yourself to the breakfast table. Once you pop these babies out of Milton the Toaster (remember him?), a simple "May I be excused?" and you're free to go.
No need to push scrambled eggs around the plate or listlessly spoon up lukewarm oatmeal. No, Pop-Tart in hand, you can crash out the door into a waiting gaggle of kids, ready to enjoy a Saturday of kickball, bike-riding, and a trip to the drugstore for a package of Twinkies and the latest Superman comic.
What was your favorite Pop-Tart flavor? Mine was (and is) plain-as-plain-can-be unfrosted brown sugar cinnamon. Thus, when I set out to make my own homemade toaster tarts (because why not, right?), brown sugar cinnamon was the test filling.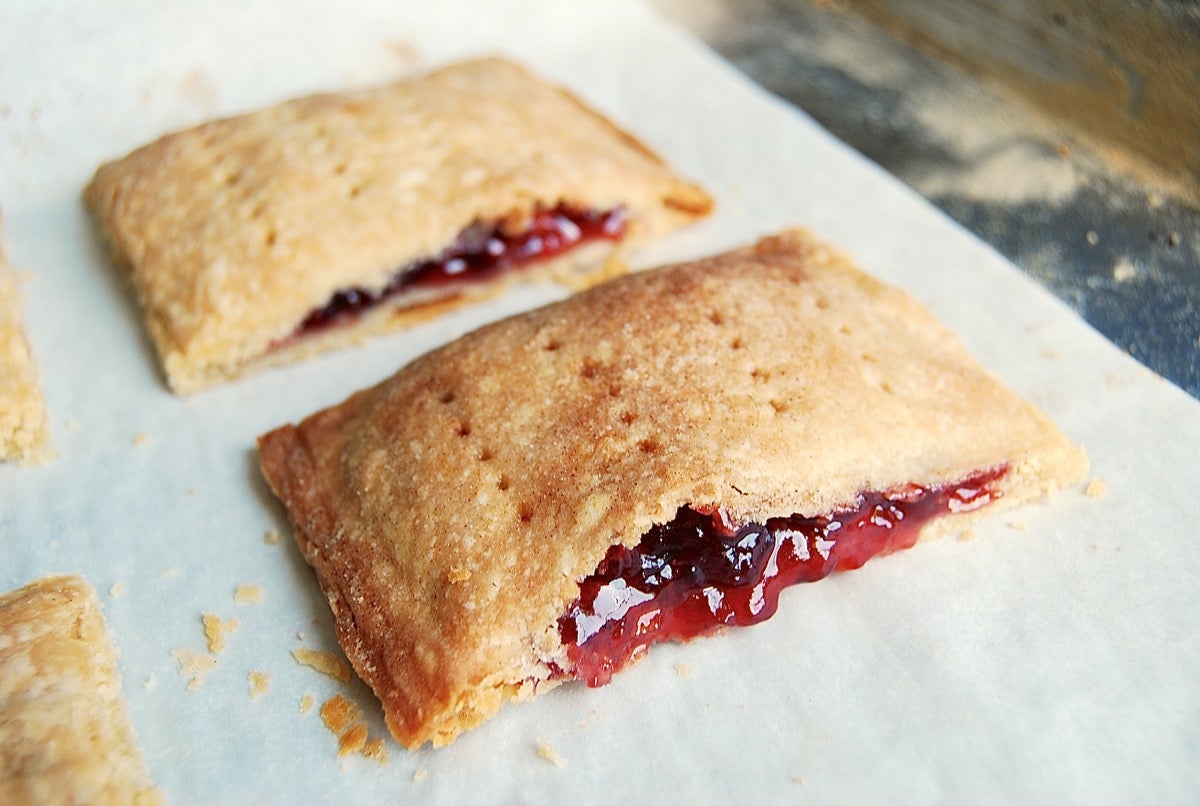 Though I did test strawberry, too – in a nod to the original four flavors.
After all, these pastries are nothing more than pie crust sandwiched around a thin layer of fruit (or brown sugar) filling.
I can do that – and so can you. With one caveat: remember, Boomers, this isn't 1964, and you're not the kid you used to be. We're all looking to eat just a touch healthier these days. So this whole-grain version of our Tasty Toaster Tart recipe is 50% whole wheat, and 30% lower in fat than the original.
We can live with that, right?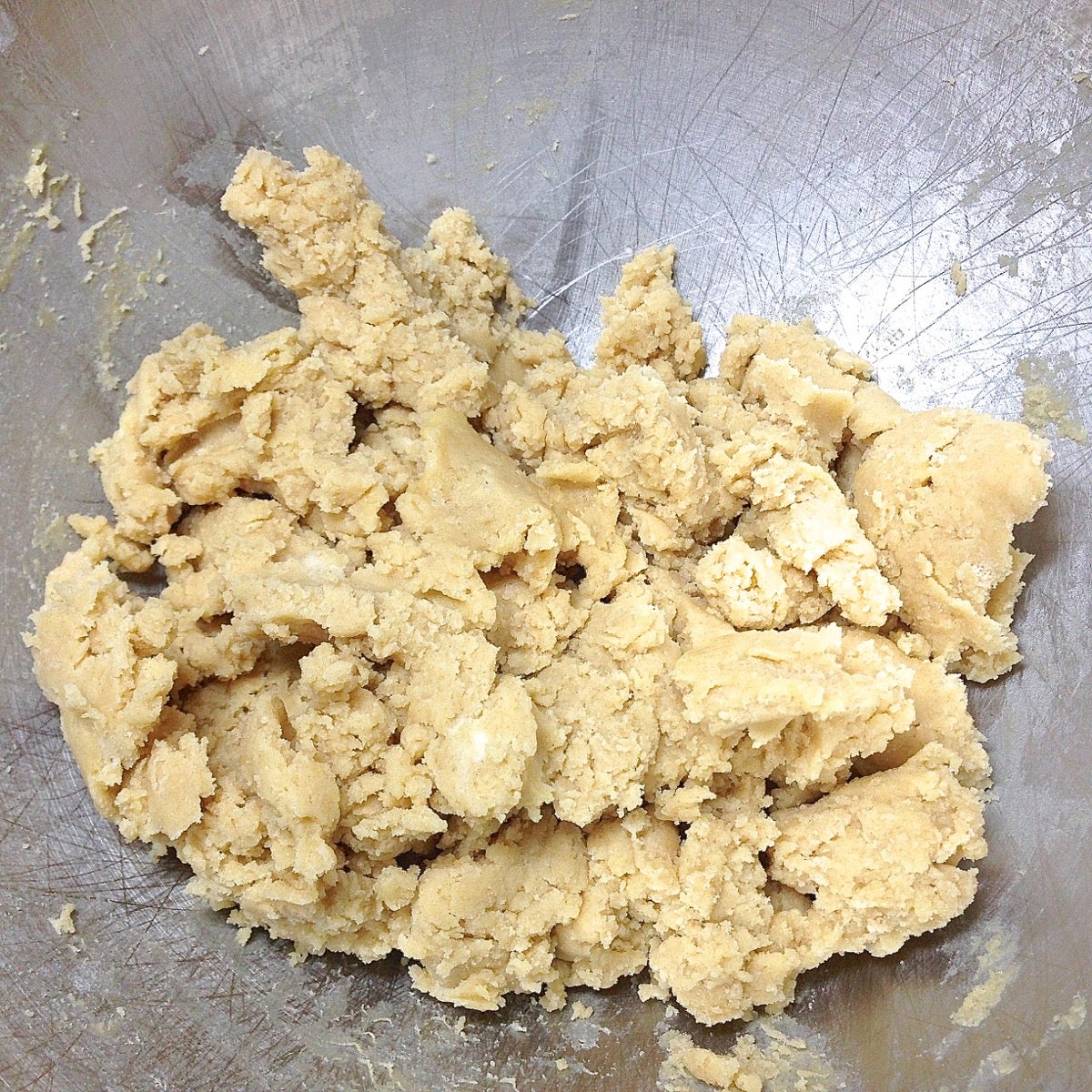 1. Make the crust.
Gather these ingredients:
1 cup (120g) King Arthur Unbleached All-Purpose Flour
1 cup (113g) King Arthur White Whole Wheat Flour
1 tablespoon (11g) sugar
1 teaspoon salt
16 tablespoons (227g) unsalted butter, cold, cut into pats
1 large egg
2 tablespoons (28g) milk
Whisk together the flours, sugar, and salt. Add the shortening, mixing until everything is evenly crumbly. Then work in the butter, leaving some larger, pecan-sized pieces.
Mix the egg and the milk. Drizzle it into the dough as you mix, adding just enough to bring the dough together. It will be cohesive, but not wet or sticky. Stir in an additional tablespoon of milk, if necessary.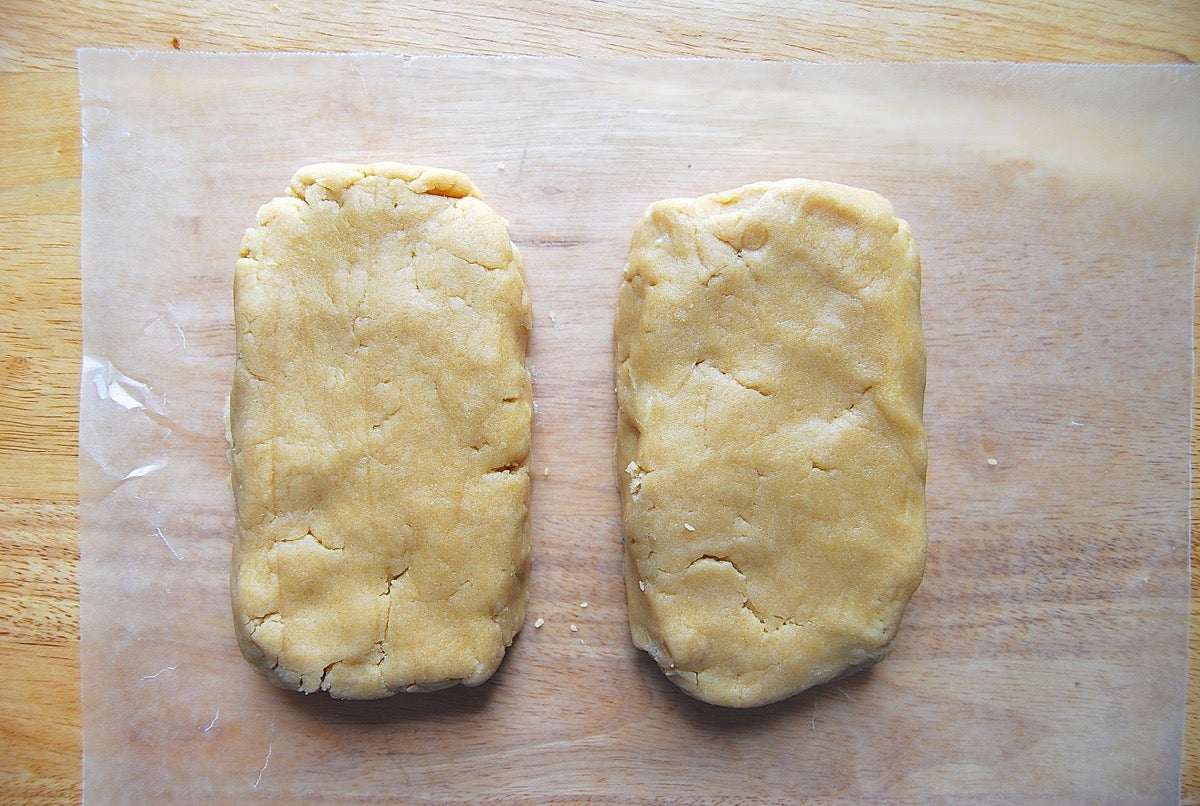 Divide the dough in half. Shape each half into a rough 3" x 5" rectangle, smoothing the edges. Wrap in plastic or waxed paper, and refrigerate for 30 minutes; this will relax the gluten and firm up the dough a bit, making it easier to roll.
You can also refrigerate the dough for up to 2 days; let it rest for 15 to 20 minutes at room temperature before you roll it out.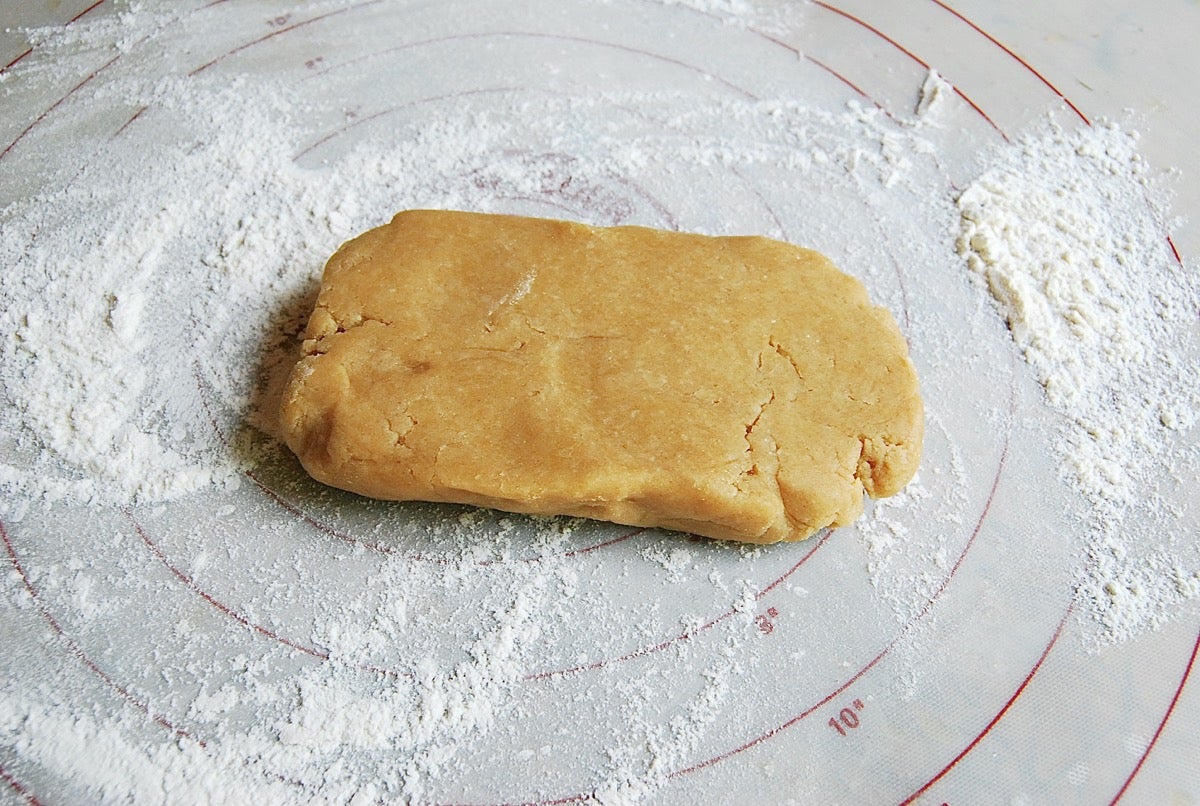 2. Roll it out.
Place one piece of dough on a generously floured work surface; I like this silicone rolling mat, which helps keep cleanup to a minimum.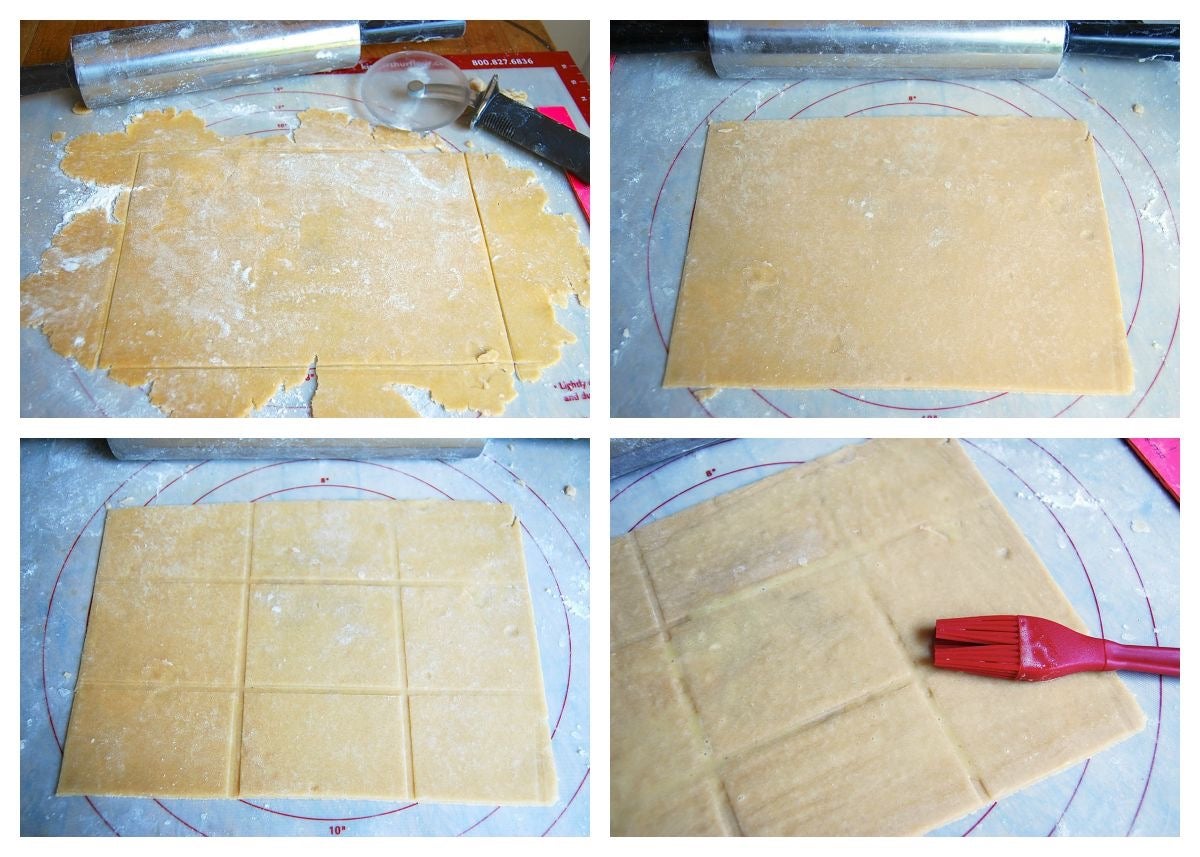 Roll the dough into a rectangle about 1/8" thick, large enough that you can trim it to an even 9" x 12". Trim off the edges; place the scraps on a baking sheet, and set them aside, along with the 9" x 12" rectangle of dough.
Press the edge of a ruler into the dough, to gently score it in thirds lengthwise and widthwise; you'll see nine 3" x 4" rectangles.
Beat 1 large egg, and brush it over the entire surface of the dough; you won't use all of the egg.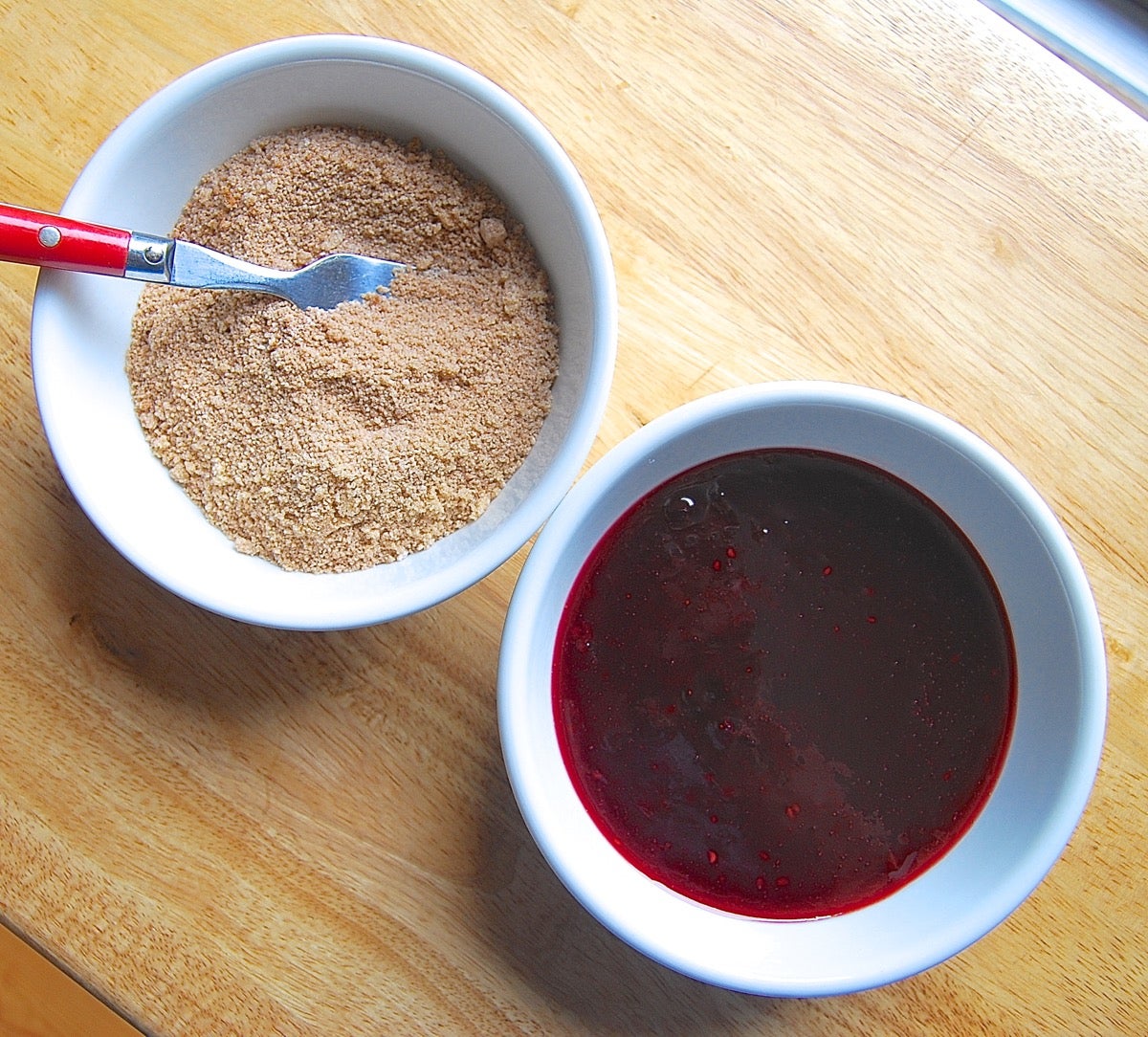 3. Make the filling.
I'm trying two fillings: brown sugar cinnamon and strawberry. Each of the amounts below will make enough for an entire recipe of toaster tarts, so choose one – or make a double batch of pastry.
Brown sugar cinnamon
1/2 cup (106g) brown sugar
1 to 1 1/2 teaspoons ground cinnamon, to taste
4 teaspoons King Arthur Unbleached All-Purpose Flour
Mix everything together.
Strawberry
3/4 cup (255g) strawberry jam (or the jam of your choice)
1 tablespoon cornstarch mixed with 1 tablespoon cold water
Bring the jam and cornstarch/water to a boil in a small saucepan and simmer, stirring, for 2 minutes. Remove from the heat, and set aside to cool.
Roll the second piece of dough, and cut it into a 9" x 12" rectangle, same as you did the first piece.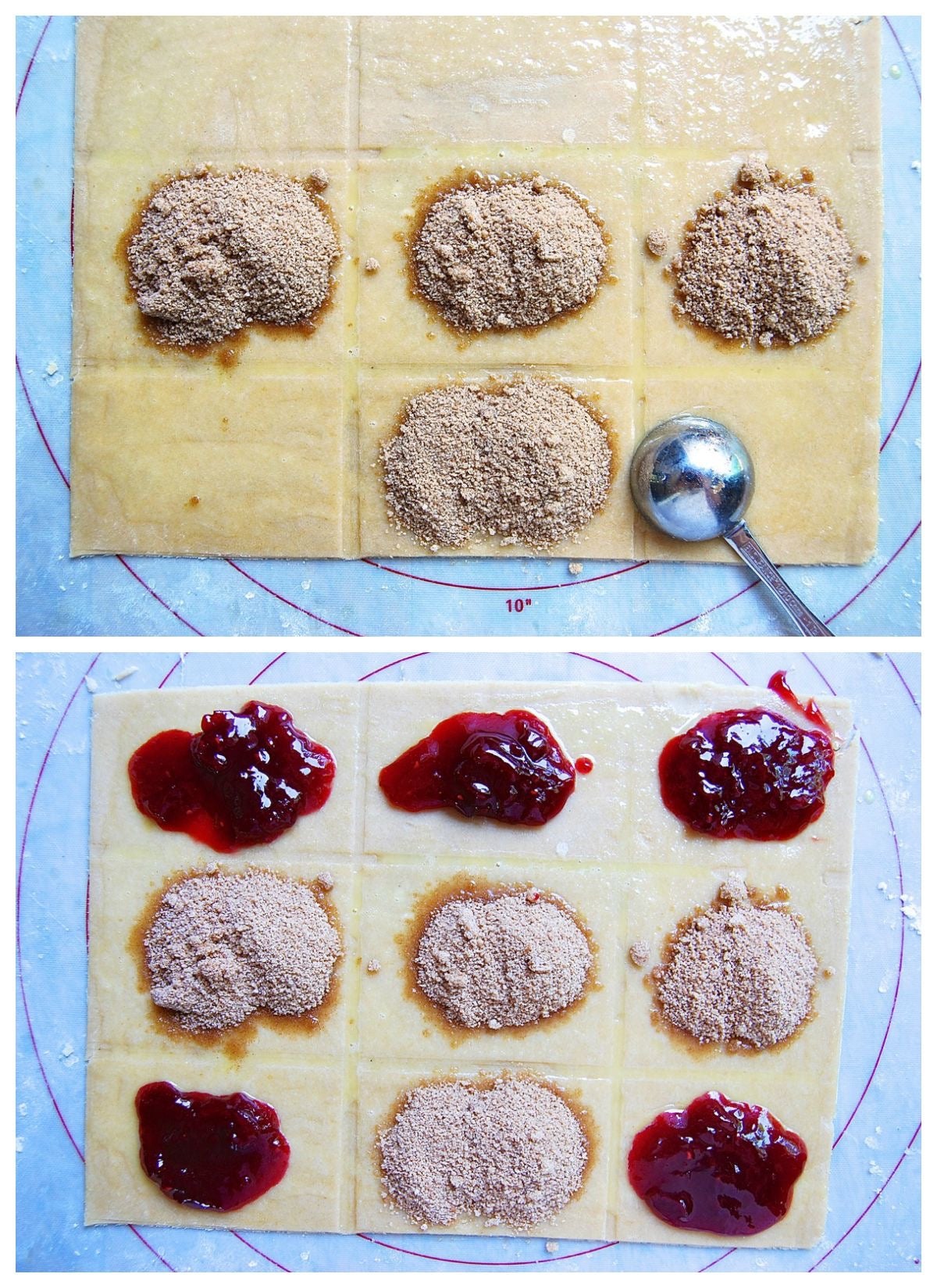 4. Assemble the toaster tarts.
Place a heaping tablespoon of filling into the center of each marked rectangle. If you're using jam, try to keep it in the center of the rectangle, away from the edges.
Carefully lay the second piece of pastry on top.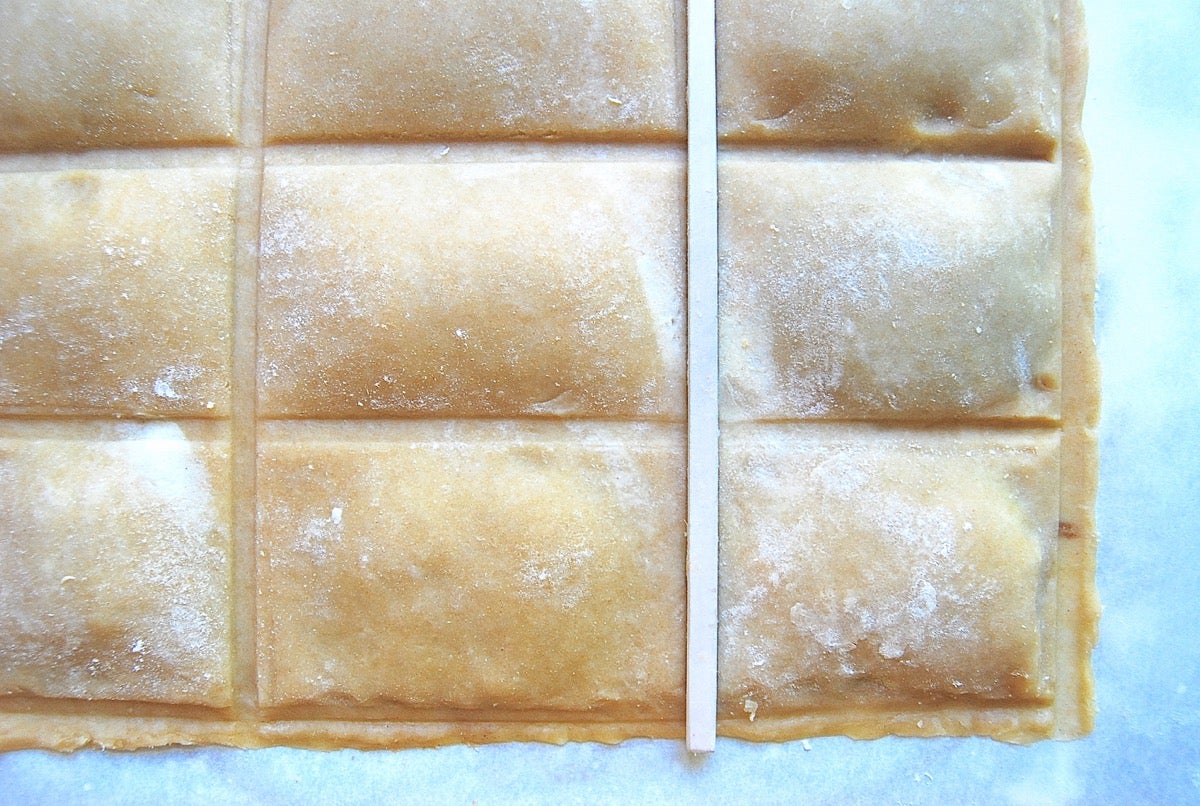 Use a chopstick, dull ruler edge, or other blunt, straight object to seal the filling into its separate tarts. Press down firmly; you want a good seal.
Press the outside edges tightly to seal, as well.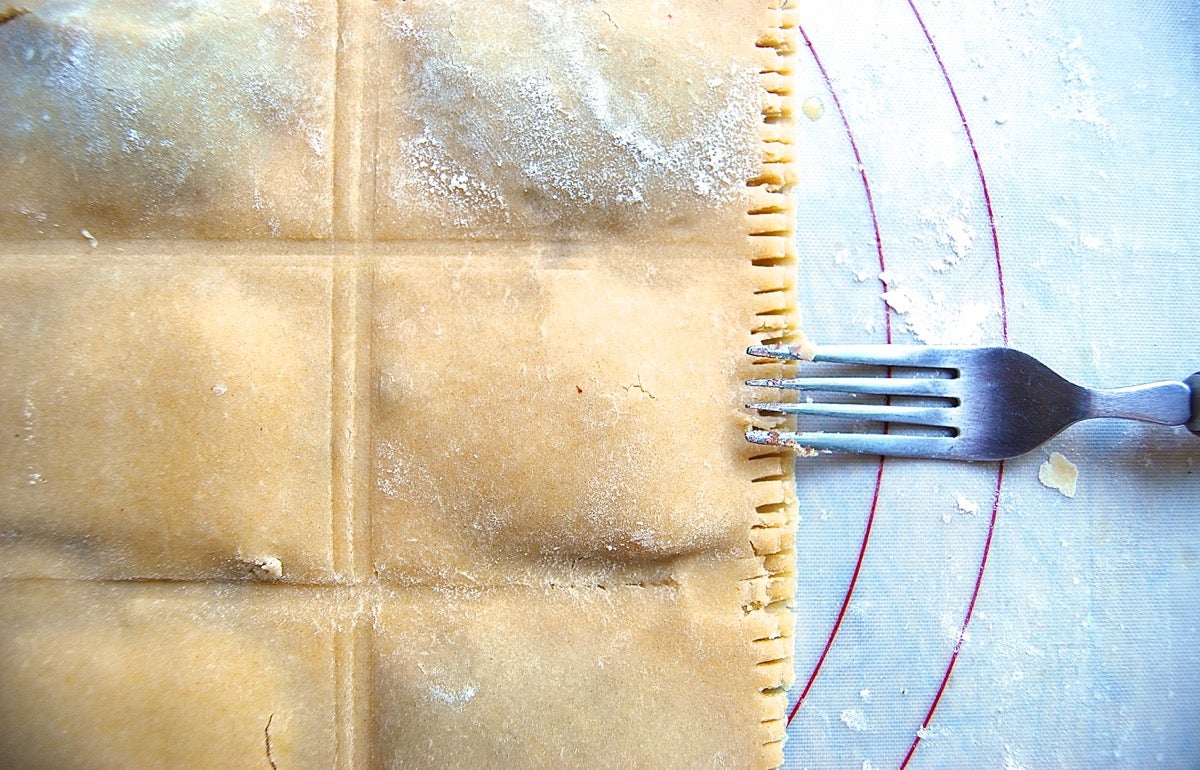 If you want a fancier edge, press with the tines of a fork.
Prick the top of each tart multiple times with a fork; you want to make sure steam can escape, or the tarts will become billowy pillows rather than flat toaster pastries.This also helps prevent the filling from leaking out.
Refrigerate the tarts (they don't need to be covered) for 30 minutes, while you preheat your oven to 350°F.
Now, if you're following our online recipe, you'll notice I've diverged from the directions here. The original recipe calls for separating the nine tarts before baking, sealing around all four edges of each.
I figured, why make extra work? Bake the tarts as a single sheet, then separate them once they're baked. We'll see how that turned out shortly.
Note: Remember those dough trimmings you set aside? Sprinkle them with cinnamon-sugar (or any leftover brown sugar filling); these have nothing to do with your toaster pastries, but it's a shame to discard them, and they make a wonderful snack. While the tarts are chilling, bake these trimmings for 13 to 15 minutes, until they're golden brown.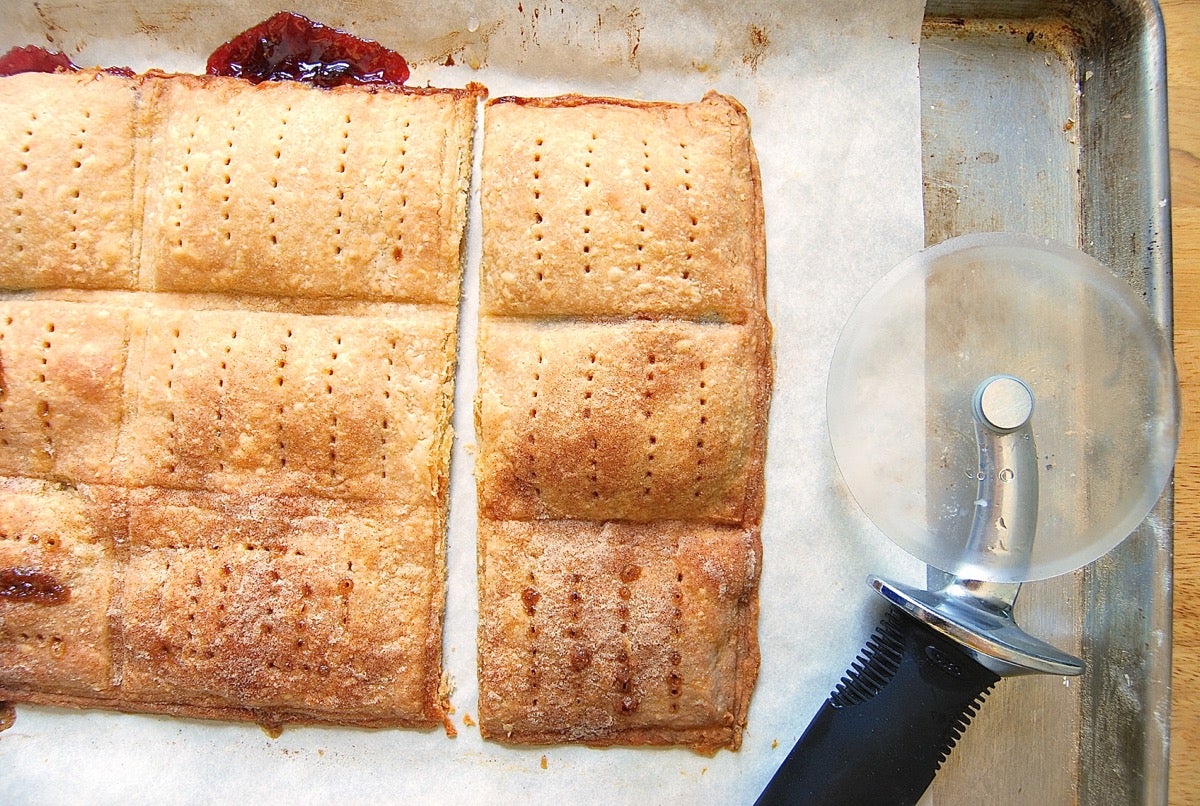 5. Bake and enjoy!
Remove the tarts from the fridge, and bake them for 25 to 35 minutes, until they're a light golden brown. Remove them from the oven, and allow them to cool on the pan.
If you've baked them in a single sheet, cut them apart while still warm.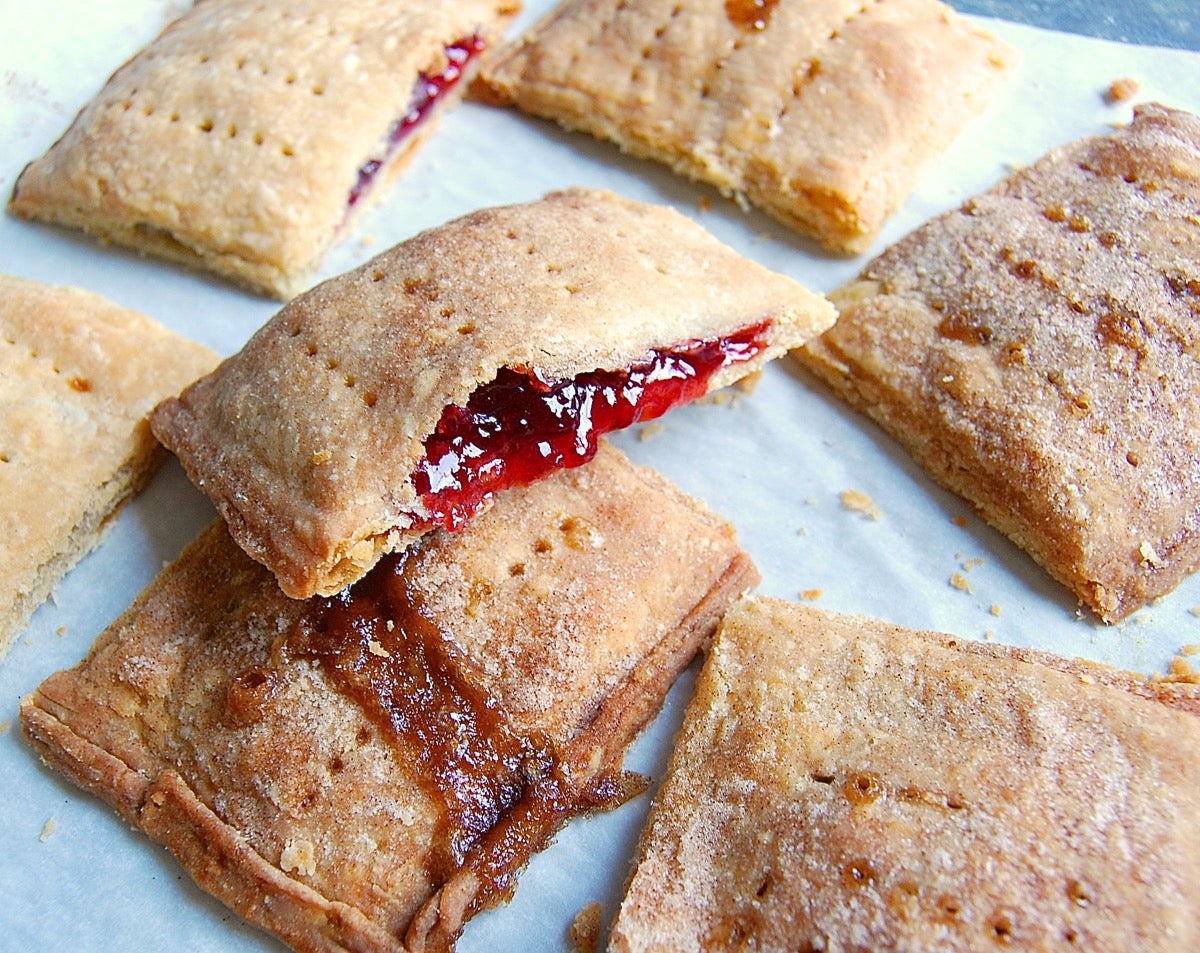 And how did the single-sheet method work? Fine and dandy – for the brown sugar tarts. The strawberry tarts were fine, too, so long as you don't intend to pop them into the toaster at some later date, to rewarm. Their edges didn't seal as well as the brown sugar tarts.
Also, notice I did have just a bit of filling leakage – but only on the couple of tarts I didn't vent thoroughly enough.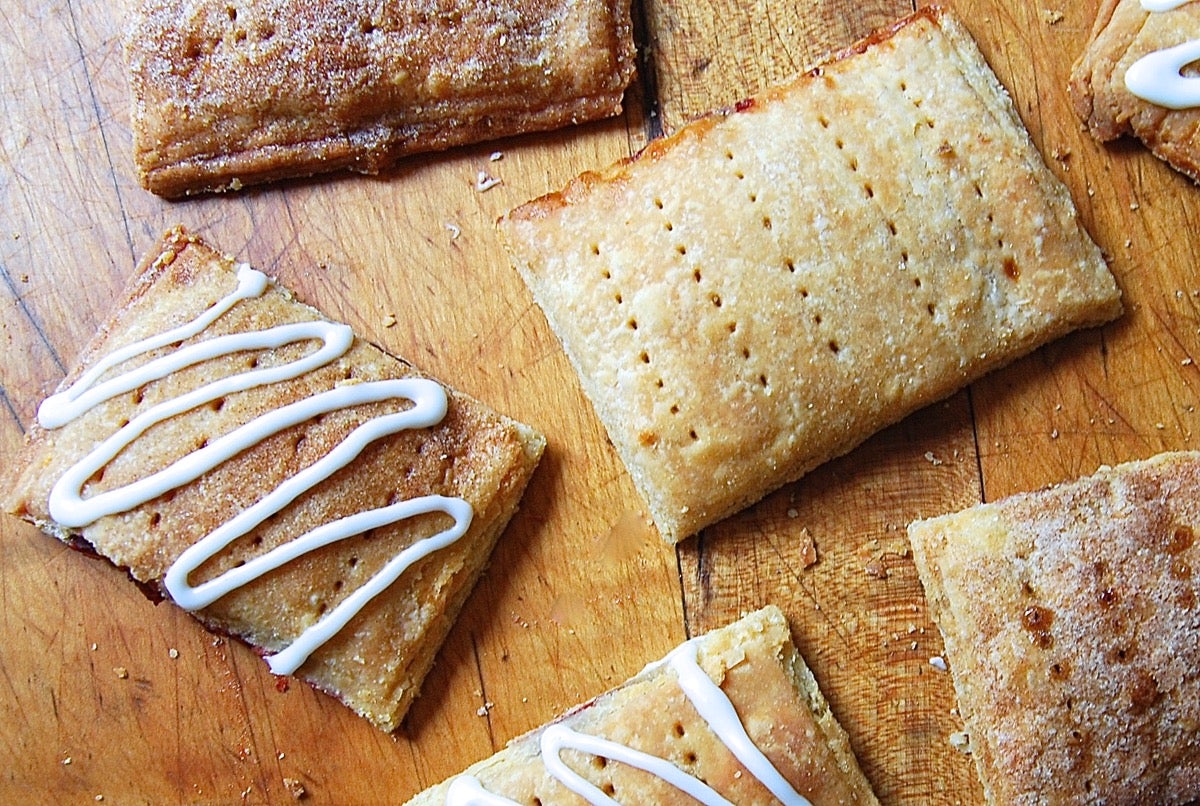 Nothing succeeds like excess! Add a decorative drizzle of confectioners' sugar glaze, if you like. I didn't even bother with measurements here, simply stirring together about 1/2 cup confectioners' sugar with enough milk to make it "drizzle-able."
Now, how about popping these into the toaster? If their edges are sealed well enough, go for it; just don't toast for too long, as you never know when your handmade (as opposed to machine-stamped) tart may spring a leak. I'd say a toaster oven, with a pan underneath, would be more fail-safe.
"You can eat 'em in the park, you can eat 'em in the dark..." Or you can simply relax and eat these toaster tarts at the breakfast table.
Or after dinner, relaxing in your favorite easy chair with a cup of coffee. For many of us older Boomers, the allure of Pop-Tarts remains; but the call to action is fainter than it used to be, for sure!
Please bake, rate, and review our recipe for Tasty Toaster Tarts.
What was your usual (or favorite) high school breakfast? Share with us all in comments, below.
Jump to Comments