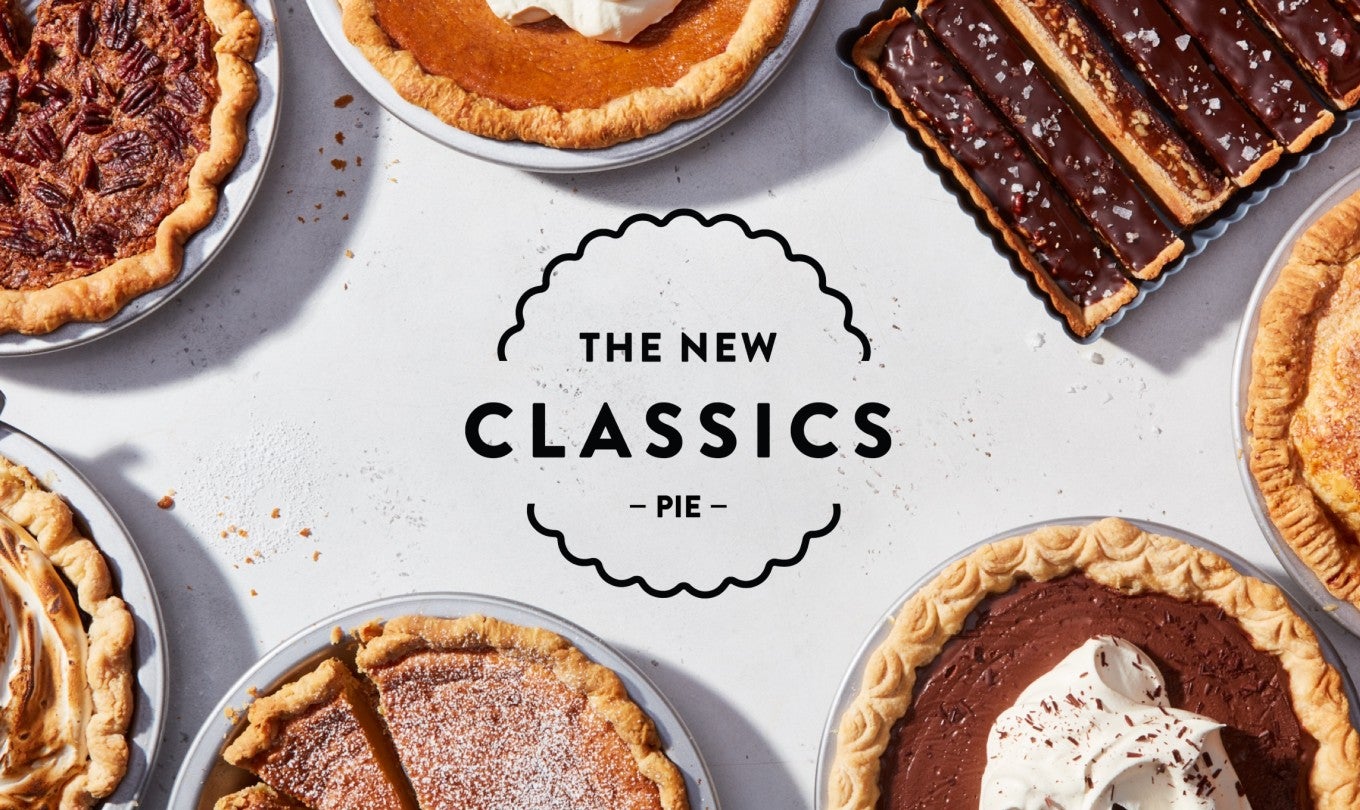 While pie is wonderful any time of year, there's no denying that November, in particular, is its time to shine. This year, in addition to must-have traditional Thanksgiving favorites (here's looking at you, pumpkin) we created six New Classics, ranging from a free-form double-apple galette to a pecan pie-inspired tart reminiscent of a candy bar. Whether you're ready to try something new or just want the very best version of something familiar, you'll find these pies will be gobbled up, slice by slice.
New Classic
Apple Butter Apple Galette
No pie pan? No problem. In this free-form galette, a thin layer of apple butter hides beneath the fruit, lending multidimensional apple flavor.
Get the recipe
Classic
Old-Fashioned Pecan Pie
Gooey and packed with pecans, this pie is a perennial Thanksgiving option, and for good reason.
Get the recipe
New Classic
Chocolate and Pecan Candy Bar Tart
Best eaten in slivers, this decadent combination of pecans and chocolate ganache is an elegant finale to a holiday meal.
Get the recipe
Classic
Sweet Potato Pie
Complete your holiday feast with sweet potato pie. It has a filling enriched with heavy cream and warmed by baking spices.
Get the recipe
New Classic
Purple Sweet Potato Pie
This eye-catching stunner gets its deep color from purple sweet potatoes; a mound of torched marshmallow on top adds sweetness and drama.
Get the recipe
Classic
Pumpkin Pie
The creamy, spiced custard filling in this Thanksgiving favorite can be made ahead, should you want to knock some prep off your to-do list.
Get the recipe
New Classic
Pumpkin Cheesecake Pie
Though perhaps untraditional, the gingersnap crust in this version amplifies the flavor of the spices in the pumpkin layer, and enhances the cream cheese layer that hides beneath it.
Get the recipe
Classic
Chocolate Cream Pie
For those who can't imagine a holiday meal (or any meal) without chocolate. Use your favorite type (bittersweet, semisweet, or milk) for the filling, then pile on the whipped cream.
Get the recipe
New Classic
Maple Cream Pie
A rich, silky maple custard is the star of this cream pie, which has a flaky crust made with both cream cheese and butter. Serve with whipped cream, of course (bourbon-spiked, if you desire).
Get the recipe
Classic
Vanilla Chess Pie
Made with pantry ingredients and a simple technique, this custard pie is luscious and irresistible.
Get the recipe