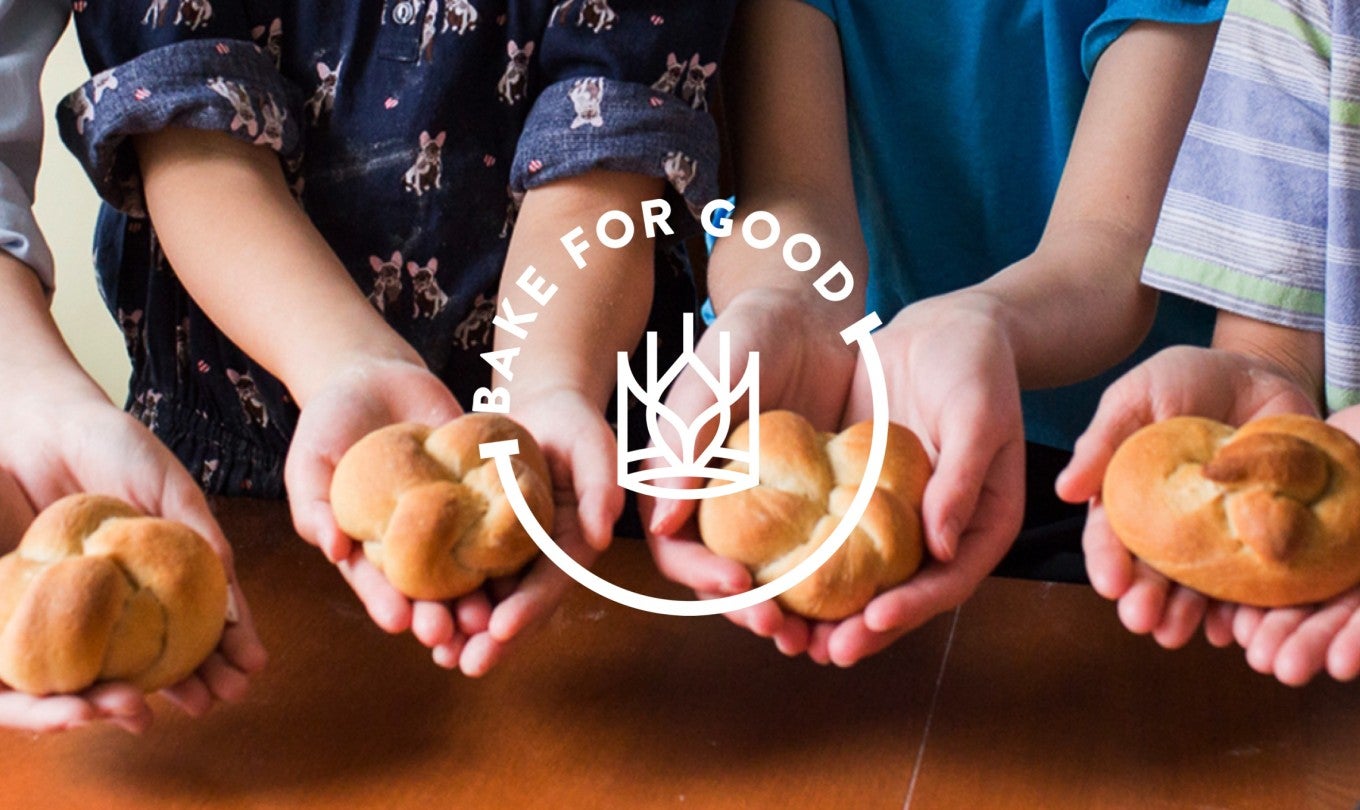 What is Bake for Good?
Bake for Good is King Arthur Baking Company's free outreach program for students in grades 4 through 12. We have three goals: learn, bake, and share. Students learn the math and science of making bread from scratch. With supplies from King Arthur, they bake the bread recipe at home or together in school. The recipe makes two loaves, one to keep and one to share with someone in need or as an act of kindness.
Bake for Good, Fall 2021
As schools begin to return to entirely in-person learning, we continue to adjust our program to best meet the needs of schools. Our Live Remote Demonstration was so successful this past year that we're adding it as a regular program option. We will not be traveling to visit schools in person this fall but hope to return to travel in the spring. All programs continue to require a level of video technology; watching the instructional video online and/or using a remote video platform to learn with the teacher, class, or BFG Instructor.
Next Steps
Decide which program option fits your group ("Ways to Bake for Good").
Read through the Planning Guide carefully. It has important details you need to know.
Ways to Bake for Good
Live Remote Demonstration
Live Remote Demos are designed for larger school groups, such as an entire grade level at a school.
50+ students, grades 4-7
A Bake for Good Instructor teaches a live, 45-minute remote demonstration via Zoom. This format is designed for your students to participate from home (remote) or from the classroom.
The class is a demonstration only, students do NOT bake along
Students receive supplies to bake at home.
Self-Directed
The Self-Directed program is designed for smaller classes and groups to learn together. Perfect for individual classes, after-school clubs, scouts, and home school groups.
10+ students, grades 4-12
Students watch the Bake for Good instructional video.
Students receive supplies to bake together.
Optional: Group participates in a 20 min. Q&A with a Bake for Good Instructor, before baking, to answer questions and review key concepts.
FCS, CTE & Culinary Arts
This option is designed for FCS or Culinary teachers who have participated in the program in the past or are comfortable with bread making and want to teach the lesson themselves.
All students enrolled in your classes, grades 4-12
You lead the lesson using the Bake for Good recipe (instructional video optional)
This option is only for FCS, CTE or Culinary Arts teachers. If you are a FoodCorps Service member or a general classroom teacher, please apply for our Self-Directed option. This program is designed to be completely teacher-led with minimal assistance from the Bake for Good team.
Start here: just three easy steps!
Program resources
Instructional video
Contact us! We're here to help.