It can be easy to get into a breakfast rut. When you stumble into the kitchen in the early morning, bleary-eyed and seeking coffee, it's hard to muster the energy to whip up an elaborately innovative breakfast spread before kicking off a busy day. 
For those on a low-carb or keto diet, finding breakfast inspiration can be even more difficult while trying to keep carb intake in check. Which is why we introduced our Keto Wheat Pancake Mix — all you have to do is add water and you're on your way to a satisfying meal of fluffy, low-carb pancakes that are just 2g net carbs and 9g of protein per serving (and no added sugar). 
Keto-friendly pancakes are just the beginning 
A tall stack of tender pancakes is one of morning's great pleasures, but that's simply one breakfast option. To spark creativity and more variety on the plate, we decided to come up with some additional keto-friendly ways to enjoy pancakes for breakfast. They'll shake you out of your routine and add some new delicious options to your table. 
Baker's tip: Of course, these breakfast ideas don't have to just be made with keto pancakes. You can try them with any of the mixes in our pancake line, from gluten-free to buttermilk to more. 
Egg and cheese breakfast sandwiches
How many mornings have been saved by a bodega-style sandwich, rich with bright orange cheese and heaped with fluffy eggs? Too many to count. Taking inspiration from this perfect specimen of a meal, you can make your own keto breakfast sandwiches at home, bookended by two miniature pancakes.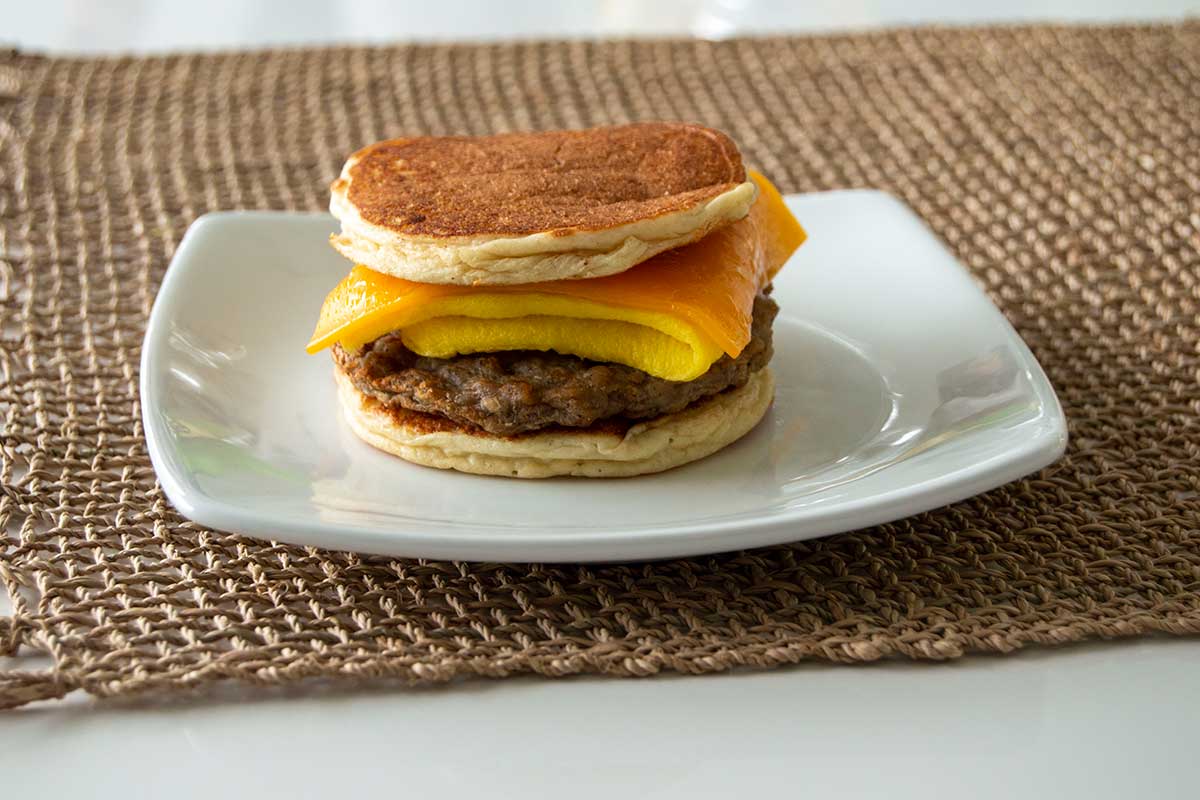 How to make: First, prepare your pancakes. Mix up the Keto Wheat Pancake Mix batter per the instructions on the bag (just add water!), then ladle two pancakes onto your griddle in roughly 2 1/2'' circles — about the size of an English muffin. 
Once your pancakes are done, prepare the rest of your sandwich. For the eggs, you can make them however you like best: scramble them; crack them into an English muffin ring so they bake up perfectly round; fry them; or bake in a skillet like an omelet and fold up to fit in your sandwich (as I've done here).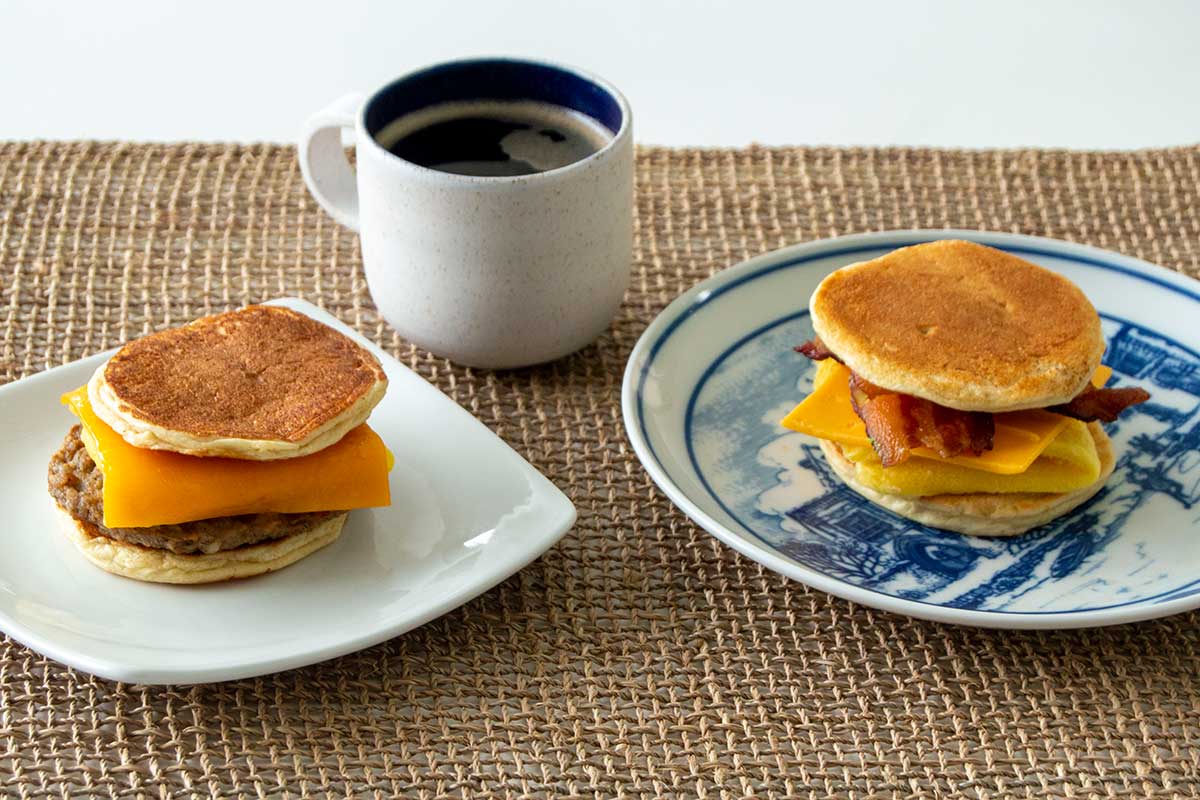 Add bacon or sausage (or a meatless alternative, like plant-based sausage or portobello mushroom) and a slice of cheddar cheese. Put it all together and try not to devour in two bites. 
Bacon and avocado wrap 
Two ingredients that make any dish better: bacon and avocado. So add both of them to pancakes, already rather fantastic on their own, and you've got a keto breakfast wrap that pretty much can't be beat.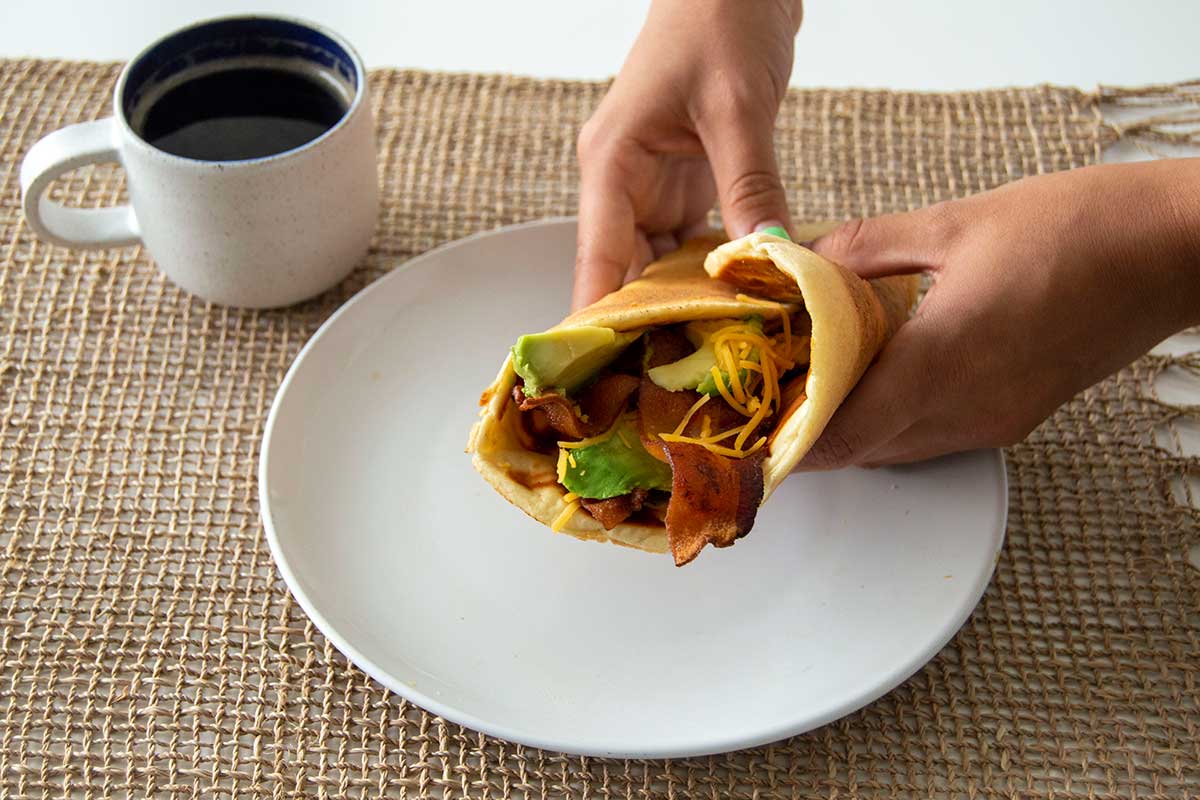 How to make: First, fry up some bacon and shred your cheese of choice. (I like cheddar!) Then prep the pancake. Since the pancake will be acting as a wrap here, the key is to bake it up large and thin. Don't add more water to the mix to thin it; rather, use an offset spatula or the back of a spoon to carefully spread it in the pan or on the griddle so the pancake is about 8" to 9" in diameter. 
Once your pancake is ready, slice an avocado. Assemble the bacon, avocado, and cheese in the center of the pancake, then wrap it all up to deliver straight to your mouth. (Because it's thin, the pancake can be a bit delicate, so be sure to wrap up carefully.) 
Feel free to customize your wrap however you'd like — add sliced tomatoes, sautéed mushrooms, a sprinkle of your favorite spice blend, and more. It's really a blank canvas to deliver your favorite keto-friendly fillings. 
Pancake cereal
You might be familiar with pancake cereal — dozens of tiny pancakes cooked individually and served together in a bowl. Is it the most time-efficient process? No! Is it cute and fun and novel? You bet. Save this one for a weekend morning and whip up while you enjoy your second cup of coffee.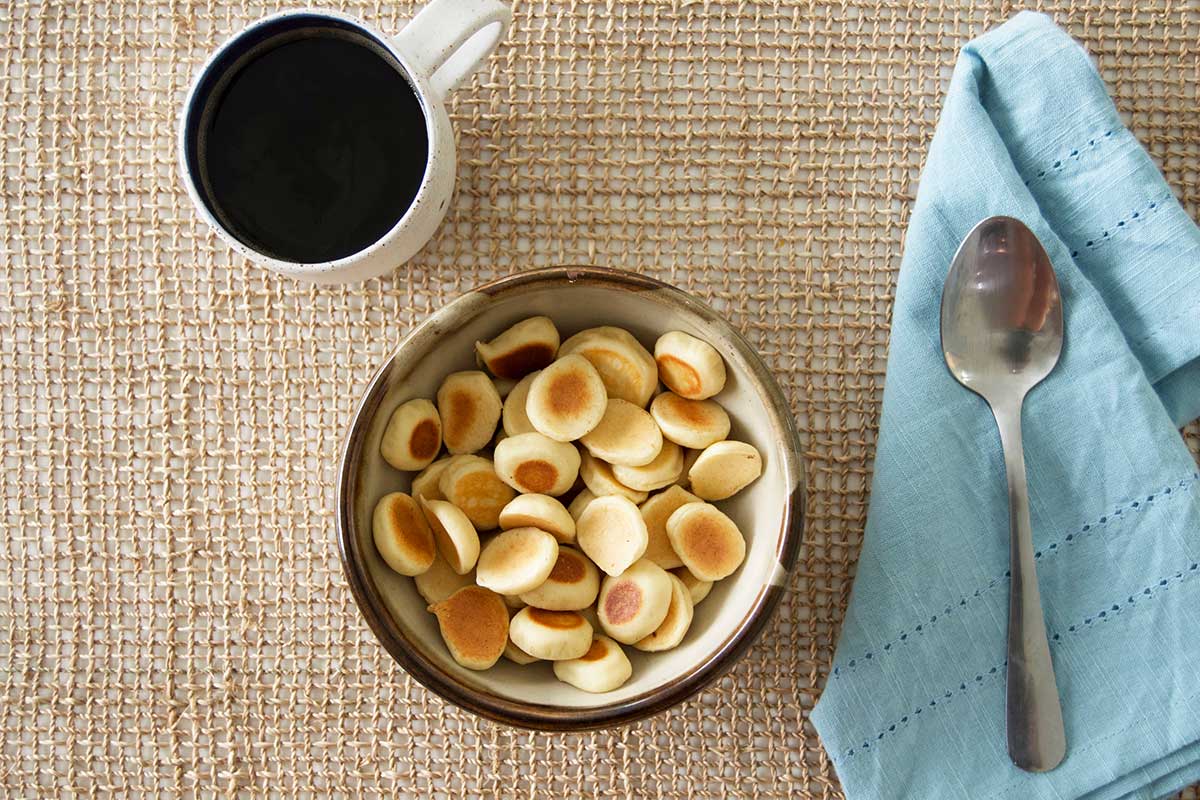 How to make: To prepare so many little pancakes quickly and uniformly, use a piping bag with a round tip. This way you can easily pipe a bunch of small dollops of pancake batter onto your griddle. If you don't have a piping bag, you can also use a plastic sandwich bag with one of the corners snipped off. 
Fill up your bag with pancake batter, then squeeze out little pancakes the size of a quarter all over your preheated griddle. To make enough mini-pancakes to fill a bowl, you'll likely have to cook in several batches. Since these pancakes are so tiny, they'll cook quickly — keep an eye out and be ready to flip once they're golden brown on one side. 
To eat, you can top with a sliver of butter and drizzle in your favorite keto-friendly honey or maple syrup substitute. These are also great with berries or toasted nuts mixed in, or a big dollop of whipped cream and sugar-free fruit jam. 
All the keto pancake possibilities  
With our Keto Wheat Pancake Mix, you can whip up keto-friendly pancakes by just adding water and heating up the griddle. But don't stop there. Use these pancakes as a starting point to make all sorts of creative keto breakfast combos, from sandwiches to wraps to cereal. Mix-and-match fillings to your heart's delight, and you'll never get stuck in a breakfast rut again.
If you're eating keto (or baking for someone who is!), we offer additional keto-friendly products, including Keto Wheat Flour and Baking Sugar Alternative. In addition, there are plenty of keto-friendly recipes on our recipe site ranging all the way from bread to brownies.
Cover photo by Kristin Teig. 
Jump to Comments