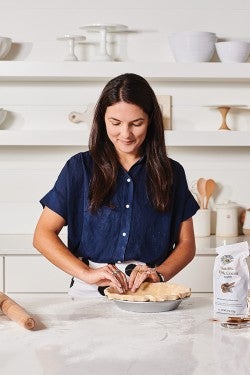 About Rossi Anastopoulo
Employee-owner since 2020
Rossi Anastopoulo grew up in Charleston, South Carolina, which is how she fell in love with biscuits. She didn't have any bakers in her household (with the exception of her grandmother's perfect koulourakia), so she learned at a young age that the best way to satisfy her sweet tooth was to make desserts herself. She's been a baker ever since.  
While attending the University of North Carolina at Chapel Hill as a Morehead-Cain scholar, Rossi began cultivating her love for food and storytelling — editing the university's online food journal, interning at a Bread House in Bulgaria, starting a campus baked goods business, and researching the anthropology of pie in the American South. Since then, she's merged her love for writing, storytelling, baking, and creativity into a career working in culinary public relations, baking for a vegan pie business, and writing about everything from pie on the Iditarod trail to the surprising story of Louisville's modjeska candy for outlets like TASTE, Food52, Saveur, Bon Appétit, Garden & Gun, and more. She was the recipient of the 2019 IACP Award for Narrative Food Writing With or Without Recipes, and she collaborated with Los Angeles pastry chef Roxana Jullapat on her James Beard-nominated cookbook Mother Grains. 
Somewhere along the way, she got lucky enough to become an employee-owner at King Arthur as the company's Blog Editor, a literal dream job in which she gets to write, read, think, and talk about baking all day (in addition to some more mundane stuff – it's not all cinnamon rolls and sourdough over here!). She's also the author of Sweet Land of Liberty: A History of America in 11 Pies. (Can you tell she really likes pie?) Her favorite things to bake that aren't pie include milk bread, shortbread, and anything that involves whipping egg whites.  
Posts by Rossi Anastopoulo
Recipes by Rossi Anastopoulo