I didn't used to like baked doughnuts.
I mean, isn't the whole point of doughnuts that crisp, nicely greasy crust? That way you can taste the frying fat, along with sugar and cinnamon and other signature doughnut flavors?
Baked doughnuts? Sounds like an oxymoron to me.
But one day, during one of my periodic calorie-counting phases, I decided to learn to make a really good baked doughnut.
One that was SO tasty and SO moist and SO tender I'd never miss the hit of grease.
And one particular recipe – Doughnut Muffins – became my savior.
I've taken this basic muffin recipe and turned it every which way, making plain cinnamon doughnuts, and cider doughnuts, pumpkin doughnuts, and apple, banana, and strawberry versions: doughnuts for dessert.
Baked doughnuts? Oxymoron no more. Let's just call them the lazy (shortcut-savvy?) doughnut maker's new best friend.
Preheat the oven to 325°F. Lightly grease the top and bottom parts of a doughnut hole pan.
If you don't have a doughnut hole pan, a mini muffin pan, though it won't yield perfect spheres, is suitable.
And now, a word from our sponsor – that would be us, King Arthur Flour.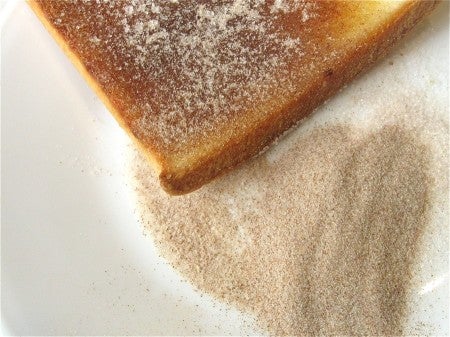 A key element of these doughnut holes is their cinnamon-sugar coating.
If you love cinnamon and haven't tried our Cinnamon-Sugar Plus, you've got a treat in store. Made from superfine sugar and Vietnamese cinnamon, it's a must if you're a cinnamon toast aficionado – or plan on making muffins or doughnuts coated with cinnamon-sugar. The fine grains of sugar adhere much better to whatever you're coating than cinnamon-sugar made with regular granulated sugar.
Just sayin'.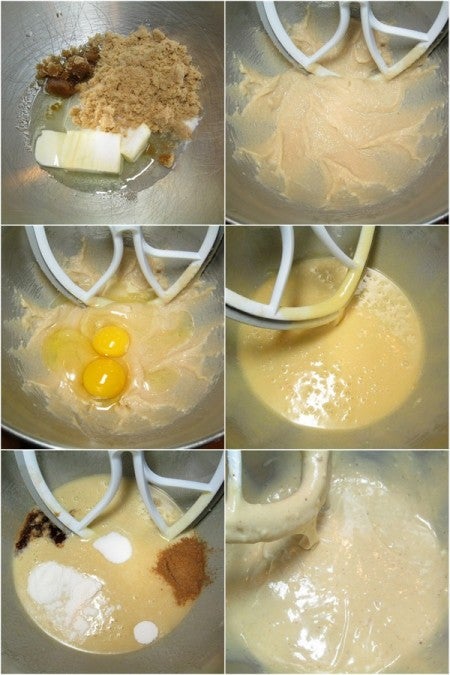 Place the following in a mixing bowl, and beat until smooth:
4 tablespoons (57g) butter, softened
1/4 cup (50g) vegetable oil
1/2 cup (99g) granulated sugar
1/3 cup (71g) brown sugar, packed
Add 2 large eggs, and beat again until smooth.
Stir in the following:
1 1/2 teaspoons baking powder
1/4 teaspoon baking soda
3/4 teaspoon salt
1 teaspoon ground nutmeg
1 teaspoon vanilla extract
See how I've spooned the baking powder, nutmeg, etc. onto different parts of the batter in the bowl? It's my visual reminder about what I've added, and what still needs to go in. You never know when the phone will ring, or you'll catch the puppy chewing on a chair leg – thereby totally losing your place in the recipe, right?
Stir 2 2/3 cups (319g) King Arthur Unbleached All-Purpose Flour into the butter mixture alternately with 1 cup (227g) milk, beginning and ending with the flour and making sure everything is thoroughly combined.
Spoon the batter evenly into the prepared pan, filling the cups full; the batter will mound up a tiny bit. Place the top on the pan, and lock it in place with the clips.
Bake the doughnut holes for 15 to 17 minutes, or until they're a pale golden brown and a cake tester inserted into the middle of one of the center holes comes out clean.
Loosen the edges of the holes if necessary, and gently return them onto a rack to cool briefly. Grease the pan again, and bake as many more batches as necessary to use up the batter.
While the doughnuts are still warm (i.e., as each batch comes out of the oven), place 4 or 5 at a time in a paper bag with cinnamon-sugar. About 3 tablespoons cinnamon-sugar should be enough for the whole batch.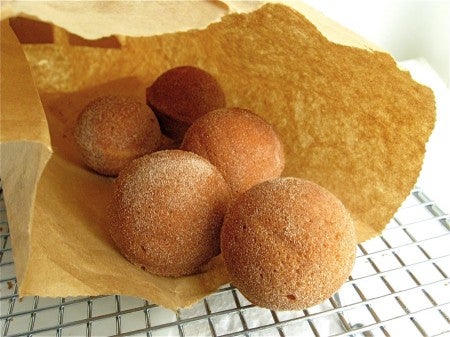 Shake gently to coat the holes with the cinnamon-sugar. If the holes have cooled too much and aren't holding the sugar, spritz them very lightly with a bit of water, then shake.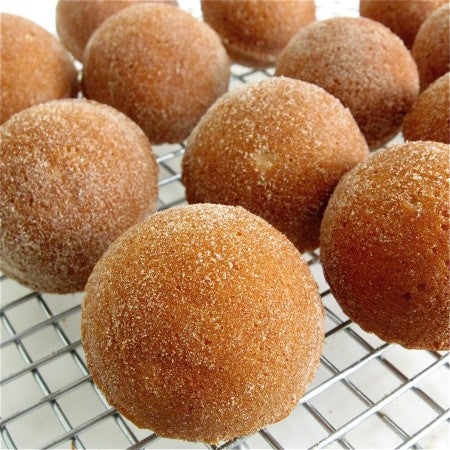 Enjoy the hole thing!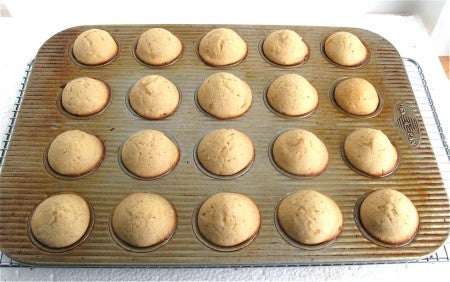 And here they are as mini muffins. If you've used a mini-muffin pan, bake in a preheated 425°F oven for about 10 minutes, until they test done; they won't be very brown, but a toothpick inserted into the center of once will come out clean.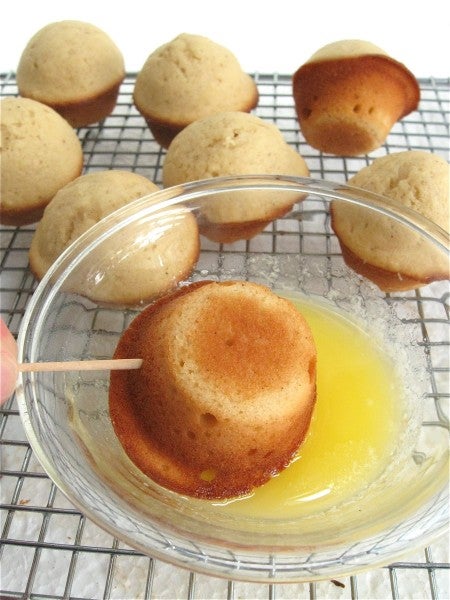 For extra flavor (and better adherence of the cinnamon-sugar), dip each mini muffin in melted butter before gently shaking in cinnamon-sugar.
You can ditch the toothpick and use your fingers if you like – it's kind of messy, but that's what I ended up doing.
Besides, licking buttery cinnamon-sugar off your fingers? Not a problem.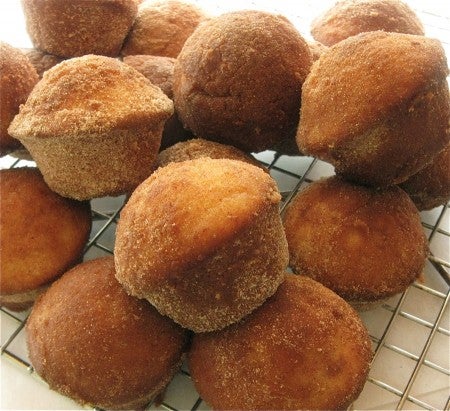 Serve doughnut holes or mini muffins warm or at room temperature. While their crust isn't greasy-crisp like that of a fried doughnut, their preparation is certainly a heck of a lot easier.
Read, bake, and review (please) our recipe for Cinnamon Baked Doughnut Holes.
Jump to Comments