Whole Grain Dinner Rolls
Share the bread – and this recipe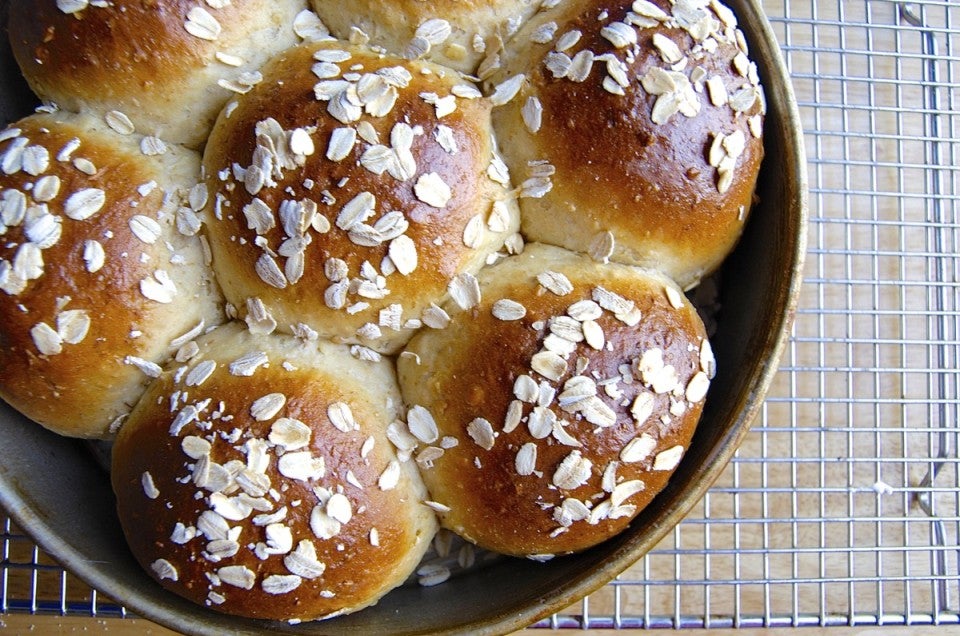 Good food is a passion many of us share – and recipes are how we connect.
To me, baking is ALL about sharing – not just the bread and cookies themselves, but the recipes that they come from. I've never, EVER been one of those cooks or bakers who claims a "secret" recipe, one she's unwilling to share.
I mean, what's the good of that? Just like you don't want to go to your grave with money in your pocket, neither do you want to let a cherished recipe die with you.
Write your recipes down; send them out into the world. You never know whom they'll touch: the daughter recognizing her mom's peanut butter cookies; the grandson realizing that this recipe is, miraculously, an exact blueprint of his grandma's cinnamon rolls.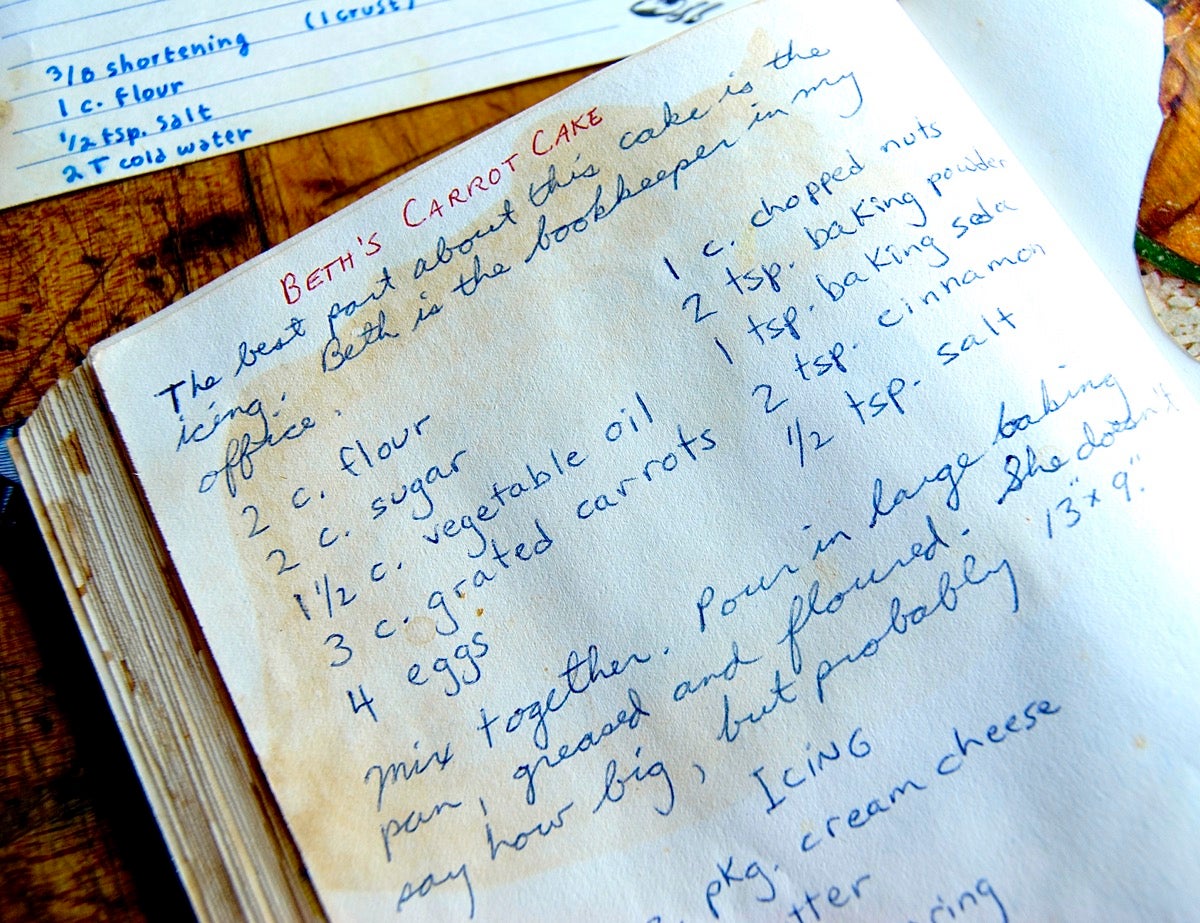 These days, as I just begin to get a glimmer of my own mortality, I feel more strongly than ever that it's worth the time and effort to share recipes.
And I have the perfect vehicle for doing just that: this blog. Which brings us to the following recipe, courtesy of reader Sharon Daley of Harwich Port, MA.
Sharon emailed us her original recipe for Whole Grain Dinner Rolls, with an accompanying note:
"Here's the scoop: My youngest son came home from college this weekend, and I wanted to bake rolls for dinner, and also send a loaf of bread back to school with him. Fall seems just right for whole grains, and I decided to try a couple of the King Arthur specialty ingredients, so I just started 'playing around.' The result was quite tasty, and I thought you folks might be interested. P.S. College boy gobbled them up!"
Sharon's path is the one so many of us take: baking for family, celebrating an occasion, making people happy. With so much angst and agitation in the world, isn't it nice that one simple act – baking – is something we can rely on for peace, happiness, and sustenance?
I'll show you how to make Sharon's rolls and bread. And in return, I expect you to pay it forward: read the recipe, make the bread, then share both with family and friends.
Deal?
1 1/2 cups (180g) King Arthur Unbleached All-Purpose Flour
1/2 cup (57g) Irish-Style Flour or White Whole Wheat Flour
1/2 cup (45g) rolled oats, old-fashioned or quick-cooking
1/4 cup (28g) wheat germ
2 tablespoons (23g) potato flour or 1/4 cup (15g) dried potato flakes
2 tablespoons (11g) nonfat dry milk
2 teaspoons instant yeast or active dry yeast
1 teaspoon (6g) salt
2 tablespoons (25g) olive oil
2 tablespoons (42g) honey
1 large egg
1/2 cup + 2 tablespoons (141g) water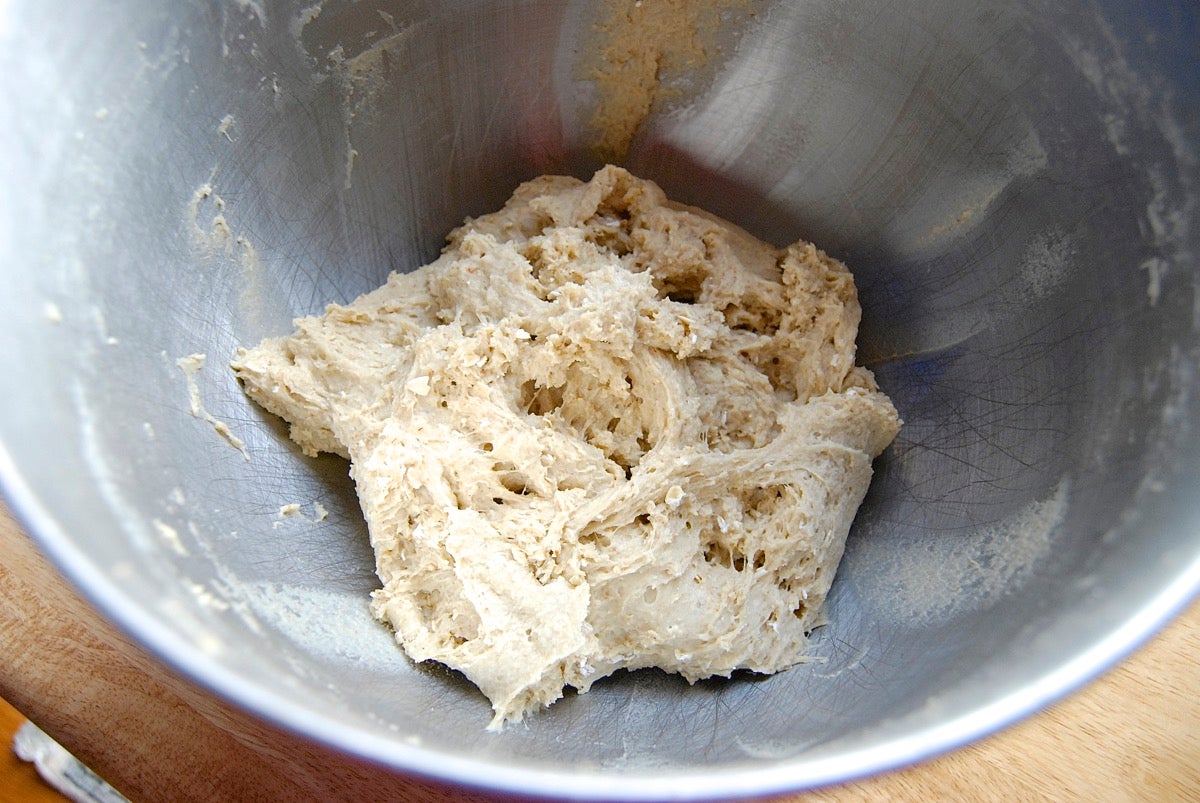 Mix everything together in a large bowl.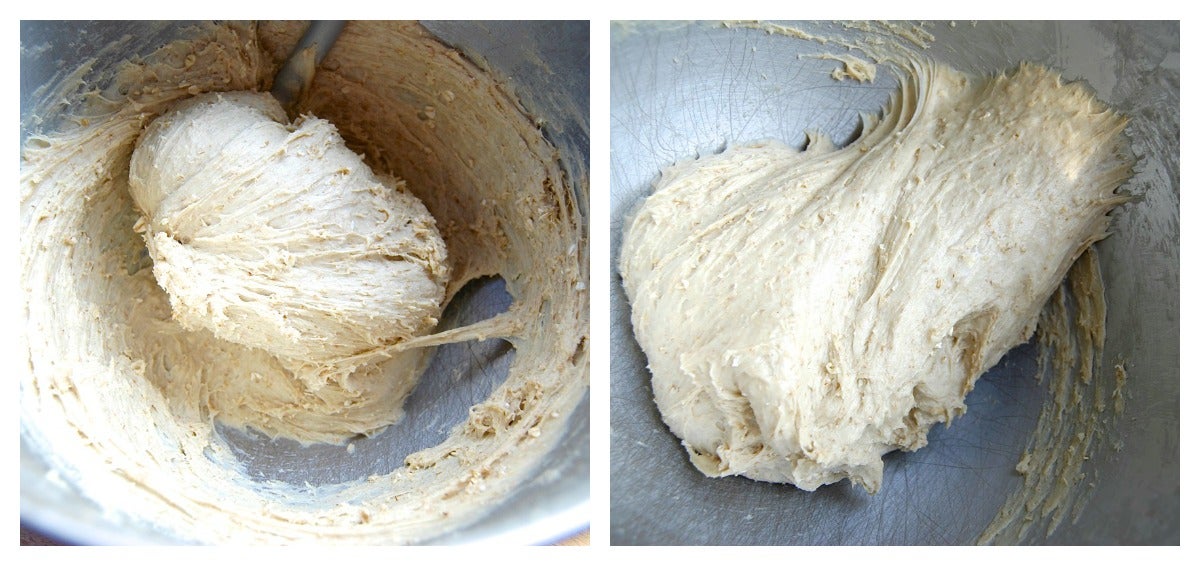 Knead — by hand, with a stand mixer, or in a bread machine set to the dough cycle — to make a soft, smooth dough. Using a stand mixer, it may stick a bit in the bottom of the bowl (above right); that's fine.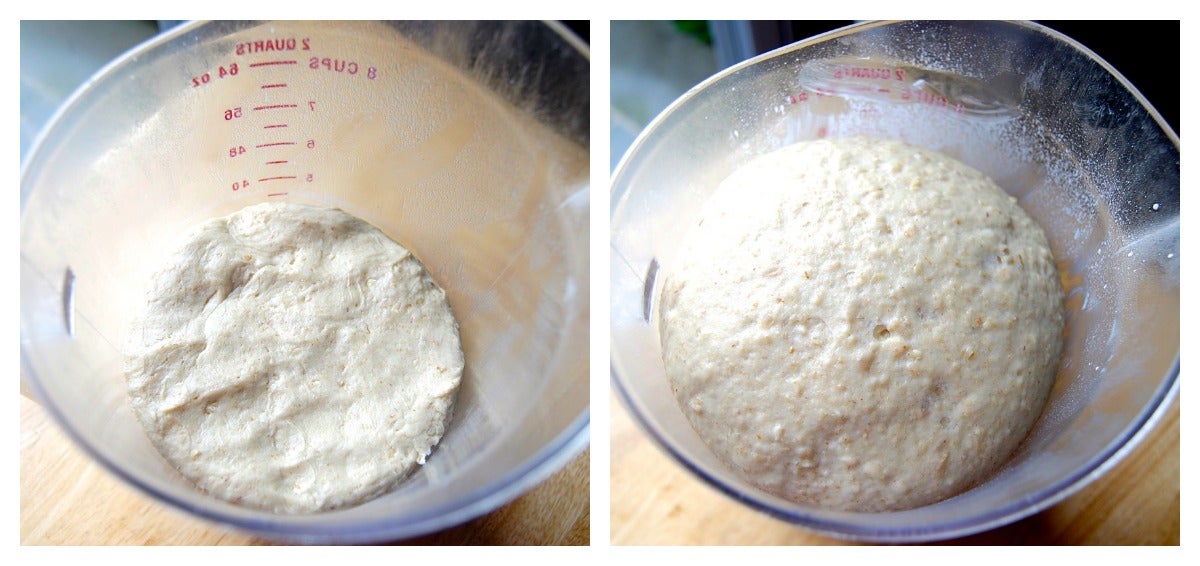 Place the dough in a lightly greased bowl (or large measuring cup, as I've done here), cover the bowl, and let the dough rise until it's doubled in bulk, 60 to 90 minutes.
Gently deflate the dough.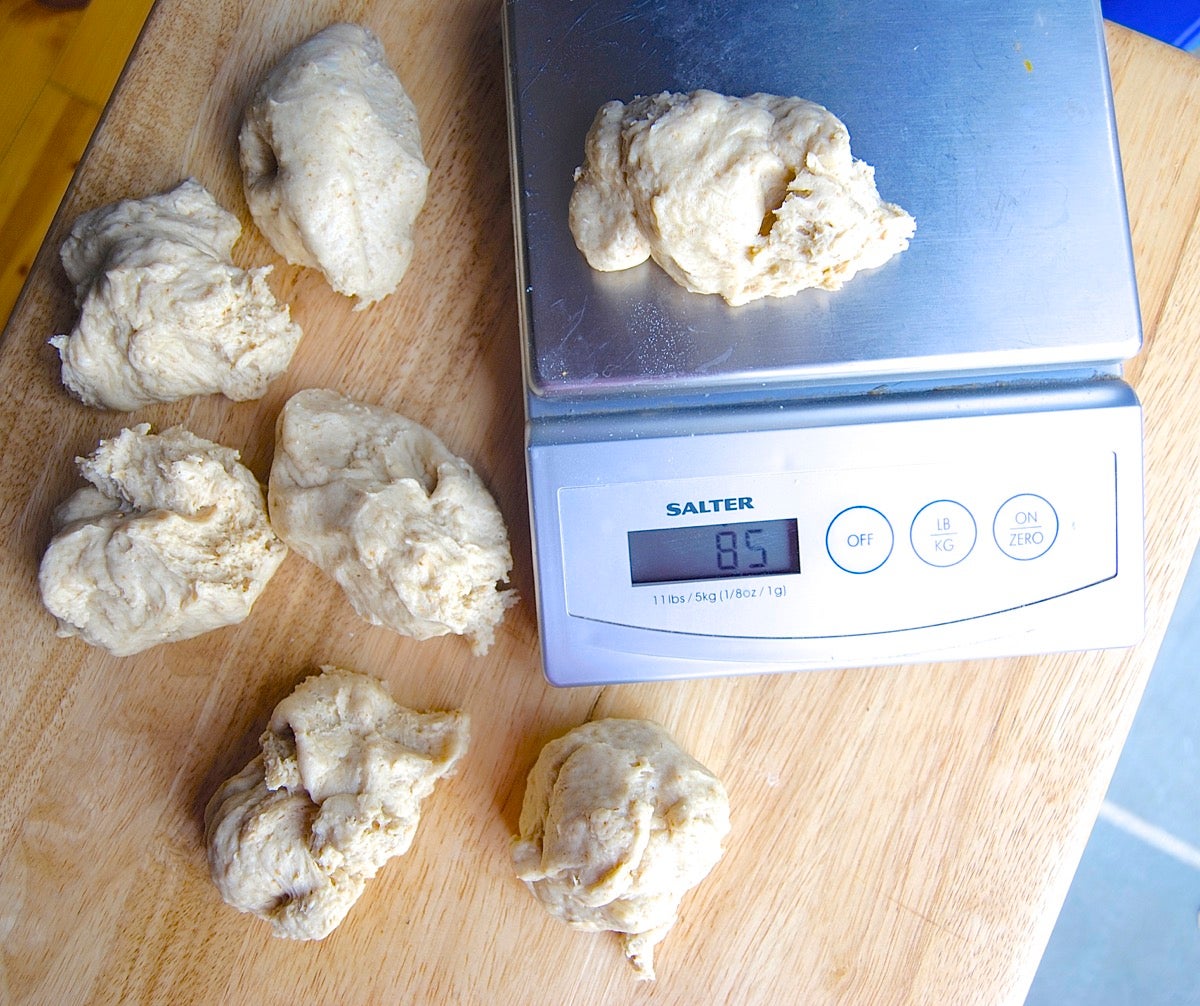 Divide into 12 equal pieces, weighing about 50 grams each. Round each piece into a smooth roll.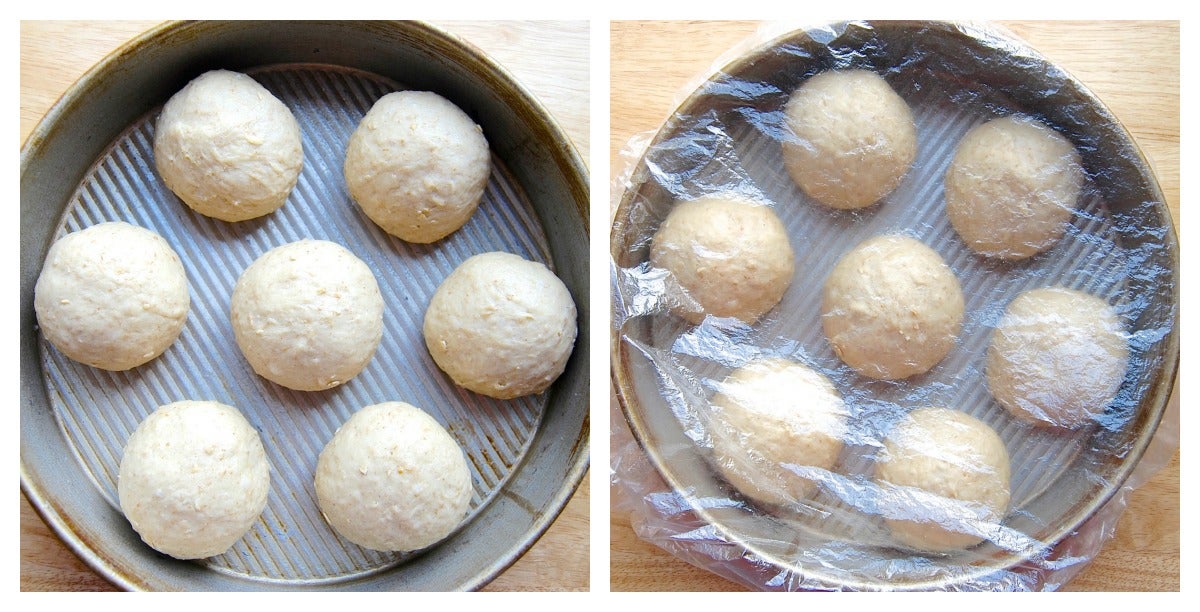 Place the rolls in a lightly greased 9" x 13 pan or two 9" round pans.
Cover the pan; a clear shower cap makes a great reusable see-through cover.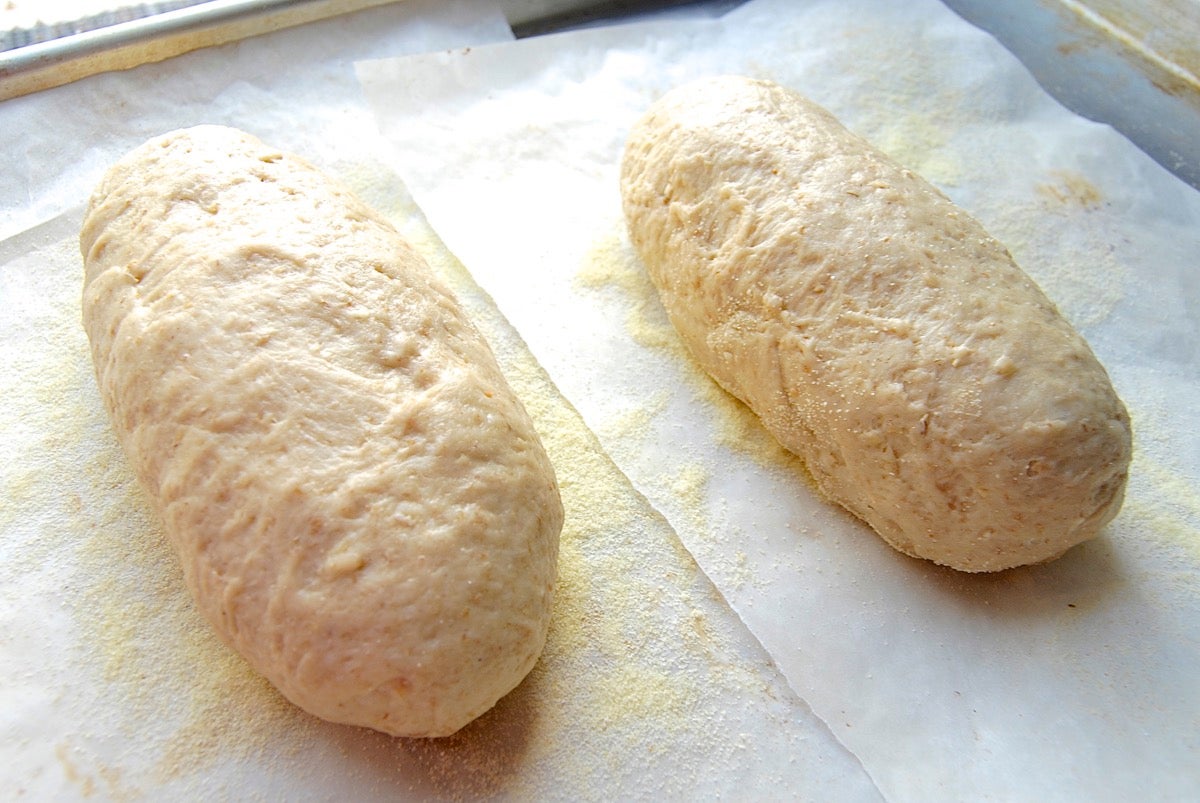 I experimented with dividing this dough in half: one used to make rolls, and the other to make two loaves. To do so, simply shape into a short, fat log; or a round.
Lightly grease a baking sheet, or line with parchment; sprinkle with cornmeal or semolina. Place the loaves on the baking sheet, and cover with lightly greased plastic.
Let the rolls/loaves rise for about 90 minutes, or until they're nearly doubled in size. The rolls will be touching one another.
Towards the end of the rising time, preheat the oven to 375°F with a rack in the center (and a stone, if you have one, on the floor of the oven, or on a lower rack).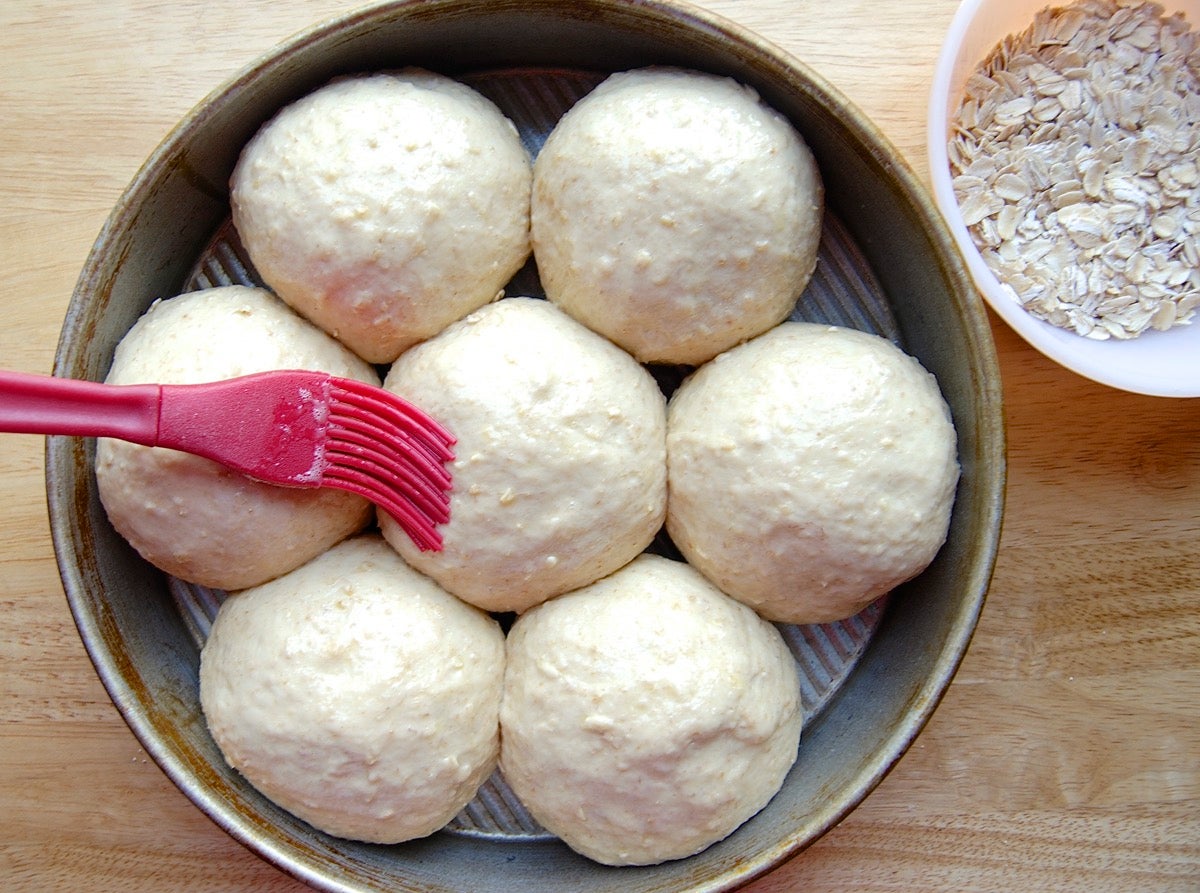 Brush the rolls with 1 large egg whisked with 1 tablespoon cold water.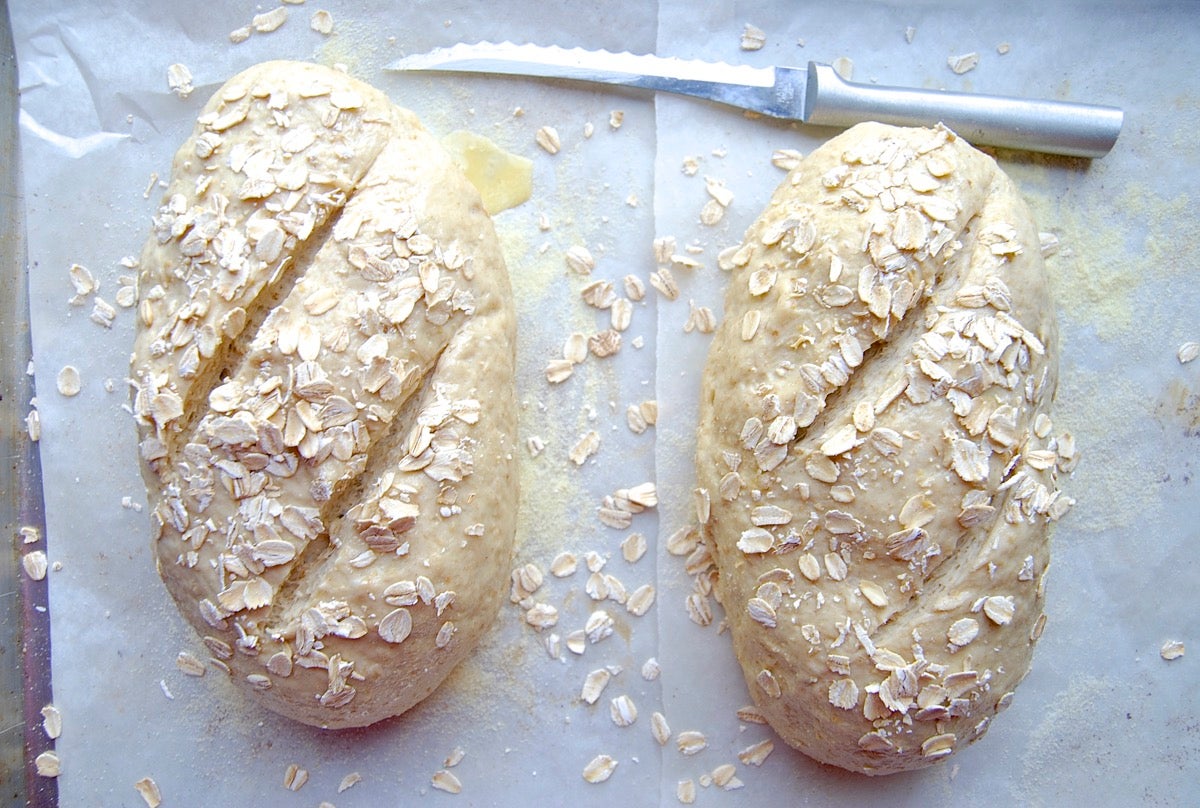 Brush the loaves with the egg wash, too, then make two or three diagonal slashes; this will help them rise evenly during baking.
Sprinkle with rolled oats.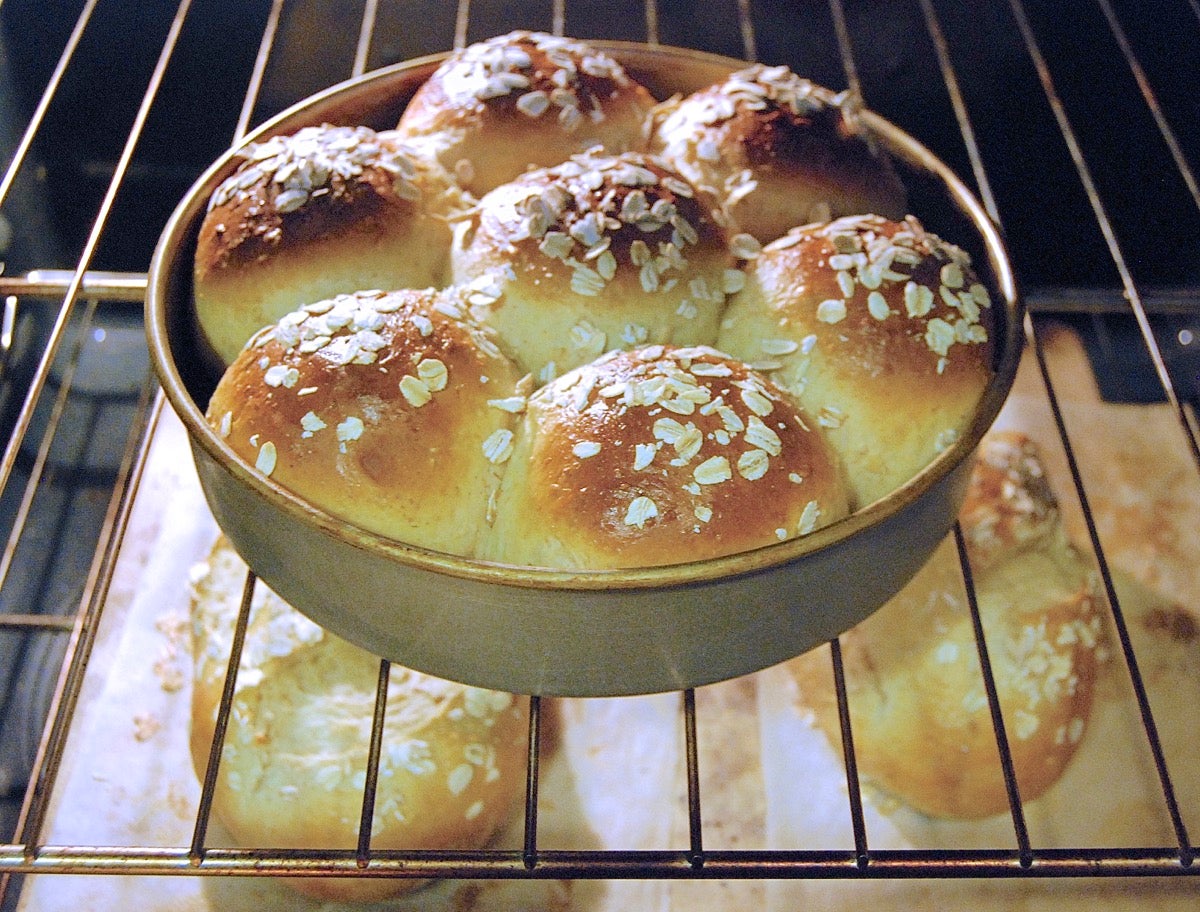 Place the rolls/loaves into the oven; the rolls should go on the middle rack, the loaves on the stone (or on a lower rack).
Bake until golden brown, about 20 to 25 minutes for the rolls, 30 minutes for the loaves. If at any point anything appears to be browning too quickly, tent lightly with aluminum foil.
Once the rolls are done, transfer the loaves to the middle rack, so they'll brown fully.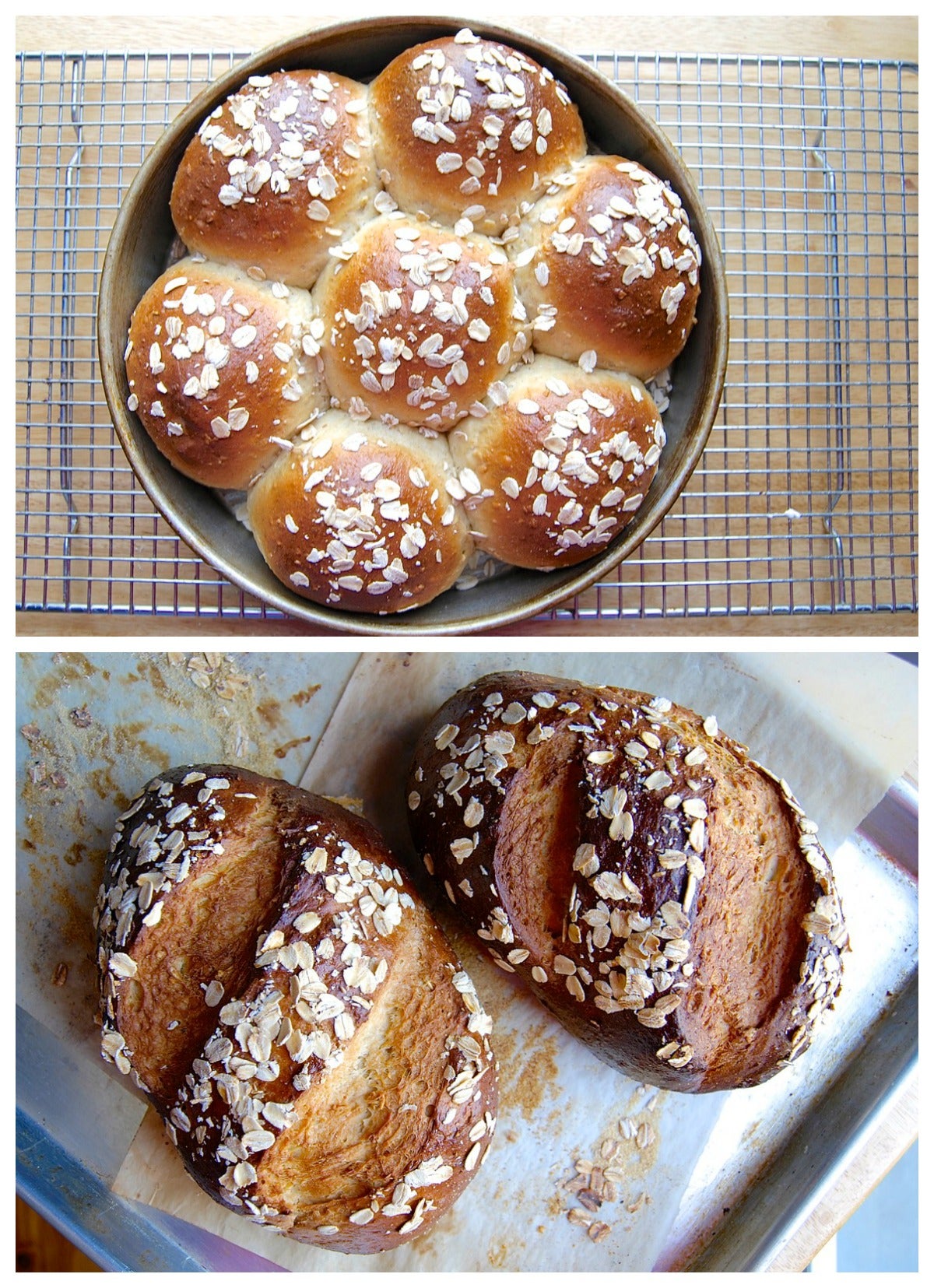 Remove from the oven.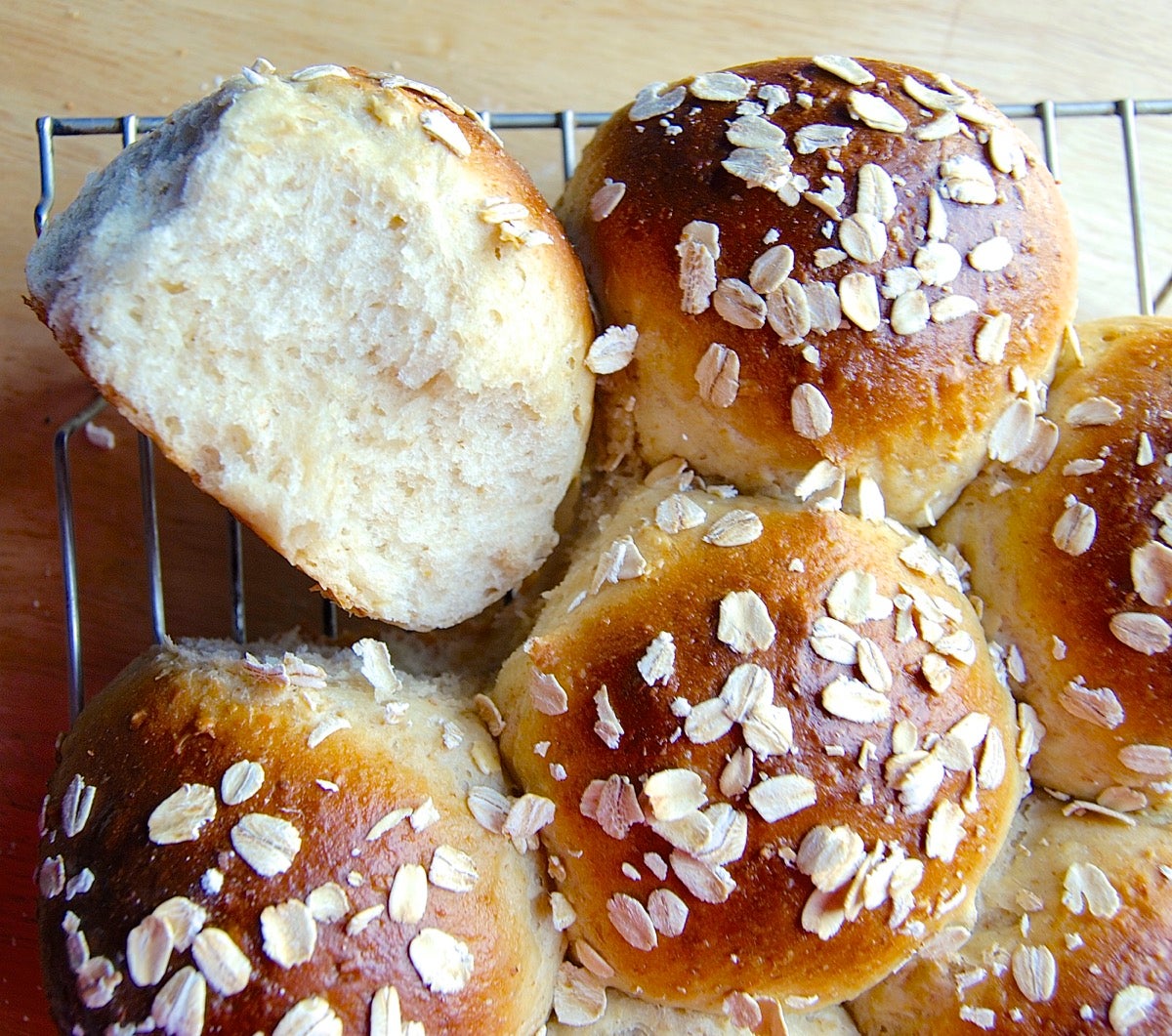 See that soft interior? These rolls are just dying for a pat of butter.
Thank you, Sharon, for sharing this recipe. We've done our part and passed it along.
Readers, how about you? Please read, bake, review, and share this recipe for Whole Grain Dinner Rolls.
Jump to Comments