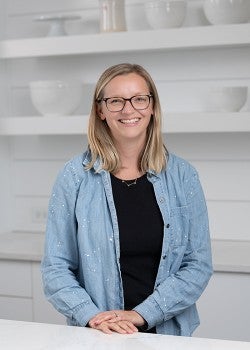 About Gwen Adams
Employee-owner since 2010
Gwen Adams grew up in northern New Hampshire, on top of a mountain, surrounded by nature and not much else. It was there that she was given unlimited freedom to learn to bake, which started as just messing up the kitchen at first! After a while, her family and friends were being offered (force-fed) cookies and cakes and pies on the daily. No complaints there!  
After completing an undergraduate degree in Journalism, she realized quickly that the path to true work happiness would be a career combining her skills with writing and her passion for baking. She found that at King Arthur, where she spent a few years getting the best on-the-job training in the test kitchen while blogging and creating recipes. She helped to write for the Baking Sheet as well as Sift magazine. One of the highlights for her personally was her yearly collaboration with MaryJane Robbins on their Halloween blog.  
As with many people who work at a company long enough, her job has naturally grown and shifted. Currently, Gwen has moved into the marketing realm, where she handles Public Relations for King Arthur, as well as Baking Contests, Donations, and managing attendance at trade shows.  
Her favorite baked goods are pretty well known…ANYTHING with cream cheese. Cheesecake being the tops, of course. And a nice spice cake with loads of cream cheese frosting!  
Gwen works remotely from Maine, where she lives with her fellow employee-owner husband, Ben, and her two kiddos. Her 4-year-old has definitely inherited the baking bug and has already perfected the art of the messy kitchen.