Toasted Coconut Cake
Dessert with a nutrition mission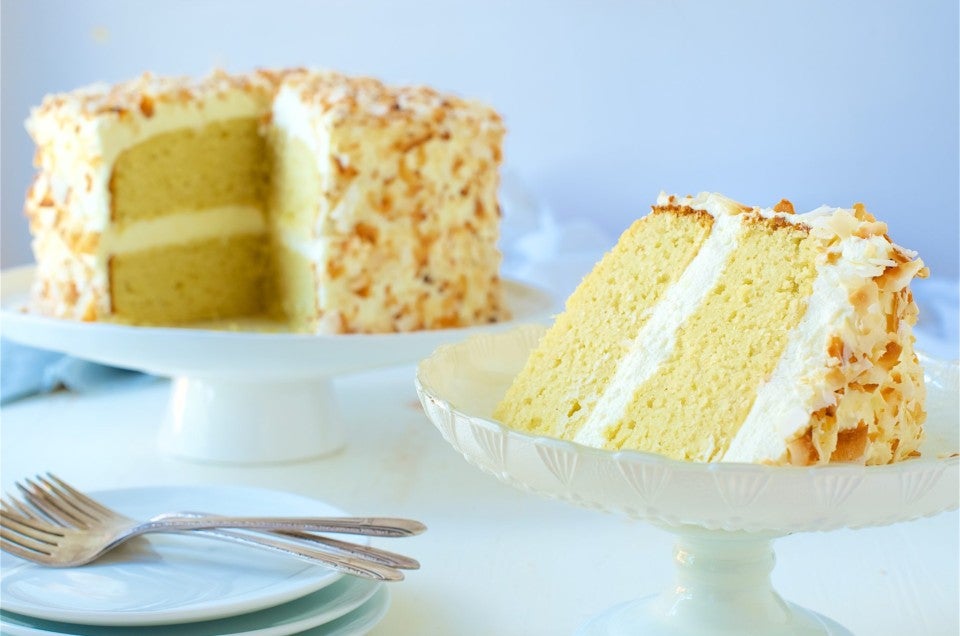 We're constantly introducing new products here at King Arthur, but the one we currently stop raving about? Coconut flour! Rich in fiber, protein, and healthy fats, this naturally gluten-free flour is a super addition to cookies, bars, pancakes, muffins, and cakes. A perfect example: this tender, flavorful Toasted Coconut Cake.
Our newest crowd-pleaser boasts a slightly dense texture (think pound cake), and a taste and mouth-feel that's beyond decadent. Topped with toasted coconut and light-as-air whipped mascarpone frosting, it screams the tropics.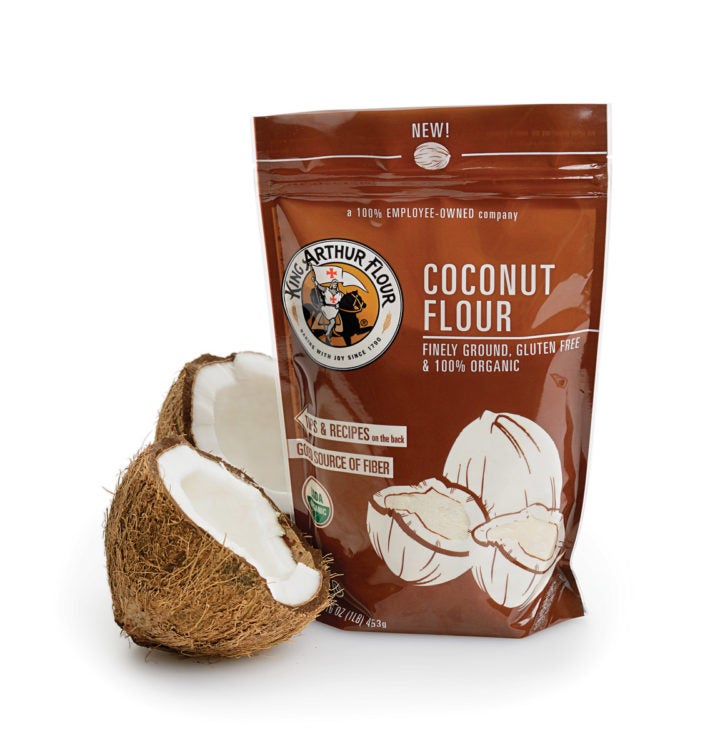 The cake calls for a mixture of coconut flour and all-purpose flour — and each brings a lot to the table. Coconut flour offers an array of health benefits and bright new flavor, but acts very differently than our ol' faithful all-purpose flour. There are few better ways to learn a flour's quirks than to bake recipes that King Arthur designed with that particular flour in mind. These recipes have been tested and perfected, allowing you to try out something new with confidence.
Which brings us to this yummy Toasted Coconut Cake. Let's use this cake as a test recipe for baking with coconut flour, discovering how to use it successfully — and why you'll always want to keep a stash of coconut flour in your pantry.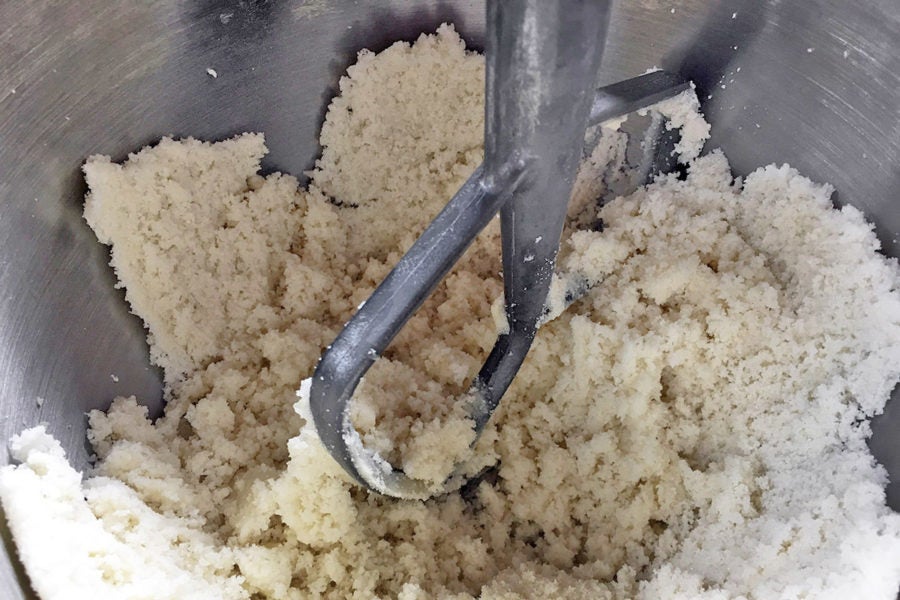 To make the cake
Preheat the oven to 350°F. Grease two 8" round cake pans.
Whisk together 2 cups flour (King Arthur Unbleached All-Purpose Flour or Gluten-Free Measure for Measure), 1 tablespoon baking powder, and 1 teaspoon salt; set aside.
In a large mixing bowl, beat together 12 tablespoons softened unsalted butter, 1 1/2 cups sugar, and 1 cup coconut flour until well blended, 2 to 3 minutes.
Be sure to beat the batter for at least 2 minutes, even if it looks smooth. Coconut flour tends to make cakes a bit denser, and a longer mixing time adds volume. Batter with coconut flour will be thicker than the consistency you're used to; don't worry, this is normal.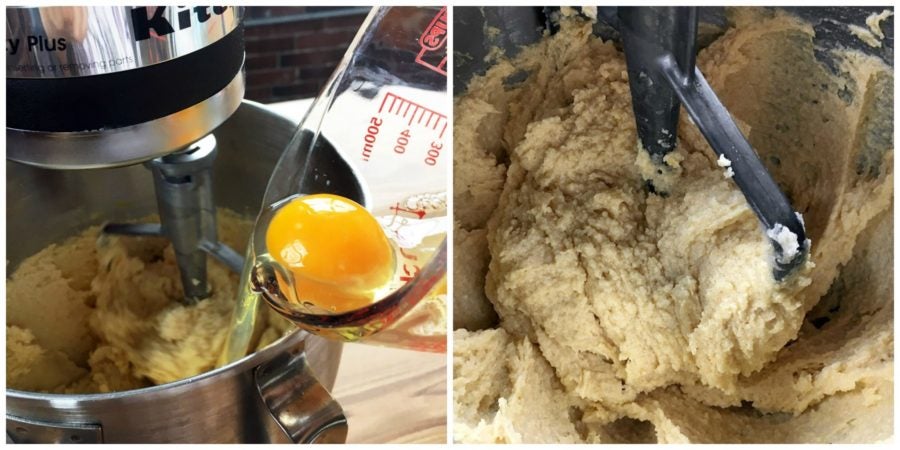 Mix in 2 tablespoons vanilla and 1/2 teaspoon optional coconut flavor. Coconut flour does taste a bit like coconut, which will translate in your baking, but not enough to really distinguish itself. If you want more of a vanilla-flavored cake, leave out the coconut flavor and just stick with the vanilla.
Add 6 large eggs one at a time, mixing well after each addition. Six eggs may seem like a lot, but they're crucial when baking with coconut flour. Eggs not only help the cake rise, they make it moist and tender.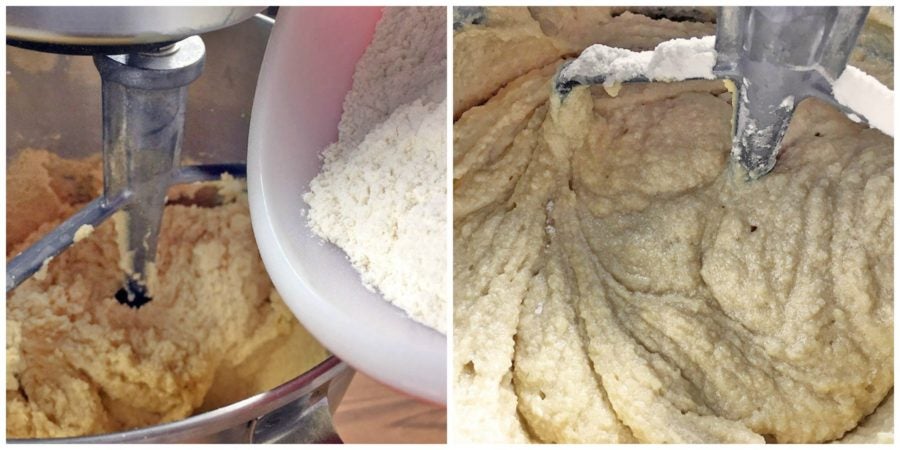 Add the flour mixture and 1 3/4 cups milk alternately, starting and ending with the flour.
Scrape the bowl and mix once more to fully combine. The batter will look a little curdled — that's okay. The coconut flour is finely ground, but will leave batter looking a little mealy in texture, which is perfectly normal.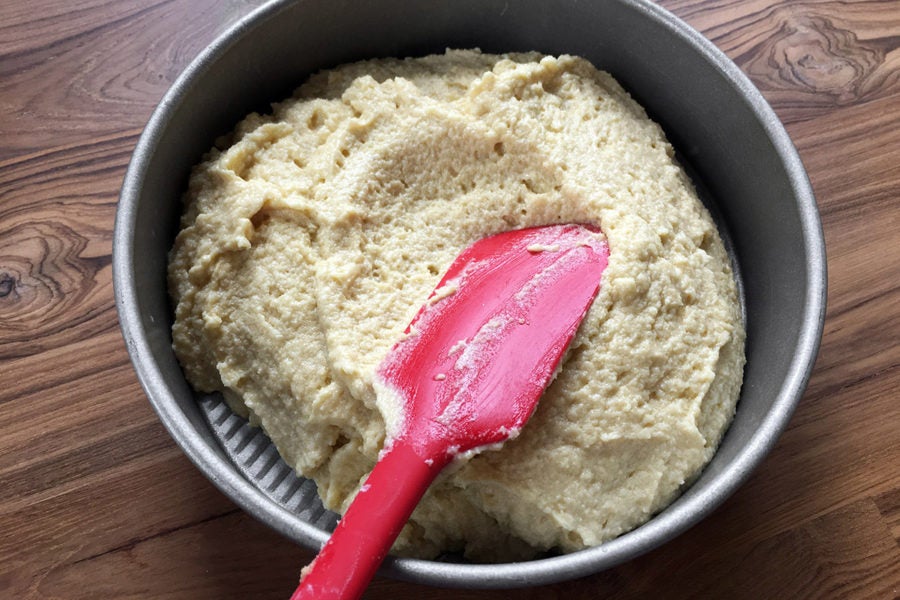 Divide the batter evenly between the pans. Smooth the top with a spatula. This will ensure the cake bakes up with a level top.
Bake for 38 to 42 minutes, until the cake's edges are just beginning to pull away from the sides of the pan, and the top is lightly golden. A toothpick inserted in the center should come out clean.
Remove from the oven and allow cakes to cool for 5 minutes. Run a spatula or knife around the edges, then turn the layers out onto a rack to cool completely.
Since baked goods made with coconut flour tend to be denser than their counterparts made with conventional flour, there's nothing that would top this cake off better than a light and airy frosting. So mascarpone coconut cream it is!

To make the frosting
Beat 2 cups cold heavy cream until medium peaks form. Whisk together 2/3 cup confectioners' sugar and 4 teaspoons Instant ClearJel (this pre-mixing prevents clumping), and slowly add to the whipped cream along with 1/4 to 1/2 teaspoon optional coconut flavor.
What if you don't have ClearJel? Not a problem. It helps to stabilize the whipped cream, preventing it from loosening up and "weeping" off your beautiful cake. Without it, just be sure to serve the cake sooner rather than later. Also, ClearJel isn't gluten-free (it's processed on equipment that also handles wheat), so if you're baking for those with sensitivity, it's best left off.
Gently whisk in 1/2 cup room-temperature mascarpone cheese, mixing until the frosting is thick and creamy; don't over-mix. If it starts to look a little stiff, don't stress! Add a teaspoon or two of heavy cream and hand mix it until it loosens up.
You'll see that my frosting was a bit tight (above right), but a little extra cream fixes everything, right?!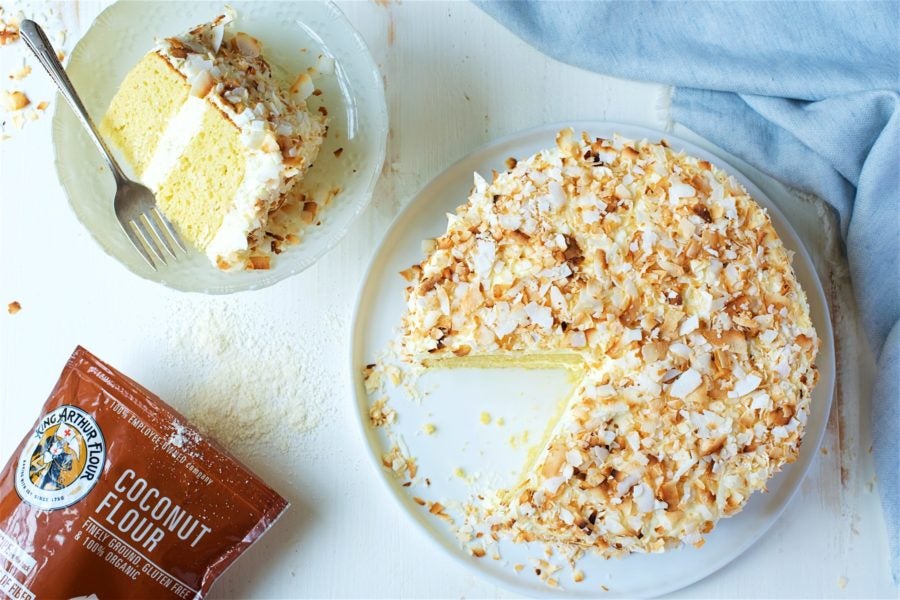 To assemble the Coconut Flour Cake
Place one cake layer on a serving plate and spread one-fourth of the frosting on top. Place the other layer over the frosting, then spread the top and sides with the rest of the frosting, piping on decorations, if desired. Finally, sprinkle toasted coconut decoratively over the top and sides.
There you have it: Coconut Flour Cake perfection with added nutrients to boot! Each slice delivers 4g of fiber and 8g of protein. Not bad for an indulgence!
If you want to start experimenting with coconut flour as a substitute for all-purpose flour or Gluten-Free Measure for Measure in other recipes, here are some tips:
Begin by replacing up to a quarter of the flour by volume with coconut flour; if you like the result, try upping the percentage next time around.
Add extra liquid equal to the amount of coconut flour you've used (by volume). Wild, right? Coconut flour LOVES liquid. It can absorb up to four times its weight in liquid. You might be a bit surprised by the quantity of eggs and liquid in this recipe, but trust us; it's necessary. This absorption does make coconut flour a great option for thickening smoothies, which is one of our favorite things to do with it. A small amount goes a long way and will give you some added fiber and protein to boot!
If you ever have any questions, our Baker's Hotline is always available to help.
See our Toasted Coconut Cake recipe.
Coconut flour is a terrific addition to any pantry. Tell us – what are you making with coconut flour? Are there any coconut flour confections you wish we'd bake and share?
Jump to Comments