Shortbread cookies are one of the easiest and most delicious desserts to make.
Don't let the simple ingredient list fool you: shortbread are buttery, sweet, crunchy, and so hard to stop eating! And while they can easily be made in cake pans, baking them in molded shortbread pans turns these cookies into elegant little masterpieces.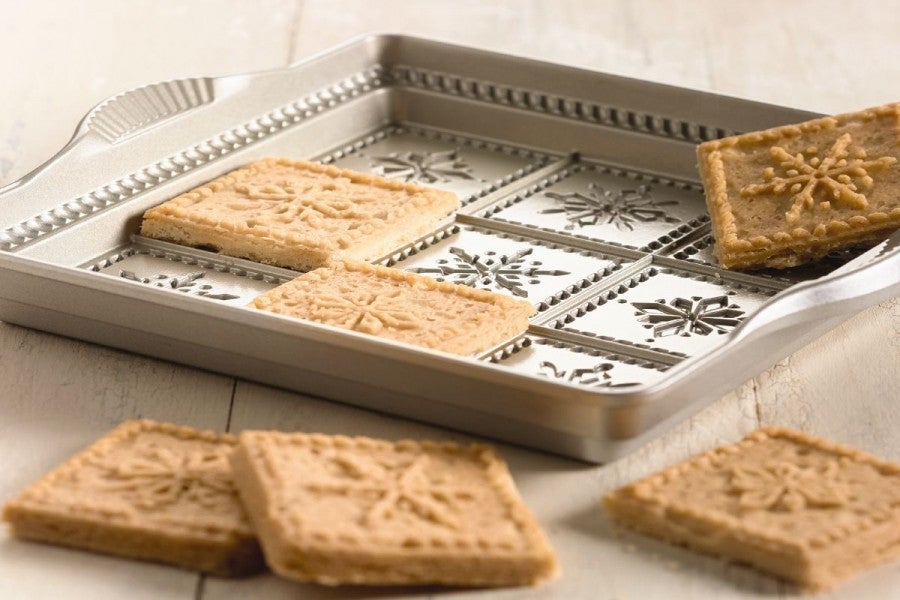 My favorite? Our Snowflake Shortbread Pan. I love that just like the icy originals, each snowflake square has a different pattern. The sturdy, heavy cast aluminum pan bakes crisp cookies with ease.
I don't have a lot of room in my kitchen, so this shortbread pan is actually the only one that lives on my shelves. Snowflakes look cute all year long, right?!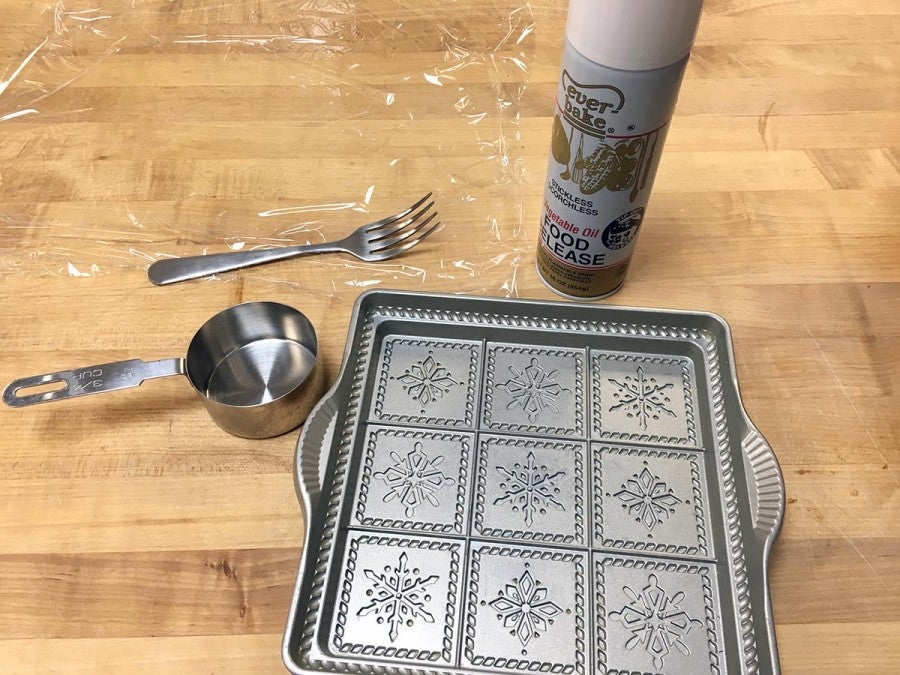 As holiday cookie baking is finally here, we want to share some tips for making perfect snowflake shortbreads – as well as some tricks from our food stylist on how to get the best patterns from your pan.
1) Use salted butter in your shortbread, if possible.
Although we usually use unsalted butter in our baking here at King Arthur Flour, in this case salted is preferred.
Why? Because, with no liquid in the recipe, it's difficult for added salt to disperse itself fully through the shortbread dough, and you may end up with unpleasantly gritty bits of salt.
2) Grease – but don't flour – your pan.


The flour will disguise your pattern. Grease well – even non-stick pans should be greased. Be sure all of the nooks and crannies receive some spray, otherwise your pattern may stick in the pan. Spray works better than buttering or using vegetable shortening to get all over your surface.
3) Flattening dough is an art in itself.
For the best imprint from your pan, place the shortbread dough in the center of the pan, working it out towards the edges with your fingers.
If you're having trouble pressing the shortbread flat in the pan because it's sticking to your fingers, cover it with a piece of plastic wrap, and push on the wrap. Just be sure to remove the wrap before baking!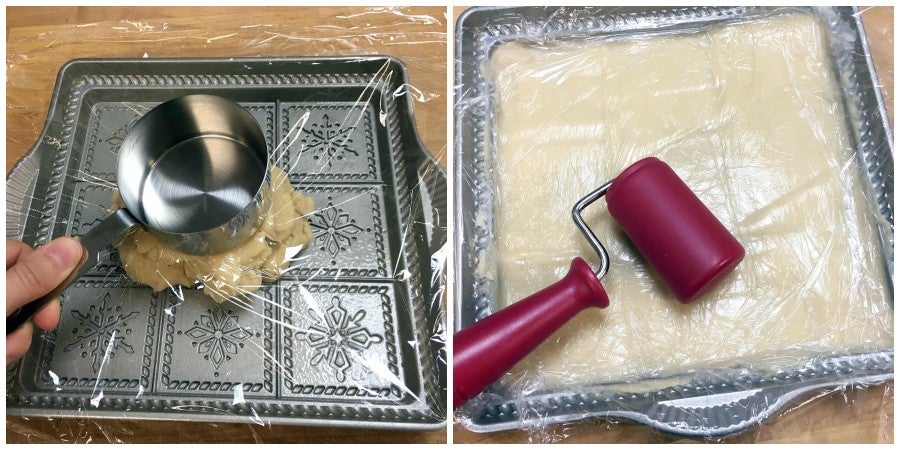 Even better, using a mini rolling pin or the back of a measuring cup instead of fingers will ensure a smooth and even distribution of dough.
4) Be sure to dock (prick with a fork) your dough.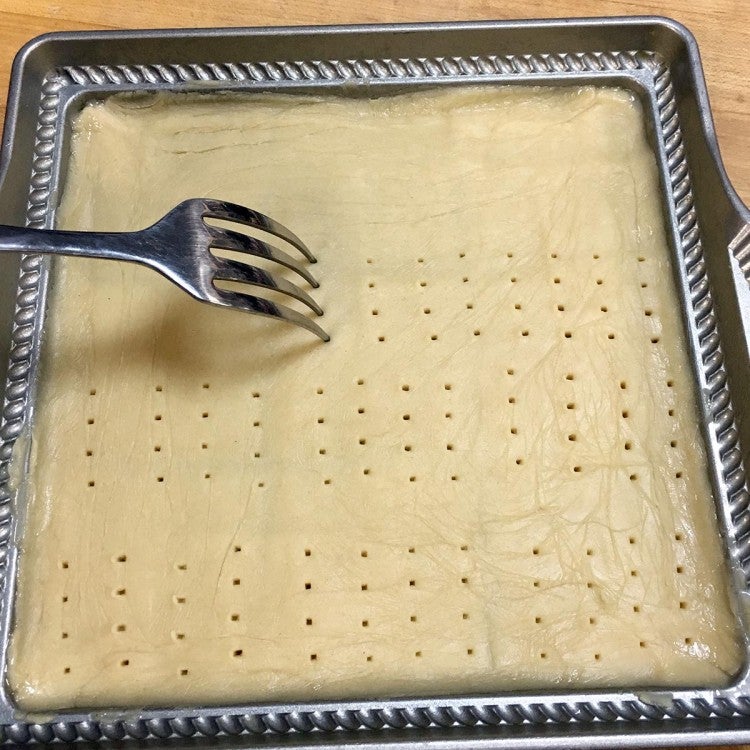 That ensures that steam releases evenly from the dough during baking and will prevent any bubbles and pockets from forming.
If any bubbles do happen to form while baking, use a spatula to pat them down before they bake and set as air pockets.
5) Cut while still warm
Cutting the baked cookies while they are still warm ensures a clean cut and no crumbling. Once you remove the baked cookies from the oven, let them set in the pan for a minute or two (just until they feel firm enough to move), loosen the edges of the pan, and then turn the shortbread out of the pan and slice immediately. A pizza cutter or long knife works well for this.
6) Cool the pan in between multiple batches.
If baking multiple batches of cookies, be sure that your pan cools fully before adding more dough. Otherwise, the butter in the dough will melt and turn your cookies greasy. Warm dough will bake up with more air pockets, turning this already delicate cookie into a crumbly mess.
To cool your shortbread pan quickly, put it in the refrigerator.
7) A little chocolate never hurt.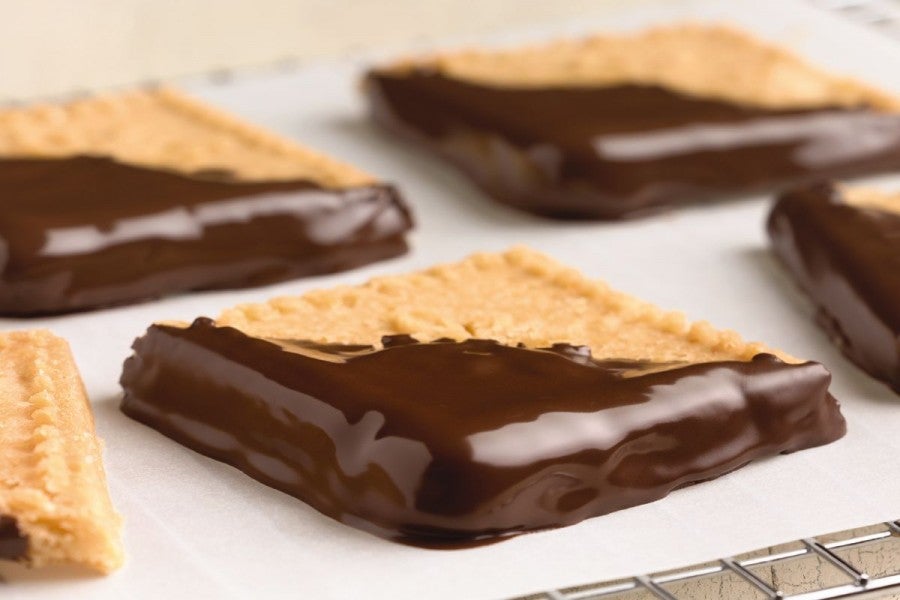 Snowflake shortbread cookies are perfect as is, though they can always be dressed up with the addition of chocolate. But that was a given, right?
Holiday cookie baking season is officially upon us. We hope some elegantly delicious snowflake shortbread make an appearance on your cookie platter.
Tell us – do you have any other tips and tricks for creating perfectly patterned shortbread? Please share in comments, below!
Jump to Comments