Forget the burgers and dogs; pizza is one of the best things to grill.
The grill marks add an extra layer of flavor to a meal that's already pretty darned perfect.
I know what you're thinking:
"There's no way it's going to fully cook before it burns."
"The dough is going to sag down past the grate and fall into the flames."
"This seems entirely too complicated; baking in the oven is just fine."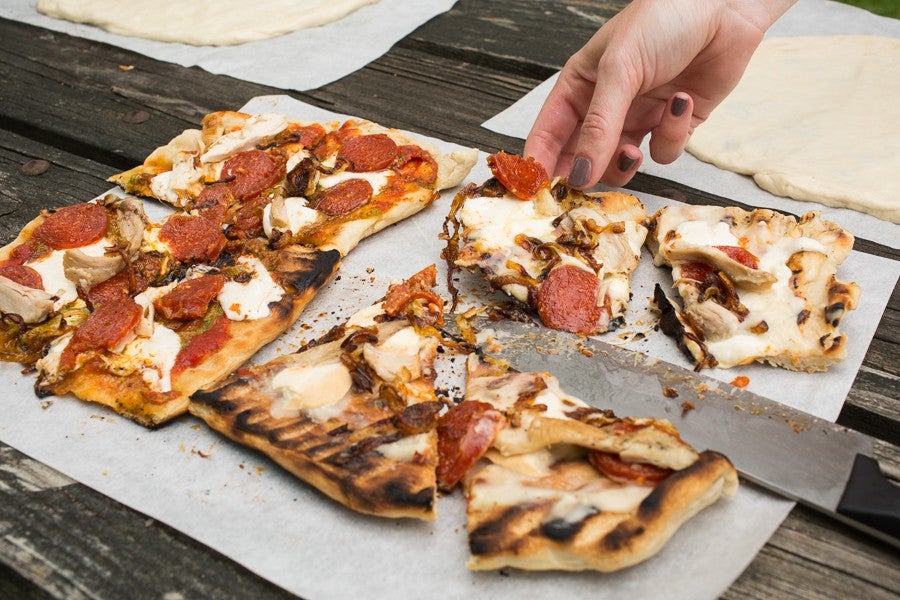 Making grilled pizza is much, much, MUCH easier than it may appear. Not only is it quicker than baking in a conventional oven, but it keeps your house cool and keeps you outside in the gorgeous weather.
For those tiny apartment dwellers, an outside grill is the perfect way to entertain. Not only can you prepare more food on a large grill than in a ridiculous half-oven, you won't have to pile up your guests on the one love seat that fits in your tiny living room.
No need to push the boundaries of friendship; just have everyone bring a folding chair and spread out comfortably outdoors.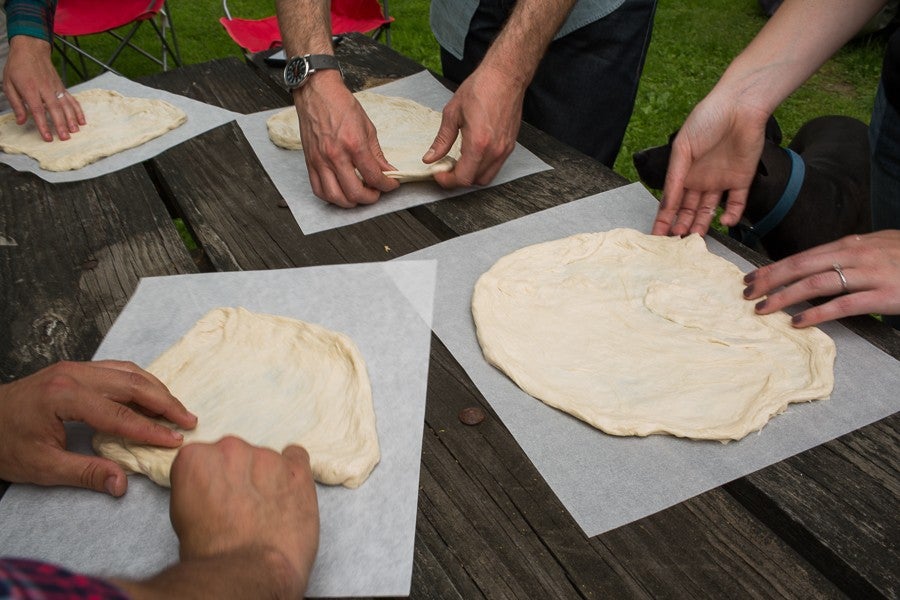 I found that hosting a "grill your own pizza" party is always a huge hit with my friends and friendly co-workers. Sit everyone down at the picnic table with a piece of pizza dough and let them stretch it out.
If there are drinks involved, maybe designate one person to man the grill for safety purposes.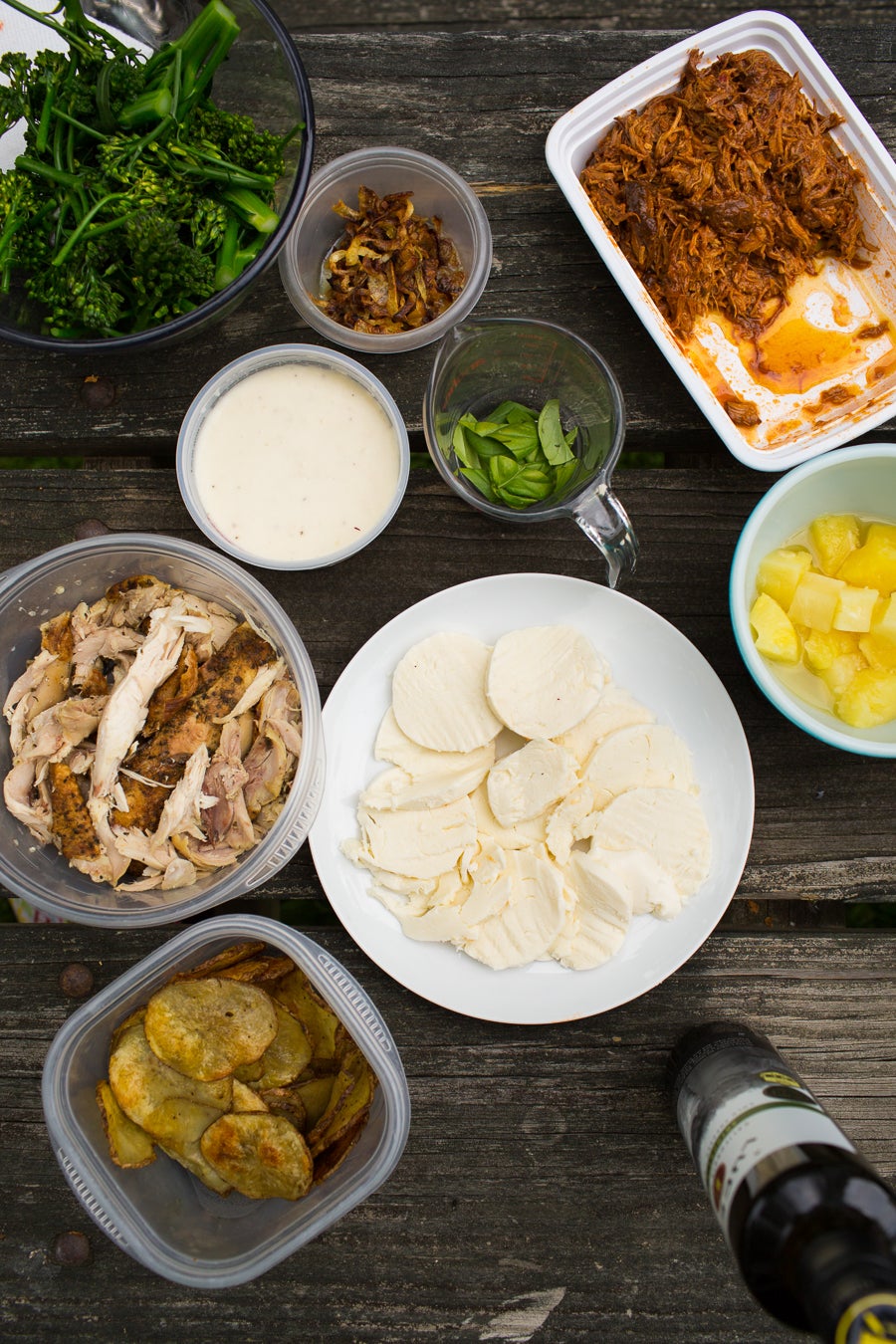 Once the first side is baked and flipped, have a table filled with topping options, and let them create their own masterpieces to bring back to the table and share.
Even better for those who hate dishes, all of the prep and serving can be done on parchment! A friendly warning, I LOVE parchment and will be raving about it for this entire blog. I couldn't bake without it.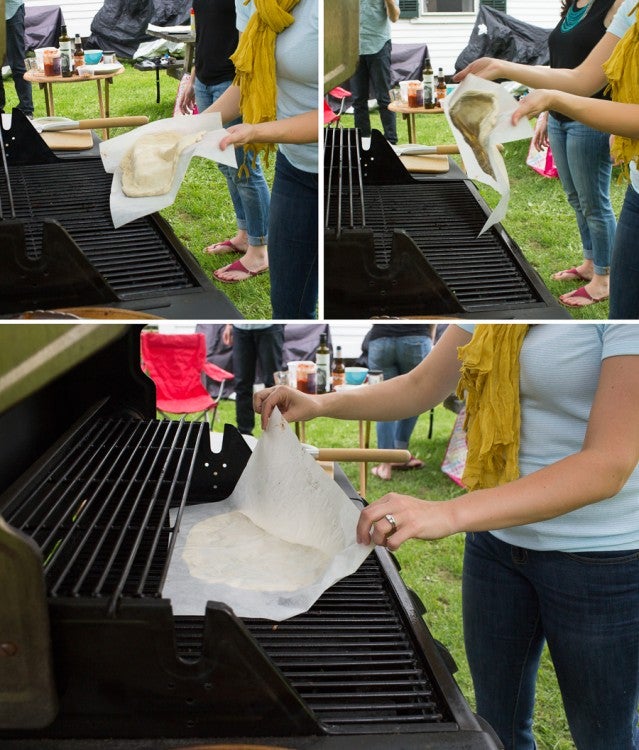 Our Pizza Crust recipe is great for making the night before, popping in the fridge, and taking out 2 to 3 hours before the guests arrive. Another fantastic choice is Neapolitan-Style Pizza Crust, made with our '00' pizza flour. The easy-to-shape dough yields a wonderfully chewy, crispy crust that tastes even better grilled.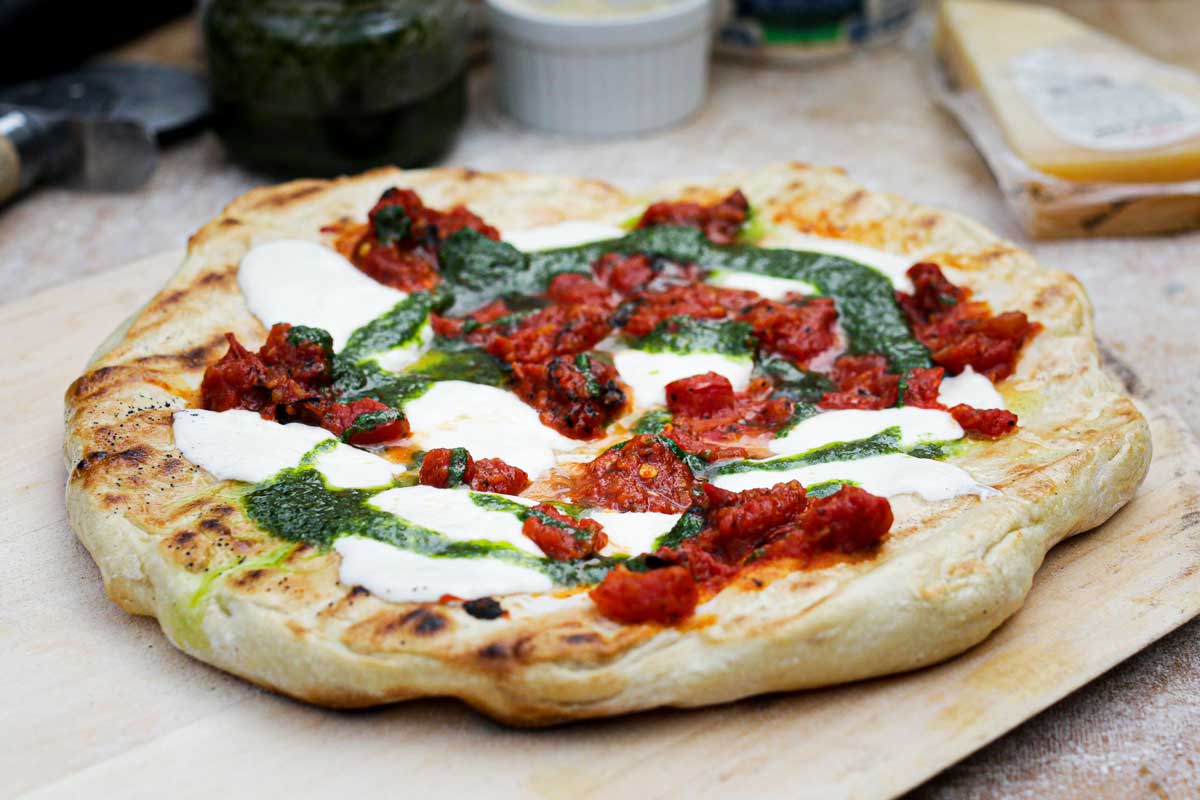 Watch our own Martin Philip show you how to grill up some Neapolitan pizzas: 
Things to remember when grilling pizza
1) You can bake on a pizza stone, baking steel, or right on the grill. I prefer the grill marks, so I typically always go right on the grill.
2) Keep your grill on low. For my grill that means anywhere between 300°F-375°F. There's a pretty short window between grilled and burned when the grill is set too hot.
3) Grill one side of the dough first, and put the cover down to get it baking. Oil the pizza before it goes in so that the top (which becomes the bottom) crisps nicely. Once you flip to the other side, you can add the toppings. After you put the toppings on, put the cover down again to get the cheese melting.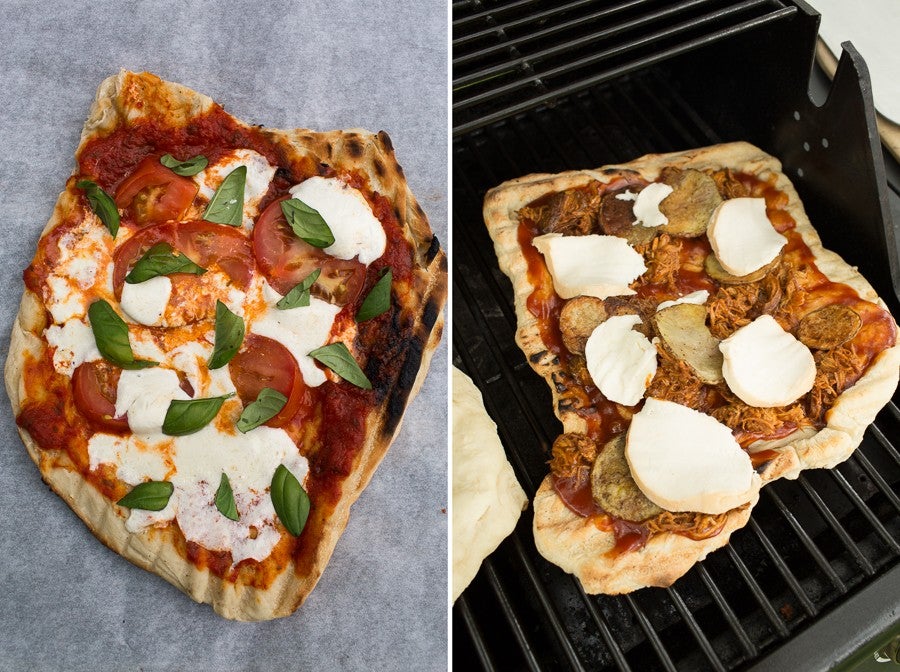 4) Pizza bakes up much faster on a grill than in the oven; be sure to have those toppings ready!
5) Make sure your grill or pizza stone is well oiled. Brush with oil before the dough goes down, or you'll have a mess.
6) You can grill pizza without the aid of parchment; I've done it before. Lay it down on the grill by hand, or try to slide it off a thoroughly greased baker's peel or spatula. You won't look as cool, but it can be done!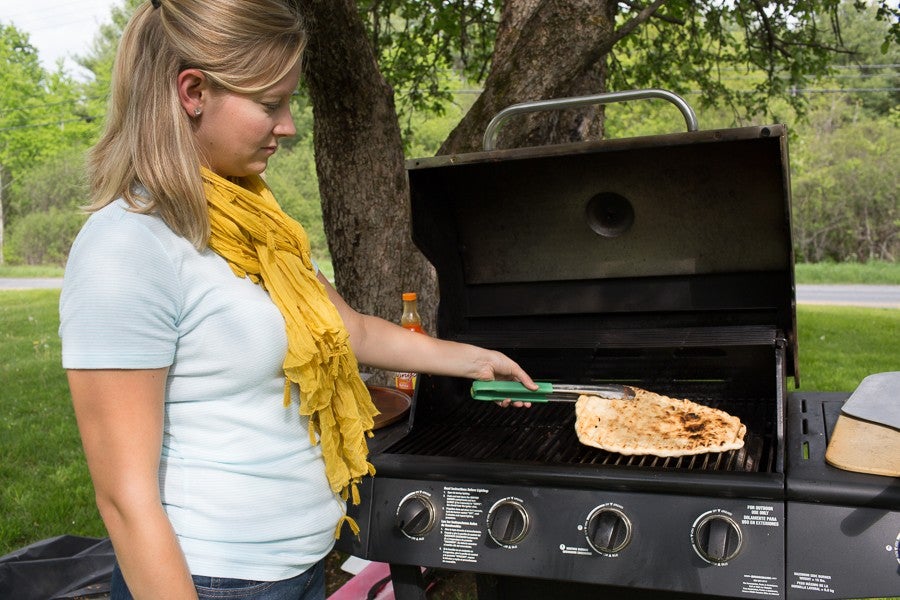 7) A handy pair of grilling tongs will help you flip the pizzas over more easily than a spatula – provided you greased the grill well enough!
8) Have fun! Figuring out the perfect dough thickness and grilling technique may take a bit. Don't stress if they aren't perfect right off. Just call them "rustic" and watch your starving friends inhale them. They don't care what it looks like, just that it tastes amazing.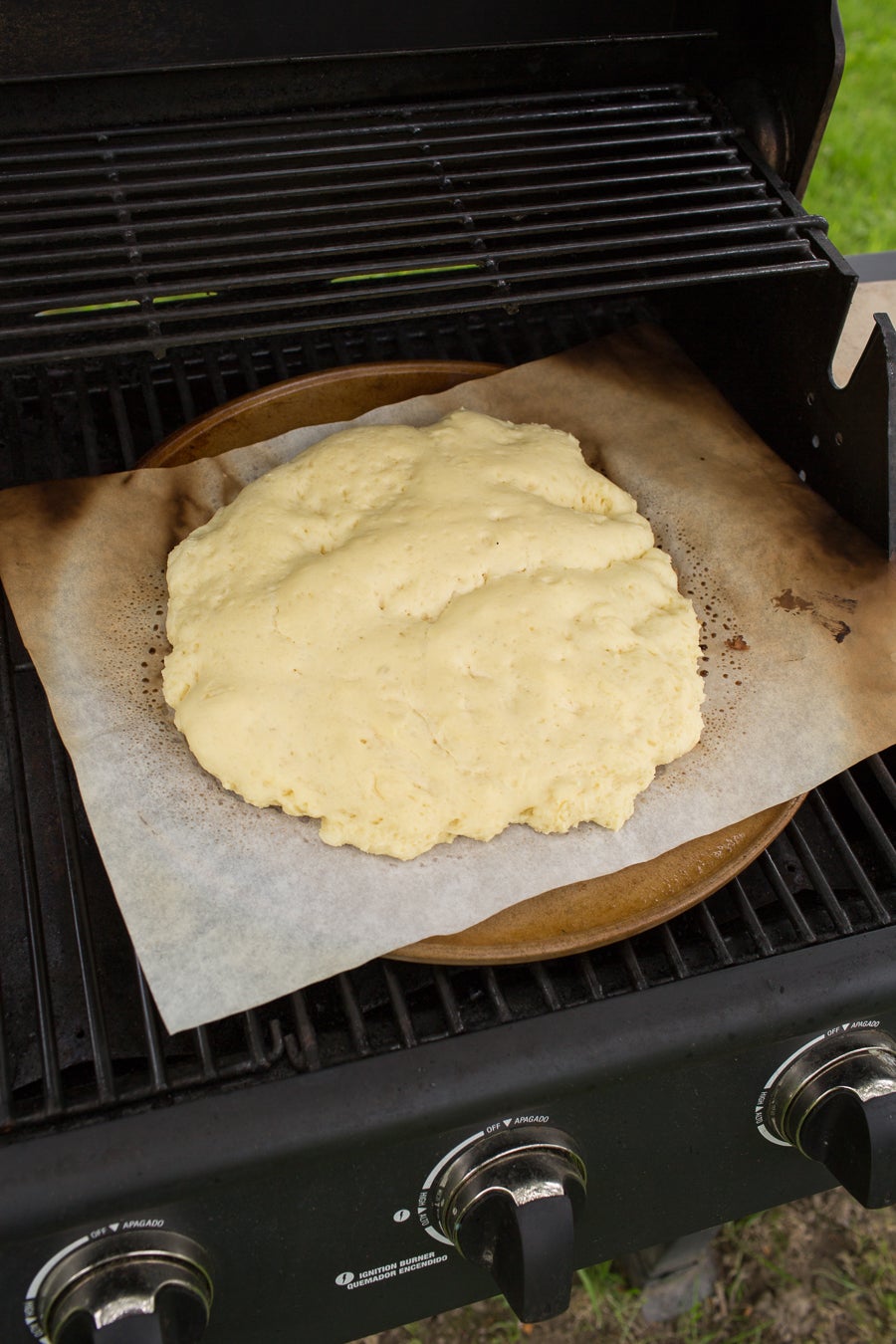 Even gluten-free pizza can be grilled. It takes a bit more planning, but even those who are gluten-sensitive can enjoy pizza created outdoors. Our Gluten-Free Pizza Crust is a delicious option and so easy to throw together.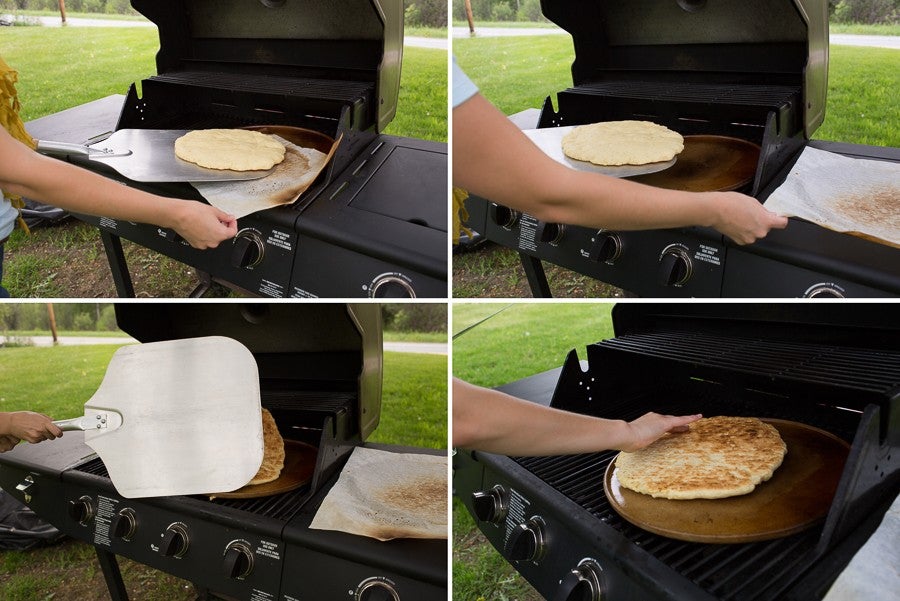 Gluten-free tips
1) Be sure to grill the pizza on parchment for the first side. It'll stick otherwise. I usually put my parchment right on the pizza stone, bake, and then flip it right onto the stone. The maximum baking temperature for single use parchment is 500°F. The edges of the paper will get a little dark, but no worries!
2) Make sure your baking stone is up to temperature before adding the dough. Oil it lightly before baking. Once you flip from parchment to stone, you don't want your dough to stick.
3) Again, make sure those toppings are ready. All grills are different; you don't want to end up with a burned bottom because it's baking faster than expected.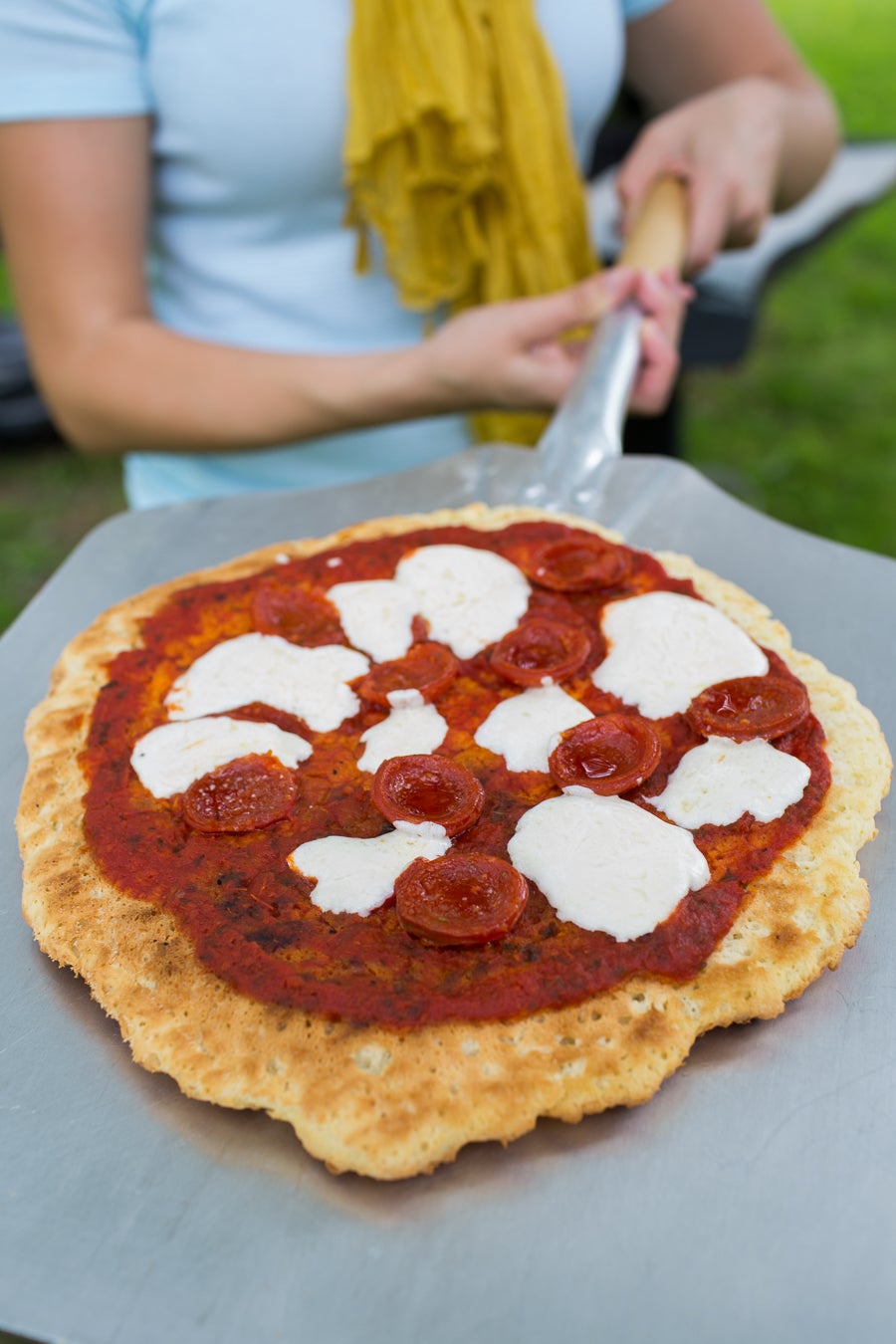 Let me tell you, I don't know how I functioned in the kitchen before parchment. It's such a work horse. It really makes summer grilling easy, and helps to produce such a tasty and perfectly baked gluten-free pizza.
What a wonderful way to spend a sunny summer day, enjoying grilled pizza outdoors. Cheers!
Jump to Comments