It's time once again, ghouls and boys. Our very favorite time of year: Halloween baking time! And don't we have a spookily, delightfully, oh-so-easily made treat for you. Halloween skull cakes — so easy to make, your mummy will have everyone joining in on the fun.
And to make these hauntingly detailed little delights, may I introduce you to my one-stop shop for all future Halloween baking endeavors... the Haunted Skull Cakelette Pan.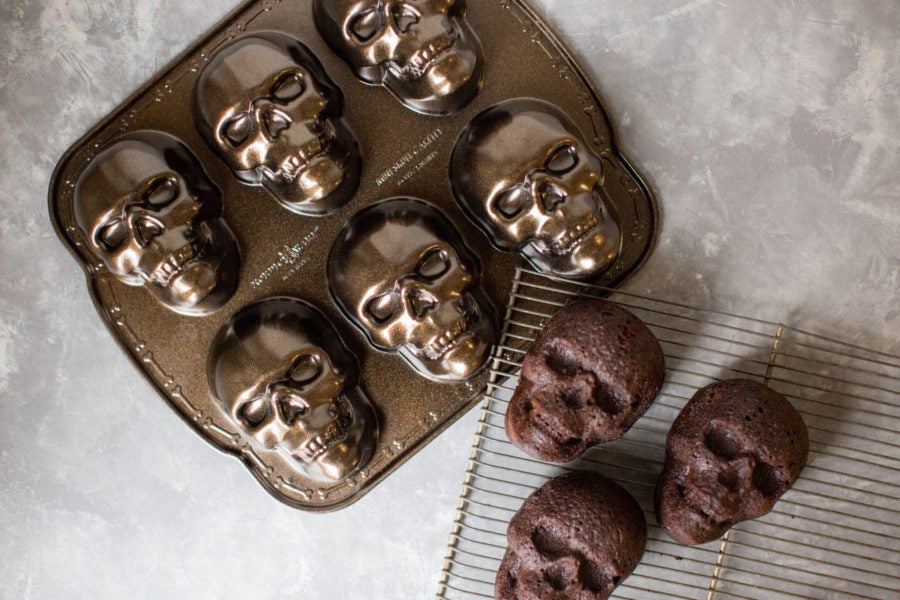 Here's the thing. I'm not maybe the best decorator at King Arthur Flour. Far from it. I'm also one of those people who doesn't like a ton of one-use pans taking up space in the pantry.
But as a new mama (who makes baked goods for her daughter's daycare often, but has no actual free time. You get me, moms?!) this pan was SUCH a good purchase and one I've been using all month!
The Haunted Skull Cakelette Pan imprints clearly defined skulls on my little cakes; they look so striking that they need no decoration at all. But for those moments you're feeling the urge, here are some of our favorite ways to jazz them up. So much fun for the kids to be a part of, or even to have as a decoration station at a party!
My Halloween partner-in-crime, Annabelle, went on a little baking spree and decorated all of the cakes in this blog post. But since you all don't have a baking wizard in your corner like I do, we both came up with some simple ways you can transform your skull cakelettes into some truly spooktastic delights!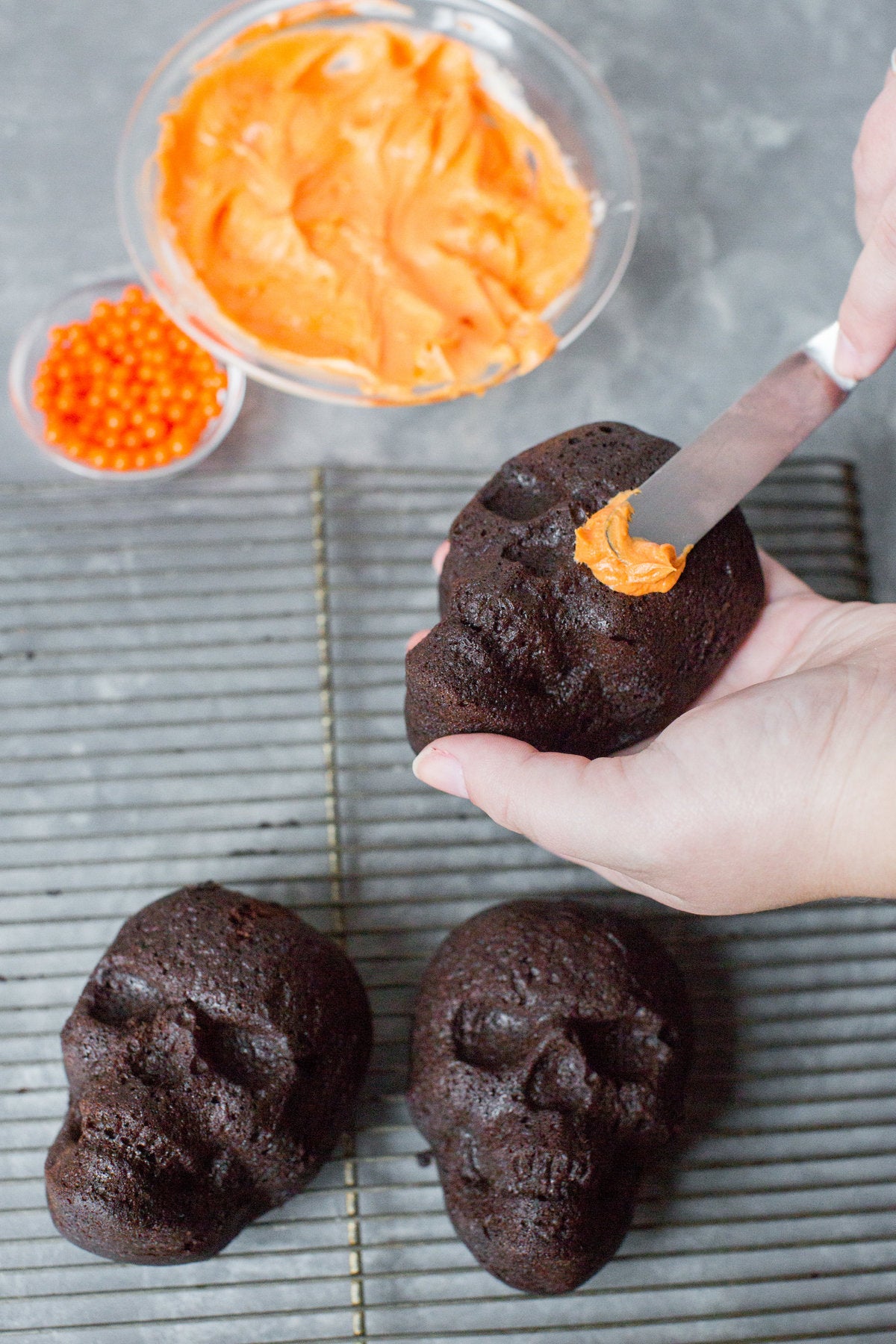 Ideas for decorating:
Make vanilla icing and color it orange with food coloring or gel paste. Frost the face however you'd like.
Colored sprinkles make for fun textures.
Bake vanilla, chocolate, or even pumpkin cakes for different looks! Just picture that dessert table. Yum!
Dust with confectioners' sugar. Simple, yet stunning.
Dip in white glaze and allow it to harden. Let your kiddos decorate with food-safe markers or paints.
Leave as is! After all, they're perfect on their own.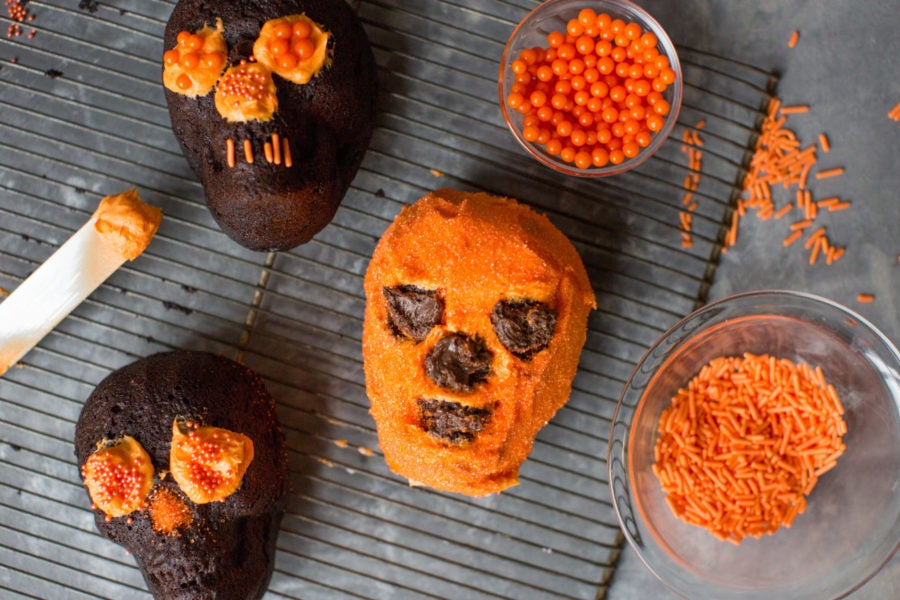 Let these ideas give inspiration to even more amazing and tasty skulls. And have fun with it. After all, even mistakes can be played off as "intentionally scary" during this holiday!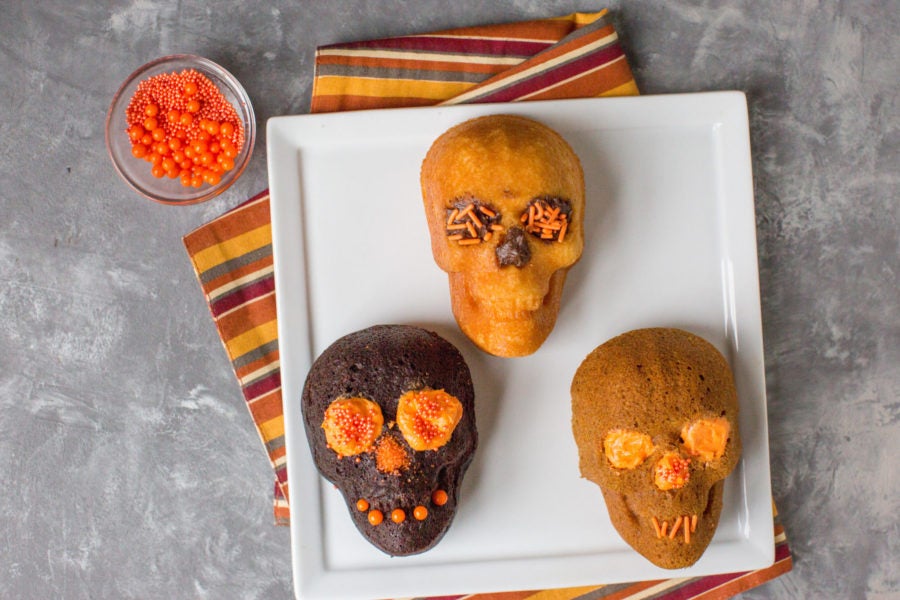 Some tips for the pan:
Give the wells a light coating of cooking spray before filling. The pan's non-stick, but it does have a lot of detailed nooks and crannies. Best to err on the side of caution.
Gently tap the pan on the countertop a few times before baking to remove any air pockets in the batter. This way, your skull looks just as intended.
Fill each well about two-thirds of the way to the top (a scant 1/2 cup batter). The cakes will dome slightly, but will flatten out when you flip them out to cool.
All those nooks and crannies make the pan a little tricky to clean, which is common with most intricate pans. A toothbrush (or better yet, a Bundt Pan Cleaning Brush) works wonders here.
Looking for more Halloween baking ideas? Every year, we like to show you that making show-stopping Halloween treats can be oh-so-easy. We've done Spider Bundts, Mummy Hand Pies, Haunted Halloween Houses, and more.
How would you decorate your Halloween skull cakes? Let us know in comments, below.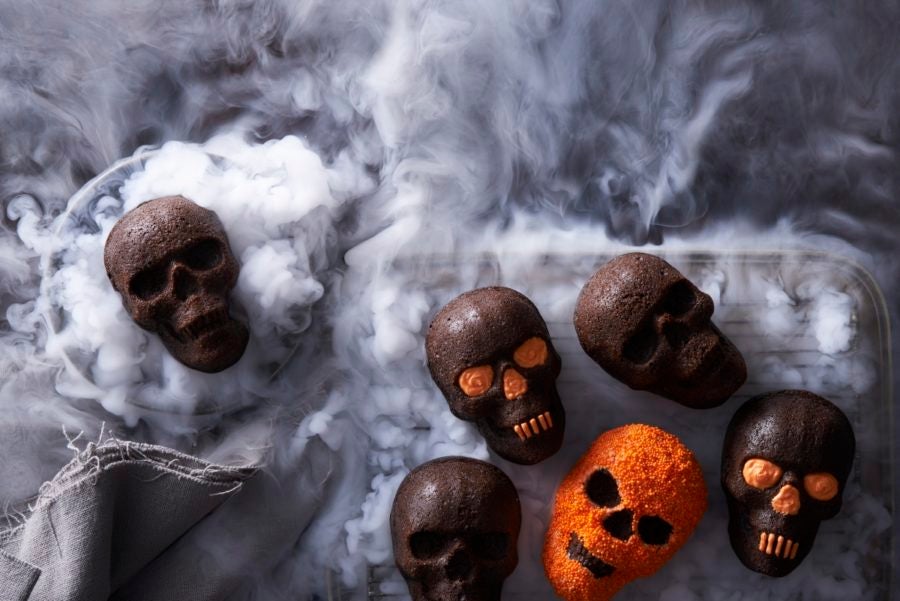 Happy Halloween baking!
Thanks to Liz Neily and Anne Mientka for the photos in this post.
Jump to Comments