Shaping Cinnamon Star Bread
A holiday show-stopper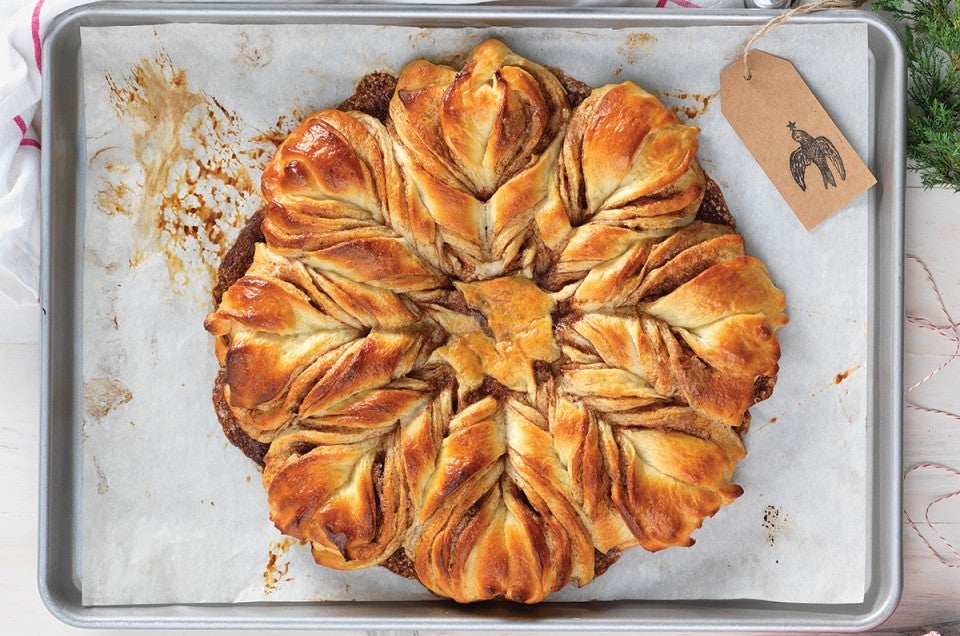 Looking for the ultimate in fancy holiday sweet breads, guaranteed to impress? Who better than our catalogue recipe developer/food stylist, Charlotte, to create the bread of our dreams!
This stunning Cinnamon Star Bread is blowing people away with how pretty it looks and tastes, and also how deceptively easy it is to create.
Seldom do I make things that are ACTUALLY difficult to make. I don't have the patience. Rather, I look for those recipes whose finishing touches really set them apart (and make me look awesome!)
Charlotte really pulled out all the stops on this sweet loaf – and she was kind enough to recreate her steps so I could share them with all of you!
This pull-apart style holiday bread is a show-stopping riff on a classic cinnamon bun. As it bakes, the cinnamon-sugar filling caramelizes and gives the bread a wonderfully sweet and crunchy coating, while the interior remains soft and tender.
To make the dough:
2 cups (241g) King Arthur Unbleached All-Purpose Flour
1/4 cup (46g) potato flour or 1/2 cup (46g) dried potato flakes
1/4 cup (28g) Baker's Special Dry Milk or nonfat dry milk
3/4 cup + 2 to 4 tablespoons (198g to 227g) lukewarm water, enough to make a soft, smooth dough
4 tablespoons (57g) unsalted butter, at room temperature
1 teaspoon vanilla extract
2 teaspoons instant yeast, SAF Gold preferred
2 tablespoons (25g) sugar
1 teaspoon salt
Combine all of the dough ingredients and mix and knead — by hand, mixer, or bread machine — to make a soft, smooth dough. Place the dough in a lightly greased bowl, cover, and let it rise for 60 minutes, until it's nearly doubled in bulk.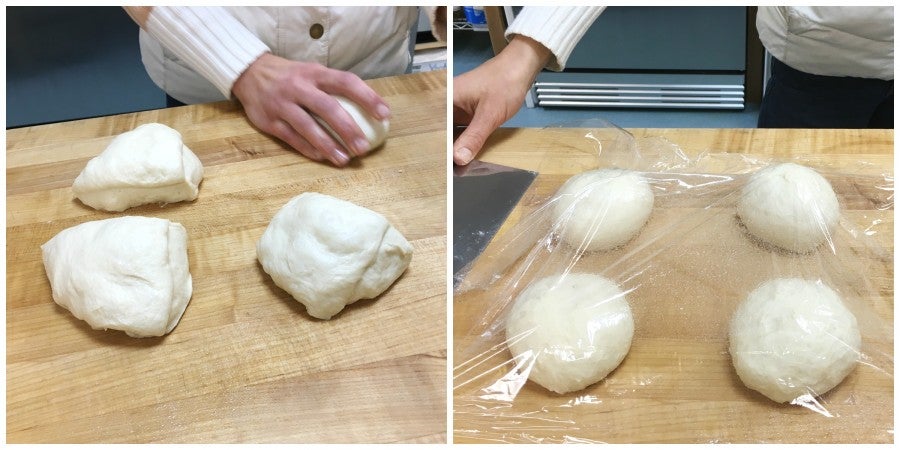 Gently deflate the dough, and divide it into four equal pieces. Shape each piece into a ball, cover the balls, and allow them to rest for 15 minutes.
Prepare your filling ingredients while they rest. In one small bowl: 1/2 cup (99g) sugar and 1 tablespoon cinnamon or 2 teaspoons Vietnamese Cinnamon (or substitute 1/2 cup Cinnamon-Sugar Plus). In another small bowl: 1 large egg, beaten until frothy.

On a lightly greased or floured work surface, roll one piece of dough into a 10" circle. Place the circle on a piece of parchment, brush a thin coat of beaten egg on the surface, then evenly sprinkle with 1/3 of the cinnamon-sugar leaving 1/4" of bare dough around the perimeter.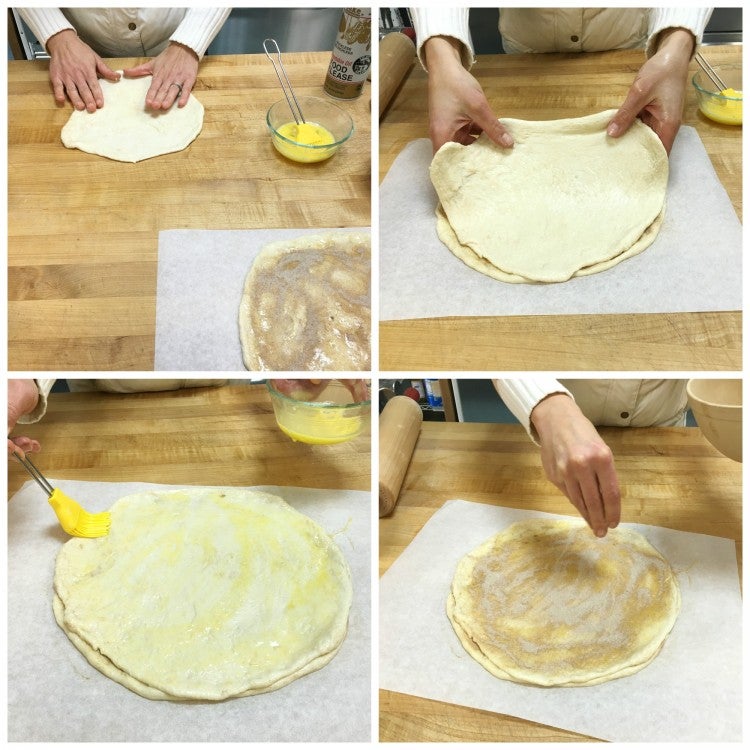 Roll out a second circle the same size as the first, and place it on top of the filling-covered circle. Repeat the layering process with the remaining two pieces of dough — egg, cinnamon sugar, dough circle — leaving the top circle bare.
You won't use all the egg. Save what's left; you'll need it later.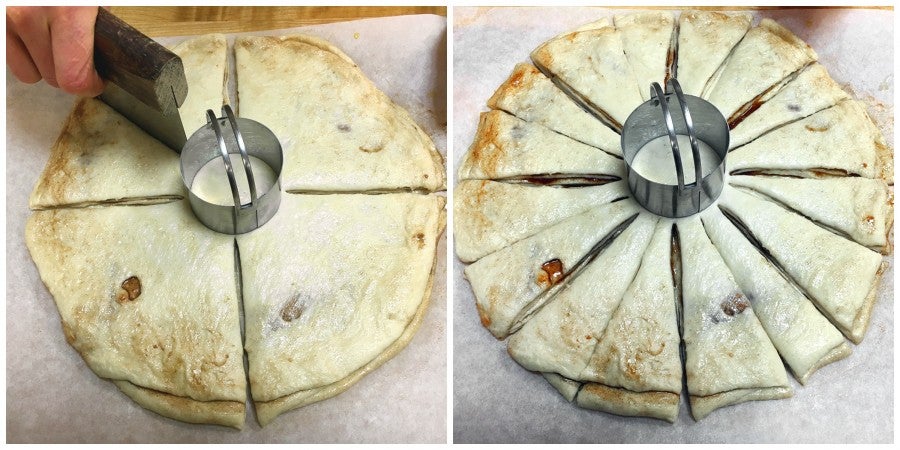 Set a 2 1/2" to 3" round cutter in the center of the dough circle as a guide; don't cut through the dough! With a bench knife or sharp knife, cut the circle into 16 equal strips, from the cutter to the edge, through all the layers.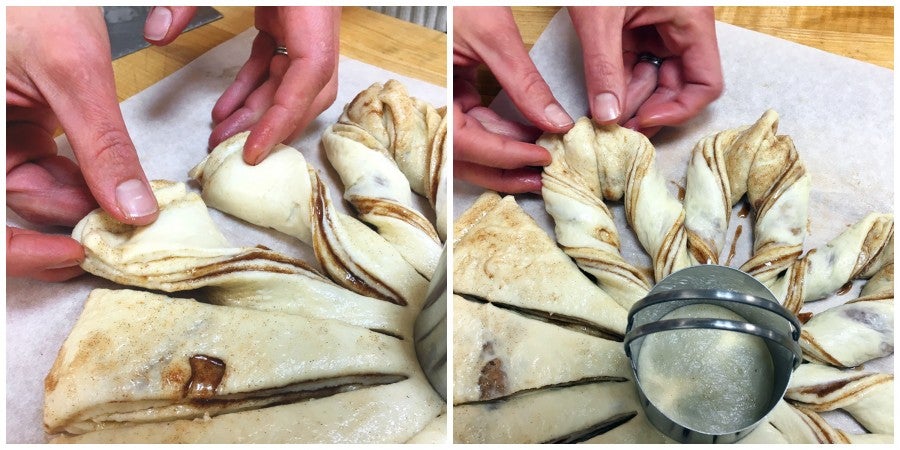 Pick up two adjacent strips and twist them away from each other twice so that the top side is facing up again. Repeat with the remaining strips of dough so that you end up with eight pairs of strips. Pinch the pairs of strips together to create a star-like shape with eight points.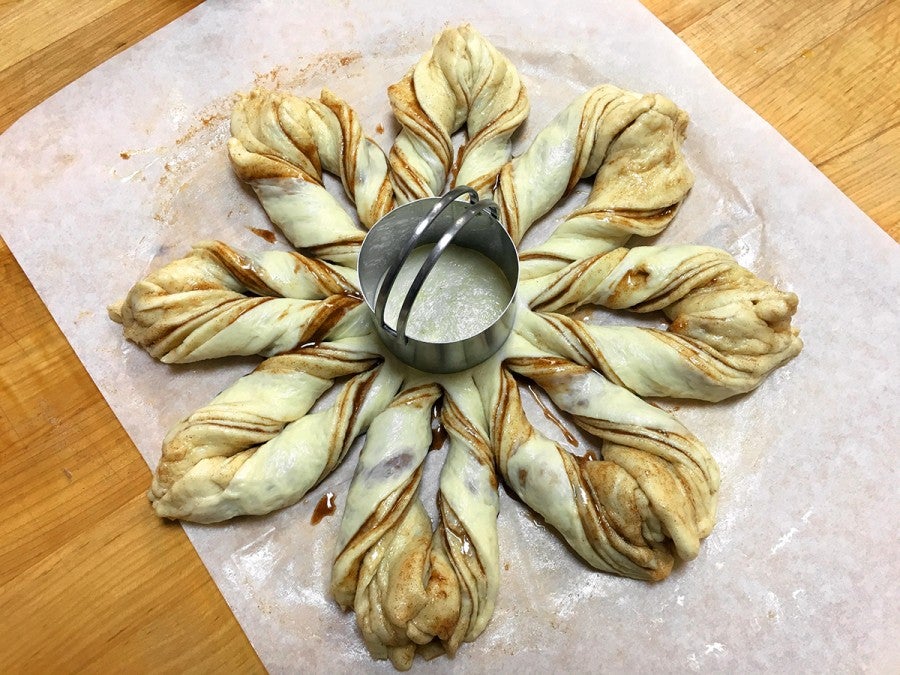 Remove the cutter. Transfer the star on the parchment to a baking sheet. Cover the star and let it rise until it becomes noticeably puffy, about 45 minutes.
While the star is rising, preheat the oven to 400°F.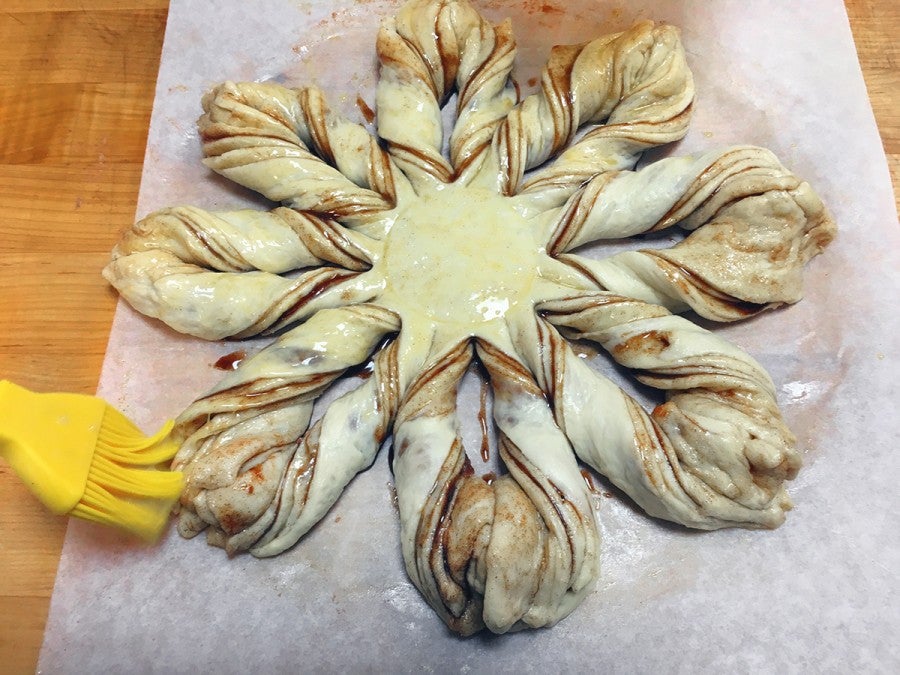 Brush the star with a thin coat of the beaten egg.
Bake the star for 12 to 15 minutes, until it's nicely golden with dark brown cinnamon streaks; the center should register 200°F on a digital thermometer. Remove the loaf from the oven and allow it to cool for about 10 minutes before serving.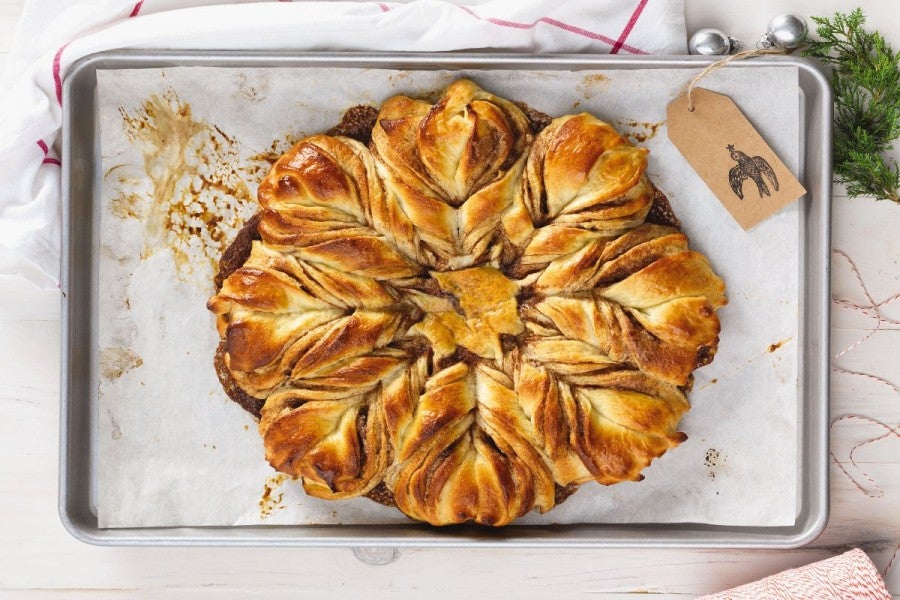 So there you have it – easier than you thought, right?! And almost too pretty to eat!
We hope you bake and enjoy this lovely bread with your friends and family this holiday season.
Please, bake, rate, and review our recipe for Cinnamon Star Bread.
Jump to Comments