How to make Halloween mummy hand pies
Something to scream over
It's the most wonderful time of the year again! No, not *that* one. I'm talking about the hairiest, scariest, creepy-crawly, party-up-front, spooky-in-the-back time: HALLOWEEN!
Around July, fellow blogger MaryJane Robbins and I start to whisper to one another:
"Spiders?"
"Yeah, spiders! And ghosts?"
"Oh, gotta have ghosts!"
Other bakers may be thinking about the 4th of July and red, white, and blue; but our thoughts turn to orange, black, and green: Halloween.
This year the two of us, annual co-conspirators in creating trick-or-treat treasures, have been separated by time and space. But we've stayed true to our 5-year (and counting) tradition of creating outrageous and entertaining Halloween dishes to share with you.
We've kept this year's treats a secret until now. But we're ready to put on the party music* and unveil ... Halloween mummy hand pies!
*That's right, we're blasting the tunes. WRAP music! Care to join us for a round of Name That Tomb?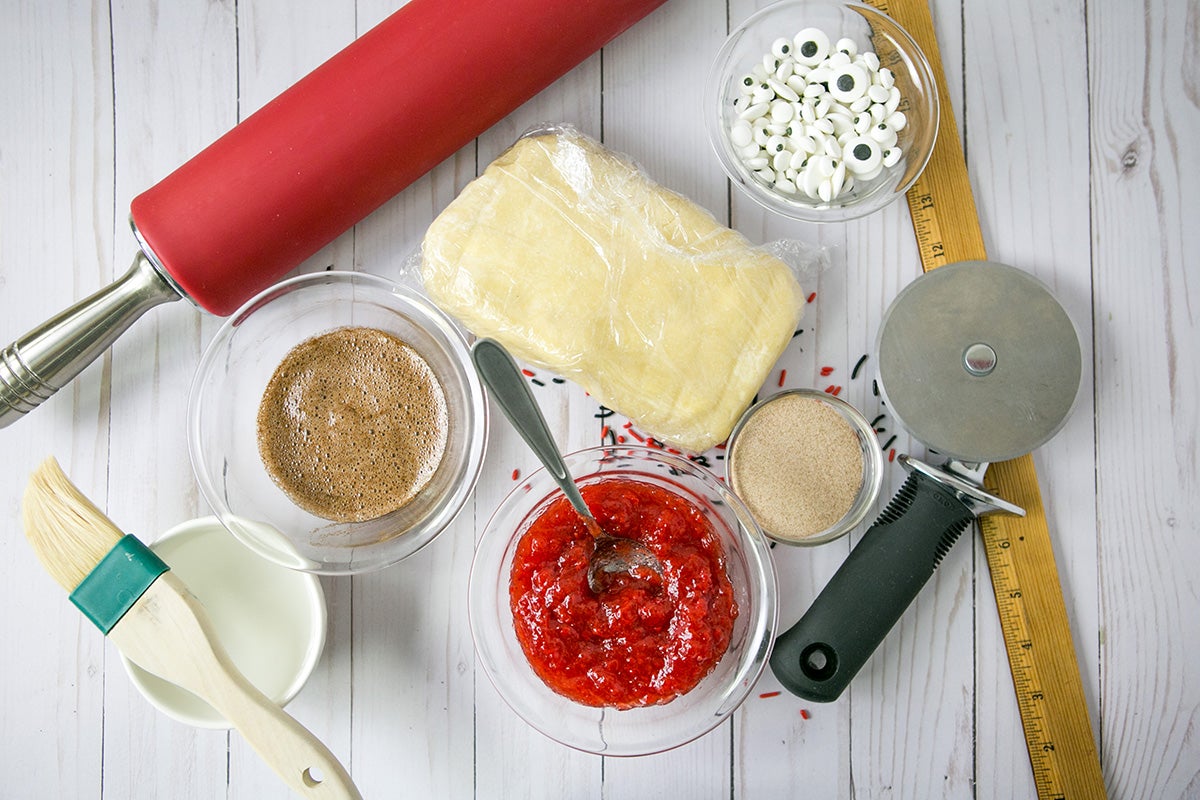 As always, MJ and I try to make sure whatever we come up with is not only super adorable (in a totally scary way, of course) but also simple to make. Simple yet stunning — baking rules we live by!
Gather your tools and ingredients 
To make these ghoulishly delightful Halloween mummy hand pies you need:
1 batch Double Pie Crust (look for a recipe with shortening in it; it will help the mummy wrappings hold together in a more tidy way)
pizza wheel or pastry cutter
strawberry jam
Baker's Cinnamon Filling,* prepared (4 tablespoons filling combined with 1 tablespoon water)
sparkling sugar or cinnamon-sugar
sugar eyes (available at most any craft store)
water or melted butter
ruler
*Don't have Baker's Cinnamon Filling? Substitute 4 teaspoons softened butter, 1/4 cup brown sugar, and 1 1/2 teaspoons ground cinnamon for the Baker's Cinnamon Filling mix and water.

Roll out the dough for the base and wrappings
Roll out half the prepared dough and, using a ruler, cut into 5" x 2" rectangles roughly 1/4" thick. These are the mummy bases. Each 1/2 of dough should get you 3 to 4 bases, with the rest being used for wrappings.
Take the scraps from your bases and roll this dough roughly 1/8" thick. Using the pizza cutter, cut strips to make the mummy wrappings. Don't get too caught up in measuring the exact size of the strips. Just relax and you know, unwind.*
*You might think this was a dad joke, but it came from our mummy!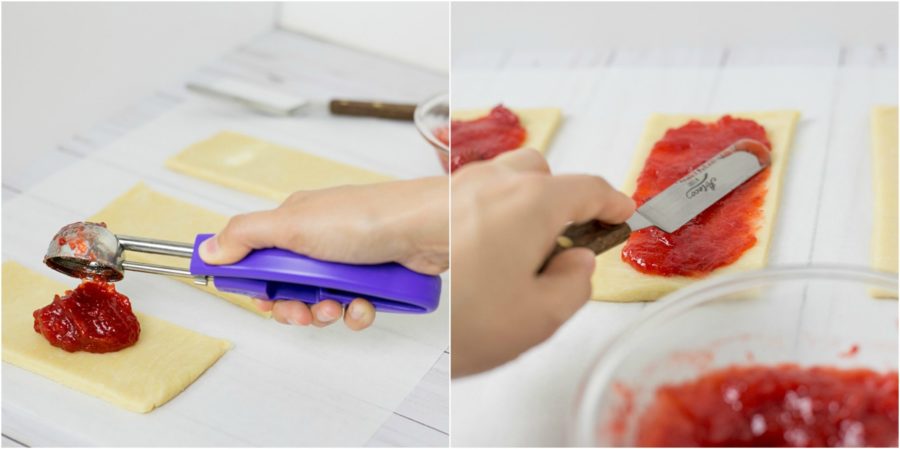 Fill 'er up!
Add about 2 tablespoons of jam per mummy. Spread the jam out, leaving a 1/8" border (approximately) around the edge.
If you're making cinnamon-sugar mummies, use only about 1 teaspoon of the filling for each base, since it's more likely to bubble out while baking.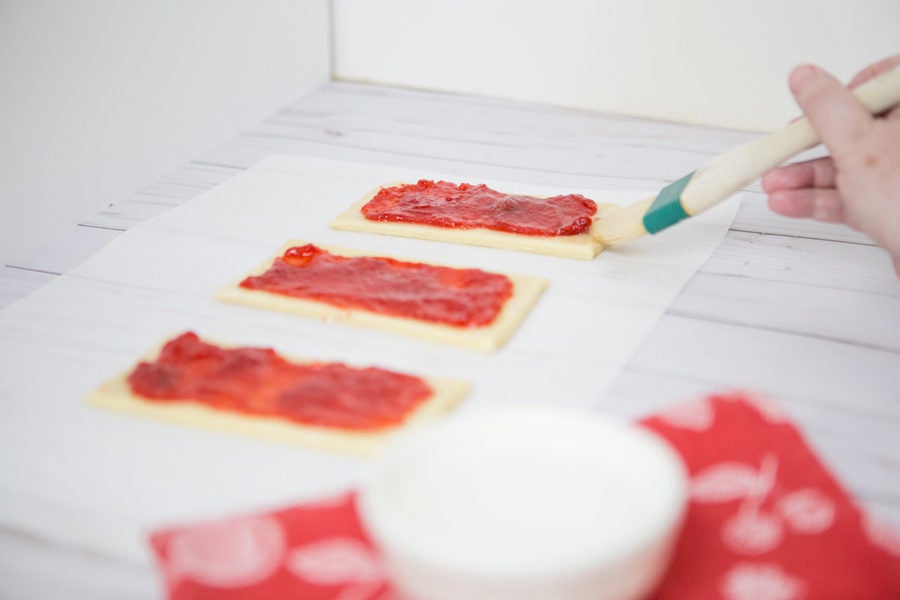 Brush water or beaten egg onto the bare edges of the filled squares. This will ensure the mummy wrappings stay securely in place while baking.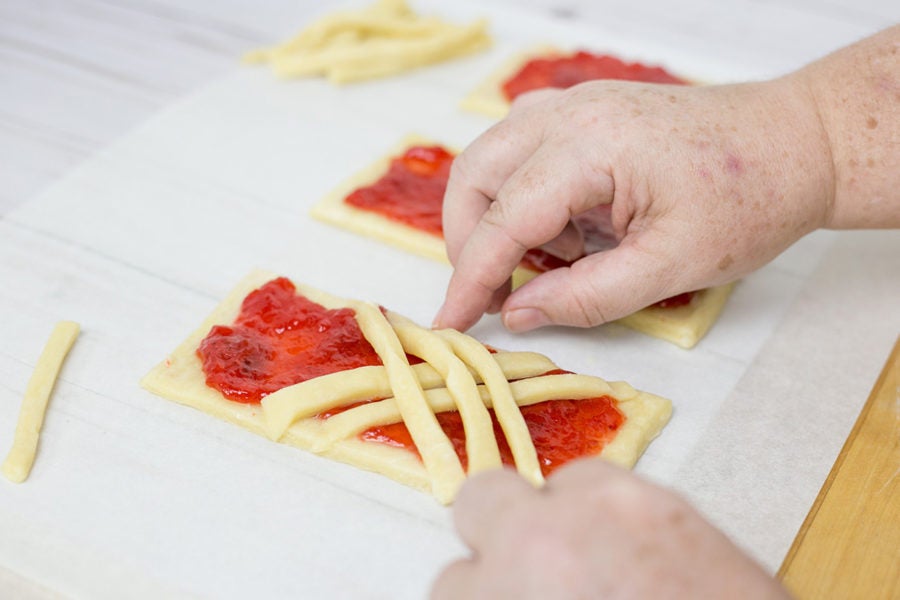 The ghoulish trimmings
Place your pre-cut strips on top of the filled squares. Arrange them and layer them however you like. After all, there's no "right way to mummy." When MJ and I were creating these we left a bit of open space near the top for the sugar eyes, which we added after baking.
Trim the edges of the bases to remove any excess wrappings.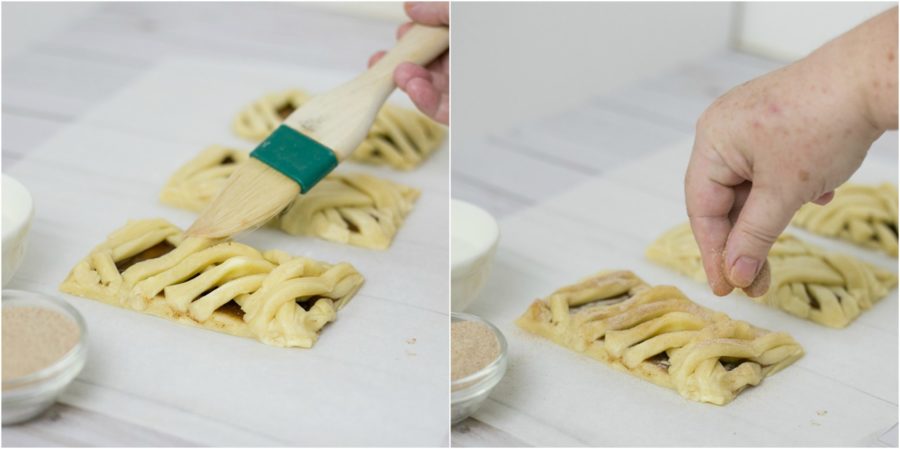 What's a mummy without a little sand in his britches? For our cinnamon-filled mummies we've brushed on some melted butter and added a layer of cinnamon-sugar "dust."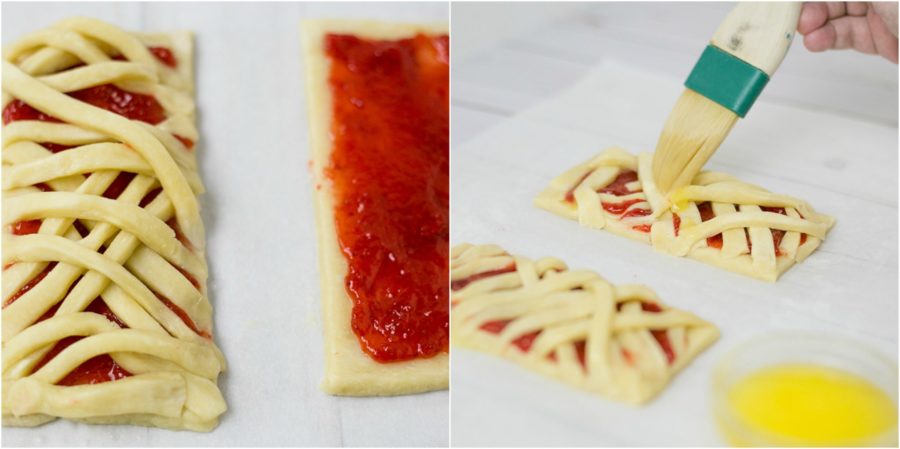 Brushing melted butter onto strawberry bases will make them turn GBD (golden brown & delicious). If people want properly pale mummies, feel free to just brush with water. They'll be just as tasty whichever way you choose.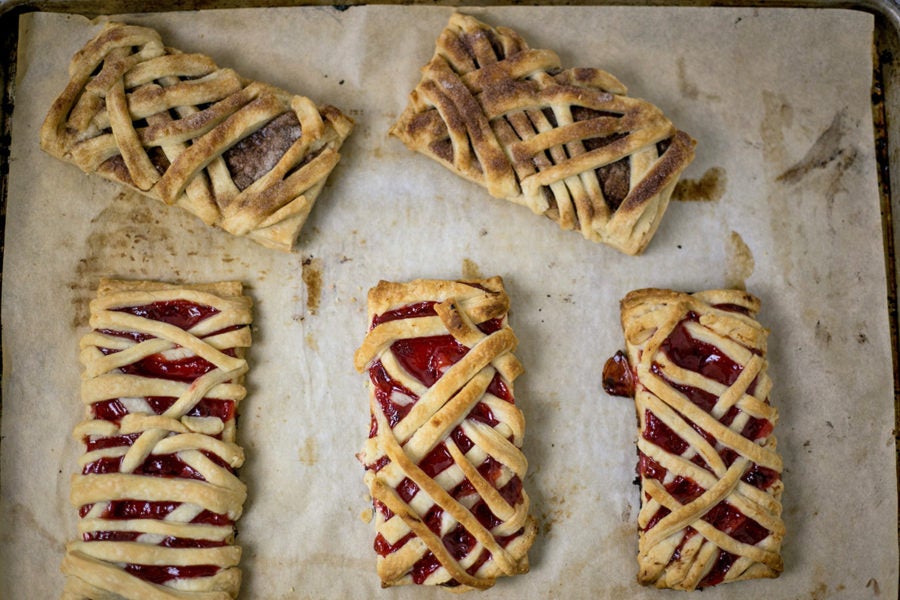 Bake your mummies (without eyes!) in a preheated 400°F oven for 20 to 25 minutes, or until golden brown.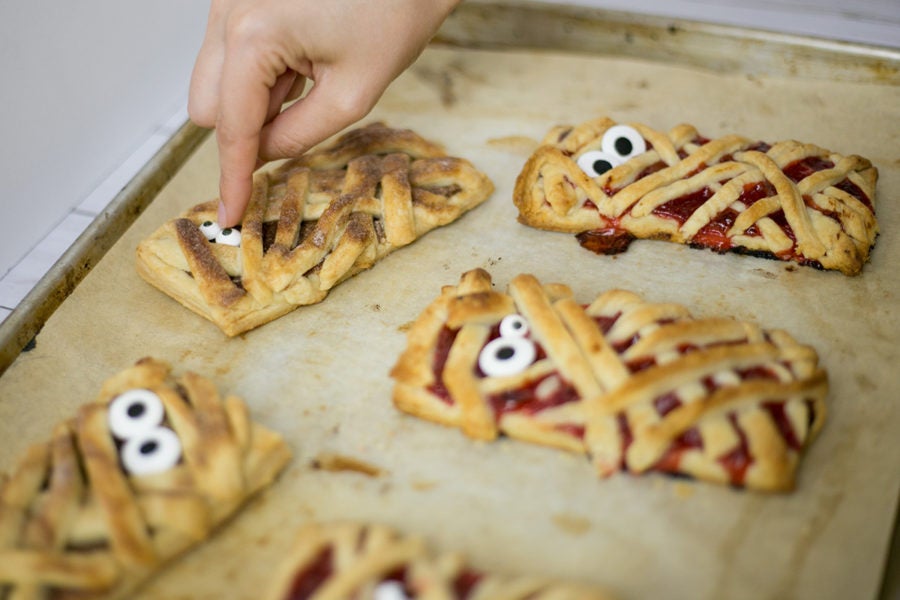 The fin"eye"shing touch
Here's where these treats really come to life.
Life? No way — these guys are all about the afterlife!
We found using a variety of different-sized eyes gave us the most bang for our buck, allowing each mummy to have its own personality and expression. Basically, we had too much fun at the craft store and bought all the eyes we could see (sorrynotsorry!).
Carefully position the eyes to complete the transformation from regular hand pies to Halloween mummy hand pies.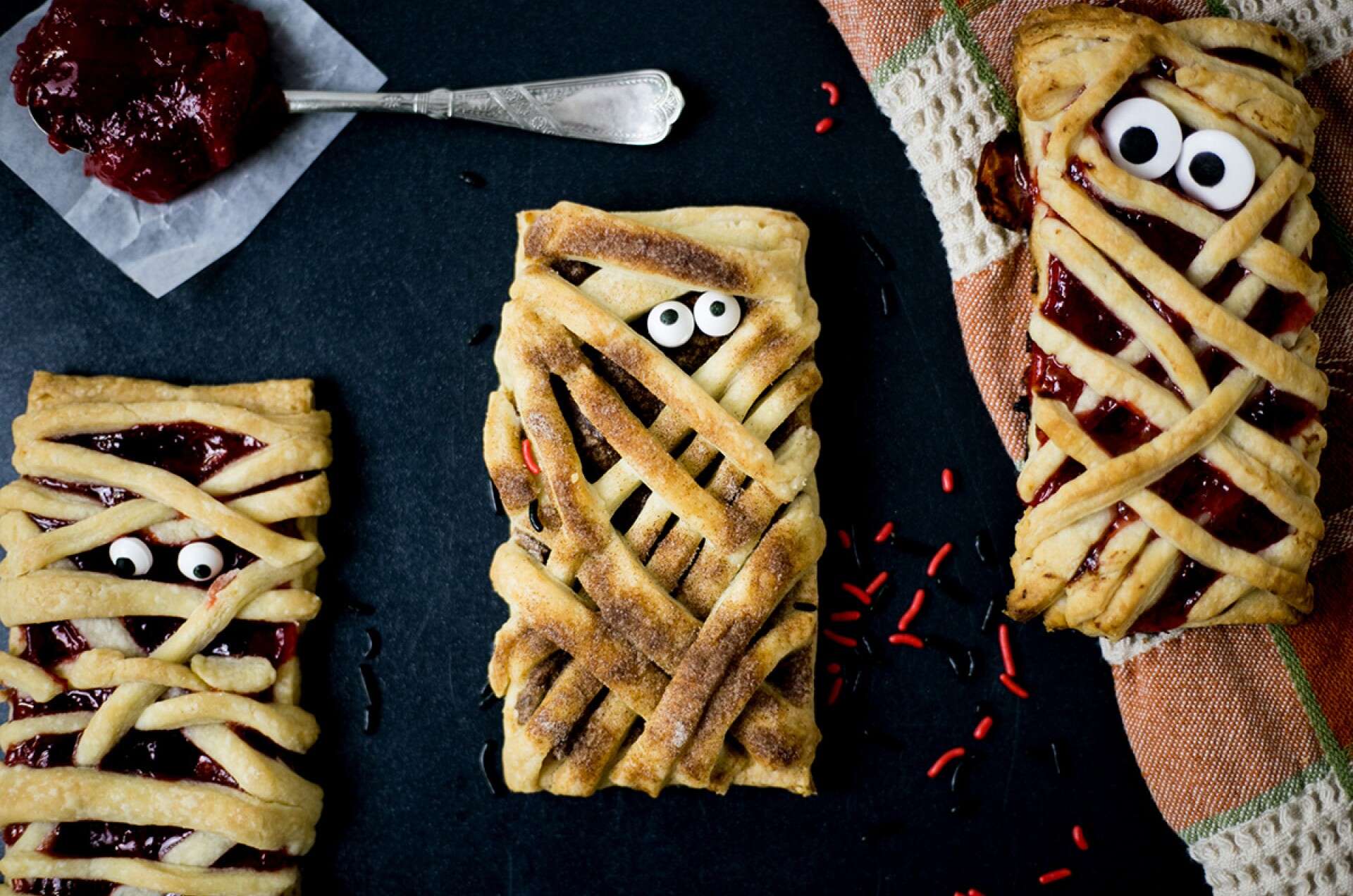 Bone appetit!
Tell us, are there any hauntingly good treats you'll be baking this Halloween? Any suggestions for next year's collaboration?
Happy Halloween, everyone!
Jump to Comments