I WAS WRONG.
Do you know how hard it is to say those words? Sure you do. There's something about our human nature that simply doesn't want us to admit being found anything less than perfect.
"Make a mistake – me? Never!"
Well, as any of you know who's ever taken a wrong turn in Boston traffic; lazed on the beach for hours without applying sunscreen to the tops of your feet; or – been there, done that – spilled an entire half-gallon of vegetable oil on the kitchen floor, mistakes happen.
It's admitting them that takes courage. And I'm screwing up my fortitude, right now, to admit A BIG MISTAKE I made recently. A sin of pride, really.
I didn't want anything to do with the topic of this blog post: "King Arthur scone mixes, and everything you can do with them." I was volunteered for the job when my fellow bloggers suddenly all disappeared – not at their desks, out-of-office email messages firmly in place. It was musical chairs, and guess who was left standing?
Sigh. Use a mix? I don't think so. I start with FLOUR and I ADD MY OWN INGREDIENTS, thank you very much. Truth be told, when I finally go to that big kitchen in the sky, they'll have to wrest the bag of King Arthur all-purpose out of my hands before I pass through the pearly gates (excuse the mixed metaphor).
Or maybe I can take it with me – angel food cake, anyone?
Anyway, I dutifully hied myself over to the King Arthur Baker's Store here in Norwich, VT, and picked up six scone mixes, pretty much at random. First thing I noticed - wow, we have a LOT of different scone mixes - 21, to be exact. And the boxes had a pleasing heft; these mixes weren't lightweights, capable of producing a miserly 6 or 8 tiny scones. As I loaded my cart, I felt the first gentle breeze of interest riffling across my mind.
To make a potentially long story short, I brought the mixes home. Found the recipe online telling how to use the mix to make not scones, but pancakes, and coffeecake, bread and muffins and shortcake.
Followed the recipes. Was amazed by 1) how quick, 2) how easy, and 3) how GOOD said comestibles turned out to be.
In fact, I was SO pleasantly surprised, I emailed my fellow Web team members the following:
"I know I was joking about scone mixes, but I'm blown away by how good they really are - I am totally going to keep scone mixes in my pantry from now on, for emergencies. They make THE BEST muffins, coffeecake, and quick bread - I'm assuming the pancakes will be just as good. Totally easy, fast, and YUMMMMMMMM..."
To close the circle on this baking experiment, the pancakes (which, in a serendipitous twist, I made using French toast scone mix) were delightful. As were the strawberries and cream shortcake biscuits.
And, for someone whose KitchenAid and Cuisinart get a good workout most days, it was quiet and kind of nice to be able to mix up the batter for all of these recipes using nothing more than a bowl and spoon.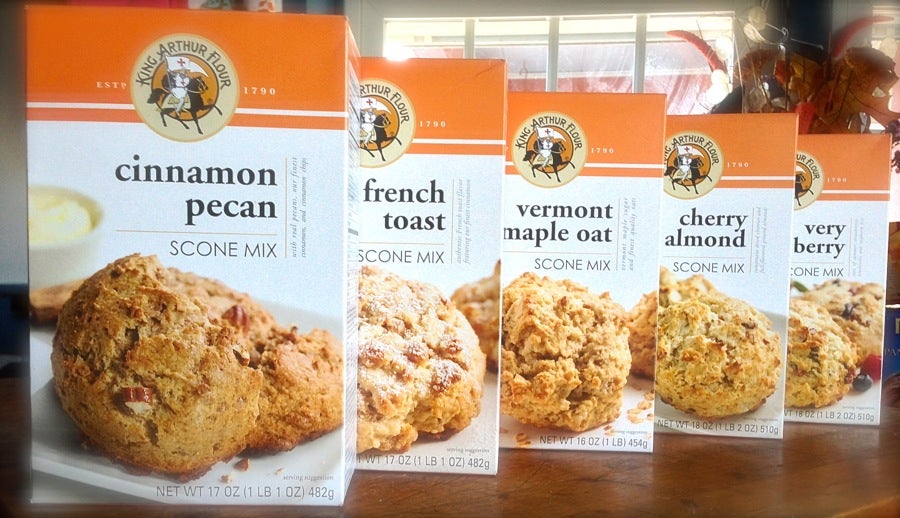 So, next time I'm at the store, I'm restocking my pantry. Whether I want a quick batch of muffins for my husband and his fellow Saturday-morning trail-clearing volunteers; a coffeecake to bring to my mother-in-law, or pancakes – just because I feel like treating myself – I'm now a mix-master.
A contrite, humbled, happy-to-be-proven-wrong mix-master.
So, nothing like a nice batch of warm muffins first thing in the morning, right? Let's start there.
Note: Keep in mind you can use any of our scone mixes in any of the following recipes; just pick whatever flavor sounds good to you for whatever treat you're making.
How to make muffins from scone mix
Scone mix: Very Berry
Studded with chopped dried strawberries plus raspberry and blueberry bits, this mix sounded like an interesting way to get started.
1 package King Arthur scone mix
1/2 teaspoon salt
2 to 3 tablespoons (7/8 to 1 1/4 ounces) sugar, optional, for a sweeter muffin or bread
1/2 cup (3 1/2 ounces) vegetable oil
1 1/2 cups (12 ounces) milk
1 large egg
Preheat the oven to 400°F. Lightly grease a standard muffin pan; or line it with papers, and grease the papers. Depending on the mix you choose, and whether or not you use muffin papers,* you'll be making 12 to 14 muffins, so plan accordingly.
*Bet you didn't know how much space muffin papers actually take up; I find that when I use muffin papers, the recipe yields more muffins than when I don't use papers.
Whisk together the scone mix, salt, and sugar. In a small mixing bowl or large measuring cup, whisk together the oil, milk, and egg. Add the wet ingredients to the dry mix, and stir just until the batter is evenly moist and thoroughly combined. (See that last picture? I'd forgotten the sugar. Lucky most recipes are endlessly forgiving, or we'd all be out of luck, eh?)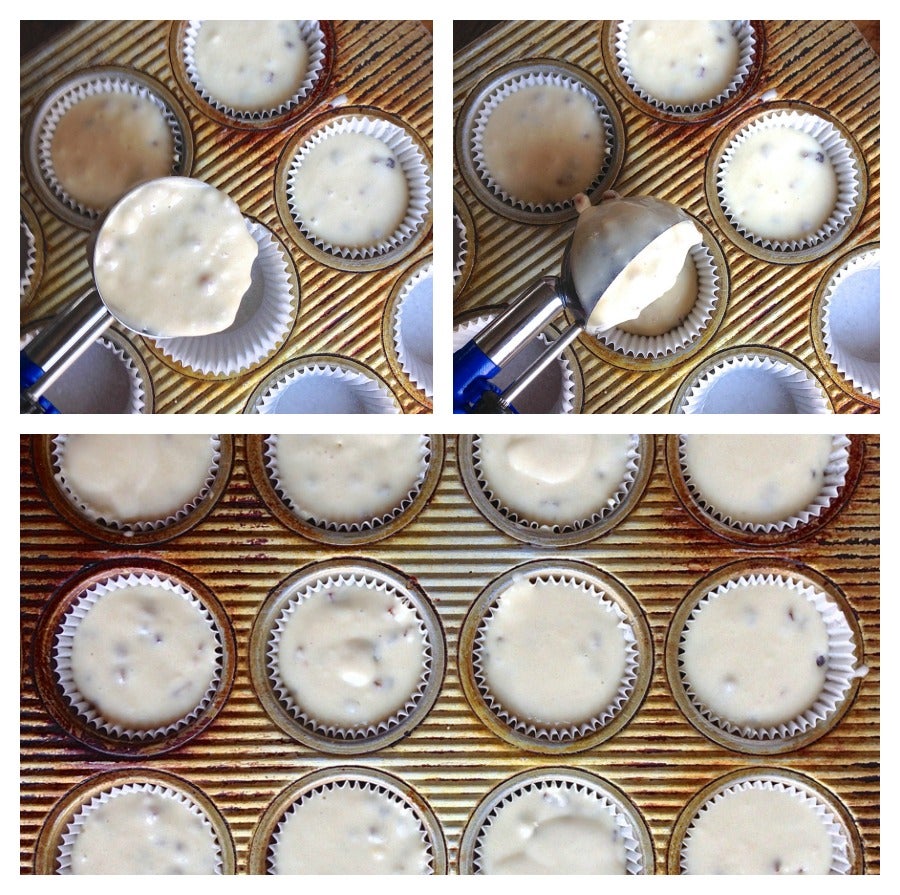 Scoop the batter into the pan. Fill each well to within 1/4" of the top. A muffin scoop is perfect for this task.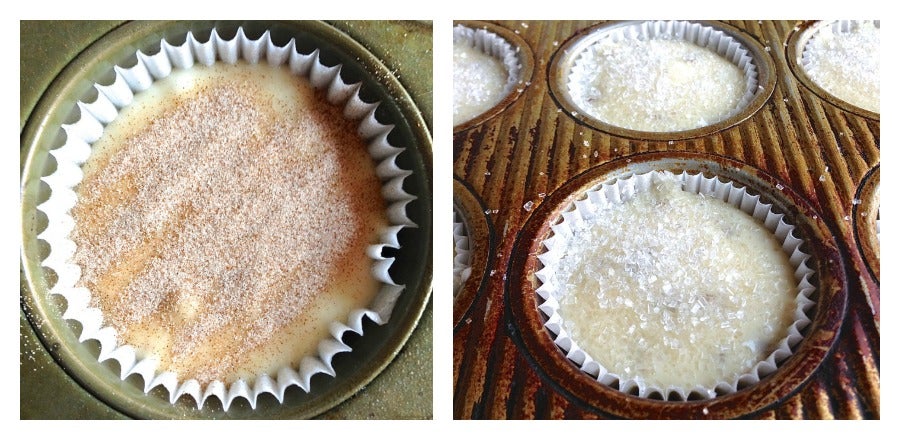 Garnish with the sugar of your choice, if desired. That's cinnamon-sugar on the left, coarse white sparkling sugar on the right.
Bake the muffins for 20 to 22 minutes, until a cake tester or toothpick inserted into the middle of one of the center muffins comes out clean.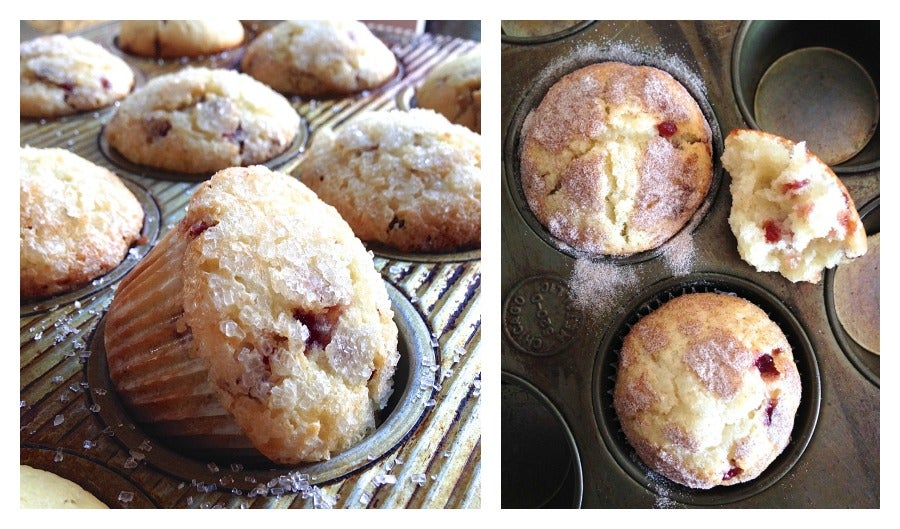 Remove the muffins from the oven, and turn them out of the pan onto a rack as quickly as possible. Or simply tilt them in the pan, if they're too hot to handle; this will prevent their bottoms from steaming and becoming leathery.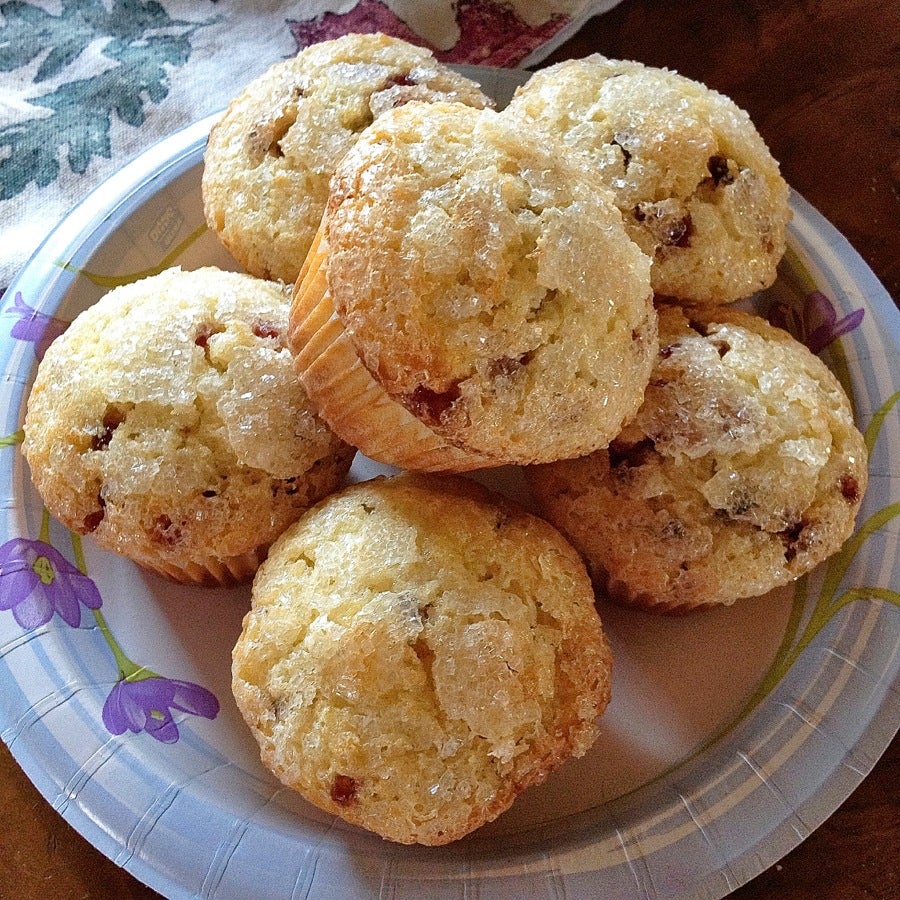 Serve warm; wrap any completely cool leftovers and store for several days at room temperature. Freeze for longer storage.
Now you can absolutely take that same batter, and make a loaf out of it, instead of muffins.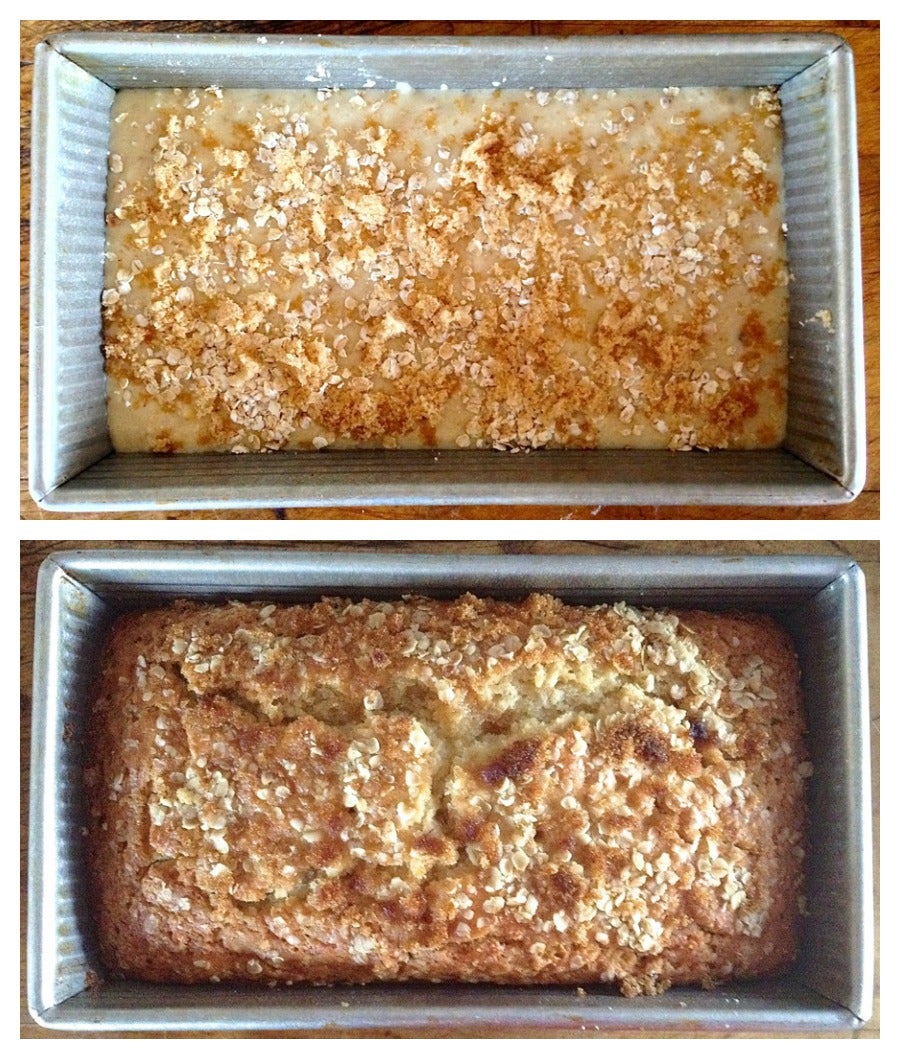 How to make quick bread from scone mix
But since I'd already used Very Berry to make muffins, I chose another mix for bread.
Scone mix: Vermont Maple Oat
Made with lots of oats and real maple sugar, this mix yields a moist, tender bread, perfect as is or toasted and buttered.
Prepare the batter using the same ingredients called for in the muffin recipe. I dressed the loaf up a bit by sprinkling the top with rolled oats and brown sugar.
Pour the batter into a greased 9" x 5" loaf pan. Bake the bread in a preheated 375°F oven for 50 to 60 minutes, until a cake tester or toothpick inserted into the center comes out clean. Tent the bread loosely with aluminum foil for the final 15 to 20 minutes of baking, to avoid over-browning.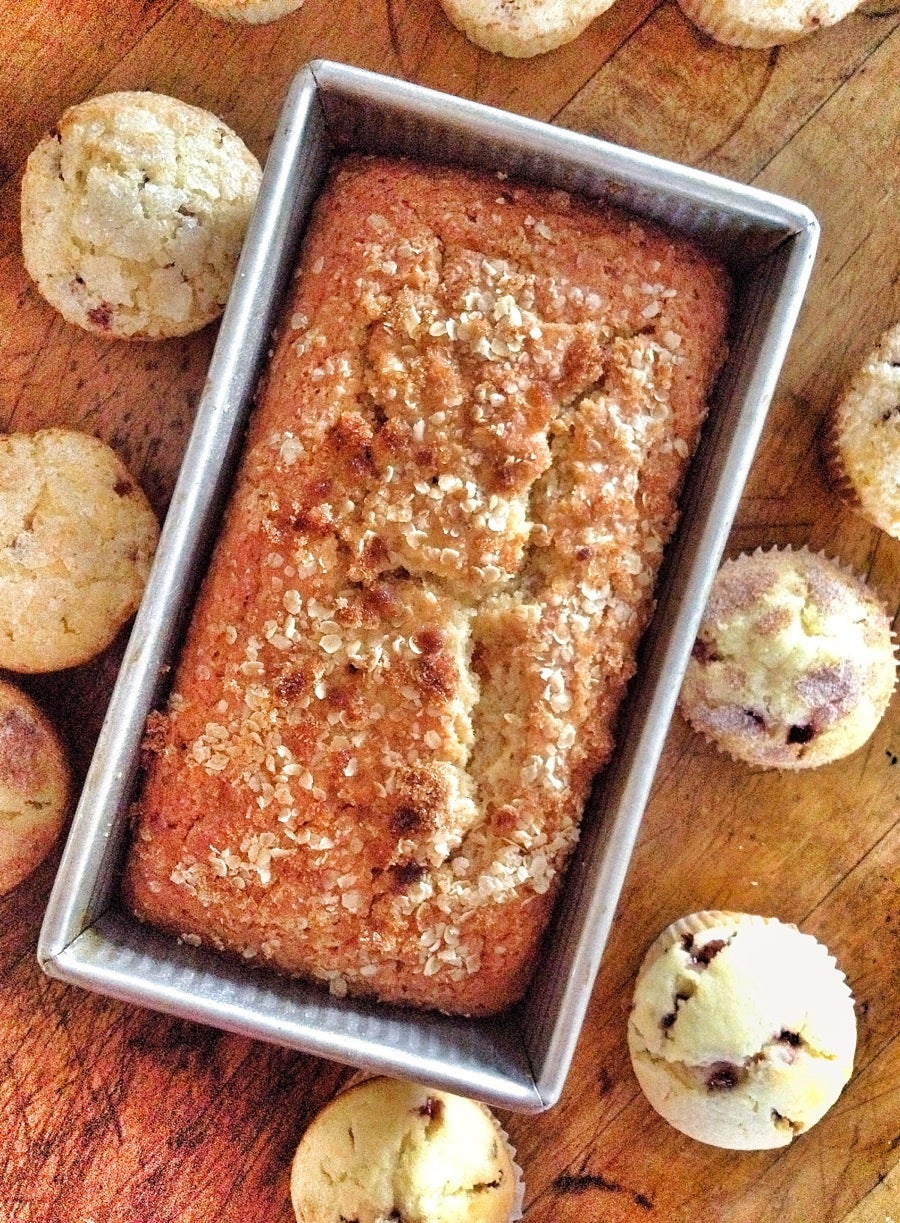 Remove the bread from the oven, and let it cool in the pan for 10 minutes before turning it out onto a rack to cool completely.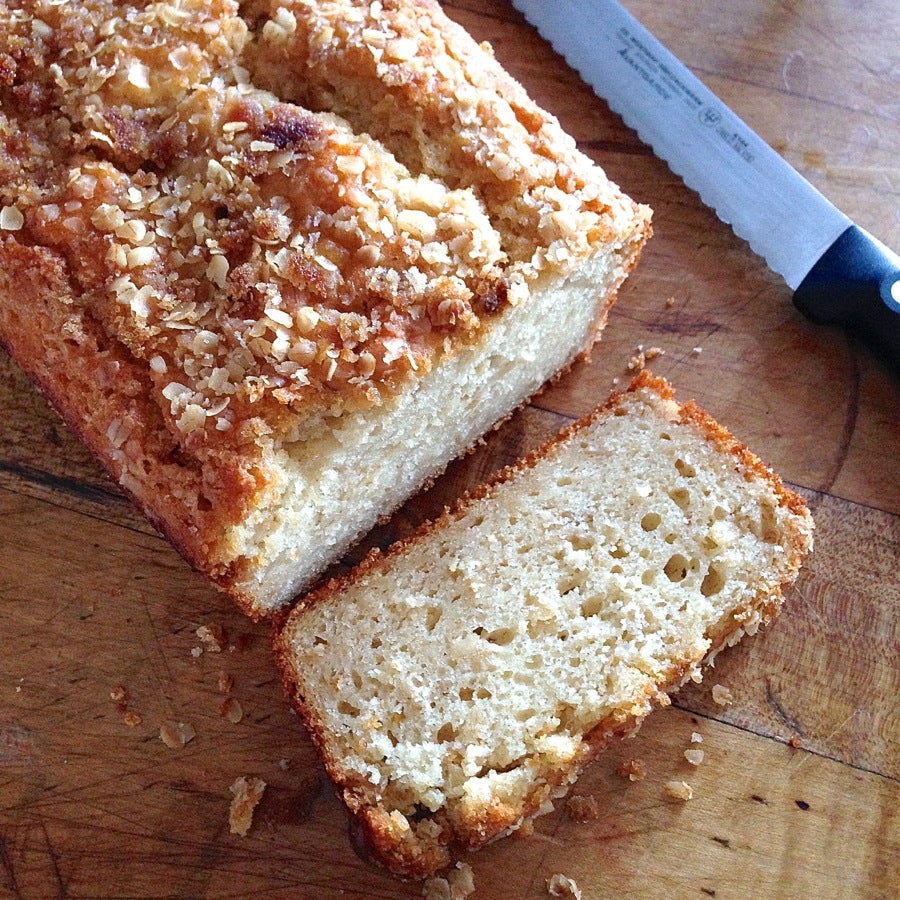 When it's completely cool, wrap the bread in plastic wrap and store at room temperature. It will slice more easily the next day if you do this.
Next, coffeecake – what's not to love? One box of scone mix makes a nice 8" square or 9" round streusel-topped cake. And even the streusel is made from the mix!
How to make coffeecake from scone mix
Scone mix: Cinnamon-Pecan
Pecans, cinnamon chips, and extra-strong Vietnamese cinnamon translate themselves beautifully into cinnamon-streusel coffeecake.
Topping
3/4 cup King Arthur scone mix
pinch of salt
2 tablespoons (7/8 ounce) sugar
1/2 teaspoon cinnamon, optional; depending on the scone flavor
3 tablespoons (1 1/2 ounces) melted butter
Batter
remainder of King Arthur scone mix (regular size mix, not bulk package)
1/2 teaspoon salt
2 to 3 tablespoons sugar, optional; for a sweeter cake
1/2 cup (3 1/2 ounces) vegetable oil
1 large egg
1 cup (8 ounces) milk
Preheat the oven to 350°F. Lightly grease an 8" square or 9" round baking pan.
Start by measuring 3/4 cup of the scone mix into a small bowl, for the topping. Add a pinch of salt, the sugar, cinnamon, and melted butter. Stir gently until the mixture becomes crumbly; if it seems wet and starts to form large clumps, wait 5 minutes, then gently stir again, breaking up the clumps. Set it aside.
In a medium-sized bowl, whisk the remaining mix with the salt, vegetable oil, egg, and milk.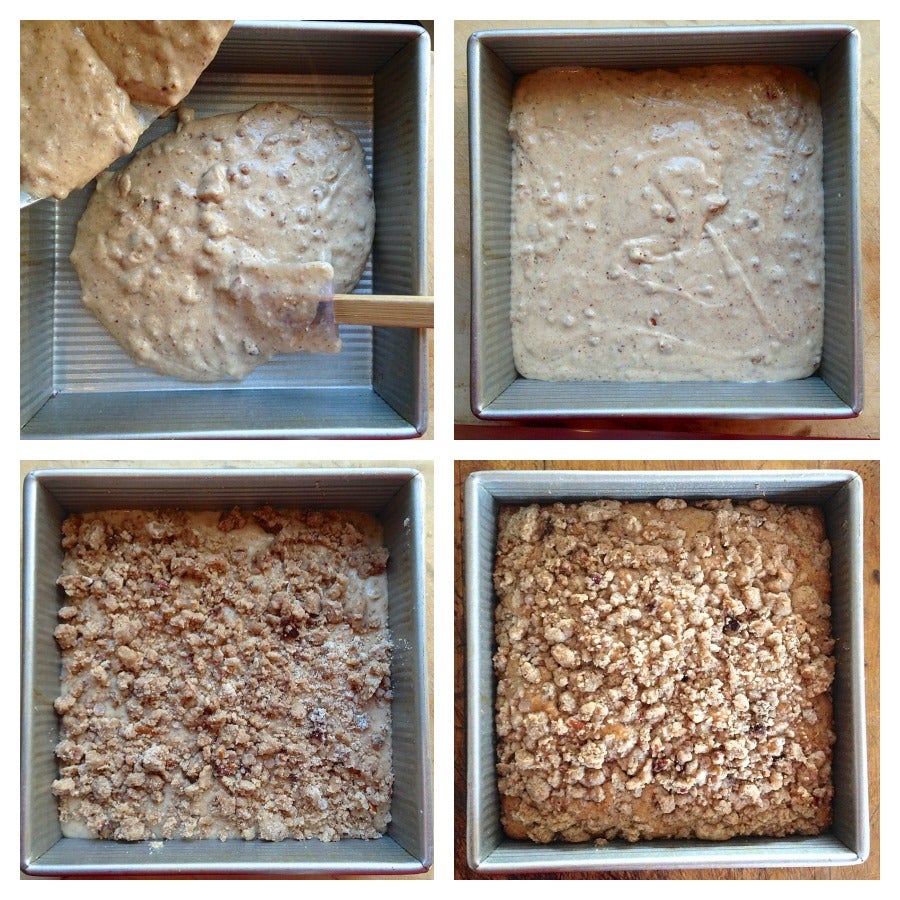 Pour the batter into the prepared pan, and sprinkle with the topping.
Bake the coffeecake on the middle rack of the oven for 35 to 40 minutes, until the middle springs back when lightly touched with your finger, and a cake tester or toothpick inserted into the center comes out clean.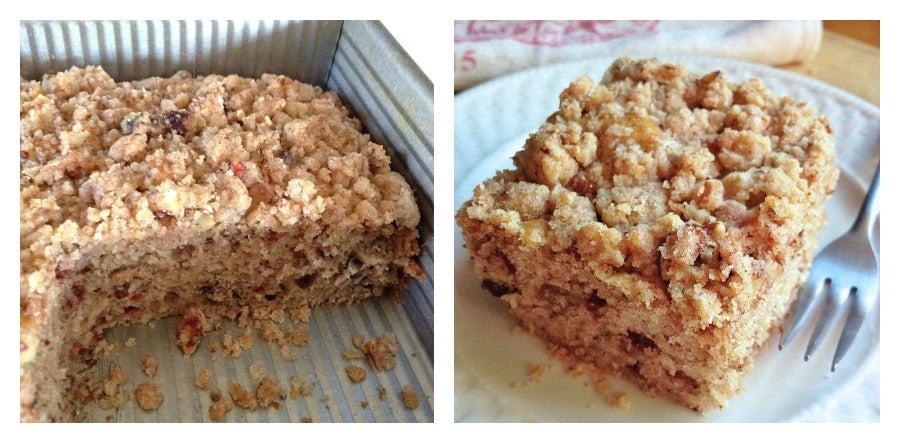 Remove it from the oven, and serve warm, right from the pan. The cake is moist, and nicely crumbly, and its sugary/buttery streusel simply melts in your mouth. Bring on the coffee!
Next: pancakes. With this easy, mix-based shortcut, you don't have to relegate them to weekends!
How to make pancakes from scone mix
Scone mix: French Toast
Scented with nutmeg, studded with cinnamon chips, these pancakes have a real "gourmet diner" flavor, if that's not too oxymoronic a concept.
1 1/2 cups (about 8 1/2 ounces) King Arthur scone mix*
1/2 teaspoon salt
1 large egg, beaten
3/4 cup (6 ounces) milk
2 tablespoons (1 ounce) melted butter or vegetable oil (7/8 ounce)
*Double the recipe if you like; 1 1/2 cups mix will make 8 pancakes.
Preheat your griddle on medium heat about – about 300°F – while making the batter.
In a medium-sized bowl, whisk the salt into the dry mix. Whisk together the egg, milk and oil, and add to the dry ingredients, mixing until everything is evenly moist. If the batter seems thin, let it sit for 10 minutes, to thicken; if it seems thick, add additional milk until it's as thin as you like. The thicker the batter, the thicker the pancake (and vice versa).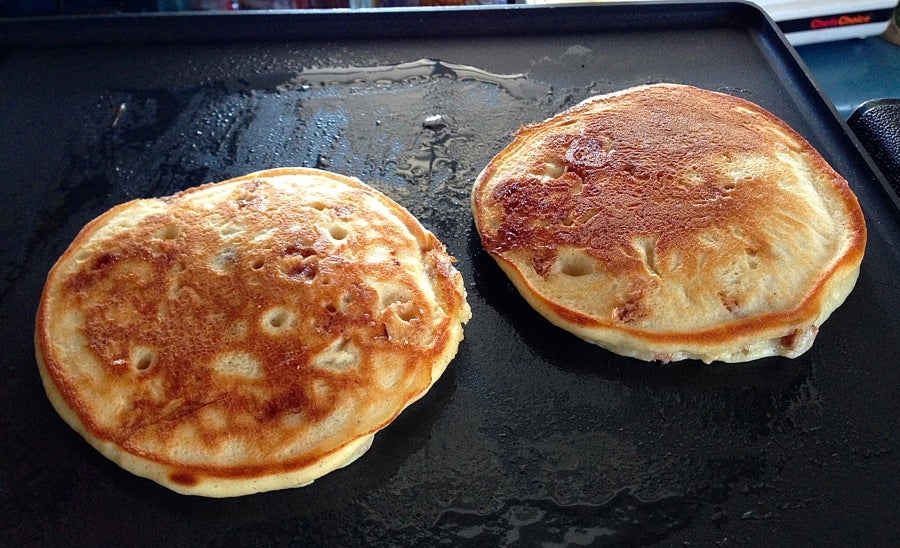 Spoon the batter by the 1/4-cupful onto the lightly greased griddle; a muffin scoop* works well here. When you see the edges begin to look dry and bubbles come up and not break, turn the pancakes over to cook for about a minute on the second side, until cooked through.
*Using a level muffin scoop of batter for each pancake will make eight 4 1/2" cakes. Using a heaped tablespoon cookie scoop will make about a dozen 3 1/2" cakes.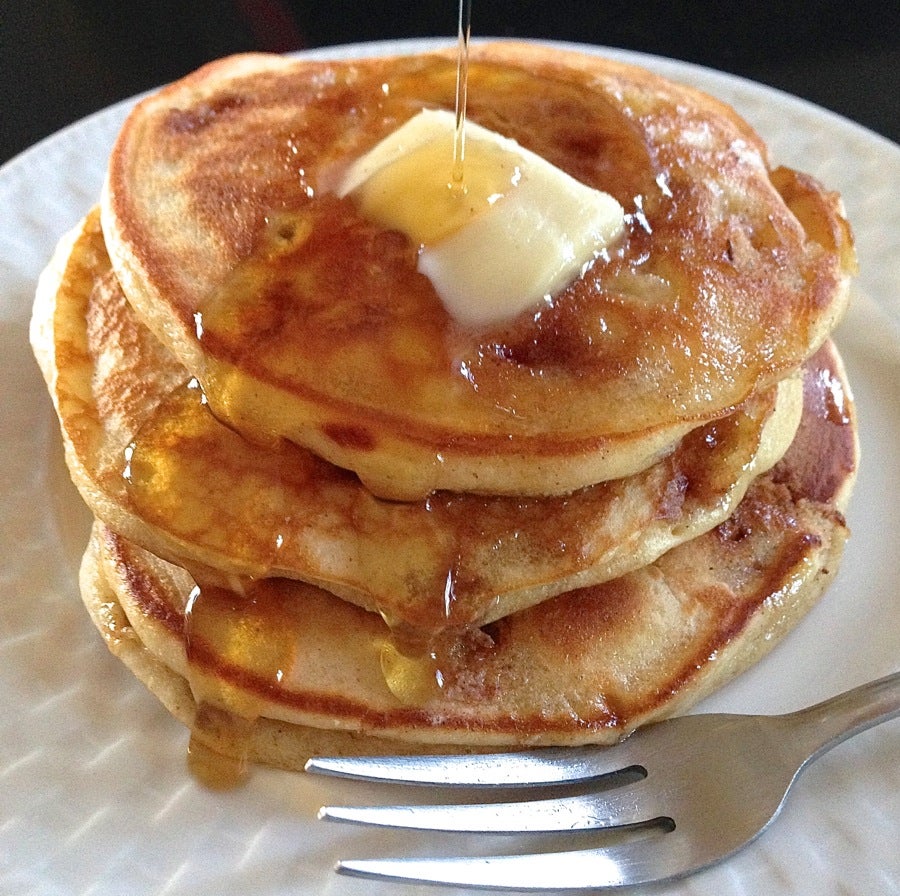 Serve warm, with the topping of your choice. Cabot butter and real maple syrup for me, thanks.
Note: If you're not afraid of a little arithmetic, and you have a scale, you can pretty easily figure out how much of each ingredient to use to produce a certain number of pancakes. For the batter to have the correct consistency, the weight of the dry mix you use should equal (within 1/8 ounce or so) the weight of the combined liquids: egg, milk, and butter or oil.
Let's move on to dessert, shall we? Just because it's January, we don't need to relegate shortcake to the back burner.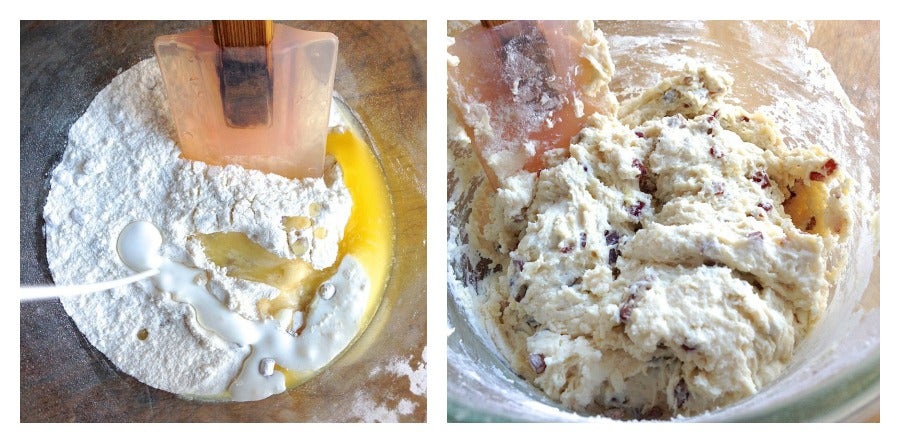 How to make shortcakes from scone mix
Scone mix: Strawberry and Cream
Bits of dried strawberry in the biscuit are going to complement our shortcake perfectly.
a generous 1 1/2 cups (about 10 ounces) King Arthur scone mix
1/2 teaspoon salt
3/4 cup heavy cream OR 1/2 cup half & half* or light cream + 2 tablespoons melted butter
*Can you use fat-free half & half, nonfat milk, low-fat milk, or another lower-fat dairy product? Sure; you just won't be happy with the result. As my husband said about my skim milk experiment, "Maybe I should get out my Skilsaw..."
Preheat the oven to 400°F. Lightly grease a baking sheet, or line it with parchment.
Whisk together the mix, salt, and heavy cream or half & half/butter. Add additional cream (or additional mix) to make a sticky dough, as pictured.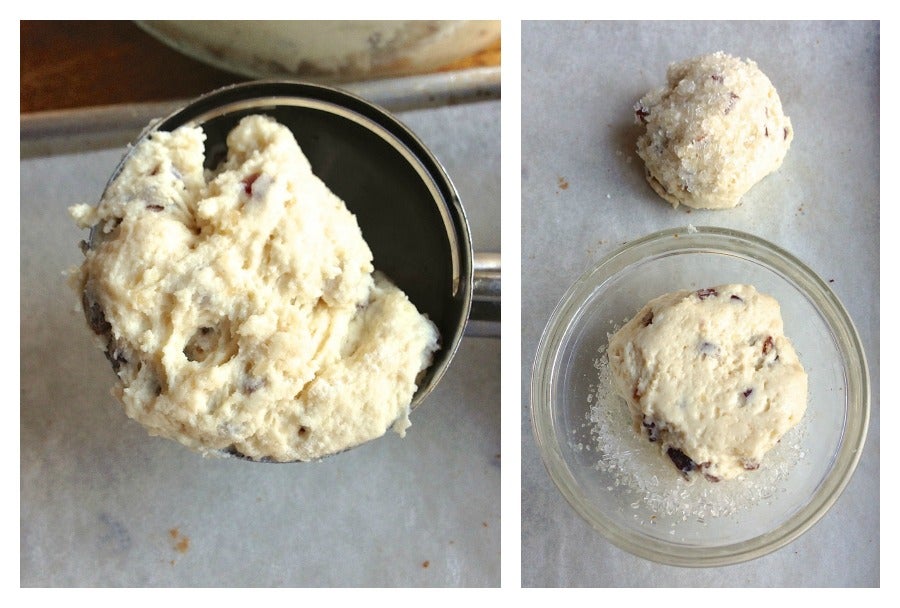 Scoop golf-ball sized pieces of dough onto the prepared baking sheet; a muffin scoop filled about 2/3 full makes the ideal size.
Dip the tops of the biscuits in coarse white sparkling sugar, if desired.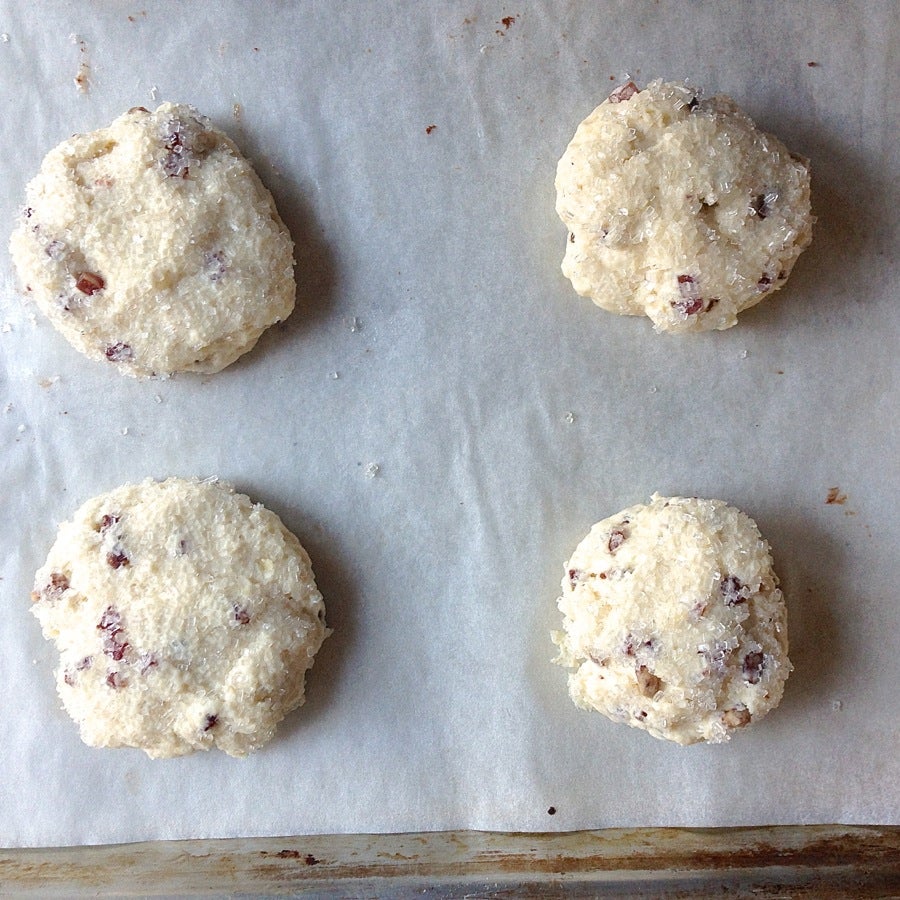 Leave about 2" between the biscuits.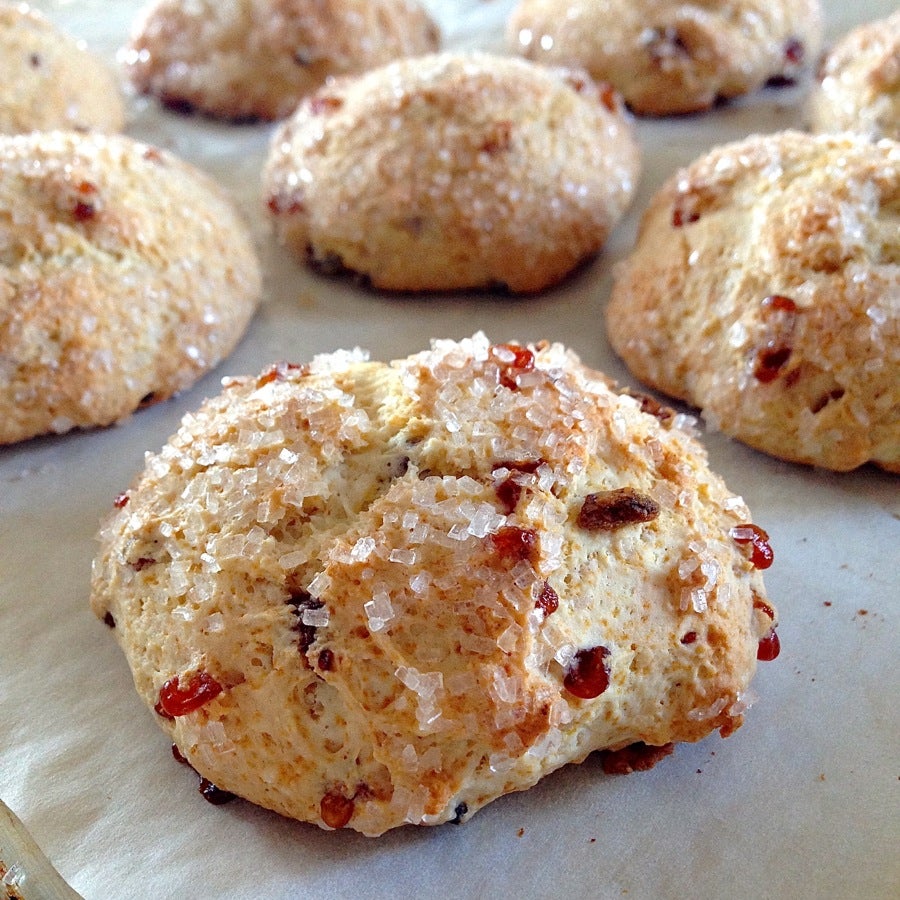 Bake the biscuits for 12 to 14 minutes, until they're a very light golden brown. Remove them from the oven, and cool on a rack.
To make shortcake, split biscuits horizontally into top and bottom pieces. Add sliced, sweetened fruit and whipped cream to the bottom; then add the "lid."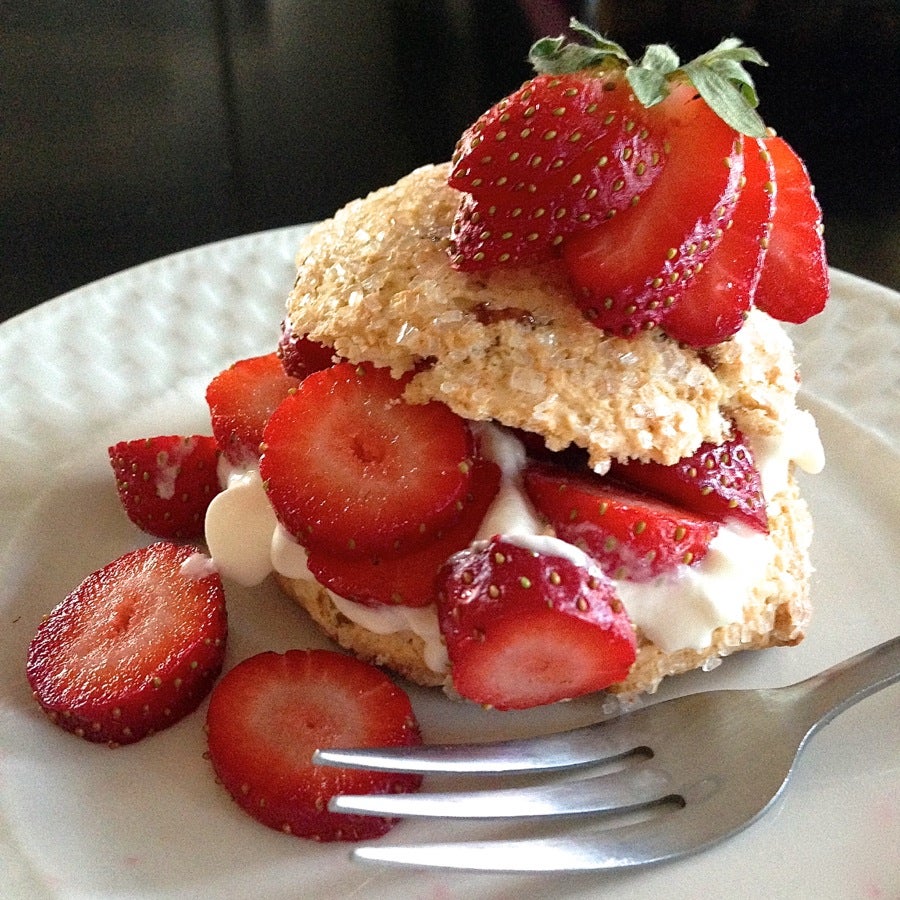 Top with additional whipped cream and fruit, if desired.
See that nice little strawberry decoration I made for the top? Hey, for me, this is very crafty; I just don't have those Martha Stewart genes.
And now, for the grand finale: scones! Well, the headline says "six ways" – I couldn't stop at just five, right?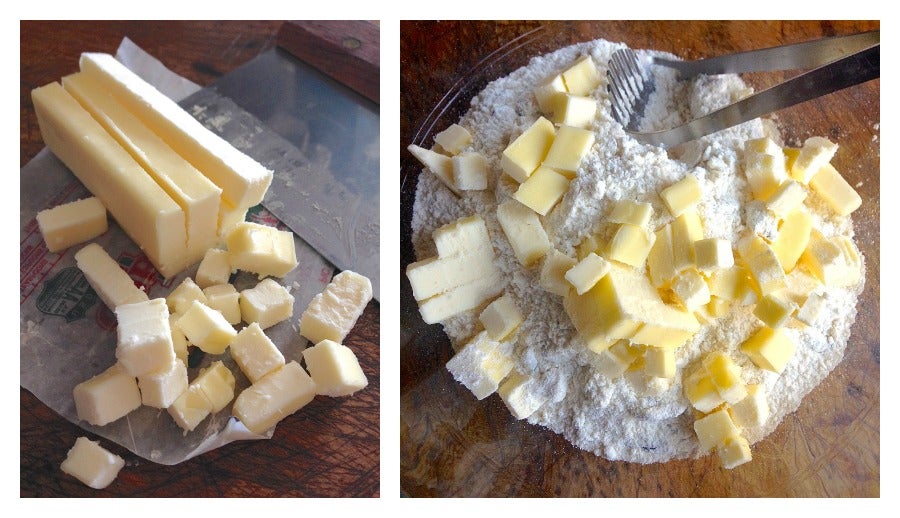 How to make scones with a mix
Scone mix: Cherry Almond
I couldn't resist finishing up with this, our top-ranked scone mix. Dried cherries and almond flour give these scones great flavor and crumbly/soft texture.
1 box cherry almond scone mix
8 tablespoons cold butter
1 large egg
1/2 cup milk
Preheat the oven to 400°F; place a rack in the upper third. Lightly grease a baking sheet, or line it with parchment.
Stir together the scone mix and salt. Cut the butter into pats or small cubes. Be sure to use a good-quality butter, since it's a key ingredient; I'm using Cabot here. Add the butter to the mix.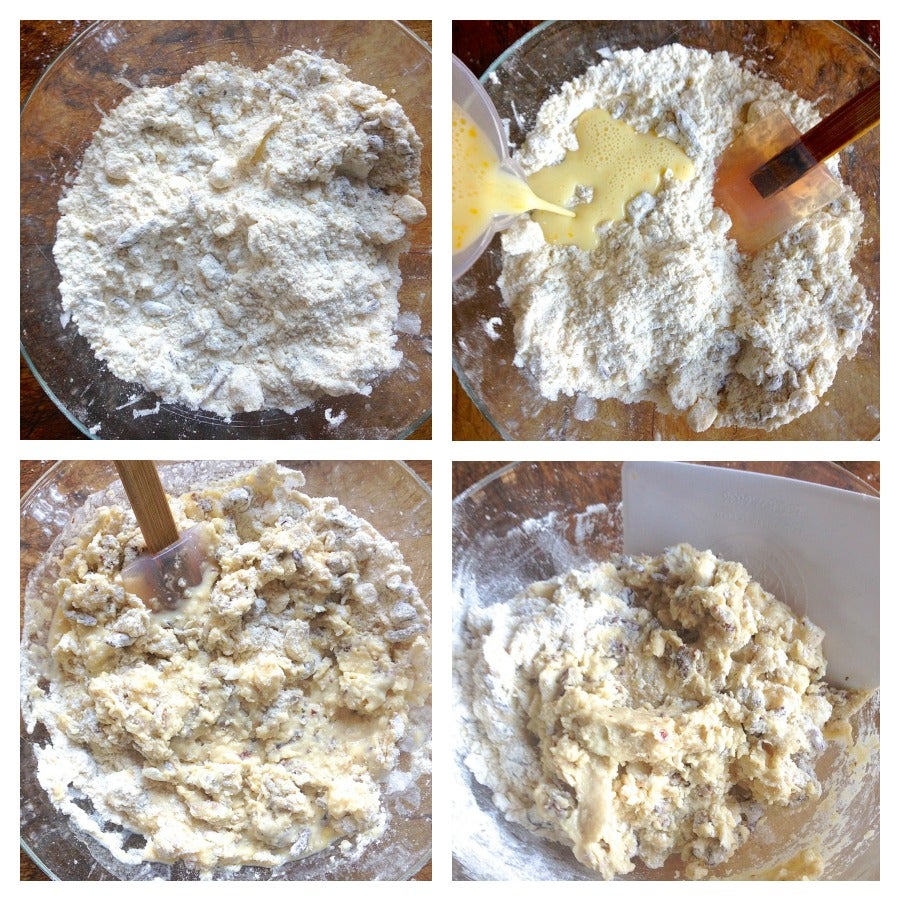 Work in the butter, mixing until everything is unevenly crumbly.
In a separate bowl, stir together the egg and milk. Add to the dry ingredients, stirring just until moistened. If needed, drizzle in another tablespoon of milk to make the dough hold together.
I find it helps to switch from spatula to bowl scraper towards the end; the scraper is more substantial, and easily scrapes the dry ingredients from the sides and bottom of the bowl into the wet center.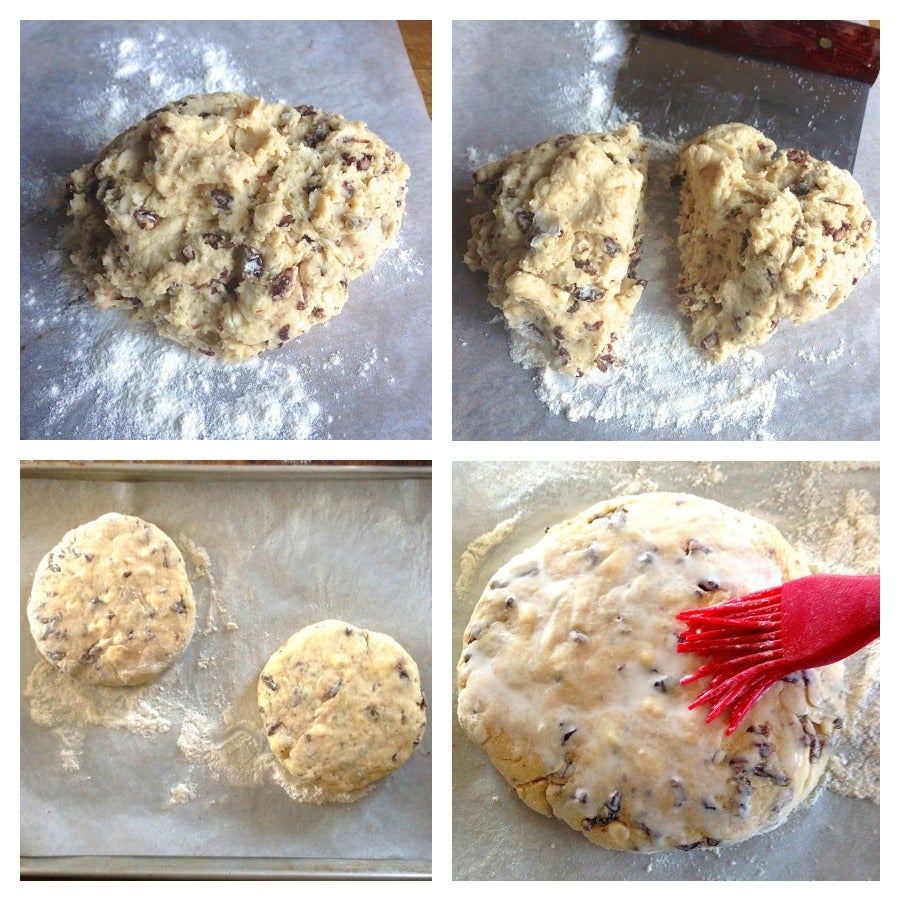 Transfer the dough to a piece of parchment, and divide it in half. (The directions on the box say to make one large round, but I prefer more/smaller scones.)
Shape each piece of dough into a 5" x 3/4"-thick round. Brush each round with some milk or cream, and sprinkle with coarse white sparkling sugar, if desired.
Divide each round into 8 wedges, separating them a bit.
Notice the chunks of butter in the cross section of scone pictured at right, above; leaving some of the butter in largish chunks will help keep the scones flaky.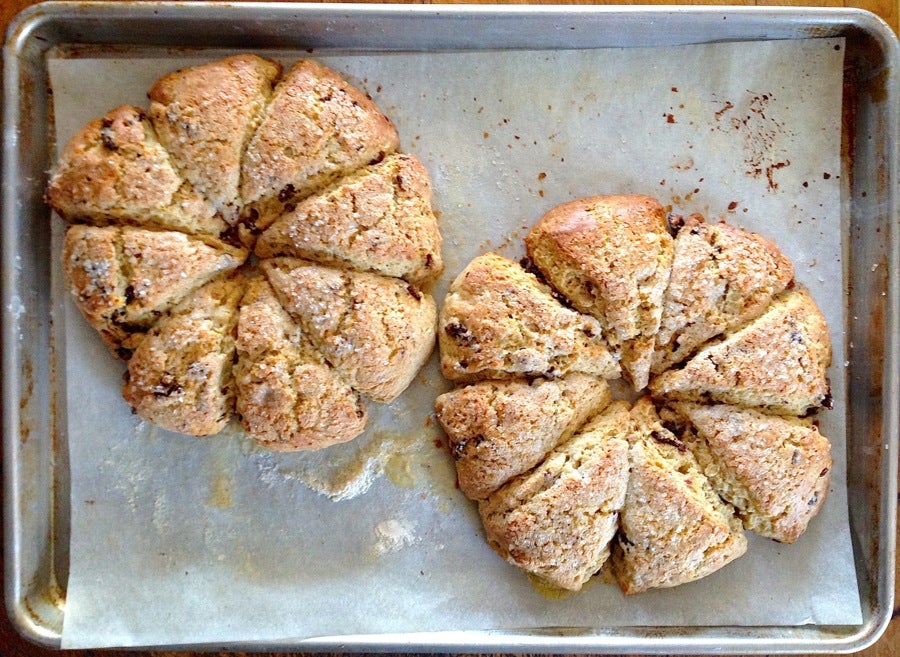 Bake the scones for 16 to 18 minutes, until they're golden brown.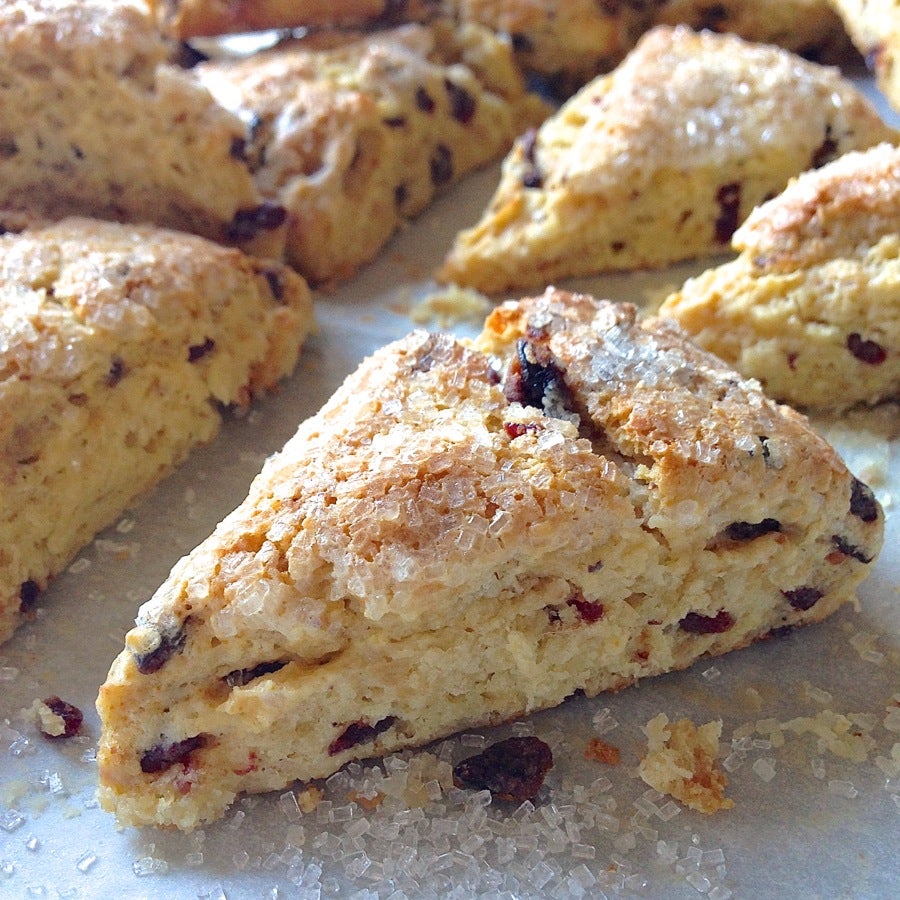 Remove them from the oven, separate them, and cool right on the pan – or on a rack, if you prefer crisper bottoms.
Enjoy warm scones with butter and jam. Or either alone. Or neither. Devon cream or clotted cream are options, if you want to enjoy the complete British scone experience.
Now, admit it – dyed-in-the-wool scratch baker or not, I'll bet I've tempted you to try a scone mix, right? I'm not switching 100% to mixes; just adding them to my repertoire. We have an annual brunch for a large group every April, and I'm already formulating my scone battle plan...
Want to transform your own favorite scone recipe? Mix your dry ingredients; add the remaining ingredients (butter, milk, egg, cream...) called for in your chosen recipe above; then follow the directions to completion.
Jump to Comments