We welcome guest blogger and baker/author Gesine Bullock-Prado, who's written for Food and Wine and Better Homes and Gardens magazines; and appeared on The Today Show and The Talk. Her newest book, Let Them Eat Cake, explores "classic, decadent desserts with vegan, gluten-free and healthy options." Gesine is a regular guest instructor at our Baking Education Center.
My mother was a study in dietary contradiction.
She was a strict vegetarian, a health-food nut unparalleled. Her Virginia kitchen was a haven for all things whole-grain and sugar-free; my school lunches were legendary for their ancient grain, soy-centric weirdness, and I didn't try a Coke until my Nanny slipped me a sip when I was 7. I didn't get another taste until high school.
Yet every summer when we traveled back to my mother's hometown of Nürnberg in Germany, we feasted with mom-sanctioned glee on pork bratwurst nestled in bleached white flour buns. She was at once strident in her dietary convictions for everyday meals, and supremely tolerant of the most egregious culinary morsels.
A perfect example was her love of puff pastry, that white flour-based, butter-engorged patisserie staple. You'd think she'd consider it anathema. But she understood the beauty and joy of a well-made pastry and actually gloried in the caramelized goodness of a palmier.
Now that I have the pleasure of being a grown woman in charge of her own dietary landscape, I realize that I am my mother's daughter. I recognize the need to live a healthy life but, man, if that croissant doesn't look damn good.
And having had a pastry shop of my own, I found that more and more customers were walking in the door asking for treats that wouldn't put Junior in anaphylactic shock, or that wouldn't pull them into a morass of regret the second they'd polished off a cookie. I had customers who wanted a healthier version of my wares with all the soul satisfaction of the classic. I was confronted with the need to make things gluten-free, dairy-free, egg-free, even vegan.
So I made it a mission to keep making the tastiest of treats with all the traditional ingredients in play, but then also figuring out how I could jury-rig them for someone who has celiac disease or suffers from lactose intolerance or is sidled with an egg allergy or high cholesterol.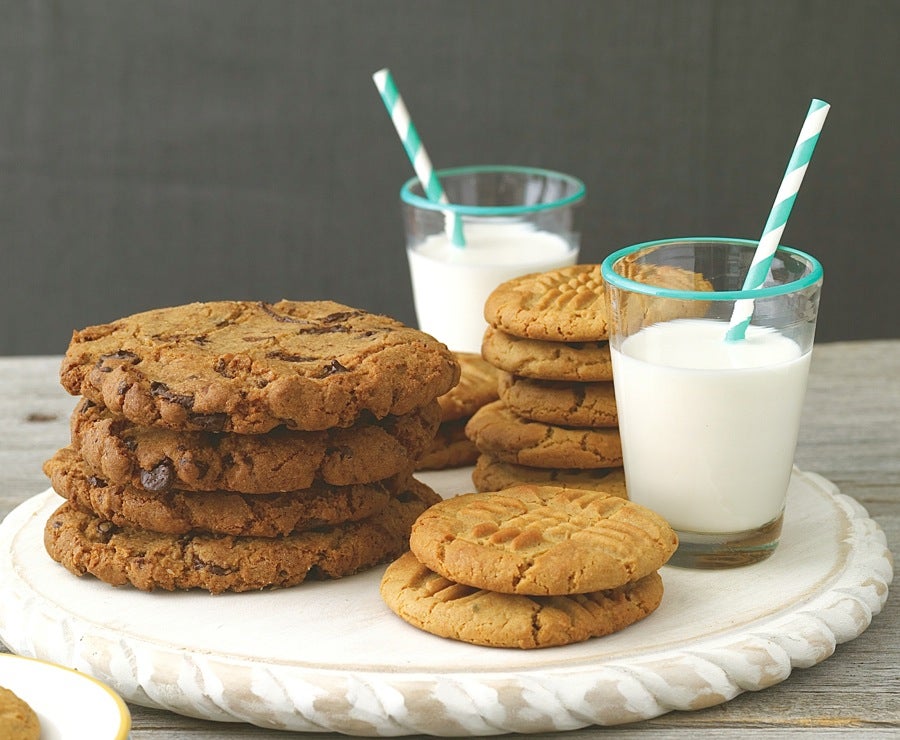 To be perfectly honest, sometimes the healthier version is my favorite version (I'm talking to you, Chocolaty Chippy, Chunk Cookies); and there are times when a vegan cake just blows me away (that's a tip of the hat to you, Figgy Pistachio Upside Down Cake).
With this book, Let Them Eat Cake, I'm giving everyone an option to celebrate with cakes, pies, ice cream, candy, cookies, brownies, and more. In other words, everyone gets to have their cake and eat it, too.
Ed. note: We bet you're anxious to make that tempting cake pictured at the top of this post. Be our guest!
Figgy Pistachio Upside Down Cake
I don't know if you love figs as much as I do. I don't know if that's even possible. But assuming you possess a smidge of my devotion, you'll appreciate this elegant yet straightforward use of the fruit. In the event that you have no love in your heart for the wondrous things, you can substitute most any fruit in place of them, including pineapples, apples, mango, pears… you get the idea.
Makes one 9" (23cm) single-layer cake
Ingredients
for the fig layer
2 tablespoons unsalted butter, melted
1/4 cup (55g) dark brown sugar, packed
13 small fresh Mission or Calimyrna figs, stems removed, cut in half
for the cake
1 cup (140g) all-purpose flour [we prefer King Arthur Unbleached All-Purpose Flour, of course]
1/4 cup (20g) pistachio flour (finely ground pistachios)
1 teaspoon baking powder
1 teaspoon salt
3/4 cup (12 tablespoons, 170g) unsalted butter, at room temperature
1/2 cup (100g) plus 2 tablespoons sugar
2 large eggs, at room temperature
1 tablespoon vanilla bean paste
1 teaspoon grated orange zest
1/3 cup (75ml) whole milk
to finish
1/4 cup (30g) roughly chopped salted pistachios
Procedure
Make the fig layer
Preheat the oven to 350°F (175°C). Line the bottom of a 9" (23cm) round cake pan with a round of parchment paper and spray the parchment and sides liberally with non-stick cooking spray. Pour the melted butter into the prepared pan. Evenly sprinkle the brown sugar over the butter and place the figs cut side down in concentric circles on top of the brown sugar.
Make the cake
In a small bowl, combine the all-purpose flour, pistachio flour, baking powder, and salt. Whisk for 30 seconds to evenly distribute the leavening.
In the bowl of a stand mixer fitted with the paddle attachment, combine the butter and sugar. Mix on high speed until light and fluffy. Add the eggs one at a time, scraping down the sides and bottom of the bowl after each addition. Add the vanilla and orange zest and mix until just combined.
With the mixer running on low speed, add half of the flour mixture, then the milk, then the remaining flour. Mix until well combined. Gently spoon the batter over the figs and carefully spread the batter evenly with a small offset spatula. Bake until the cake is golden brown and springs back when gently poked, 45 to 60 minutes.
To finish
While the cake is still warm, turn the cake out upside down onto a platter. Sprinkle with the chopped pistachios.
Options
Vegan
For the fig layer
•Replace the butter with 2 tablespoons Earth Balance Vegan Buttery Sticks, melted.
For the cake
•Reduce the baking powder to 1/4 teaspoon and combine it with 1 teaspoon baking soda.
•Replace the butter with 1/2 cup (120ml) olive oil.
•Replace the eggs with 2 large eggs' worth of prepared Ener-G egg replacer
•Replace the milk with 1/2 cup (120ml) orange juice and 1 tablespoon apple cider vinegar.
In a large mixing bowl, whisk together the flour, pistachio flour, sugar, baking powder, baking soda, and salt.
In the bowl of a stand mixer fitted with the whisk attachment, combine the prepared egg replacer, orange juice, oil, orange zest, vanilla, and vinegar. Whisk until the batter is smooth.
Gently smooth the batter over the figs and bake for 40 to 45 minutes, until the cake springs back when gently poked.
Gluten-free
For the cake
Replace the flour with 3/4 cup (95g) sweet white rice flour and 1 teaspoon xanthan gum; increase the pistachio flour to 1/2 cup (40g). Reduce the milk to 1/4 cup (60ml). Bake for 40 to 45 minutes.
Healthier
For the cake
•Replace the all-purpose flour with 1 cup (120g) white whole wheat flour.
•Replace the butter with 6 tablespoons (90ml) organic grapeseed oil and 6 tablespoons (90ml) prune purée (I use organic baby food, such as Plum Organics Just Prunes).
•Replace the sugar with 1/2 cup (85g) organic granulated palm sugar.
Mix together the sugar, oil, and prune purée until well combined. Add 1/4 cup (60ml) orange juice to the milk. Continue as directed in the recipe.
See Gesine baking in action in our Isolation Baking Show video series. 
Jump to Comments