Pretzel dough 9 ways, part 1
Minimum effort, maximum fun!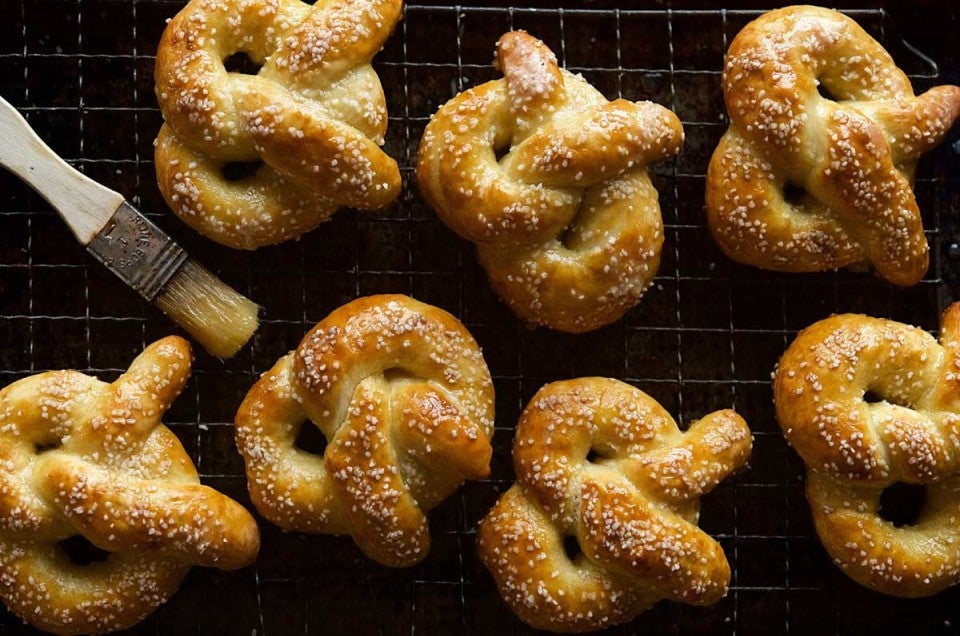 Have you noticed that the classic street-vendor soft pretzel has made its way out of the stone canyons of New York City and Philadelphia and Chicago, and into mainstream Fast Food Nation?
Try Wendy's pretzel buns. And Little Caesars' pretzel crust pizza. To say nothing of 7-11's array of pretzel sandwiches. Yes, pretzels have come a long way since your only chance to get them was from a cart with a charcoal-fired brazier on 47th Street.
Hot Buttered Soft Pretzels is one of the most popular recipes on our site. And we expect our newly introduced Soft Buttery Pretzel Mix to be a slam-dunk winner, as well.
Let's talk about the mix, OK? While I'm a from-scratch baker, I confess to keeping a stash of King Arthur Flour mixes in my cupboard, as well. They're handy when you want to make something fresh and yummy but don't have enough time – or all the ingredients you need.
So when I was tasked with taking our new pretzel mix and seeing what else I could make with it (besides the traditional soft pretzel), I took the bait – and after a couple of days of baking, I'm hooked.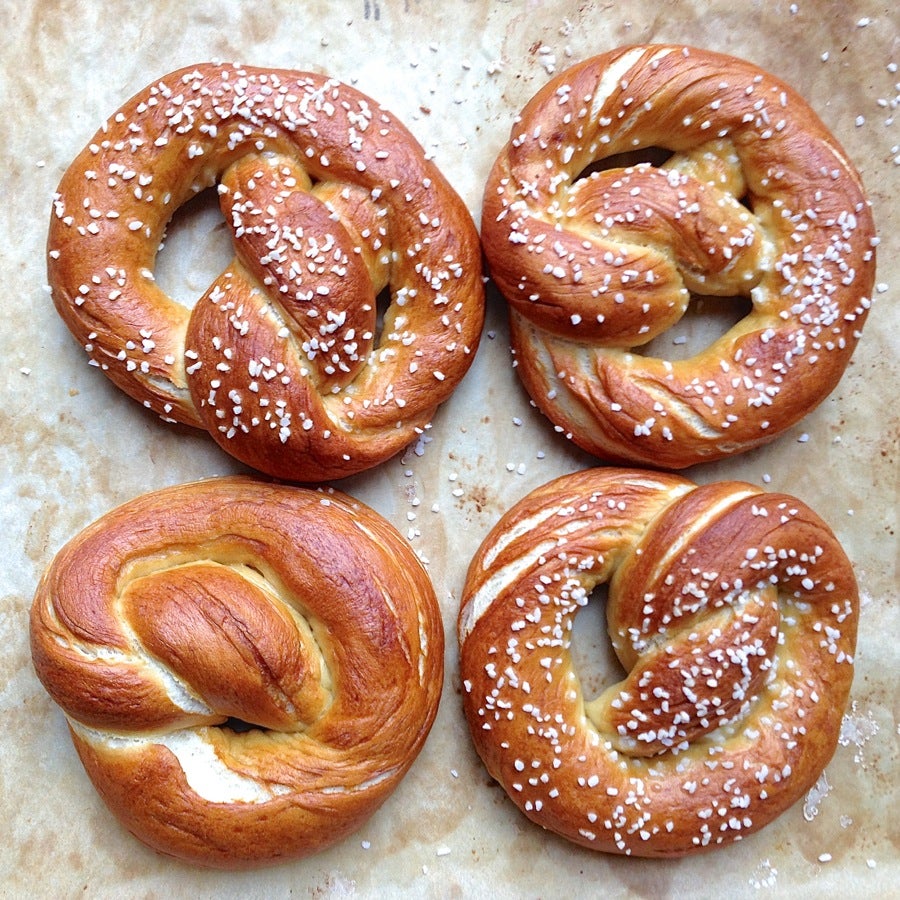 You can make pretzels – of course. Soft yet dense and chewy pretzels with their signature satiny, deep-brown crust and sprinkle of coarse salt. Don't forget the mustard.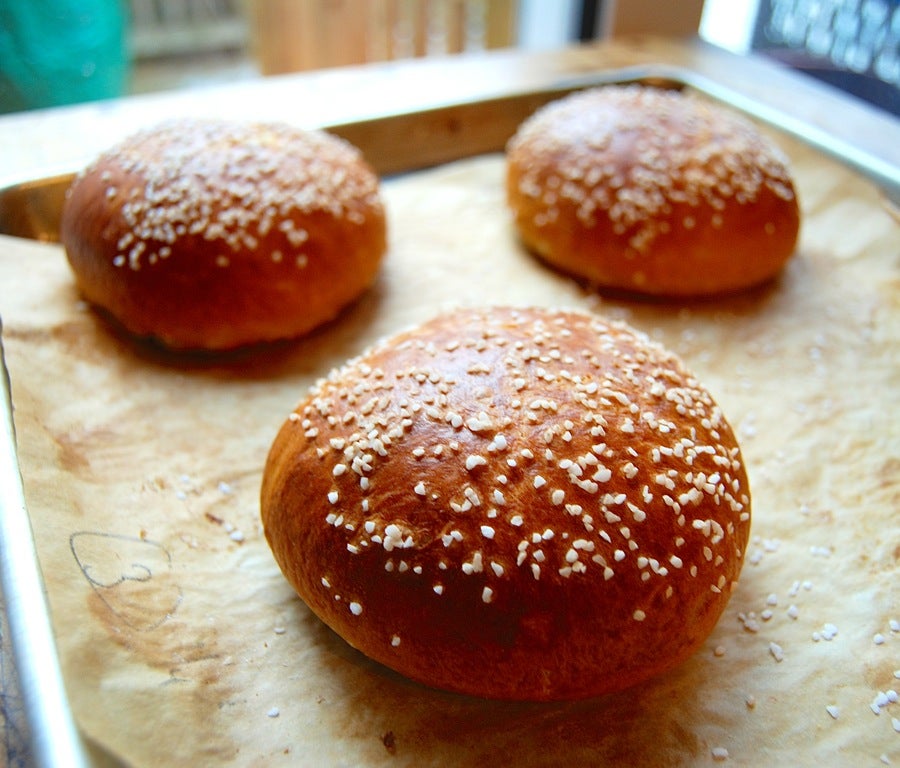 Or take that same dough and make something simpler: pretzel rolls.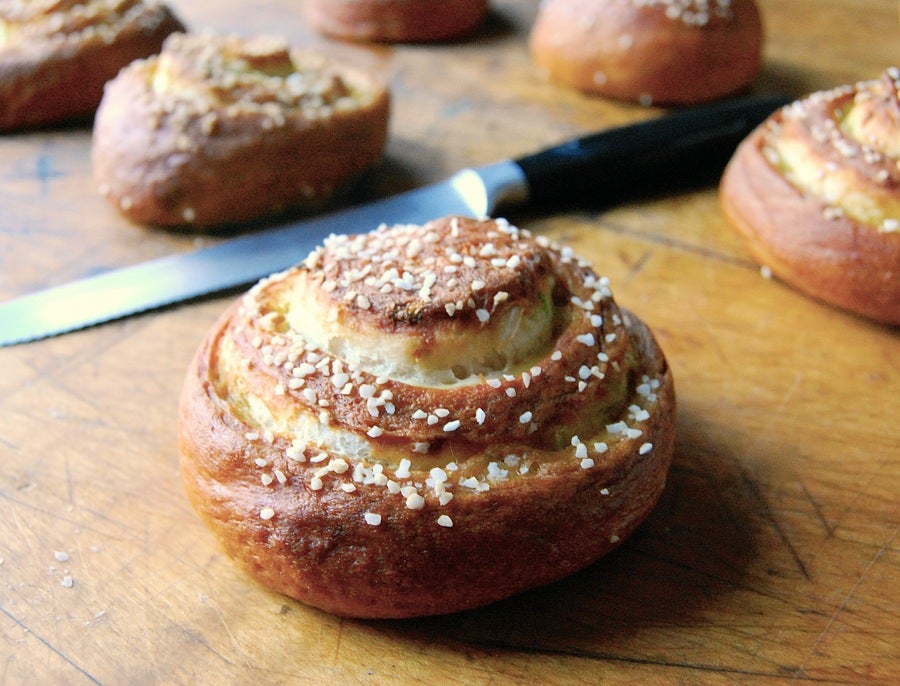 Or onion rolls.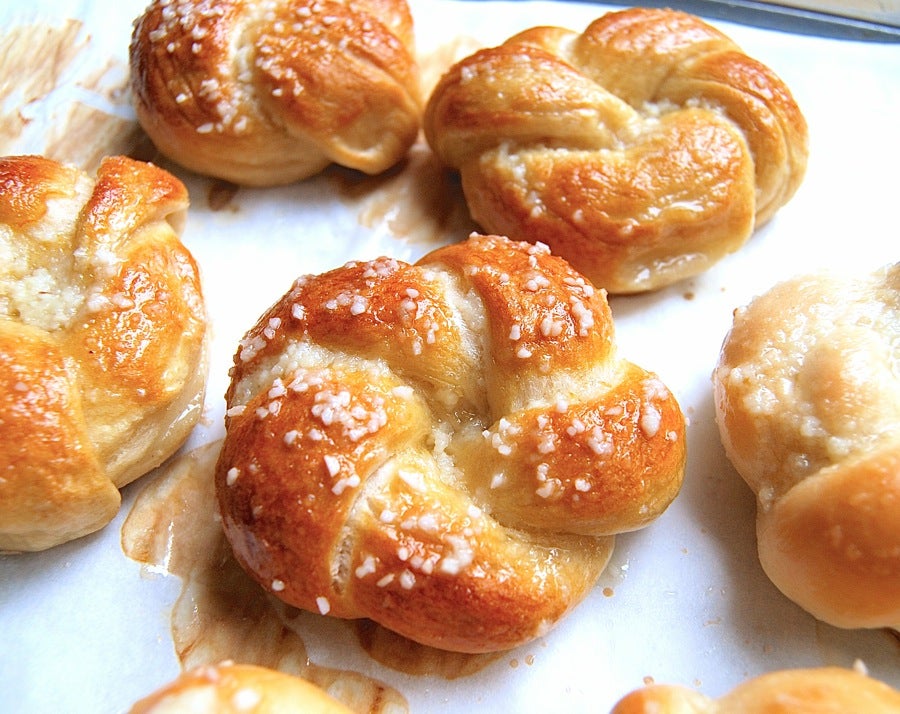 Or soft, buttery garlic knots.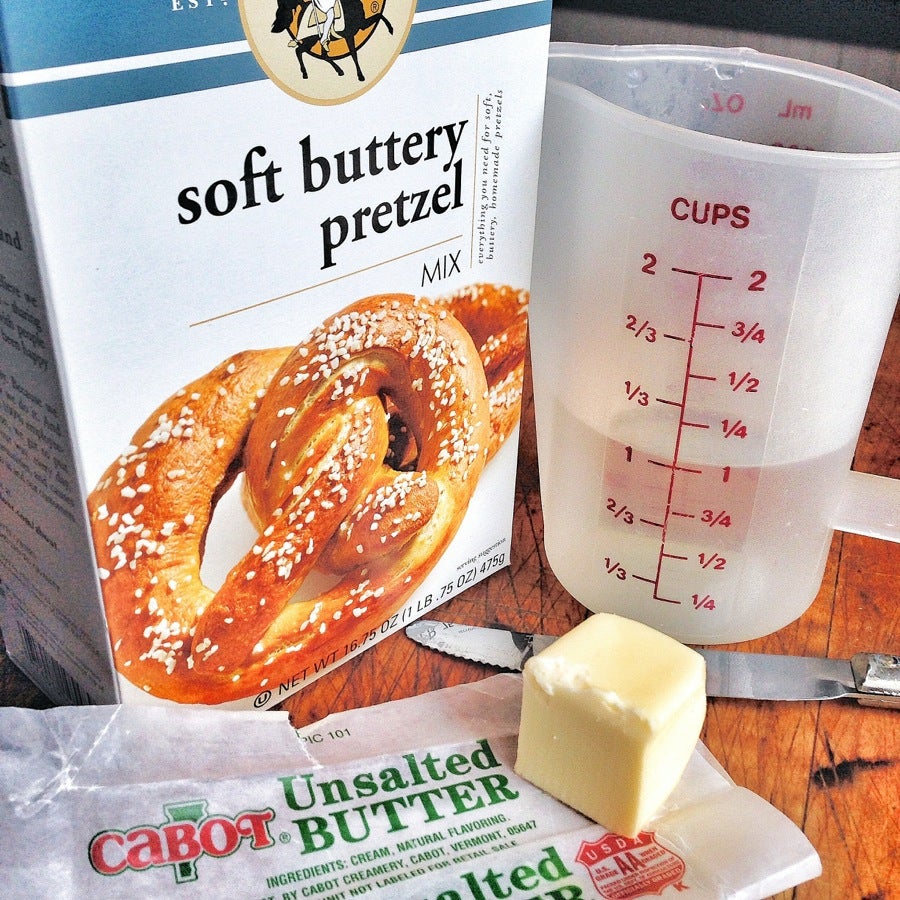 It all starts with our new pretzel mix. Talk about wicked simple – all you have to come up with is 2 tablespoons butter and some water; there's a packet of yeast right in the box.
Mix the dough, knead it, and let it rise for 30 minutes. Yup, just 30 minutes. Pretty easy so far, right?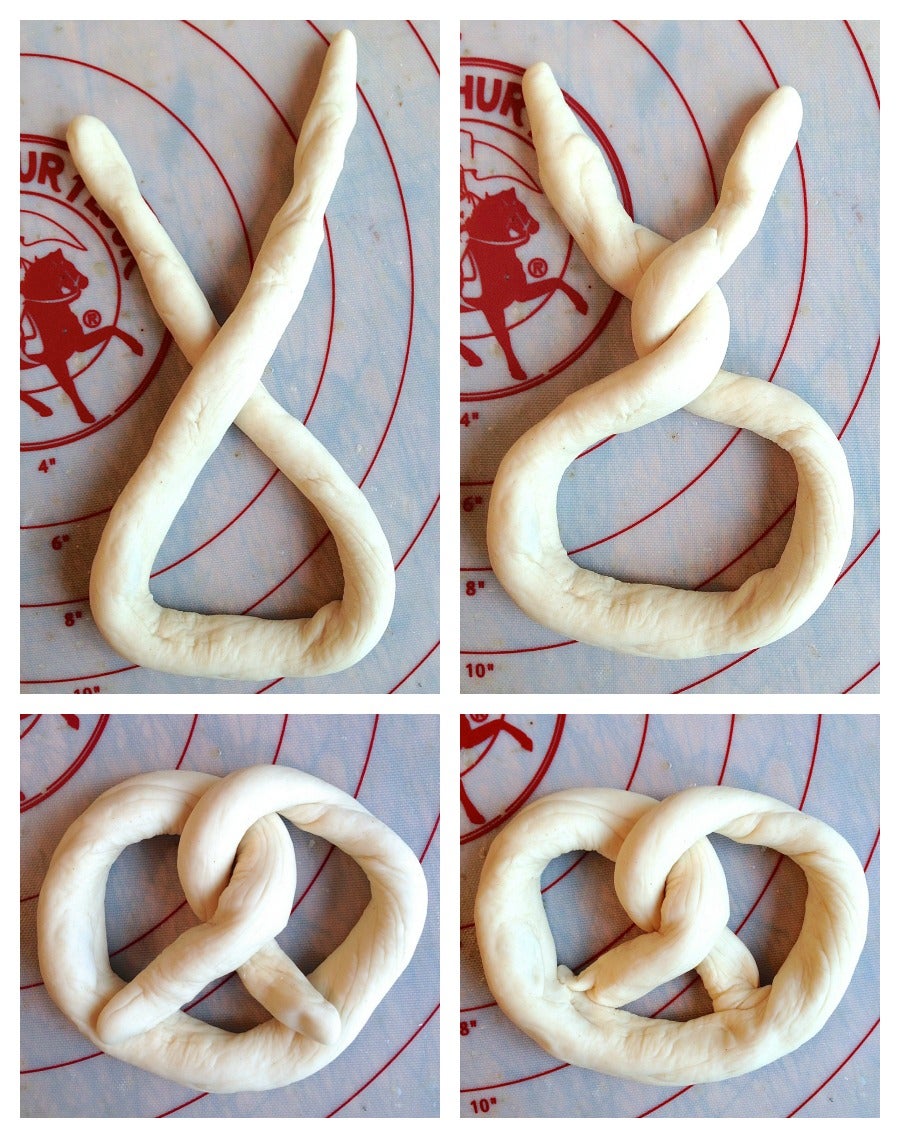 Shape 8 big pretzels – like this. Remember to squeeze those ends onto the body of the pretzel, then flip it over.
Let the shaped pretzels rest for 15  minutes, while you heat 6 cups water, 2 tablespoons baking soda, and 1 tablespoon table salt in a large saucepan or electric frying pan.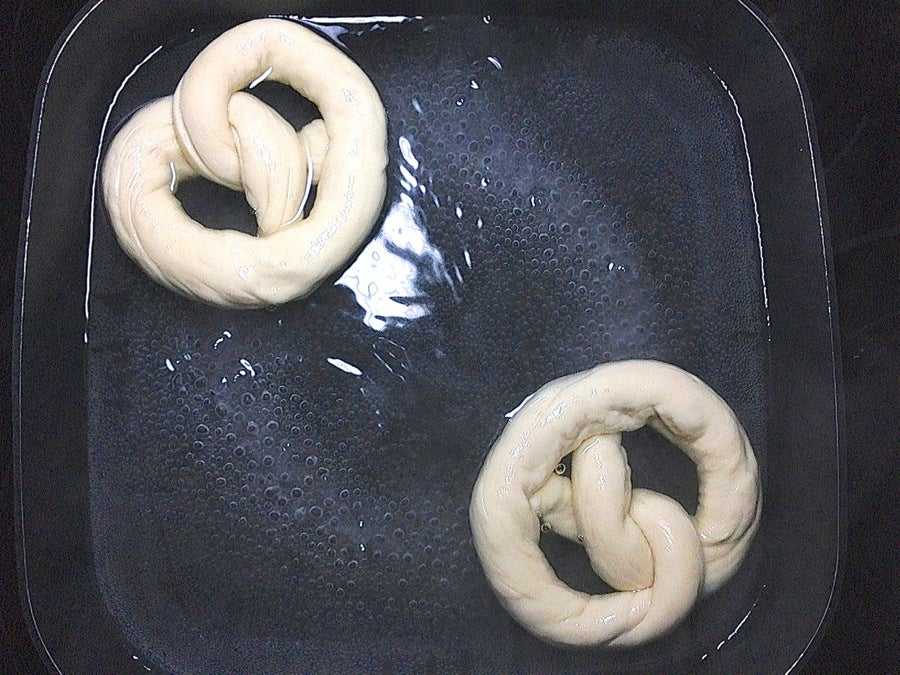 Simmer the pretzels for 60 seconds on each side. I guess I could have fit four at once into this pan, eh?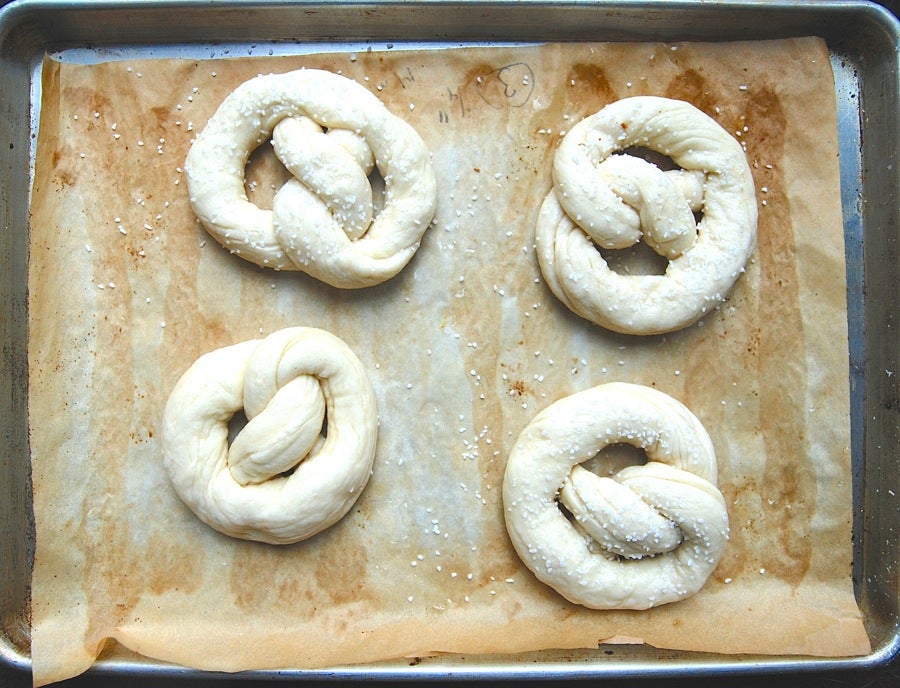 Plop the pretzels onto a baking sheet, and sprinkle with coarse salt (included in the mix).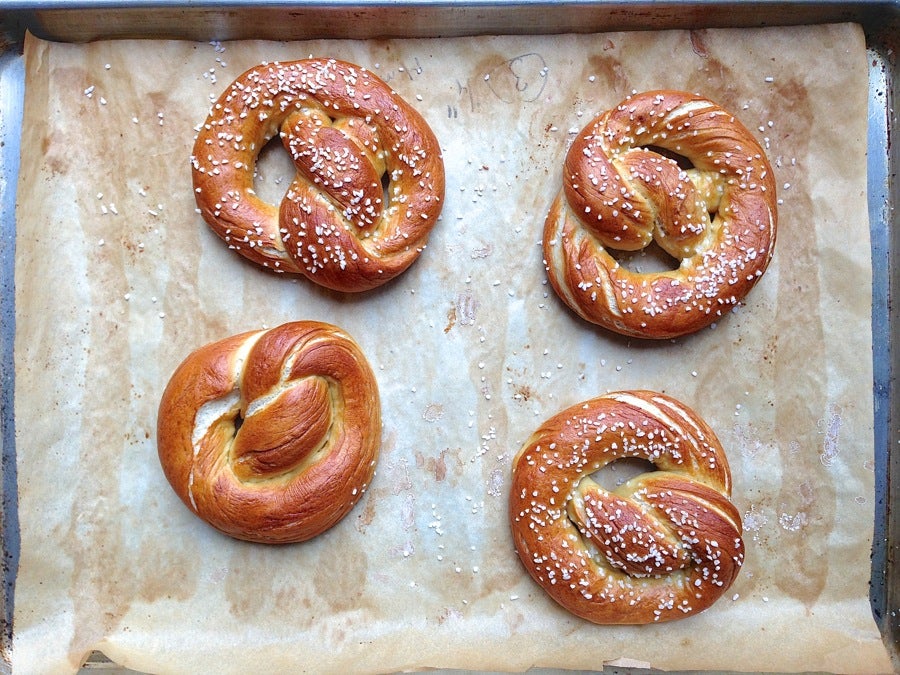 Bake for 20 minutes. Enjoy hot pretzels. Or room-temperature pretzels; their texture remains just as compelling as they cool down.
Tip: Don't skip the water bath. It's crucial for both texture and color.
So, that's what the instructions on the box cover. But, as you regularly read on your Facebook feed, "What happens next will astound you."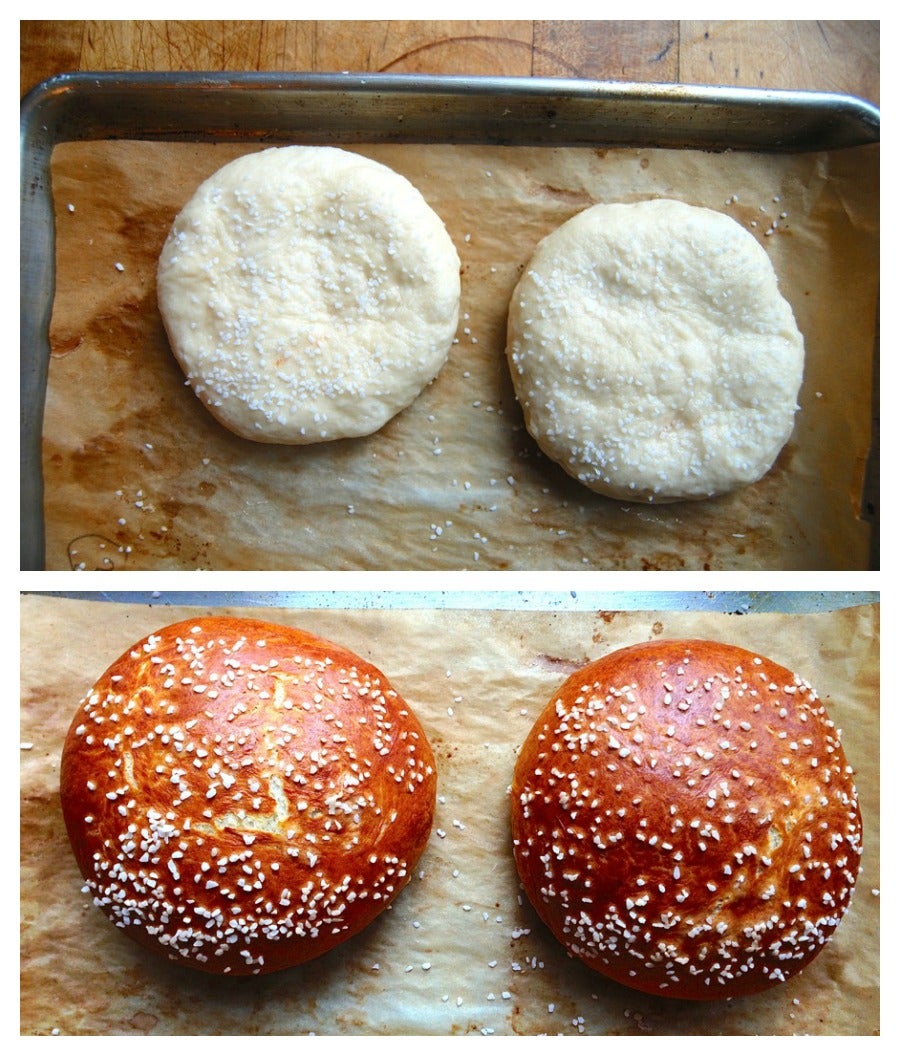 Pretzel sandwich buns
Pretzel sandwich buns? We can do that. Divide the dough into 6 to 8 pieces (depending on how large you want your buns; I prefer the smaller size, which results in a palm-sized bun).
Shape into flattened balls. Simmer 20 to 30 seconds on each side. Finish as you would the pretzels, baking for 18 to 20 minutes.
Bring on the grilled burgers. Or ham and cheese. Or how about good old-fashioned sloppy joes?
Tip: The sturdy texture of these buns makes them perfect for overstuffed sandwiches and "messy" fillings of all kinds. They won't crumble or split under the weight of even a double cheeseburger with all the fixings.
Next up: onion rolls.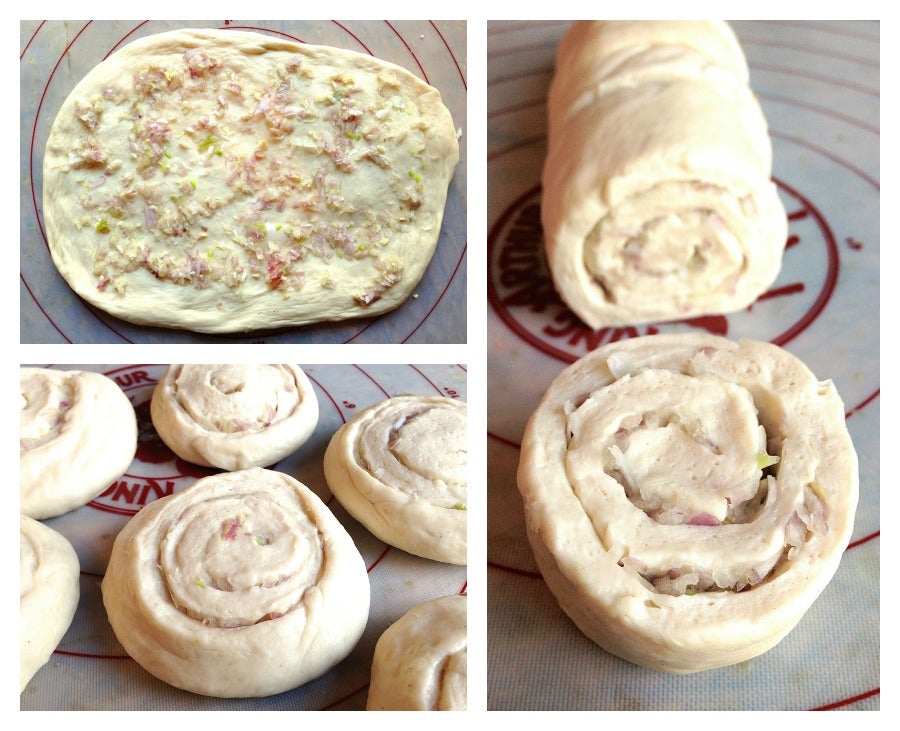 Onion rolls
Divide the dough in half, and pat each half into an 8" x 12" rectangle. Spread each piece with about 1/4 cup chopped onion or shallot, pressing it into the dough.
Roll the dough into logs the short way, as you would for cinnamon rolls. Cut each log into six rolls. Gently flatten them.
You know the drill after that: let the rolls rest for 15 minutes, simmer 30 seconds on each side, top with salt, bake for 20 minutes.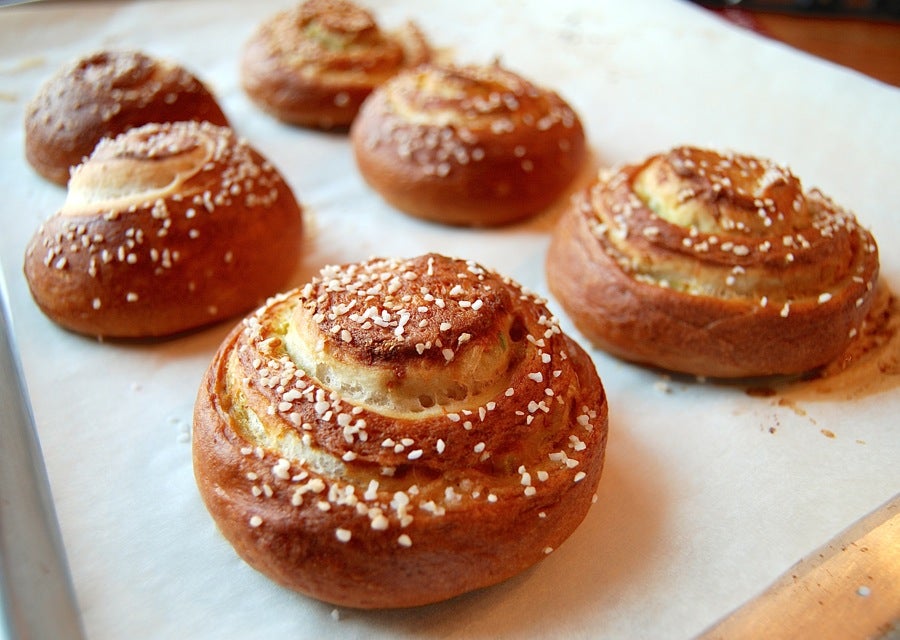 Now that's a nice-looking roll! And the onion inside adds wonderful flavor.
Tip: You might think the chopped onion would fall out during the rolls' trip through the water bath. But don't worry; that doesn't happen.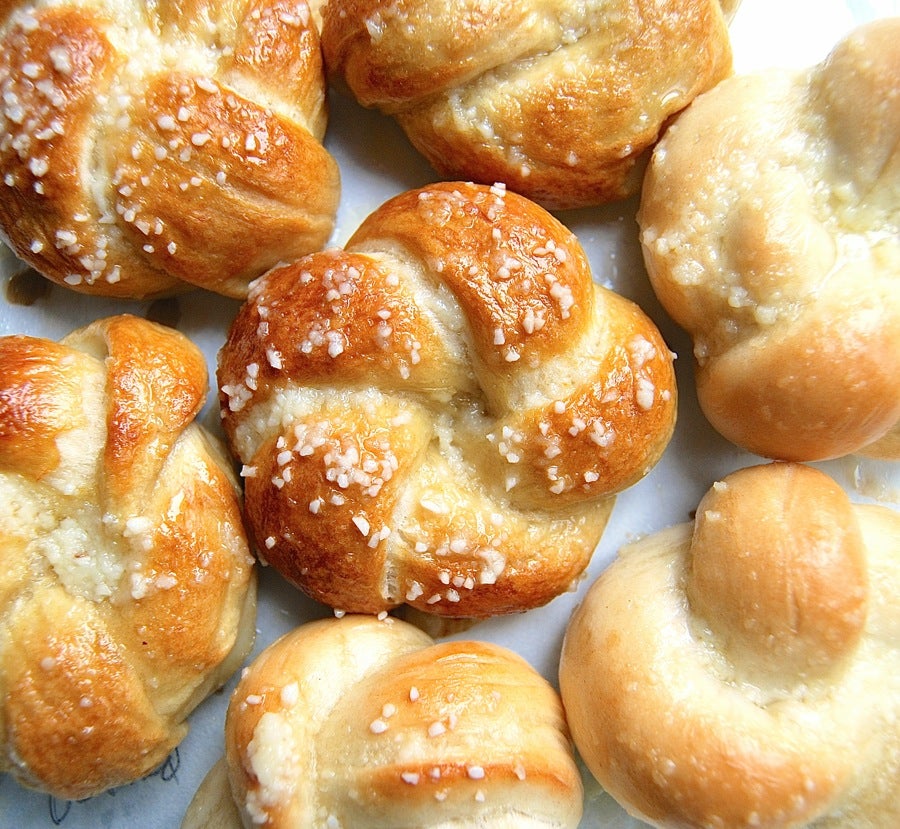 Garlic knots
Soft, buttery garlic knots – gotta love 'em.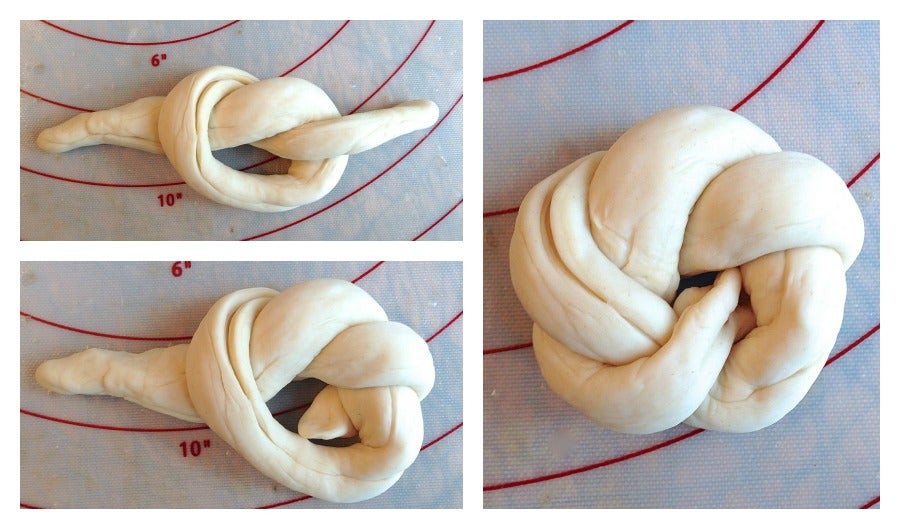 These require that you dredge up your long-dormant knot-tying skills. Are you ready?
First, divide the dough into 16 pieces. Roll each piece into a 13" rope.
Start with a simple granny knot (I think that's what it's called). Then tuck those hanging ends into the center, and squeeze them together.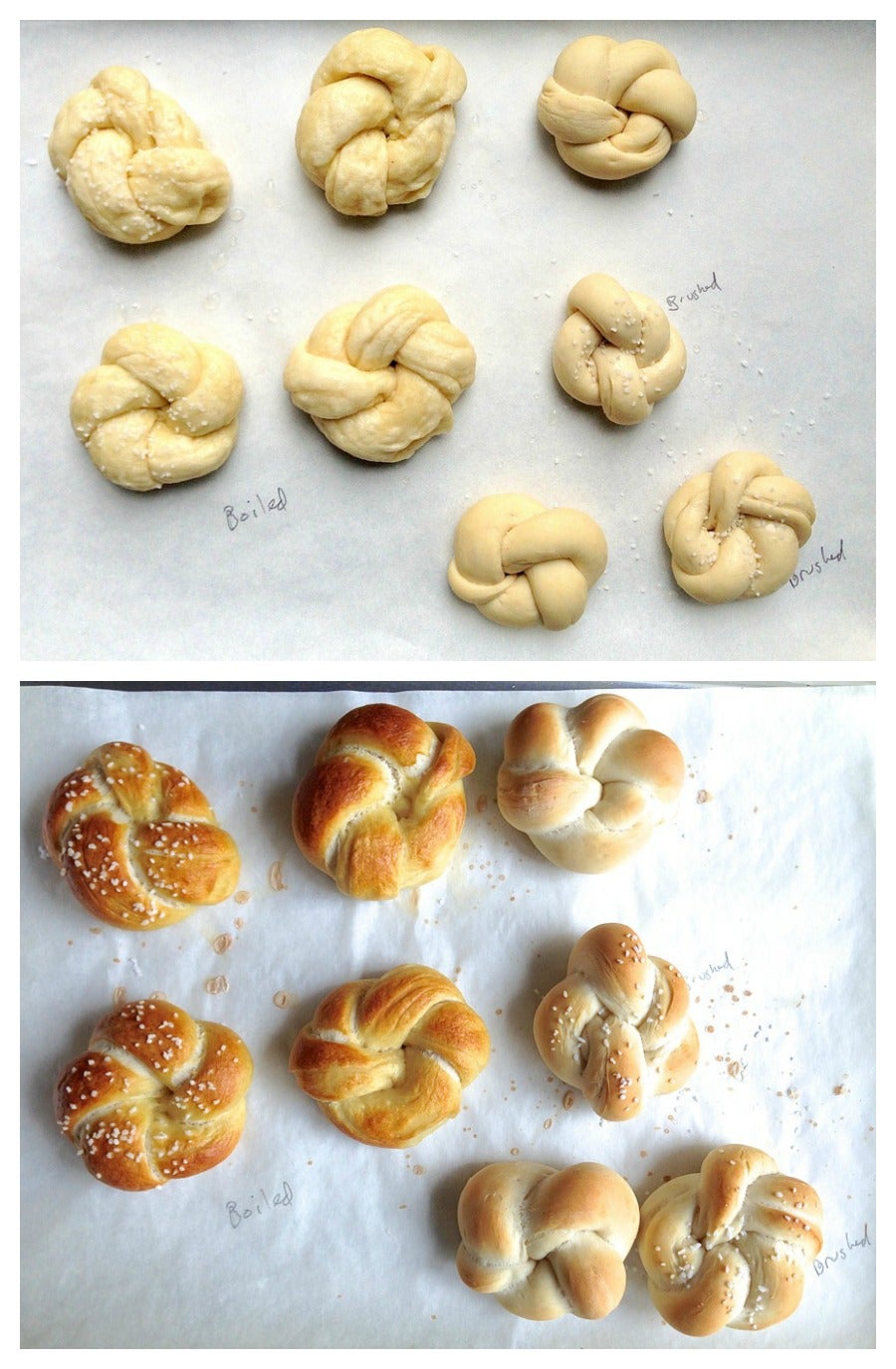 Simmer for 20 to 30 seconds on each side, then bake for about 15 minutes; you want these knots to be a bit softer than pretzels.
I try an experiment: what happens if you don't put the knots through the water bath?
The four on the left go through the bath; two of the four on the right I brush with water from the water bath; two I leave naked.
As you can see, the ones that go through the bath have much better color than those that don't.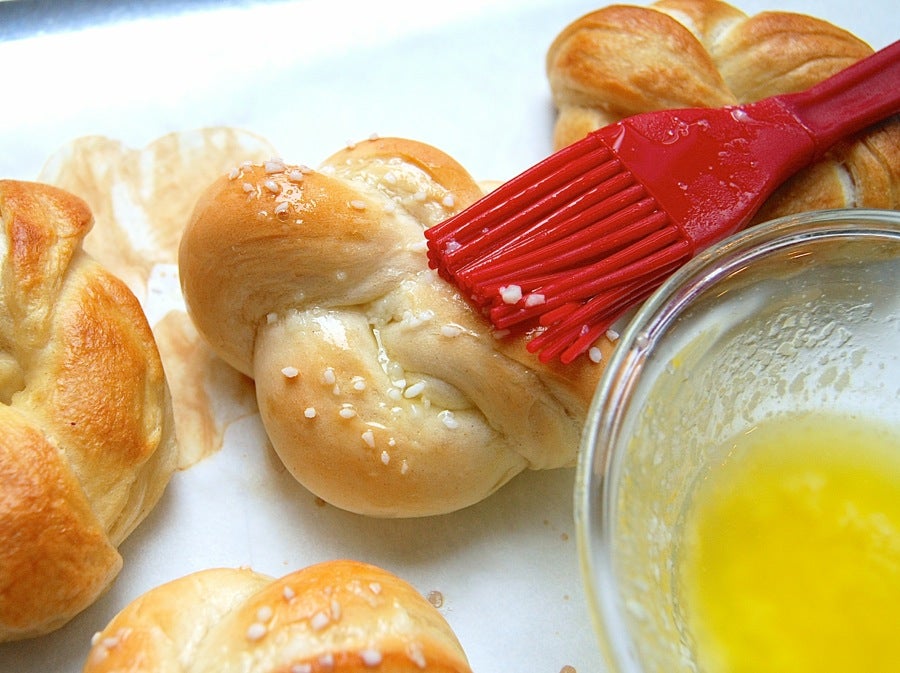 Still, they all taste wonderful. Particularly after their "bath" in garlic butter: 4 tablespoons melted butter and as much chopped garlic as you like.
Tip: Don't be conservative with the garlic butter; you want to really soak the knots. This is no time to count fat grams – enjoy!
Some key points to remember:
The oven temperature for both pretzels and rolls is 400°F.
Bring the water bath to a medium (but not rolling) boil; when you add your pretzels, it'll calm down to a simmer.
Sprinkle the salt onto whatever you're making as soon as you lift it out of the water bath and put it onto the pan. If you wait for your knots or rolls or pretzels to dry off, the salt won't stick.
If you're worried about appearance, these treats are best enjoyed the same day you make them. When stored overnight under wraps, the salt tends to melt and disappear. They'll still taste good; they just won't show that pretty white-salt coating.
Note: While I use our pretzel mix for all of the treats pictured here, you can also start with our Hot Buttered Soft Pretzels recipe. Yields will be different, but the techniques are all the same. Enjoy!
Rolls are great but hey, we've only just begun. This dough also makes delicious pigs (and cheese) in a blanket; crazy-good cheddar and garlic bread; chili/cumin dipping sticks with a creamy jalapeño popper dip; pretzel-crust pizza... and something chocolate (of course) for dessert. See Pretzel Dough 9 Ways, part 2.
Jump to Comments