Gluten-Free Fruit Muffins with Streusel Topping
A taste of summer
What IS it about warm streusel atop a muffin or coffeecake?
Is it the butter... the aroma of cinnamon... the slight crunch and deep flavor of just slightly caramelized sugar?
All three, I'd say.
The best part about many a coffeecake is when a few squares have been cut and served, and you press your finger over the streusel scattered in the bottom of the pan, and furtively bring it to your mouth...
You've been there right? But maybe, if you're baking gluten-free, it's been awhile.
You've missed the magic chemistry of sugar-butter-flour, and how it becomes SO much more than the sum of its parts, right?
Well, today's your lucky day. Bake these streusel-topped fruit muffins, and you'll be licking your fingers again in no time at all.
The secret? Our Gluten-Free Multi-Purpose Flour, the best stand-in for regular (gluten) flour you'll ever use. From cookies and muffins to popovers, cake, sandwich bread, and so much more, this GF flour will give you back your baking life.
Tasting is believing – and these streusel-topped fruit muffins are a great place to start.
Preheat the oven to 375°F.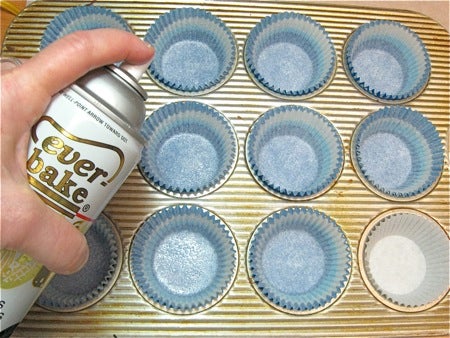 Grease a 12-cup muffin pan, or line the pan with papers. Spray the papers with non-stick pan spray, to aid release. Make sure the spray you use isn't one that includes flour, as some do.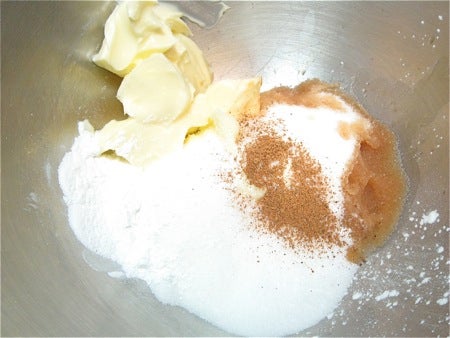 Place the following in a mixing bowl:
2/3 cup (131g) sugar
8 tablespoons (113g) butter, softened
1/2 teaspoon salt
2 teaspoons baking powder
1/4 teaspoon nutmeg
1 teaspoon gluten-free vanilla extract
Beat with an electric mixer until fluffy.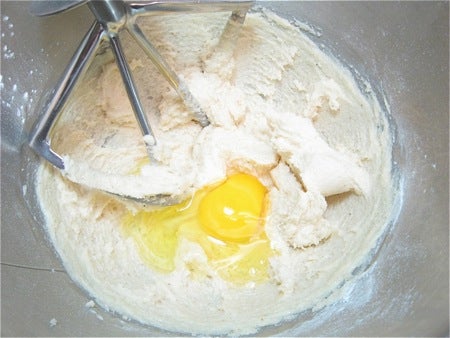 Beat in 2 large eggs, one at a time.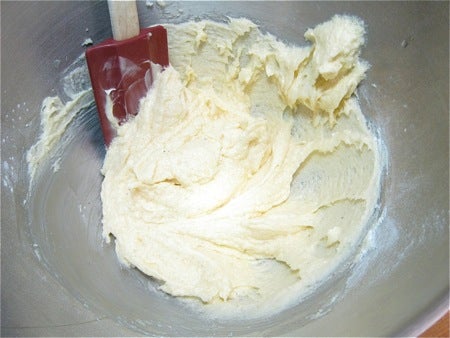 Scrape the bottom and sides of the bowl between additions.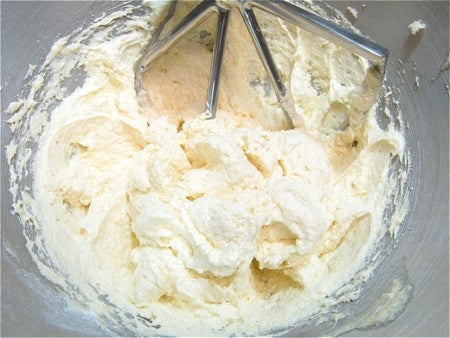 See how much volume the eggs add to the batter? In gluten-free baking, it's good to take every opportunity to add structure and volume.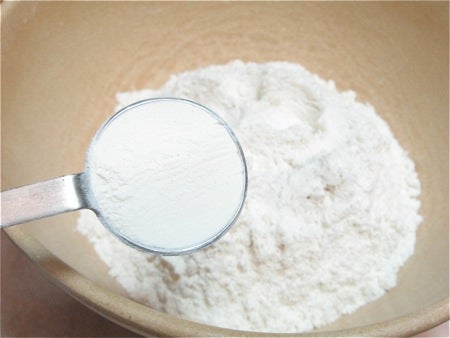 Whisk together 2 cups (312g) King Arthur Gluten-Free Multi-Purpose Flour and 1 teaspoon xanthan gum.
Yes, the xanthan gum is important; it provides the structure that's lacking in GF baked goods.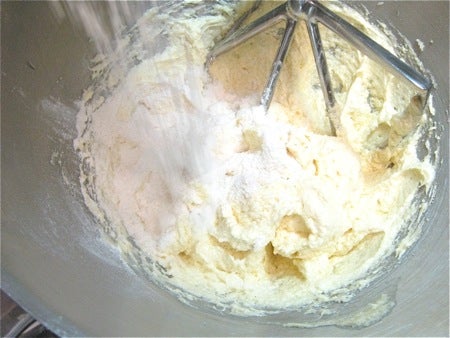 Add the flour mixture to the batter alternately with 1/2 cup (113g) milk. First 1/3 of the flour...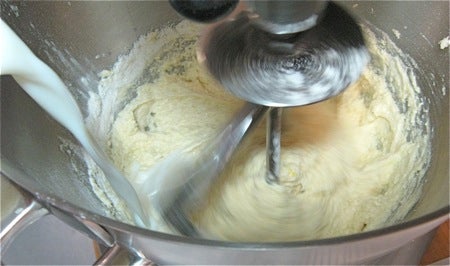 ...then about half the milk. Another 1/3 of the flour, the rest of the milk, then finish up with the remaining flour.
Why not just dump everything in all together? Again, you're trying to build volume. And the more gradually you introduce flour and liquid to the sugar/butter/egg mixture, the more air it'll retain.
Scrape the bottom and sides of the bowl; you want to make sure all the ingredients are fully incorporated, with no flour around the edges, or sticky sugar/butter in the bottom of the bowl.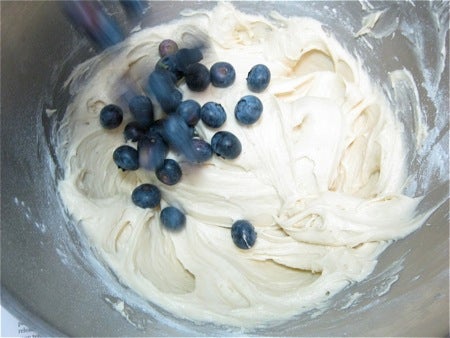 Next, add fruit. I've chosen 1 1/2 cups (213g) fresh blueberries – 'tis the season. Chopped apple is a good choice, too. Use about 1 to 1 1/2 cups of whatever fruit you choose.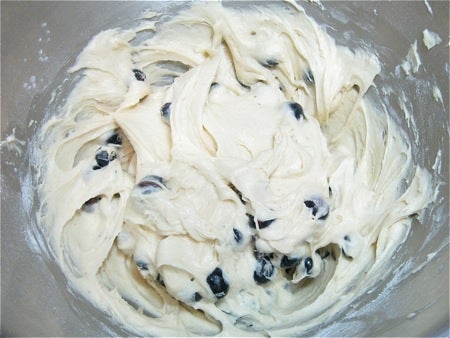 Stir in the fruit.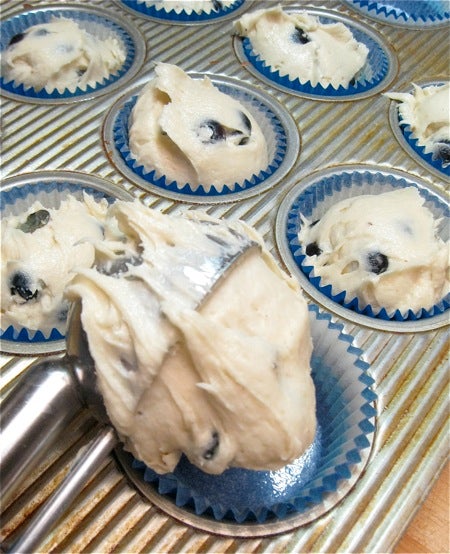 Scoop the batter into the prepared pan, mounding the cups full. A heaped muffin scoop works well here.
Next, the streusel topping. This is a great GF topping for all kinds of muffins and coffeecakes, so keep it in mind for other favorite recipes.
Mix the following until crumbly:
1/2 cup (78g) King Arthur Gluten-Free All-Purpose Flour
1/4 cup (53g) brown sugar
1 teaspoon cinnamon
pinch of salt
2 tablespoons (28g) butter, melted
Mix with a fork or your fingers, and don't over-mix; you don't want the streusel to turn into a solid mass.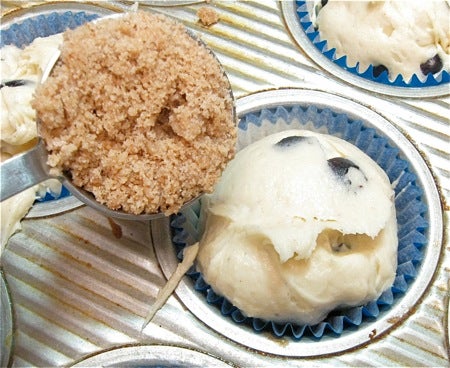 Sprinkle about 1 tablespoon streusel atop each muffin, pressing it in gently.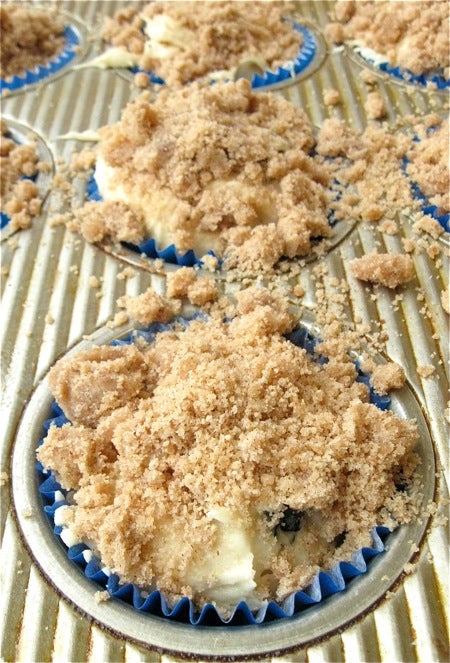 Yes, it'll be messy. Take the time to scoop up the streusel and press it back atop the muffins, if you like; I didn't bother, knowing the spilled streusel would be a tasty "baker's treat" when the muffins came out of the oven.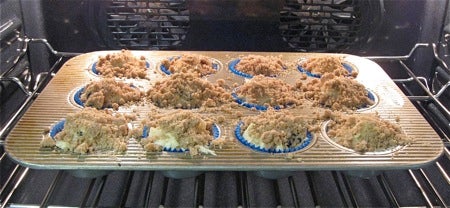 Let the muffins rest for 10 minutes, then bake them for 20 to 25 minutes, until they're lightly browned.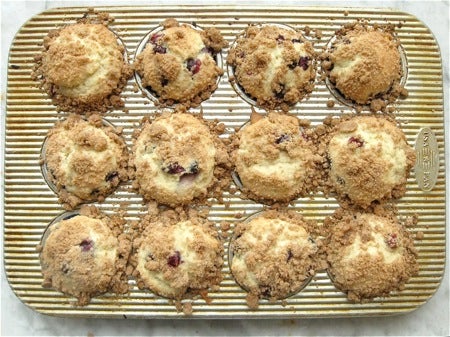 Remove them from the oven.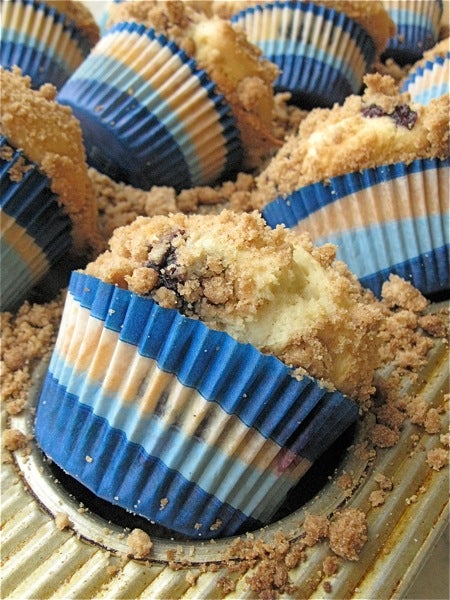 Let the muffins sit in the pan for 5 minutes before transferring to a rack. It's best to tilt them, so their bottoms don't steam and become soggy.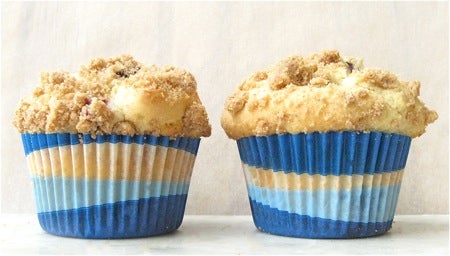 How about these high-rising muffins, eh?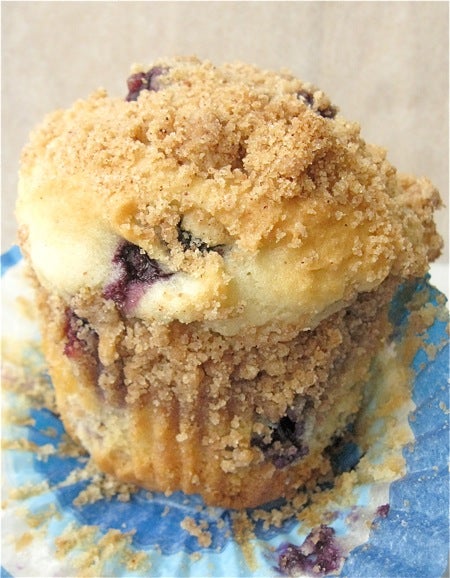 Peel away the paper to reveal...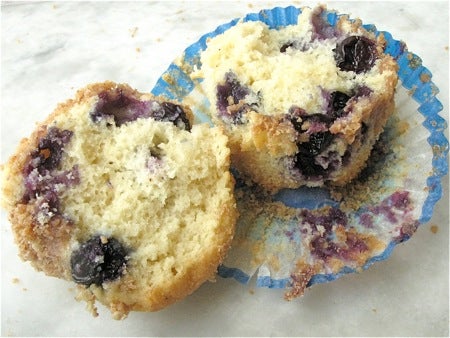 ...gluten-free blueberry muffins, in all their delicious glory.
Like most GF baked goods, these are best served warm. But they're perfectly acceptable at room temperature, too.
Read, bake, and review (please) our recipe for Gluten-Free Fruit Muffins with Streusel Topping.
Jump to Comments