Let it snow! Let it snow! Let it snow!
HA. That's all well and good for romantic winter-istas, who like to imagine beautiful flakes sifting out of a soft evening sky through lantern light.
Or for skiers, snowmobilers, sledders, or snowman-builders.
Or even for those of you with a plow service that comes early in the morning, post-blizzard, to sweep everything out of your driveway, leaving only the brushup work of steps and walks for you to tackle.
Now, I don't mean to sound like the Grinch Who Stole Winter. But I have to say, after living 52 of my 56 years in New England (and another 3 1/2 in New York), I could do without winter driving. And walking.
Snow on the rooftop? Great; except when it misbehaves and turns into ice dams, it's the perfect insulator.
Snow in the yard, capping the trees, blanketing the frozen river I cross every morning on the way to work? Beautiful.
But snow under my tires, or icing up under my Crocs? No thanks.
Remember that Paul Simon song, "Slip Slidin' Away"? At this time of year, that's the anthem for all of us living north of the Deep South, or east of the Left Coast.
I find myself inadvertently humming that tune as the rear-wheel-drive car in front of me whines and drifts sideways going up the big hill leading into town, causing a chain reaction of slowed-down (and therefore potentially backslipping) cars all the way down to the river.
I hum a little faster when I'm behind a pickup truck on the interstate that decides we're all scared weenies driving WAY too slowly, so passing us at 55mph is a fine idea – except for that patch of ice, which inspires a graceful 360° across three lanes of traffic and (if the driver's lucky), a snow-padded crash landing in the median strip.
Let it snow?
Fine. So long as I'm snuggled safe and warm at home, car in the driveway, soup on the stove... and bread in the oven, of course.
Lusty yet light, hearty yet whole-grain healthy, this Crunchy Seed Braid is a wonderful winter loaf. High-rising and soft enough for sandwiches, it also makes tasty toast, perfect alongside soup, salad, or your breakfast eggs.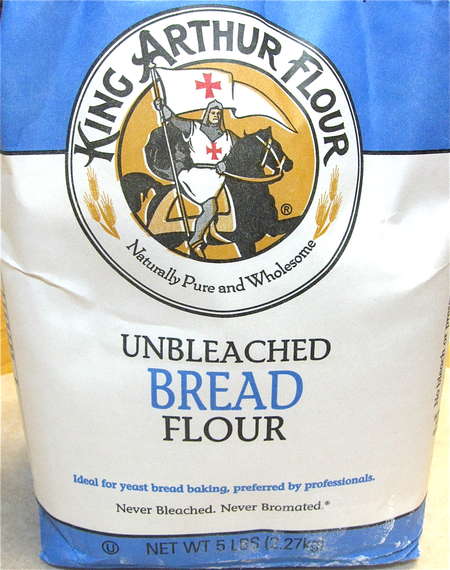 Bread flour is the ideal choice for this recipe.
Most yeast breads do just fine with all-purpose flour. But for those including whole-grain flours, and/or added seeds or grains (think rolled oats, cracked wheat, etc.), bread flour's extra gluten helps "carry the load," giving these breads the nice rise you're expecting.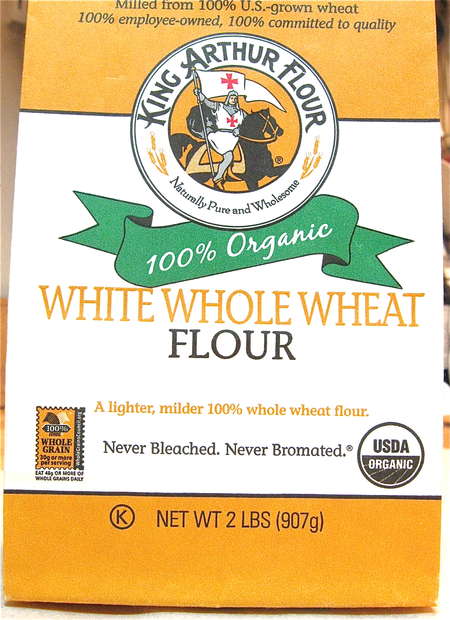 And speaking of whole grains, here's my whole wheat flour of choice: our organic white wheat flour. 
How do I love organic white wheat? Let me count the ways...  1) It's milder-flavored than traditional red whole wheat. 2) It's lighter-colored (read: easier to sneak past fussy eaters) than regular whole wheat flour.
And, 3) The organic version, for whatever reason, bakes a taller loaf of bread than regular whole wheat. My theory is yeast loves whatever it is that distinguishes organic from non-organic flour, be it lack of chemical residue, extra minerals... not sure. Anyone who knows the answer, please enlighten me!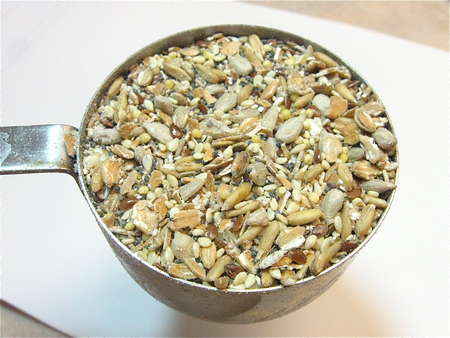 And here's our top-selling Harvest Grains Blend, a mixture of seeds and whole grains I first put together many years ago.
What's in this crunchy blend? Whole oat berries, millet, rye and wheat flakes, and flax, poppy, sesame, and sunflower seeds. A half cup of Harvest Grains Blend in your yeast bread adds welcome body and flavor.
OK, let's bake bread.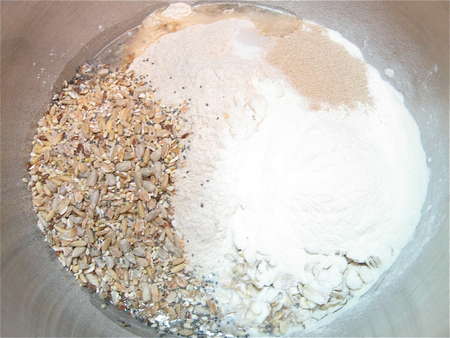 Place the following in a mixing bowl, or the bucket of your bread machine programmed for the dough cycle:
1 1/4 cups (283g) lukewarm water
3 tablespoons (35g) vegetable oil
2 cups (241g) King Arthur Unbleached Bread Flour
1 1/2 cups (170g) King Arthur White Whole Wheat Flour
1/2 cup (85g) Harvest Grains Blend
1/2 cup (45g) old-fashioned rolled oats
1 1/2 teaspoons (9g) salt
2 tablespoons (25g) sugar
1/4 cup (28g) Baker's Special Dry Milk or nonfat dry milk
2 teaspoons instant yeast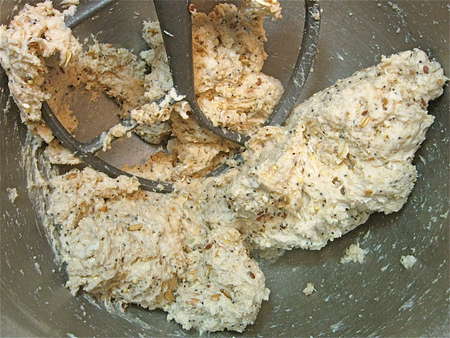 Mix till cohesive...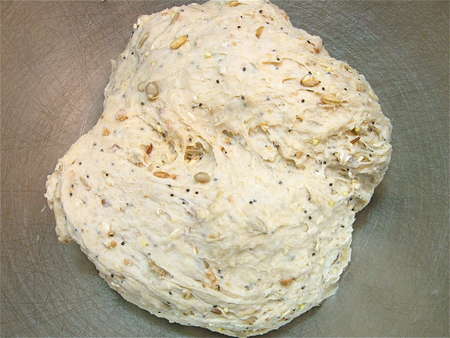 ...then knead till smooth and supple.
Since we're moving into the very driest part of winter right now, you may find you need to add a couple of tablespoons additional water to make the dough smooth, rather than gnarly.
Which brings up a teaching moment here: don't be afraid to adjust your yeast bread recipes seasonally. Flour is like a sponge. When the weather is hot and humid, flour absorbs that humidity, and your bread recipes will need less water.
Hot and dry, or dry and cold outside? Your flour will be dry, and your recipe may need more water. Stay focused on your goal – a smooth, supple dough – and become comfortable adjusting the flour/liquid ratio to get there.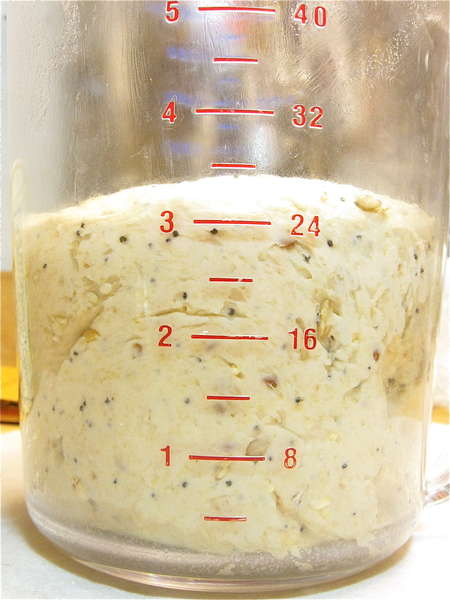 Put the dough in a greased bowl, or greased 8-cup measure. I prefer the measuring cup, as I can easily track it as it rises.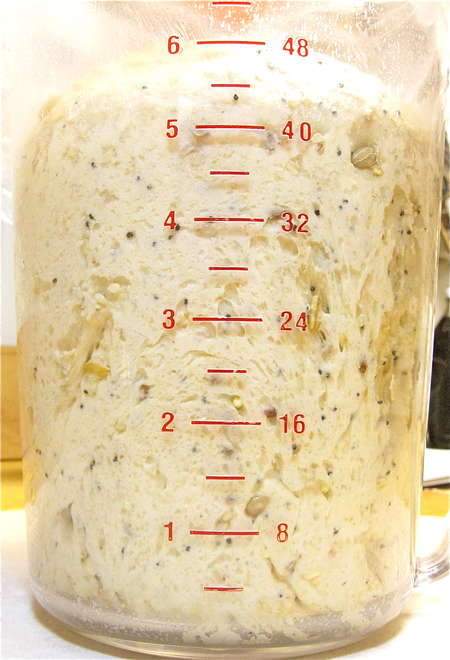 Let the dough rise, covered, for 60 to 90 minutes. It'll become quite puffy, though it may not double in bulk.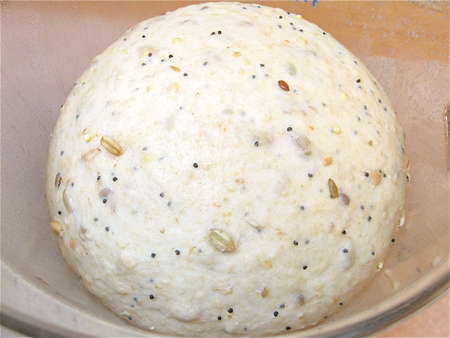 Here's a picture taken from above. It continues to look smooth and supple, doesn't it. Can you tell I just LOVE working with this dough?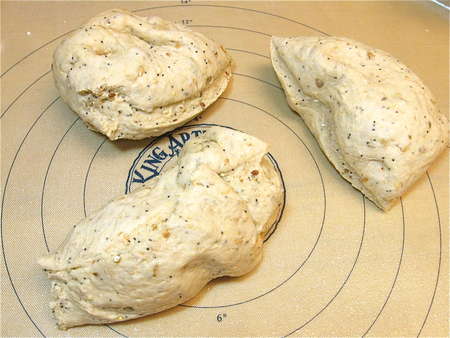 Gently deflate the dough, and divide it into three pieces.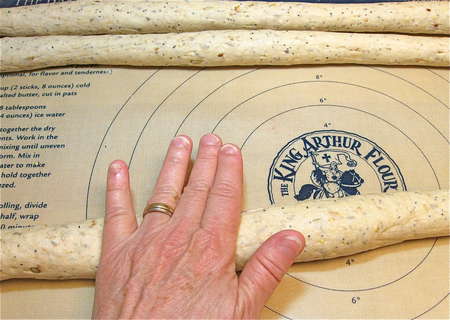 Roll/stretch each piece into a 24" rope.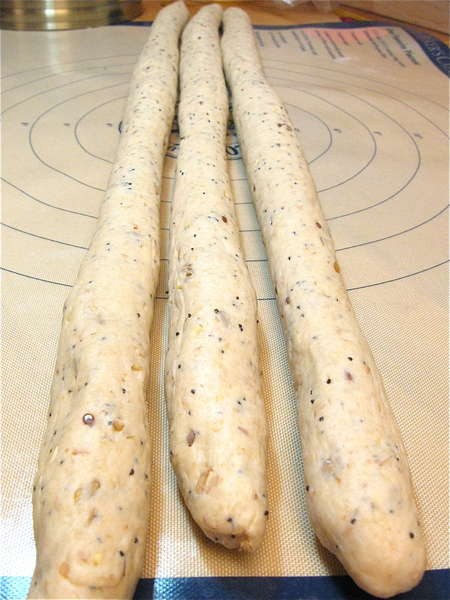 Yes, 24". That's quite long, so leave yourself enough counter space to roll.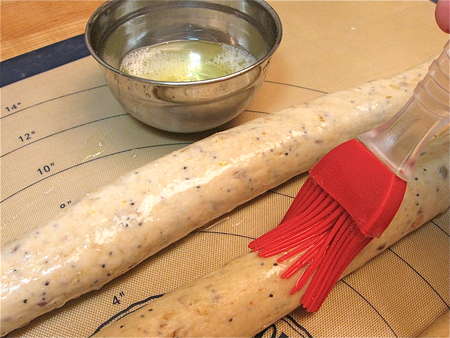 Brush the ropes with 1 large egg white beaten with 1 tablespoon cold water, coating them as well as you can.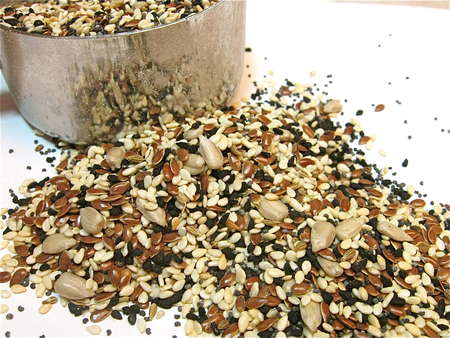 Next, get your seeds ready. You'll want a generous 1/2 cup mixed seeds: poppy, sesame, flax, fennel, and anise are all good choices.
I've started here with our artisan bread topping, a blend of flax, toasted sesame, black caraway, midget sunflower, poppy, and anise seeds.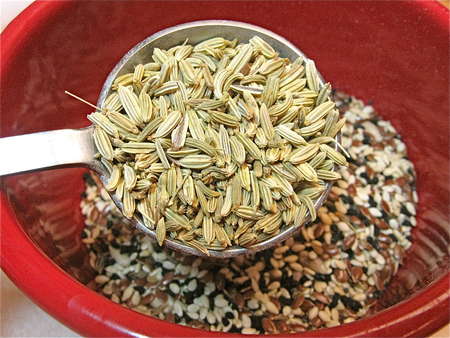 Then I've added a tablespoon of fennel seeds, because I like their size, flavor, and crunch. They're assertive, and lusty – just the ticket for this crunchy-crust bread.
Sprinkle the ropes with the seeds.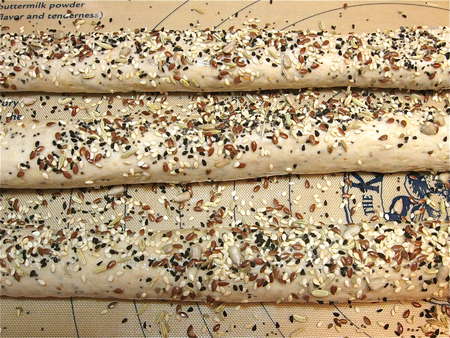 Coat them pretty heavily.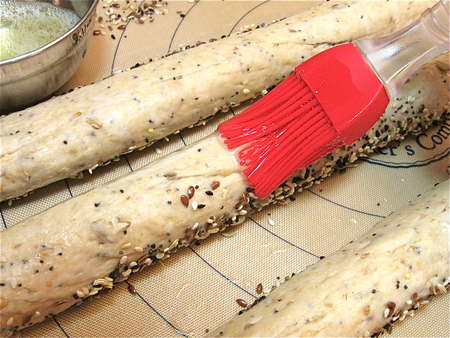 Roll them over, brush with egg white, and sprinkle on more seeds.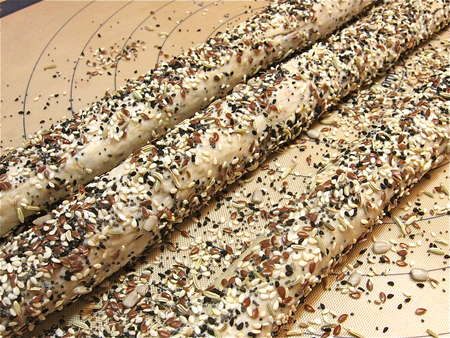 Roll them around a bit, to coat as completely as possible.
Allow the ropes to rest for 15 minutes, uncovered.
Squeeze the three ropes together at one end.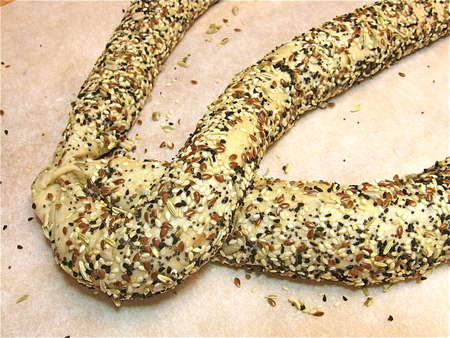 Braid into a braid. Outer rope over the top of the middle rope...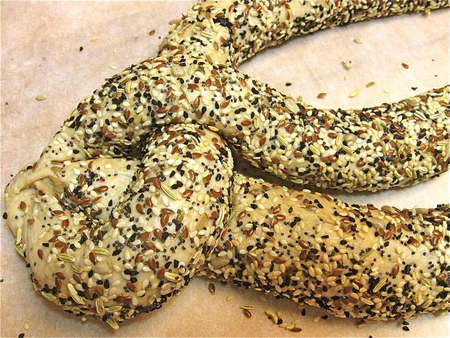 Opposite outer rope over the top of the middle rope...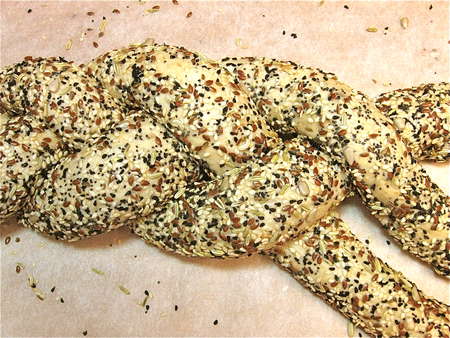 ...all the way to the end.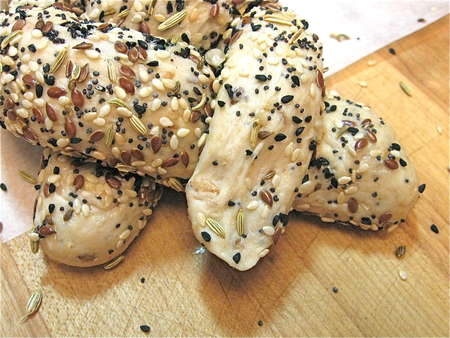 When you get to the end...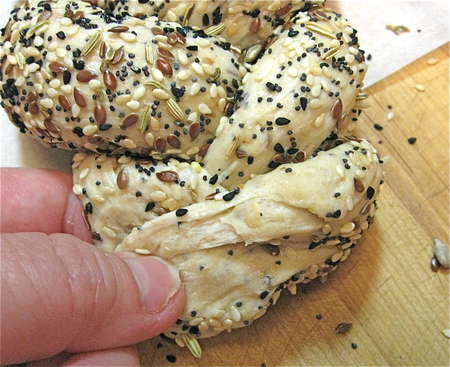 ...squeeze the three pieces together... and tuck them underneath.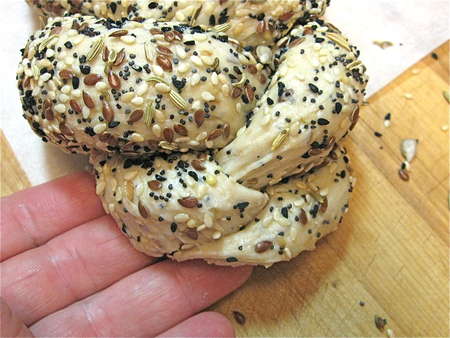 ...and tuck them underneath.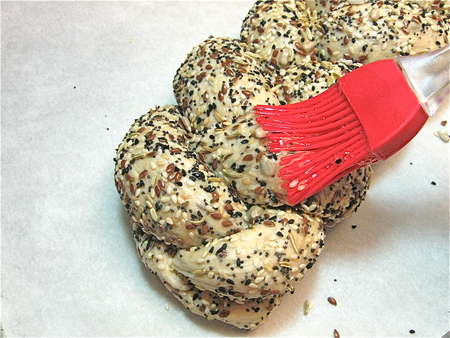 Brush with any leftover egg white; this'll help the seeds adhere, and give the finished loaf a satiny/shiny crust.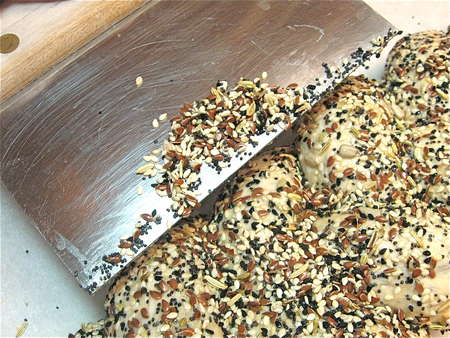 Scrape up any seeds that have fallen off along the way, and plaster them back on.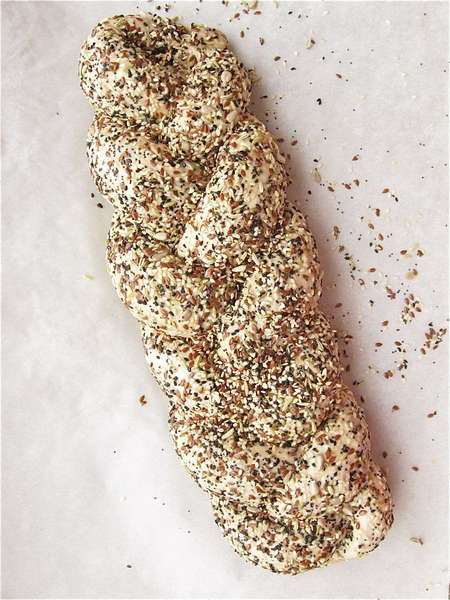 Transfer the braid to a lightly greased or parchment-lined pan.
Cover the braid, and let it rise for 1 hour.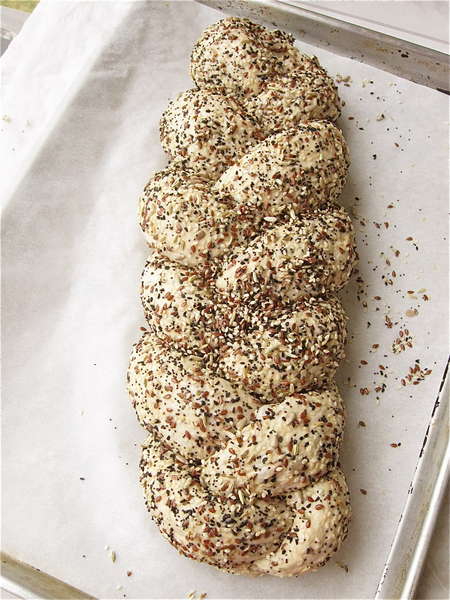 It'll become noticeably puffy. Towards the end of the rising time, preheat the oven to 425°F.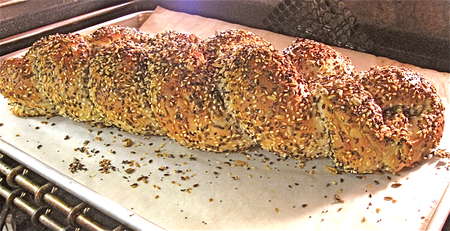 Bake the bread for 15 minutes. Tent it lightly with foil (to prevent over-browning), reduce the oven temperature to 350°F, and bake for an additional 10 to 15 minutes, until the crust is golden.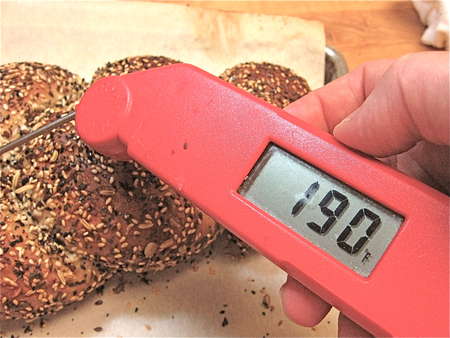 The braid's internal temperature should register at least 190°F.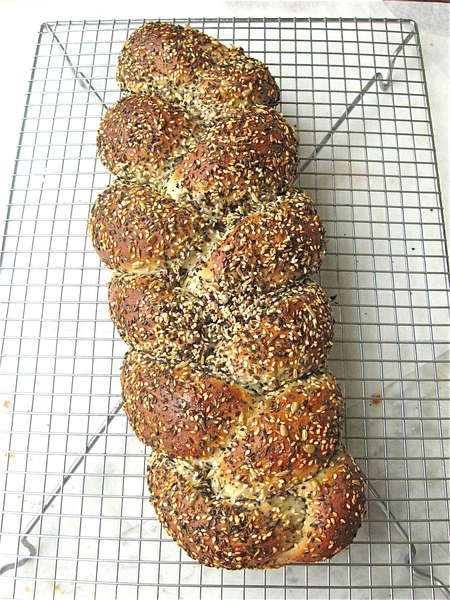 Cool on a rack.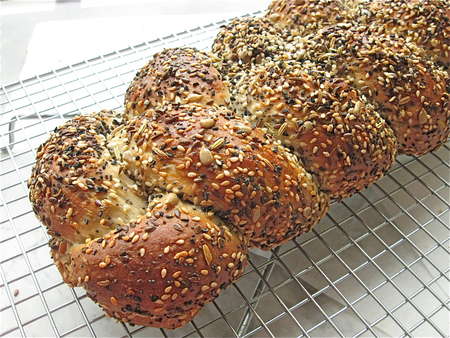 Doesn't that look gorgeous?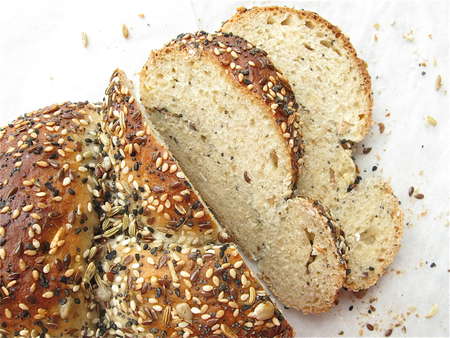 And the swirl of seeds inside is a tasty surprise.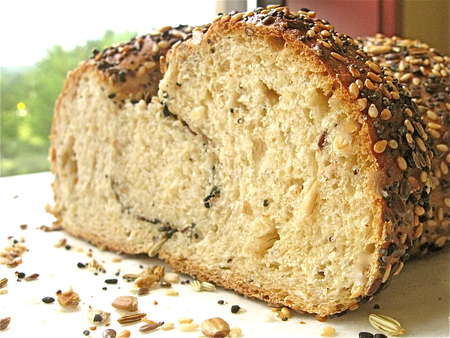 Bring on the pastrami and Swiss!
As you can see from the greenery in the picture above, I first tested and photographed this recipe last summer. As I type these words, it's -1°F, and those same trees are blanketed in white. Time to put the soup on...
Read, rate, and review (please!) our recipe for Crunchy Seed Braid.
Jump to Comments