At King Arthur, we take pride in delivering the highest quality, best-performing flour. Flour this good comes from attention to detail. We work closely with mills and hire third-party labs to ensure consistently great results. But we also have a secret weapon: Frank.
As a veteran of King Arthur's research and development team, Frank Tegethoff can pick out tiny differences in flour that most bakers never consider.
"I have abnormal eyes," he says, only half-joking. "I see things that other people don't see." He can spot the tiny specks of bran that sneak into white flour — or the near-imperceptible color differences between the golden-hued wheat grown out West and the light-cream color of flour from wetter, colder farms in the upper Midwest. 
Several times a year, Frank puts his well-trained eyes to work double-checking the flour from our partner mills. He runs a test called "flour slicking" to confirm that each scoop has the right look and feel. His four-step process reveals a lot about flour and helps ensure that every bag comes out just right.

Step 1: Slick
Throughout the year, Frank tests each of King Arthur's five signature flours: All-Purpose, Whole Wheat, White Whole Wheat, Bread, and Self-Rising. Today, he's looking at our classic unbleached All-Purpose Flour.
He starts the process by placing flour samples onto a bowl scraper. Then, using what's essentially a fancy putty knife, he presses down on the flour, creating the "slick."
After labeling the flour, Frank dips each sample in water and lets the slick rest for 10 minutes. This quick dunk is crucial. Hydrating the flour helps reveal the differences in bran size and distribution.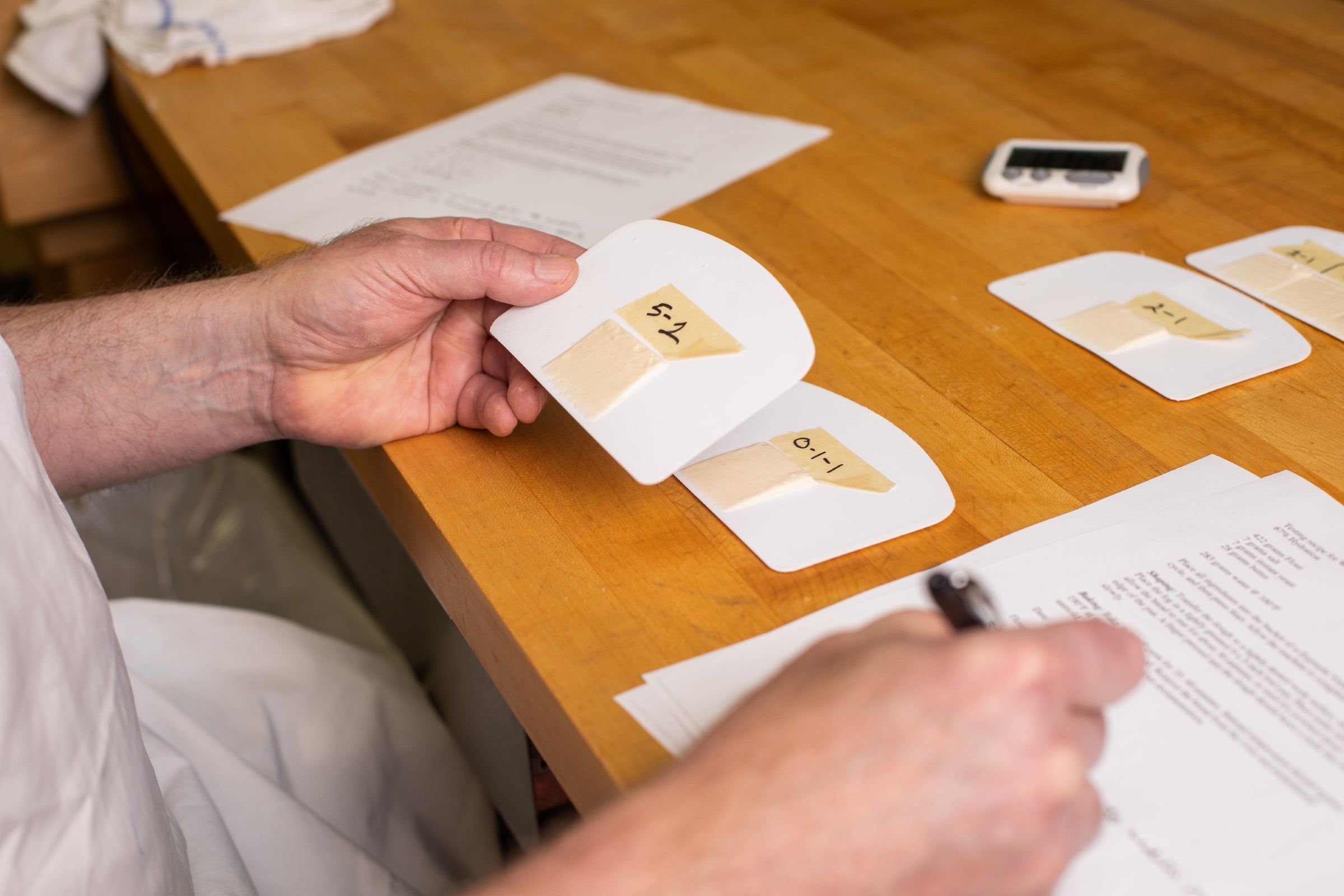 Step 2: Inspect
Once the flour has been fully hydrated, Frank examines each slick carefully. He wants to see the quality of the grind, the color, the amount and shape of the bran, and how well the starch absorbs water. King Arthur asks a lot of our mills, and we expect to see those results in each sample we examine. Frank fully admits that he's fussy when it comes to flour, but he thinks the millers actually appreciate that fussiness. 
"I really think that mills love working with King Arthur because we ask them to do exactly what they've spent their lives training to do," he says. "We ask our milling partners to produce flour of the highest quality and the tightest specifications in the industry. You don't just flip the switch and get great flour. It takes a lot of skill and a lot of judgment and a lot of on-the-fly fine-tuning to produce a consistent, high-quality product. And that's what we ask them to do for us." 

Step 3: Bake
After the visual inspection, Frank moves on to a bake test.
"You can throw all the lab tests you want at a bag of flour, but nothing beats a bake test to let you know if it's going to perform," he says. 
The trick here is to keep things as standardized as possible. For eight years, he's been baking the same basic bread recipe. He doesn't even knead the dough himself, relying instead on a bread machine for its robotic consistency, loaf after loaf, year after year. 
Once the dough comes together, he puts it in 9" x 5" loaf pans. And even then, he's watching to make sure the dough rises at the expected speed. After preheating the oven for 30 minutes, and double-checking the temperature with a second thermometer, he bakes the loaves.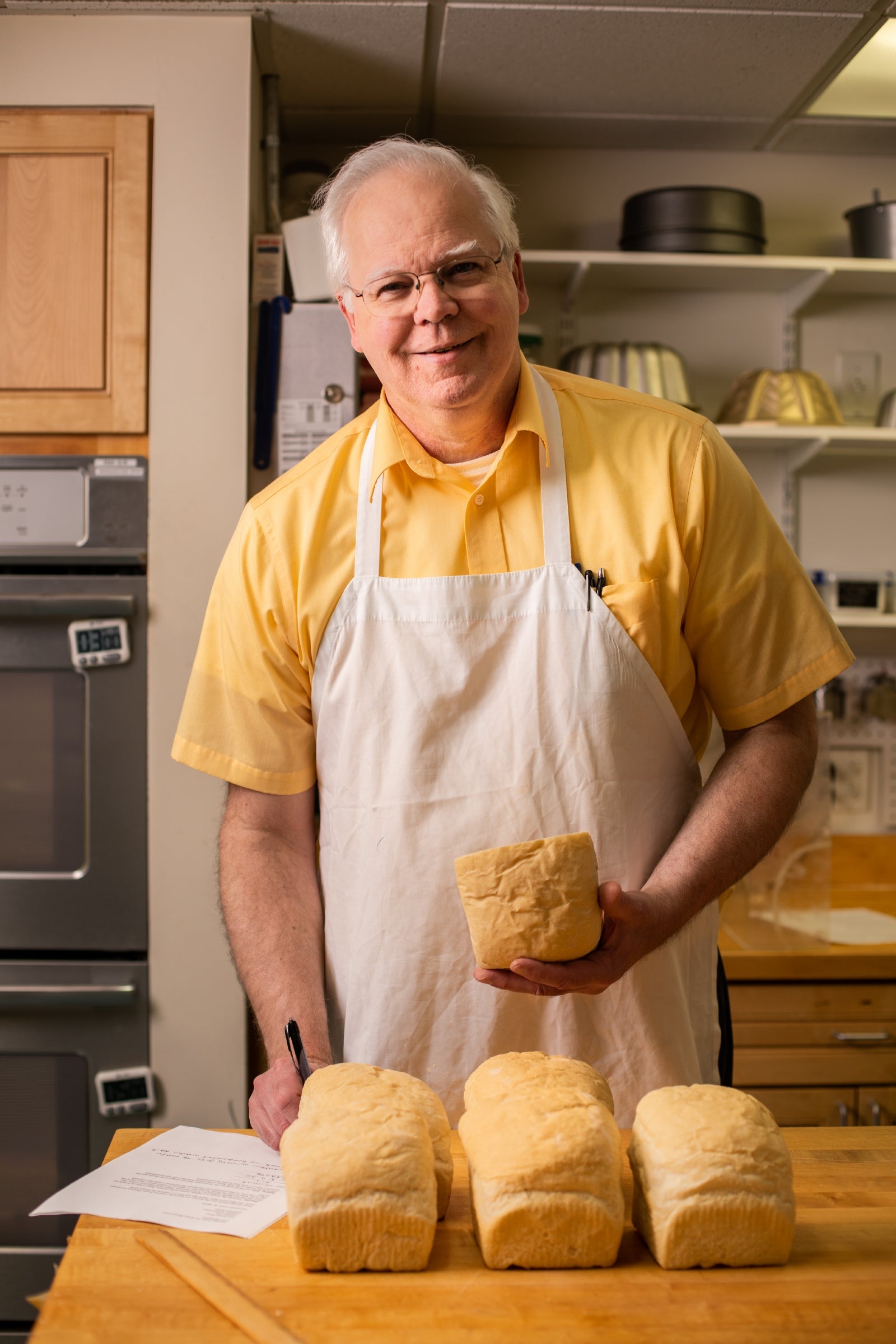 Step 4: Inspect again
Once the loaves come out of the oven and have cooled down, Frank grabs a ruler. He measures the height of the loaf, and assesses its crumb structure, smell, and — finally — taste.
This whole four-step process can seem tedious, but Frank says it's crucial work. "Machines can't do this," he says. "We still don't have a machine that can judge these things as well as the human eye. That may change someday, but we do this because it gives us peace of mind. And, for me, it gives me a little more investment." 
As one of King Arthur's more than 300 employee-owners, Frank says that the quality of our flour is everything. This inspection process ensures that he can stand by our promise of providing the highest quality flour.
"Even though my name isn't on the bag, I know that I've evaluated this flour," he says. "I'm one of the people looking at our flour — and after me, it goes on to another 30 people that are looking at my reports: the quality team, research and development, our milling relations people. That's a good 10% of the company paying attention to this process. So, yeah, we take flour pretty seriously."
As bakers, we know that the very best breads — and baking — starts with the very best ingredients. We consider ourselves proud flour nerds, and that's not just because it's our everyday passion — understanding what to look for when you're buying flour is important for every baker. You can learn more about flour and how to find the right type for your recipe at Flour IQ.
Thanks to Jenn Bakos for the photos in this post. 
Jump to Comments