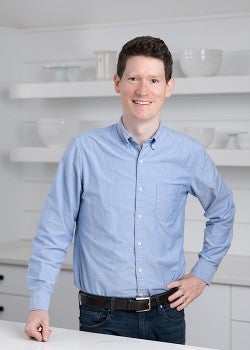 About Chris McLeod
Employee-owner since 2016
Chris McLeod is a recovering journalist who caught the baking bug after moving from Boston to Vermont. He serves as King Arthur's Editorial Operations and Strategy Manager, where he ensures that the company's recipes, videos, baking blog, website, and print publications sing as loudly as possible, and, when possible, harmonize with each other.  
Before joining King Arthur, Chris wrote science and tech explainer articles for The Christian Science Monitor, with syndicated pieces appearing in USA Today, ABC News, and a Macmillan science textbook.  
His favorite King Arthur recipe is Neapolitan-Style Pizza, which he makes every other week for his wife and young daughter (but wishes he could get away with baking it more often).