Scallion pancakes
Inviting your food(ie) friends to the wedding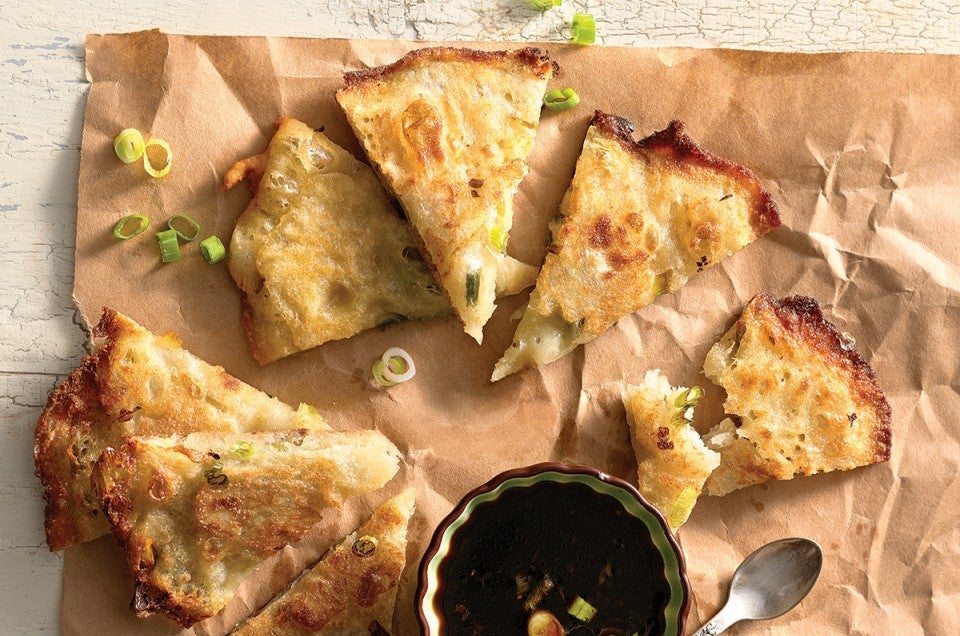 I haven't been around the blog much in recent weeks, mostly because I was tearing around getting ready to get married, so I have a decent excuse, at least. This is my brother walking me down the aisle.
When Greg and I got engaged last summer, the FIRST thing I did, in true chef fashion, was write the menu for my wedding. I wanted food that reflected my culinary career and represented my family's tastes. It went like this:
Passed apps
Grilled chicken skewers, marinated in dipping sauce
Scallion pancakes with dipping sauce
Smoked salmon pinwheels on cuke rounds or crackers
Pigs in blankets
Warm artichoke dip in phyllo nests

Bread and cheese station, to stay in place through dinner
Ciabatta (from King Arthur)
Epi de ble (from King Arthur)
Grissini
My buttermilk sourdough
Grapes, Brie
Richard's (my brother-in-law) smoked cheddar
Boursin, duck liver terrine
Dinner
Summer salad trio
Light mesclun base
•Potato salad, cherry tomato and frisée garnish
•Broccoli salad in radicchio
•Carrot and raisin salad with arugula or avocado slice
Entrée, choice of
5-ounce filet on caramelized onion and mushroom ragout
or
Smoke roasted turkey breast with peach and rhubarb chutney
Sides: haricots vert bundles, Susan's potatoes
Wedding Cake: Chocolate layers, Kahlua simple syrup, coconut buttercream frosting;
Ice cream sundae bar
For the cocktail hour before the reception, my colleagues made it very clear that they expected to find an abundance of scallion pancakes on the servers' trays. I've been making these appetizers for almost 20 years now, and every time I do, there's a stampede. I've always been reluctant to publish the recipe, because while the ingredients couldn't be simpler, the texture of the dough is difficult to describe. It's one of those things that has to be learned by touch. Observe: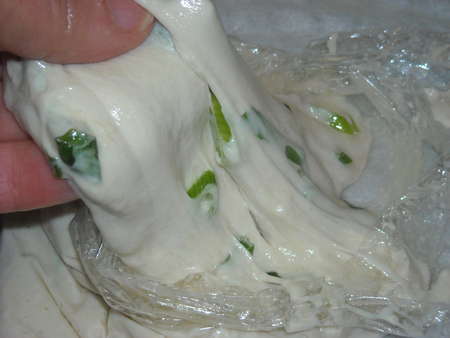 Since the blog allows me to show you how it comes together step by step, I'm emboldened to give it a whirl. You won't find a link to this recipe, because I never measure the ingredients (All-purpose flour, warm water, kosher salt, scallions, peanut oil); it's all by feel. But you will want to know about the dipping sauce, so I'm putting that recipe out there for you.
You'll need a stand mixer with a paddle. Put some flour in the bowl, put the bowl on the mixer and set up the paddle.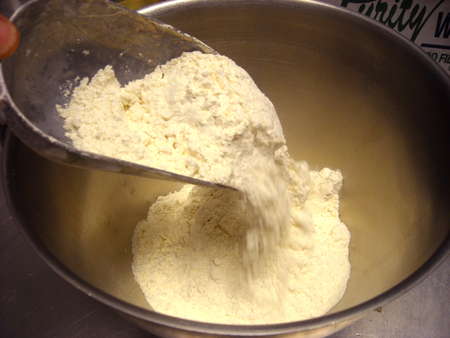 Now, fill a 2-cup measure with warm tap water, turn the mixer on low and pour in the water in a steady stream.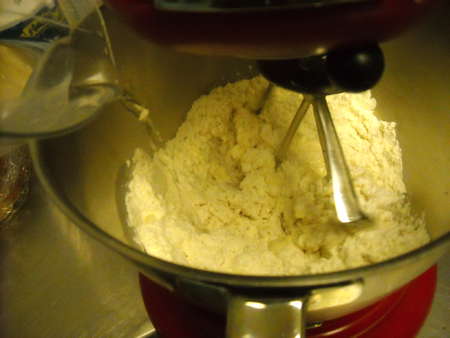 Keep going until the mixture resembles oatmeal.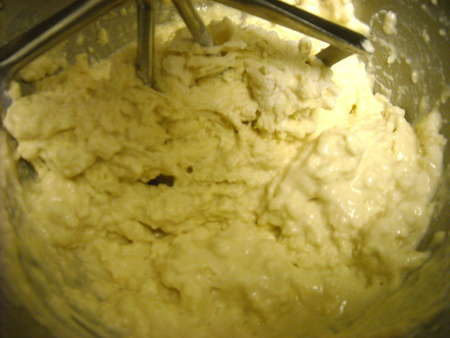 Let the mixer run for 2 minutes until you see the dough start to pull together as the paddle moves around. As the gluten develops, the paddle will leave a trail. Stop the mixture and touch the dough. If it coats your finger like this, it's too wet. That's fine; it's easier to bring it to the right consistency from here than it is to add water, which makes a slurpy mess surrounding a too-tight ball of dough.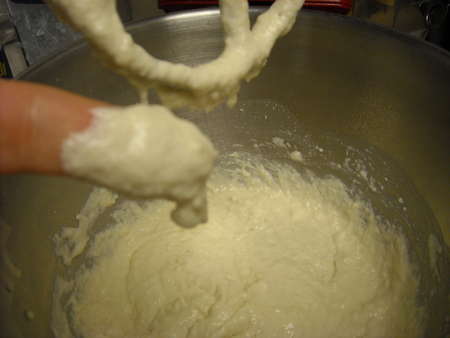 Turn the mixer back on low speed, and sprinkle in more flour, 1/4-cup at a time, letting the mixer run for a minute in between additions. The dough will begin to tighten up, but you want it to continue to be very stretchy.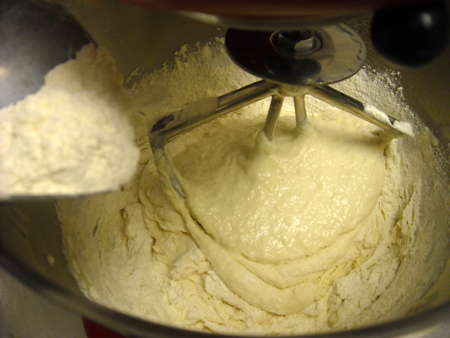 Stop the mixer and pull up the paddle. If the dough looks like this, you're in good shape. See how it still looks a little lumpy? Put the paddle back down and let the mixer run for 5 minutes. Now touch the dough again. If it doesn't stick to your finger and feels like loose Silly Putty, it's perfect.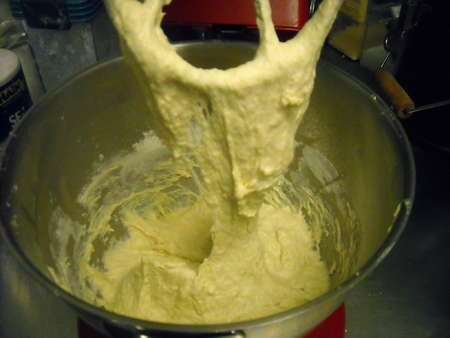 Cover the top of the dough with a layer of peanut oil, and let it rest for half an hour while you make the dipping sauce and prep the scallions.
Here's one of my favorite chef's tricks. For the dipping sauce, you'll need minced fresh ginger. Most cooks I know have had a poor leftover knuckle of shriveled, moldy fresh ginger kicking around the produce drawer of their fridges at one time or another. No longer. The easiest way to peel fresh ginger is with a cheap spoon.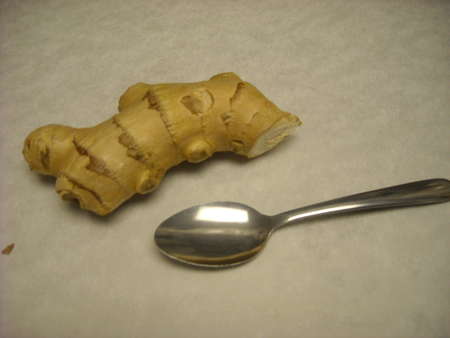 Watch: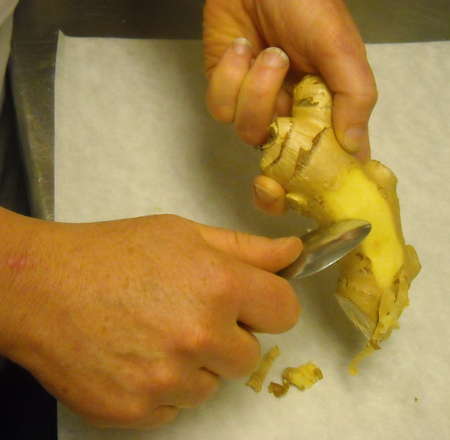 Once you have naked ginger, you can dice it up and place it in a glass jar. Cover the ginger with rice vinegar or dry sherry. It will keep in the refrigerator like this indefinitely. Really. I'm talking up to a year. And the liquid takes on the flavor of the ginger, so you can use it in sauces or glazes.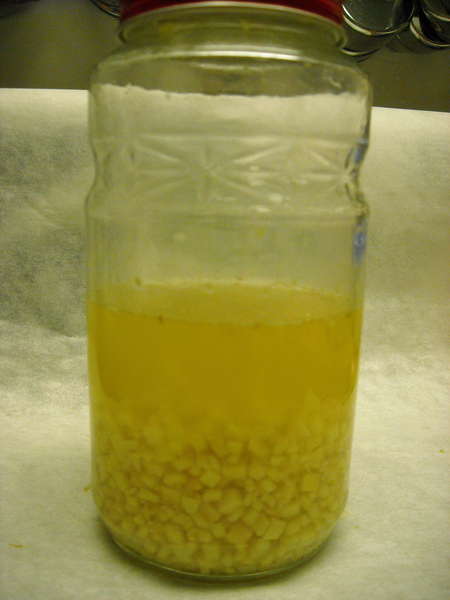 Now for the filling for the scallion pancakes.
Peel any ratty layers off the base of a bunch of scallions, wash them, then trim the tops at an angle. Slice the scallions, from the tops down (you'll use the whole length of the vegetable) until you only have the stub end with the root left. Send those to the compost pile. Put your sliced scallions in a bowl and sprinkle generously with kosher salt. Pour peanut oil on top, enough to coat the whole business with a little to spare.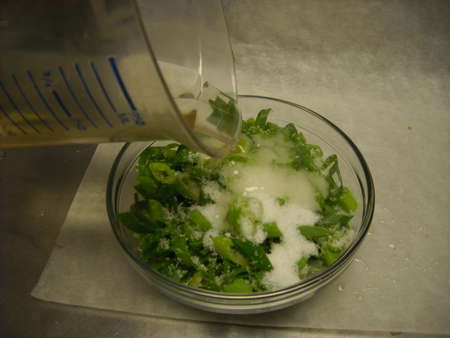 Time to assemble. This is a real "mud pie" kind of operation, so I always do this inside a sheet pan, to contain the mess. It's also a good idea to lose the rings.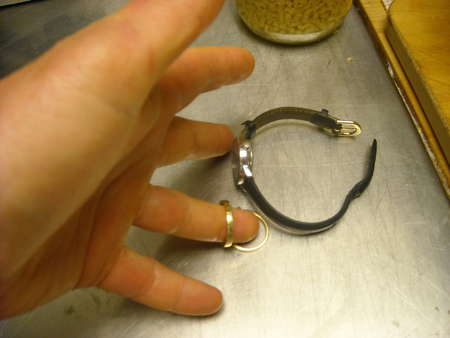 Pour an 8-inch diameter puddle of peanut oil into the pan. Take a handful of dough (a blob about the size of a baseball) and plop it in the middle of the puddle.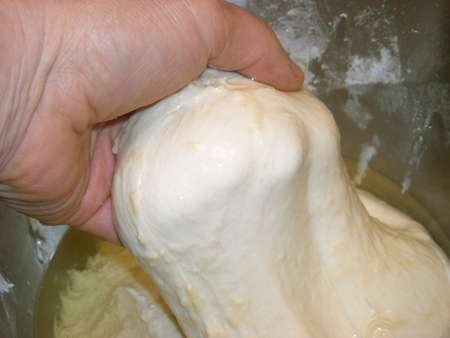 Spread the dough out into a 10-inch diameter circle about 1/4-inch thick. Now take a small handful of the scallion mixture (about 1/3 cup) and spread it over the top of the dough.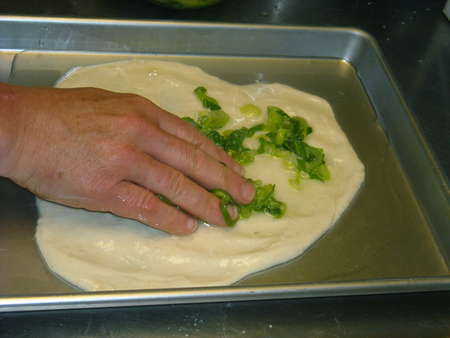 Roll the dough toward yourself to make a spiral.
Coil the spiral around like a snail, and tuck the two ends together.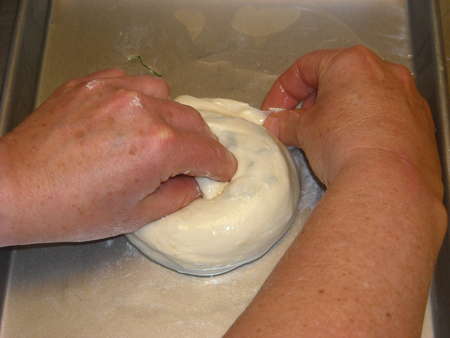 Plop the scallion pancake into an inexpensive fold-over sandwich bag. You can wrap them individually in plastic, but it's a little bit like wrestling an octopus.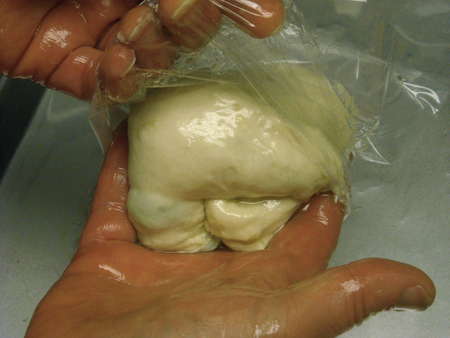 Once all of the pancakes are rolled, you can either begin to cook or hold them in the refrigerator for up to a week. The longer they're in the refrigerator, the poofier they'll get when you cook them, as the flour and water go into a slow fermentation from native yeast.
To cook these babies, place a 10-inch, flat heavy skillet over medium-low heat, and add 1/4-inch of peanut oil. Peanut oil is preferable because of its high smoke point and neutral flavor. Spread one of the pancakes either freehand (if you're brave), or on an oiled salad plate.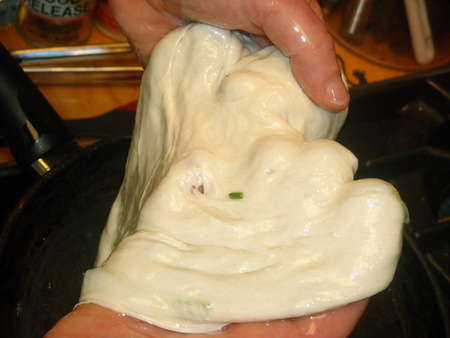 Put the pancake in the heated pan and spread it out to a round shape before it sets.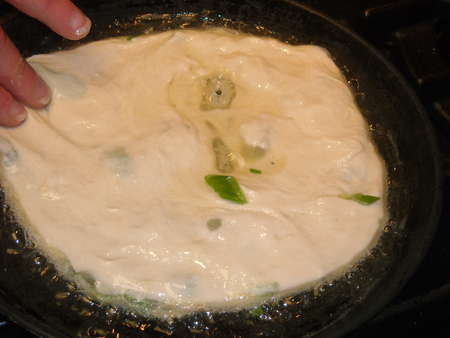 Cook the first side for 4 to 5 minutes; it's easy to pick it up and peek underneath. You want it to be golden brown and crispy.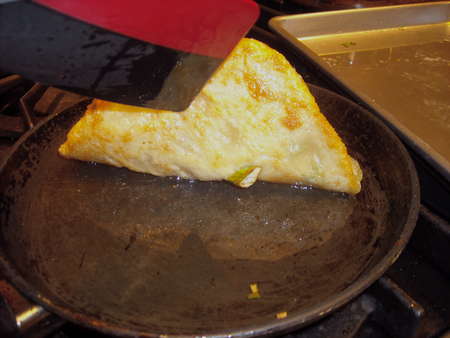 Turn it over and cook the other side until it's also golden and crispy-looking.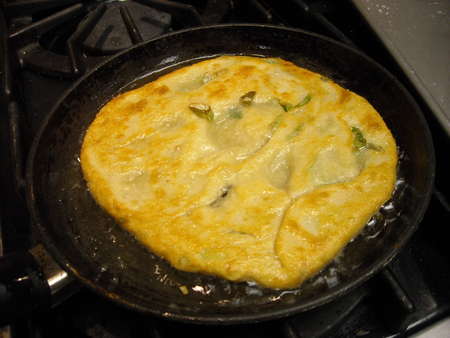 Drain the pancake on a stack of paper towels or uncoated, inexpensive paper plates. Cut in eighths.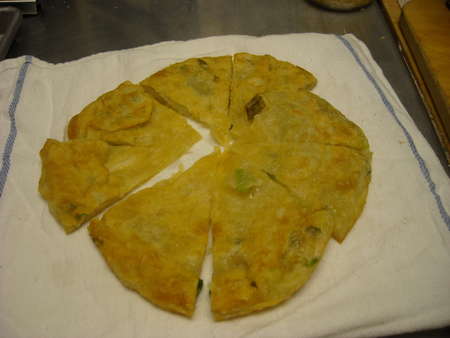 Put some dipping sauce in a ramekin, sprinkle it with sesame seeds, and place the warm wedges around it. Go back and cook the rest of the pancakes, because they aren't going to last very long.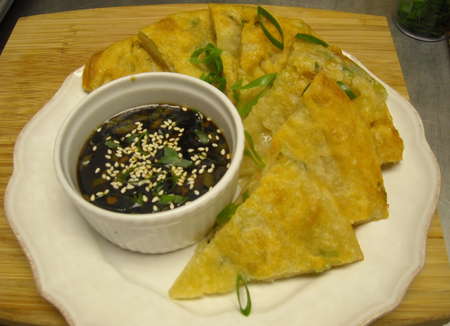 If you want to do these for a party, you can cook the pancakes off ahead of time and reheat them in a 350°F oven for 5 minutes before cutting and serving.
Here's the kicker. When I first started making these at Biba restaurant in Boston in 1991, they sold for $7.50 a plate, and flour was much less costly then. My local Chinese restaurant Vermont sells them for $3.50. Next time you're in a "mud pie" kind of food mood, give these a whirl. You'll have a great time, and your friends will applaud, then badger you for more!
Make or buy comparison
Top Tier restaurant: $7.50
Local Chinese restaurant: $3.50
Make at home: Pancake: $.68, 1/4 cup dipping sauce: .36, total: $1.04