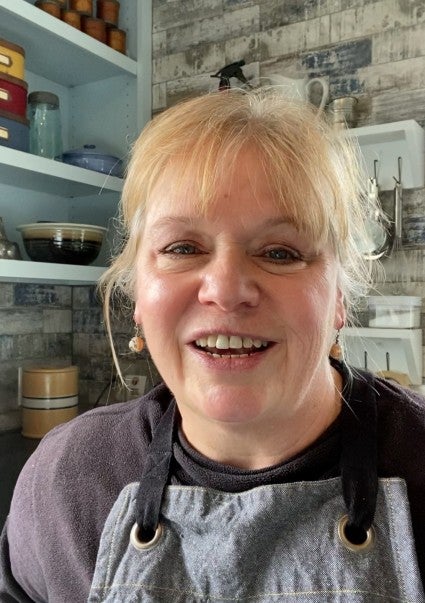 About Susan Reid
Employee-owner from 2002-2022
Susan Reid is a chef, baker, teacher, writer, and swimmer. She's been cooking since her mother drafted her to make appetizers for family dinner parties at the age of 12. Like most liberal arts majors (Bates College), she ran away from home after graduating. After landing in Chicago, she backed into a career in advertising at Leo Burnett, writing television commercials for McDonalds, Kellogg's, and the lonely Maytag repairman (the only commercial where he ever fixes anything — his chair). 
Pursuing her quest to have a more personal connection with her work, she dropped the 30-second TV spot to attend the Culinary Institute of America, graduating at the top of her class. From there she worked her way up the ladder in four-star restaurants. During her time as a Chef-Instructor at the New England Culinary Institute, she taught Cooking Theory and Food Science, which has come in handy when developing recipes and answering baking questions.  
Hired to work on King Arthur's cookbook The Baker's Companion, Susan has been writing and creating recipes for the company ever since, contributing chapters to the The King Arthur Flour Cookie Companion and Whole Grain Baking. She took on editing and writing The Baking Sheet newsletter from PJ Hamel in 2002, running it until it ended in 2014. From there Susan became the Food Editor of Sift Magazine; currently, she's inventing new baked goods as a Senior Recipe Developer and teaching bakers on social media, making weekly appearances on the King Arthur Instagram feed.  
During her time at King Arthur, she's driven the King Arthur Bake Truck, written the Baker's Catalogue, competed in a biscuit festival, done live television appearances involving apple pie, and demoed artisan bread doughs in hotel ballrooms. Through it all her greatest thrill has been connecting with bakers of all skill levels, helping them thrive in their kitchen exploits.