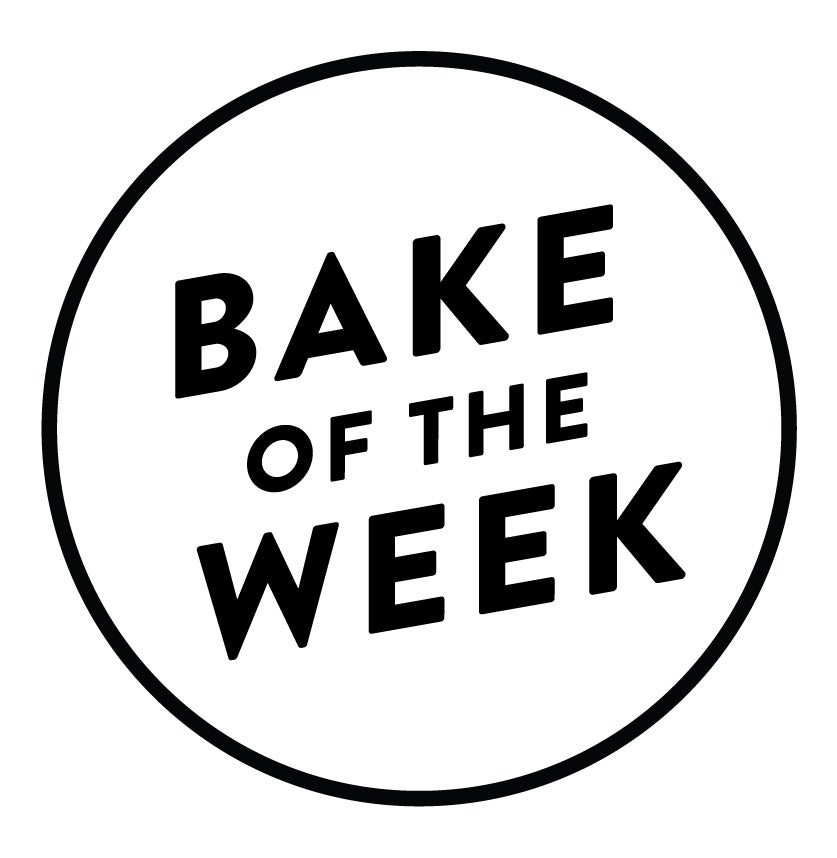 "What do you think of this?" Nathalie asked. We were working on ingredients, pans, and recipes we could put together to inspire bakers for the Fall 2021 catalog, and the photo she showed me was a sort of bread with a whole bunch of apples. It was something called "fritter bread."
The gleaming red bits of skin-on apples on top sold me. The thought of capturing the doughnut shop allure of lightly spiced batter crammed with every last apple chunk it could hold it was compelling. I immediately thought about our tea loaf pan, and how good it would look filled with a cake that had a pile of gorgeous apples on top, shining with a sweet glaze just like the one coating the fruit-filled fritters at the doughnut shop.
As for the cake, I saw an opportunity to showcase super high-quality vanilla (our custom blend) and cinnamon. With a bit of nutmeg in the background and some help from the most versatile thickener ever (Instant ClearJel), I was well armed to design a first-class fall treat: Apple Fritter Cake. 
More is better (when it comes to apple types) 
I always put several varieties in any apple baked good I make; the flavor is more intriguing with more than one kind of apple, and since different types cook at different rates, there's more going on texture-wise, too. For this recipe, I used a mixture of peeled Honeycrisps and unpeeled Paula Reds for their beautiful skin color.  
The batter is layered with two generous swathes of spiced, sweetened apples with just a touch of Instant ClearJel to help hold all the tasty juice. I chose a reverse creaming method to make the batter, which makes it fluffy without curdling. The resulting crumb in this cake is a little sturdier without being dense — better suited for carrying all that apple goodness, with a texture that's reminiscent of a cake doughnut.
Pick the baking pan that suits you  
This recipe was designed for our tea loaf pan, but it can also be baked in an 8" square pan for a coffee cake vibe, or a 9" x 5" loaf pan. PJ reports that she made hers in a 9" x 4" x 4" pan with good results. 
As with any recipe you've never made before, a little insurance is always a good idea. Once the layers of batter, apples, batter, and apples are all in your chosen pan, put a half sheet pan on a rack below the cake to catch any bubbling juices or overflow. That's very unlikely in the square pan, but possible in the 9" x 5" pan depending on how juicy the apples are.
If you're hesitant, you can always keep 1/4 cup of the diced apple mixture to the side; see how you feel about things once the pan is loaded up. (If they don't make the final cake, those leftover apples will be right at home in your morning oatmeal.)
Testing for doneness requires the right tool  
It's common recipe language to "bake until a toothpick inserted in the center comes out clean." When writing recipes for quick breads, I no longer use those words — they've failed me too many times.
My preference for testing quick breads and denser cakes is a paring knife. Its extra surface area will pick up raw batter that a skewer or toothpick doesn't detect. Given all the moisture from the apples, it's even more crucial for this recipe.
The finishing touch seals the deal 
For full fritter fabulousness, there has to be some gilding on this baked good. Traditional apple fritters are bathed in a sheer, almost-brittle glaze, something I simply had to replicate for this cake. That texture is often the result of heating the confectioners' sugar and liquid, causing the cornstarch in the sugar to cook a bit. The cooked starch is where the crackliness comes from. You can choose to do this for your cake (45 seconds in the microwave after mixing is all it would take) or leave the glaze thicker so it's more obvious and shows off the apples a little more. Start with one tablespoon of milk and add more until the glaze is the consistency you want. Your cake, your choice. 
The best coffee cakes are welcome at any time of day. Breakfast, of course, but also as company to midmorning coffee, afternoon tea, or dessert with a side of ice cream. I hope you'll bake this Apple Fritter Cake and it'll be a new fall classic; it's a great way to show off the apples you brought home fresh from the orchard or farm stand.
Cover photo by Rick Holbrook. 
Jump to Comments