Chocolate — in all its forms — is woven through our concepts of seduction, romance, indulgence, and reward. Good-quality chocolate is an occasion all by itself, and that experience can happen with many types of chocolate. That's why bakers reach for it when it's time to pull out all the stops.
As much as chocolate has captured the hearts of bakers everywhere, the world of chocolate is vast, with an array of varieties that can be as dizzying as it is decadent. The editors of Sift magazine spent some time with the chocolatiers at Guittard to learn more about different types of chocolate, the recipes that best show them off, and the flavors to pair alongside them. Here's what we learned.

Chocolate percentage
You've seen those numbers on the wrappers of premium chocolate bars, but what do they mean?
Percents in types of chocolate represent the portion of the finished chocolate that came directly from the cacao bean. It can include both cocoa solids (finely ground beans) and cocoa butter. Higher percent chocolates are typically less sweet, since there's less room for sugar as the amount of cacao bean increases.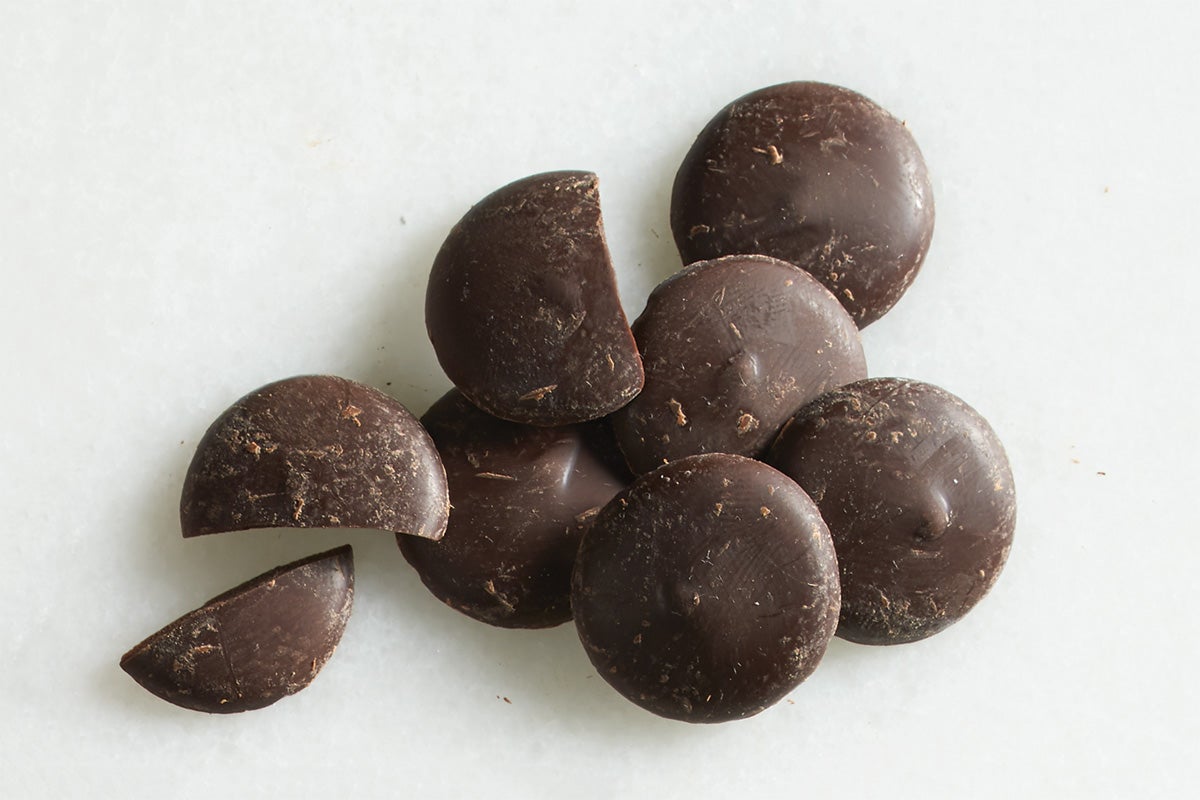 By law, bittersweet chocolate must contain 35% chocolate liquor (finely ground cacao beans), with added cocoa butter and sugar in varying amounts. Many good-quality bittersweet chocolates list a much higher percentage on their labels.  For example, Guittard's best-selling bar has 91% cacao solids. Folks whose love affair with chocolate is intense often gravitate toward bittersweet over semisweet.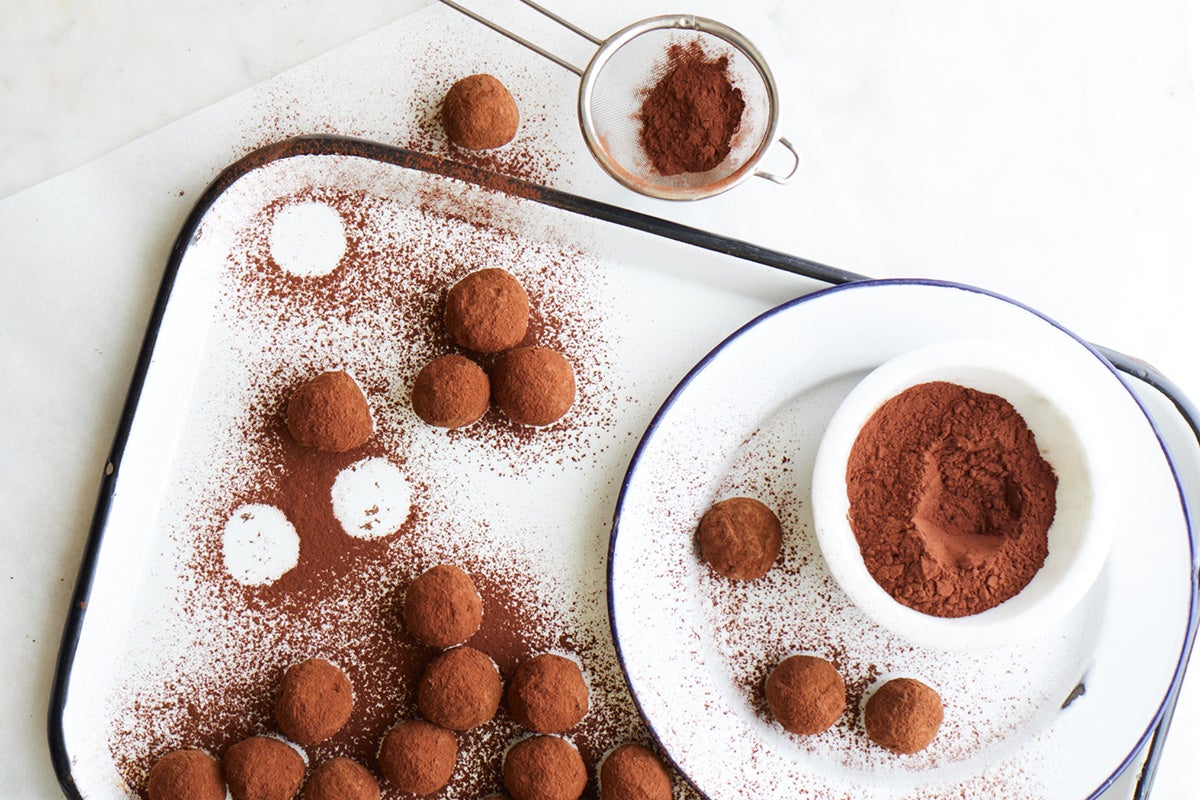 Bittersweet is often the choice for Chocolate Truffles, since bittersweet can hold its own with flavoring liqueurs and spices. It pairs well with caramel or white chocolate (as with our Black & White Brownies recipe).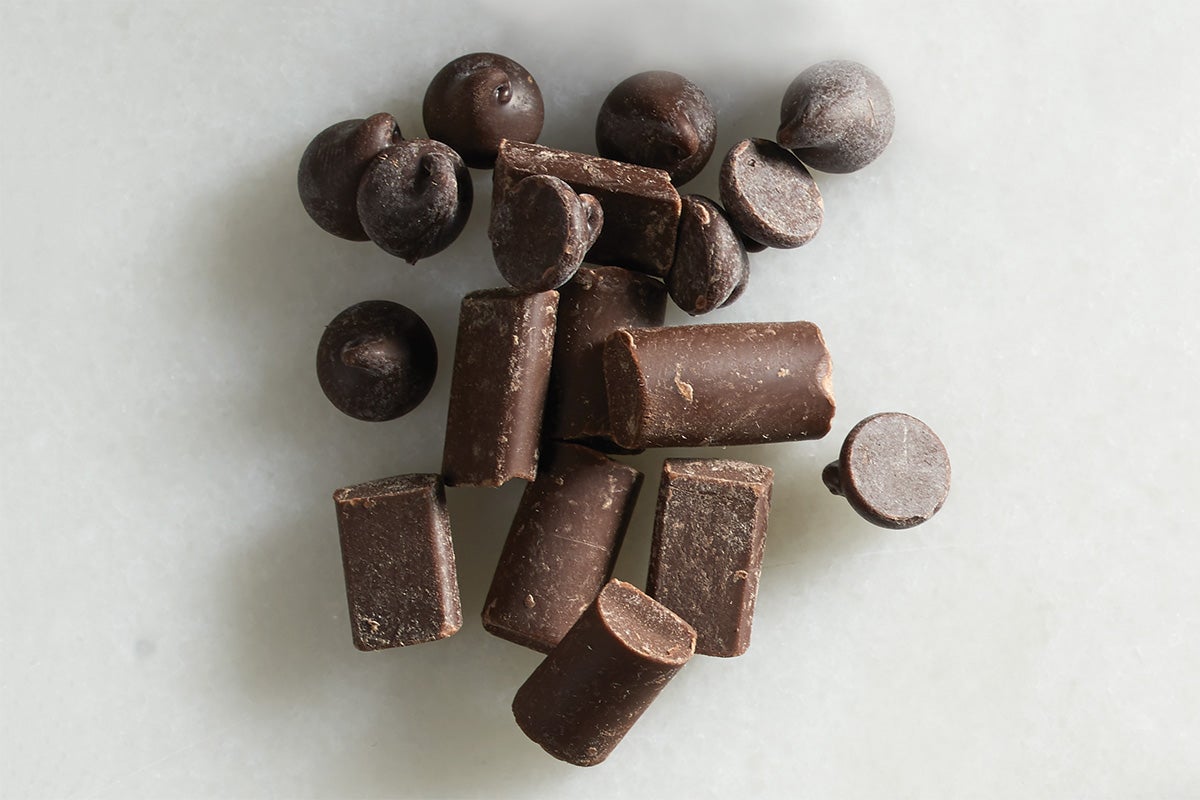 Semisweet must contain at least 35% chocolate liquor, with more sugar than bittersweet.
Chocolate chips tend to have less cocoa butter than other shapes, and often have added lecithin, which helps them hold their shape during the heat of baking. Beware using chips when chopped chocolate is called for; their altered fat content can change the recipe's results.
Semisweet chocolate is the all-around hero of chocolate recipes. Because it's just the right balance of sweet and rich, it's the one bakers reach for most of all. Looking for ideas? Bake up a Chocolate Babka, wow them with a  Flourless Chocolate Cake, or if you'd rather, choose a classic that's welcome at any occasion, Chocolate Cream Pie.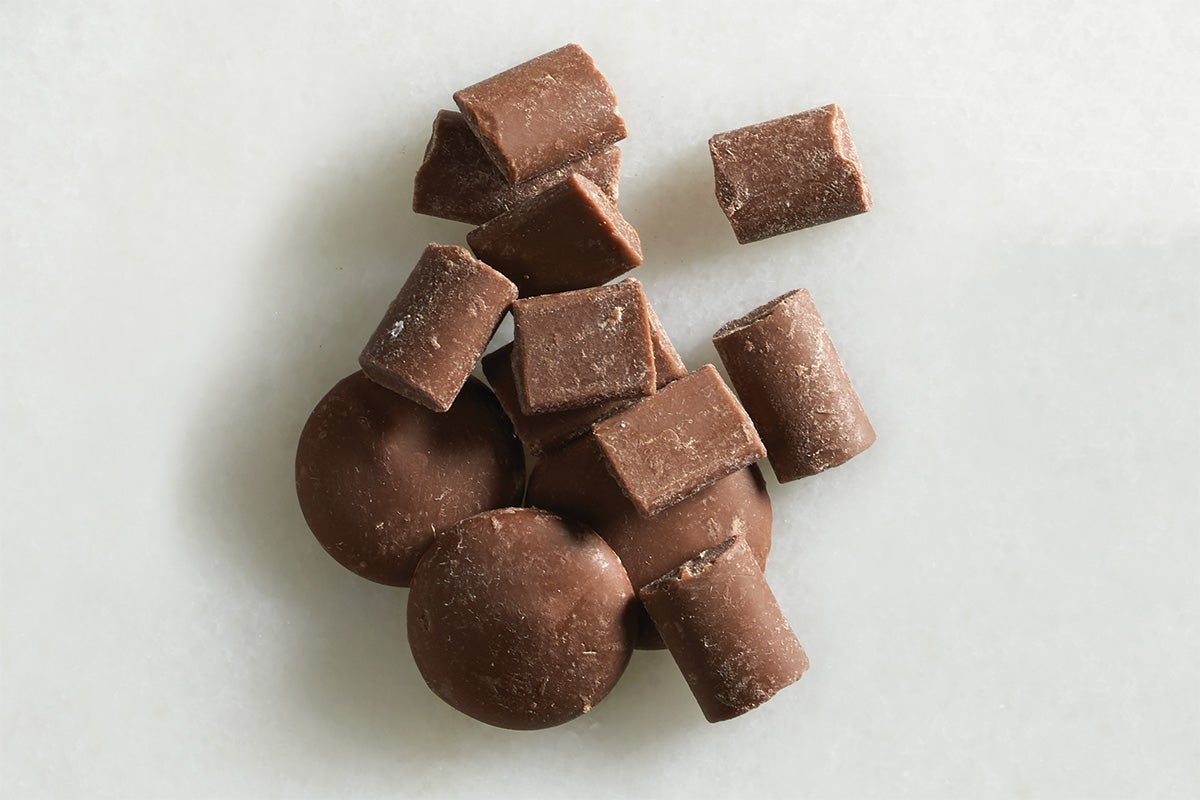 Milder tasting and creamy, milk chocolate must contain at least 10% chocolate liquor and 12% milk, with added cocoa butter and sugar in varying amounts.
For recipes that really show off its smooth, milky flavor, try Chocolate Coconut Panna Cotta, Milk Chocolate Cake, and also Malted Milk Chocolate Hazelnut Tart.
 
Good white chocolate features some light caramel notes, a hint of vanilla, and the faint perfume that comes with cocoa butter. It must contain at least 20% cocoa butter and 14% milk, with added vanilla and sugar in varying amounts.
Since white chocolate contains no chocolate liquor, it's not technically chocolate. But its creamy flavor is a standout in recipes like our White Chocolate Macadamia Nut Tart and Vanilla White Chocolate Drops.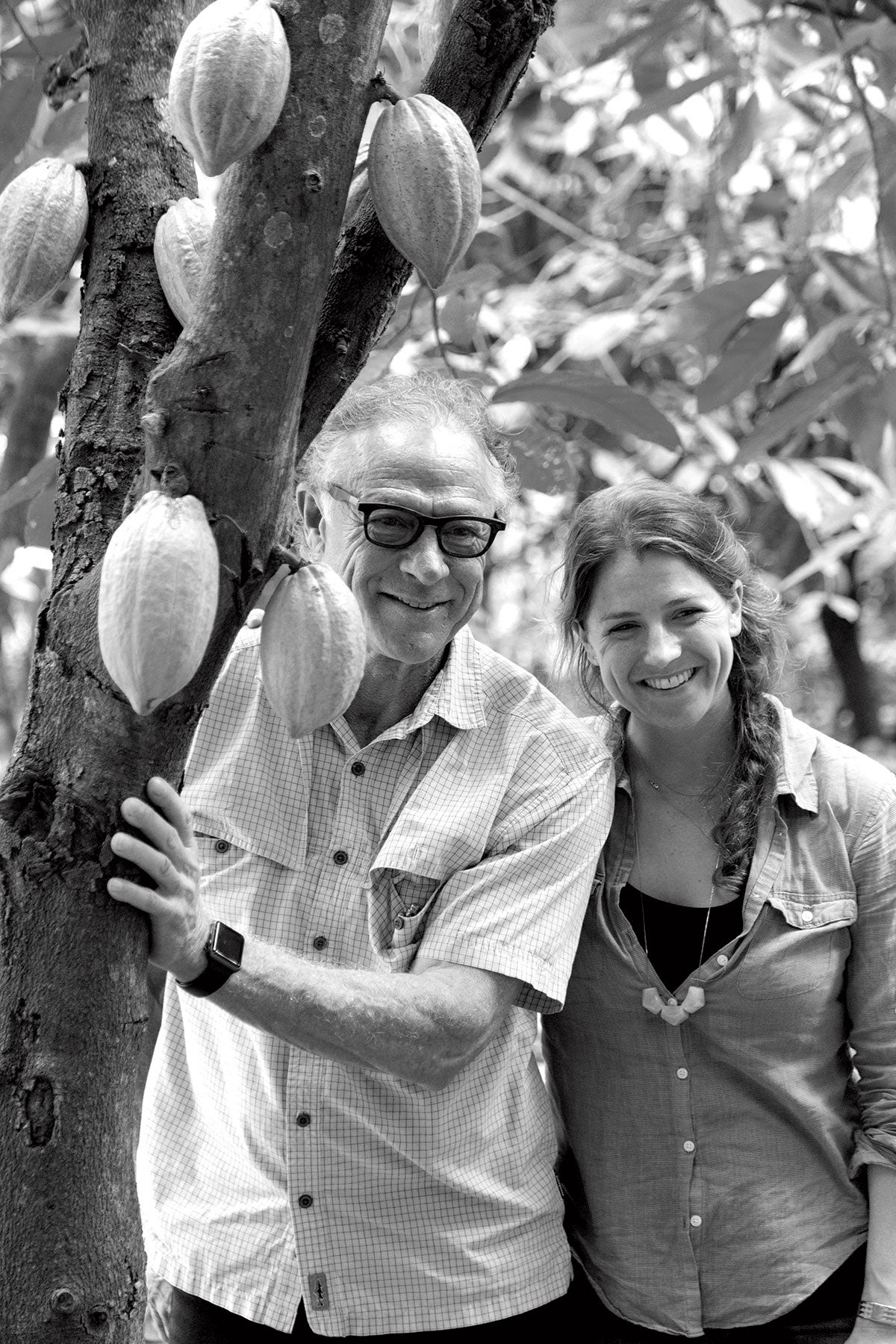 A conversation with Guittard's chocolate experts
Amy Guittard is the fifth generation and first woman from the Guittard family to join the business, which was started in San Francisco in 1868 by her great-great-grandfather Etienne. Amy took the time to talk with us about some of Guittard's chocolates.
KAF: What's your "special occasion" chocolate?
Amy: Every occasion is special and there's a chocolate for all of them. I really love our 72% Quetzalcoatl and our Hawaiian Estates. For milk chocolate, I have to go with our organic 38% for pure heaven.
KAF: What do you bake with it?
A: I love getting creative with different types of chocolate for different recipes. Chocolate can be an intimidating ingredient, and the goal is to help home bakers understand the basics so they can make informed choices when exploring a recipe.
The Guittard Chocolate Cookbook was written with that in mind. A single-origin chocolate can make a brownie taste completely different than a chocolate made from a blend of beans would. I usually make the Pumpkin Chocolate Chip Cookies recipe with our semisweet chips, but every once in awhile I'll use our 63% chips, which delivers a totally different eating experience.
KAF: Of all the types of chocolate, what's the most exciting product your family has created?
A: We were the first to develop a milk chocolate baking chip in the late 1950s, and we were also the first to introduce single-origin chocolates to the U.S. market. While both of those are now commonplace, at the heart of each is our ongoing habit of merging tradition with innovation.
It really is all about exploring the beautiful diversity of flavor, and recognizing the connection among the cultivation of the beans at the farm to the ingredients we source to the finished product we craft. It's this evolution of artistry that makes it all work, and the kitchen is where it comes to life.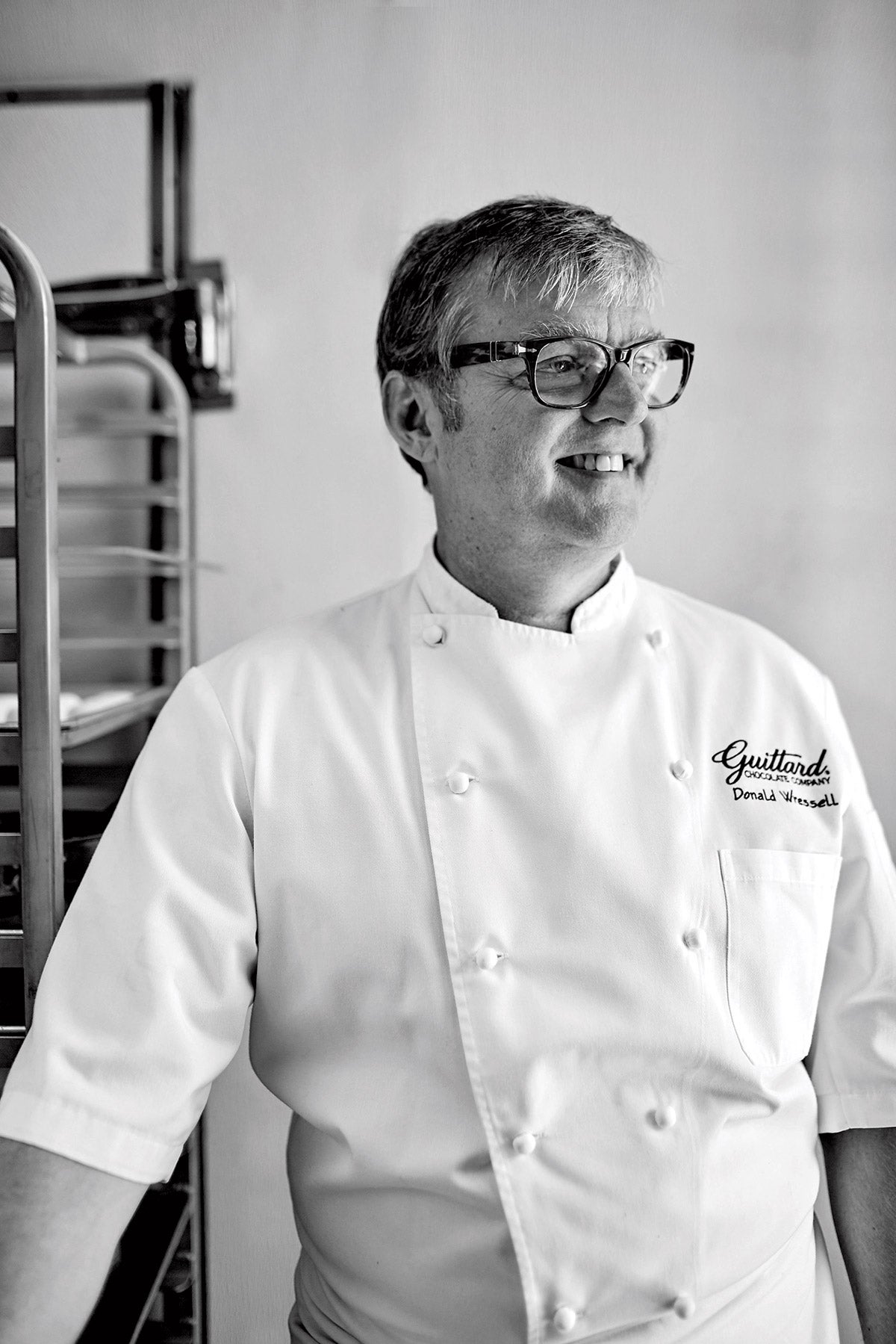 Donald Wressell is Guittard's executive pastry chef and director of the Guittard Chocolate Studio, which runs workshops and hands-on classes for professionals.
KAF: What can you tell home bakers about percentage labels on chocolate?
Donald: Our 91% bar is our biggest seller. The higher the percentage, the less room in the bar for sugar or other additives. Chocolate is a blend of cocoa solids and cocoa butter. The solids affect flavor, and the cocoa butter affects mouthfeel and consistency. Blending chocolate is a way to smooth out the ups and downs of the harvest to give a more consistent product.
KAF: So single-origin chocolates are more challenging to produce?
D: Single-origin chocolate has the distinct flavor of the place where it's grown. The beans themselves, and how they're processed, are where the differences lie. After harvest, beans can be over-fermented, under-fermented, or not dried properly. It's similar to coffee: better beans, better processing, better chocolate.
KAF: Do you have favorite preparations for each kind of chocolate? What do you bake with each to really show them off?
D: I like to mix white chocolate chips into scones with pecans and dried pears. I use our 38% wafers (which have some caramel and coconut flavors) in confectionery work, for pots de crème, and in gelato. Semisweet goes into cookies, of course, and lighter ganaches and creams. Most home baking recipes do well with a chocolate that's about 63%, like our semisweet chips.
I use bittersweet chocolate in mousses, which usually have an equal amount of cream and chocolate by weight. The bittersweet chocolate helps cut through the richness of the cream.
KAF: How do you design a new chocolate product?
D: I'm on the tasting panel when we develop new chocolates, but the concepts come from Gary Guittard. Whatever we do, we always put our best taste bud forward!
This interview originally appeared in the Holiday 2017 issue of Sift magazine. We hope it'll help you better navigate the many delicious types of chocolate. Let us know what your favorite chocolate indulgence is in the comments below!
Thanks to Erica Allen for the recipe images, John Sherman for the chocolate photos, Audrey Ma for the image of Donald Wressell, and the Guittard Chocolate Company for its photo of Amy and her father Gary.
Jump to Comments