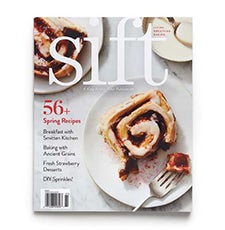 Sift magazine welcomes springtime's growth, discovery, and fresh starts from strawberry treats to learning new skills like working with pâte à choux.
Butter, water, flour, and eggs — just four simple ingredients combine to create pastry magic.  Today, we're talking about one of the simplest, quickest ways to make endless creative shapes and delightful desserts: pâte à choux.
Pâte in French refers to dough; choux literally means cabbage, but is also a term of endearment, which is how you'll feel about pâte à choux once you've mastered this technique.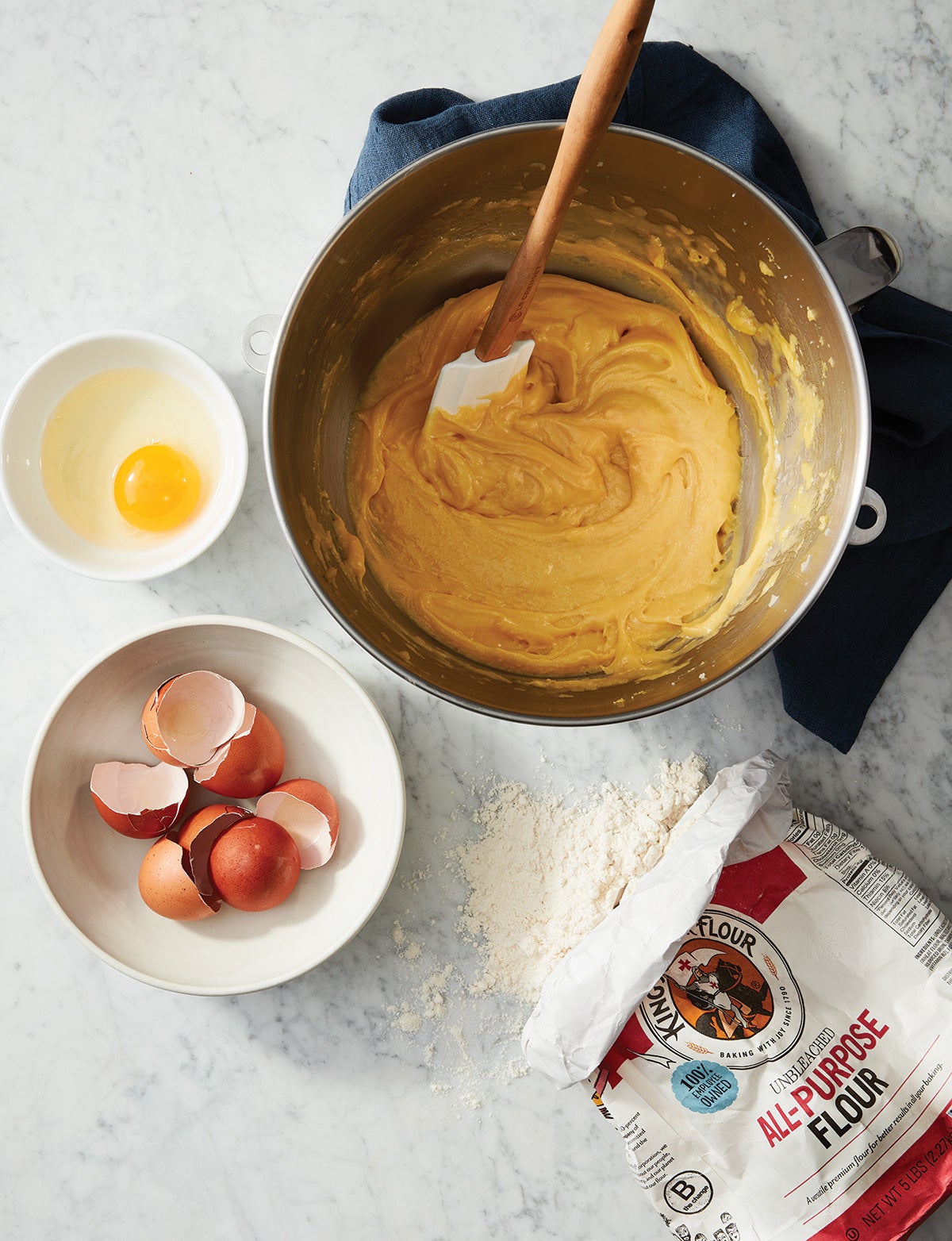 Simple steps
Grab your first three ingredients:
1 cup water
1/2 cup (8 tablespoons) unsalted butter
1/2 teaspoon salt
Combine them and bring to a boil in a medium saucepan. Remove the pan from the heat and pour in 1 1/4 cups (5 1/4 ounces) King Arthur Unbleached All-Purpose Flour all at once.
Baking gluten-free? Substitute 1 1/4 cups (5 1/4 ounces) of our Gluten-Free Measure for Measure Flour. The gluten-free shells will be every bit as crisp and high-rising as the all-purpose flour version.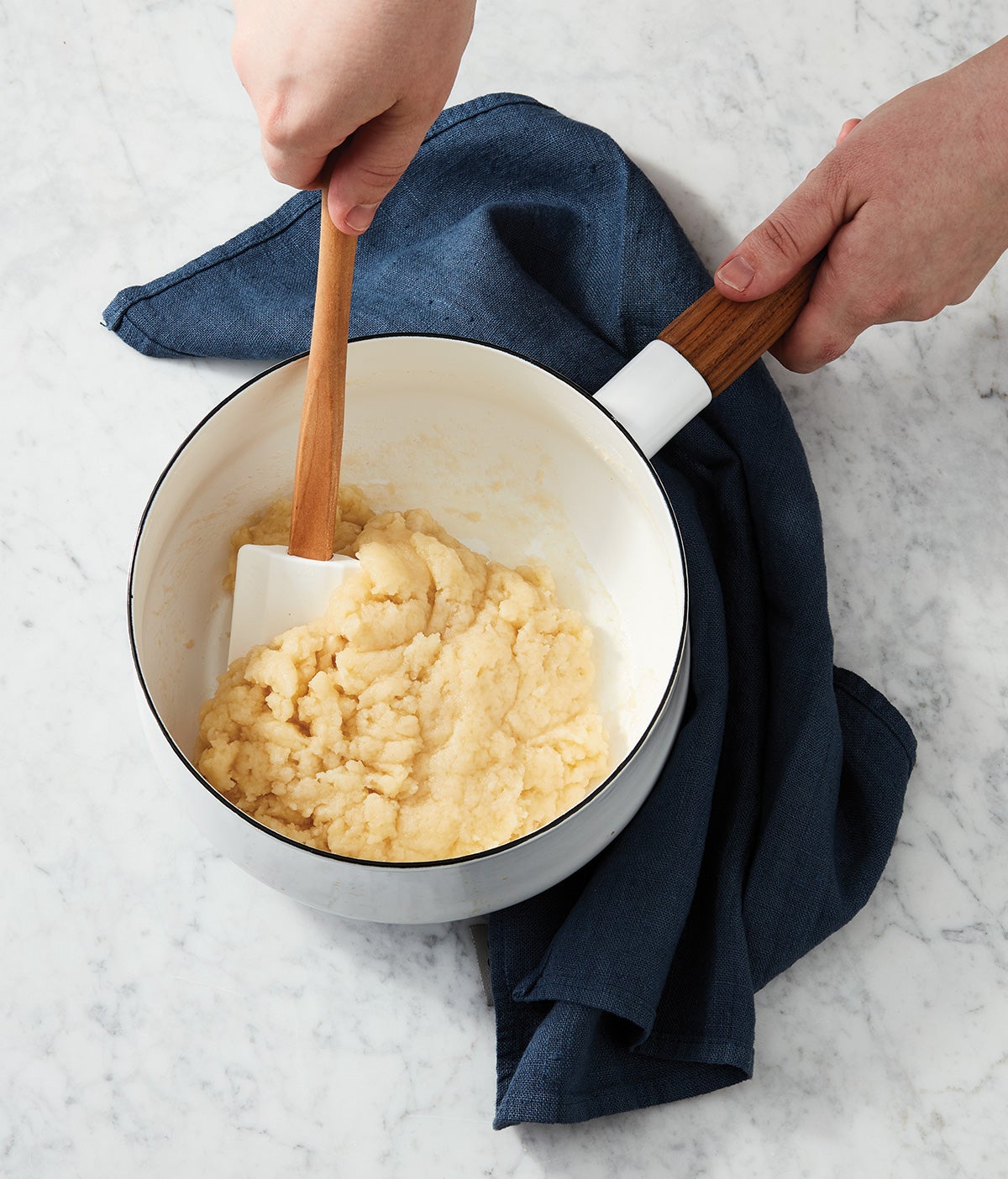 With a spatula or wooden spoon, stir vigorously until the flour absorbs the liquid and forms a ball. If it looks like the photo above, return it to the heat for a minute; keep stirring until the dough pulls away from the pan and leaves a thin film on the bottom of the pot. Remove from the heat and transfer the dough to the bowl of a mixer.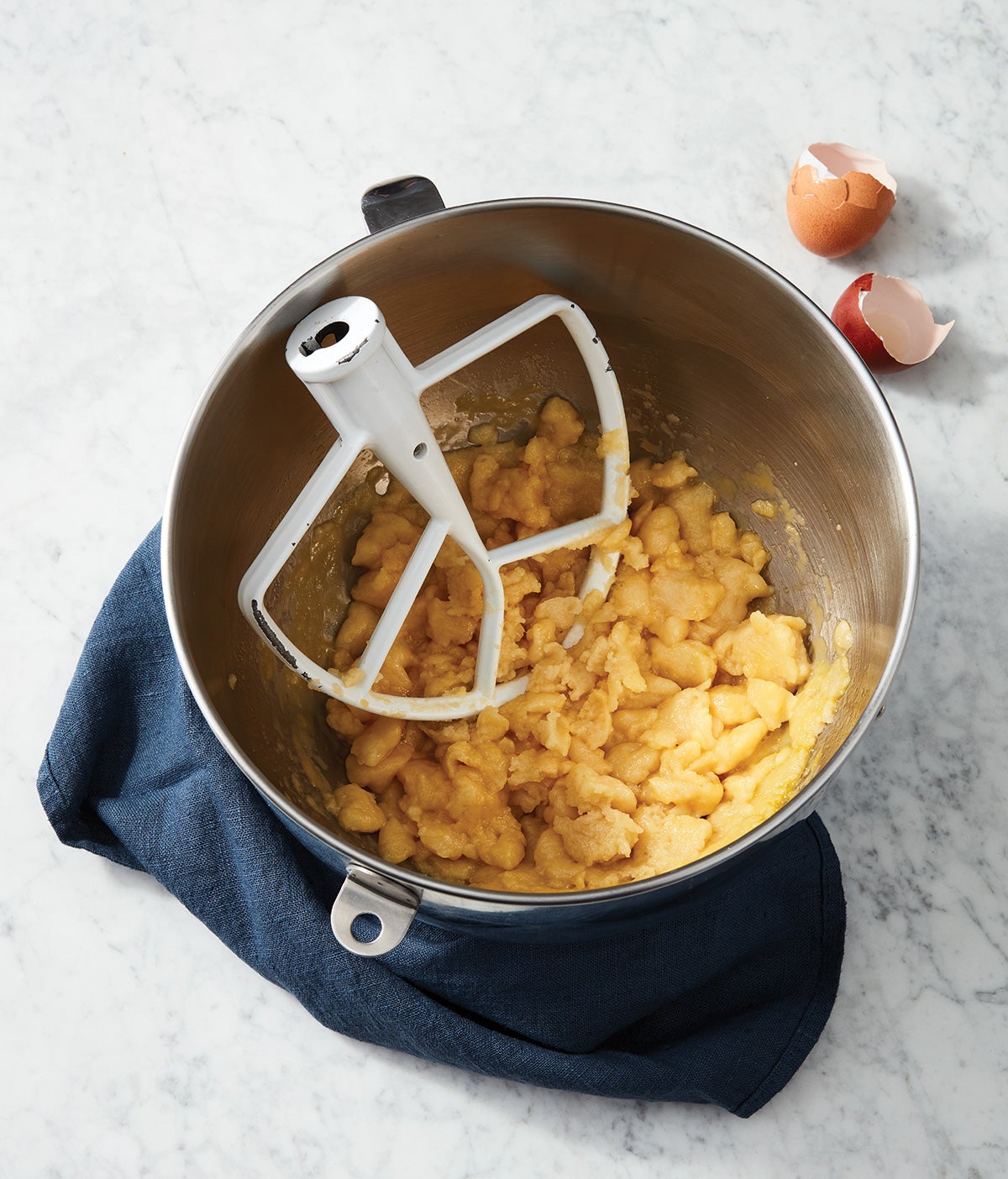 Next you're going to add eggs, so you'll need to let the dough cool for a few minutes (to avoid "scrambling" the eggs). If you're nervous about how long "a few minutes" is, let the dough cool to 125°F. Another benchmark: if you're using eggs cold from the fridge, and you can leave your hand on the side of the bowl without snatching it away for 10 seconds, you're good to go.
Beat in 4 large eggs, one at a time. The dough will look wet and slimy after each egg. Keep beating after each addition until the batter smooths out.
Note: We don't recommend using a vegan egg substitute here; it won't work well.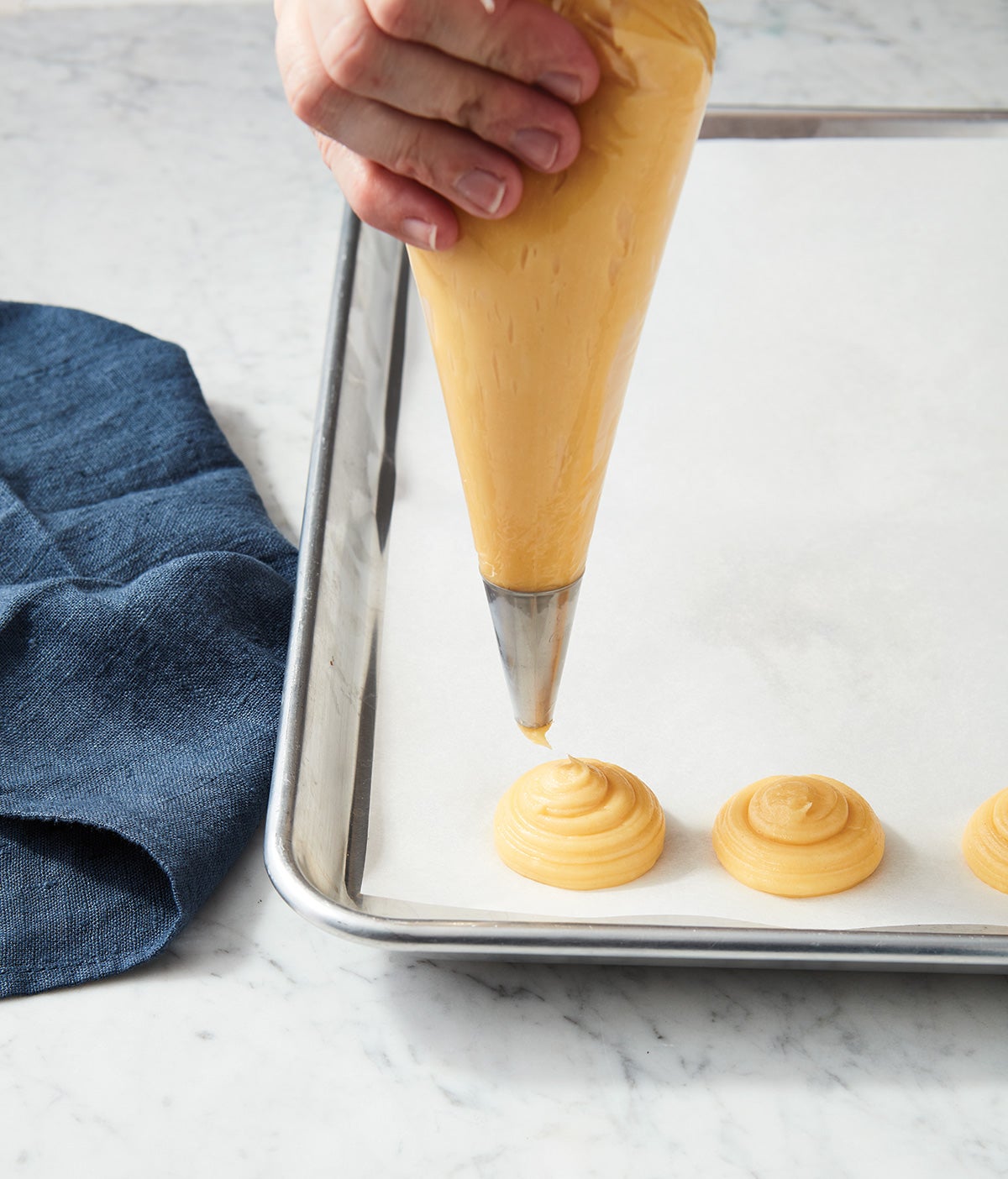 This is how the finished batter should look: soft enough to pipe easily (but not so much that it drips out of the bag) and firm enough to hold its shape when piped.
The dough is baked at a high temperature at first. This turns the liquid in the dough to steam. The steam expands and the pastry doubles in size and becomes hollow.
At this point, the protein in the eggs and flour will coagulate, setting the pastry's shape. Often the oven is turned down and the shells are pierced so any lingering steam can escape. This allows them to dry out and become crisp.
Pâte à choux possibilities
This dough is where delights like cream puffs and éclairs begin. Piped in a circle, split and filled, it becomes a Paris-Brest (pictured at the top of this post), a dessert created to commemorate a famous bicycle race between those two cities.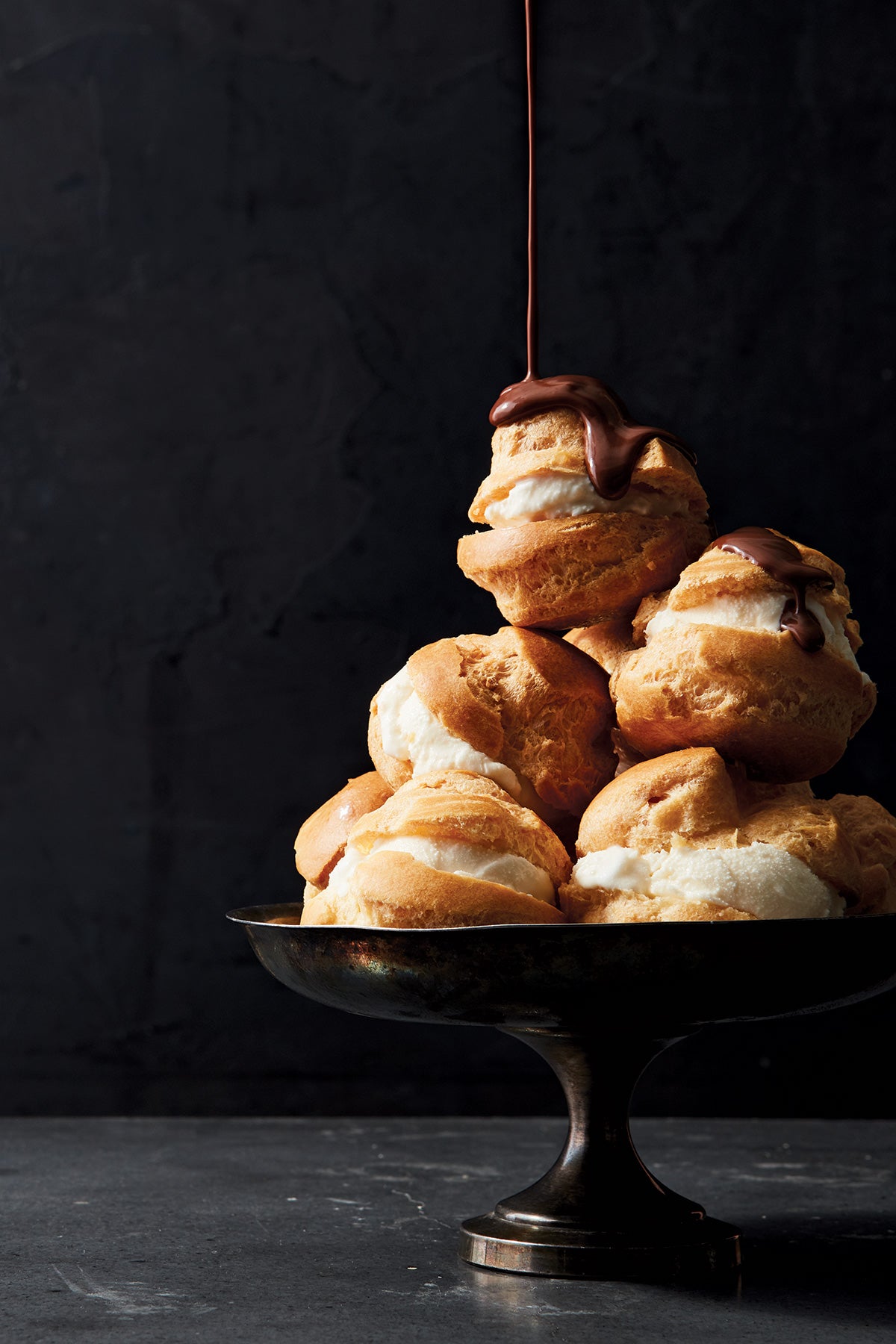 Piped, baked, split, and filled with ice cream, you have Profiteroles, which can be further glorified with a luxurious fudge or caramel sauce.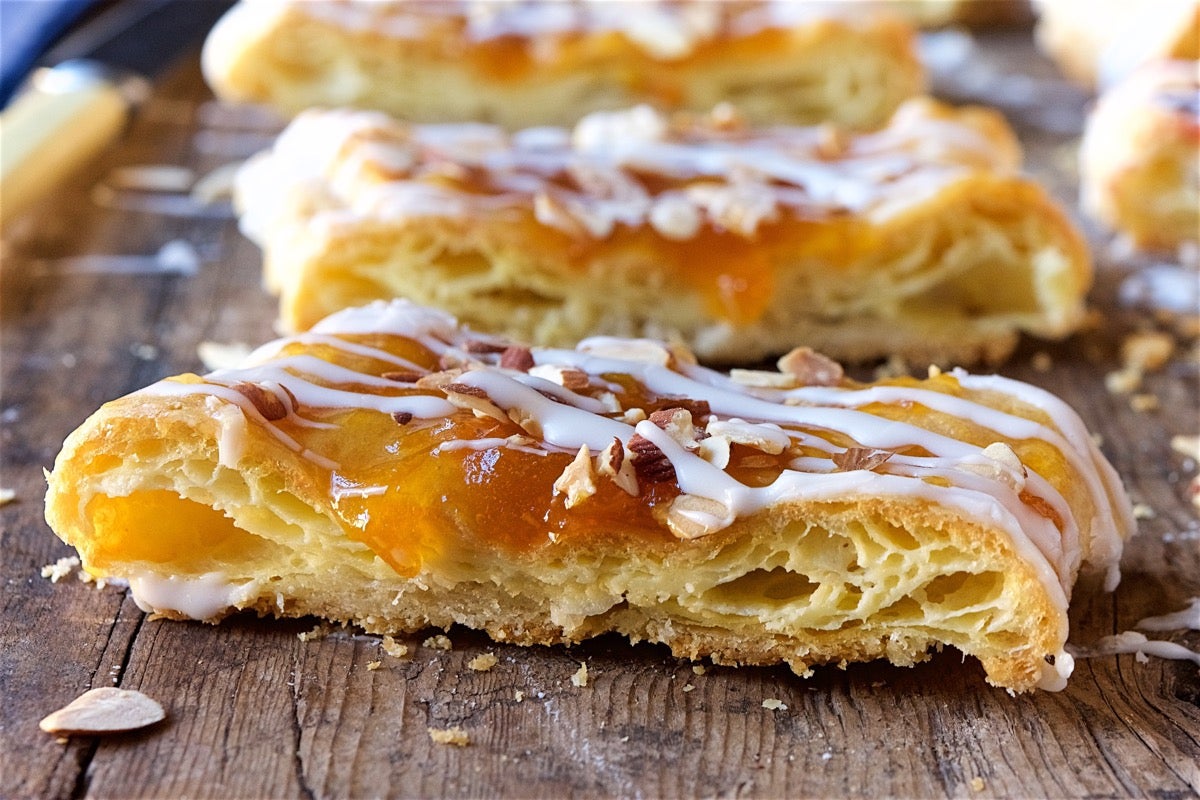 Our beloved Almond Puff Loaf uses pâte à choux to make its airy topping.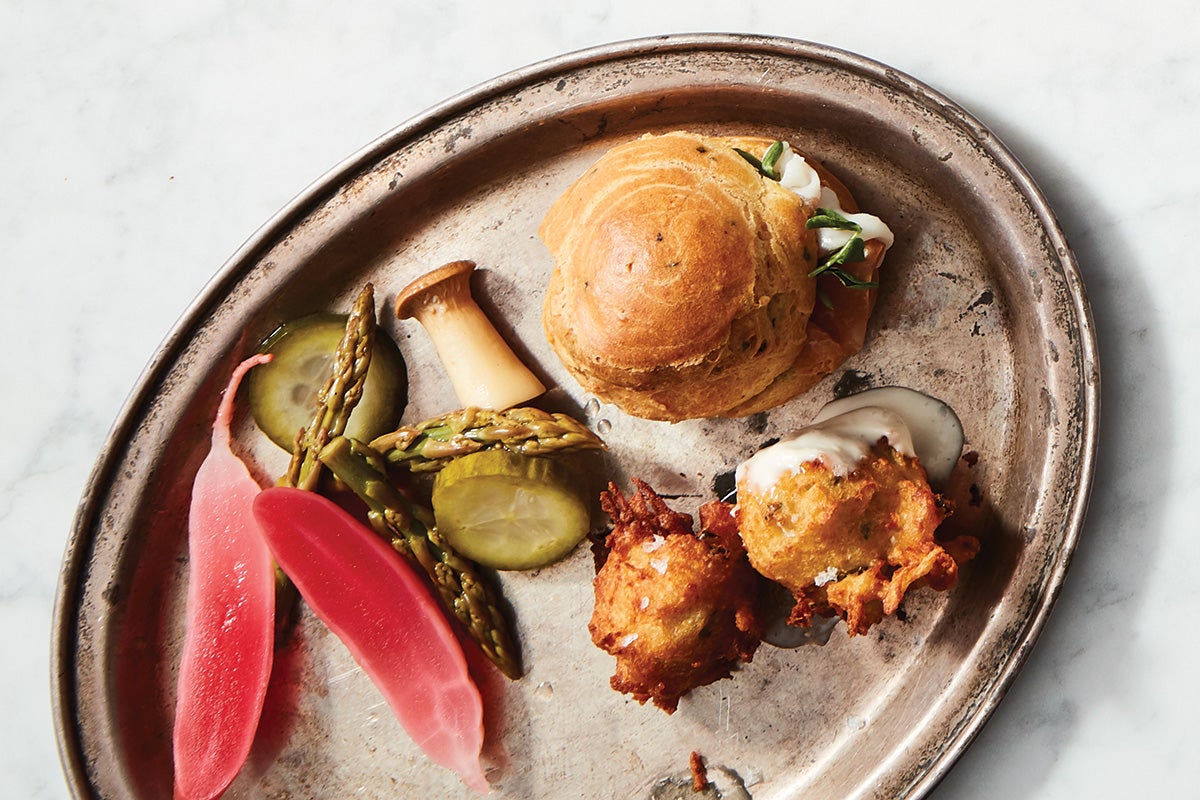 There's a savory side to this dough, as well. Stir in some cheese before baking and you have a simple, elegant appetizer: Parmesan Puffs, or Gougères. And in a true meeting of the sublime and the salt of the earth, you can use pâte à choux to bind grated potatoes to make Crunchy Potato Puffs, our takeoff on a well-loved freezer-case french fry variation.
Once you've mastered this simple technique, the sky's the limit for where you choose to take it.
Curious to learn more about how to perfect this pastry? Take King Arthur's online class Pâte à Choux Pastries with pastry chef Gesine Bullock-Prado. You'll learn and practice in the comfort of your own kitchen and at your own speed.
Jump to Comments