Gingerbread cake, with its comforting warm spices, tender crumb, and deep-gold demeanor, is a welcome sight at many a harvest and holiday celebration. Gingerbread is often billed as "old-fashioned," and deservedly so: a recipe for it exists in George Washington's mother's handwritten 1784 cookbook.
Many of us old-timers grew up with Dromedary gingerbread mix, billed right on the package as the "world's most famous dessert" — a rather overblown assumption, I suspect, but you get the picture. Topped with "whipped cream" sprayed from a can, gingerbread might grace the 1960s dinner table on those lucky nights when Jell-O got pushed aside for something more celebratory.
These days, gingerbread has fallen from its pinnacle and resides in that netherworld of champion dessert used-to-be's. Like date squares, mince pie, and applesauce cake, these once-craved sweets now merit nary a recipe in any self-respecting new cookbook.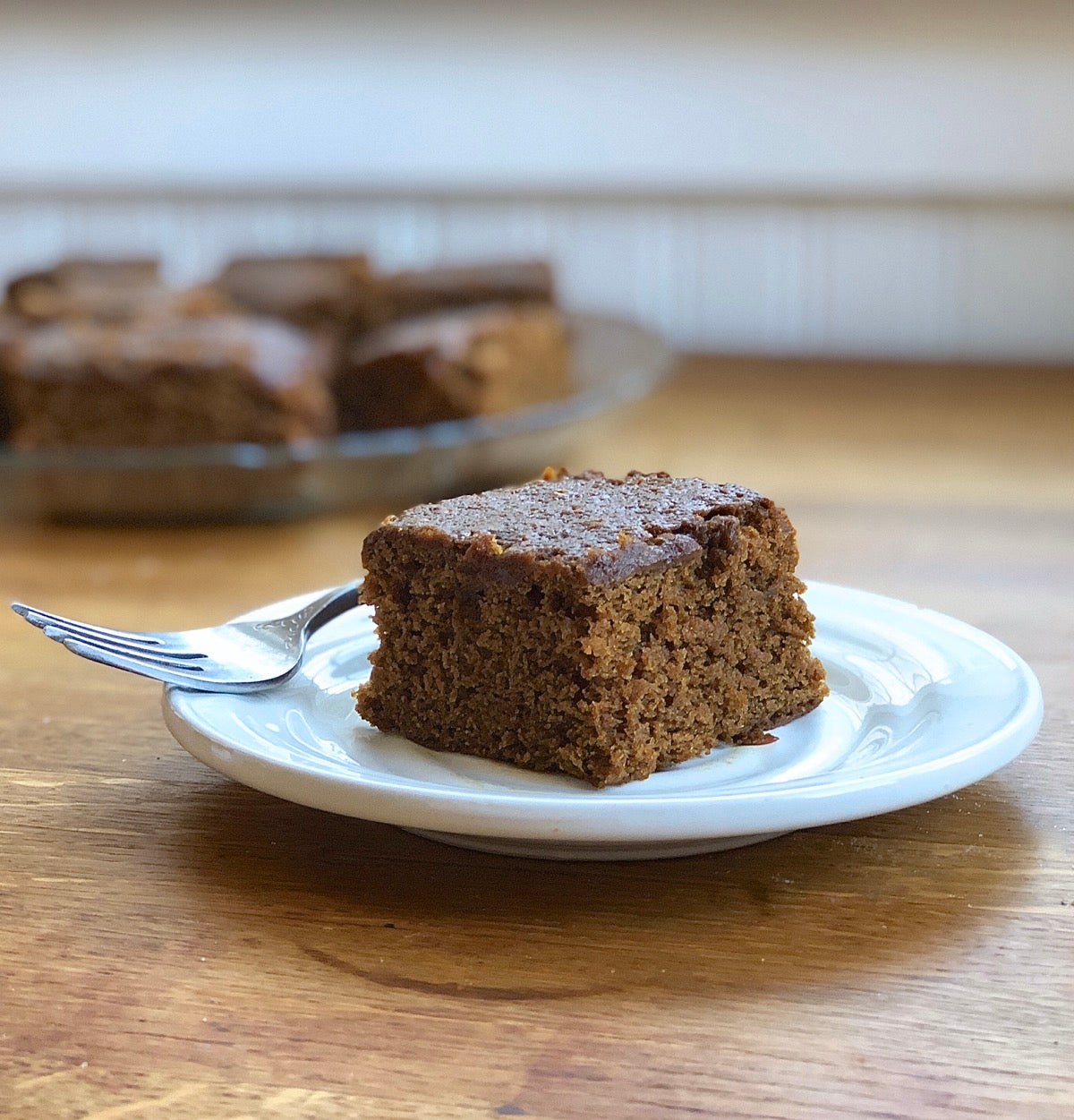 Which is a shame: while not as exciting as Decadent Triple-Layer Chocolate Chili Mousse Cake, there's something to be said for the sheer comfort of gingerbread: it speaks to you in a whisper, not a scream. And sometimes, especially when life gets out of control, a gentle hug from the past is exactly what you're looking for.
Thus this gingerbread recipe. King Arthur is proud to offer cutting-edge "cocktail cakes" and other 21st-century trending desserts on our recipe site, but we happily hold onto centuries-old classics like gingerbread as well. And this particular recipe is a foolproof winner: just stir the ingredients together, pour the batter into a pan, and bake.
No creaming butter, no stacking layers, not even any frosting to fuss with. Gingerbread is easy for everyone to make.
Let's make Gingerbread — including a yummy upside-down variation courtesy of our test kitchen, and cupcakes.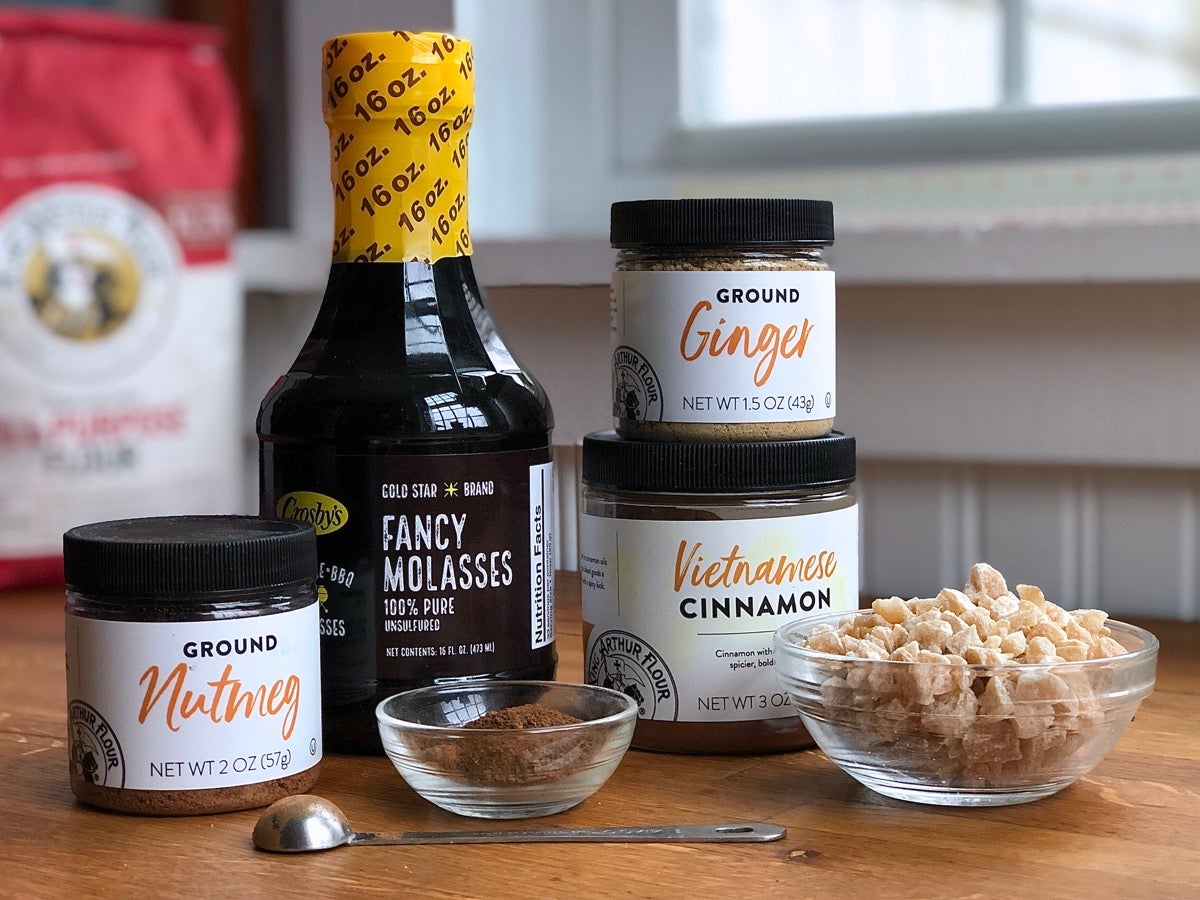 2 cups (241g) King Arthur Unbleached All-Purpose Flour
1/4 cup (50g) granulated sugar
1 teaspoon baking soda
1/2 teaspoon salt
1 1/2 teaspoons ginger
1 teaspoon cinnamon
1/4 teaspoon each cloves and nutmeg
8 tablespoons (113g) unsalted butter, melted
3/4 cup (255g) standard unsulphured molasses (not blackstrap)
1/4 cup (57g) water or brewed/cooled coffee
1 large egg
1 cup (227g) buttermilk*
1/2 cup (92g) diced crystallized ginger, optional, for added ginger flavor
*No buttermilk on hand? Substitute 2/3 cup milk + 1/3 cup plain Greek yogurt. For other substitution options, see How to substitute for buttermilk.
Preheat the oven to 350°F. Grease and flour a 9" square pan.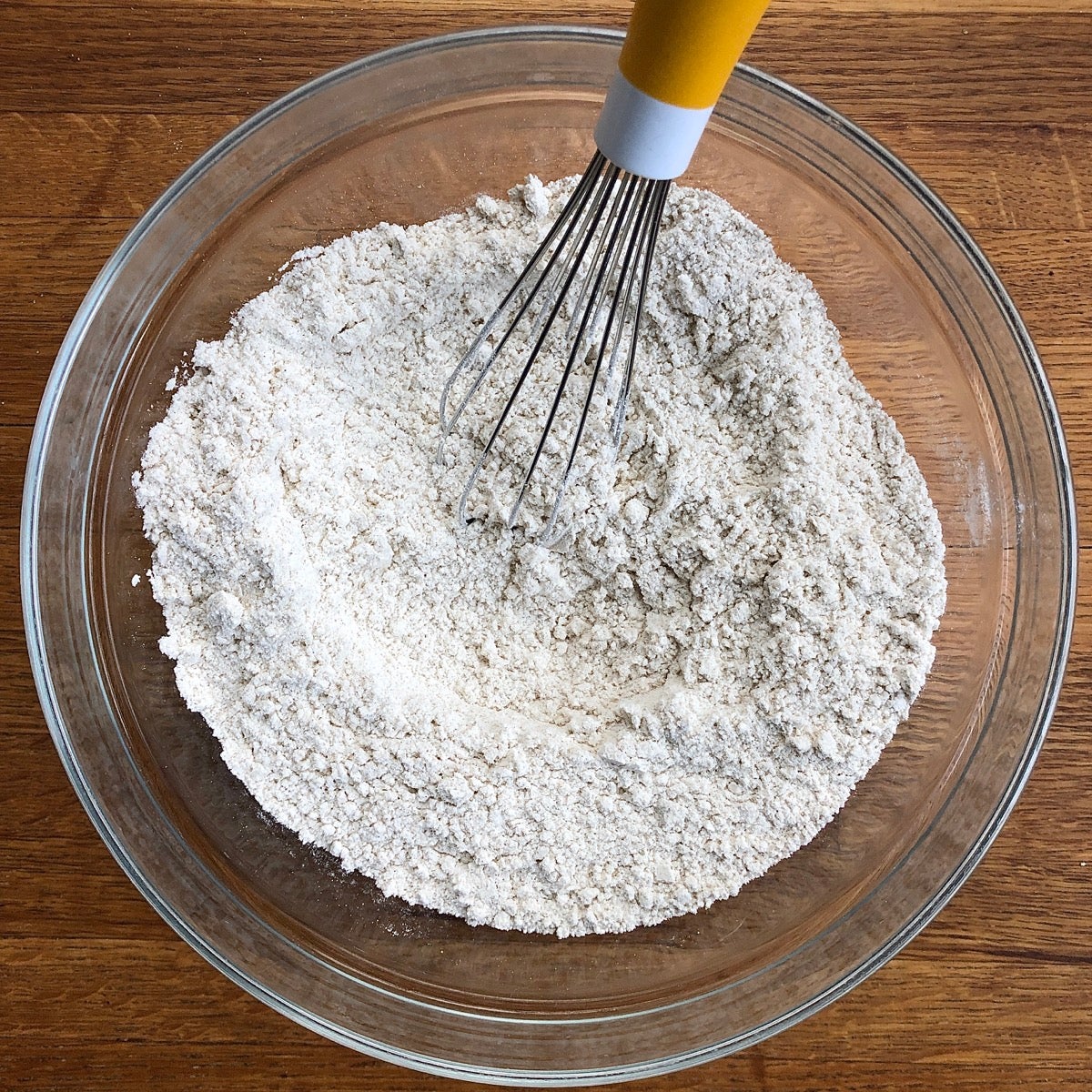 In a large mixing bowl, whisk together the flour, sugar, baking soda, salt, ginger, cinnamon, cloves, and nutmeg.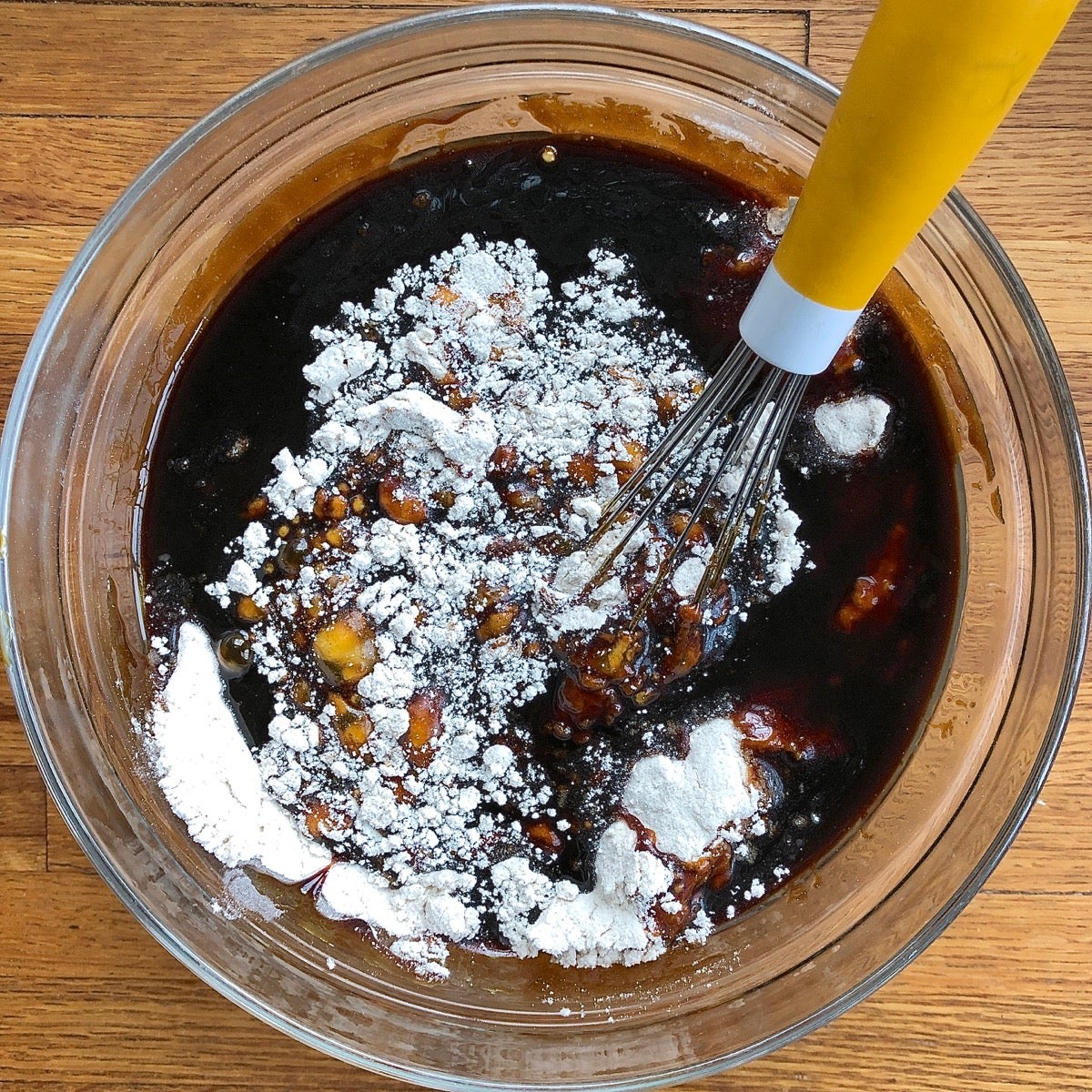 Melt the butter in a heatproof measuring cup. Add the molasses to the cup, and pour into the dry ingredients in the bowl, mixing to moisten.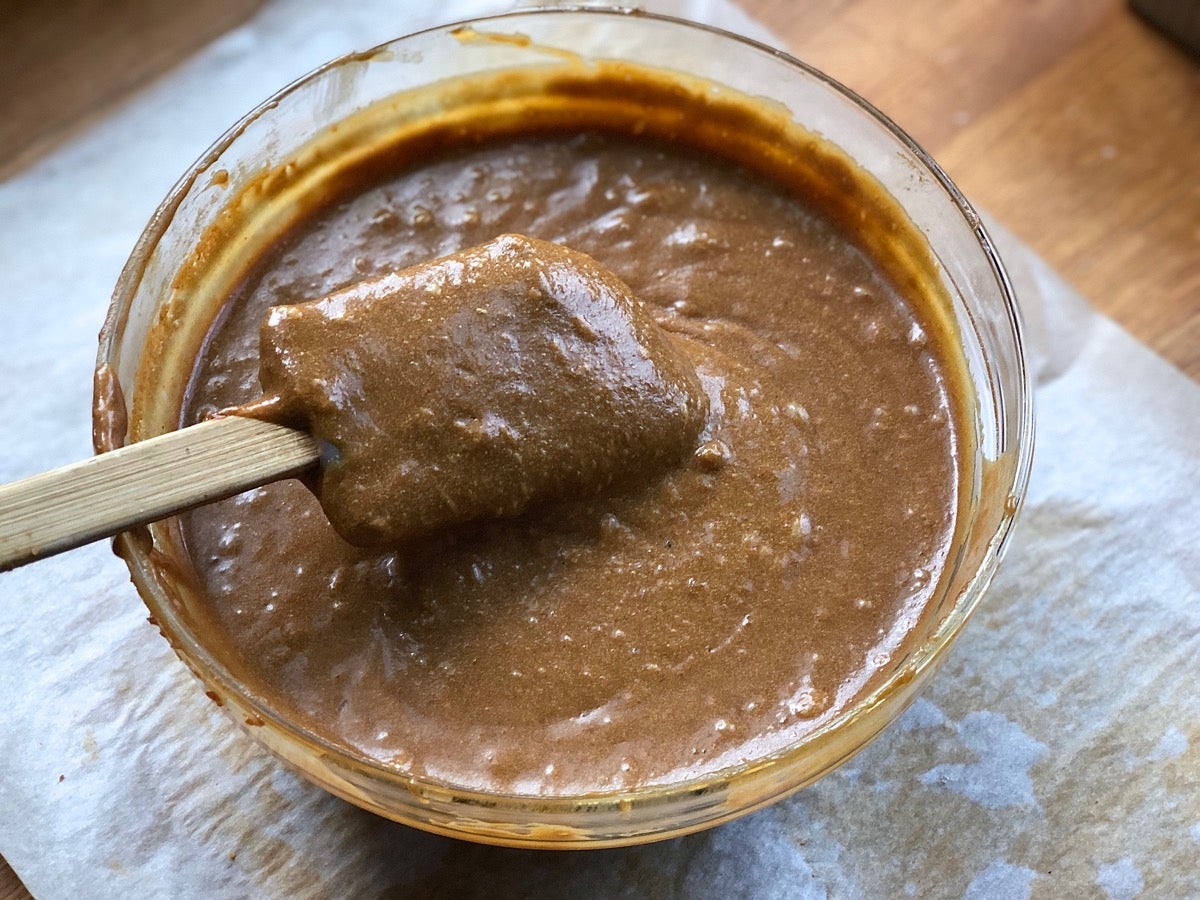 Add the water or coffee, stirring to combine. Whisk together the egg and buttermilk; stir into the batter. Mix in the crystallized ginger, if you're using it.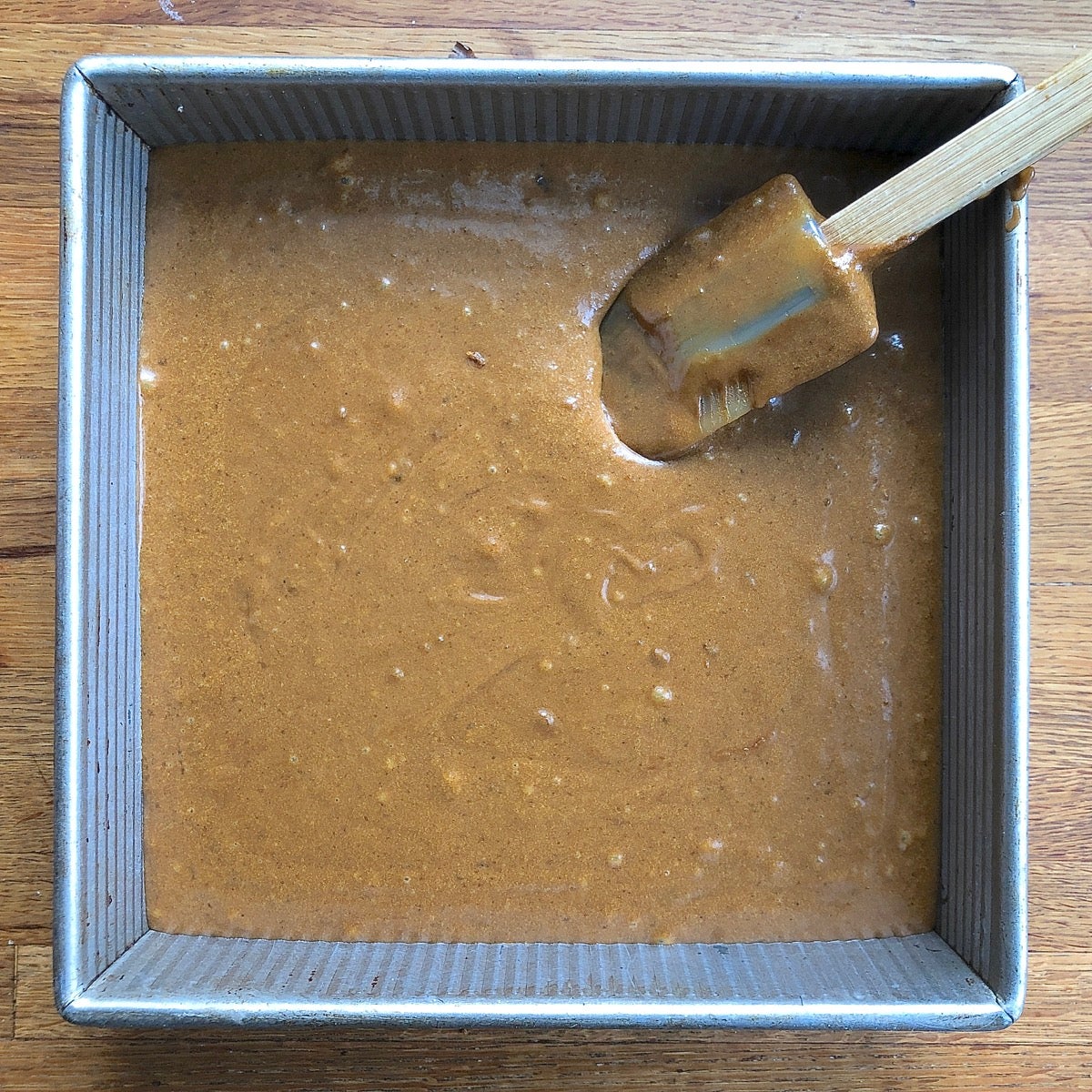 Pour the batter into the prepared pan.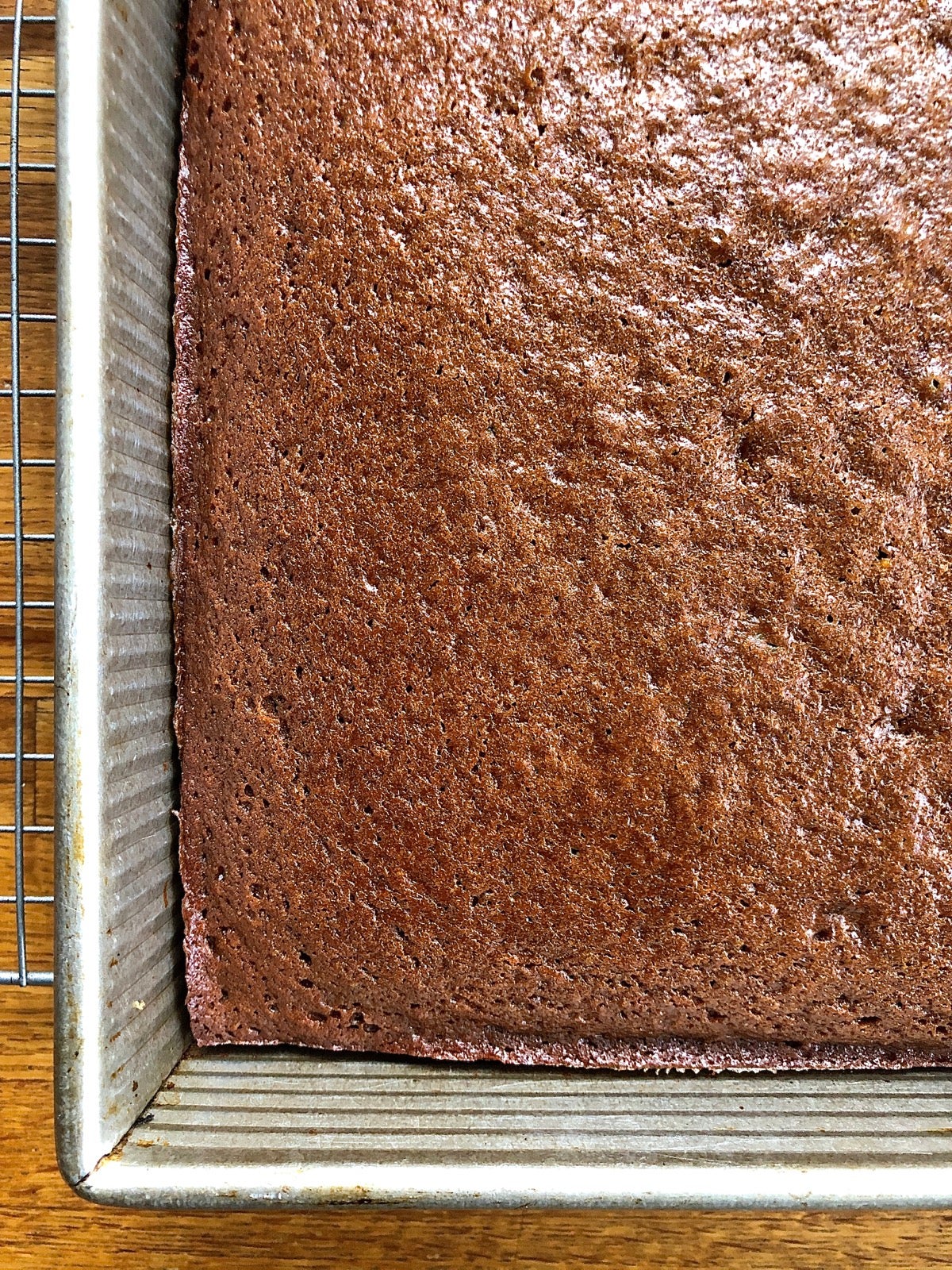 Bake the gingerbread for 30 to 35 minutes, until the cake just begins to pull away from the edge of the pan and a toothpick inserted into the center comes out clean, or with a few moist crumbs clinging to it.
Remove the cake from the oven and let it cool right in the pan. To avoid potential gumminess, wait about 15 minutes before slicing.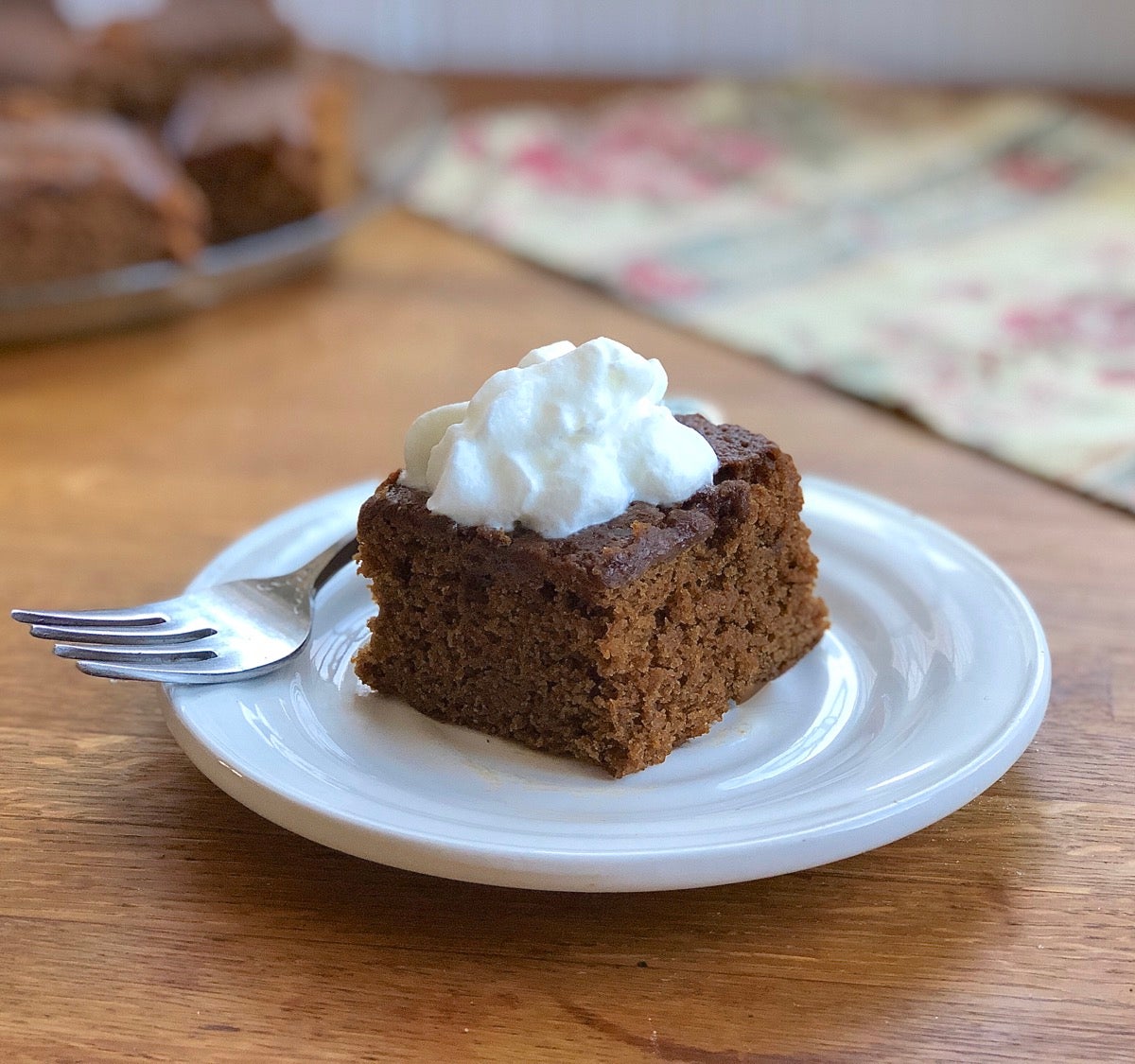 Serve naked, as is; or sprinkled with confectioners' sugar, or topped with whipped cream or ice cream.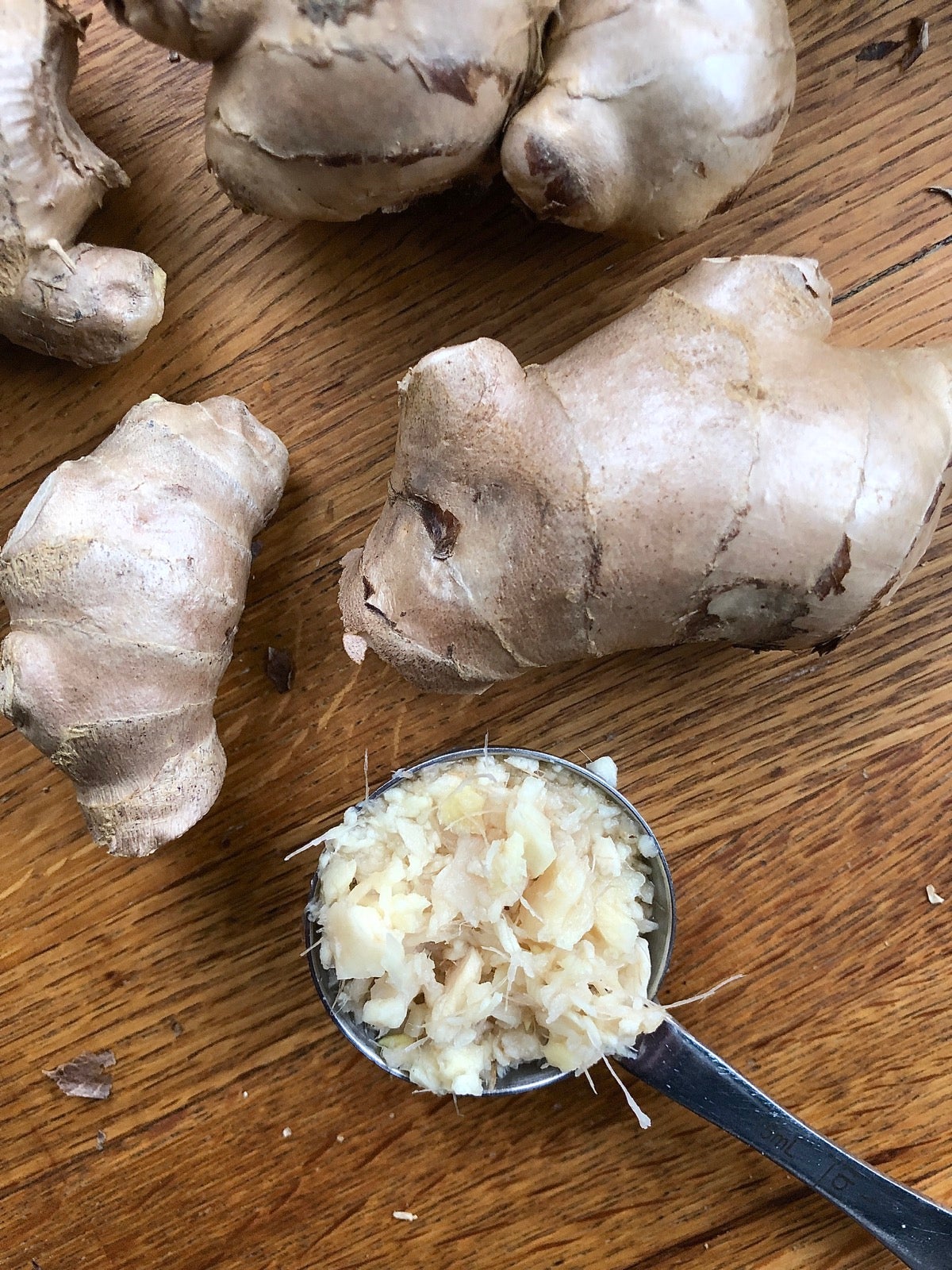 Ramp up the spiciness
For even more moistness and zing, use grated fresh ginger (3 tablespoons) in place of dried ginger. Mix the grated ginger in with the butter and molasses before adding it to the recipe. For a shot of heat, stir up to 1/2 teaspoon ground black pepper into the dry ingredients.
Make it an upside-down cake
For apple upside-down gingerbread: Prepare the cake batter up to the point it's ready to be poured into the pan. Whisk together 1/3 cup granulated sugar, 1 teaspoon cinnamon, and 1/2 teaspoon ginger.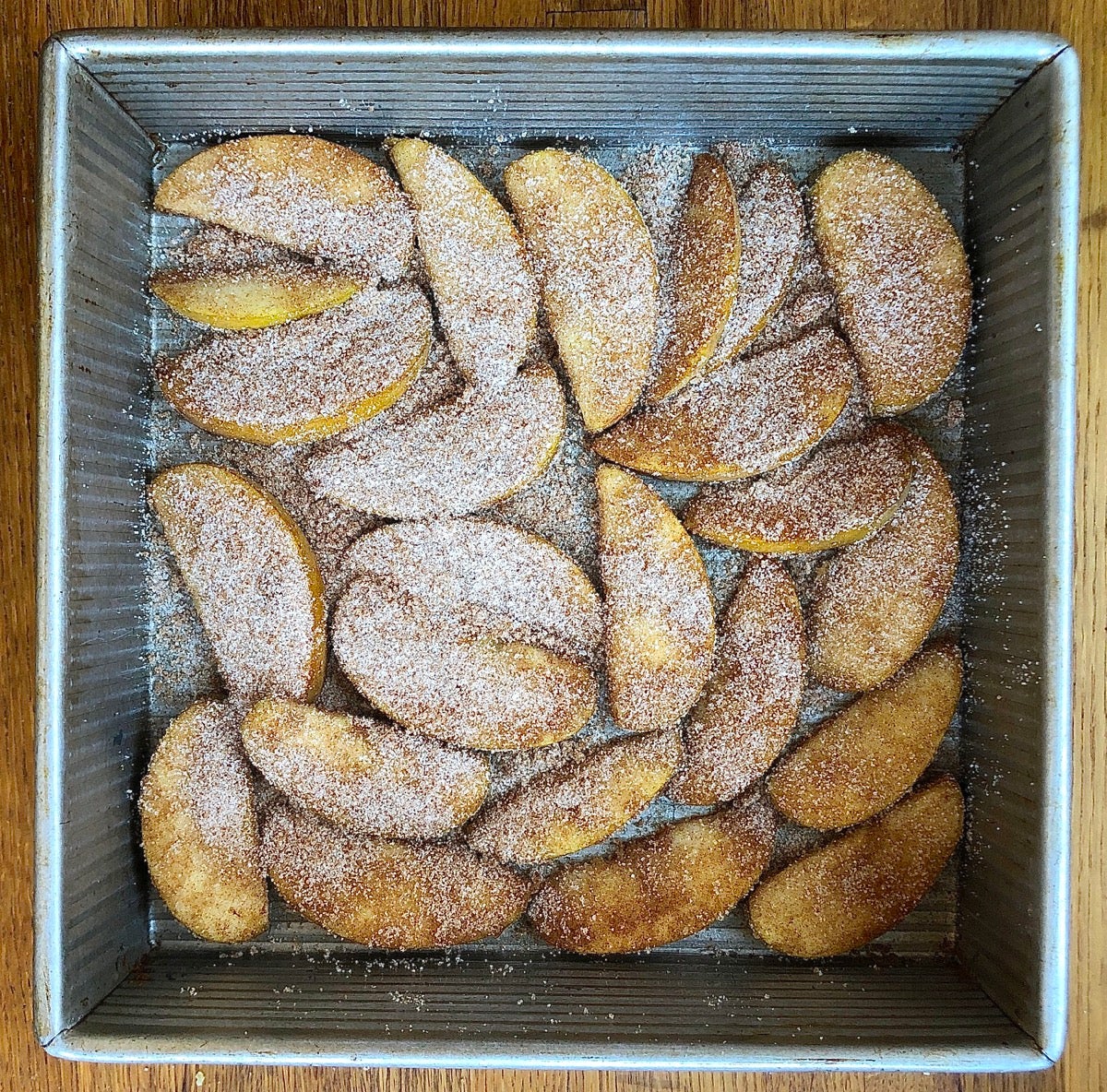 Peel (or not) and slice 1 large or 2 medium firm cooking apples, such as Granny Smith or Cortland. Dredge them in the sugar/spice mixture and place them artfully in the prepared pan. Sprinkle on any leftover sugar/spice mixture.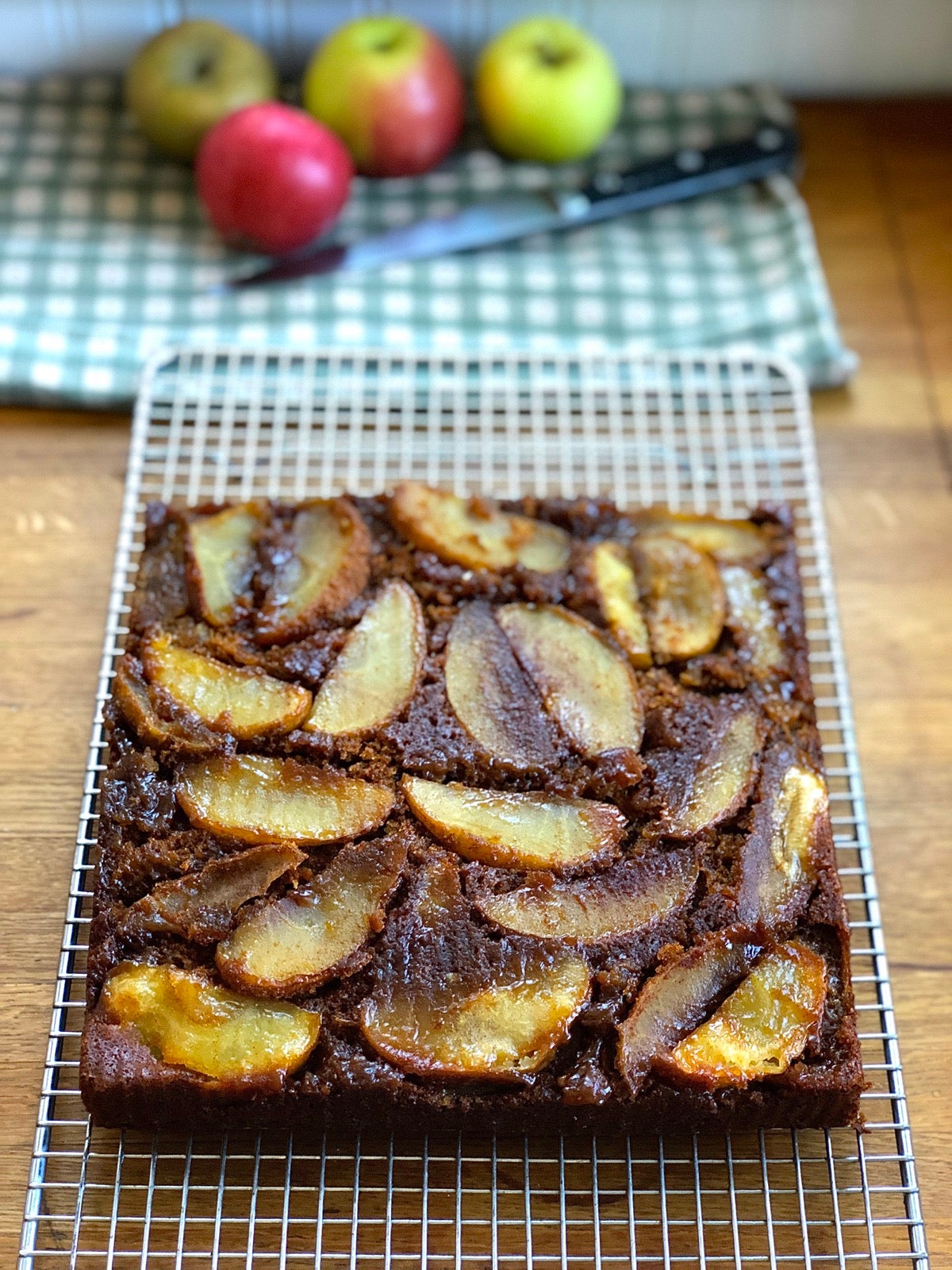 Pour the batter over the apples and bake the cake as directed. Remove the cake from the oven, wait 1 minute, then invert it onto a rack. Lift the pan off and place any apples that remain in the pan back atop the cake.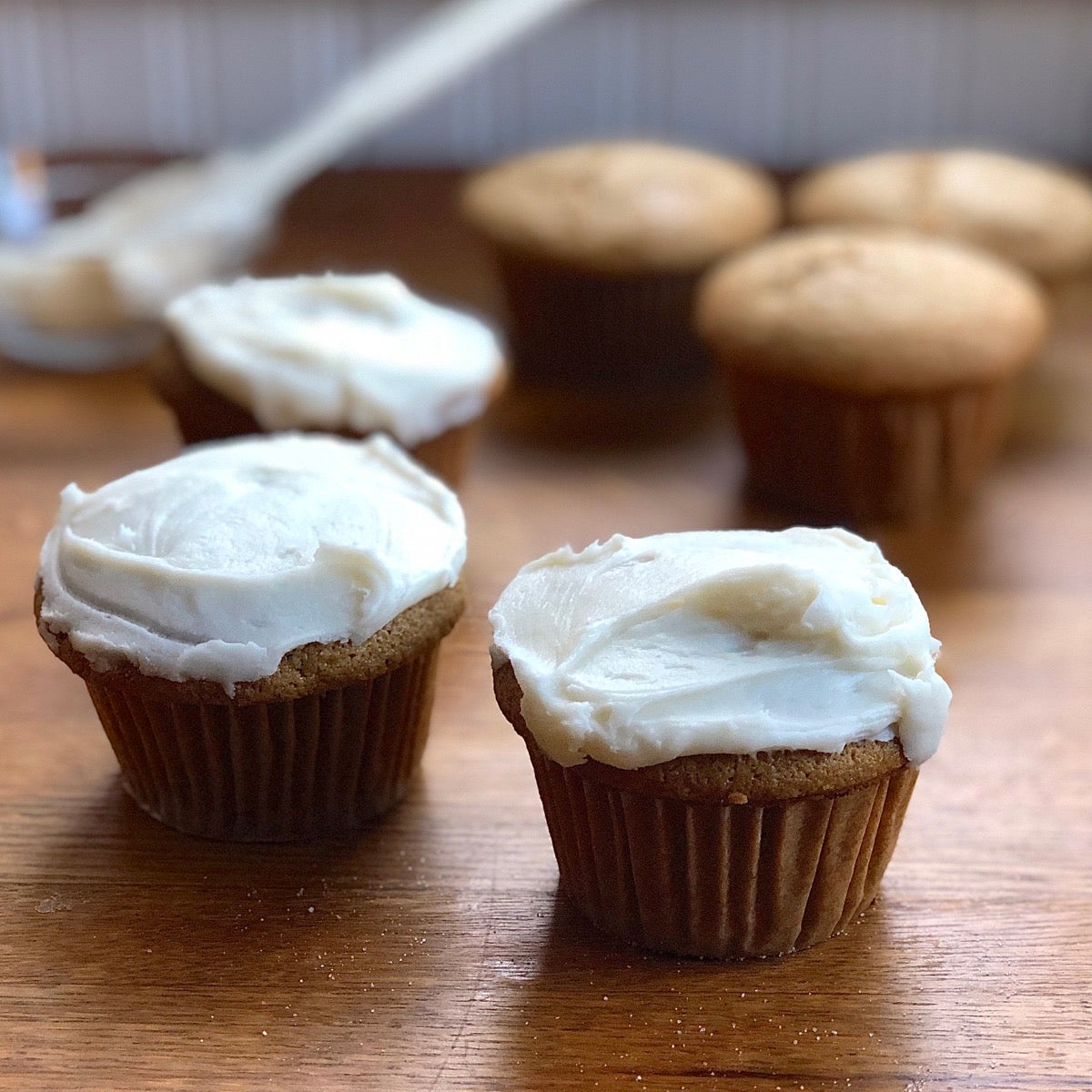 Make a dozen cupcakes
Easy as pie! A piece of cake! While neither the analogy nor metaphor is an exact representation, you understand what I'm saying here. Making gingerbread cupcakes is as simple as pouring the cake batter into the lightly greased or paper-lined wells of a standard 12-cup muffin pan.
One caveat: The amount of batter here just barely fits into a 12-cup muffin pan, even when you fill the cups nearly full. If your muffin pan's cups aren't 2 3/4" wide at the top and at least 1 1/4" deep, give in and make 13 or 14 cupcakes rather than trying to cram all the batter into one bake. 
Surprisingly, the cupcakes bake for the same amount of time as the 9" square cake: 30 to 35 minutes. Remove them from the oven when they pass the doneness test — no raw batter, as revealed by a toothpick inserted into the center. Transfer the hot cupcakes to a cooling rack as soon as you're able, so their bottoms don't steam and become soggy.
Elevate your cupcakes' potentially plain-Jane appearance (and add flavor) with a swirl of frosting. Some of our favorite candidates: Cream Cheese Frosting (a half recipe should do you); Easy Vanilla Frosting, or even Super-Simple Chocolate Frosting, for those of you who can never have enough chocolate. Again, a half-recipe is plenty for a dozen cupcakes.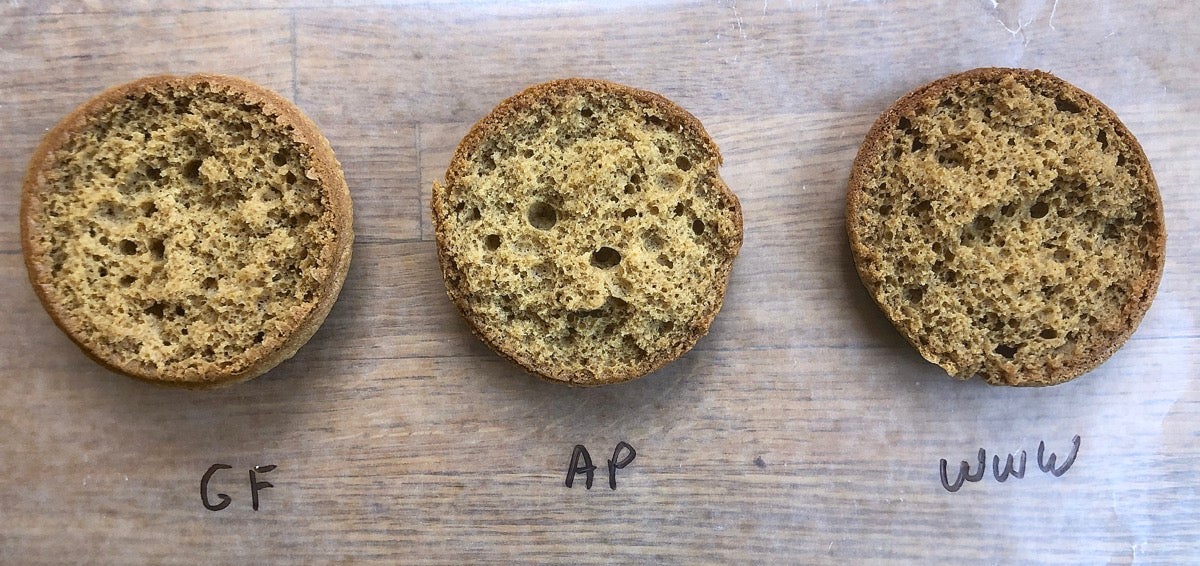 Make gingerbread gluten-free — or whole wheat  
It's easy to transform this gingerbread cake recipe into one that's gluten-free or whole grain simply by swapping out the flour — though if you're looking for a strictly gluten-free version, make sure all of your ingredients (not just the flour) are certified gluten-free. 
For gluten-free cake or cupcakes: Substitute Gluten-Free Measure for Measure Flour for the all-purpose flour in the recipe, using the same amount (by either volume or weight).
For whole grain cake or cupcakes: Substitute 2 cups (227g) King Arthur White Whole Wheat Flour for the all-purpose flour in the recipe.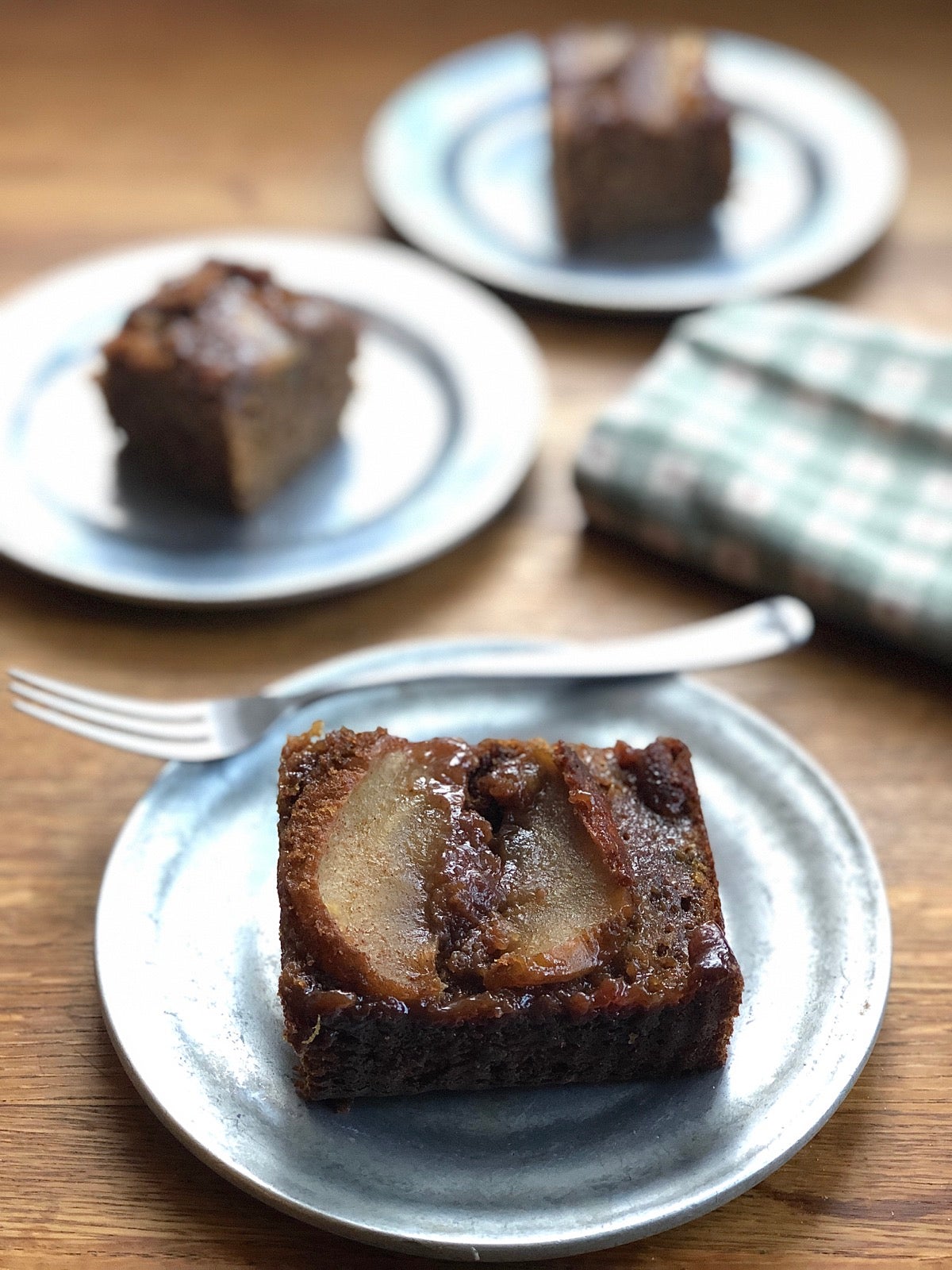 Gingerbread a has-been? Perish the thought! Thanks to its simple goodness, this well-loved 18th-century classic should continue to stand the test of time well into the 21st century.
Can't get enough of that bright ginger flavor? Discover all kinds of ginger cake, cookie, and bread recipes by searching "ginger" on our recipe site. 
Jump to Comments