Do you have a certain food that floods you with childhood memories? No, not the canned peas your mom insisted you eat before you could leave the table. I mean a positive food experience — like your aunt's special chocolate layer cake, or the peanut butter cookies enjoyed with your best friend after school.
My grandma wasn't a baker, but she was, bar none, the best turkey sandwich maker ever. At the end of our annual Thanksgiving visit, she'd spread butter on flour-dusted soft white "snowflake" rolls from the supermarket down the street, then fill them with thick chunks of leftover turkey sprinkled with salt and coarse black pepper. A smear of mayo on top was the final touch.
Ever since those beloved childhood sandwiches I've had a special place in my heart for soft dinner rolls. Many people crave crusty baguettes or a chewy sourdough loaf. Some favor whole grain loaves packed with seeds and nuts. Me? I'll take a tender white roll any day. And if it's a potato roll — not only soft but moist, and with a hint of mashed potato flavor — so much the better.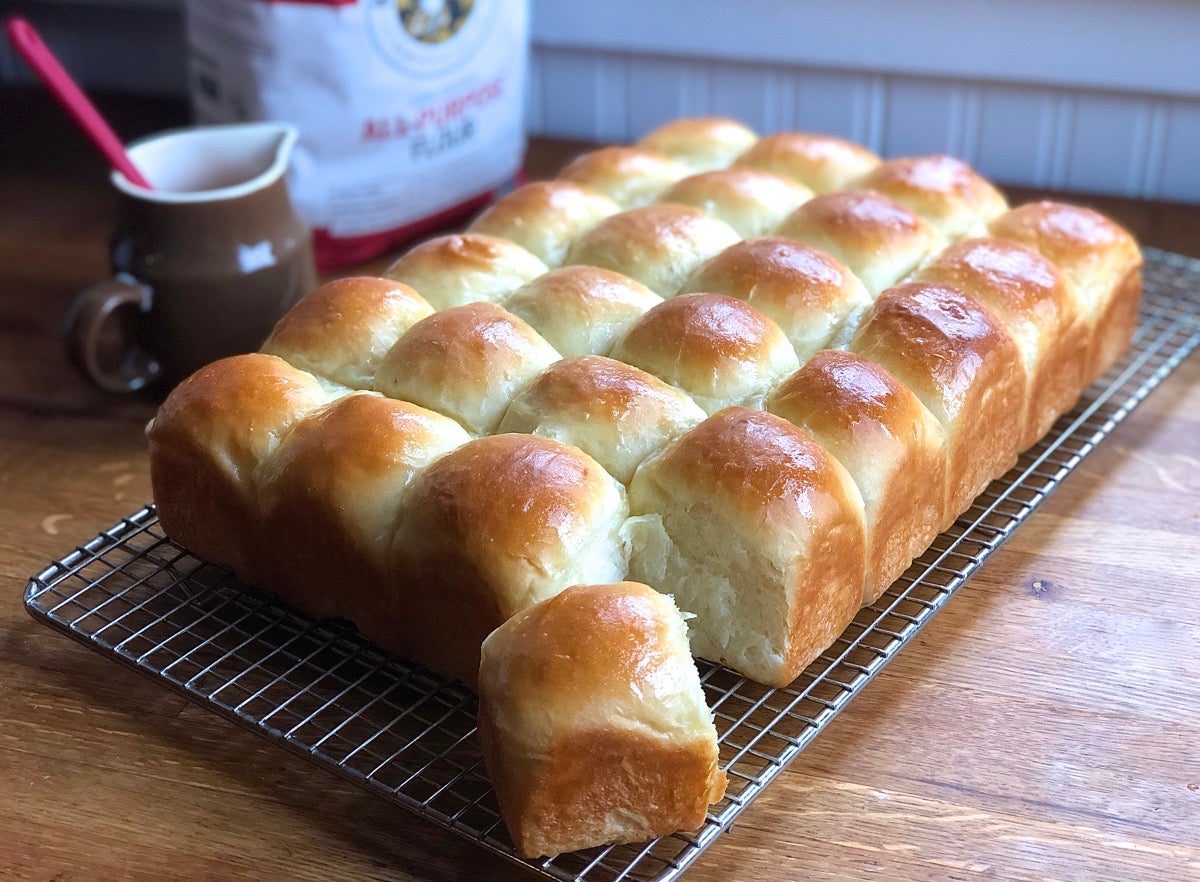 Amish Dinner Rolls are the quintessential potato roll. Golden from both butter and eggs, barely hinting at sweetness, and moist and flavorful thanks to the potato, they're a wonderful complement to any meal.
While these rolls are welcome at all times of the year, I implore you: when Thanksgiving rolls around, make and enjoy Amish Dinner Rolls hot from the oven. Next day, go cold turkey (with mayo). You're welcome.
Usually recipe directions take you step by step through the process. Beware, readers — I'm going to wander a bit here, but it's all to ensure that you end up with the very best rolls possible.
How to make Amish Dinner Rolls
Here are the ingredients you'll need. It's fine to use leftover mashed potatoes; just be sure, if they're heavily salted, to cut back on the salt in the recipe a bit.
*Starchy russet (baking) potatoes (rather than waxy boiling potatoes, e.g., baby red or Yukon Gold) are best for this recipe. A medium-to-large russet potato will yield 227g of mashed potato. 
The instructions for this recipe start out, "Mix and knead all of the ingredients together — by hand, mixer, or bread machine set on the dough cycle — to make a smooth, soft dough."
Let me elaborate on this, as there are a couple of paths you can take.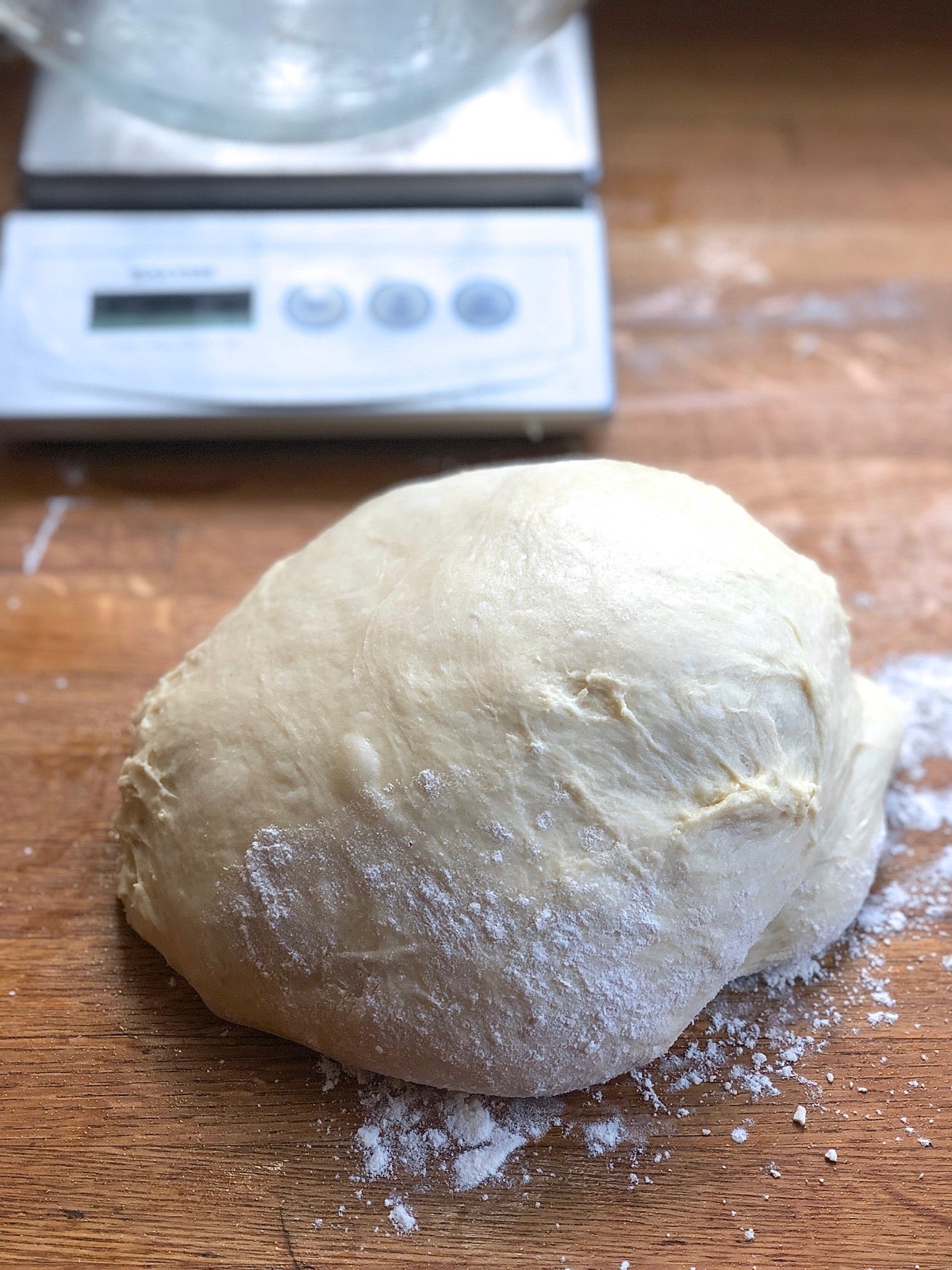 Choose your method
First, you can do exactly what the directions say: gather all of your ingredients, put them in a bowl, mix, and then knead into a soft (very soft) dough. Or go the bread machine route: place everything into the bucket, program for dough or manual, and press start. To avoid lumps in your finished rolls, make sure your mashed potatoes are very smooth. If you're using leftover mashed potatoes and they're a bit lumpy, either warm them gently and mash until smooth, or purée them with a bit of the liquid in the recipe before using.  
Second, you can deviate from the directions slightly and do what I do: save a couple of steps and in the process create a lovely, smooth roll. 
Get out your digital scale (if you don't have a scale, follow the recipe as originally written). Take one medium-to-large russet potato and weigh it; so long as it weighs at least 230g or so, you're good to go. Peel the potato, cut it in chunks, and put the chunks into a saucepan. Add enough water to cover, and simmer until the potato's easily pierced with a fork.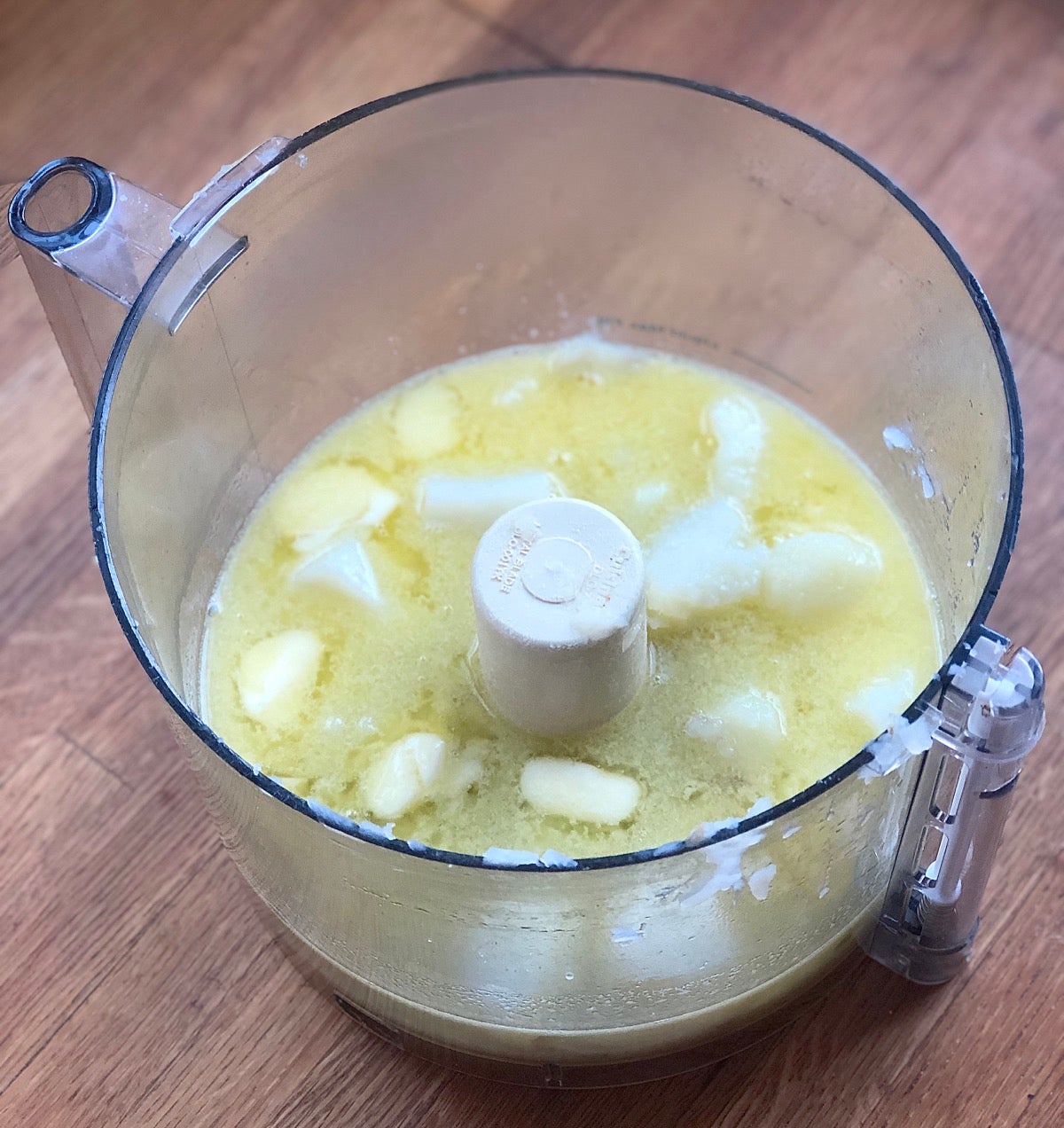 While the potato's boiling, put the sugar, salt, and butter into the bowl of a food processor. When the potato's soft, drain it (saving the water), and weigh out 213g potato. Toss the potato into the processor bowl, followed by 170g (3/4 cup) of the hot potato water. The water is full of sloughed-off starch; why discard it? After all, potato starch is what makes these rolls moist and prolongs their shelf life.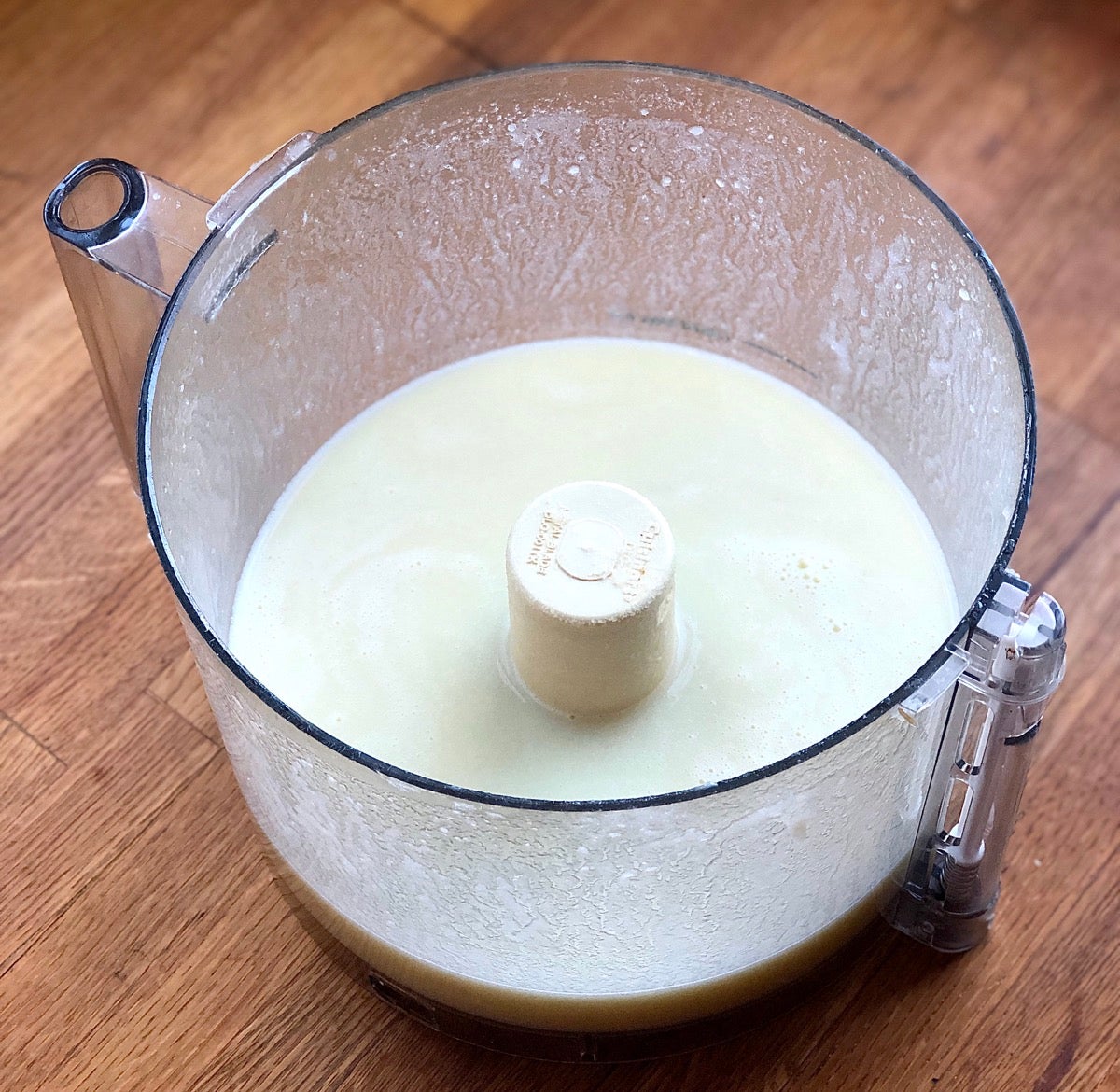 Process everything until smooth and lump-free, then head back to your recipe and continue with it as written.
Why do I prefer this method to simply mixing all of the ingredients together, as directed? First, I don't have to mash the potato separately, potentially ending up with lumps that will then mar my perfectly soft and smooth rolls. By blending the potato in its own water, I ensure a perfectly smooth slurry that's easily mixed with the other ingredients.
Also, adding the butter, sugar, and salt to that same hot mixture melts and dissolves all three. Again, very easy to mix with the flour: no hard lumps of cold butter.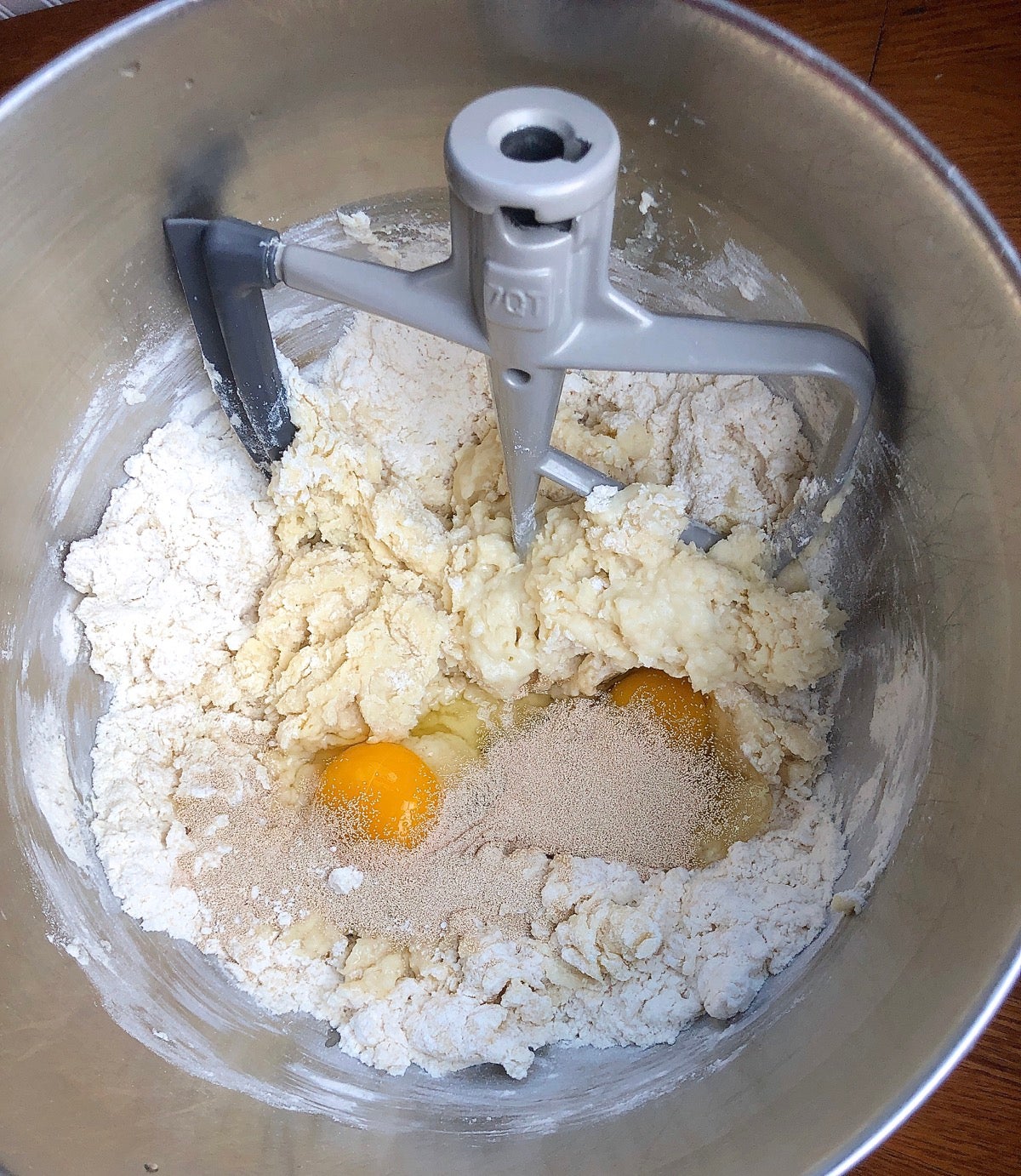 Mix and knead
Take your slurry and pour it into your mixer bowl. Add the flour and mix very briefly, just to cool things down a bit. Add the eggs and yeast.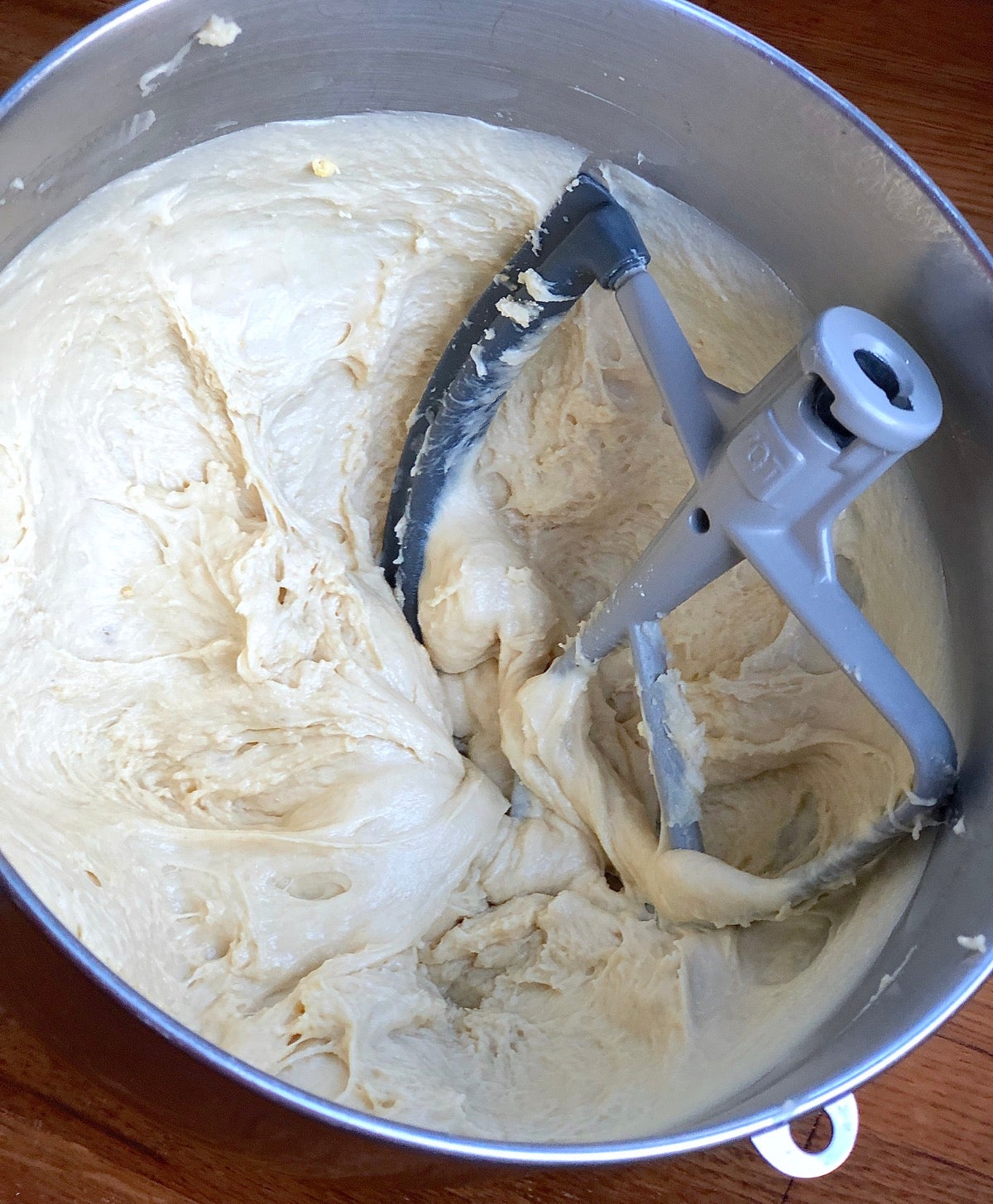 Beat at medium-high speed, using the beater blade, for 3 minutes. This dough is quite soft; beating for several minutes helps to turn it from a sticky mess into a stretchy … mess. Well, at least the gluten is developing!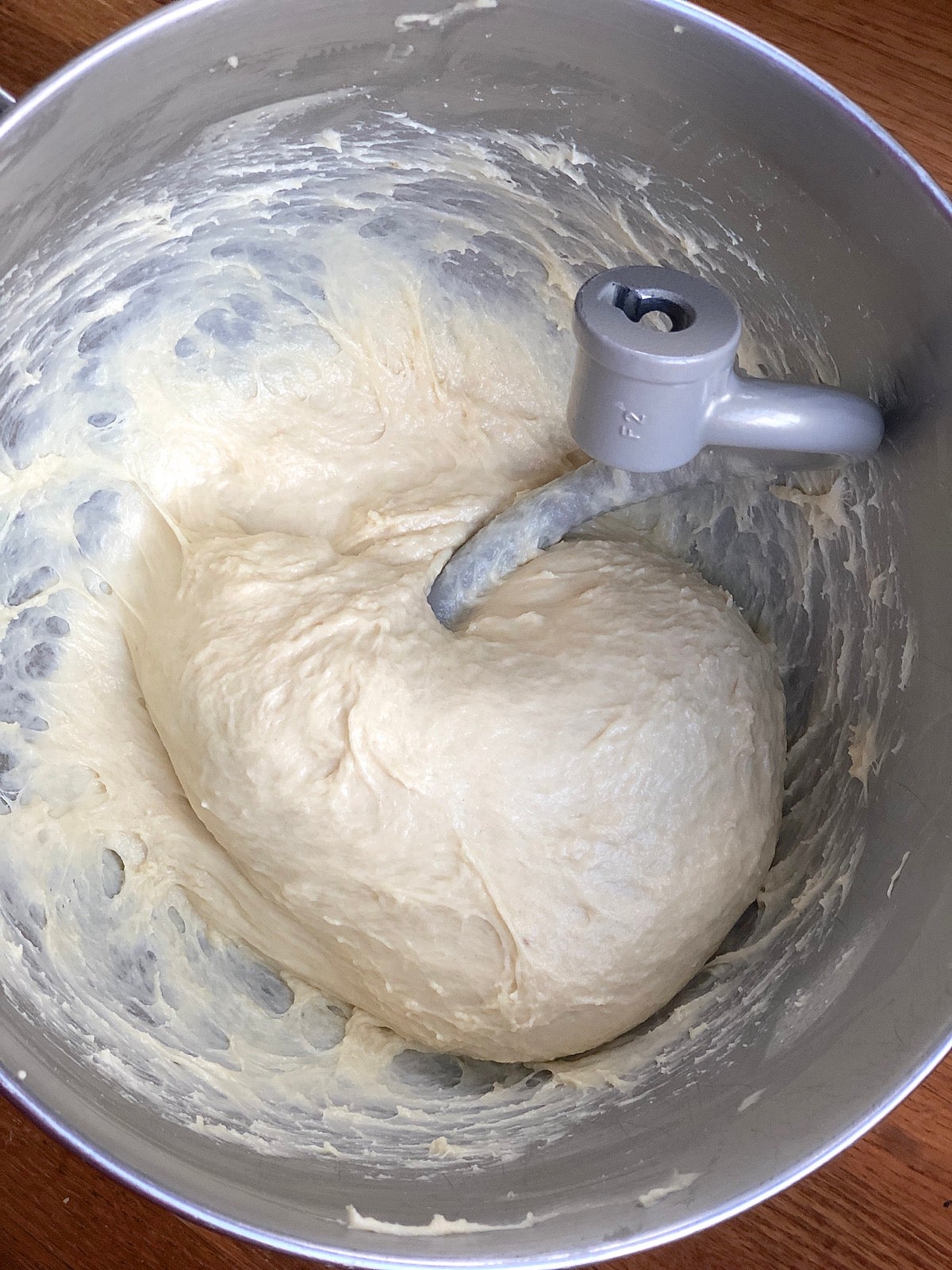 Switch to the dough hook and give the dough another 4 minutes, again at medium-high speed. At this point the dough will still be sticky; it won't form a ball. But that's OK; as it rises, the gluten will continue to develop and the dough will gain some body and lose some (though not all) of its stickiness.
Now sticky dough can be annoying to work with, it's true. But don't add flour to your dough just to make it behave. The drier the dough, the less it'll rise and the drier and harder your rolls will be. A sticky dough — one that perhaps sticks annoyingly to your fingers but will still hold its shape when rounded into a ball — will produce light, moist, tender rolls.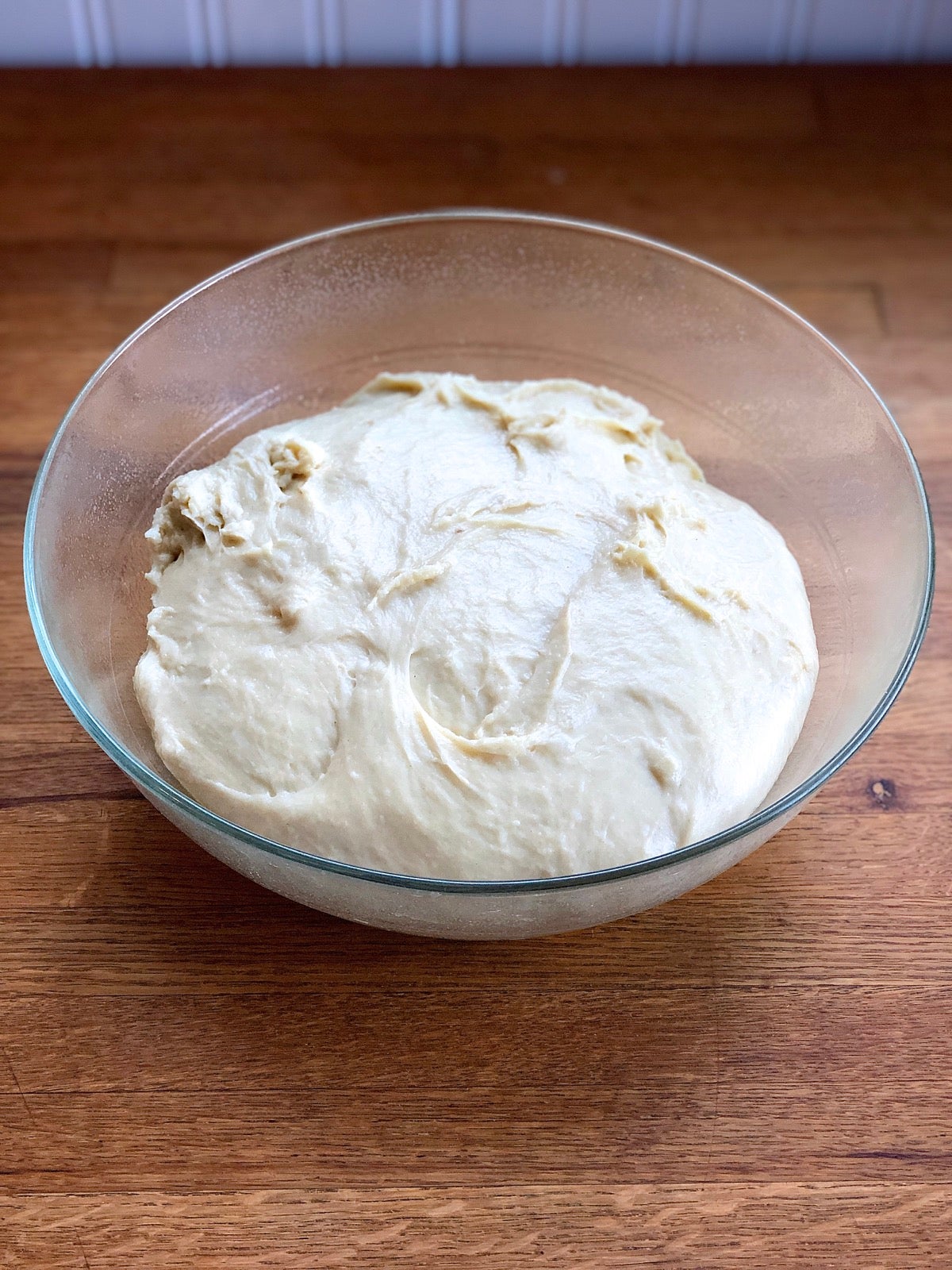 Let the dough rise
Scrape the dough into a lightly greased bowl. (Or scrape it out of your mixer bowl, grease the bowl, and plop the dough back in.) Cover the bowl.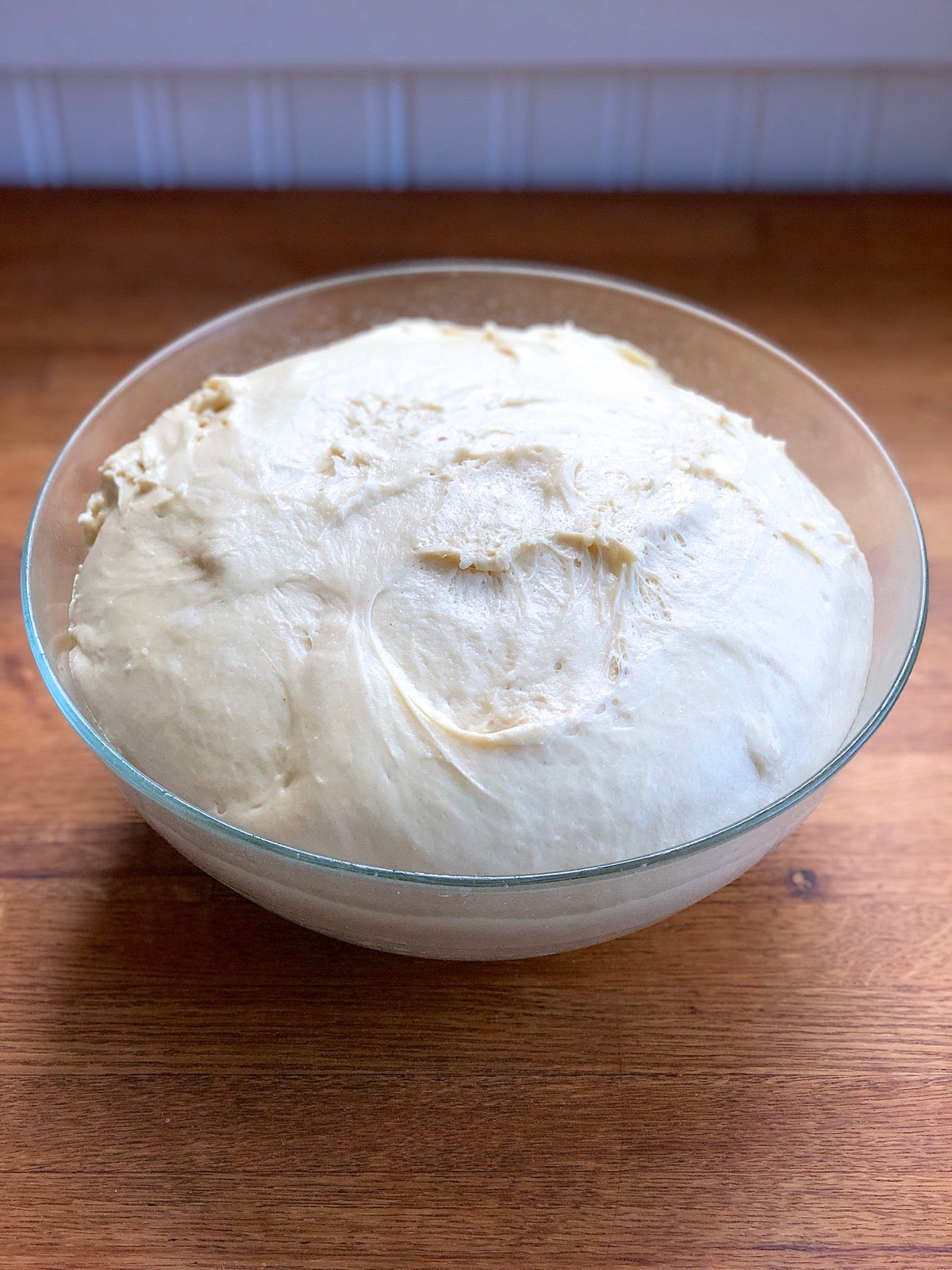 Let the dough rise for 90 minutes to 2 hours, until it's quite puffy though not necessarily doubled.
If you're using a bread machine, allow the machine to complete its cycle, then leave the dough in the machine until it's doubled in bulk, perhaps an additional 30 minutes or so.
Shape the rolls
Gently deflate the dough and divide it into 16 large balls, or 24 smaller balls.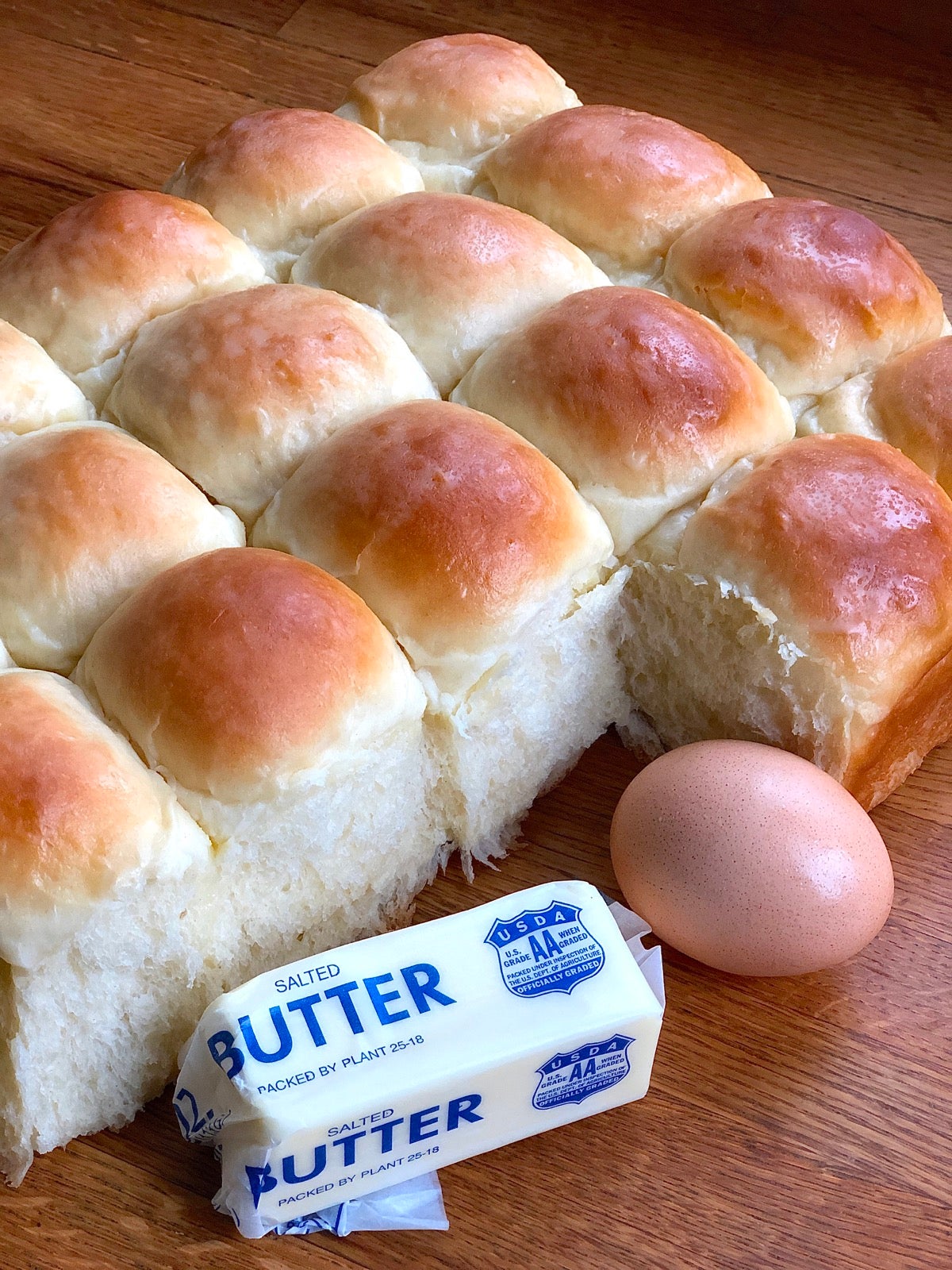 I always make 24 rolls rather than 16. Why? I like the size of the "smaller" roll (it's actually not that small, as you can see in the picture above). But more important, 24 rolls fit pleasingly into a 9" x 13" pan (four vertical rows of six rolls each). Sixteen rolls? Not so much.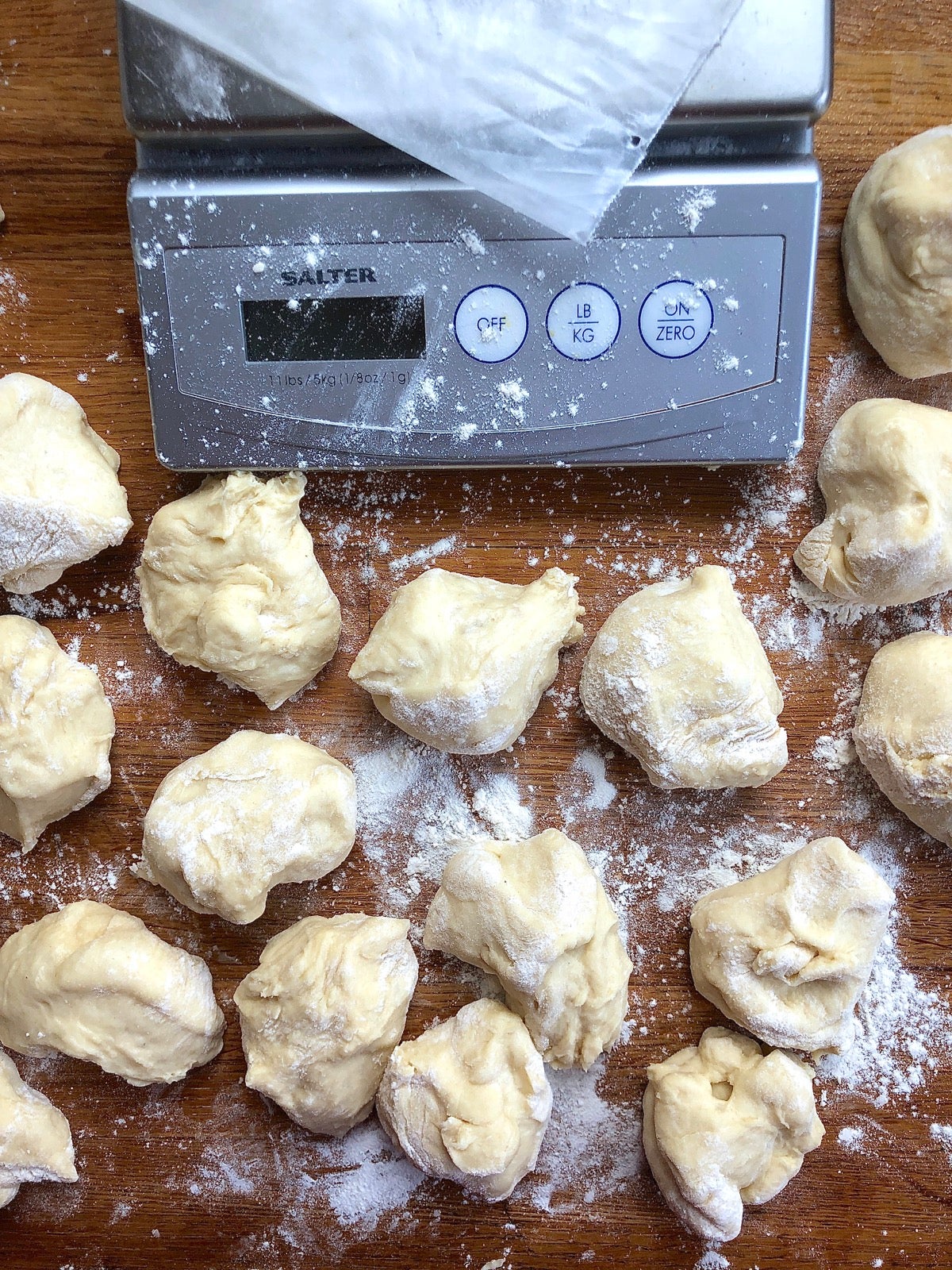 Again, a scale is your best friend when dividing a ball of dough into 24 pieces. Divide the dough in half, then in half again, and in half once more so you have eight pieces. Divide each of those eight pieces in thirds. Voilà — 24 rolls.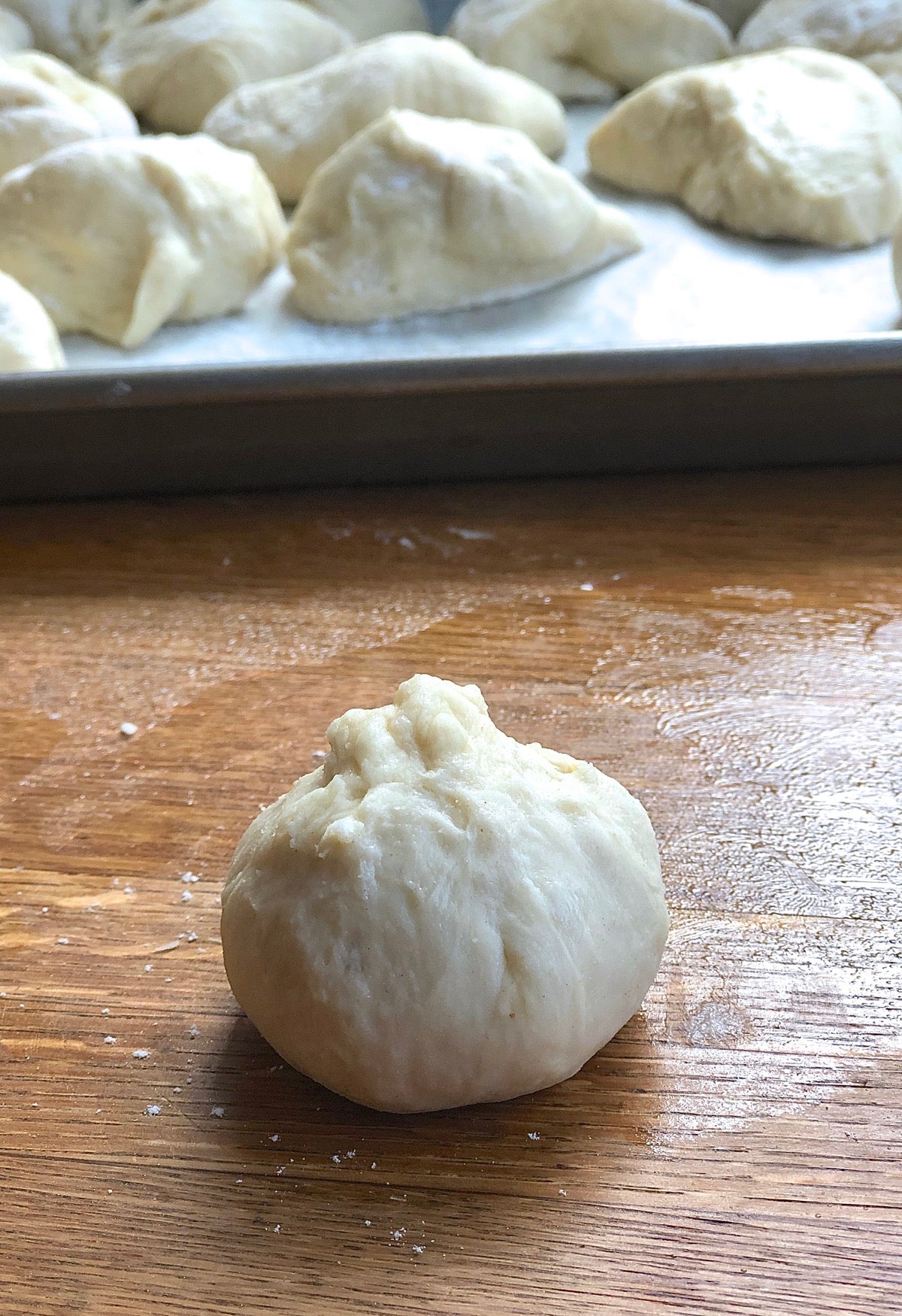 Round each piece of dough into a smooth ball. Start by pulling and stretching the dough from the bottom to the top to make a small topknot; you're developing surface tension here, which will help you create nice smooth balls.
Place the ball of dough, "knot" side down, onto a work surface that's either bare (no flour) or lightly greased. If your dough remains really sticky, go the greased route.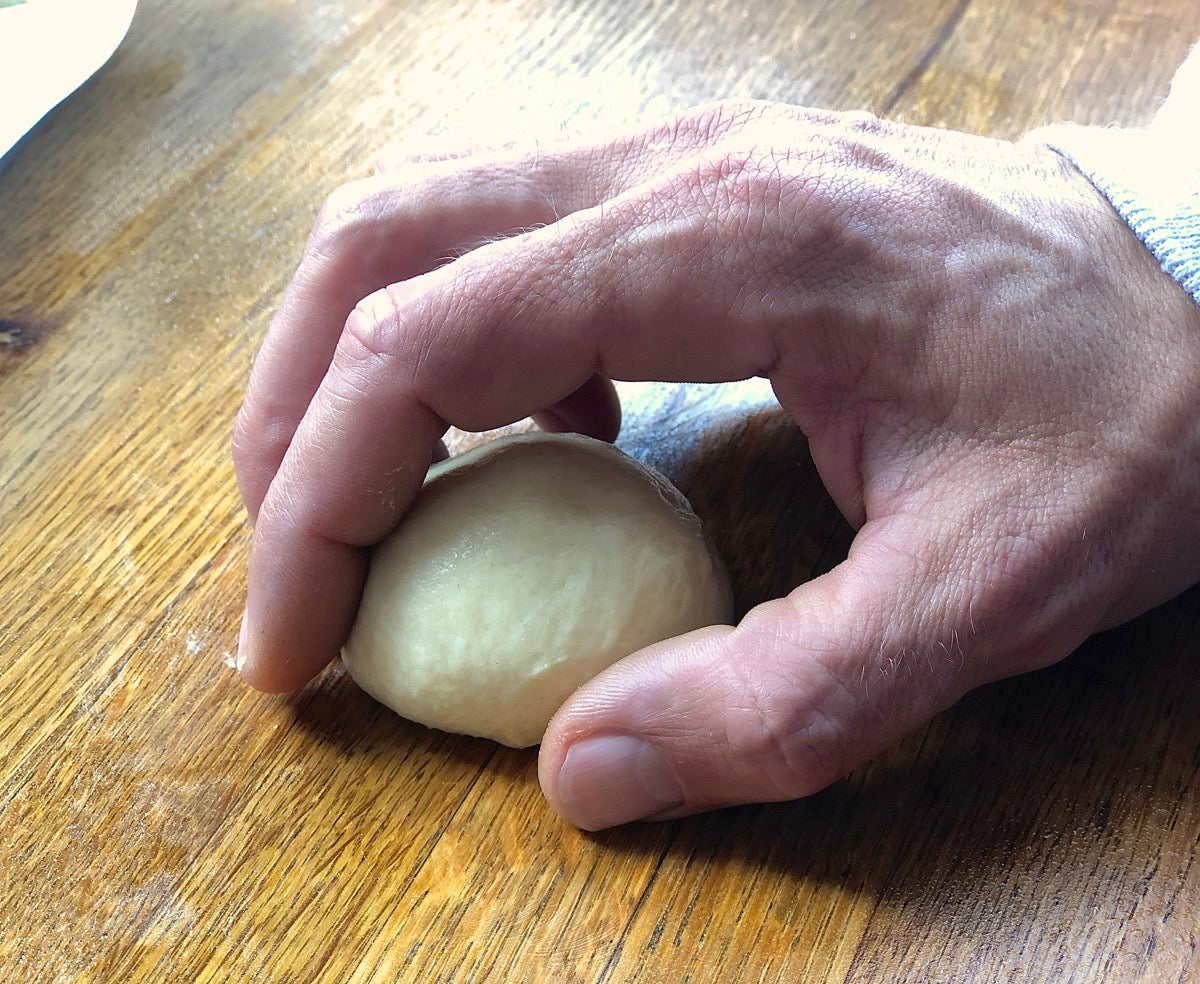 Working with one piece at a time, lightly cup your fingers around the dough ball and move your hand in a circular motion. The slight tackiness between dough and work surface magically shapes the dough into a smooth, round ball. The dough should stick, but just enough to help shape it. If it's so sticky it's leaving smears of dough on the work surface, grease the surface before continuing.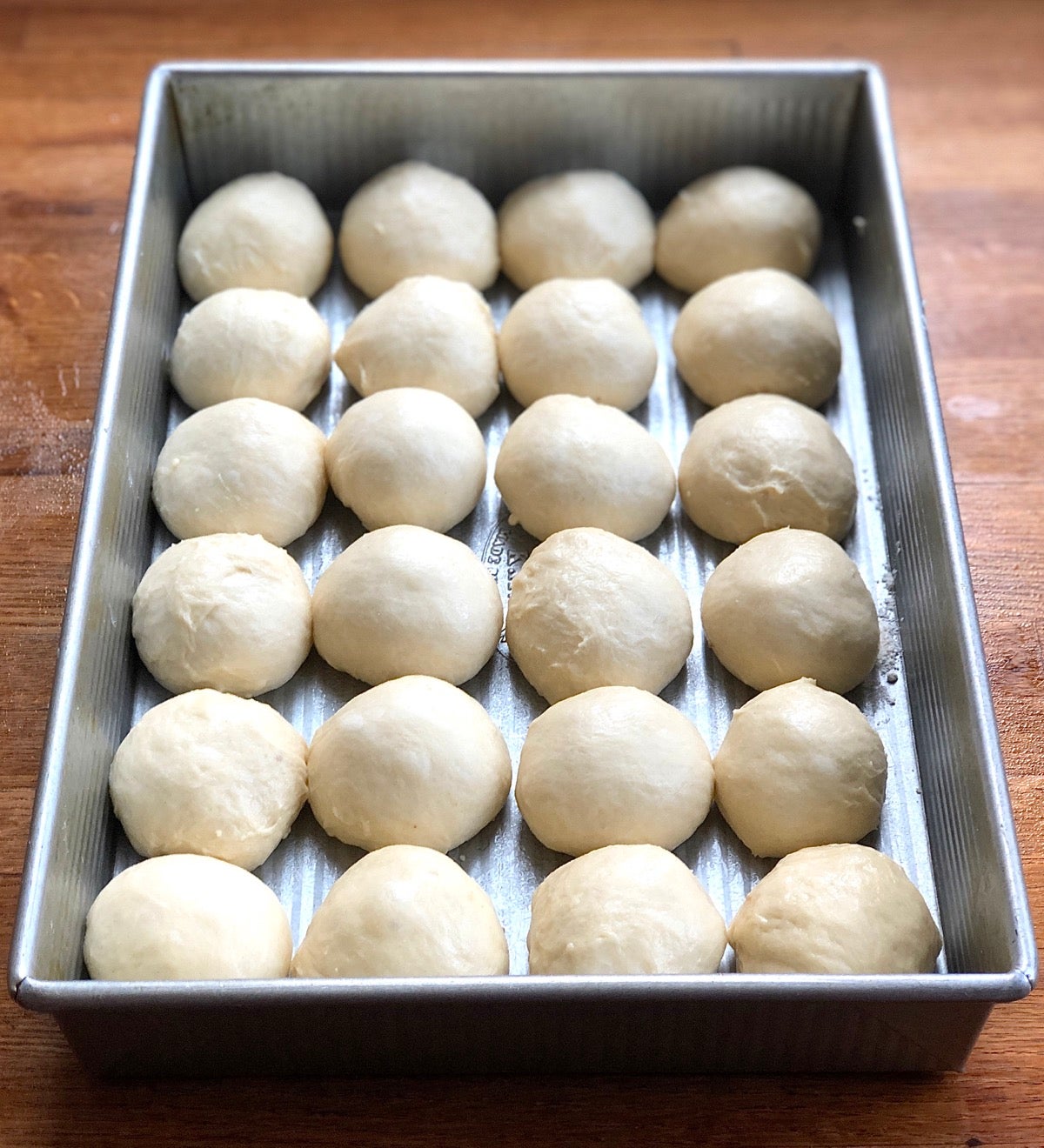 Place the rolls in a lightly greased 9" x 13" pan.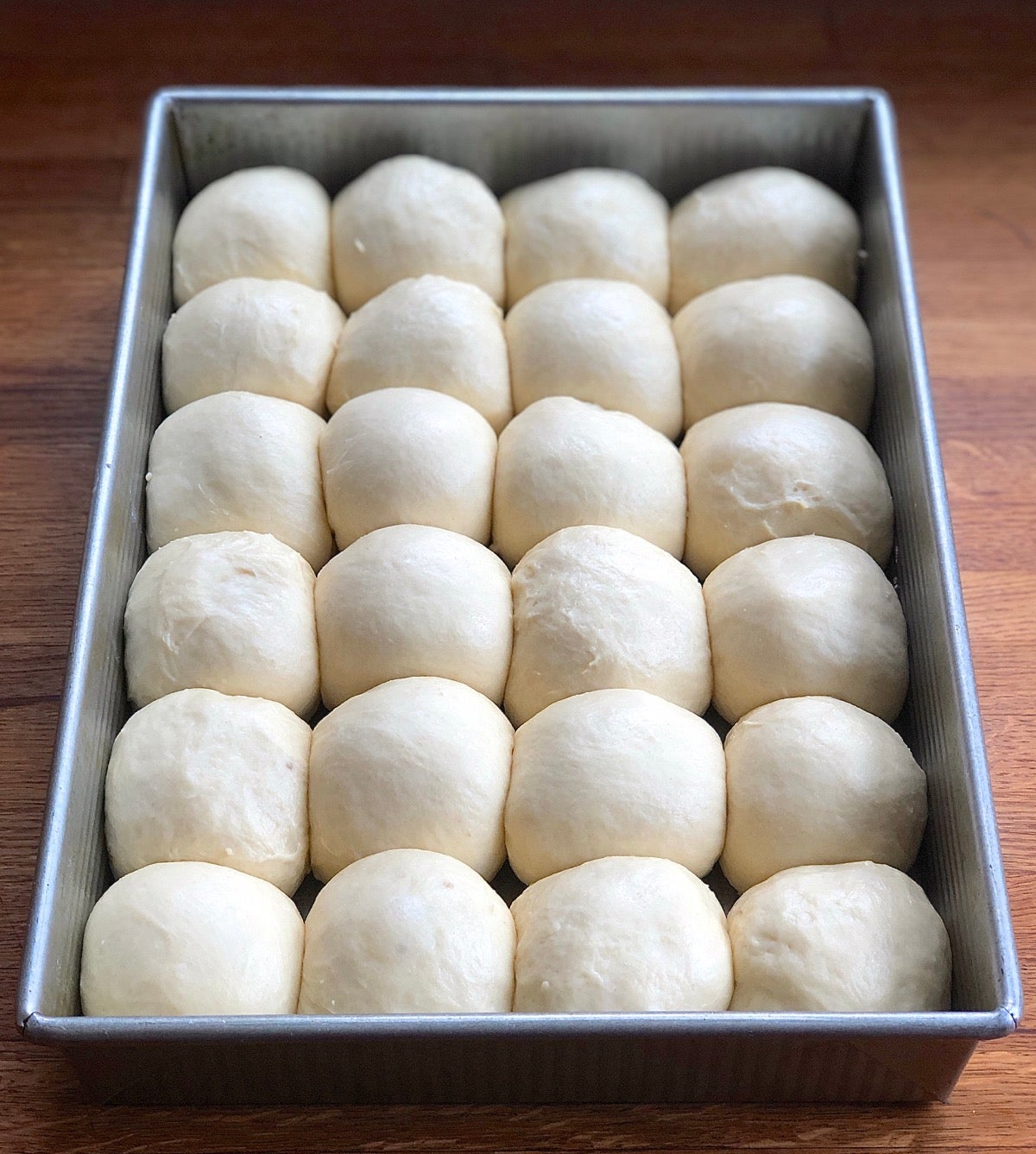 Let the rolls rise
Cover the pan with lightly greased plastic wrap or your favorite reusable wrap and let the rolls rise for 1 1/2 to 2 hours, until they're quite puffy. Towards the end of the rising time, preheat the oven to 350°F.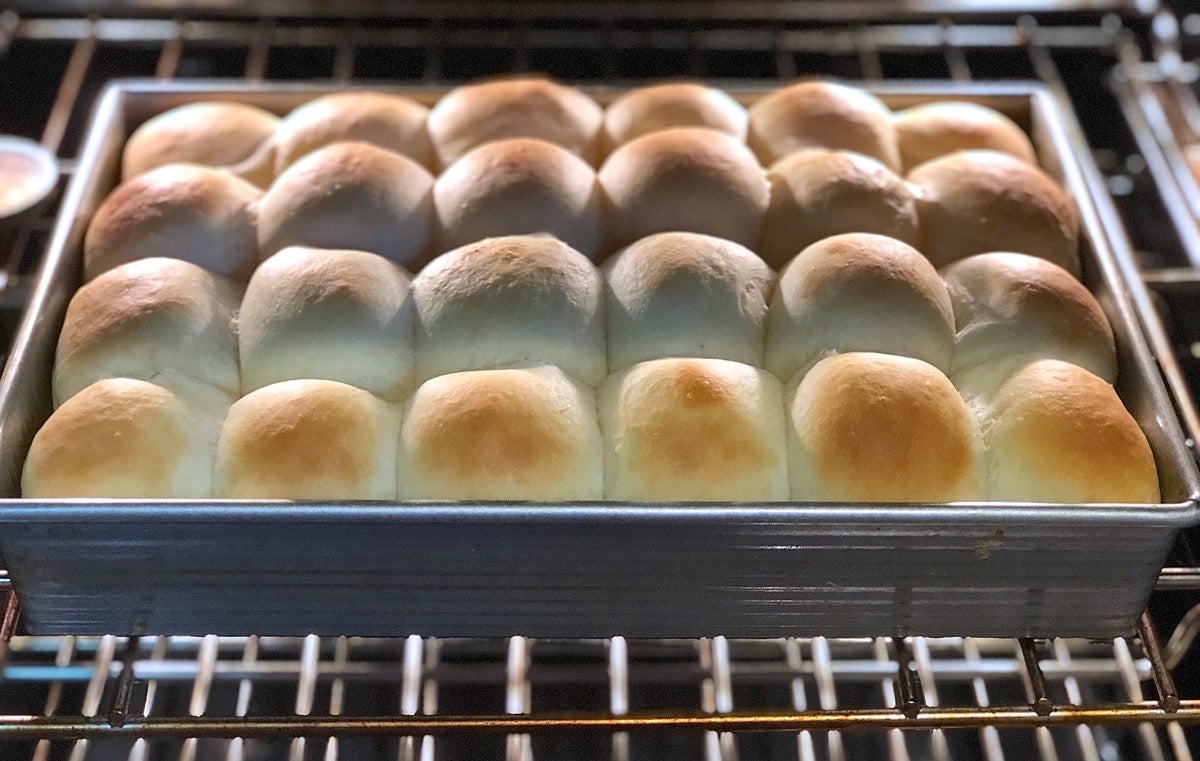 Bake the rolls
Uncover the rolls and bake them for 20 to 25 minutes, until they're a light golden brown and feel set. Don't overbake them; remember, they're supposed to be soft and tender.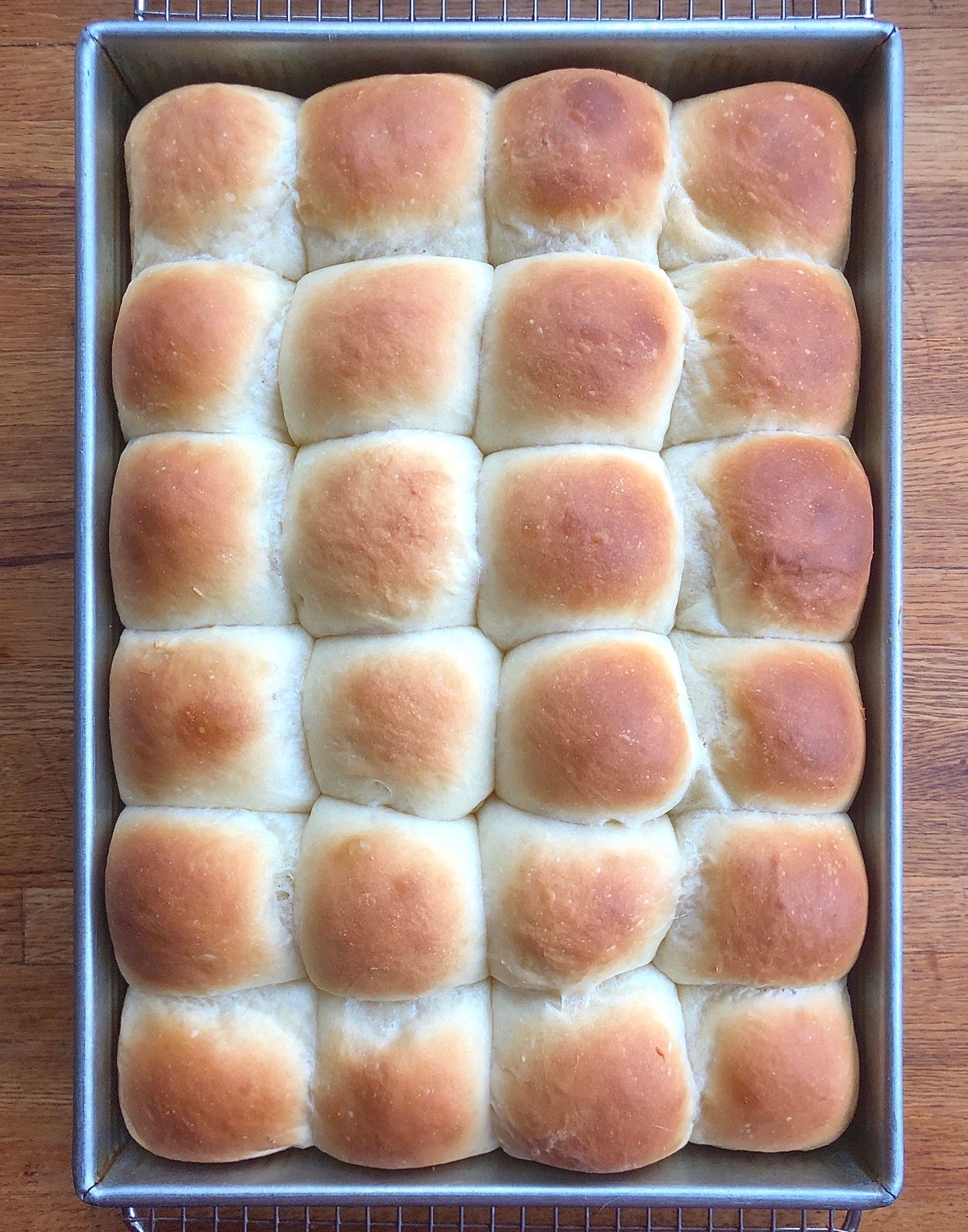 Remove the rolls from the oven and carefully turn them out of the pan onto a rack.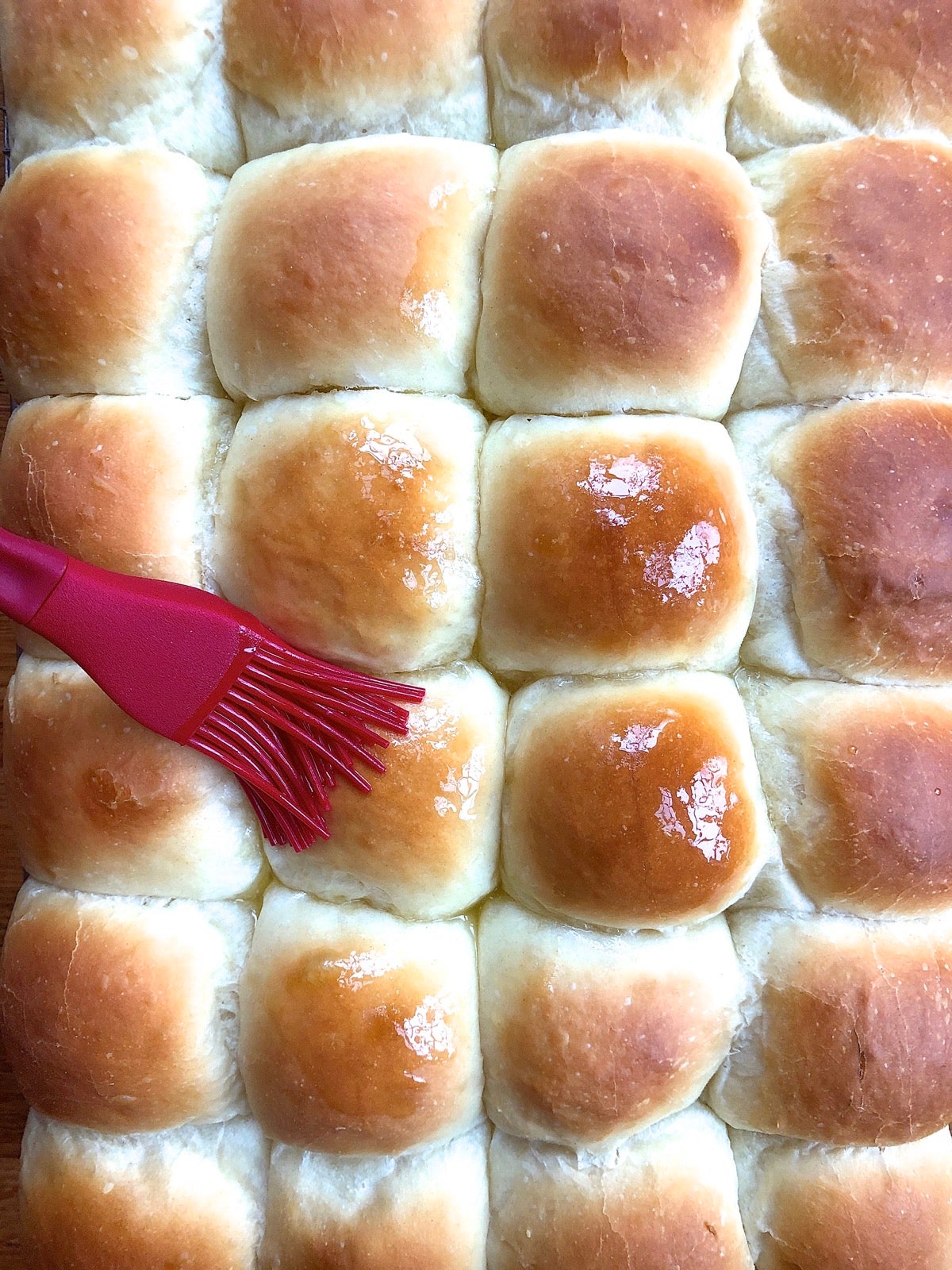 Brush with melted butter, if desired; 3 tablespoons will more than generously cover the whole lot.
Serve rolls warm, or at room temperature. Store rolls, well wrapped in plastic, for several days at room temperature; freeze for longer storage.
Can you make these rolls gluten-free?
Sorry, no, not these Amish Dinner Rolls; they rely entirely on gluten for their structure. But do try our recipe for Gluten-Free Dinner Rolls.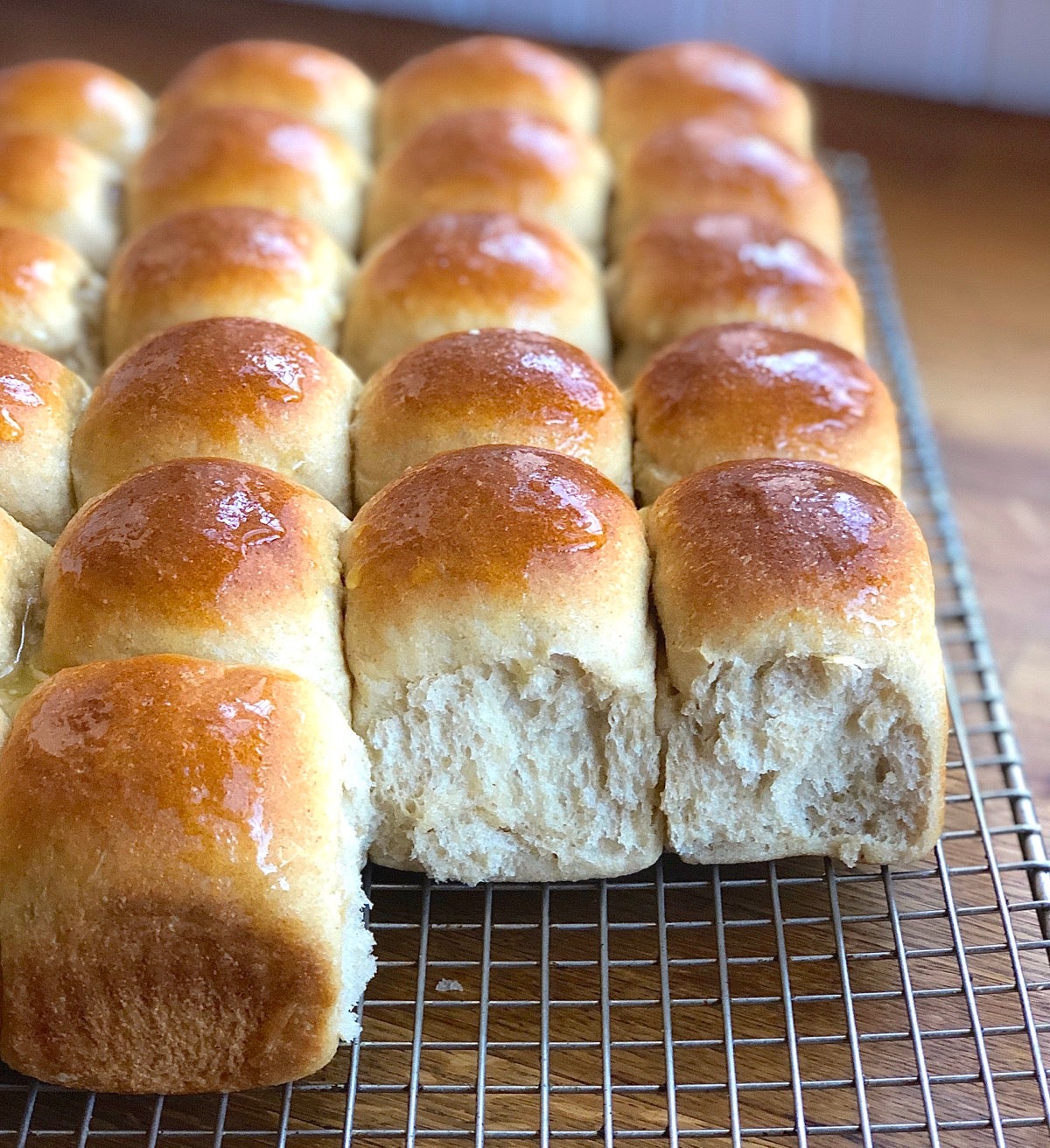 Can you make these rolls using whole wheat flour?
Yes, absolutely. Due to the bran in whole wheat the rolls won't be quite as soft and tender, but should still please you. Substitute whole wheat flour (I prefer lighter-colored, milder-tasting white whole wheat) for some or all of the all-purpose flour in the recipe. Substitute an equal weight of whole wheat flour for the all-purpose flour; if you don't have a scale, add an additional tablespoon of whole wheat flour per cup substituted (to account for the fact that whole wheat flour weighs less than all-purpose flour).
Once you've mixed the dough ingredients together, let the dough rest for 20 to 30 minutes for the flour to absorb the liquid; it takes longer for whole wheat flour to hydrate than it does all-purpose flour. Taking this extra step will make kneading easier; it'll also give the yeast a nice jump start.
Have I convinced you to bake Amish Dinner Rolls? I sure hope so. Who knows, maybe you'll unlock your own distant childhood memory — or give your kids or grandkids a memorable food experience for future reminiscing!
If you're looking for even more roll recipes, we've got a whole recipe category devoted to Buns & Rolls. Happy baking! 
Jump to Comments