Ah, sourdough bread...
A thick, hearty crust, chewy interior, full of flavor, and absolutely delicious. 
Or, thick, hearty crisp crust, chewy soft, moist interior, full of flavor, and absolutely delicious. 
Are you ready to see sourdough bread in a brand new light?
Meet our Buttery Sourdough Buns.
We bake with sourdough quite a bit here at King Arthur Flour, but what we make is usually some variation on a typical Rustic Sourdough Bread. You know the type; heck, I just described it above. A crunchy crust, an interior that's chewy rather than soft, and lots of good, "bready" flavor.
But one day, it occurred to me there's no reason not to take sourdough bread in a different direction.
We'd already posted a recipe for a sliceable sandwich loaf: Clay's Multi-Grain Sourdough Sandwich Bread.
So why not a sourdough dinner roll?
I went through version after version of these buns in search of the perfect balance in both flavor (not TOO sour, but noticeably tangy), and texture (soft, not chewy, but with some body).
My first experiments included too much sourdough starter; the sour flavor overwhelmed the mild taste of the remaining ingredients (butter, milk, egg, a touch of sugar). It also weakened the gluten enough to shred the buns - so much for texture.
So I cut back on the starter, but still wasn't getting the right taste; the starter seemed to be fighting with everything else, flavor-wise. So out went the milk; down went the sugar.
And, light bulb moment: I decided to make the butter a brush-on "filling," rather than a dough ingredient. Ah, THERE'S that buttery flavor!
Next issue: the buns wouldn't brown. They tasted great, but their pallid, heavy-cream color left a lot to be desired, looks-wise.
Solution? I tried brushing with beaten egg; it made their crust sticky. Egg white, ditto. Milk, didn't help with browning. Butter, ditto.
In the end, I added paprika to the butter filling, giving the buns a deep-gold swirl. And baked them towards the top of the oven, hoping for the best.
Which wasn't (and still isn't) perfect. If anyone bakes these rolls and comes up with a solution that yields a beautiful brown crust, please let me know!
Anyway, this is why we call it the test kitchen, right? We test, test, test recipes, then test some more, until we come up with something we feel is good enough for you, our readers, to try.
As always, we welcome your feedback. It takes a community to make a really good, recipe, right?
Let's start with some starter – 1/2 cup (about 4 ounces or 113g), to be exact.
Does it need to be fed before using? Here's feedback from one of our readers: "I have made these twice so far, with both fed and unfed starter. Either way, they come out beautifully, rising a bit more with the fed starter."
So, feed your starter for a bit more rise, but it's not strictly necessary.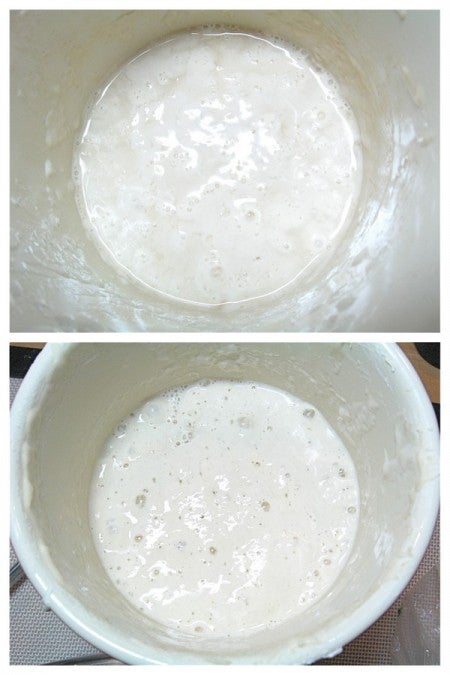 Here's my starter - top, as it looked coming out of the fridge; bottom, as it looked next morning, after feeding it with 1 cup of flour (about 4 ounces) and about 1/2 cup (4 ounces) lukewarm water. It definitely bubbled up a bit.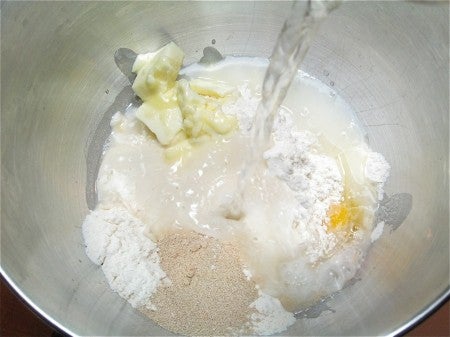 Combine the 1/2 cup (113g) starter with the following: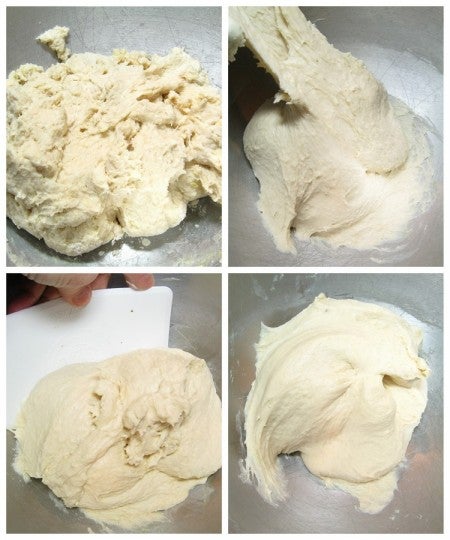 Mix and knead — using your hands, a stand mixer, or a bread machine set on the dough cycle — to make a soft, smooth dough.
If you're using a mixer, you'll notice the dough is quite sticky; after about 4 minutes of kneading at medium speed, scrape the dough away from the sides and off the bottom of the bowl, then knead for another 4 minutes or so. The dough will still be tacky, but shouldn't be unmanageably sticky.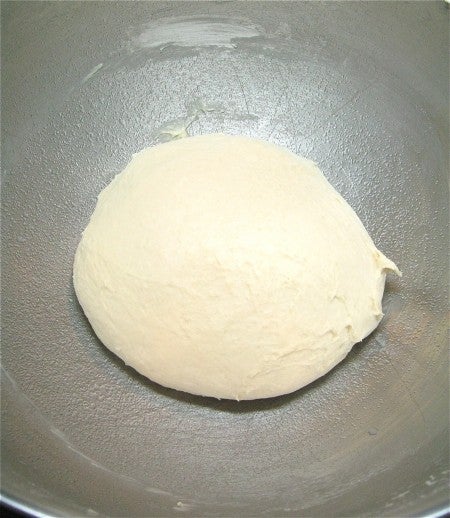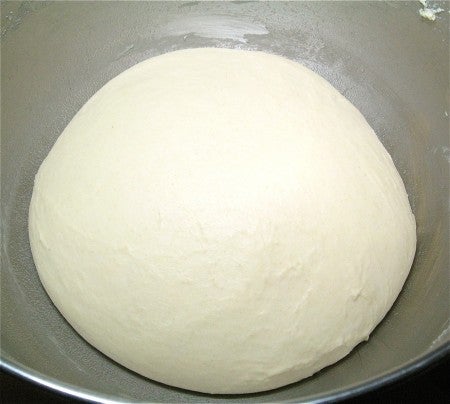 Place the dough in a lightly greased bowl or other container, and allow it to rise for 1 1/2 to 2 hours, until it's just about doubled in bulk.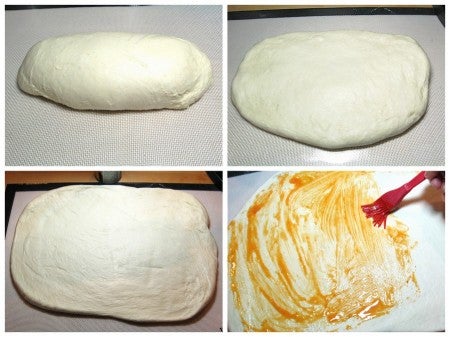 Gently deflate the dough, and transfer it to a lightly greased work surface.
Roll and pat the dough into a rough rectangle approximately 12" x 16". Put 2 tablespoons melted butter in a small bowl, and add 1/4 teaspoon paprika, if desired; it's there for color, and accentuates the buns' swirl, but omit it if you wish. Spread the dough with the melted butter.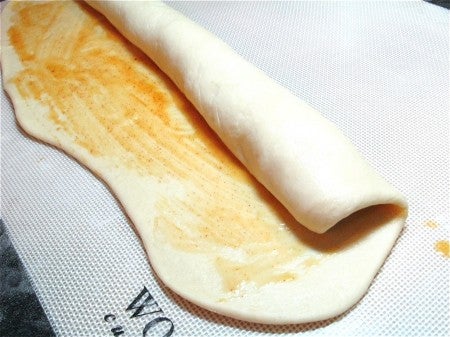 Starting with a long side, roll the dough into a log.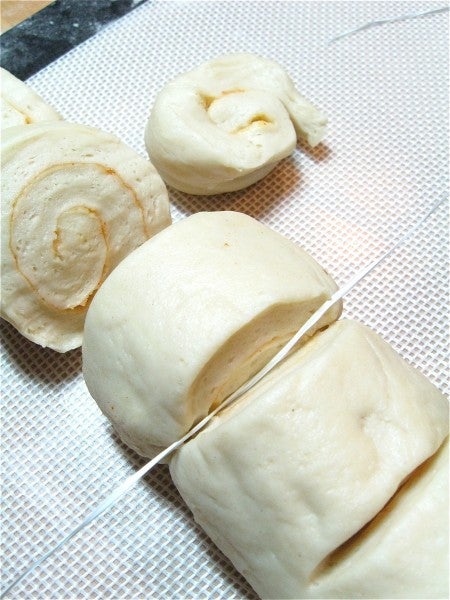 Cut the log in 1" slices, using a sharp knife, or a piece of dental floss looped between your fingers.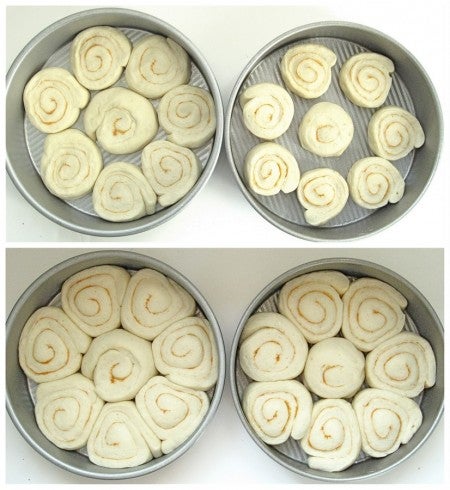 Lightly grease two 8" or 9" round cake pans. Arrange 8 buns in each pan.
See the picture on top? I was trying an experiment. Should I flatten the rolls in the pan (left), or just leave them as is (right)?
Well, the flattened rolls filled the pan to a greater extent; but the unflattened ones rose taller.
And after baking, they all looked the same; so no need to flatten the rolls initially.
Cover the pans, and let the buns rise for 60 minutes, until they're noticeably puffy. Don't let these buns rise too long; you want them to have enough rising power left to expand nicely in the oven.
Towards the end of the rising time, preheat the oven to 350°F.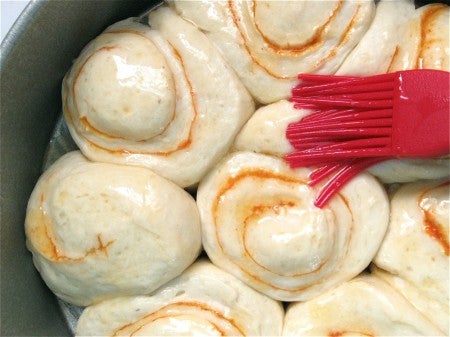 Melt 3 tablespoons butter, and brush the buns with about half of it; you'll use the remainder after they're baked.
Bake the buns for 22 to 25 minutes; they'll color only slightly.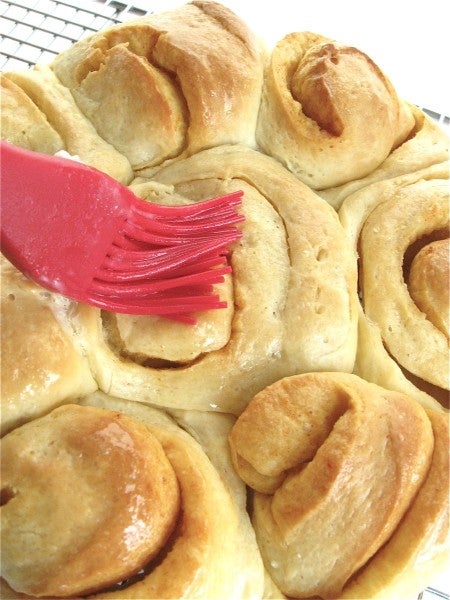 Remove the buns from the oven, turn them out onto a rack, and brush them with the remaining butter.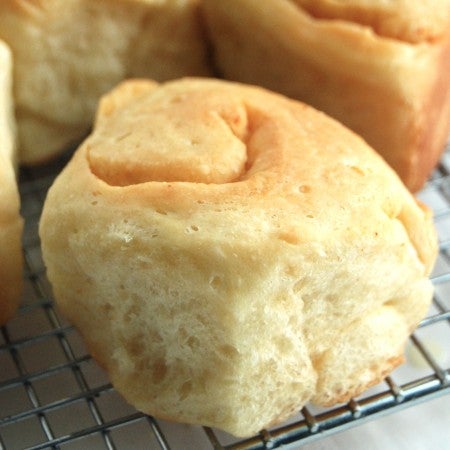 Serve hot or warm.
You'll find that despite their somewhat "doughy" look, these buns actually have a buttery-crisp crust; think crescent roll. I found them quite fantastic, and had to stop myself from having one more bun, "just to be sure."
Leftovers? Wrap tightly, and store at room temperature for up to a week. To reheat, place the buns on a baking sheet, tent lightly with aluminum foil, and bake for about 10 minutes in a preheated 350°F oven.
Read, bake, and review (please) our recipe for Buttery Sourdough Buns. Remember, I'm looking for feedback on how to get a browner crust...
Jump to Comments