Is it time for the annual January thaw yet?
Not quite... but we're getting close.
I've lived in northern New England for 35 years. Before that, I lived in southern New England. I guess, culturally speaking, that's akin to saying I live in the Deep South, and before that I lived in the South.
It's all below the Mason-Dixon line. Just as all of New England is in the North.
In fact, New England, for those of you a bit, shall we say, "geographically challenged," is that jumble of little states in the upper right corner of the United State map.
Interesting fact: Not every New England state borders the ocean. I once met a Westerner who wanted to know what Vermont's coastline was like, and I was forced to reveal that unless you count Lake Champlain as part of the Atlantic, Vermont is the only New England state without direct access to the open sea.
But back to northern New England: Maine, New Hampshire, and Vermont. Where the winter's long, spring is shoehorned in between mud season and black fly season, fall is merely a prelude to snow, and summer is – well, as they say up here, "tough sledding."
January is mid-winter – not on the official calendar, where January 1 is only 10 days into the season. But in real terms: November and December are the beginning of winter; February and March are its end. And January is mid-winter.
And towards the end of January, by gorry, we expect the January thaw: 4 or 5 perfect days when the sky is blue, the sun shines brightly, and puddles – puddles! – replace ice on the sidewalks.
Happens every year, right around January 25. No joke. Here's what Wiki says:
"The January thaw is an observed but unexplained temperature rise in mid-winter found in mid-latitude North America... For five days around January 25, temperatures are usually significantly warmer than predicted by the sinusoidal estimate, and also warmer than neighboring temperatures on both sides.
"During this 'thaw' period, usually lasting for about a week, temperatures are generally about 10°F (6°C) above normal. This varies from year to year, and temperatures fluctuate enough that such a rise in late-January temperature would be unremarkable; what is remarkable (and unexplained) is the tendency for such rises to occur more commonly in late January than in mid-January or early February, which sinusoidal estimates have to be slightly warmer."
Translation: Sometime in the next couple of weeks, we'll be doffing our down jackets and donning T-shirts, luxuriating in the feel of 30°F air on bare skin.
Call it Einstein's Theory of Relativity: after weeks of 0°F, 30°F feels like a heat wave.
Speaking of heat waves, let's comfort ourselves with a plateful of White Chili with Cornbread, just the ticket for a January (pre-thaw) night.
Let's get started. First, the chili.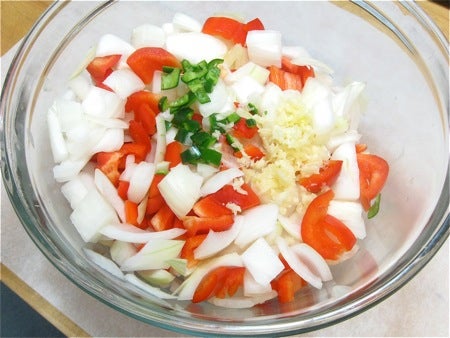 Combine the following:
1 large onion, peeled and chopped, about 3 1/4 cups chopped onion
1 red bell pepper, seeded and chopped into 1/2" to 3/4" pieces; about 1 1/2 cups chopped pepper
1 small jalapeño pepper, diced; remove and discard seeds for milder chili
1 to 4 cloves garlic (to taste), peeled and minced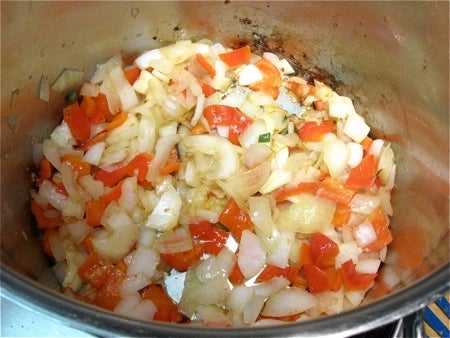 Heat 2 tablespoons olive oil or vegetable oil in a large stock pot. Add the vegetables, and sauté until they're until they're soft and the onions are barely beginning to turn golden, about 10 to 15 minutes.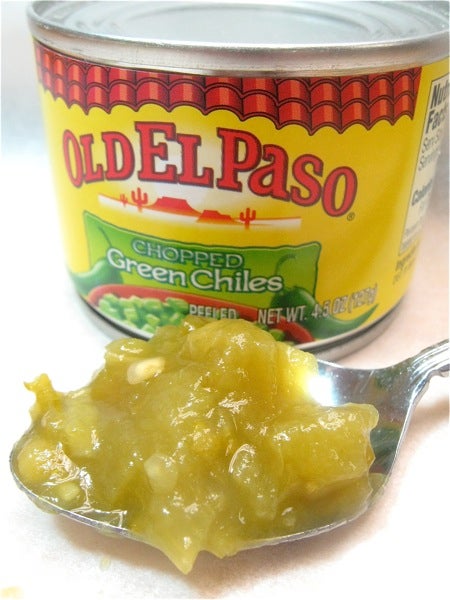 Next, open two 4.5-ounce cans of chopped green chiles. No need to drain them.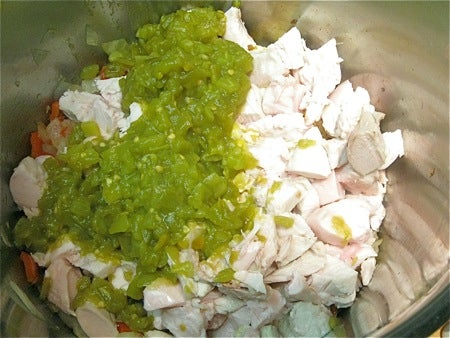 Add the chiles to the pot along with a 16-ounce bag frozen corn, thawed (or 3 cups fresh or frozen/thawed corn kernels);
and 5 1/2 cups chopped cooked chicken or turkey meat, white and/or dark.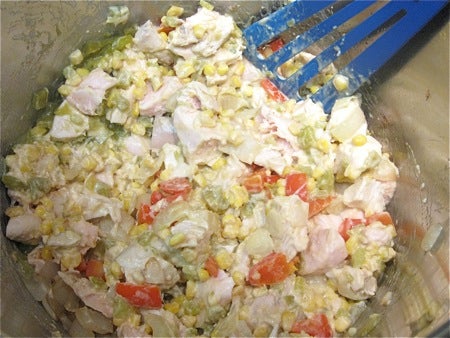 Stir to combine.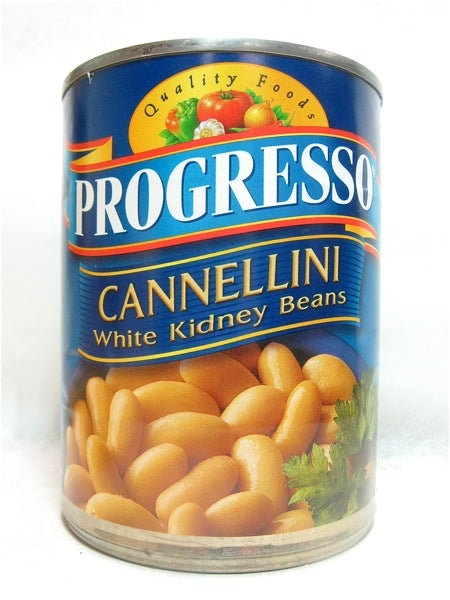 Now, the beans; you'll need one 15- to 19-ounce can white beans of some sort; navy or cannellini are good choices.
Don't like beans, you say? Trust me, you won't notice these...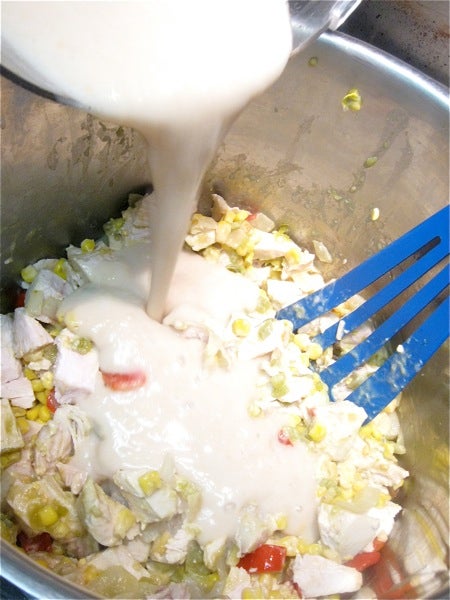 ...once you've puréed them (with their liquid) in a food processor, and stirred them into the rest of the ingredients in the pot, where they'll add satisfying thickness to the chile.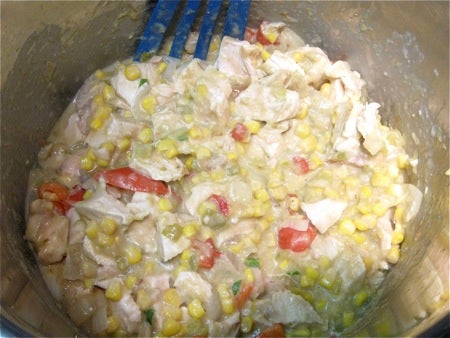 Stir to combine.
Add 1 tablespoon ground cumin, or to taste; and 3/4 teaspoon salt, or to taste.
Simmer the chile slowly for 30 minutes, stirring frequently.
While the chili simmers, make the cornbread topping, and start preheating the oven to 375°F.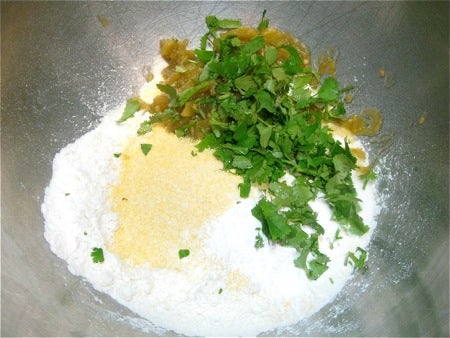 Place the following in a mixing bowl:
1 3/4 cups (7 1/4 ounces) King Arthur Unbleached All-Purpose Flour
1 cup yellow cornmeal
2 tablespoons sugar
2 teaspoons baking powder
1/4 teaspoon baking soda
1/2 teaspoon salt
4 1/2-ounce can chopped mild green chiles, drained
1/4 cup chopped fresh cilantro, optional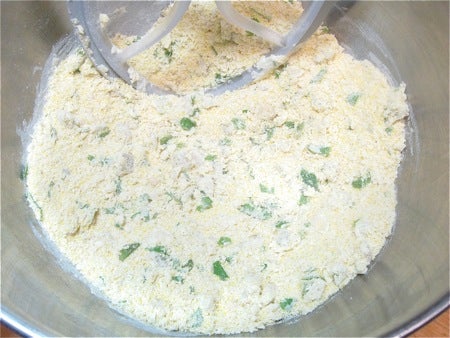 Stir to combine.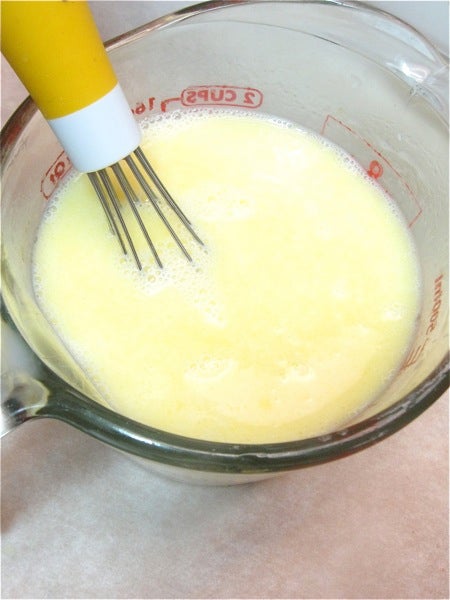 In another bowl, or in a large measuring cup, whisk together the following:
1 1/4 cups milk
1/2 cup butter, melted and cooled
1 large egg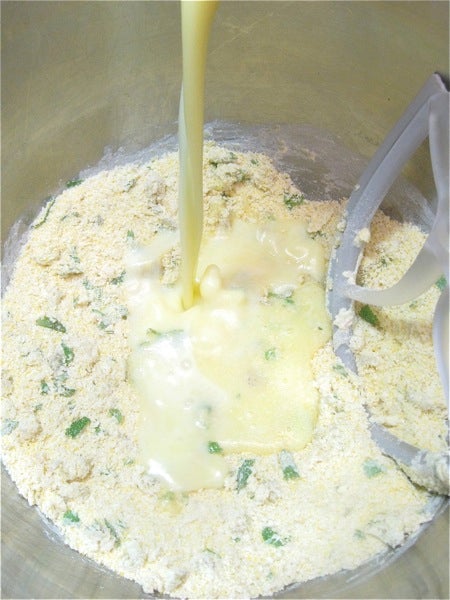 Pour the liquid all at once into the flour mixture.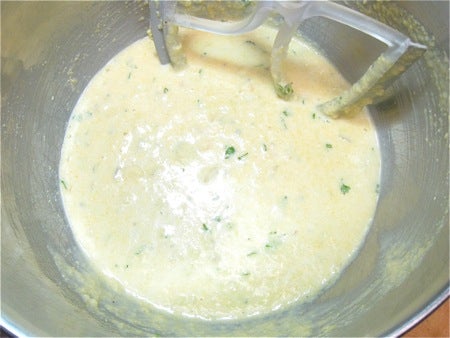 Stir quickly and gently, until just combined.
Set the batter aside while you finish the chili.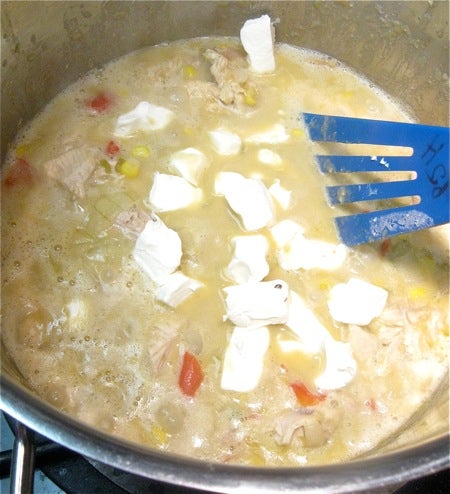 Add one 3-ounce package cream cheese, cut into chunks, to the chili. Stir until it melts.
Adjust the salt, if necessary.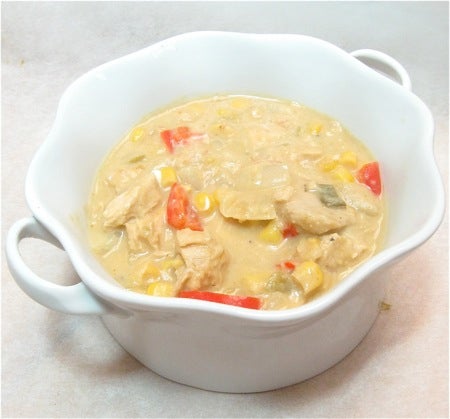 Spoon the chili into individual serving dishes. The entire recipe makes about 8 cups of chili; if you use 2-cup capacity ramekins or bakers, spoon 1 cup chili into each. Remember, you need to leave room for the cornbread topping.
Don't have individual dishes? We've got you covered; scroll down for instructions for a 9" x 13" pan.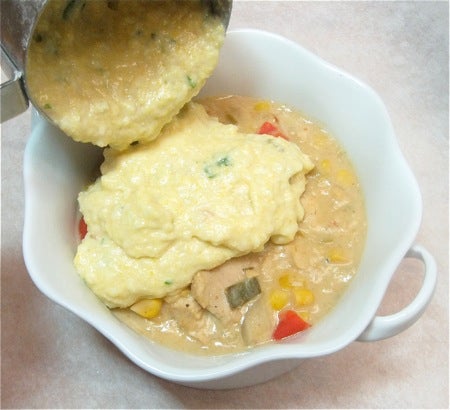 Top each dish of chili with 2 to 3 tablespoons grated cheddar cheese, if desired; then with the cornbread batter. For 8 individual ramekins or bakers, use 1/2 cup cornbread batter for each.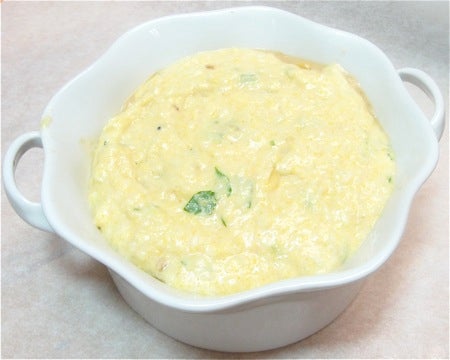 There. Did you remember to preheat your oven to 375°F?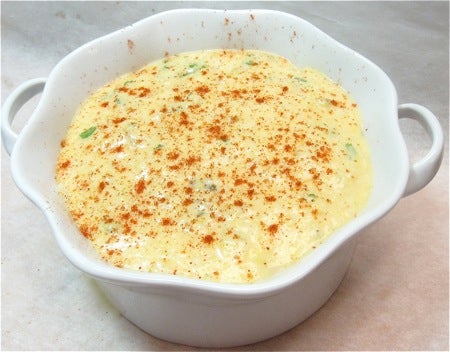 Sprinkle with paprika, if desired. Hot or sweet, it doesn't matter; this is strictly for looks.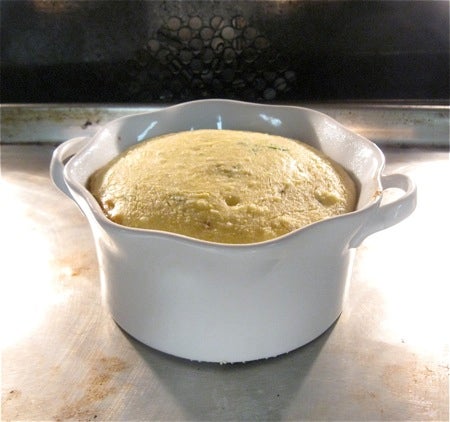 Bake for about 20 minutes, until the cornbread is set and a toothpick inserted into the center of the bread comes out clean.
Where are the other seven dishes? I was test-baking for time, so doing them one by one. Notice this one didn't have its paprika topping, either...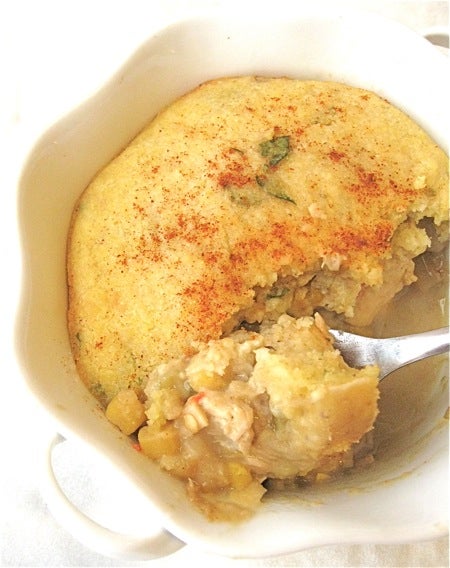 Remove from the oven, and serve hot or warm.
Now, back to that 9" x 13" pan. Make sure you use a pan that's at least 2" deep. You'll need about 1" clearance between the chili and the top of the pan, to ensure the cornbread topping doesn't overflow. If your pan is shallower than 2", fill with chili until it comes no closer than 1" to the top.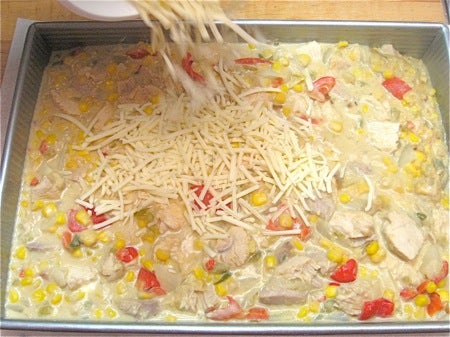 Sprinkle the chili with 1  to 1 1/2 cups shredded cheddar cheese, if desired.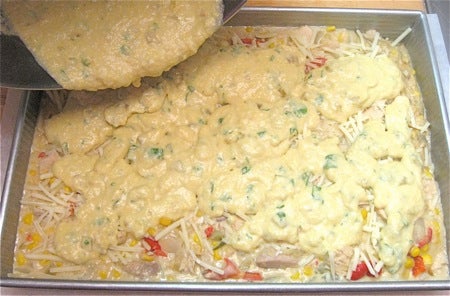 Top with the cornbread batter.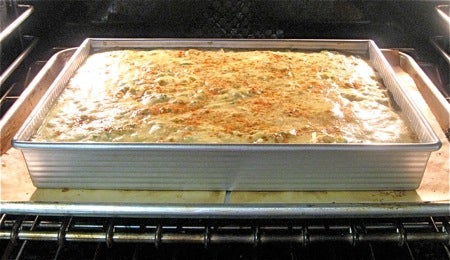 Bake for about 25 minutes, until the top is set and a toothpick inserted into the cornbread comes out clean.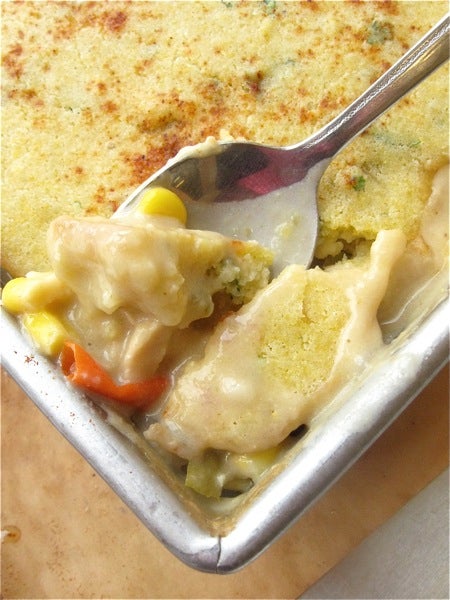 Remove the chili from the oven.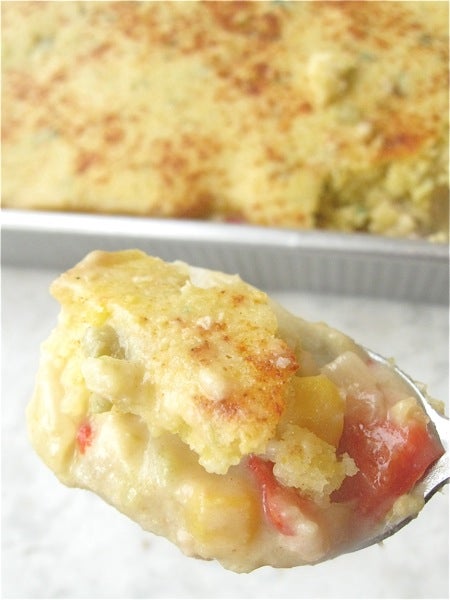 Cook's prerogative to enjoy a spoonful first!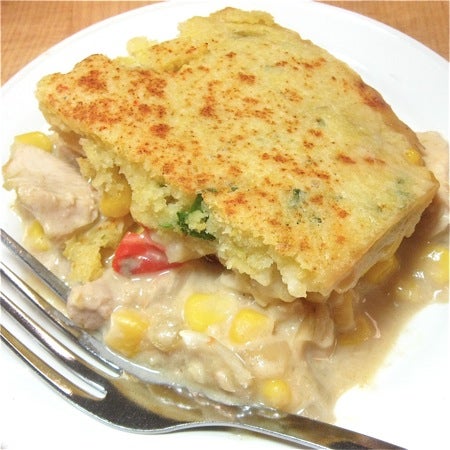 Serve hot or warm. Now, isn't that a sight for sore eyes on a cold January night?
Read, rate, and review (please) our recipe for White Chili with Cornbread.
Jump to Comments