When you think of cornbread, do you think of a moist golden quick bread, lightly sweetened, baked in a cake pan and served in squares? Or do you think of a savory, cream-colored bread baked in a cast-iron skillet and cut in wedges?
Your idea of the perfect cornbread may depend on where you live. North vs. South is the classic cornbread divide, and sugar the point of contention: traditionally Northerners prefer sweet cornbread, Southerners savory. And both sides claim theirs is the real deal.
But honestly, is either more "authentic" than the other? In my experience, all cornbread is good cornbread, be it the berry-studded boiled bread historically made by Eastern Woodland Native Americans centuries ago, or the rather elaborate iterations you can find online today.
Being a New Englander, I confess to a certain familiar fondness for the Northern-style cornbread recipe on our site. It's slightly sweet, quick to throw together, uses everyday pantry staples, bakes for just 20 minutes, and yields a tender, moist pan bread with cake-like texture. I'll demonstrate the basic steps needed to bake the simplest version of this favorite recipe, Cornbread, then showcase the myriad ways you can shape and flavor it to taste.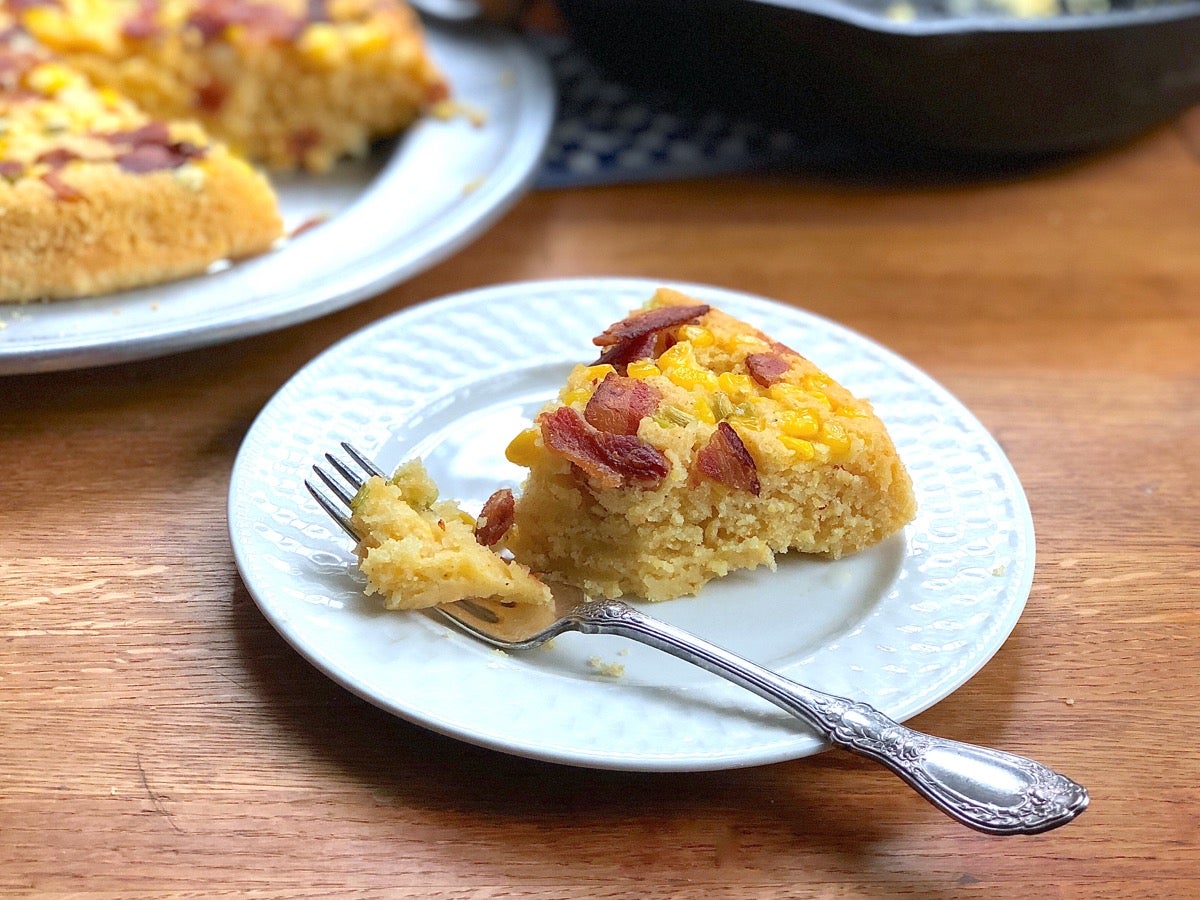 Happily, it's the perfect starting point for any number of tasty riffs. Like this bacon-y, corn-y "upside-down cake" cornbread. But we'll get to that later. Let's nail down our basic version first.
Cornbread: begin with the basics
Preheat the oven to 375°F. Lightly grease a 9" square or round pan, or a shallow 1 1/2 quart casserole dish.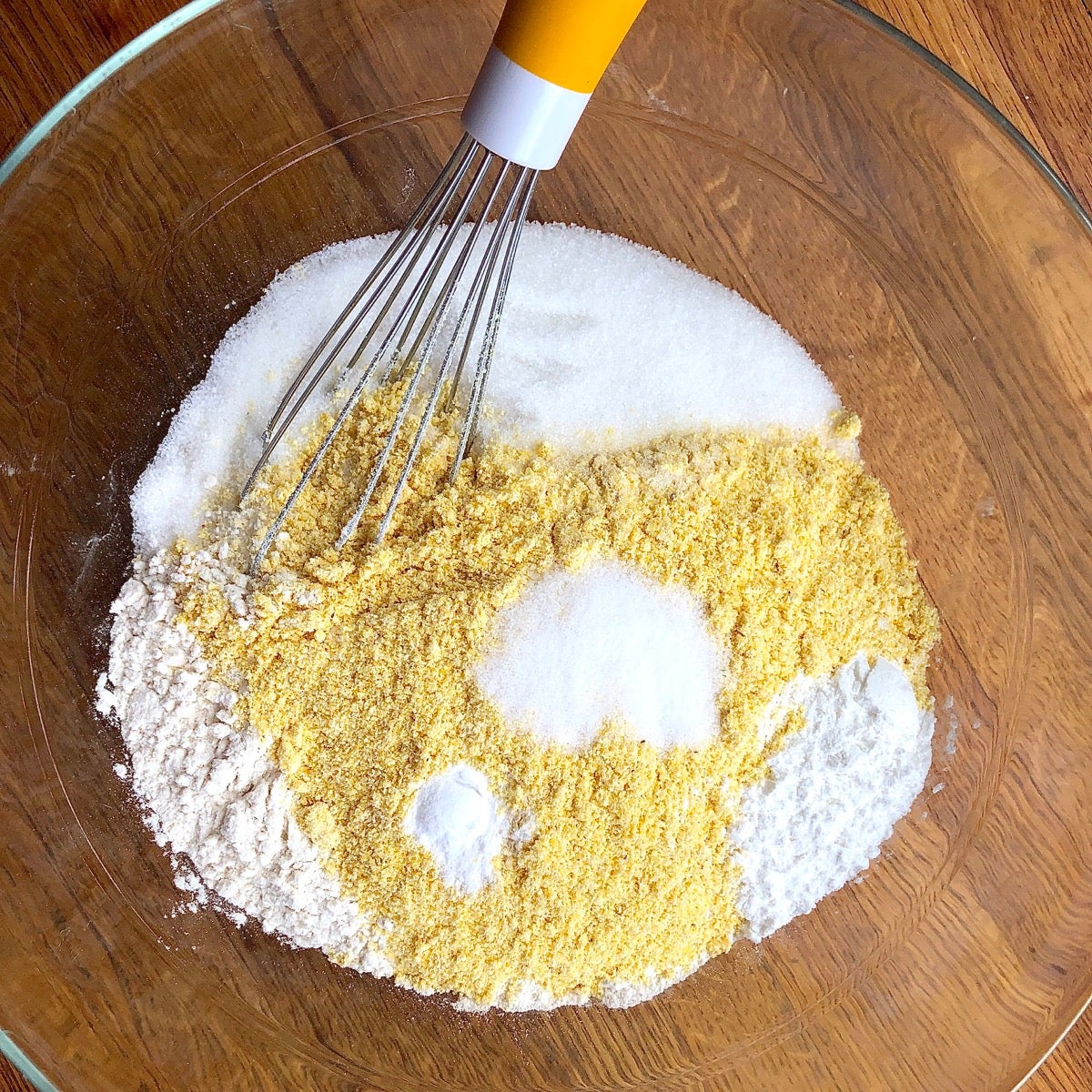 Measure the dry ingredients
Place the following in a medium mixing bowl: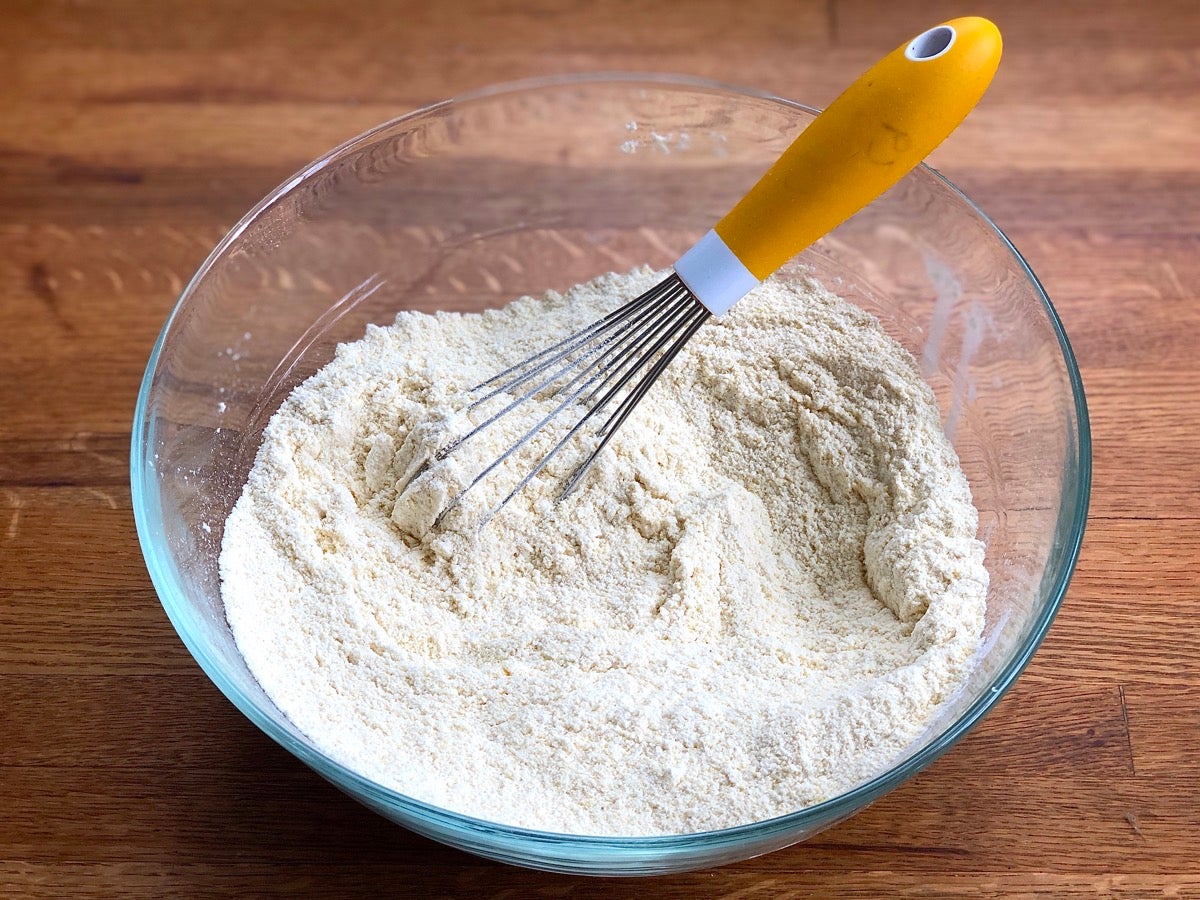 Whisk everything together thoroughly. This means you shouldn't see either yellow streaks of cornmeal or white streaks of flour.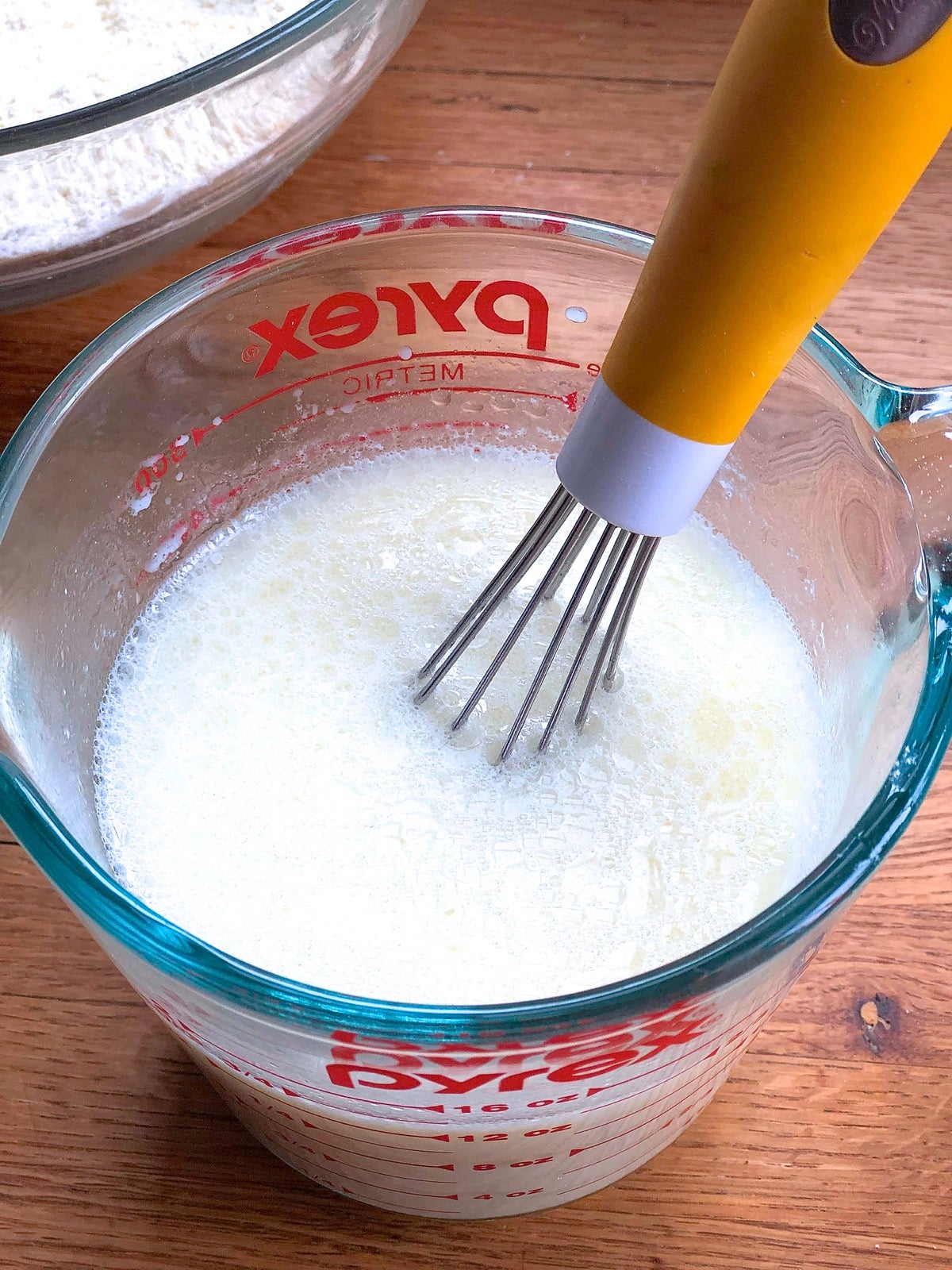 Measure the liquid ingredients 
1 1/4 cups (283g) milk

1 large egg

1/2 cup (113g) unsalted butter, melted and cooled*
*For moister cornbread, substitute 1/4 cup (50g) vegetable oil or corn oil for 1/4 cup (57g) of the butter.
Whisk the milk and egg together. If you're using the vegetable oil option, whisk it into the milk and egg. Personally, I like using part vegetable oil here; I feel it adds a bit more moistness and extends shelf life without sacrificing any flavor.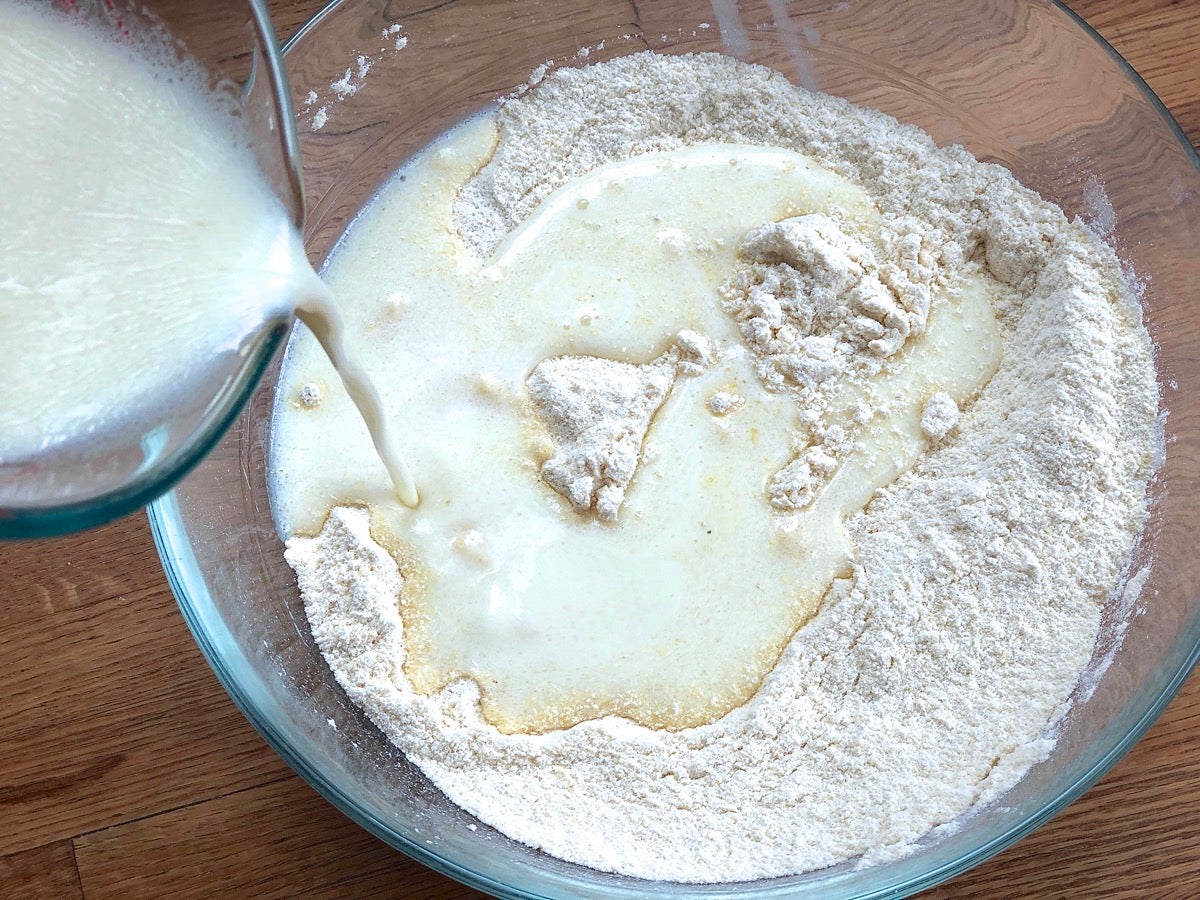 Stir everything together
Pour the liquid all at once into the flour mixture.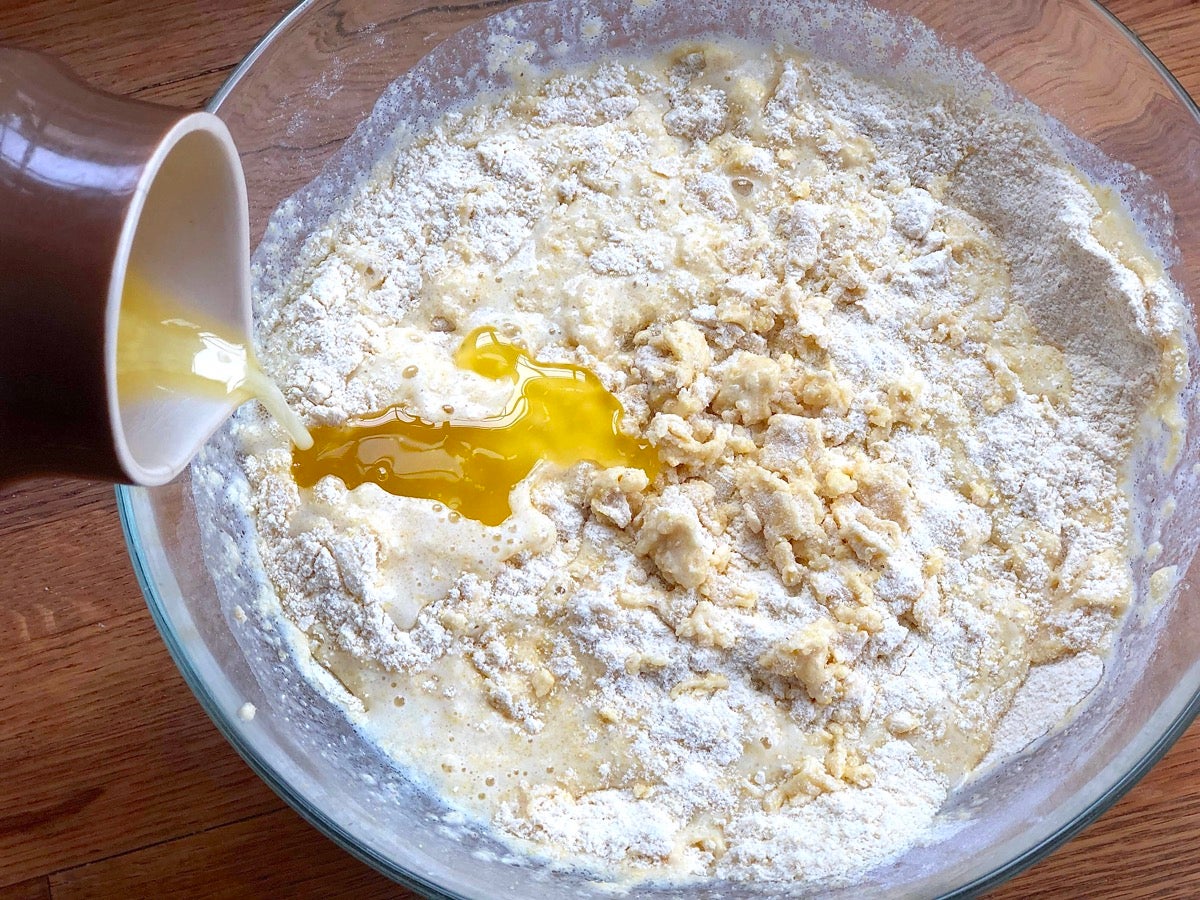 Stir the liquids and flour mixture briefly to combine, then pour the melted butter into the bowl.
So why don't you just whisk the butter with the milk and egg? You can certainly do that if the milk is at room temperature; but I've never liked the gloppy mess you get when combining hot melted butter with cold milk, so I add the butter separately.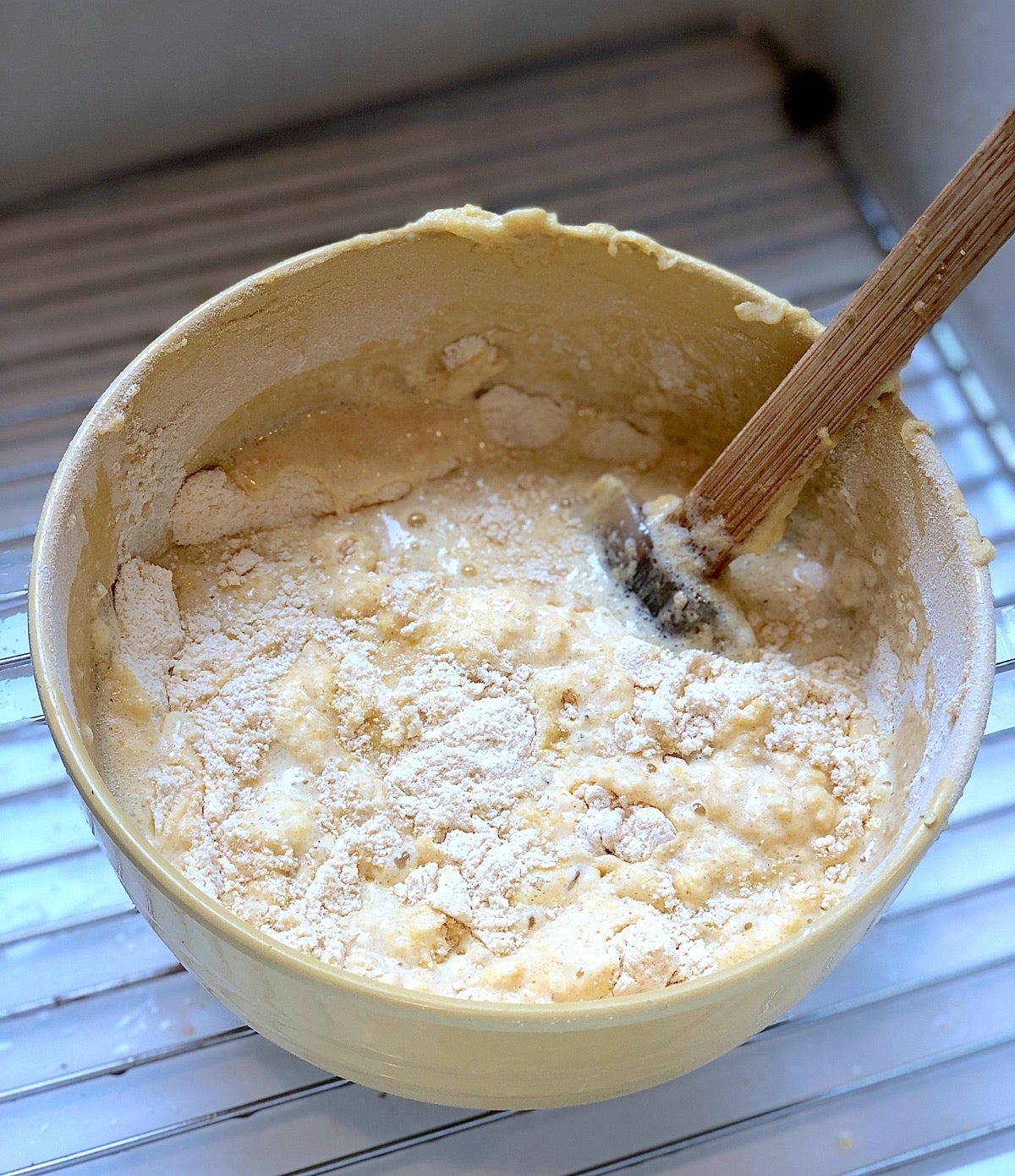 Tip: Chose too small a bowl and now the flour is flying? Work in the sink when mixing in order to contain any mess. The lower height may well be easier on your shoulders and arms, too.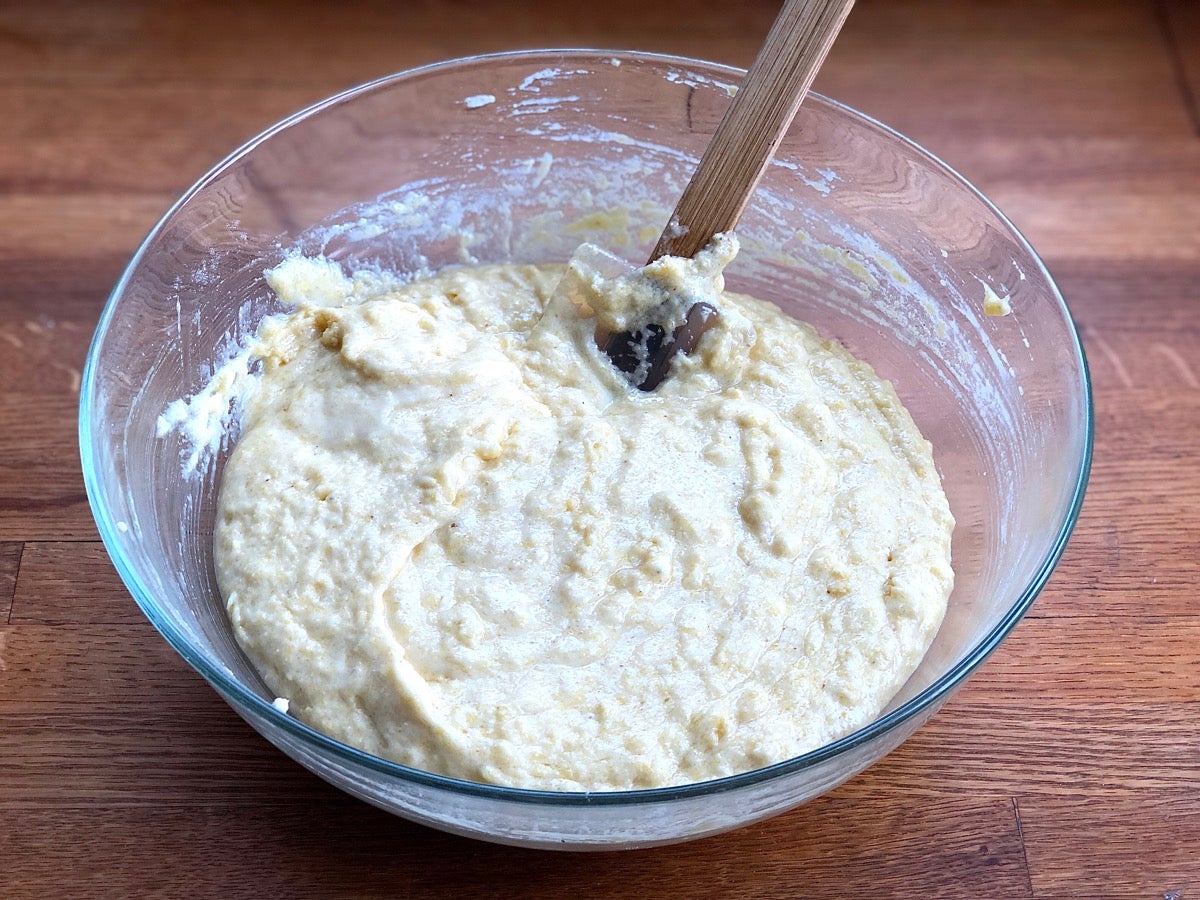 Stir (don't beat) gently and briefly until everything is combined.
The less you stir, the more tender your cornbread will be.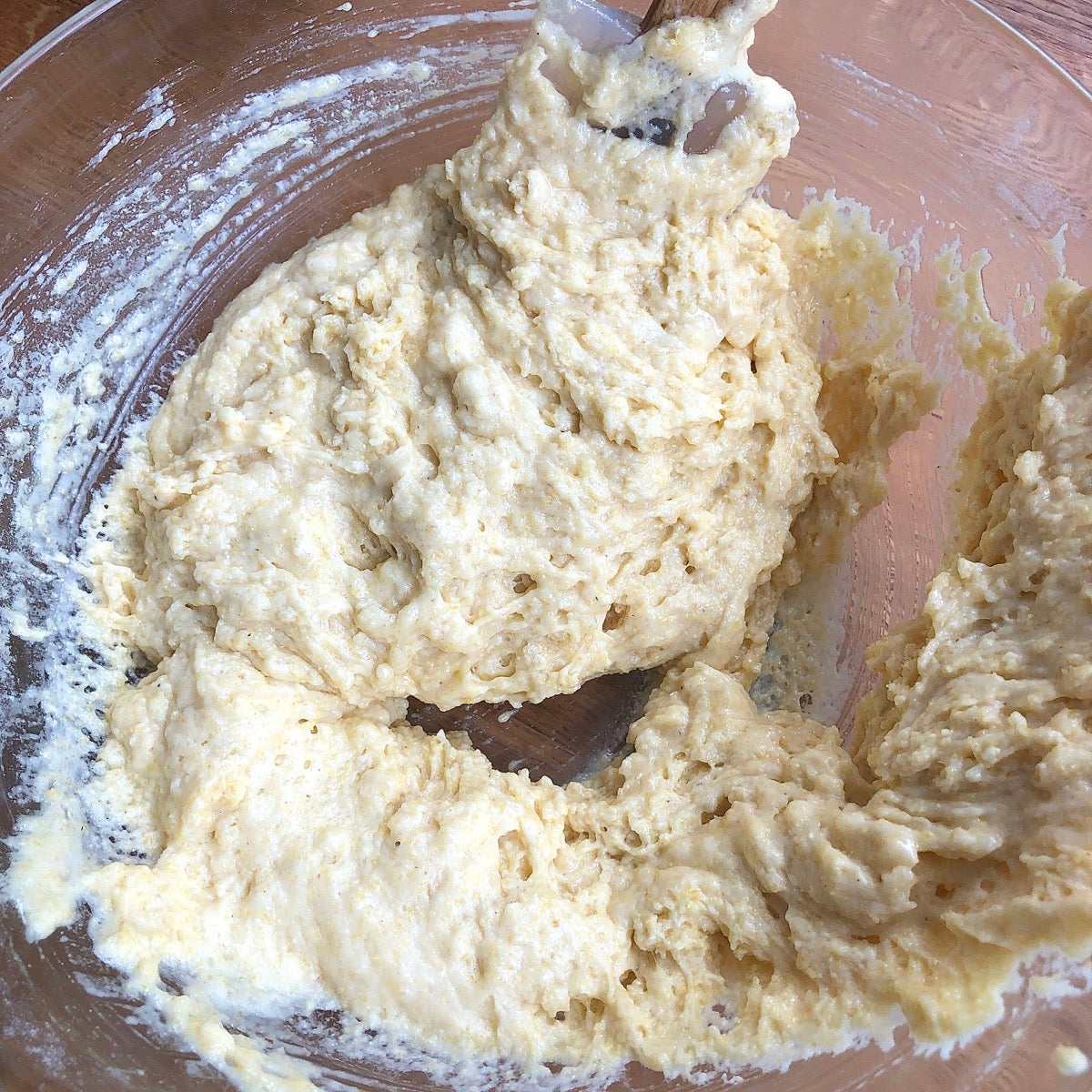 Within probably 30 seconds of having stirred everything together, the batter will thicken. No worries; it's just the leavening at work and the cornmeal starting to absorb the liquid.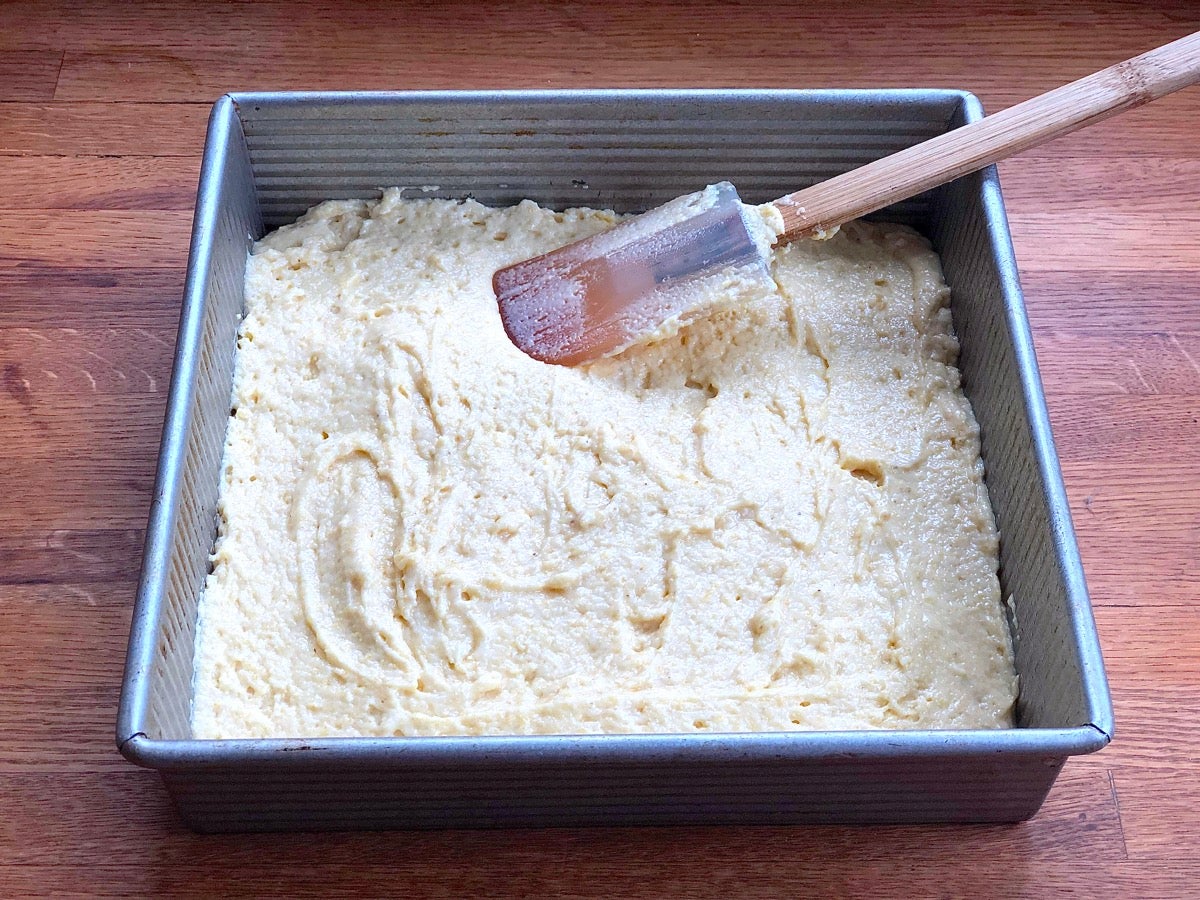 Bake the cornbread
Spread the thick batter in your prepared pan, and bake the cornbread for 20 to 25 minutes, checking it at 20 minutes.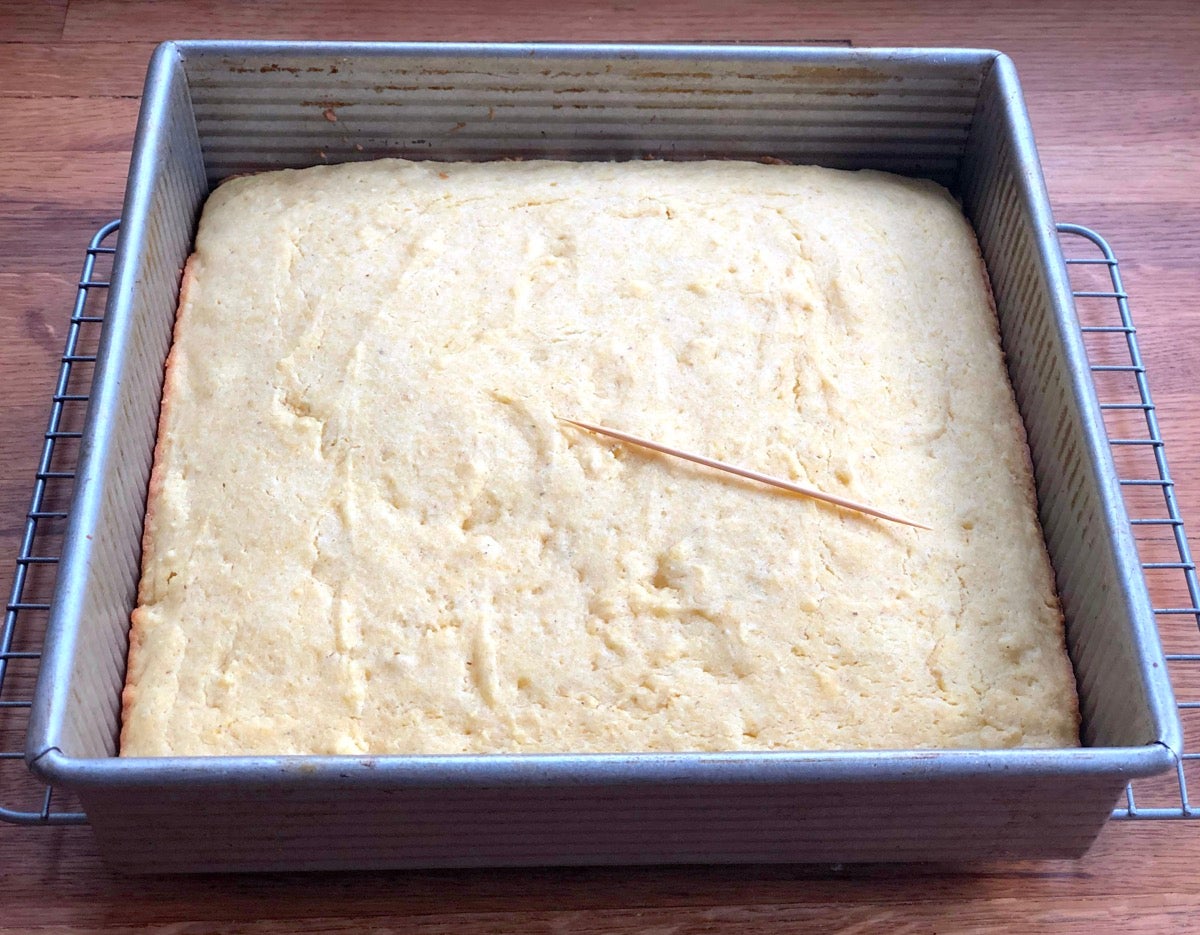 When done, the edges will be lightly browned and just beginning to pull away from the pan. A toothpick or paring knife inserted into the center should come out clean.
Place the pan on a rack to cool.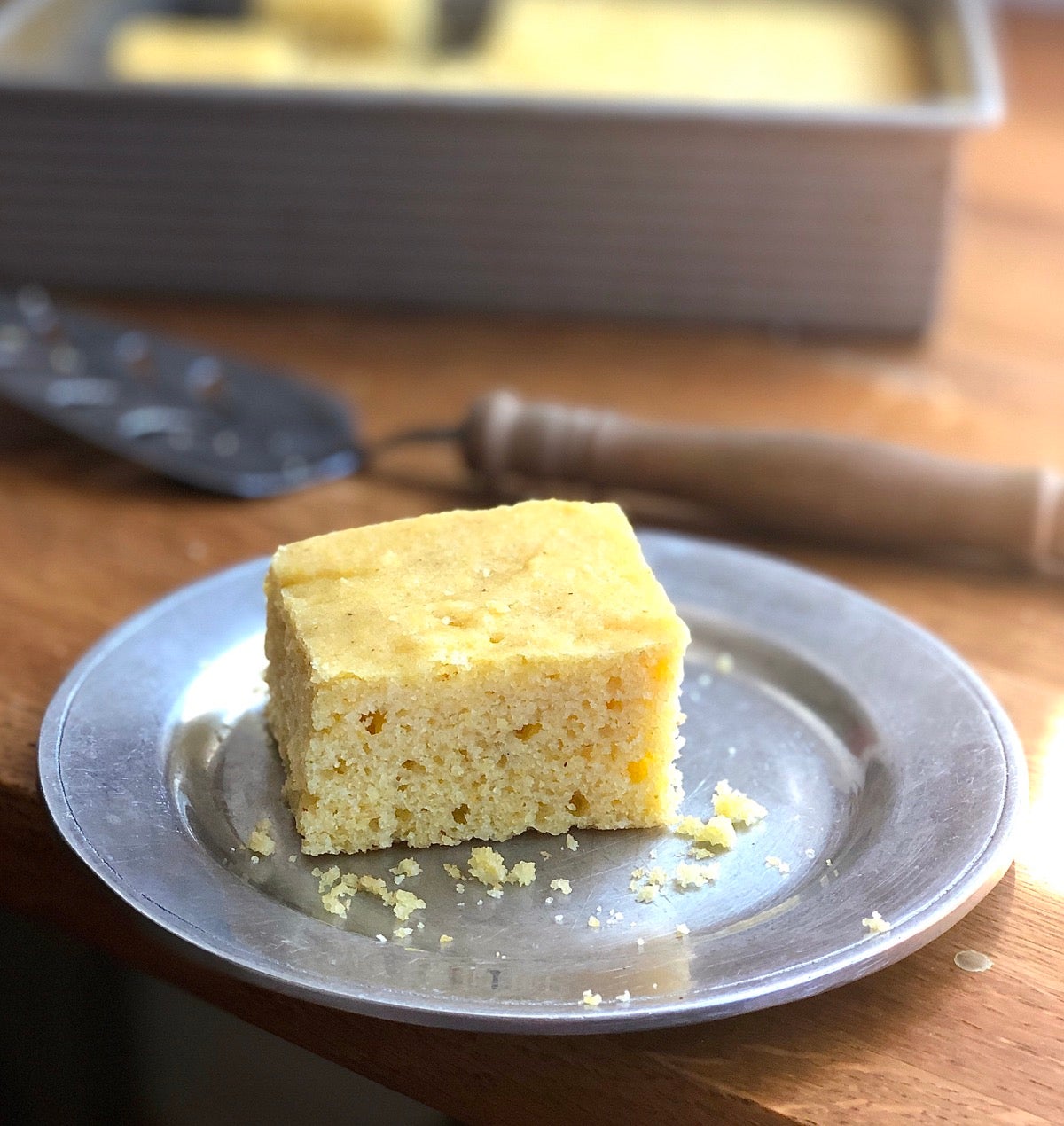 Slice and serve the cornbread. It'll be very tender when hot, so handle it carefully. Offer butter or preserves if you like, but honestly, it's pretty darned good all on its own.
OK, now that we've got the basics down, let's move on to a few different shapes.
Corn muffins
Line a 12-cup muffin pan with papers, and grease the papers.
Do you have to use papers? Not at all. But they do provide certain benefits, like preventing burned edges and encouraging a shapely rise; see how to use cupcake and muffin papers for more.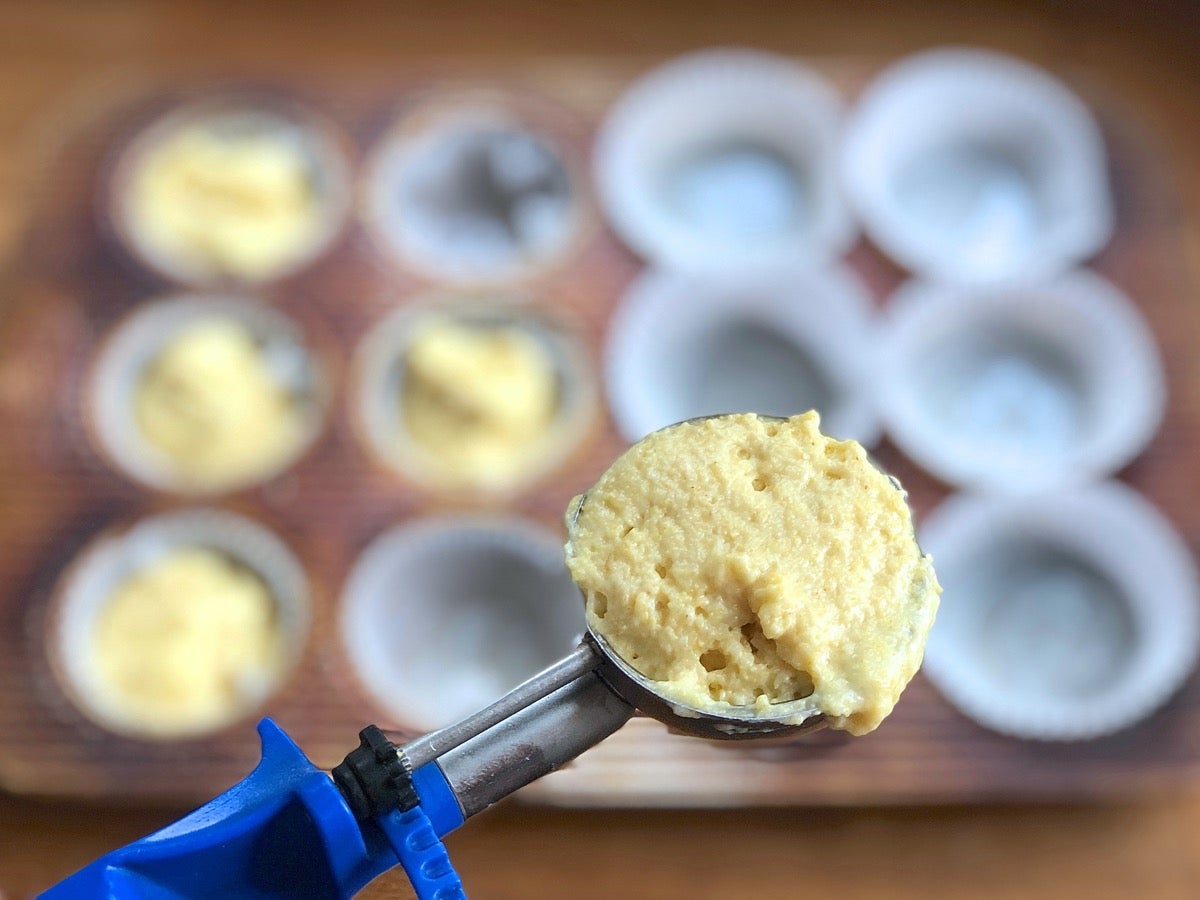 Divide the batter among the cups. A gently heaped muffin scoop (about 1/4 cup) is the exact right amount of batter for each muffin. If you have a scale, 68g in each cup is ballpark.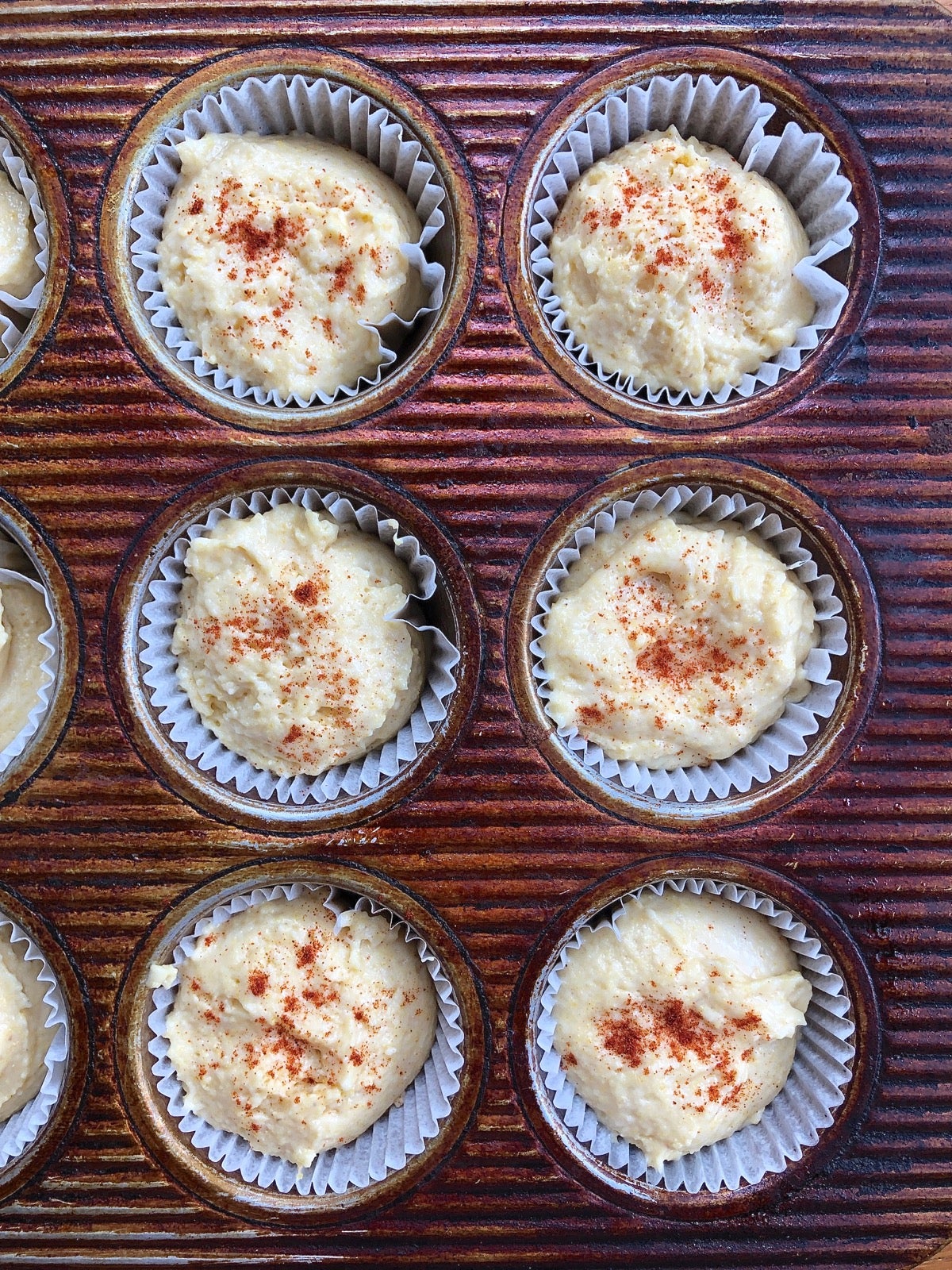 I've sprinkled these muffins with smoked sweet paprika. Ground cumin is a good option if you plan to serve the muffins with chili. For breakfast muffins with a touch of sweetness, try coarse white sparkling sugar.
Bake the muffins for 15 minutes, or until they pass the toothpick or paring knife test.  If you're baking mini muffins, start checking them at about 9 minutes.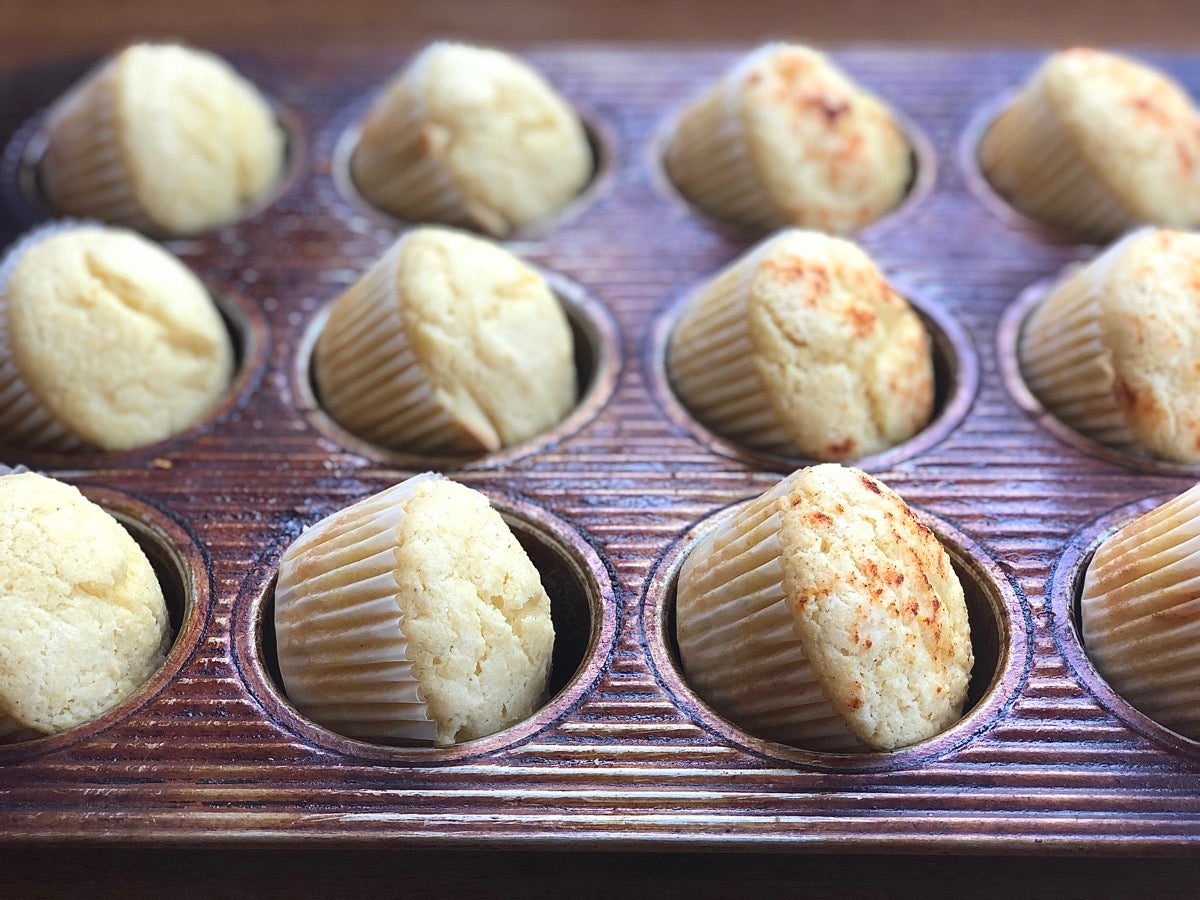 Remove the muffins from the oven and tilt them in their cups, using a table knife or your heat-toughened baker's fingers. This interim tilt prior to moving to a cooling rack will prevent trapped steam from softening the muffins' bottoms.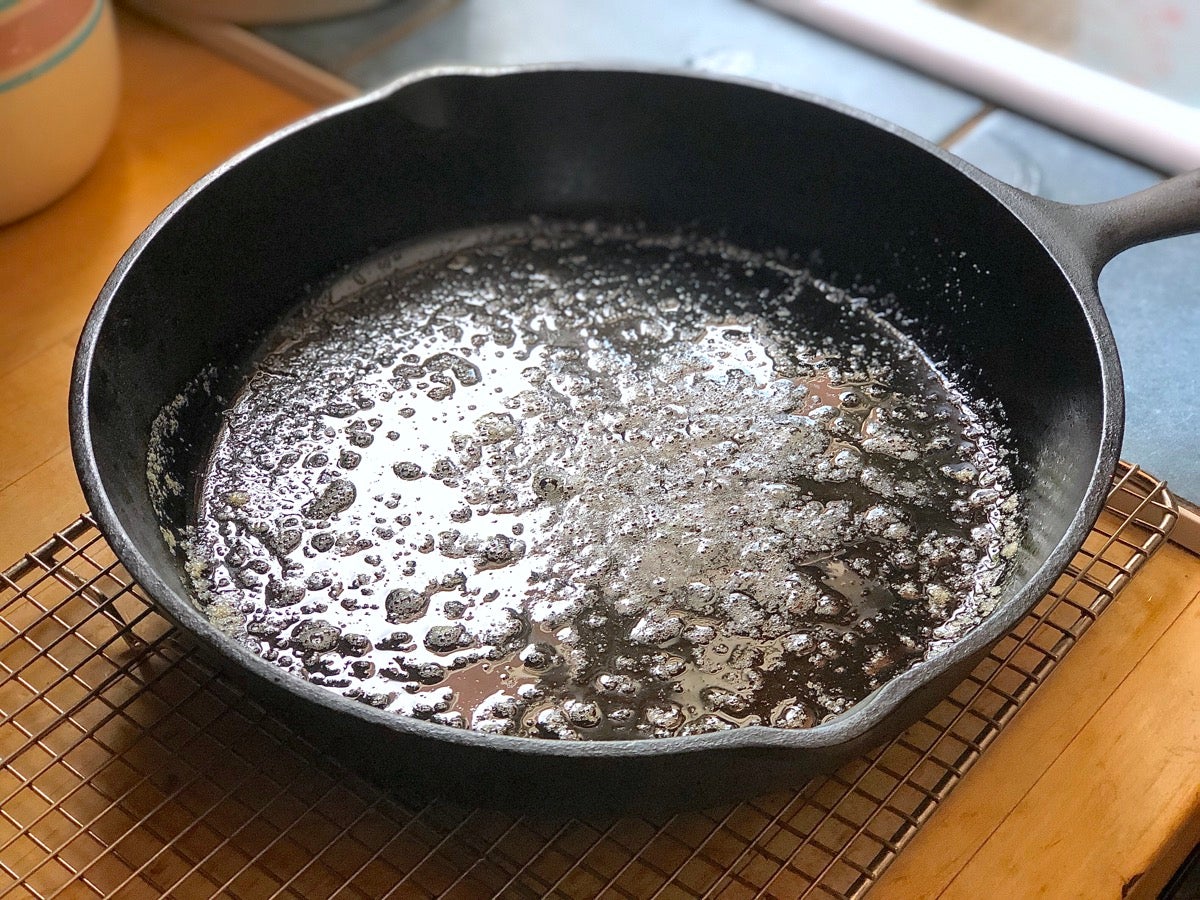 A signature Southern treat: skillet cornbread
Grab yourself a well-seasoned 9" cast-iron skillet. By 9", I mean the top diameter will be about 9"; since the pan slopes, its bottom diameter will be smaller.
Add 1 to 2 tablespoons melted butter to the pan; or simply melt the butter right in the pan, swirling it around to coat the bottom and reach slightly up the sides.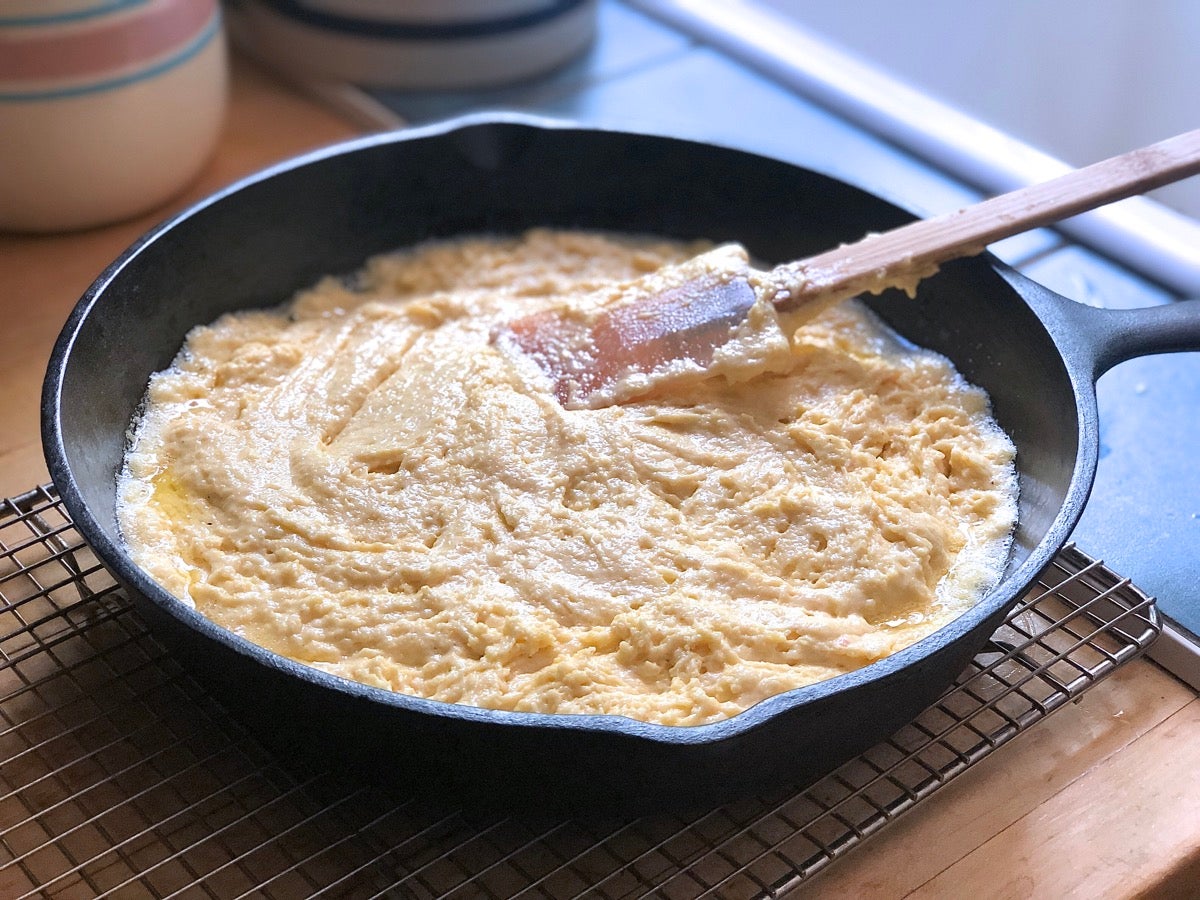 Scoop the batter into the pan, smoothing it out with a spatula.
Bake the cornbread for 18 to 20 minutes. Give it the toothpick test, or take its internal temperature: when fully baked, it should be 195°F to 200°F at the center.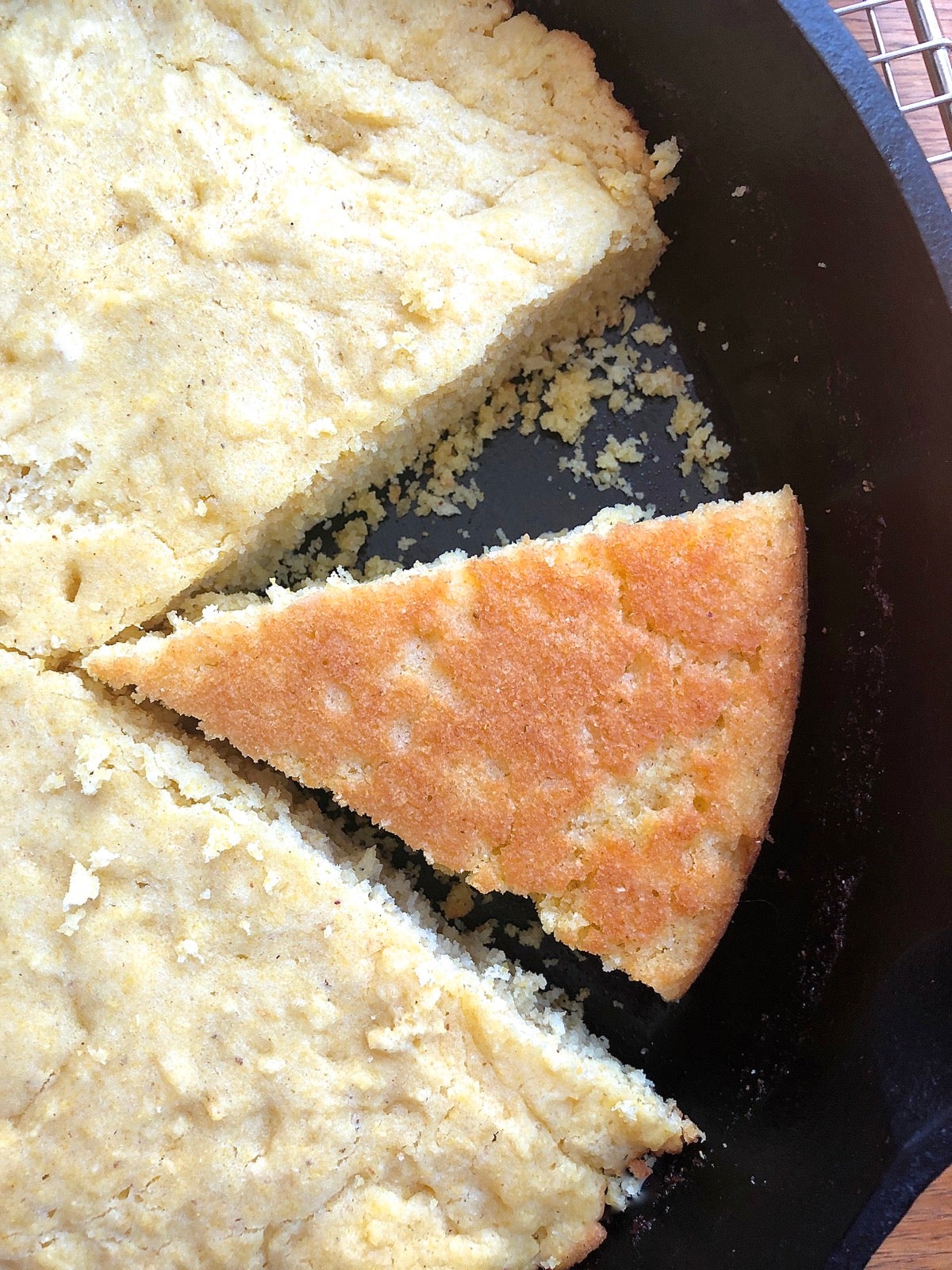 This is the true glory of a cast-iron pan: that buttery bottom crust is divine!
Toaster corncakes
OK, let's try one more version of our basic cornbread batter. Remember toaster corncakes, those cornbread rounds you can pop into the toaster for breakfast?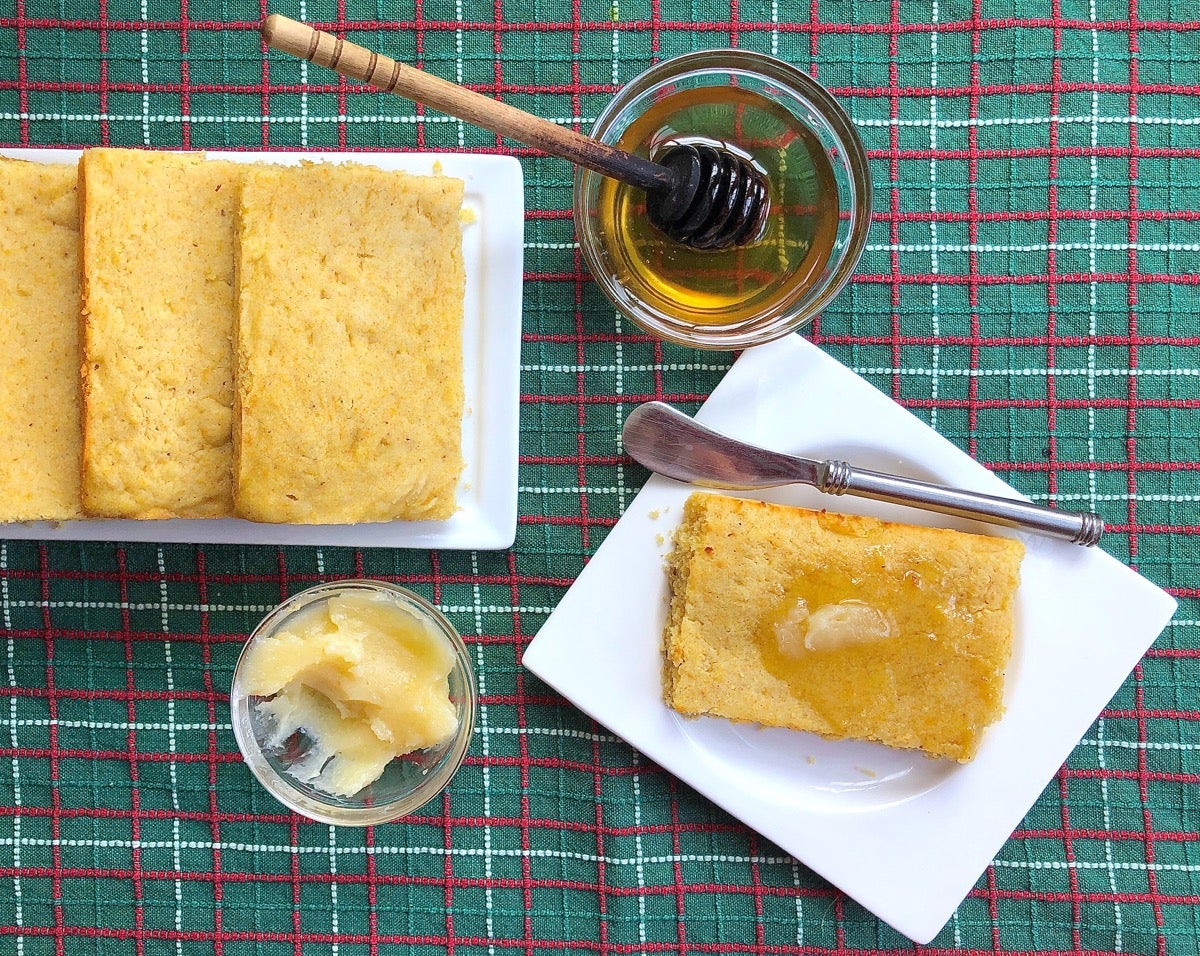 Bake your cornbread batter in a 9" x 13" pan until it tests done, about 18 minutes. Let the cornbread cool completely before cutting it into squares or rectangles; I've made these 3" x 4" but the size is up to you. Toast and serve with butter, honey, or honey-butter. 
Wait, what — honey butter? Work 2 generous teaspoons honey into 2 tablespoons of softened salted butter. Heaven.
As I mentioned before, this cornbread is ultra-tender; you'll need to handle it carefully if you warm a slice in your pop-up toaster. If you doubt your dexterity, it's easier to use a toaster oven. 
Cornbread: Take it to the next level
Having explored a number of ways to shape cornbread, let's move on to enhancements.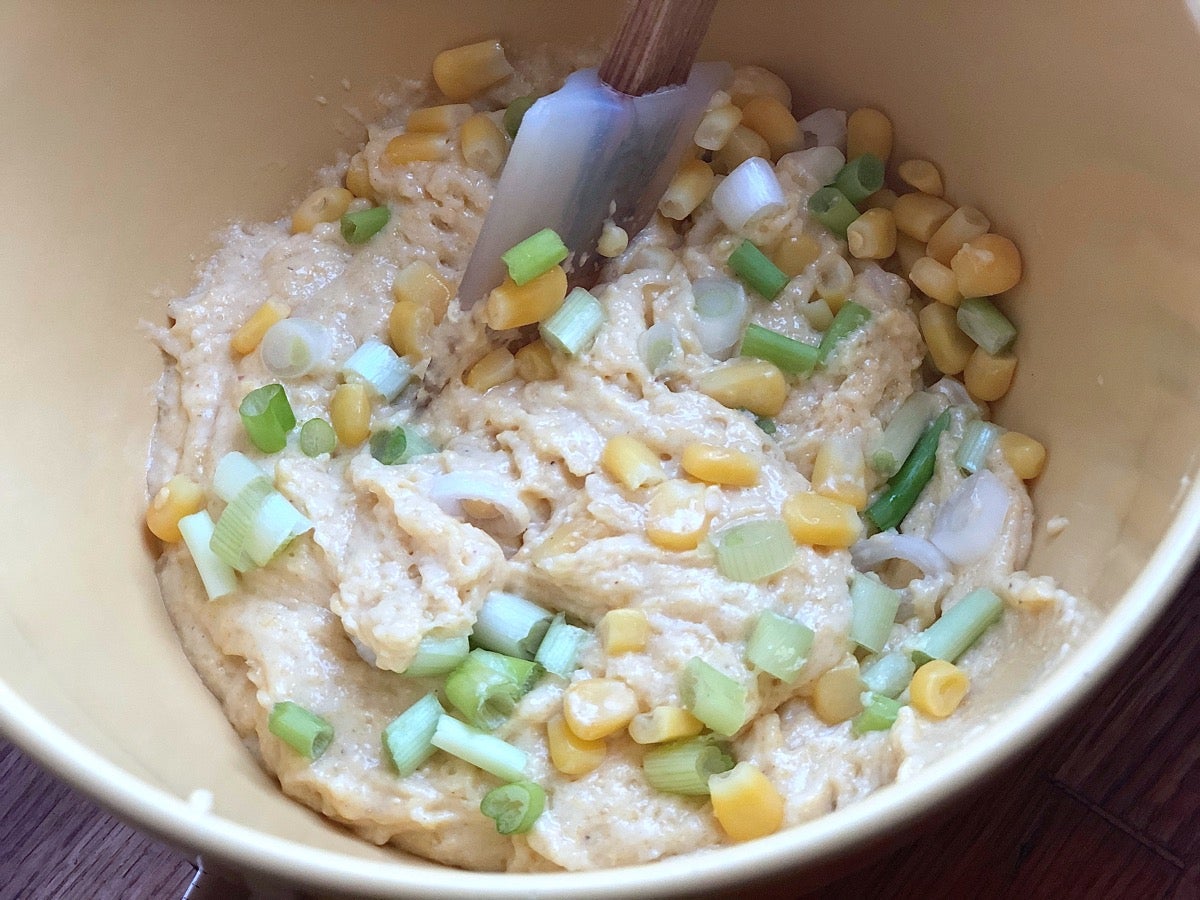 Like this: Add to the cornbread batter 1/2 cup (57g) fresh/cooked or frozen/thawed corn kernels and 1/2 cup (about 43g) chopped scallions (3 or 4 scallions, white and green part). This is especially yummy when fresh corn is in season.
Or how about this, the ideal accompaniment to scrambled eggs: Add 1/2 cup (57g) cooked crumbled bacon, 2 tablespoons chopped fresh chives, and 3/4 cup (85g) grated sharp cheddar cheese. 
Bake as directed, adding about 3 minutes to the typical baking time for whatever pan you're using.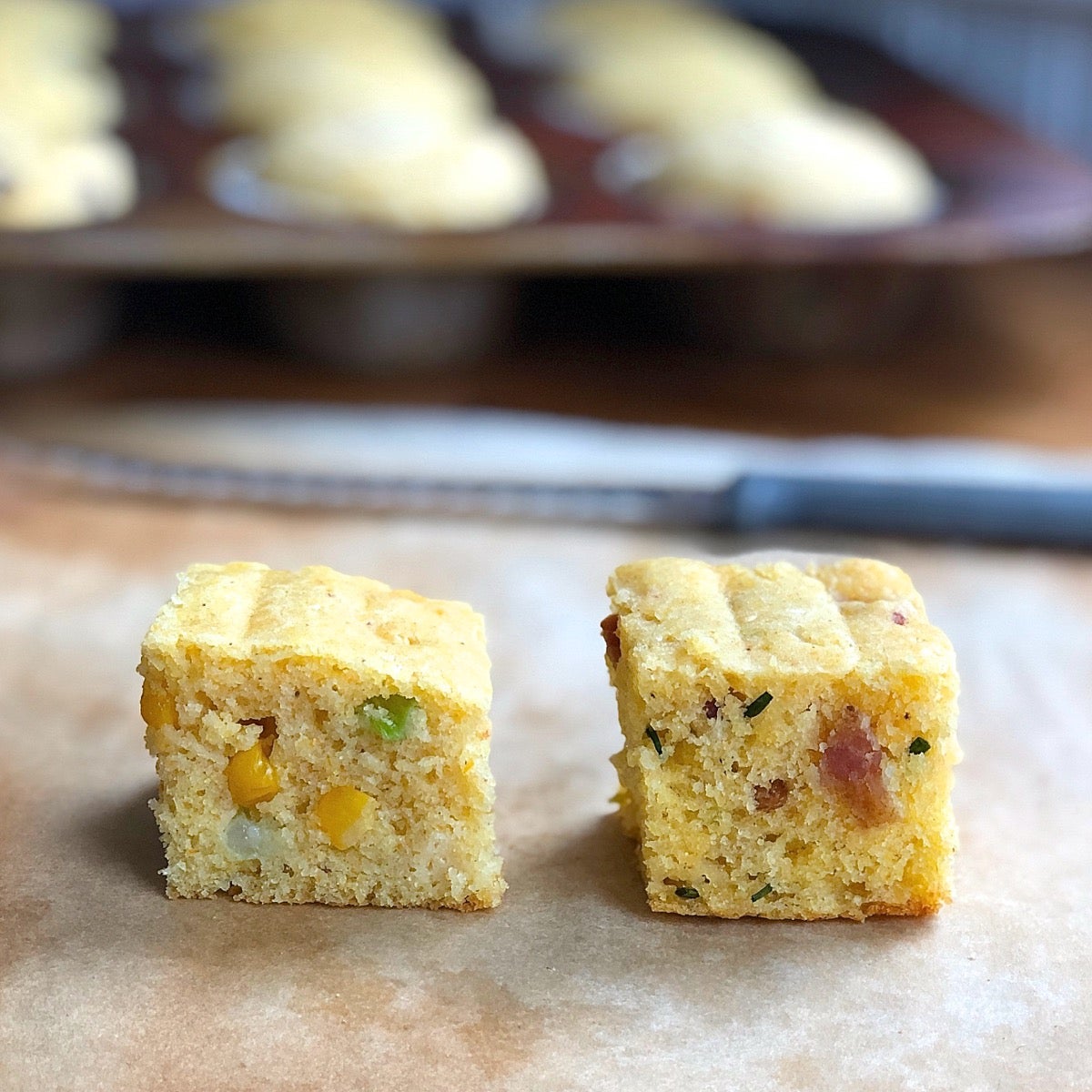 That's corn and scallion cornbread on the left; bacon, cheddar, and chives on the right.
Next, let's take a walk on the sweet side.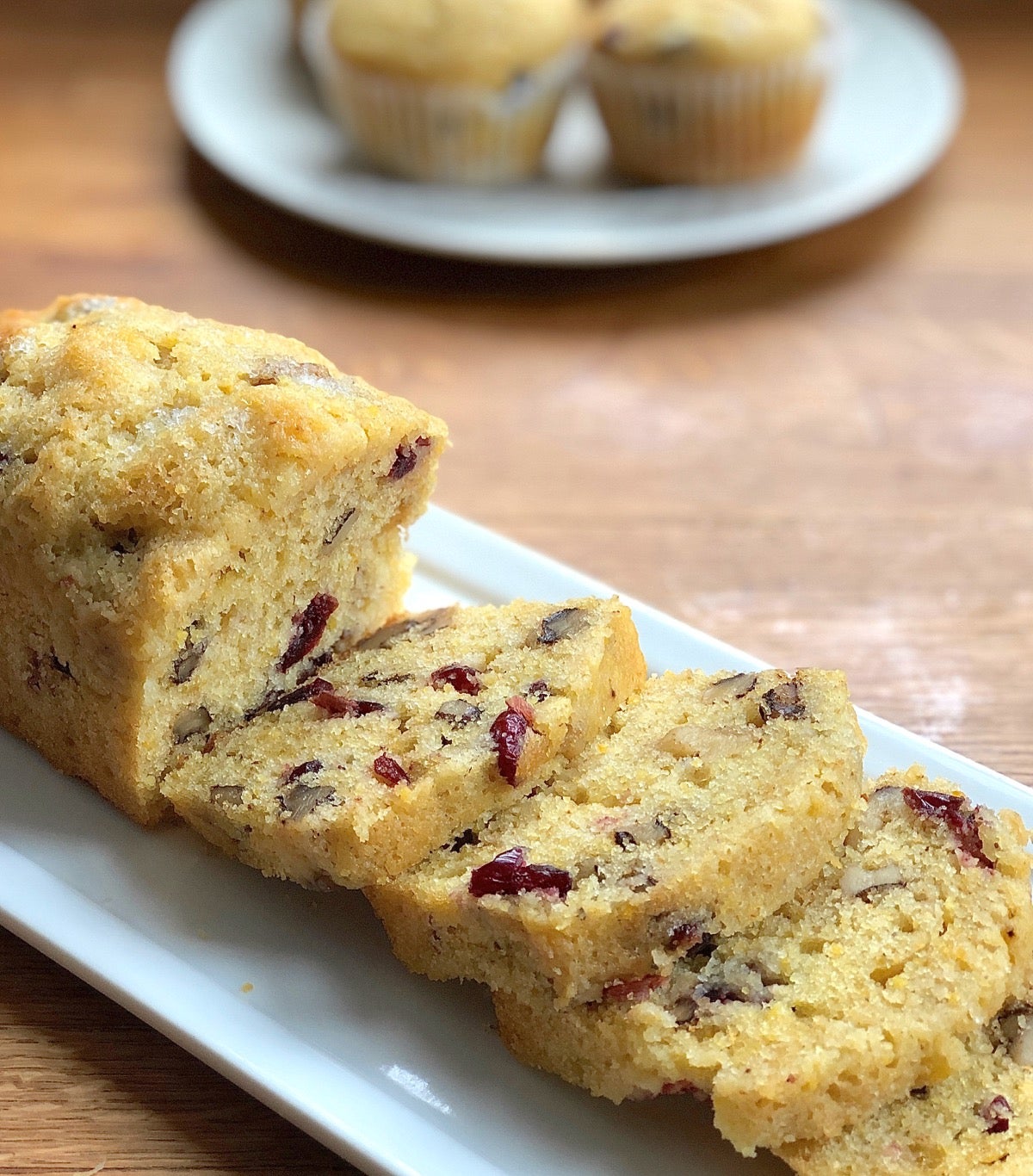 Cranberry-walnut cornbread: it's a piece of cake! Stir into the batter 1/2 cup (71g) dried cranberries and 1/2 cup (57g) chopped walnuts. Choose a pan and bake as directed above, adding about 3 minutes to the baking time if necessary. 
Want to try another shape? Spoon a third of the batter (a generous cup) into each of three 3 1/4" x 5 3/4" foil mini loaf pans (the size typically found sold in sets of four at the supermarket). Or make a single mini loaf and eight muffins, or two mini loaves and four muffins. Note that loaves will need to bake for about 28 minutes.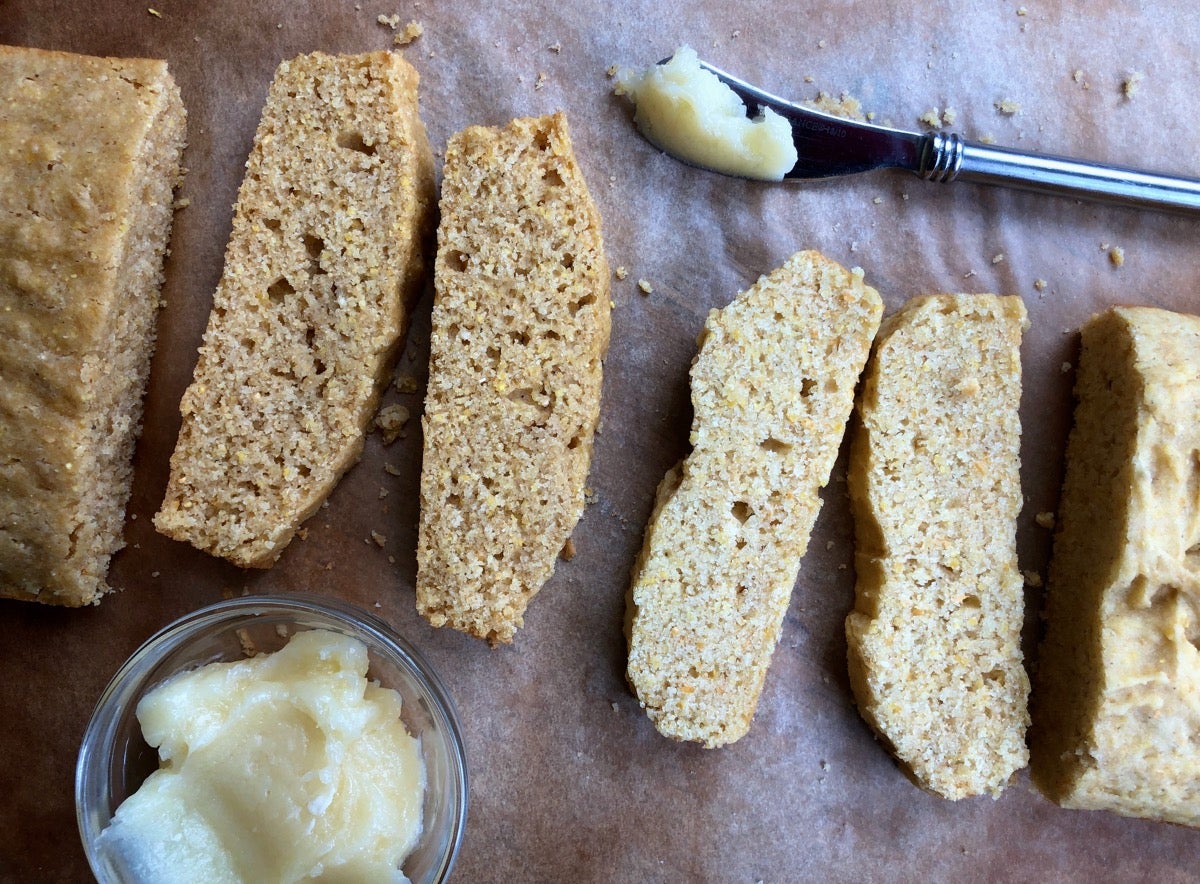 "Can I make this cornbread whole grain or gluten-free?"
Absolutely. For whole grain cornbread, substitute 1 3/4 cups (198g) white whole wheat flour for the all-purpose flour called for; and choose whole grain cornmeal, which comes in a variety of grinds. 
For gluten-free cornbread, substitute 1 3/4 cups (206g) Gluten-Free Measure for Measure Flour for the all-purpose flour called for; and be sure to use cornmeal milled and packaged in a gluten-free facility (if necessary for your diet).

And finally, a cornbread showstopper
As I was baking these multiple batches of cornbread, a vision kept appearing in my head: upside-down cornbread. Because, why not? If pineapple can bake in a bubbly syrup atop cake, then bacon, corn, and scallions can bake in melted butter atop cornbread. 
First, fry 5 or 6 pieces of bacon in your 9" cast-iron skillet until crisp. Remove them from the pan. If you like, drain off some of the grease (I didn't). Crumble the bacon, and return it to the pan with 1/2 cup (57g) corn kernels and 1/4 cup (22g) sliced scallions (white and green parts).
Or heck, figure out your own favorite toppings; I wouldn't go with cheese (I think it would stick), but nuts would work, as would diced onions, chopped ham or cooked sausage, chopped roasted vegetables (think butternut squash) — whatever feels like a good match for corn.
Spoon the batter over the toppings (bottomings?). Bake for about 20 minutes in a 375°F oven, until the bread tests done.
Remove the pan from the oven and carefully flip it over onto a sturdy serving plate or piece of parchment. Hold your breath as you lift off the pan; if everything goes right, you'll have a real centerpiece cornbread that's as handsome as it is yummy.

As the main dish at breakfast or brunch, or an accompaniment to soup or salad, this is cornbread taken to the next level. 
Cornbread, despite its long and storied American history, seems these days to be lost in the trendy shuffle of designer cupcakes and instant cooker desserts. But now that I've reacquainted myself with its diverse and delicious nature, I know I'll be making cornbread again soon. Will you? Share how you're planning to reimagine cornbread with us in the comments below! 
Jump to Comments