Cupcake pan liners. Baking cups. Muffin papers.
Whatever words you use for those paper liners that go into a muffin or cupcake pan, I'm sure you've heard of them. In fact, you probably have a stash of them in the back of the cupboard right now.
But what you might not know is, how do you know when to use them? And why?
Inquiring bakers want to know!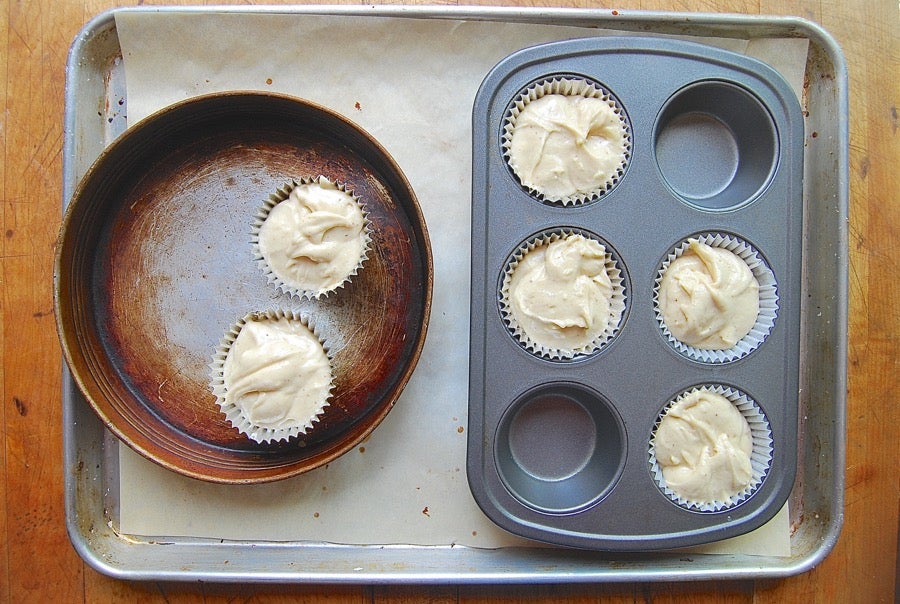 After doing a zillion tests (well, not QUITE that many), I discovered some interesting facts about muffin papers. So let's jump right in here with some of the burning questions you might have – and yes, "burning" (and its prevention) is one reason you might choose to use muffin papers. Or baking cups. Whatever.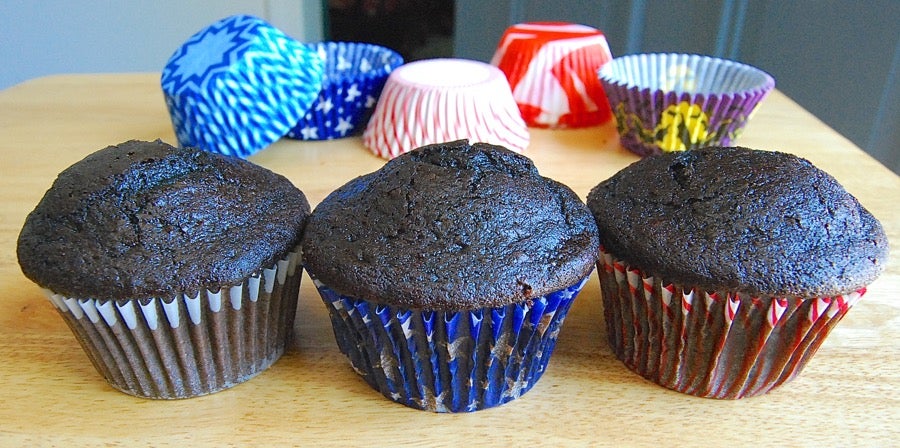 Should I use muffin papers when I want to dress up my cupcakes?
Well, the answer's not exactly black and white.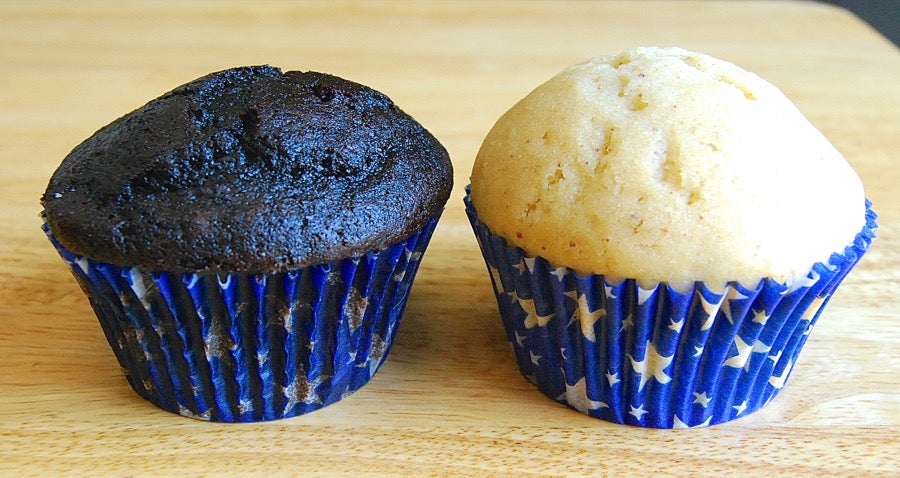 Actually, it IS black and white.
When you're baking light-colored cupcakes or muffins, definitely use all kinds of fun papers. But when you're going the dark chocolate route, colorful papers don't matter that much: as you can see above, the cupcake's color bleeds through the paper, muddying its design.
If you're determined to use papers, try doubling them; with two layers, the one on the outside helps keep things bright. Though it also won't "stick" to the cupcake very well; Hobson's choice.
Rule of thumb: The darker the cake, the less likely you are to get a pretty result. Unless you use foil cups; more on those later.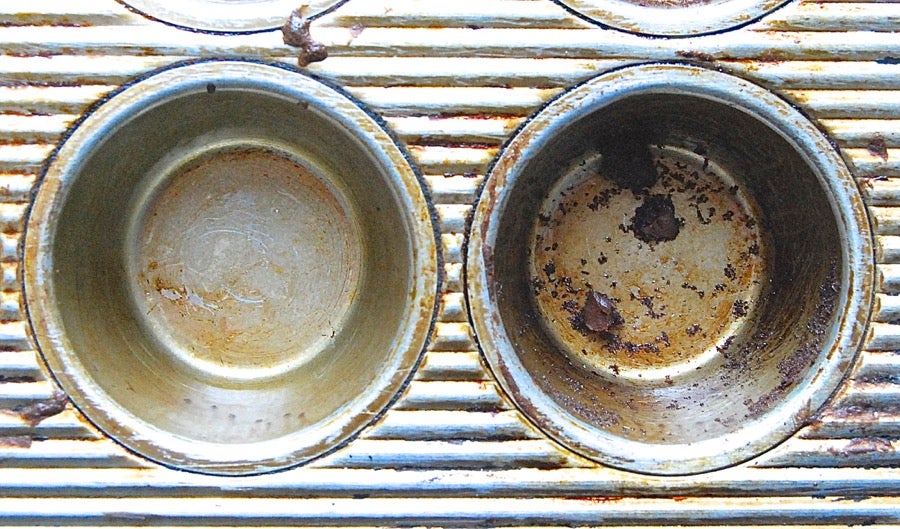 Do muffin papers make cleanup easier?
Absolutely. When you use papers, you usually don't even need to wash the pan. Without papers – get out the scrub brush. And as any cupcake or muffin baker knows, scrubbing the 12 wells in a muffin pan, individually, is just as onerous as it sounds.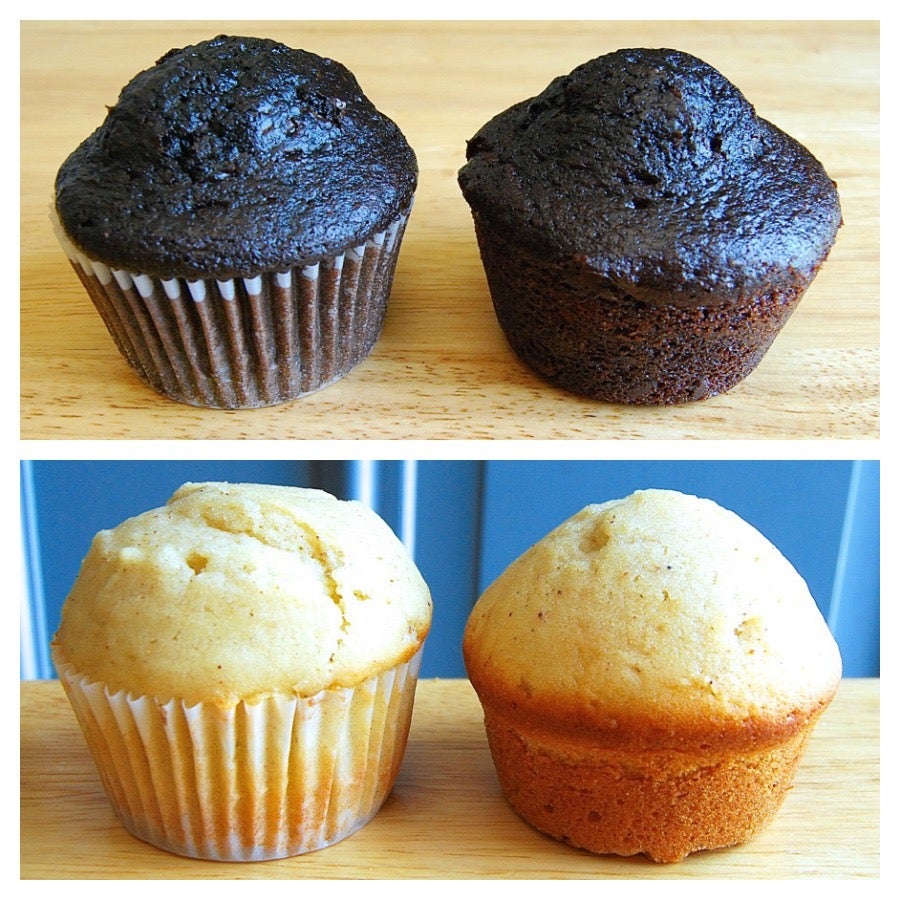 I've heard muffin papers can change the shape of your muffins or cupcakes. Is that true?
Well, yes and no – depends on the recipe.
The chocolate cupcakes above – one baked in a paper, one not – are very similar in shape. But the doughnut muffins below them show a definite difference – the one baked without paper peaks rather steeply, rather than forming a nice domed top.
Why's that? Without the insulation of paper, the sides of the baking muffin set before the center, which continues to rise. With the paper's insulation, the sides don't set as quickly – meaning the entire muffin rises, not just its center.
So, how do you know which muffins or cupcakes rise more evenly with the insulation of paper?
You don't. It's trial and error – but if you have any doubt, go ahead and use the papers, just in case.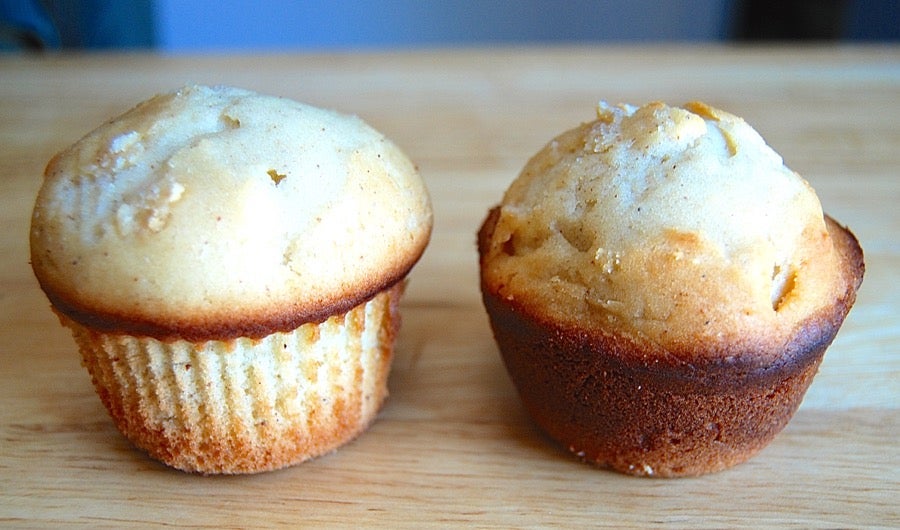 Which brings us to another reason to use papers: they keep the muffin or cupcake sides nice and soft, and help prevent potential burning. You can see which muffin was baked in paper, can't you?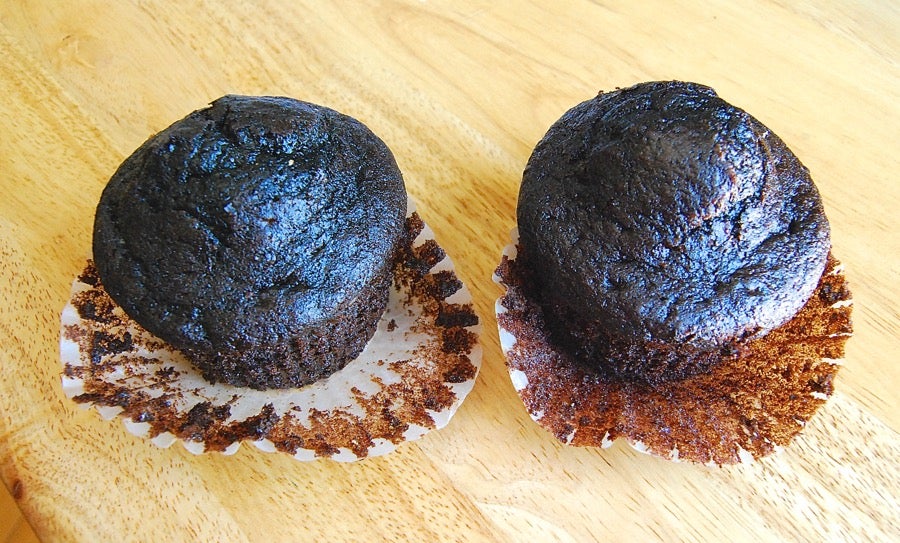 If I use muffin papers, should I grease them first?
Well, they do prevent cake from sticking to the paper – sometimes just to a minor degree, as illustrated above (that's greased paper on the left, ungreased on the right). But sometimes, with more delicate cupcakes, greasing the cups actually prevents chunks of cake sticking to the paper when you peel it off.
So again – better safe than sorry, right? Grease the papers.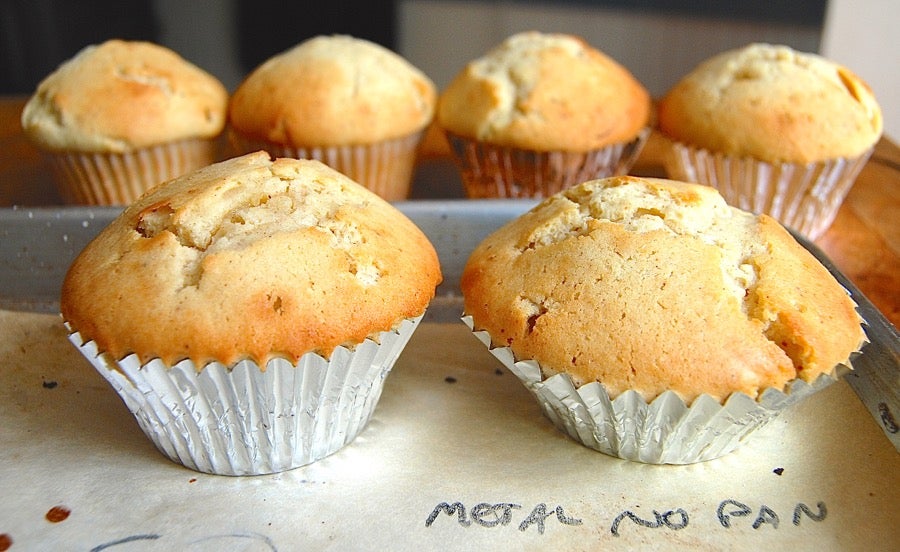 What about those aluminum foil "papers"? Do they work?
Aluminum papers are attractive in a simple sort of way; and dark cupcakes won't show through, obviously. But if you expect to use them for stand-alone (no pan) baking – don't. They tend to flatten out from the pressure of the rising batter.
Bottom line, muffin papers help your muffins and cupcakes in a variety of ways, some subtle, some more apparent...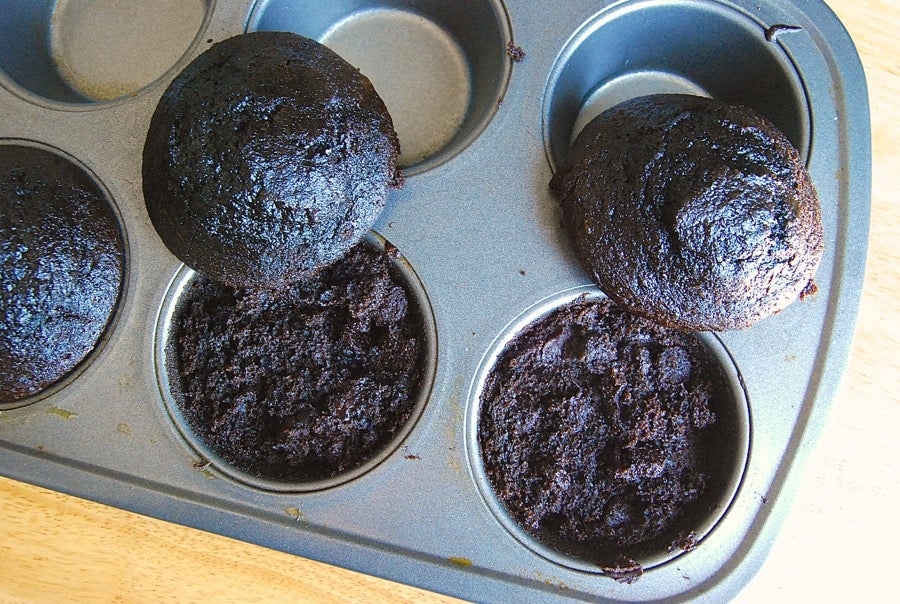 Like this cupcake disaster.
Ever had this happen? Sure you have! I was doing a side-by-side test, papers vs. no papers, in a non-stick pan. Took the cupcakes out of the oven, got the next batch started, then circled back and removed these from the pan 5 minutes after they'd come out of the oven.
Yes, just 5 minutes, but look what happened – the papered cupcakes slipped out easily, but those without papers were absolutely GLUED to the pan.
I had to dig those bottoms out with a spoon, and even then the pan was a mess. I scraped, and scoured, and muttered various unprintable imprecations under my breath... and vowed, from here on in, to ALWAYS use muffin papers.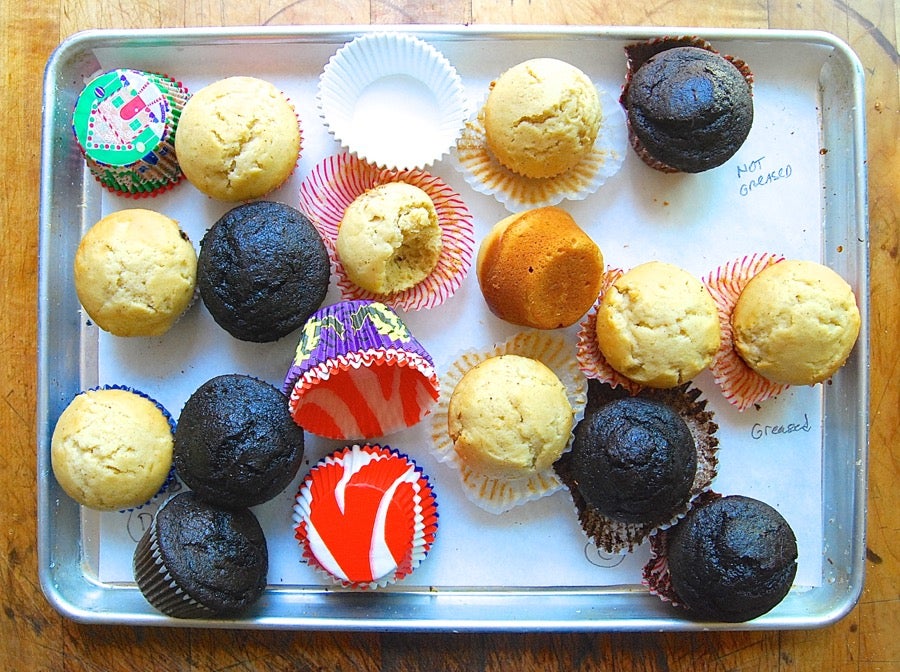 Luckily, I've now got all kinds, for every occasion!
Want to play dress-up with your next batch of cupcakes? Check out our selection of papers.
Jump to Comments