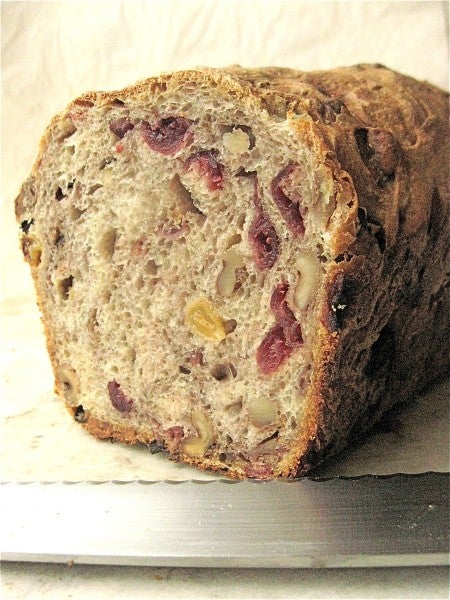 You visit a fancy metropolitan bakery. You pay fairly big bucks for a loaf of "artisan bread."
You think to yourself, "Hmmm, I should be able to make this at home... how hard could it be?"
The answer is – as hard as you make it, given the degree of authenticity you want the loaf to have.
You can build your own starter, and feed it twice daily. Make dough figuring baker's percentages and proper hydration, then mix and knead it to yield the perfect temperature for yeast growth. You can lovingly shape the loaf using traditional techniques, and bake it in an oven you've carefully filled with steam.
And if everything goes right, and you're a pretty good baker, you'll have an excellent loaf.
Me, I'm simply not that patient. I can certainly follow the artisan bread process; I've done it, it's interesting, it works.
But most days, I'll trade taste for classic preparation methods, thanks anyway. If you feel the same - read on.
No-knead bread is the easiest way for novices to get into bread baking. And the simplest way for any of us to enjoy yeast bread without investing a whole lot of prep time.
As its name implies, one of yeast bread's basic challenges – knowing how to knead – is removed. Whether you're making a soft cheddar soda bread, crackly-crusted white bread, or any number of other tasty no-knead loaves, you'll expend a minimum of effort for a maximum bread experience.
How does this work? Don't you HAVE to knead yeast bread?
As it turns out – no. Just the simple passage of time, paired with a stickier than normal dough, will develop enough gluten to produce bread with body, crackly-crisp crust, and great texture. To say nothing of wonderful flavor.
Five years ago next month, The New York Times' Mark Bittman introduced the world at large to no-knead breads, riffing on the method Jim Lahey was using at his (NYC) Sullivan Street Bakery.
Authors Jeff Hertzberg and Zoe Francois took things a few steps further with their seminal Artisan Bread in Five Minutes a Day.
And many of us have embraced "no need to knead" for lots of our loaves ever since.
Are you a wannabe bread baker? Or simply someone - anyone - who wants delicious bread with a minimum of effort?
Then this dense, chewy, fruit-and-nut-packed No-Knead Harvest Bread is for you.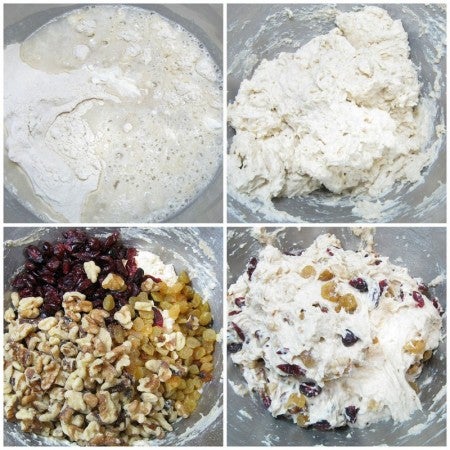 Place the following in a mixing bowl:
3 1/4 cups (13 3/4 ounces) Lancelot Hi-Gluten Flour or King Arthur Unbleached All-Purpose Flour
1 cup (4 ounces) King Arthur Premium Whole Wheat Flour or King Arthur White Whole Wheat Flour
2 teaspoons salt
1/2 teaspoon instant yeast
1 3/4 cups cool water
Mix until well combined. No knead to need, simply mix until there's no dry flour showing; then add the following:
3/4 cup dried cranberries
1/2 cup golden raisins
1 cup coarsely chopped pecans or walnuts
Cover the bowl with plastic wrap, and let the dough rest at room temperature overnight, or for at least 8 hours.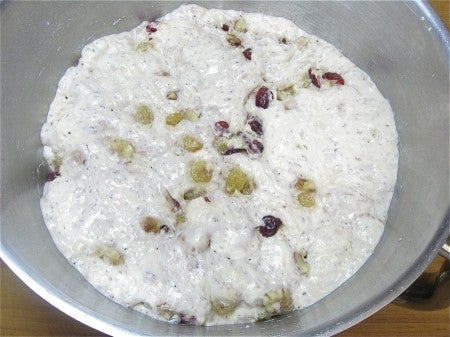 It'll become bubbly and rise quite a bit.
When you pull some dough away from the side of the bowl, you'll see the gluten that's formed – even without kneading.
What's up with that? Don't you have to knead yeast dough to "develop" it, to create and strengthen its gluten?
Actually, you don't. Yeast dough will develop its own gluten as it ferments (rises), so long as you give it sufficient time – which is the secret behind no-knead breads. No kneading, but lots of slow rising – sometimes for days, in the fridge.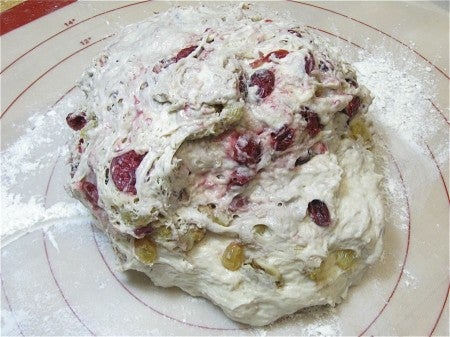 Turn the sticky dough out onto a well-floured work surface.
A silicone rolling mat is helpful here; not only is the dough easier to work with, it's simple to pick up the mat afterwards, dump off any excess flour, and simply rinse it clean.
Try picking up and dusting off your wooden table or granite countertop!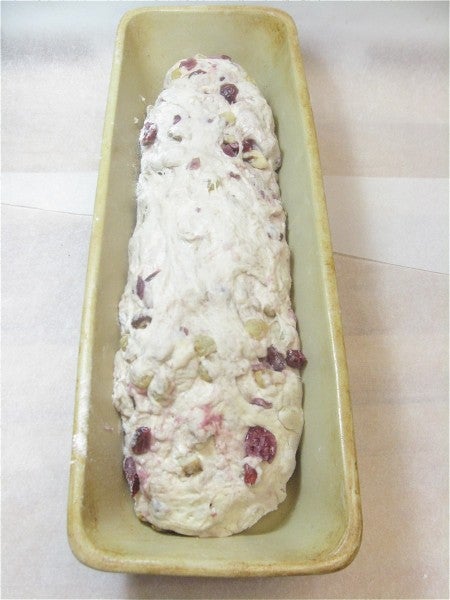 Gently form the dough into a log or round loaf to fit your 14" to 15" long lidded stoneware baker; a 9" to 10" round lidded baking crock, or 9" x 12" oval deep casserole dish with cover.
Lightly grease the pan you've chosen. Place the dough in the prepared pan. Cover and let rise at room temperature for about 1 to 2 hours, until it's become puffy.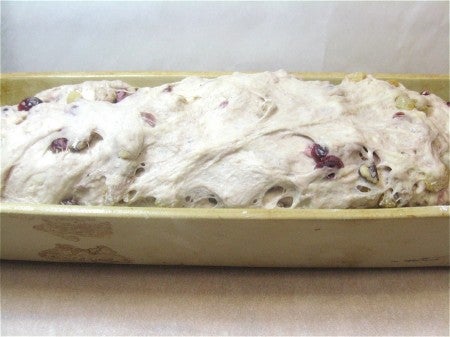 It should rise noticeably, but it's usually not a real high-riser.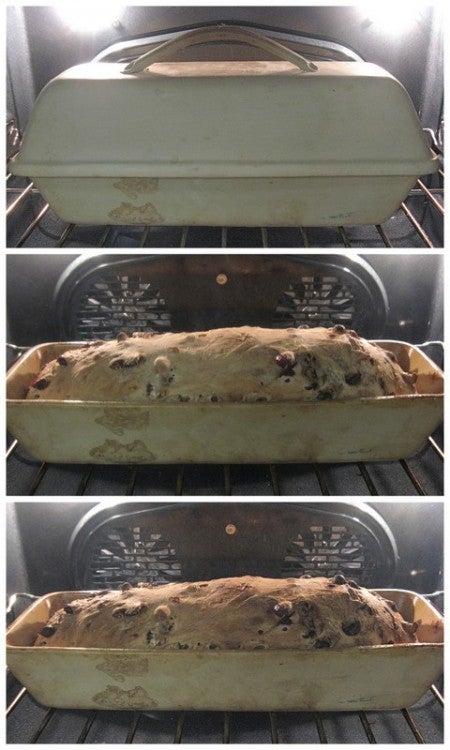 Place the lid on the pan, and put the bread in the cold oven. Set the oven temperature to 450°F.
Bake the bread for 45 to 50 minutes, then remove the lid and continue to bake for another 5 to 15 minutes, until it's deep brown in color, and an instant-read thermometer inserted into the center registers about 205°F.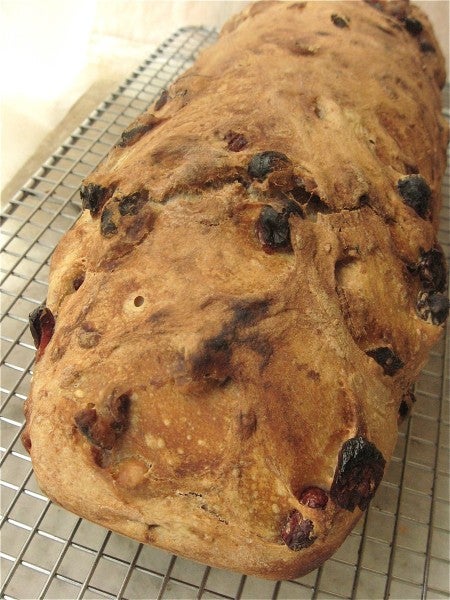 Remove the bread from the oven, and turn it out onto a rack.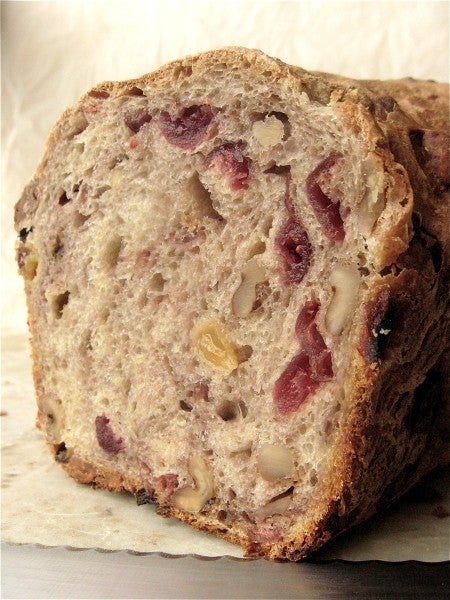 Cool completely before slicing. Store leftovers, well-wrapped for several days at room temperature; freeze for longer storage.
Notice the slight purple cast to the bread? That's from the walnuts; there's something about walnuts' acidity that reacts with any alkalinity in the bread and changes its color. If I'd used pecans, it'd be creamier-looking. It's a little off-putting, appearance-wise. But don't worry; the bread doesn't taste "purple" – its flavor is strictly golden!
Read, bake, and review (please) our recipe for No-Knead Harvest Bread.
Jump to Comments