Pierogi: Poland's favorite comfort food
A salute to stuffed dumplings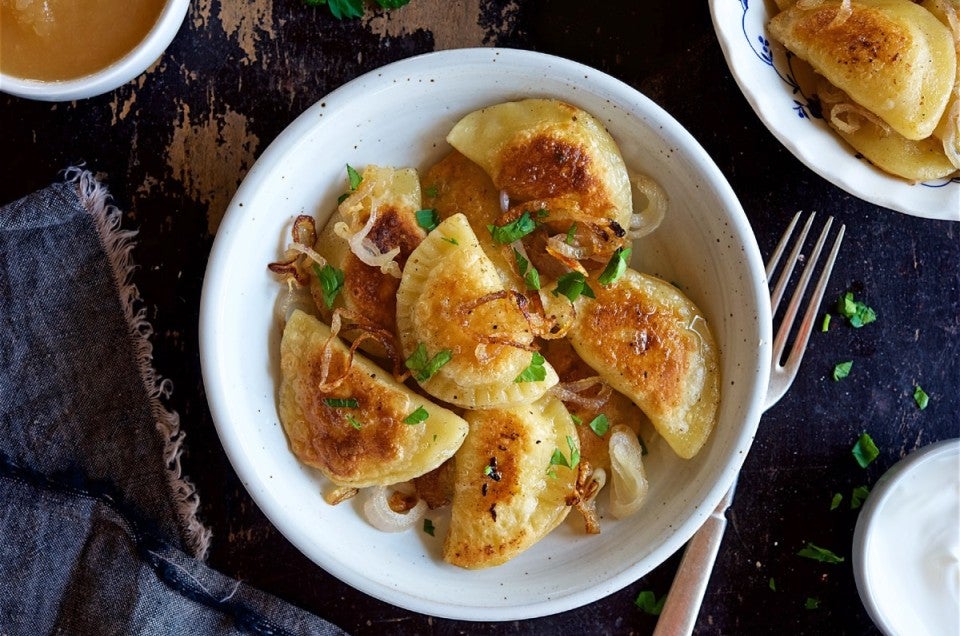 Have you ever eaten pierogi? These stuffed noodle-dough dumplings are to Polish cuisine what raviolis are to Italians, wontons are to Chinese folks, and kreplach are to Jews all over the world: happiness on a plate, equal parts food, family, nostalgia, and heritage.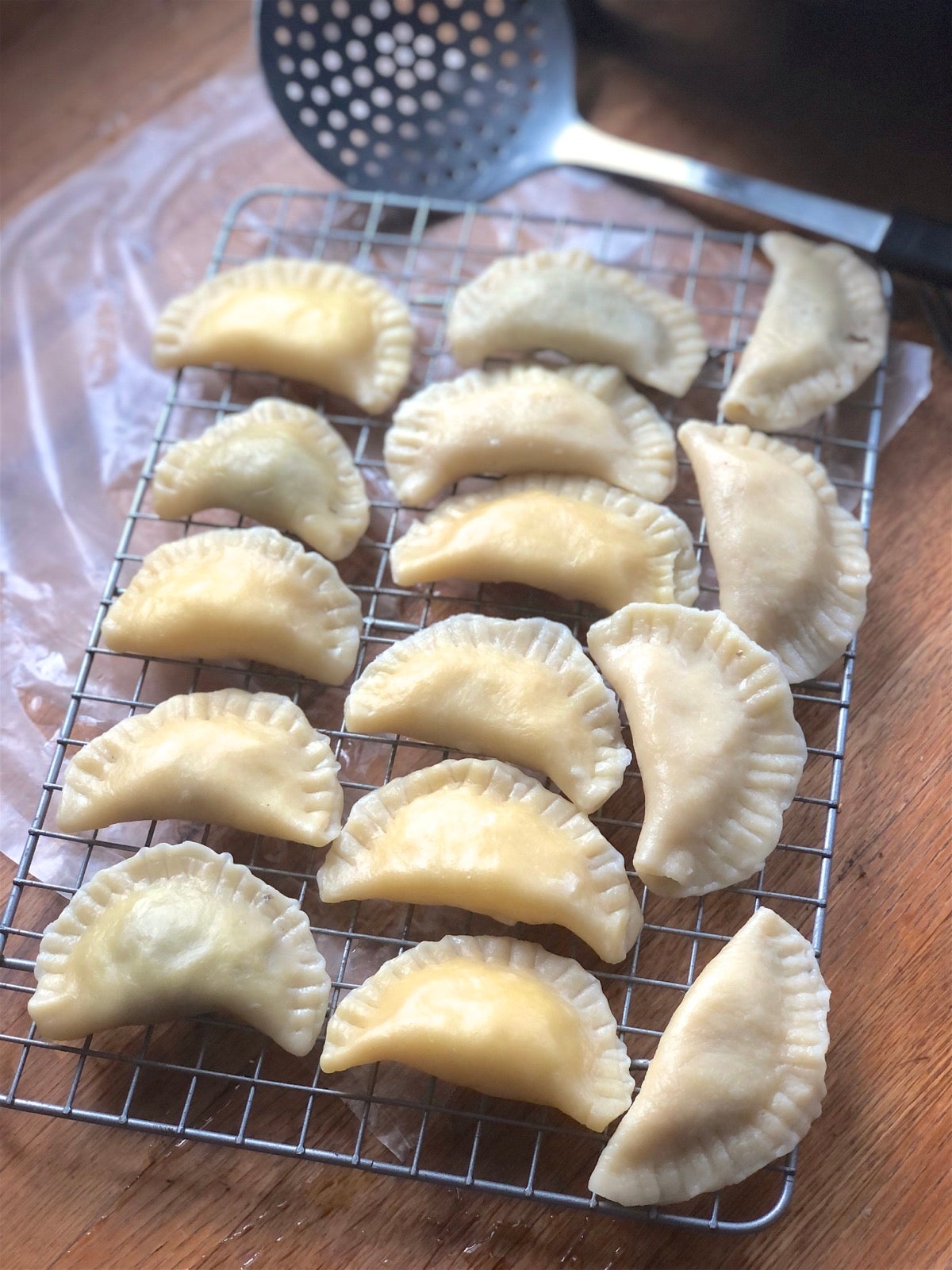 Still, delicious as they are, I'd guess most of you have never made (or even been served) pierogi. The thing is, we tend to stick to our own favorite family dishes, rarely venturing into unknown territory. If your fondest memories are of Mom's thumbprint cookies and babka, you may be apprehensive about venturing into hamantaschen and dios beigli. You know what you like — and like what you know.
So why change? Because life is all about embracing change. These days, with so much welcome emphasis on recognizing and celebrating cultures from all over the world, leaving your comfort zone to bake someone else's signature bread or dessert is an easy step in the right direction.
I was struck recently by a quote from Toni Tipton-Martin, a culinary journalist and expert in classic African-American cuisine. She's the voice and conscience for many of us dedicated to the respectful sharing of the disparate food cultures that make up our American food landscape. As Tipton-Martin noted in a recent episode of Elle Simone Scott's podcast, The Walk-In (with attribution to chef and author Edward Lee), "Rather than focusing on appropriation, we should think of [recipe sharing] in terms of appreciation." 
And what happier way to appreciate a culture beyond your own than at the dinner table?
Soft, warm pierogi, bathed in brown butter and nestled in a bed of caramelized onions, is the perfect comfort food for a chilly winter's evening.
How to make pierogi
We have an excellent Homemade Pierogi recipe right here on our site, so let's start there. My sister-in-law Cecilia is a veteran pierogi maker, and the first thing I do is ask her to vet our recipe.
"There are many variations for the dough, and this one sounds fine," she texts in response, adding that the recipe she uses comes from her mom, who emigrated to America from Poland after World War II. "I don't use sour cream in my recipe, but I've seen that. And for the potato/cheese filling I use farmers' cheese [rather than cheddar]," she adds, noting that she also makes her dough in a stand mixer, rather than by hand as our recipe directs.
Sounds like our pierogi recipe is close enough to the real deal, culturally speaking. So let's get started.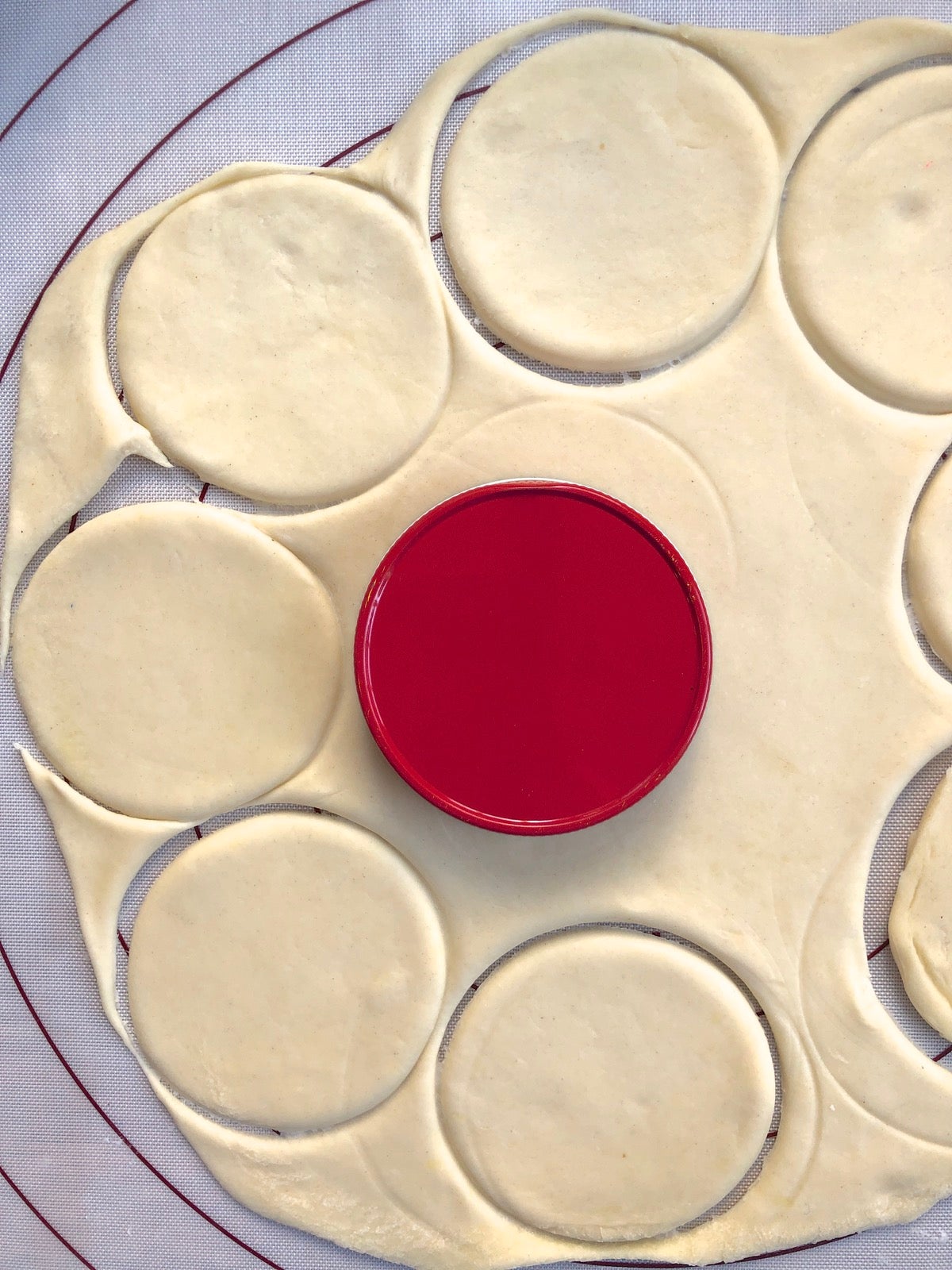 Make the dough
We'll make the dough first, so it can chill while we make the filling.
Note: The following can all be done by hand, or using a stand mixer equipped with the flat beater.
Mix the flour and salt. Add the egg to the flour and combine. The dough will be quite clumpy at this stage.
Work in the sour cream and soft butter until the dough comes together in a slightly rough, slightly sticky ball.
Using just your fingertips, knead and fold the dough without adding additional flour until the dough becomes less sticky but is still quite moist.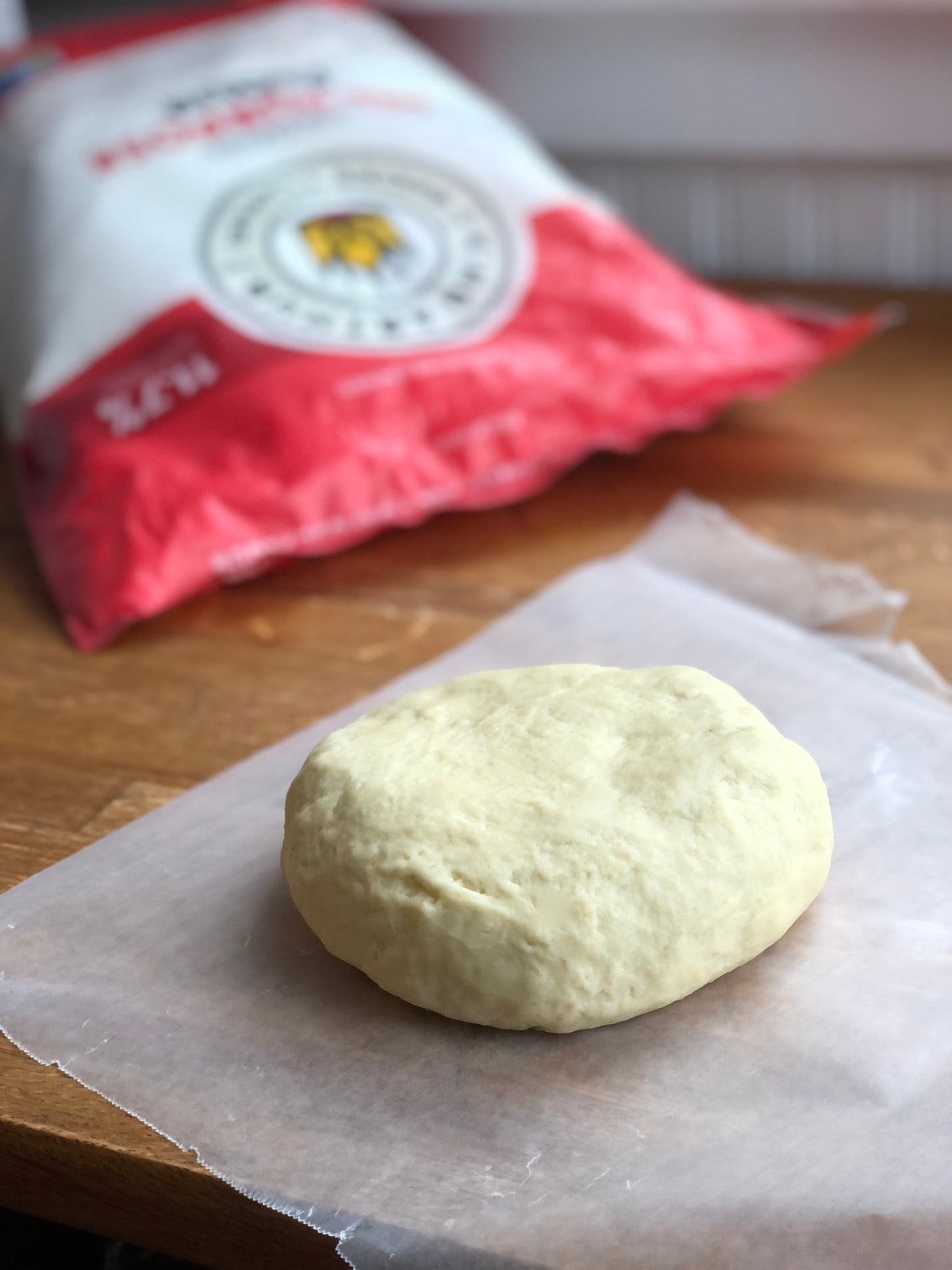 Wrap the dough well in plastic wrap and refrigerate for 30 to 60 minutes, or up to 48 hours.
Make the filling
This potato and cheese filling is probably the most commonly used, but I'll also share some alternate fillings later on.
1 cup (227g) warm mashed potatoes
1 cup (113g) sharp cheddar cheese, shredded
Combine the warm mashed potato and cheese. Stir and mash until the cheese is melted and the filling is cool to the touch. Taste and adjust the seasonings with salt and pepper.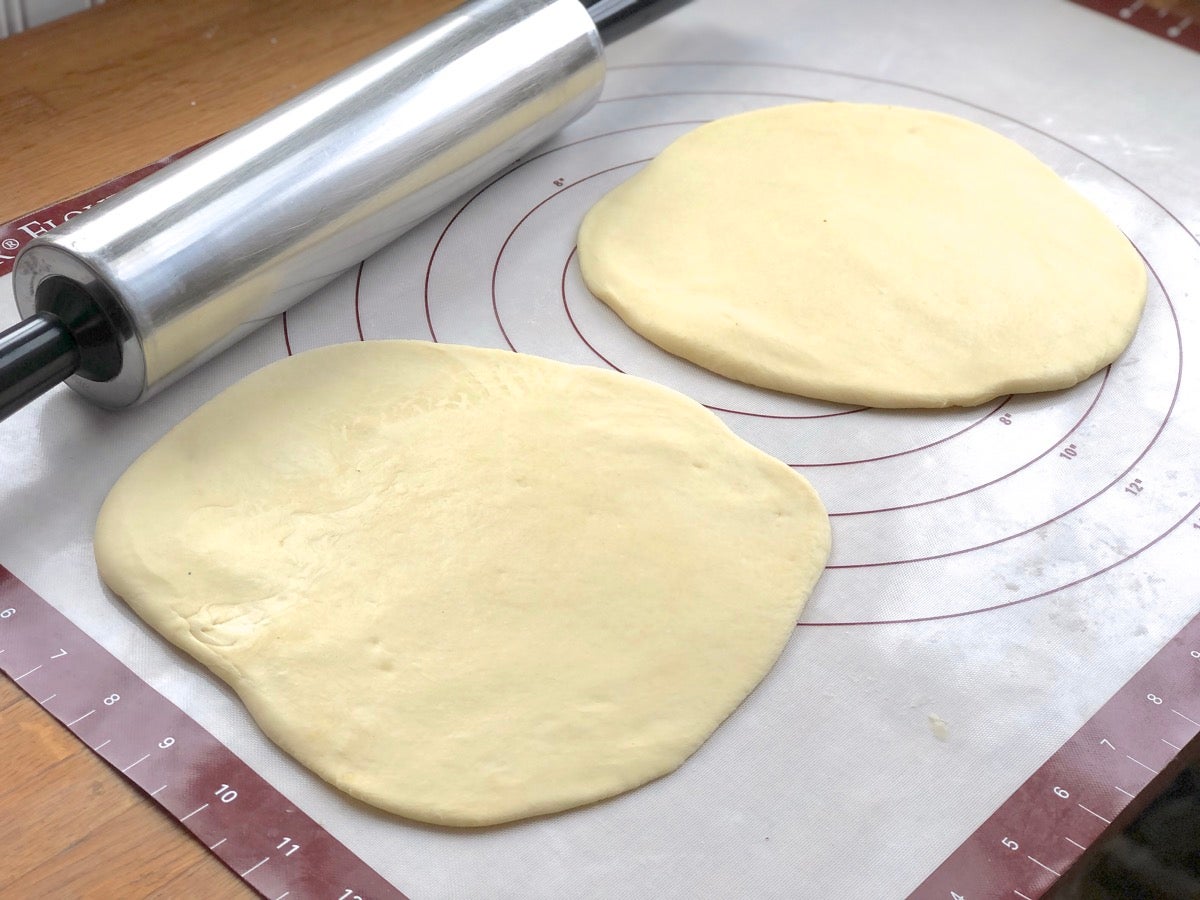 Assemble the pierogi
Remove the dough from the refrigerator and unwrap it. Working with one piece at a time, roll it into a 10" circle about 1/8" thick. Use a 2" round cutter to cut circles of dough; you should be able to get about 3 1/2 dozen circles. 
Repeat with the other half of the dough.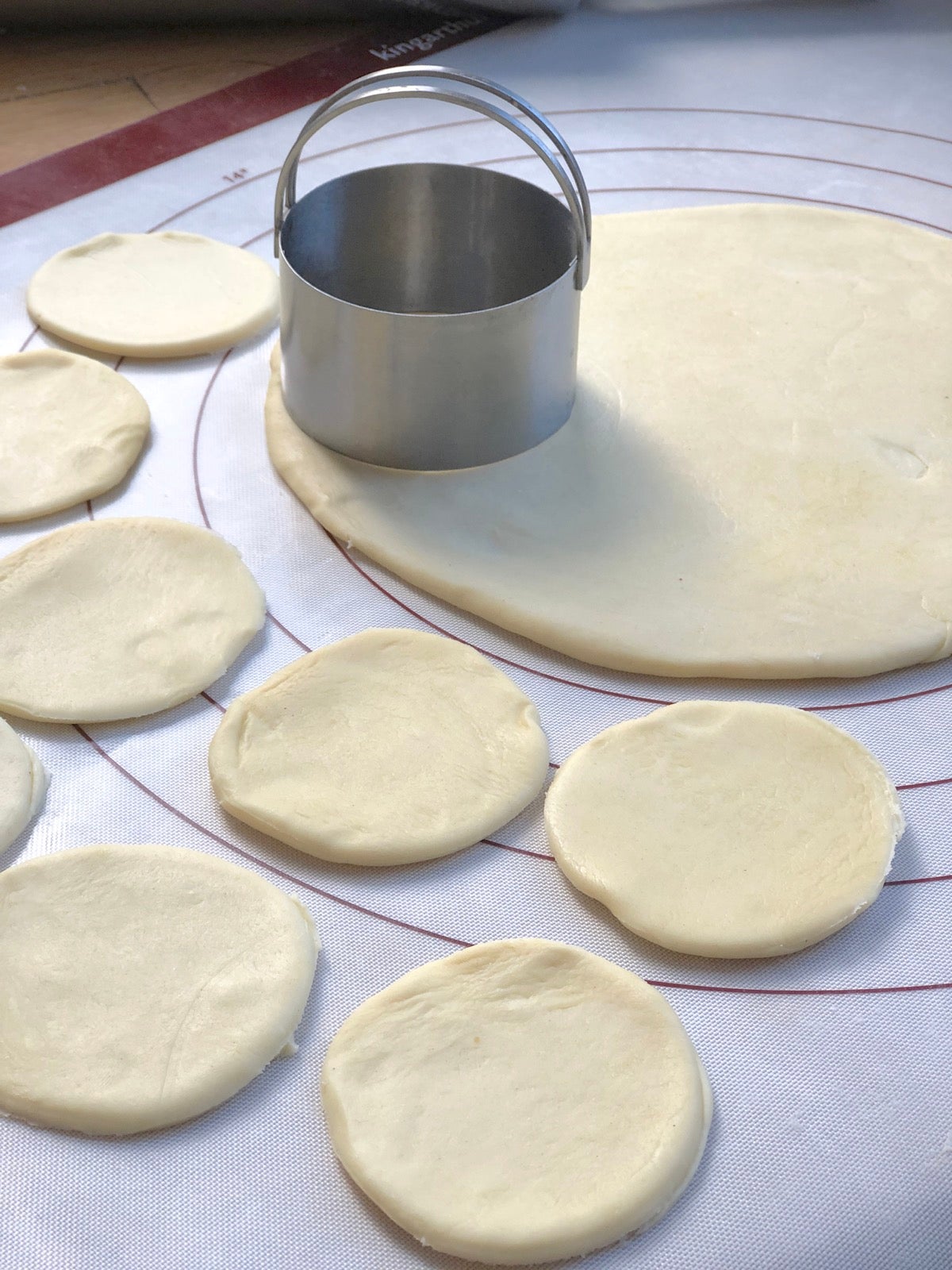 If you don't want to re-roll the scraps, snip them into small pieces and add to simmering soup. I can attest that they're delicious in homemade chicken soup!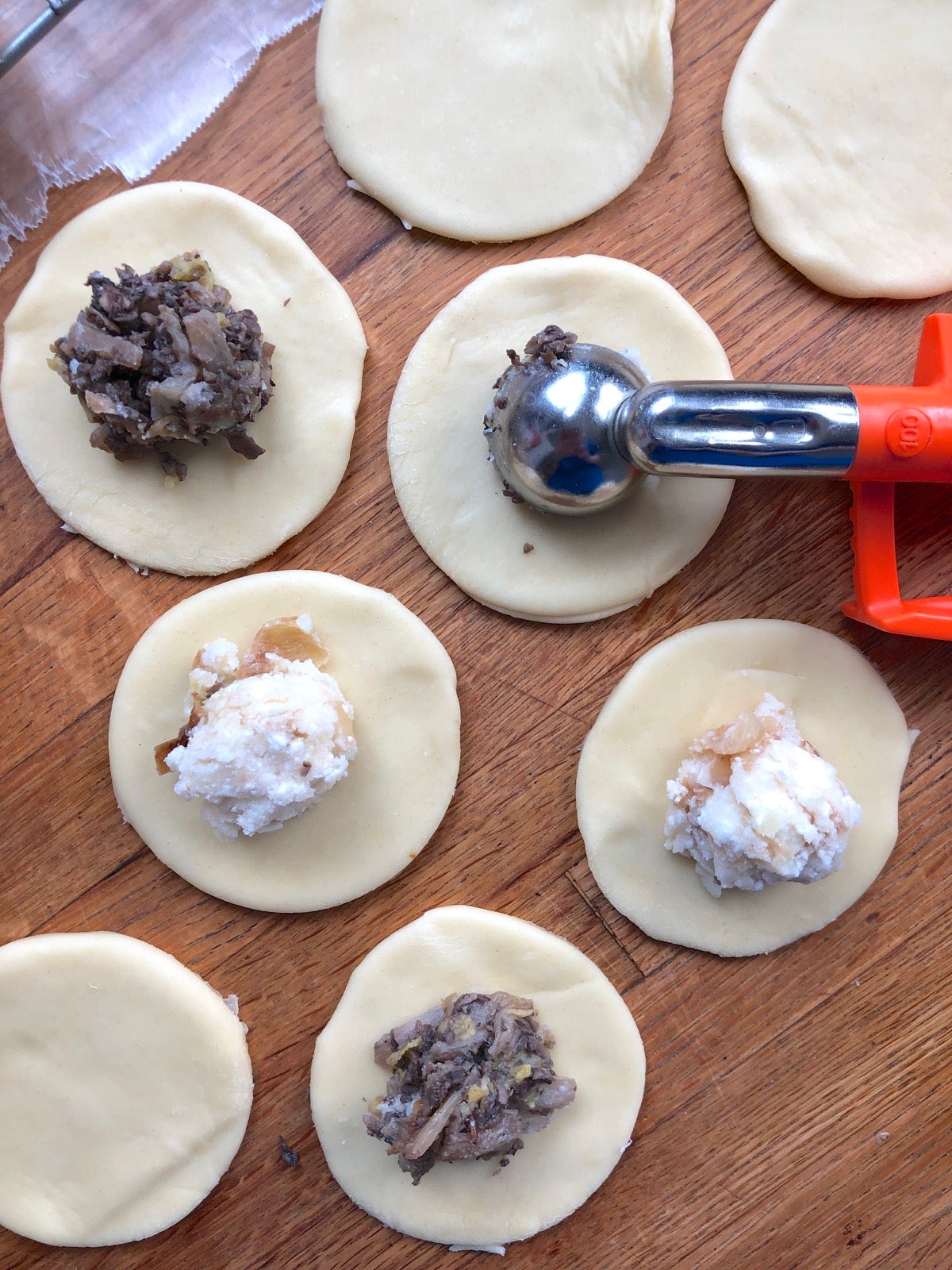 Place 1 1/2 teaspoons of filling on each round of dough. Gently fold the dough over, forming a pocket around the filling. Pinch the edges of the pierogi to seal, then seal again with the tines of a fork.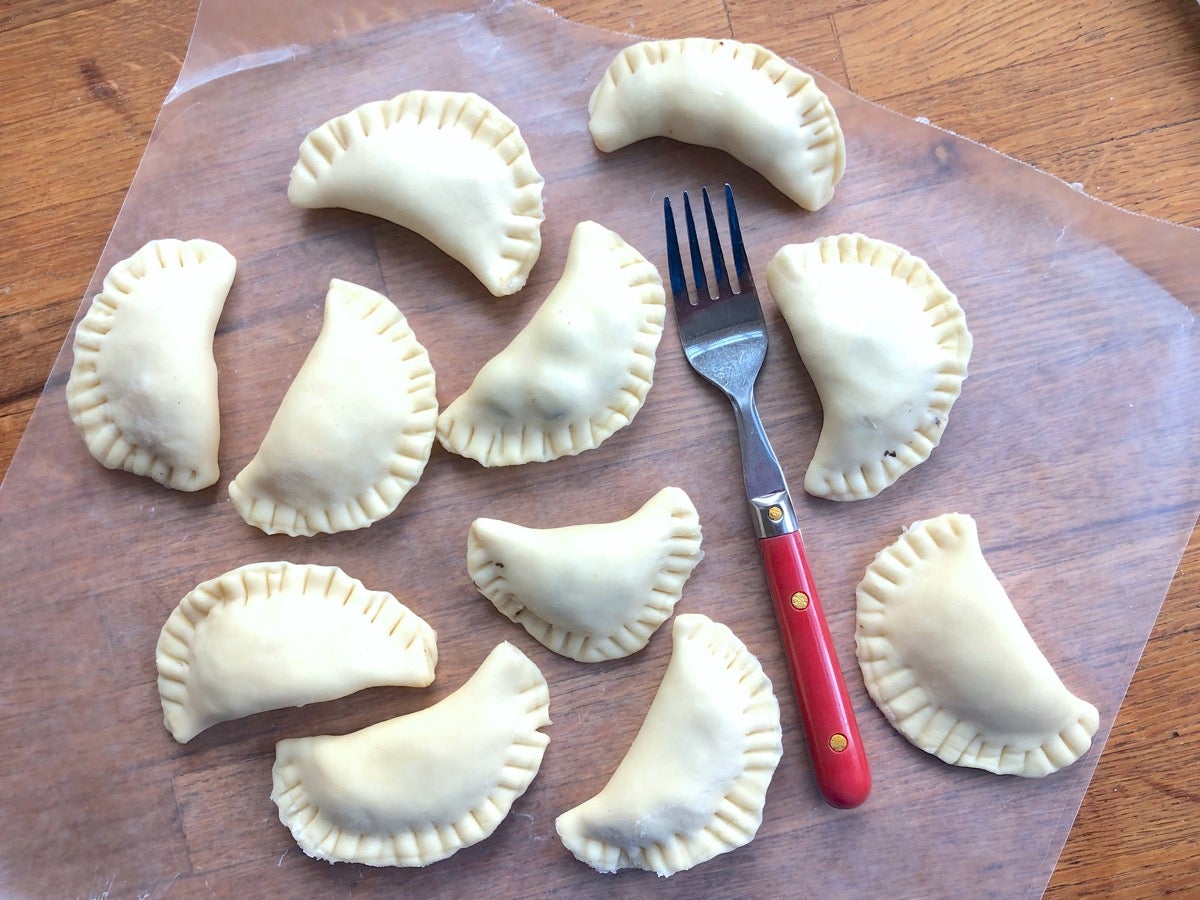 At this point the pierogi can be frozen for up to 4 weeks, refrigerated overnight, or cooked immediately in a large stockpot of boiling salted water.
To cook the pierogi
Only cook about 10 pierogi at a time, so that they have room to float without sticking. When the pierogi float, they're done. The time will vary depending on whether they're fresh or frozen.
To finish and serve the pierogi
Pierogi are traditionally sautéed in butter with onion: they develop a gently browned crust, and the onions becoming beautifully caramelized. Here's what you'll need to finish them off:
4 tablespoons (57g) butter, cold
2 large (156g) shallots, diced; or one medium (156g) onion, sliced
Sauté the shallots or onion in the butter in a large skillet until the onion begins to brown. Add the drained pierogi and cook until browned and crisped.
Serve pierogi hot with additional sour cream, applesauce, or other condiments.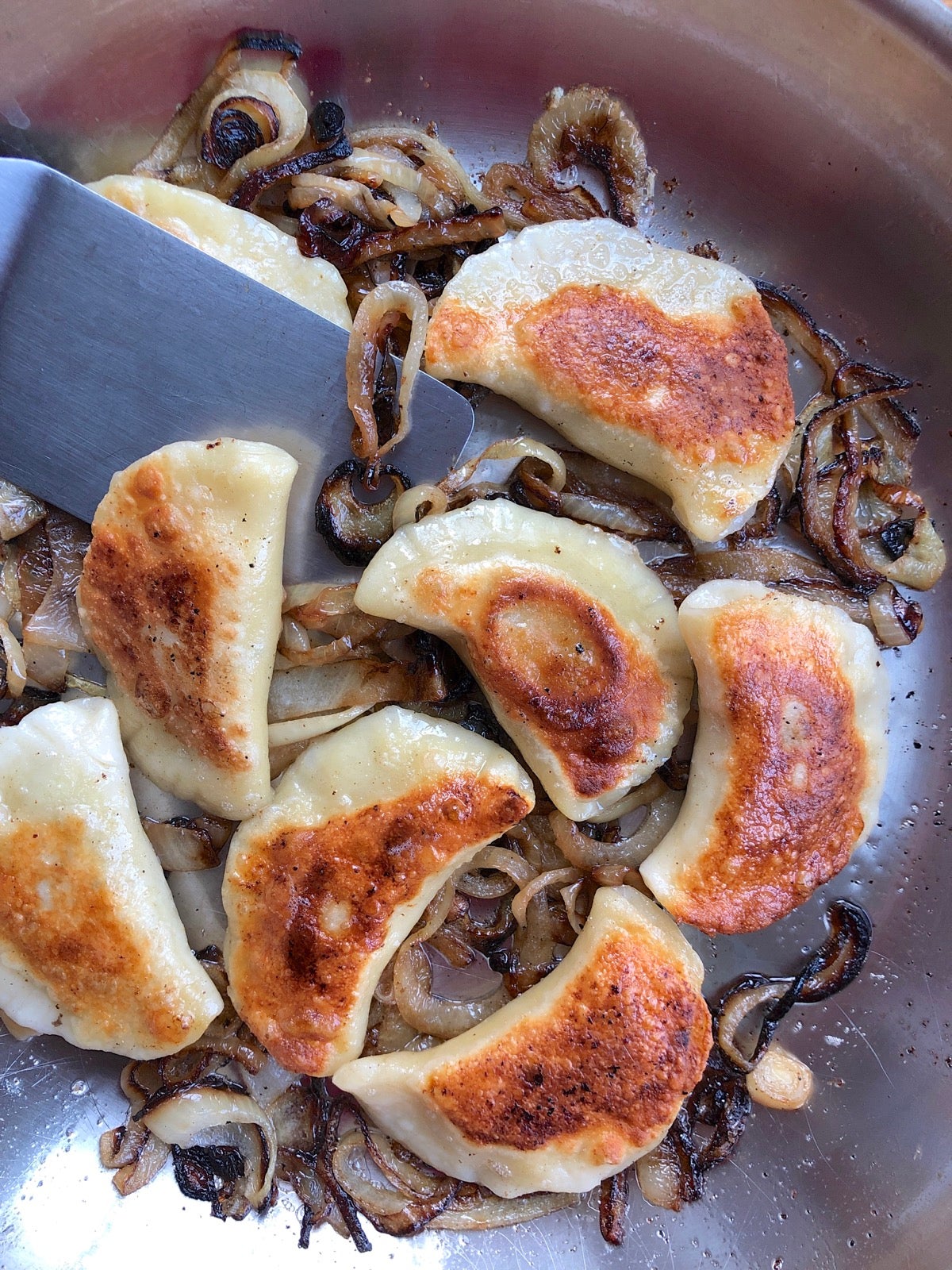 Branch out with new fillings
My pierogi research reveals all kinds of pierogi fillings beyond the ubiquitous potato and cheese, including minced meat, sauerkraut, cabbage and mushroom, and even sweet fillings like cottage cheese-raisin or fresh berry.
I try four fillings (including the original potato and cheddar) in my pierogi. In each case, I increase the amount of filling I use in each pierogi to 2 teaspoons, to account for the slightly larger dumplings I make (compared to the written recipe).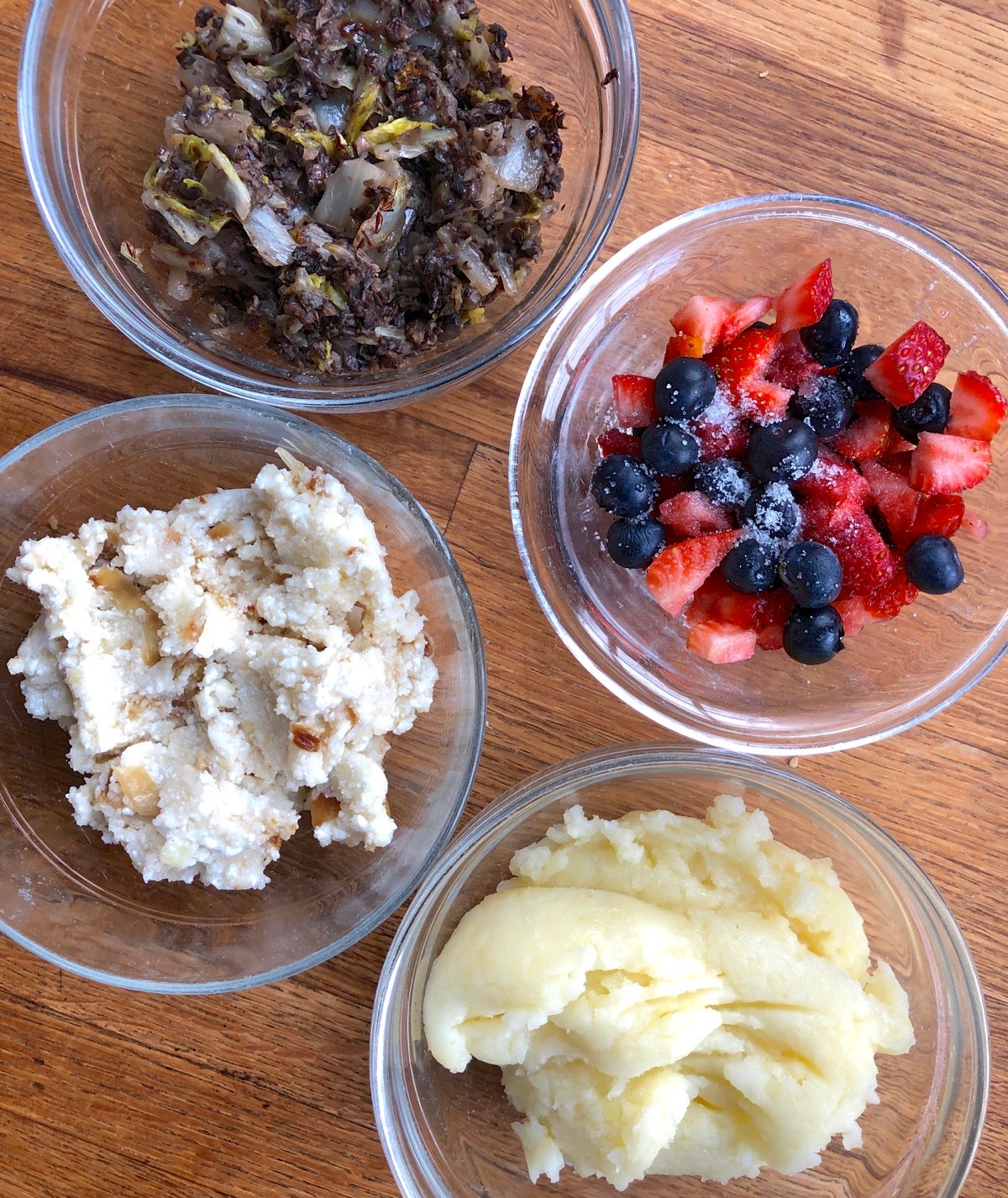 Traditional potato and farmers' cheese ("Ruskie")
 
Compared to our original recipe, this traditional pierogi adds fried onions and substitutes farmers' cheese, a prepared cheese that's basically small-curd cottage cheese pressed until very dry; you should be able to find it near the cottage cheese at your supermarket.
1 medium onion, diced
1 cup (227g) mashed potatoes
1/2 cup (120g) farmers' cheese
1/4 teaspoon salt
Fry the onion in butter until it's golden brown. Mix together the onion, potato, cheese, and salt.
Cabbage and mushroom
 
Mushroom's umami pairs well with cabbage's mild yet distinctive presence in this filling. I add Eastern European flavor with caraway seeds, but leave them out if you prefer.
2 tablespoons butter
2 cups (118g) finely diced Portobello mushrooms (or your choice of mushrooms)
3 cups (118g) coarsely shredded cabbage (I use Napa)
1/2 teaspoon caraway seeds
1/4 teaspoon salt, to taste
Melt the butter in a medium-large frying pan. Sauté the mushrooms and cabbage until the mixture has softened and shrunk to a generous 1 cup. Stir in the caraway seeds and salt to taste.
Fresh berry
 
Cecilia says, "My mother used to make pierogi with blueberries, cut-up strawberries, and some added sugar. You eat them fresh; no frying."
1/2 cup blueberries
1/2 cup hulled, chopped strawberries
granulated sugar
brown butter and confectioners' sugar, to serve
Chop the strawberries to about the same size as your blueberries. Mix the berries together and sweeten to taste with sugar. Fill and cook the pierogi, but don't fry them.
Have some brown butter on hand. Plate the warm pierogi (fresh from their simmering water bath; no need to fry them) and drizzle them with brown butter. Garnish with extra berries and confectioners' sugar, if desired.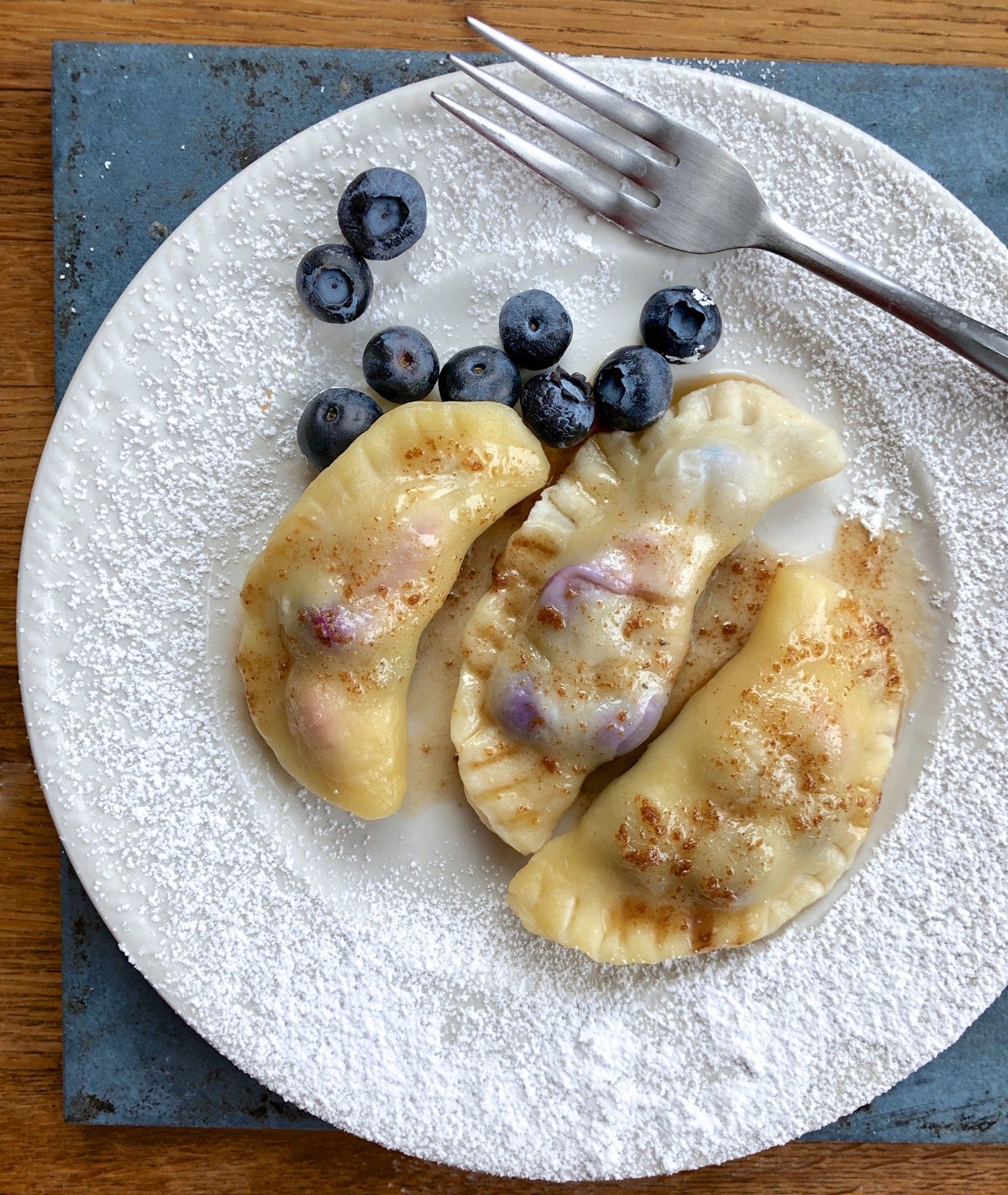 Are you ready to tackle Homemade Pierogi? Yes, they're somewhat a labor of love; but once you taste them, you'll understand why these pillowy dumplings spell home to Polish people everywhere — and why you don't need to be Polish to appreciate them.
There's magic in the middle! For more of our favorite stuffed goodies, check out these recipes: Chinese dumplings (Pork and Cabbage, Shrimp and Chive, Tofu and Mushroom); Russia's version of pierogi, Pirozhki; Denmark's apple-stuffed pancakes, Aebleskiver; and a brand new breakfast treat, Stuffed Bagel Buns.
Cover photo by Liz Neily
Jump to Comments