"Great taste – less filling."
We can only make half that famous Miller Lite claim for this tasty pizza crust.
Great taste? For sure.
Less filling?
Well, depends what's on top, doesn't it?
The crust itself is wonderfully light-textured. A deep-brown, crisp bottom quickly gives way to an interior filled with air pockets and tunnels.
Perhaps it's the fact that beer steps in for the usual lukewarm water in the recipe. Like most of us, yeast enjoys a touch of alcohol.
But whatever the reason, this crust is something special – whether you make it "lite" by topping with fresh tomatoes and a touch of part-skim mozzarella; or go whole-hog with pepperoni, Italian sausage, and a blizzard of three-cheese pizza blend.
My theory is, you can never have too many pizza recipes. Like chocolate cake, or dinner rolls, or oatmeal cookies, the variations are endless. And this particular beer-based crust is just plain tasty.
Plus, let's face it - it's a great way to use up that can of beer your brother-in-law brought over and left in the fridge, since inevitably it's a kind of beer ONLY he likes, and it'll sit there in your fridge forever or until the BIL makes a return visit, whichever comes first...
With fresh tomatoes coming in, the time is ripe for Quick Beer Pizza Crust.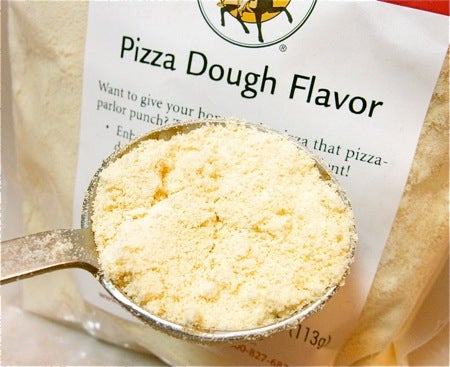 Here's an ingredient I always turn to when making pizza crust: Pizza Dough Flavor. A little bit of garlic, a little bit of cheese, and a whole lot of flavor... Just 1 teaspoon per cup of flour enhances the flavor of any pizza crust.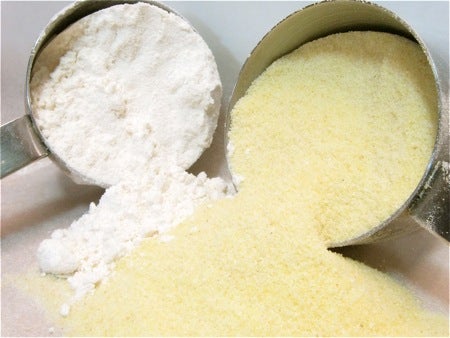 That's our favorite flour, King Arthur Unbleached All-Purpose, on the left; golden semolina on the right.
My favorite crusts use both these flours, in tandem; the semolina adds a certain crispness, and a touch of color.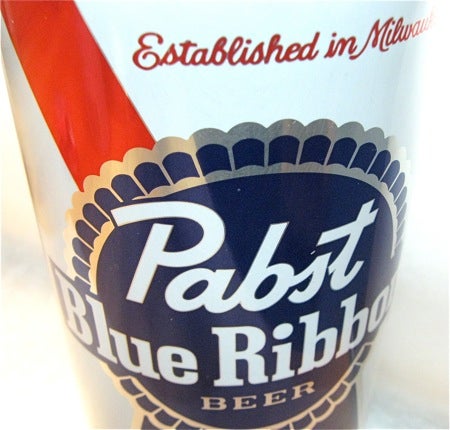 As for the beer: totally up to you.
Be aware that the more assertively flavored the beer, the more beer flavor you'll have in your crust.
Can you make this crust without beer?
Sure. Try our Now or Later Pizza Crust, which is basically the same thing, sans alcohol.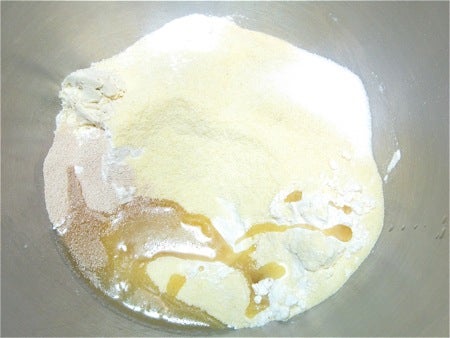 Place the following in a mixing bowl:
2 1/2 cups (298g) King Arthur Unbleached All-Purpose Flour
1 1/2 cups (245g) semolina*
1 tablespoon Pizza Dough Flavor, optional
2 teaspoons instant yeast
1 teaspoon baking powder
1 ½ teaspoons salt
2 tablespoons (25g) olive oil
*Substitute unbleached all-purpose flour if you don't have semolina.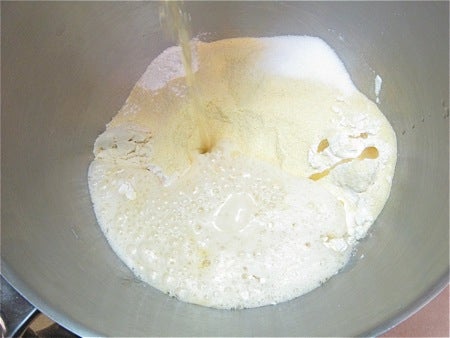 Add 1 ½ cups (340g) room-temperature beer.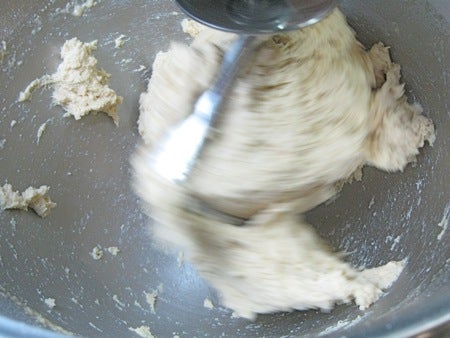 Mix to combine.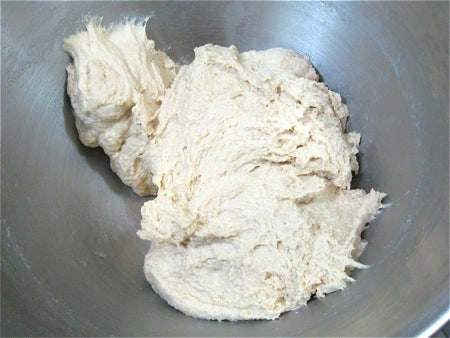 See how rough the dough is? You could actually let it rise just like this, so long as you gave it a good, long time; dough continues to develop its gluten as it ferments (rises).
FYI, that's pretty much the story with no-knead dough; a long rest in the fridge substitutes for kneading.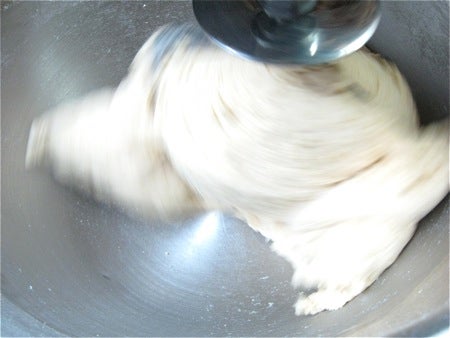 However, in the interest of time, I'm going to knead this dough. About 7 minutes using an electric mixer equipped with its dough hook should do it.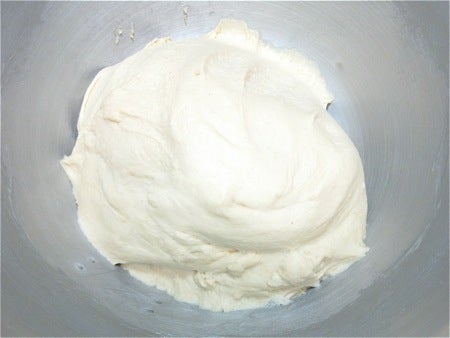 Your goal is a soft, smooth dough, one that just barely sticks to the bowl.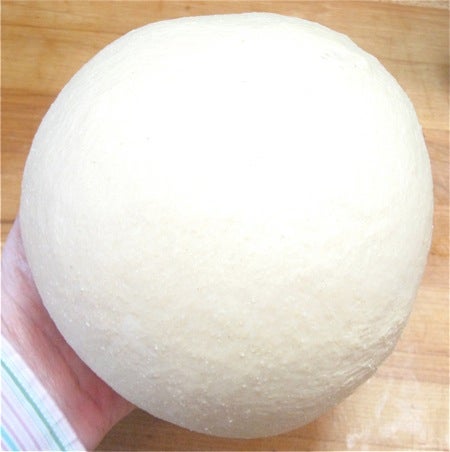 It's not so sticky that it's difficult to round into a ball, though.
Isn't that beautiful? Looks like a full moon.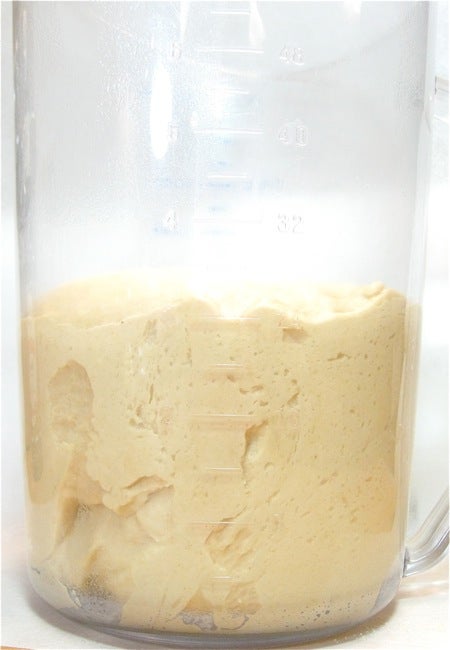 Place the dough in a lightly greased bowl or container – I'm using an 8-cup measure here – and let it rise anywhere from 30 minutes to 2 hours.
It hasn't quite doubled here, but good enough; you can see the air holes. Yeast at work!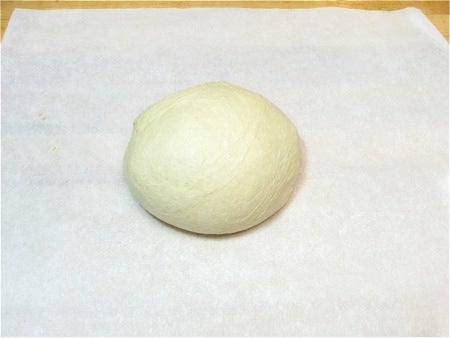 Gently deflate the dough, and divide it in half.
I'll bake one half on a pizza stone, the other in a pan. That way, they can both bake at once, if you choose; most stones are only large enough for one pizza at a time.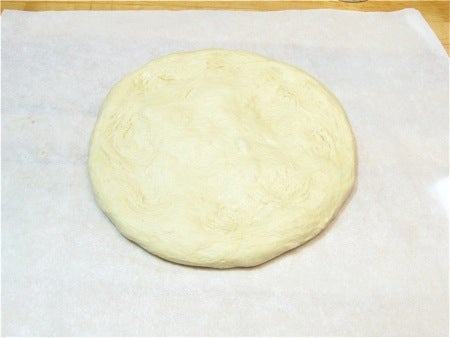 Shape the dough into a round...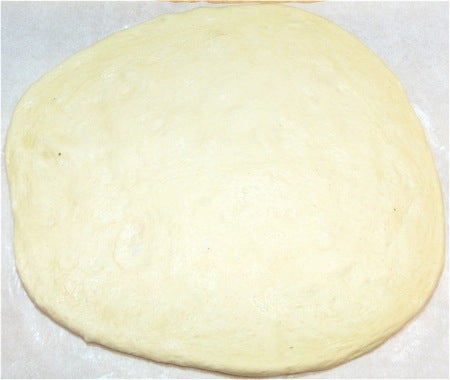 Then gently press and pull it into a larger round, about 10" to 12", depending how large/thick you want your pizza.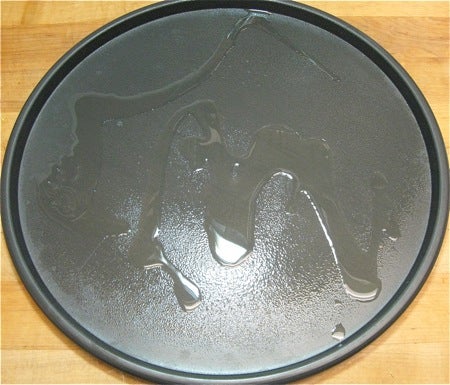 If you're baking in a pan, lightly grease the pan with non-stick vegetable oil spray; then drizzle with olive oil, if desired. The oil will crisp the crust's bottom as it bakes.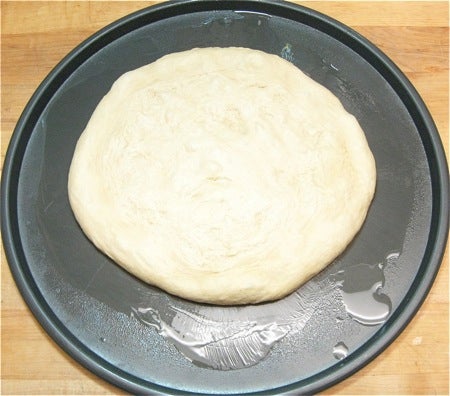 Press towards the edges of the pan. There's not a doubt in my mind that between the elasticity of the gluten and the slipperiness of the oil on the pan, the crust will fight you as you press, shrinking back as soon as you take your hands off it.
That's OK; just walk away.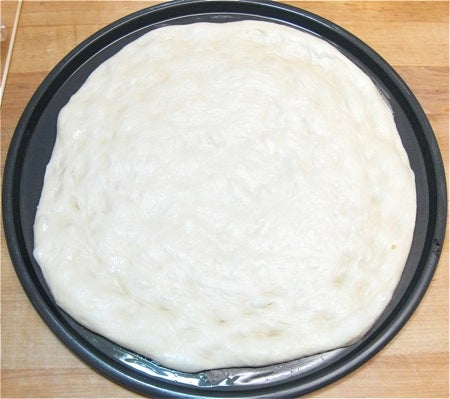 Come back 10 minutes later, and finish pressing. The gluten will have relaxed enough that it won't fight back.
If it does, give it another rest.
Preheat your oven to 450°F.
Now, for thin crust, you can bake immediately, as soon as the oven's hot.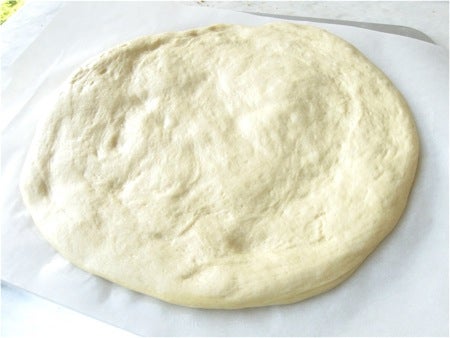 I prefer a thicker crust, so I've let the dough rise for about 45 minutes.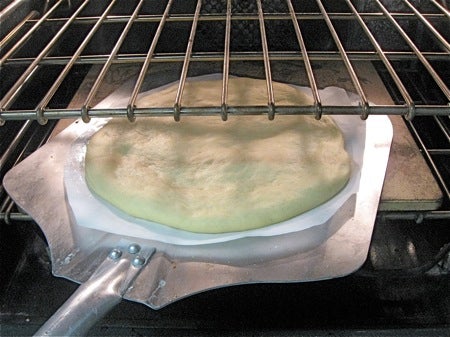 Here it is, going onto the stone.
Untopped? That's right. I like to bake the crust a bit before adding toppings; the toppings have less chance of drying out or burning.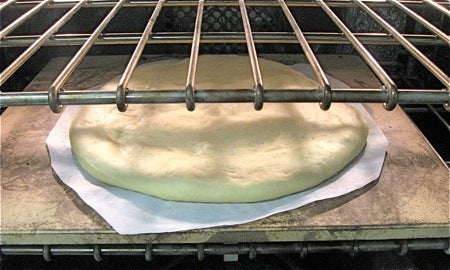 Bake for 5 minutes.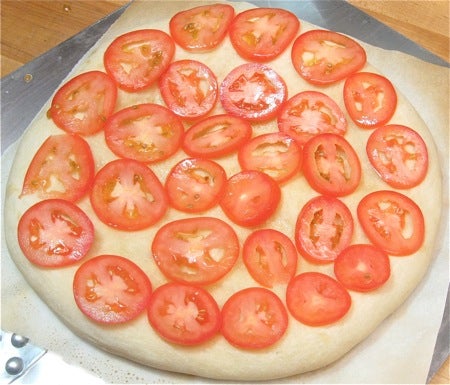 Remove the crust from the oven, and add your favorite toppings. I've opted for a simple layer of tomatoes; the cheese will come later.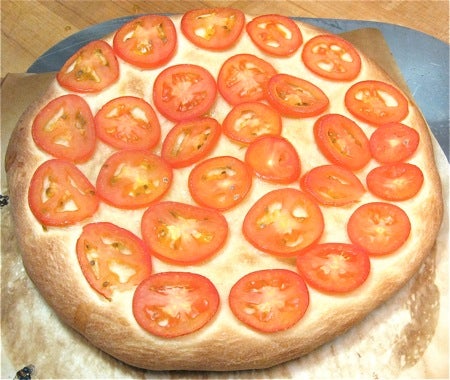 Bake for an additional 15 minutes or so, until the bottom crust is crisp and the top crust is beginning to brown nicely.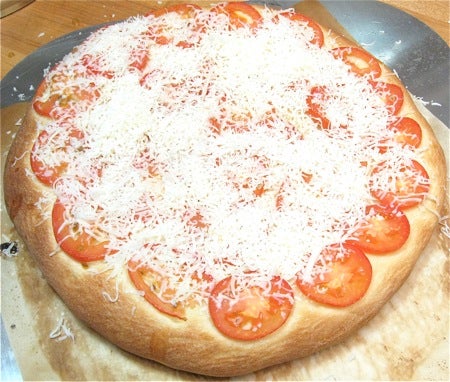 Now add the cheese (mozzarella, in this case), and return the pizza to the oven for a minute or two, just until the cheese melts.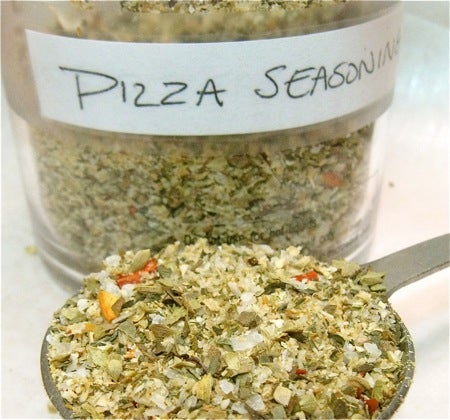 Get out any dried herbs you might like to sprinkle on top; Pizza Seasoning is always a good choice.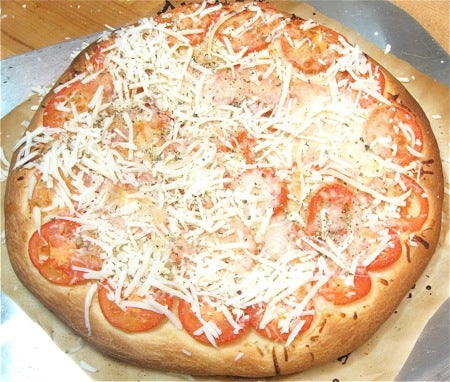 Remove the pizza from the oven, and IMMEDIATELY scatter a bit more cheese over the top; this will create a pretty look.
Sprinkle with dried herbs or Pizza Seasoning, if desired.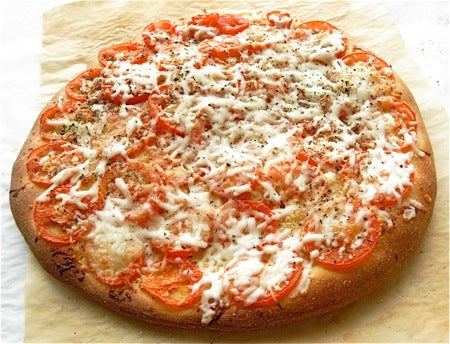 Nice looking pizza, eh?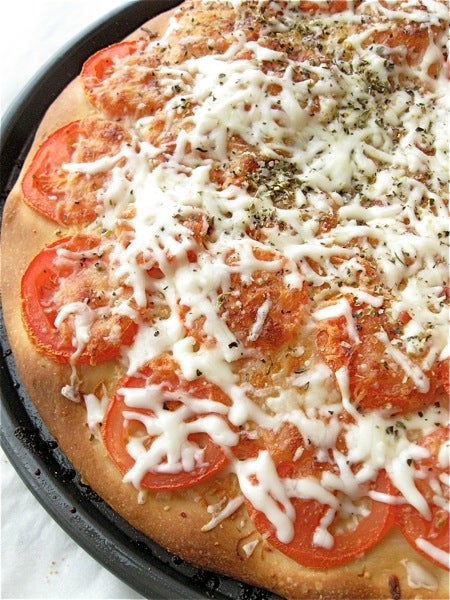 See how that final layer of cheese adds visual appeal? Along with flavor and melty cheesiness, of course.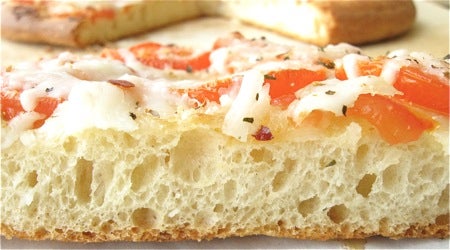 And here's that light texture I was trying to describe. Sometimes a picture is worth many words...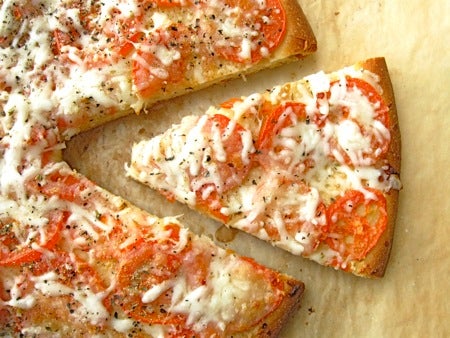 Dig in!
Read, bake, and review (please) our recipe for Quick Beer Pizza Crust.
Jump to Comments