Sipping a cup of tea while enjoying a few afternoon treats has lost its place in most kitchens these days. Savoring a steamy mug of English Breakfast has been sequestered to snow days and chilly weekends. It's time to bring tea back into our daily lives. When there's no time to sip slowly, or it's just too hot out to enjoy a mug, why not try baking with tea? We've found five methods to incorporate teas directly into your baked goods.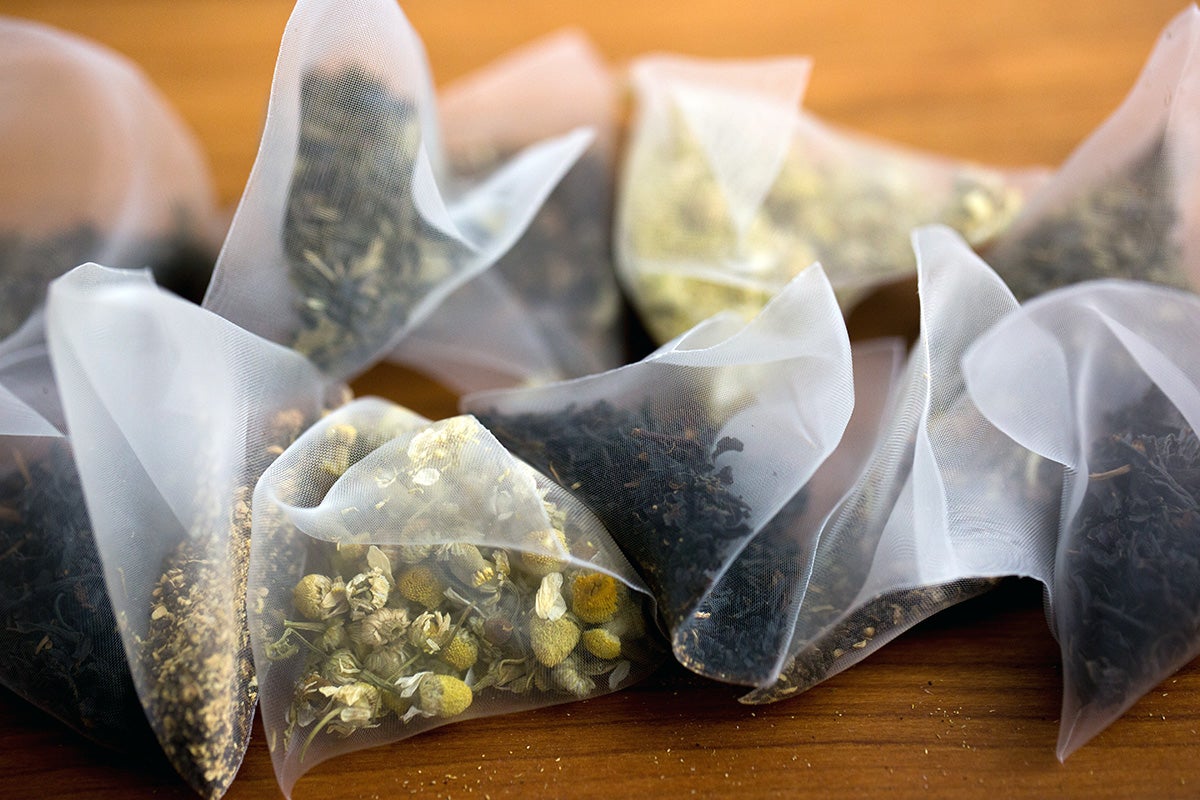 We've done a bit of baking with tea in the past. Tea Brack is a classic, hearty Irish cake using a cup of brewed Irish Breakfast tea as the liquid. Chai is an ingredient we also love, as the spices of chai lend themselves well to baking, especially during the holidays. But we've never really let the tea leaves do the talking in our bakes. That time has come.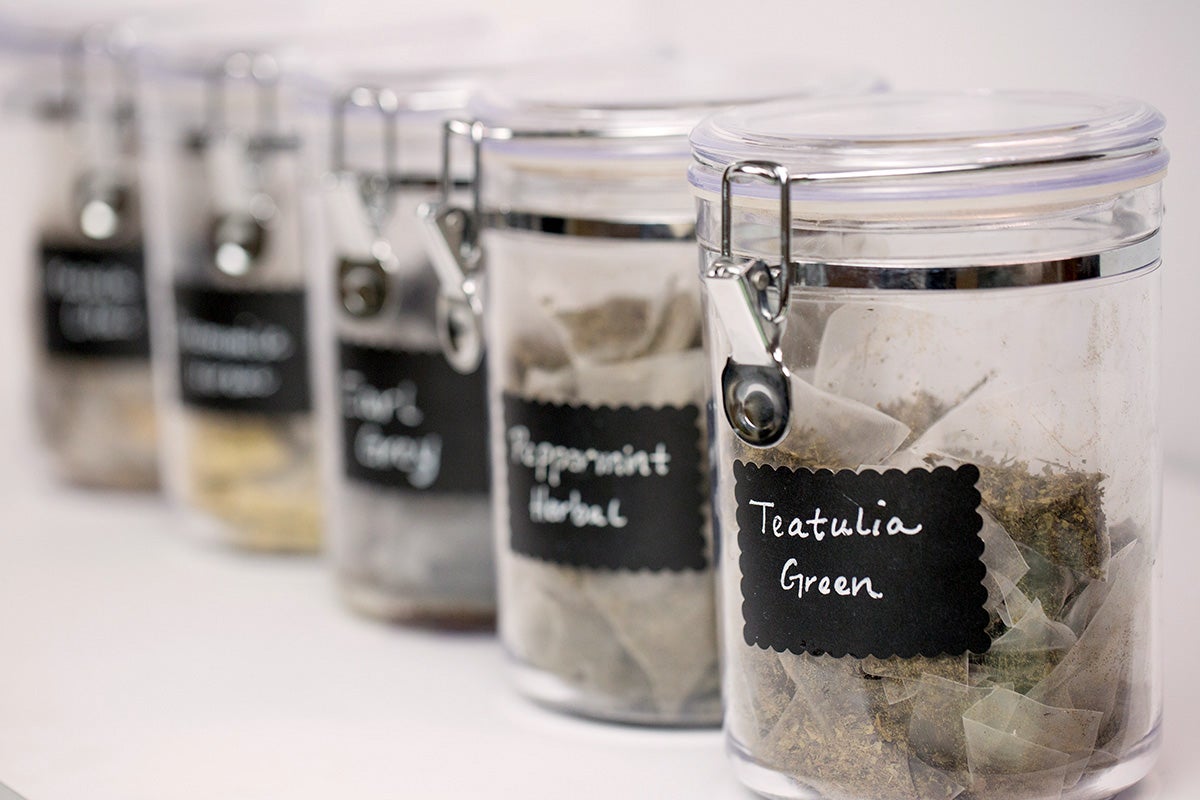 When I was a wee one, there were two kinds of tea in my mind. Green tea, which I would only have in Chinese restaurants, and black tea that I enjoyed at home with milk and sugar. Nothing wild. Now there are stores entirely devoted to tea, seemingly all teas I've never heard of.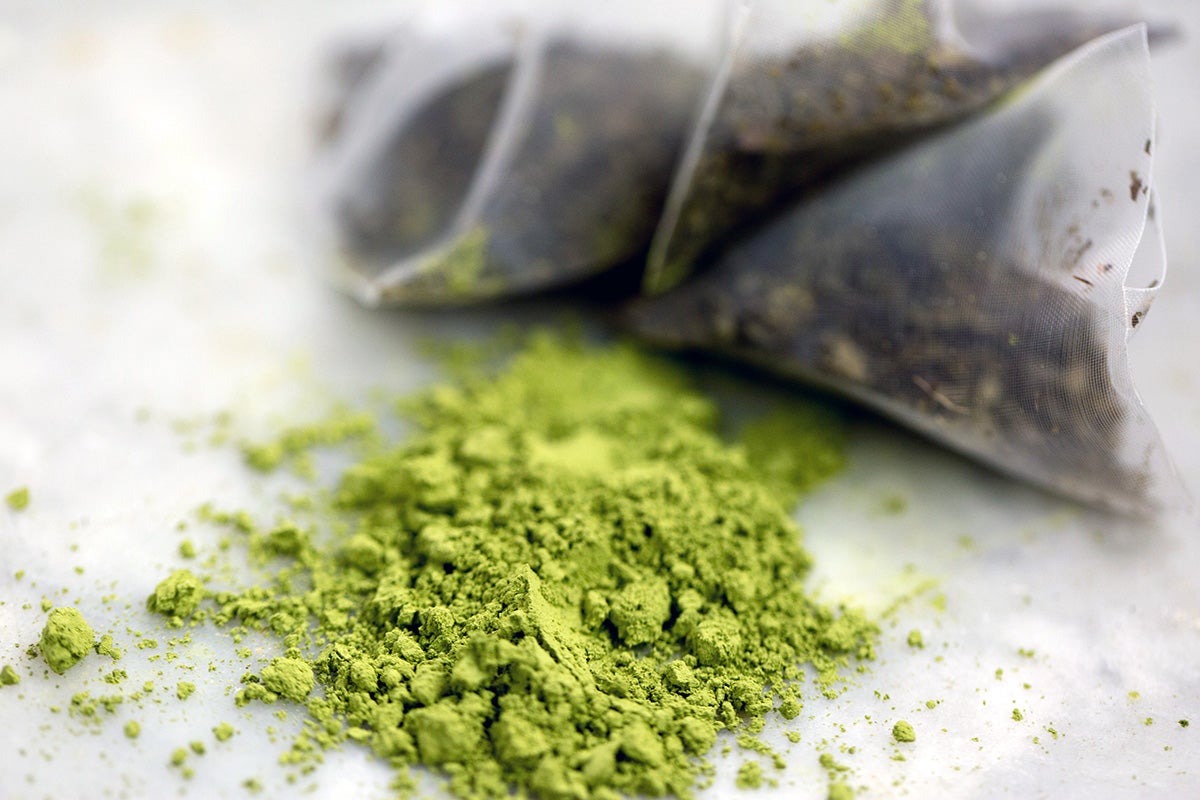 Baking with tea: Which to choose?
First things first, let's select our tea leaves for the day. We'll start with matcha, a strong, finely milled powder made from green tea leaves. It's available in most grocery stores and health food stores but can also be found online.
Second, we'll use whole green tea leaves in tea bags. Because the leaves are bagged and won't be added directly to our baked goods, this tea will lend a much milder green tea flavor than the matcha.
Lastly, we'll use jasmine dragon pearls, which are most easily found in tea shops.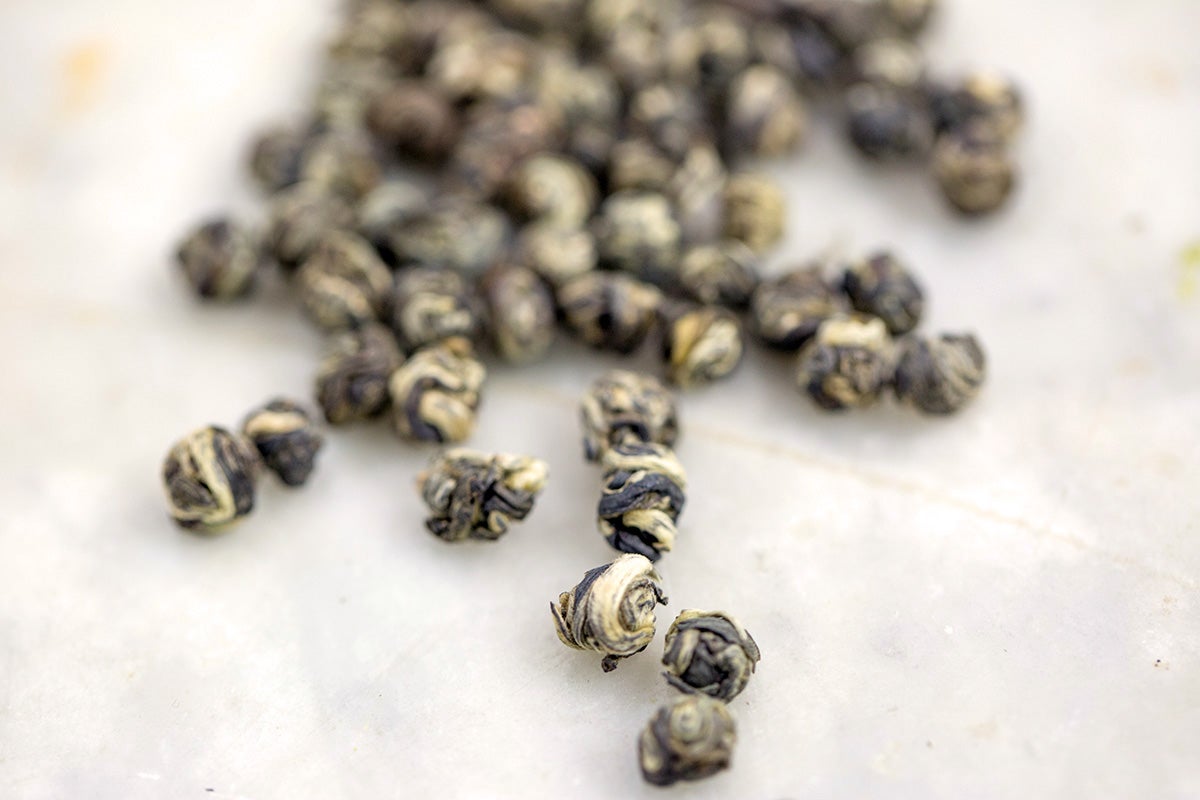 While the last may sound a little intimidating (dragons can do that), I promise, they're so worth the experiment. Jasmine dragon pearls are made by hand rolling tender green tea leaves into "pearls" and mixing them with fresh jasmine blossoms.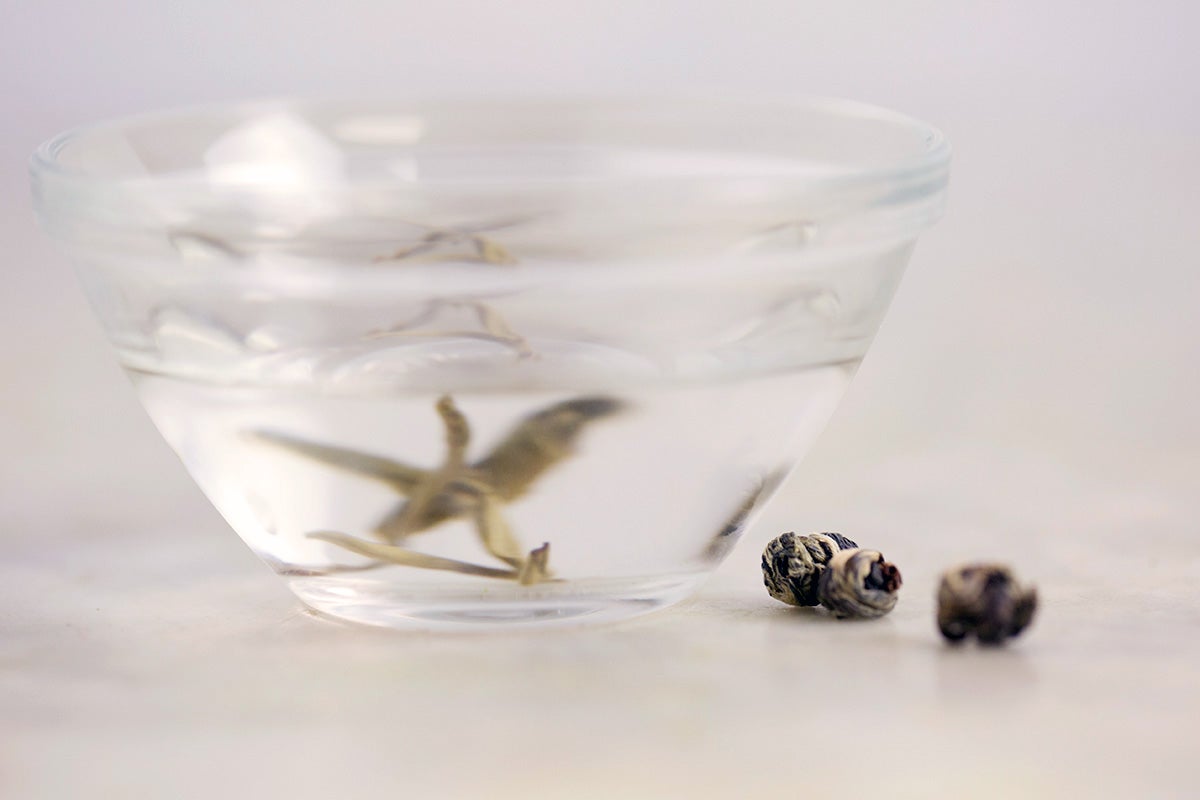 The tea leaves absorb the incredible fragrance of the jasmine flowers. After sifting out the blossoms, what remains are aromatic, jasmine-scented green tea pearls that open up like a flower in water.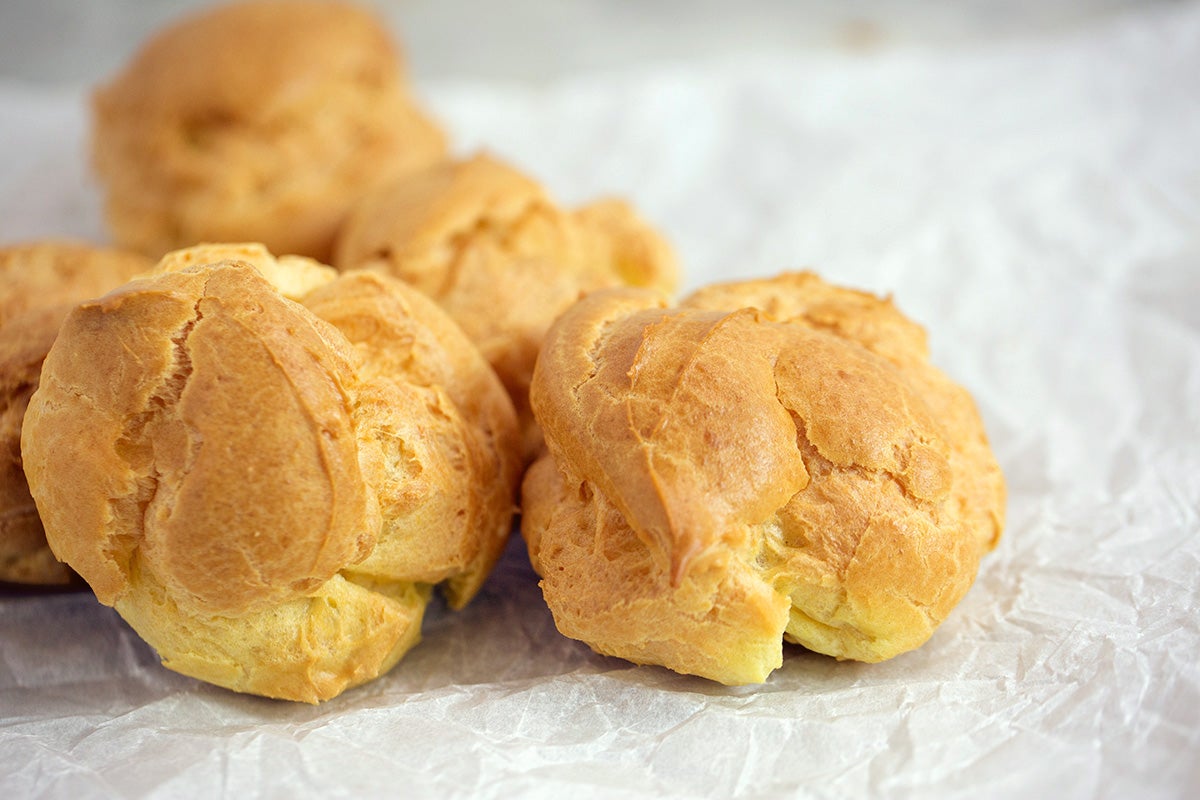 Method 1: Mix powdered tea directly into your ingredients
Let's get to work with our first bake: Cream Puffs filled with a matcha pastry cream. The delicate flavor of tea can easily be overshadowed by stronger ingredients such as chocolate or fruit. Cream puffs made from a classic pâte à choux are the perfect vehicle to hold a slightly sweet, matcha-infused pastry cream in all its green glory.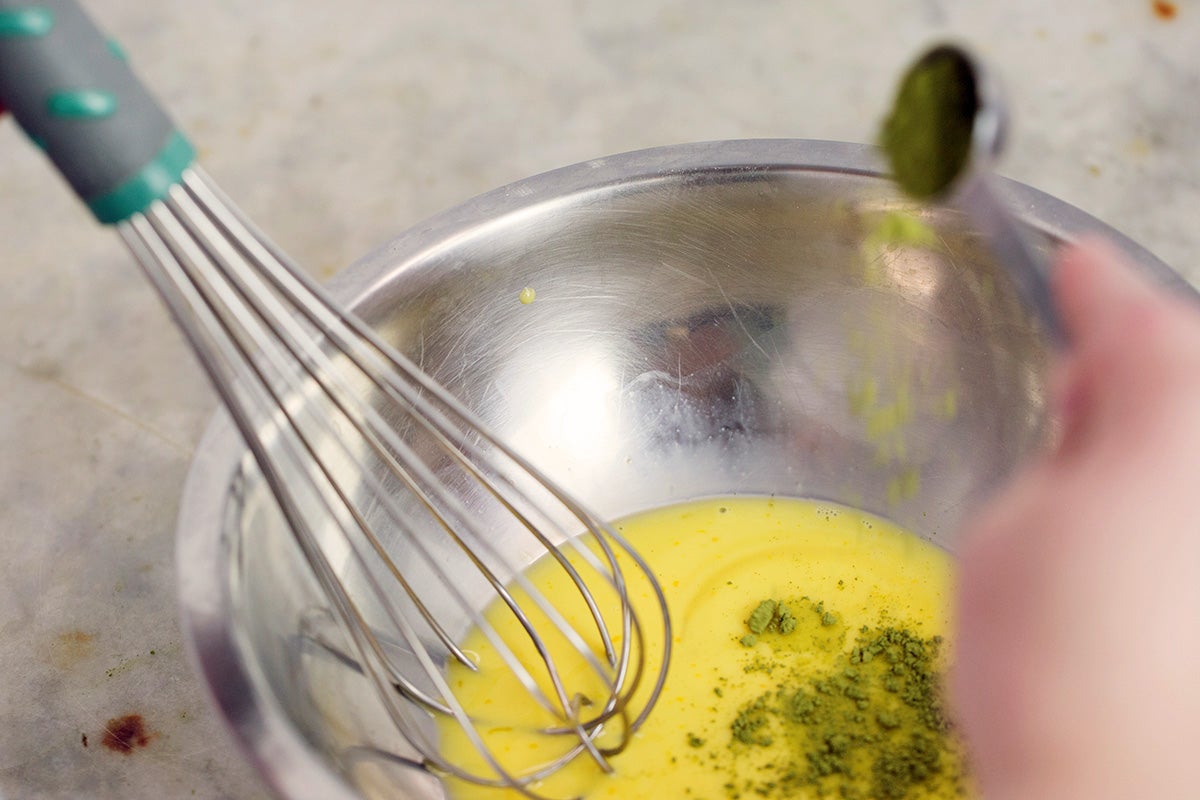 Matcha can have a grassy or bitter flavor if overused, so sweetened pastry cream offsets any potential bitterness beautifully. When preparing the flour, cornstarch, egg yolk, and milk mixture for your pastry cream, add 1 to 2 teaspoons of matcha powder. The more you add, the stronger the flavor and color will be.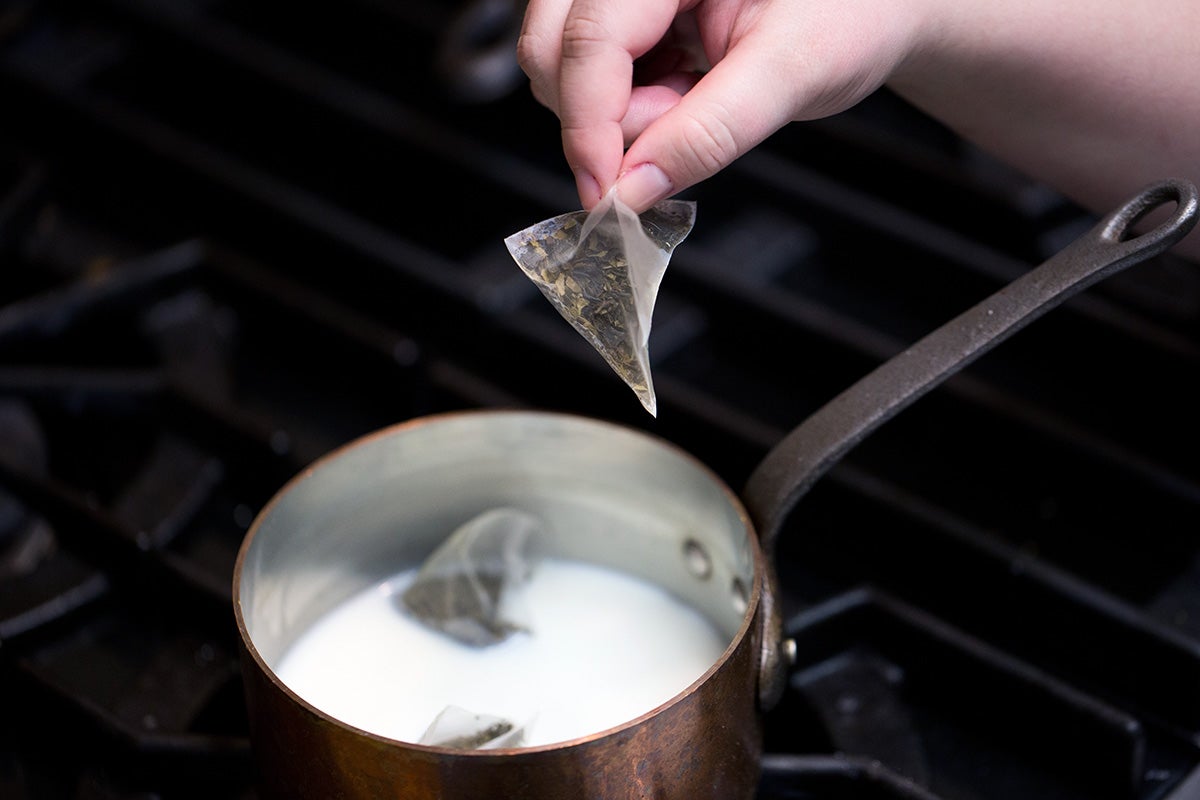 Method 2: Steep teabags in liquid ingredients
If you're unable to find matcha or have some extra green tea lying around the pantry, steep 3 to 4 green tea bags in the milk, sugar, salt, and vanilla mixture as it comes to a simmer on the stove. Once the mixture has simmered for one to two minutes, dispose of the tea bags and proceed as normal with the yolk mixture.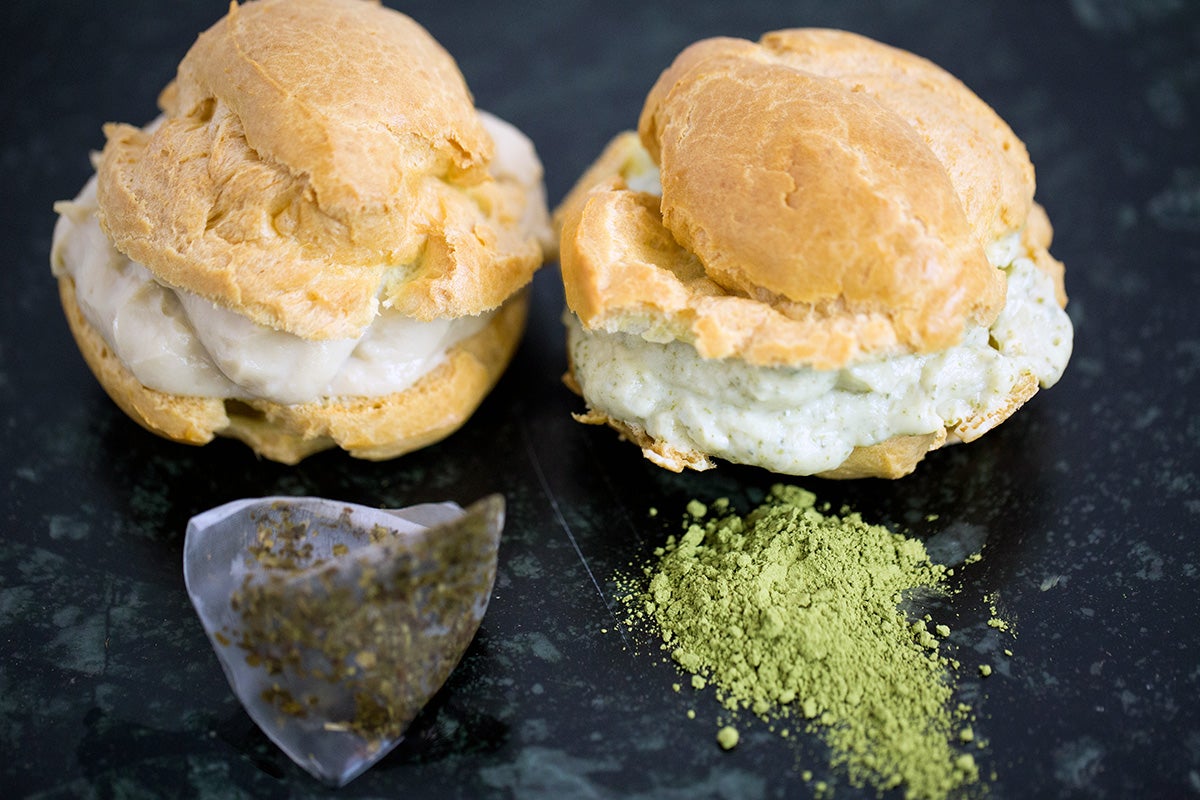 The flavor of the pastry cream made with green tea bags won't be as strong as the matcha version. The lighter, floral flavor of the green tea is wonderful for newer tea drinkers, or for those who prefer a more mild cup.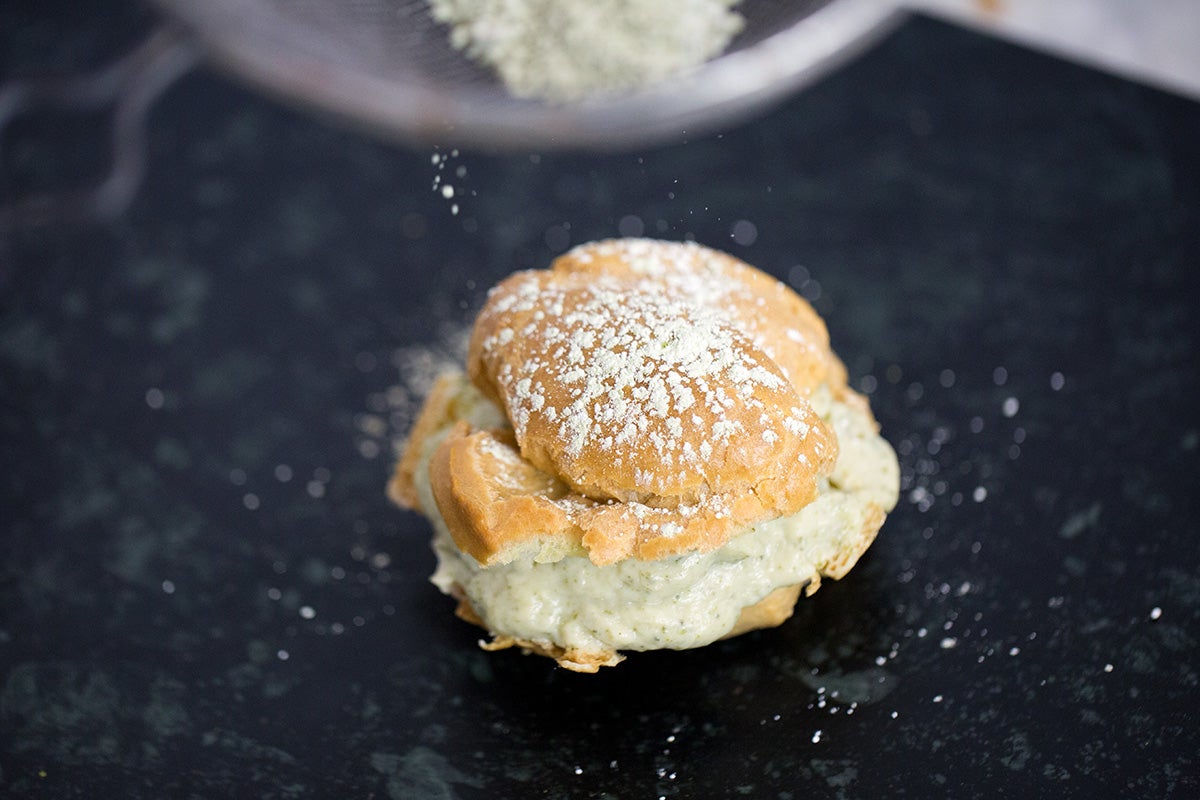 Combine 1/4 teaspoon matcha with 1/4 cup (28g) confectioners' sugar and dust your puffs for a dainty finishing touch.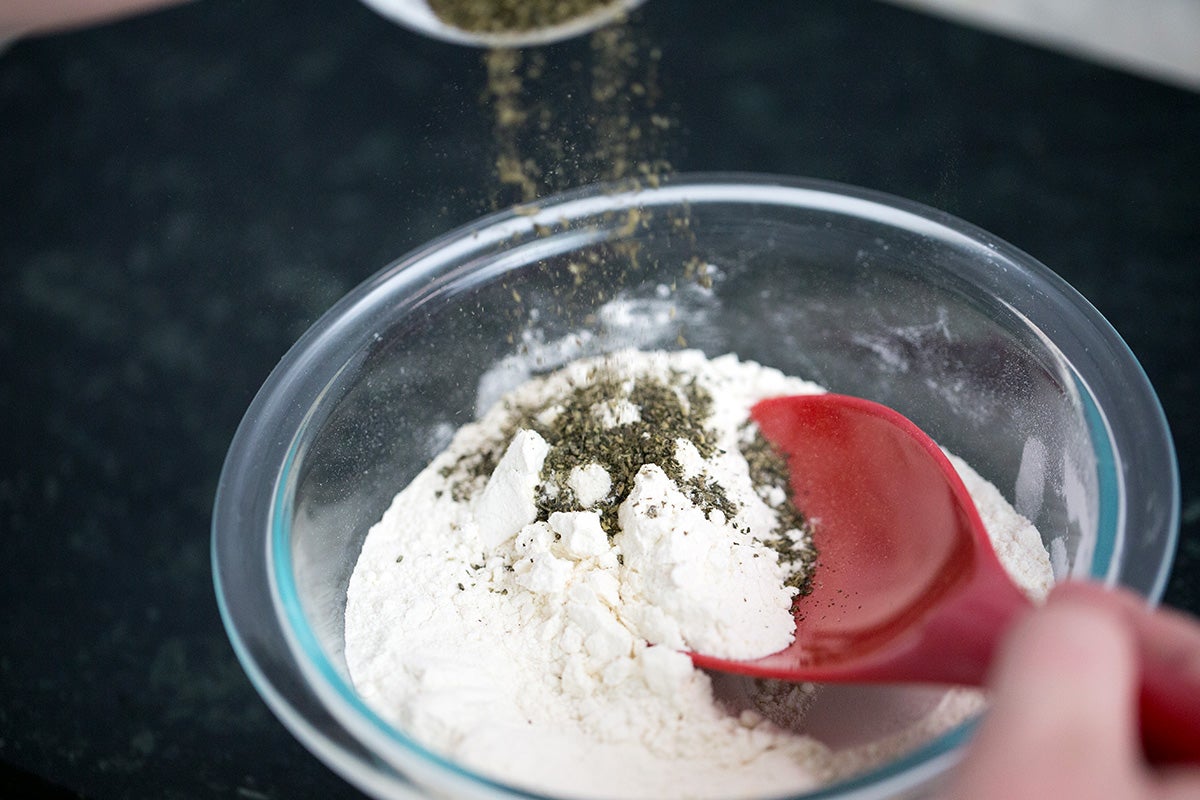 Method 3: Mix ground tea leaves with dry ingredients
Next, we'll bring our jasmine dragon pearls to the table to make some delicately aromatic, buttery shortbread cookies. Add 2 teaspoons of finely ground jasmine dragon pearls to your flour before adding it to your butter and sugar mixture.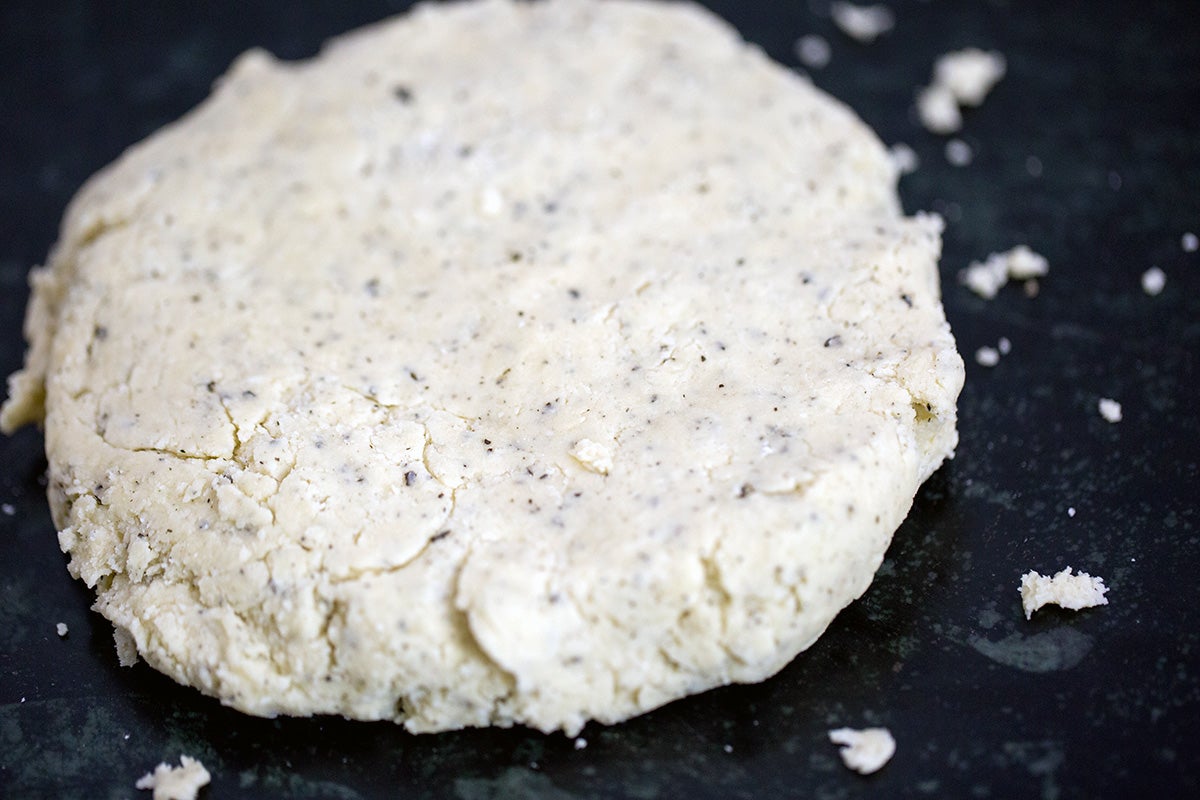 We want as fine a texture of the tea as possible, so a food processor is ideal. However, a mortar and pestle will work in a pinch.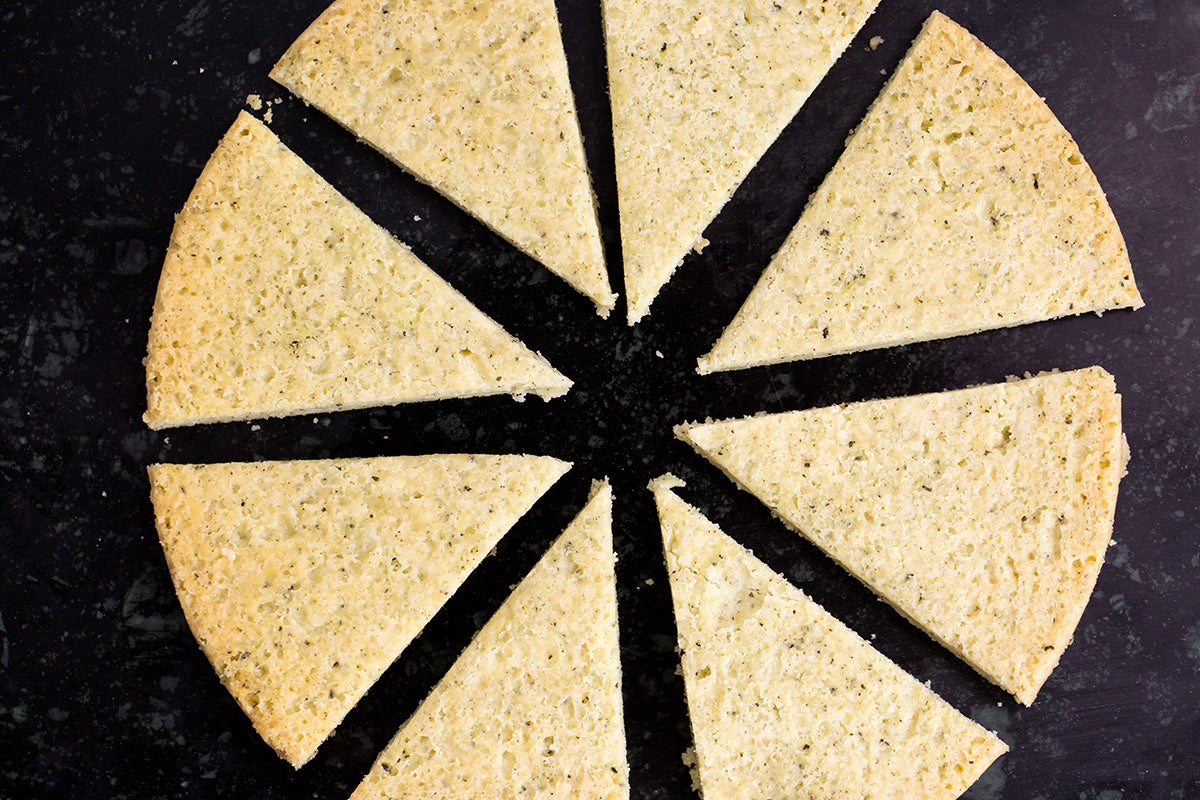 The speckled effect from the tea not only looks appealing but also gives a little hint as to what may be inside.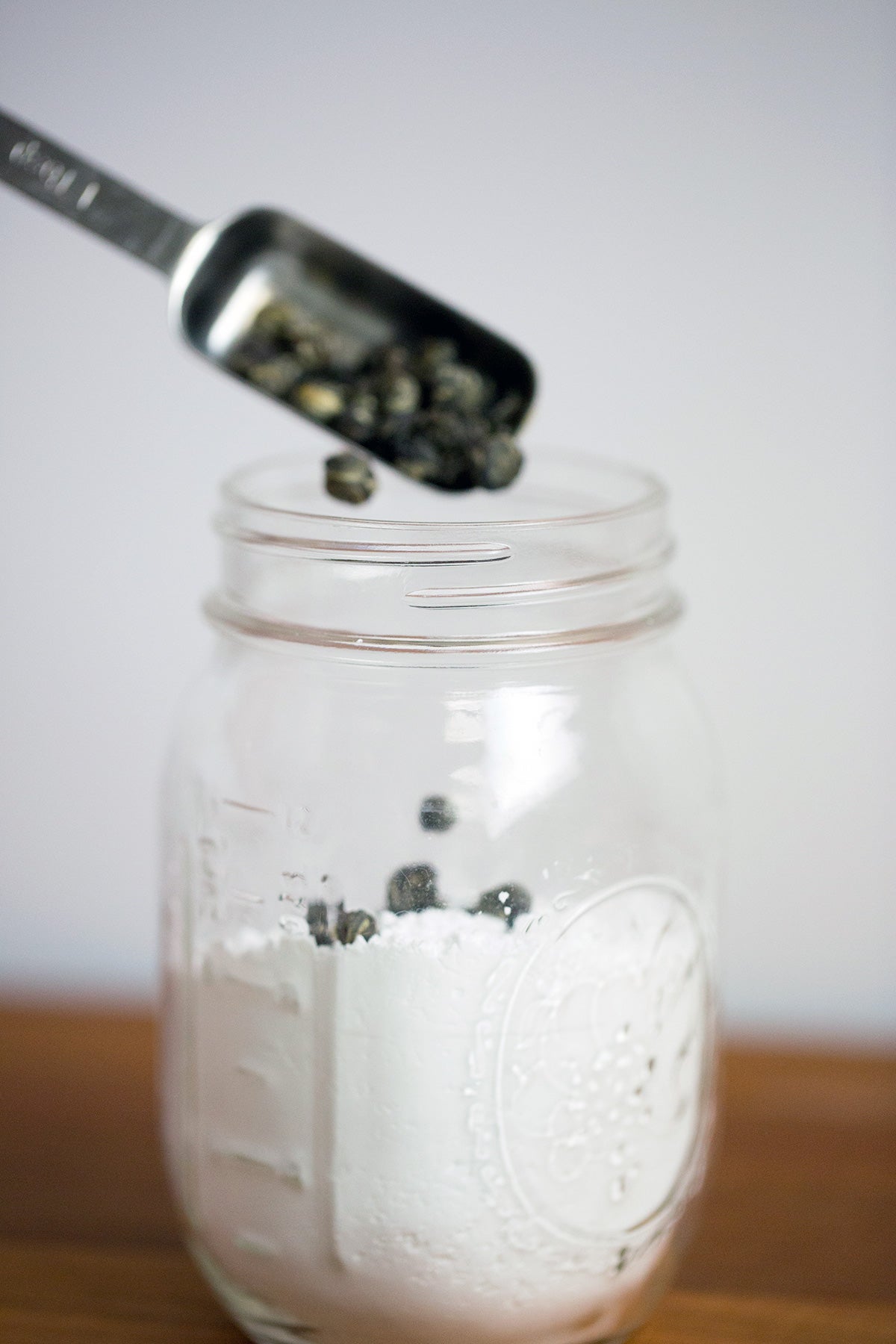 Method 4: Infuse sugar ahead of time
For a few weeks, I've been infusing some confectioners' sugar with jasmine dragon pearls at my desk, leaving me with an incredibly scented, flavorful, and versatile sugar. You could use this sugar in anything, just to add a little jasmine surprise. The best part? The tea is still totally usable. After sifting the sugar, you're left with perfectly flavorful tea ready to be steeped and enjoyed.
To make your own tea-infused sugar, combine 1 tablespoon of your favorite loose tea, or 1 teabag, with one cup of sugar, be it granulated or confectioners'. Store it in a canister or jar. Give it a stir or a shake every day to ensure the tea flavor is evenly distributed for at least one week. The longer the ingredients mingle, the stronger the results will be. Sift before using.
Looking to infuse brown sugar? The strong molasses flavor will likely overpower the subtle flavors of jasmine. Chai or ginger teas could make for some delicious experimentation.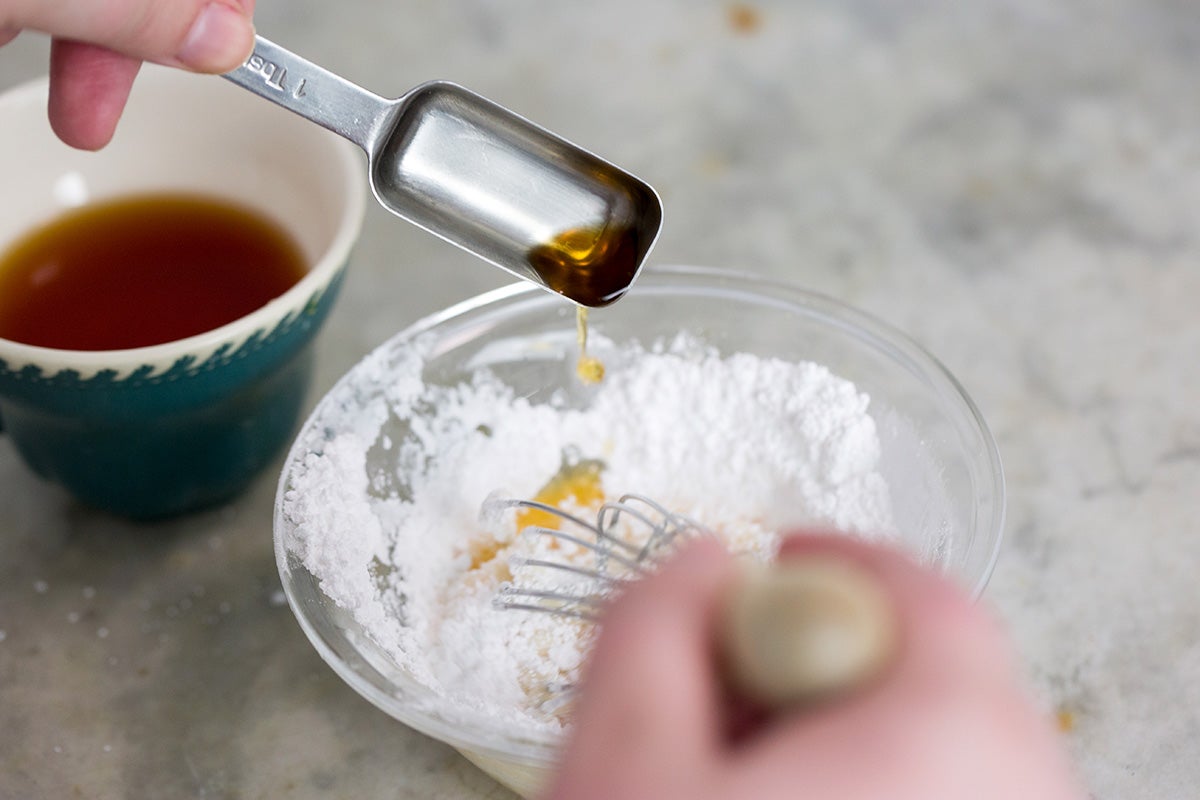 Method 5: Use brewed tea as the liquid in your recipe
Once the shortbread cookies have cooled, brew a cup of jasmine tea. Combine 1/2 cup (57g) of sifted jasmine-infused confectioners' sugar with 2 to 3 teaspoons of hot tea. Drizzle over cookies and let set. Enjoy with the remains of your steamy cup of tea.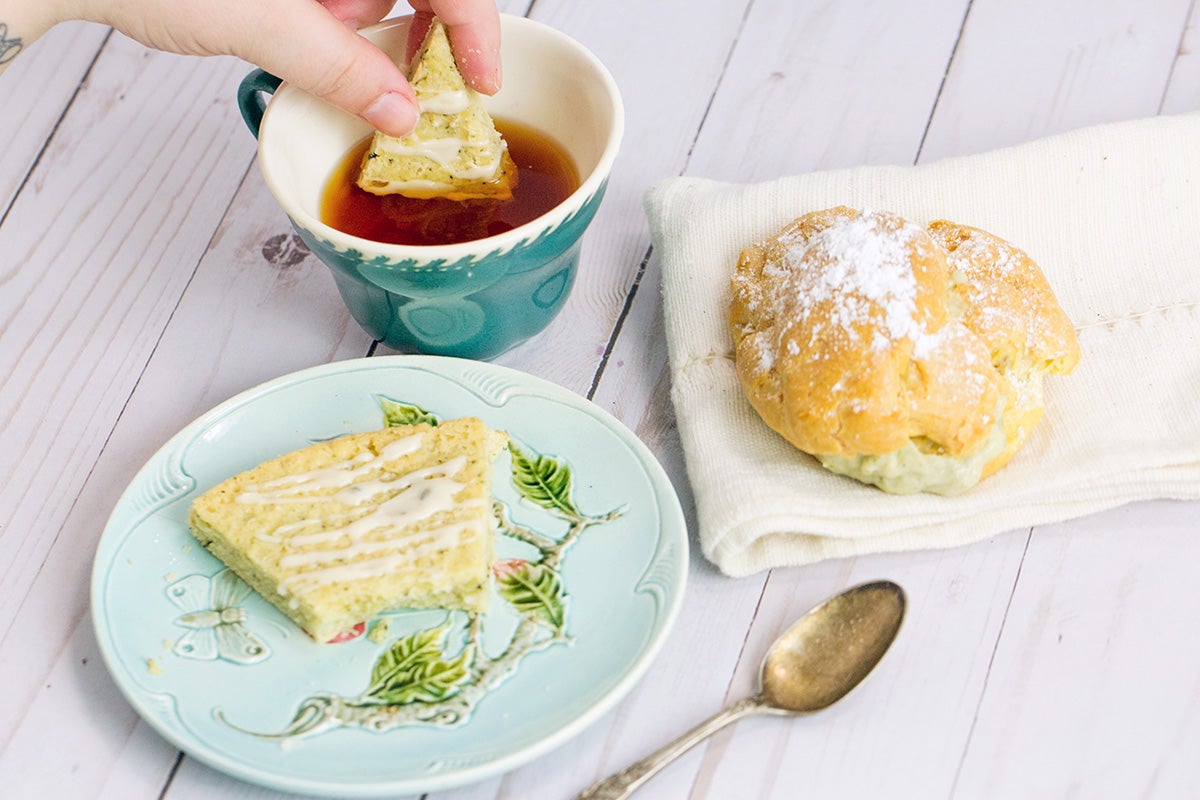 Baking with tea: endless possibilities
Now that we've established various methods for infusing your favorite bakes with tea, the creativity can really begin!
Whether you make a chamomile glaze for Lemon Poppy Seed Muffins, add ground earl grey to your Creamy Orange Scones, or steep peppermint in the milk for your Grasshopper Cupcakes, you're sure to create something special.
What's your favorite tea, and what could you bake with it? Share your creative ideas with us in the comments below!
Thank you to Anne Mientka for taking the photos for this post.
Jump to Comments