Beautiful Burger Buns
Countdown to summer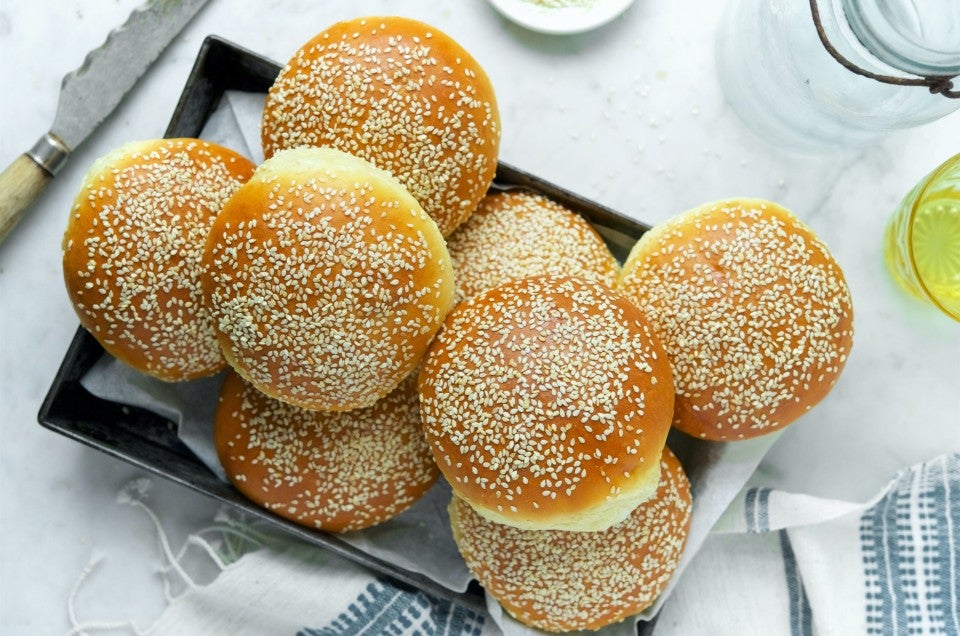 Ah, most beloved of buns...
Soft and golden, butter-brushed, seed besprinkled...
Open thy crust to receive a fat, juicy, grill-charred BURGER.
And ketchup. And relish, onions, a slice of orange cheese, maybe a dab of mayo.
Hold the yellow mustard, though. I'll take mine dark and honey-sweet.
Are you feeling the (burger) love? Getting ready to break out the Weber?
Hope so. Memorial Day is less than 2 weeks away, and you know what that means:
Grill Season!
I've read piece after erudite piece about The Perfect Hamburger. Writers wax lyric over fat levels, grind, the addition of salt (vs. topical application), and just how thick is thick enough.
How you're not supposed to squeeze the meat, just gently pat it. The correct way to get perfectly cross-hatched grill marks.
But very seldom do I read about the burger's best friend: the bun.
I mean, what's a hamburger without a bun – Atkins, right? It's practically un-American to eat a burger bite by dainty bite with a knife and fork, rather than grabbing it in both hands and chowing down.
Yet so many of us settle for those wimpy (as opposed to Wimpy) tissue-paper buns, the ones that squish cardboard-thin under the weight of burger and cheese and condiments before finally collapsing to mush.
When you've made an 85% lean ground chuck burger (patted not squeezed, grilled not fried, with DelMonte ketchup, homemade pickle relish, caramelized onions, and a generous crumble of Maytag blue cheese) – why not enjoy a bun with an equally good pedigree?
Introducing Beautiful Burger Buns, the #1 bun at kingarthurflour.com – as voted by you, our chief critics.
Summer's coming - let's nail this recipe right now.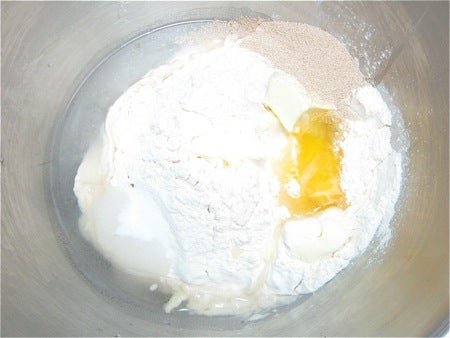 Place the following in a mixing bowl:
3/4 to 1 cup (170g to 227g) lukewarm water*
2 tablespoons (28g) butter, at room temperature
1 large egg
3 1/2 cups (418g) King Arthur Unbleached All-Purpose Flour
1/4 cup (50g) sugar
1 1/4 teaspoons salt
1 tablespoon instant yeast
*If you plan on topping your buns with seeds, use an additional egg - but only the yolk. Set the white aside to use as a glaze once the buns are shaped.
Why the range of water? Because flour is like a sponge; it absorbs moisture from the atmosphere. In summer, or in humid conditions, flour will be "wetter;" in winter, or in dry climates, it'll be "drier." Thus, if you're baking in high humidity, start with 3/4 cup lukewarm water. If you're in Arizona, or it's a cold, dry January day in Maine, use the greater amount of water.
Not sure what to do? Start with the lower amount of water. It's always easy to add more; impossible to add less!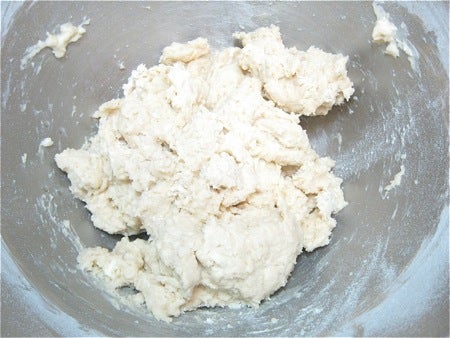 Mix everything together until the dough is cohesive.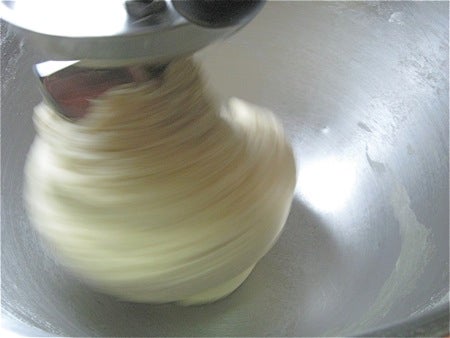 If you're using a stand mixer, knead the dough for about 7 minutes at low-medium speed. You can also knead the dough by hand, for about 10 minutes. Or use your bread machine, set on the dough cycle, to bring it right through its first rise.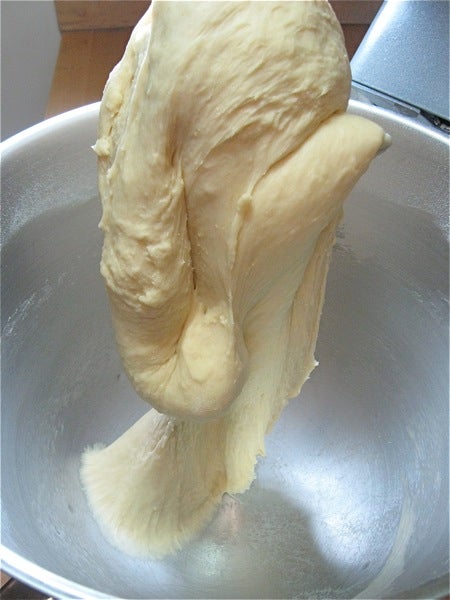 However you knead, when you're done the dough should be soft, smooth, and stretchy; that's the gluten at work.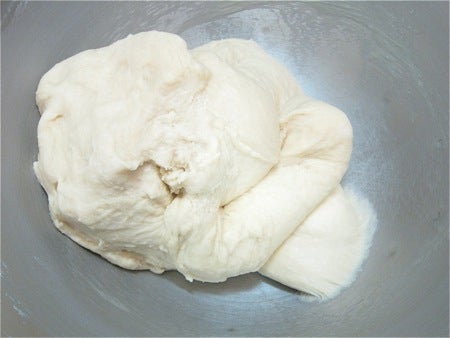 See how it clings to the bowl? It should be just a touch sticky.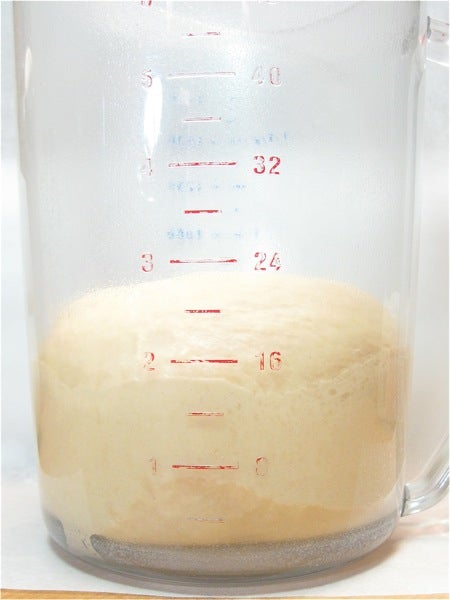 Place the dough in a lightly greased bowl, or 8-cup measure. I like to use the measure, as it allows me to see how much the dough has risen at a glance.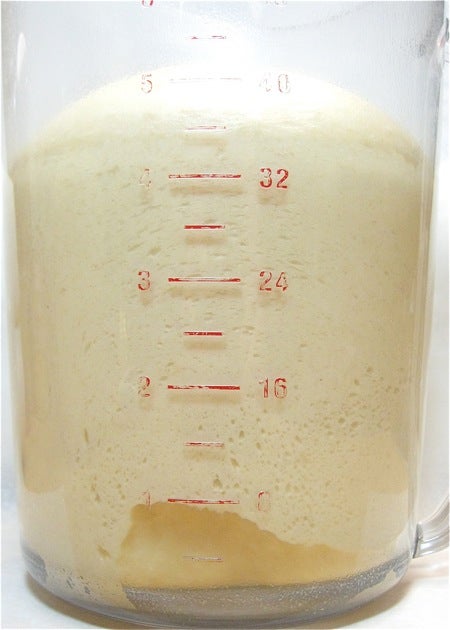 Let the dough rise until it's just about doubled in bulk; this could take 2 hours or so, depending on the warmth of your kitchen, as well as its yeast friendliness.
"Yeast friendliness?" The more yeast bread you bake, the faster your dough will rise, due to the spread of wild yeast into your baking environment.
Gently deflate the dough, and divide it into 8 pieces.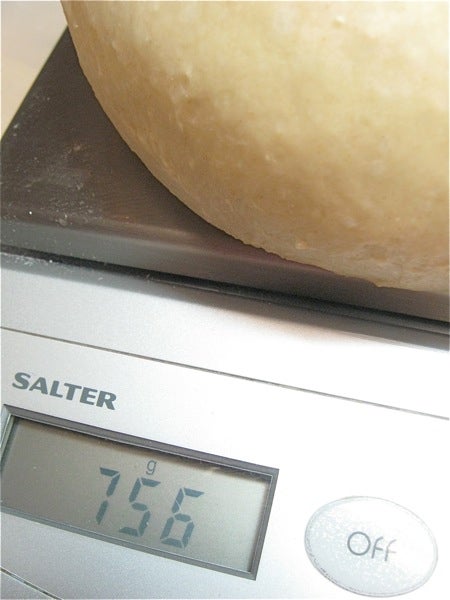 This is most easily done with the help of a scale.
756 divided by 8? Looks like about 94g each.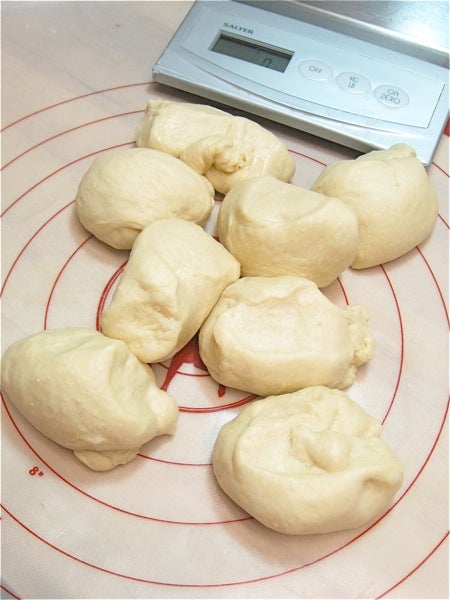 And there you have it: 8 balls of dough, all roughly the same size.
Shape each piece of dough into a smooth ball.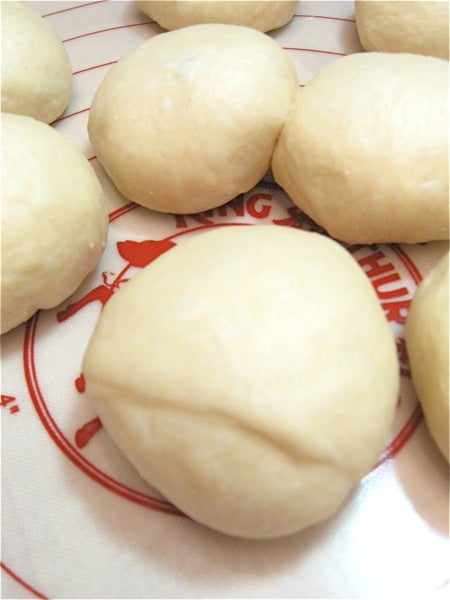 See that crease? An imperfection now will only become more prominent as the dough rises.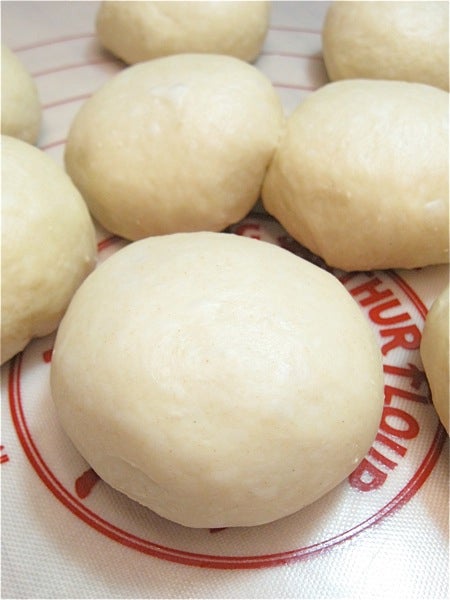 Take the time to smooooth those balls by rolling them under your gently cupped fingers.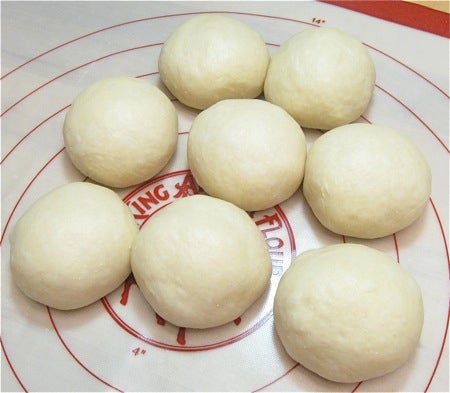 Ah, that's better.
Space the balls on a parchment-lined or lightly greased baking sheet.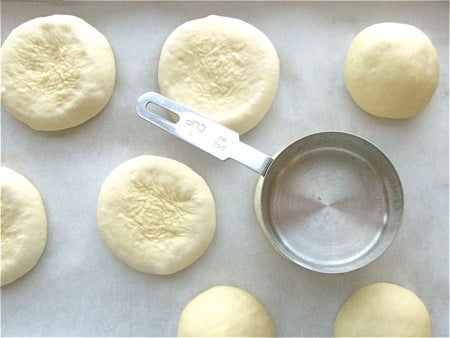 Flatten each until it's about 3" to 3 1/2" wide.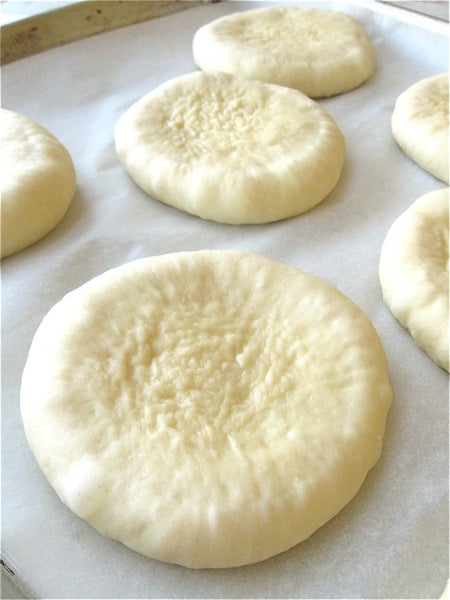 Like this.
Cover the buns, and let them rise for about 1 hour. They'll be puffy, but nowhere near doubled.
Towards the end of the rising time, preheat the oven to 375°F.
Brush the risen buns with melted butter.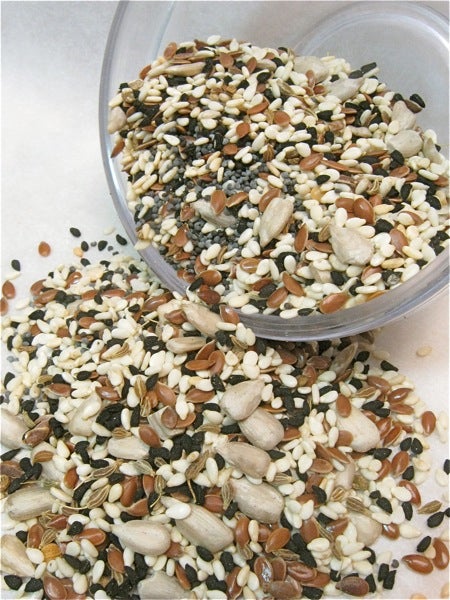 Or, instead of butter, top them with seeds. Sesame or poppy are traditional; our Artisan Bread Topping is both colorful and tasty.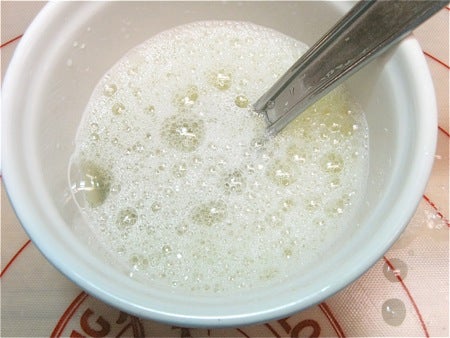 Remember the reserved egg white? Now's the time to add 2 tablespoons cold water, and whisk the mixture to a froth. You're going to paint it on the buns before sprinkling on seeds.
If you're not using seeds, there's no need to brush the buns with egg whites – unless you want them to be shiny. In which case, be my guest.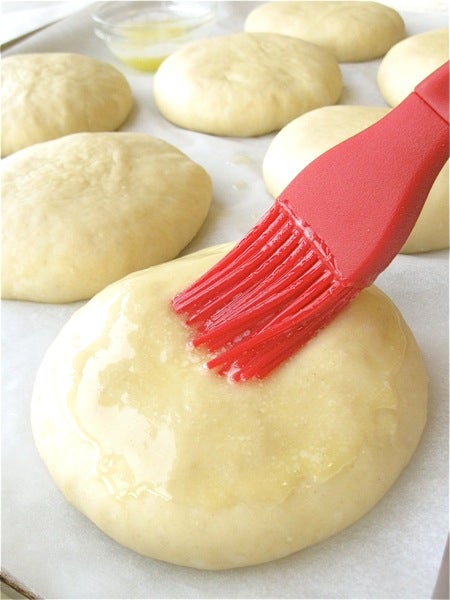 Gently brush the risen buns with egg white...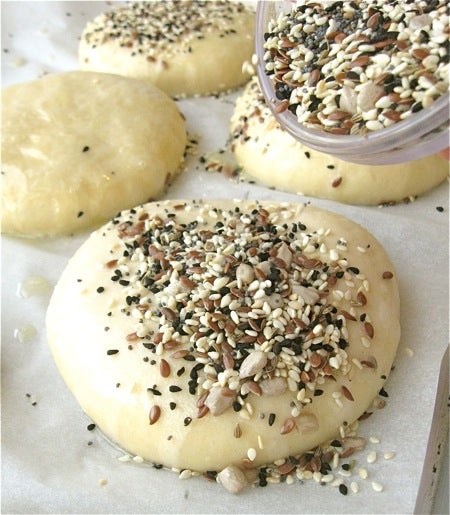 ...and sprinkle with the seeds.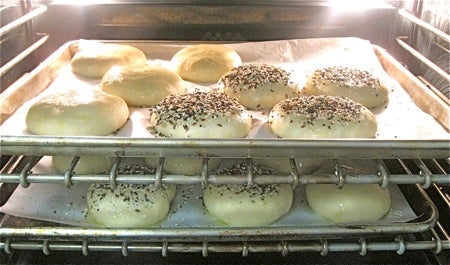 Bake the buns for 15 to 18 minutes, until golden.
Hey, how come there are two pans of buns in the oven? Because I made a double recipe. Yeah, they're that good!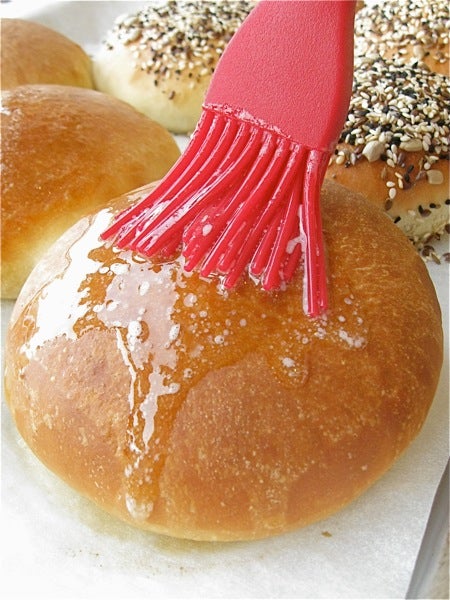 Remove the buns from the oven, and brush any unseeded ones with melted butter.
Can you brush butter on seeded buns? Sure, go for it. Butter is always welcome, in my book.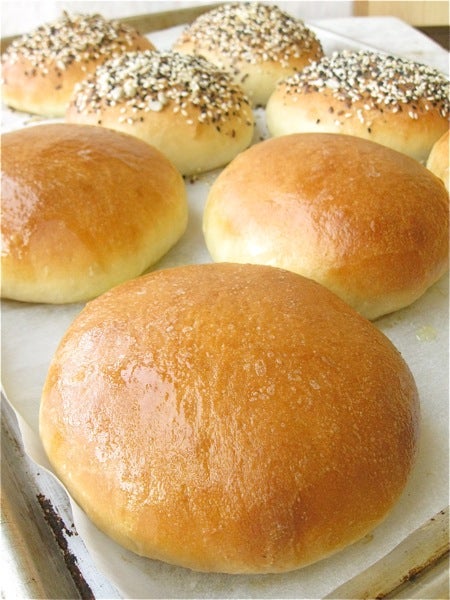 Not only does butter give the buns' crust delicious flavor, it adds a satiny finish, too.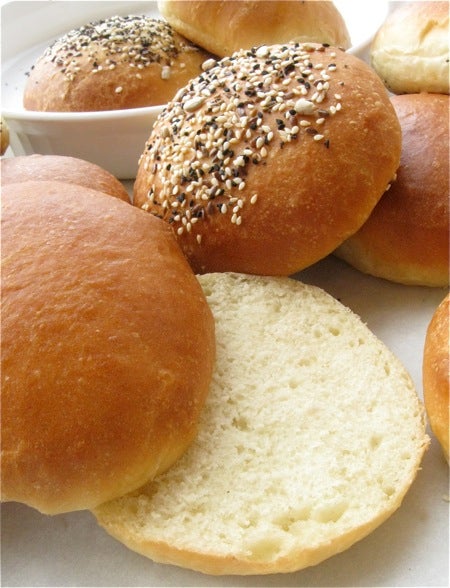 Look at that soft, creamy interior...
Shape the burgers – dig out the condiments – fire up the grill:
Summer's here!
Now - how about slider buns, perfect for kids (and dieters)?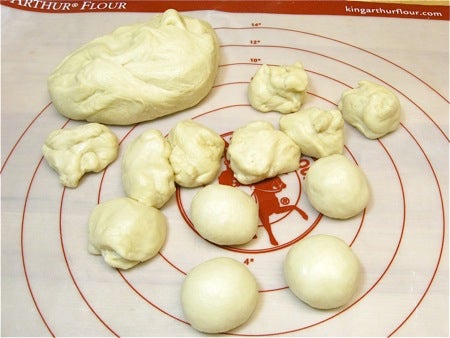 Divide the dough into 24 pieces, instead of 8. Round each piece into a ball.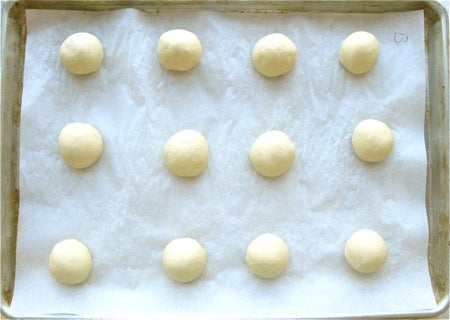 Space the balls on two baking sheets, leaving room between them for rising.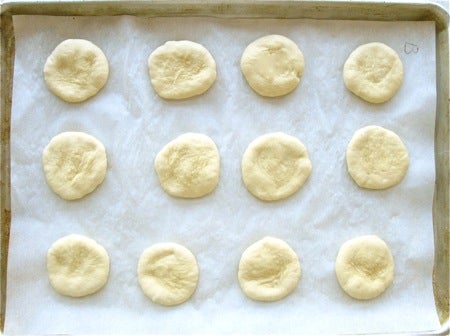 Use the palm of your hand and your fingers to flatten each ball; they should be about 2 1/4" in diameter. They'll shrink back to a smaller size; wait 10 minutes, come back, and flatten them again.
Cover the pan, and let the buns rise for about 90 minutes, until they're nice and puffy. Brush with melted butter, as the original recipe directs. Bake in a preheated 375°F oven for 12 to 15 minutes, until they're a light golden brown. Remove them from the oven, and brush them with butter again.
Place on a rack to cool.
Here are the slider buns with a couple of eggs, for scale; they're about 2 1/2" to 3" in diameter.
Read, bake, and review (please) our recipe for Beautiful Burger Buns.
Jump to Comments