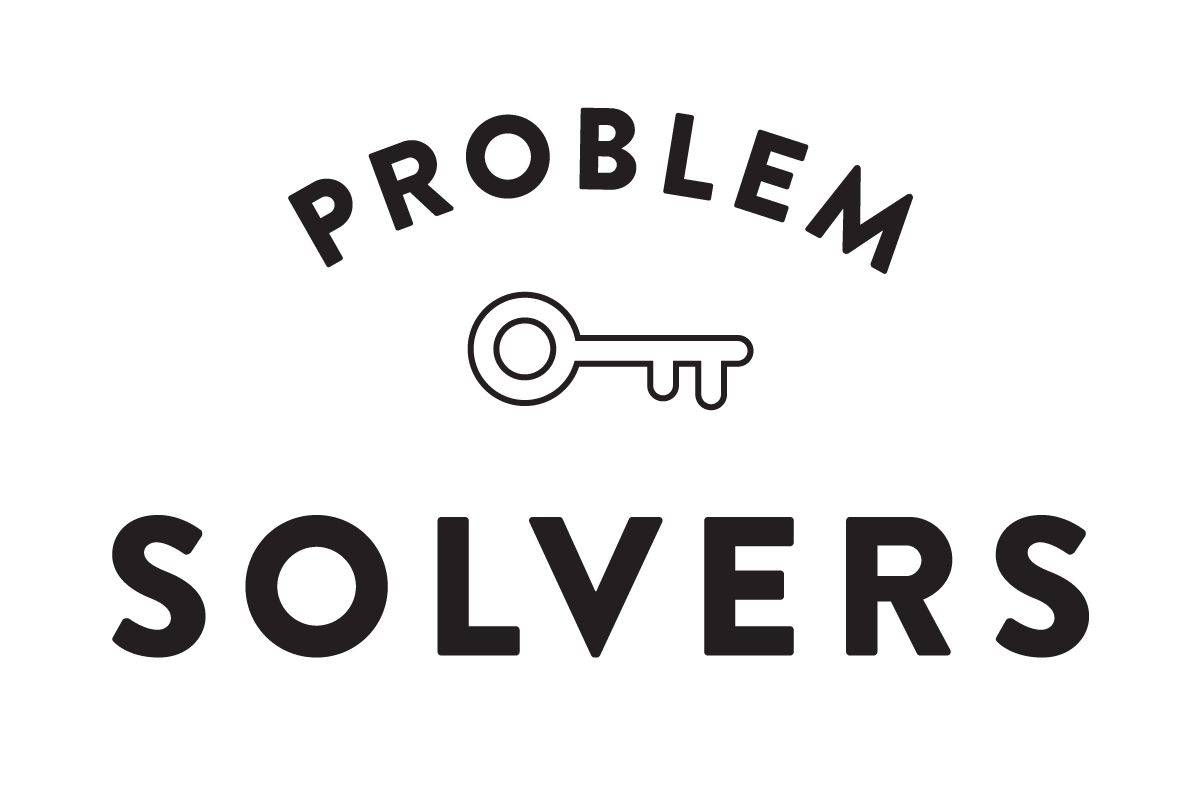 In baking, the tools of the trade can sometimes make all the difference. We've asked bakers and employee-owners across King Arthur to point us toward their favorite baking tools, and in Problem Solvers, blogger Rossi is sharing the nifty utensils and equipment they can't live without. 
* * *
You probably have a whisk in your kitchen already. It's a foundational baking tool, after all. So why in the world would you need another type of whisk? 
At least, that's what I thought. And then I started using the dough whisk.
The core benefits of this whisk are in its name: It's excellent at combining thick, sticky bread doughs with ease. But it's not just a specialty tool; it can also be used to mix a wide scope of baked goods ranging from muffins to biscuits, thanks to its unique (and admittedly, a bit strange-looking) design.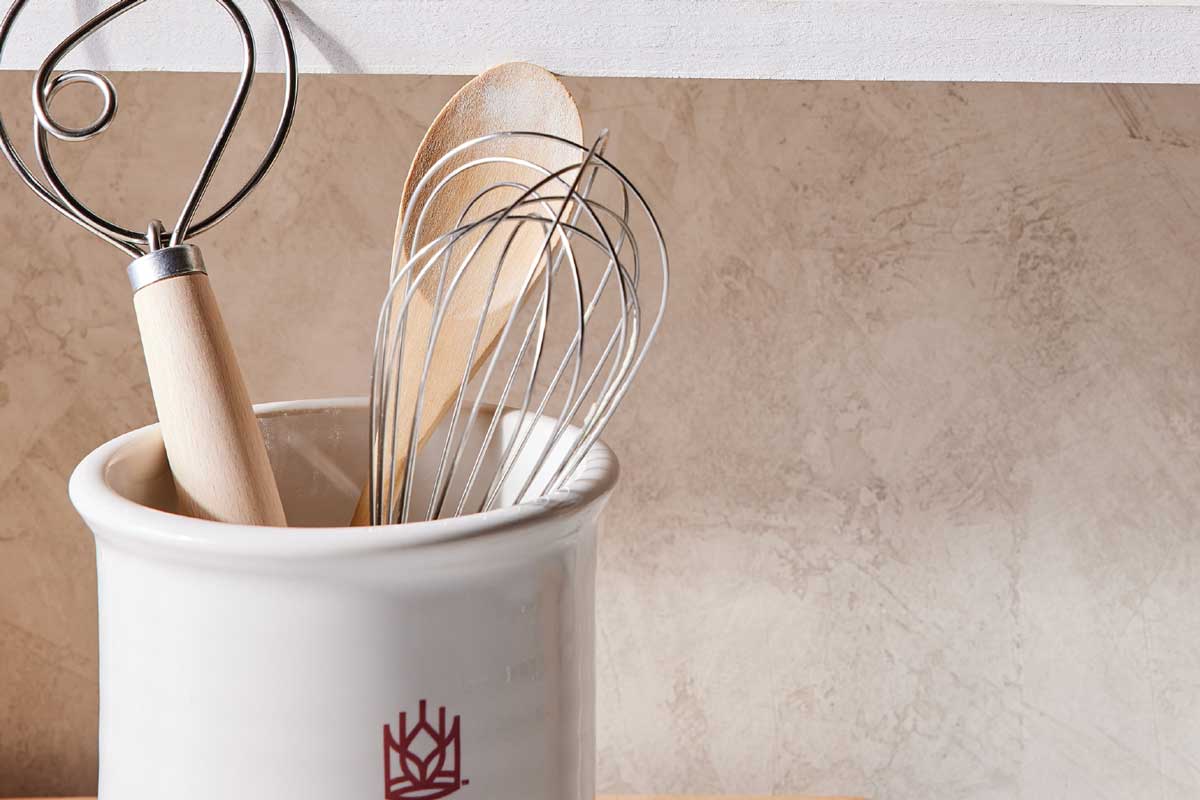 King Arthur's marketing and PR coordinator Gwen Adams is such a fan of the dough whisk, she's declared it one of her top three kitchen tools. She uses it instead of her stand mixer to make speedy recipes like cookies, muffins, and quick breads. She told me, "I also use it to get my bread dough started. You know, the initial mix where it's so sticky and gets all over your hands? The dough whisk saves the day."
It's also great for kid-friendly baking: "My 3-year-old is the official dough whisk user in the house. Something about the way it's built keeps the stuff from flying out of the bowl when she's stirring away." (Recipe tester Susan Reid also told me it makes an awesome bubble wand for kids more interested in bubbles than baking.) 
 
With such an open design, it's almost surprising how effective this whisk is at mixing. Not to mention, it's blessedly easy to clean. Here are some of the baking tasks it does just a little bit better than other utensils. 
1) Mix delicate batters, like muffins and pancakes 
One of the biggest advantages to this whisk is that its open shape allows you to gently blend batters you don't want to overbeat, for fear of toughening your baked goods. You know: treats like muffins, pancakes, and cakes that have an airy, fluffy crumb.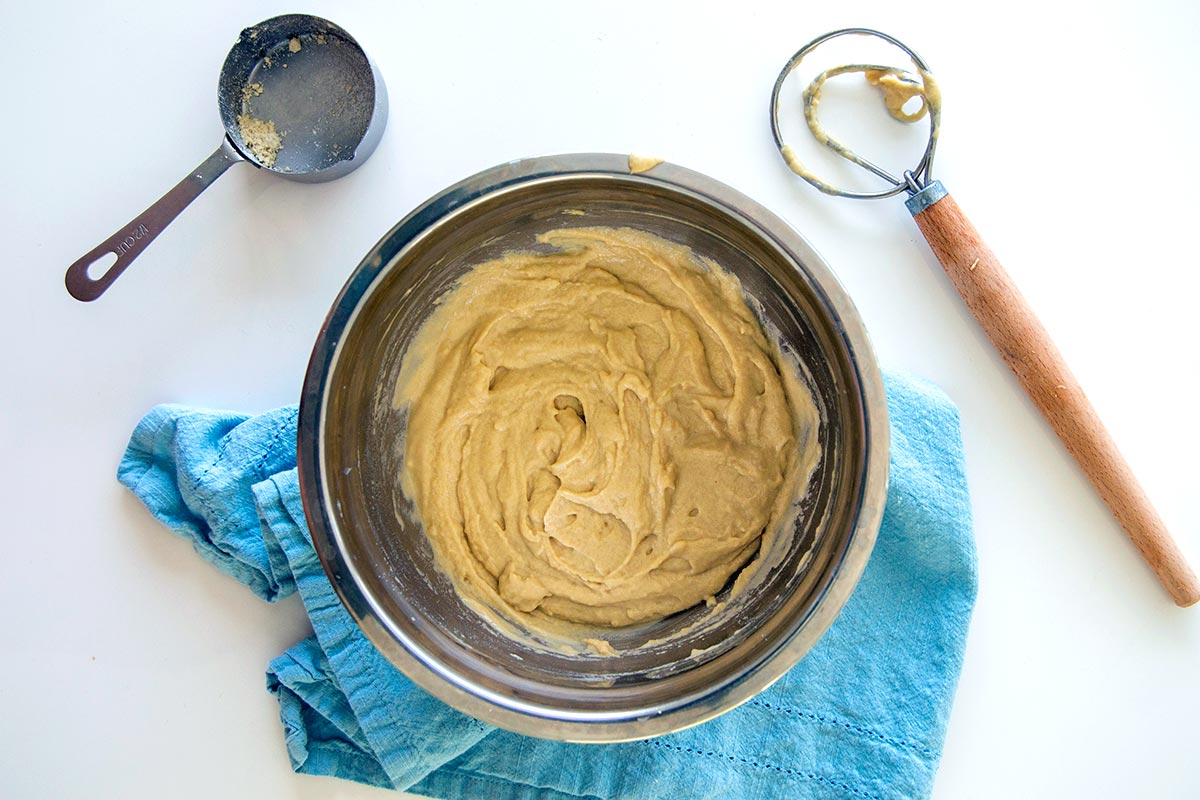 In recipes where the flour is blended in at the very end of mixing — like Back-to-Basics Yellow Cake — it's great for incorporating the flour instead of relying on the flat beater attachment of the stand mixer. The same goes for mixing whipped egg whites into pancakes or other batters. 
"Every kitchen needs this ... It makes blending and folding (think egg whites, whipped cream) easy. It combines dry or wet ingredients evenly. It streamlines your baking." — Diane from Wisconsin 
2) Stir sourdough starter and bread doughs 
As handy as this whisk is for gentle mixing, it's just as useful for thick, sticky mixtures like sourdough starter or no-knead pizza crust. Not only does it effectively bring them together, but it's also easy to clean. How many times have you stood at the sink trying to scrape off stubborn flecks of dough from your utensils? Thankfully, this whisk's open shape makes that task a lot easier.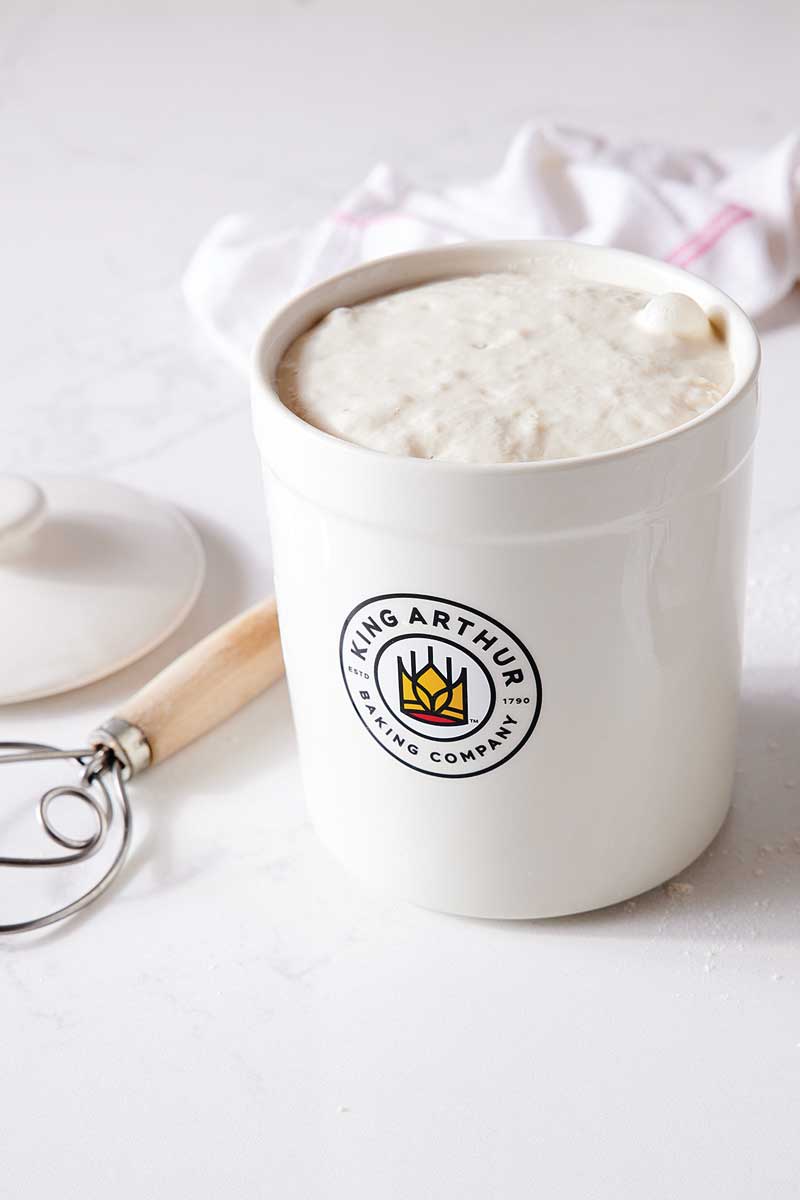 "I have never used a dough whisk before and thought I'd give it a try. I love it! It works much better for mixing bread dough than a wooden spoon. The dough somehow magically mixes without catching a lot of dough in between the whisk apparatus. The handle is nice and smooth, and the utensil is well enough balanced that you can mix bread dough easily. I can't believe I went without a dough whisk all these years!"— May from Washington, D.C.
3) Toss together a fruit pie filling 
The dough whisk isn't just for blending batters and bread doughs. Many King Arthur bakers like to recommend it for mixing up a fruit pie filling. It's particularly useful if you're baking with tender berries or other fruits that might bruise with too much handling. 
"It's my favorite kitchen tool. I use it every time I bake which is about 3-4 times a week. It blends both dry and wet ingredients beautifully." — Diana
4) Stir granola on a sheet pan
Toss hot granola on a baking sheet without breaking up those enticing clusters by using the dough whisk. Thanks to its wide shape, you can stir your granola as it bakes for even browning while keeping chunks intact.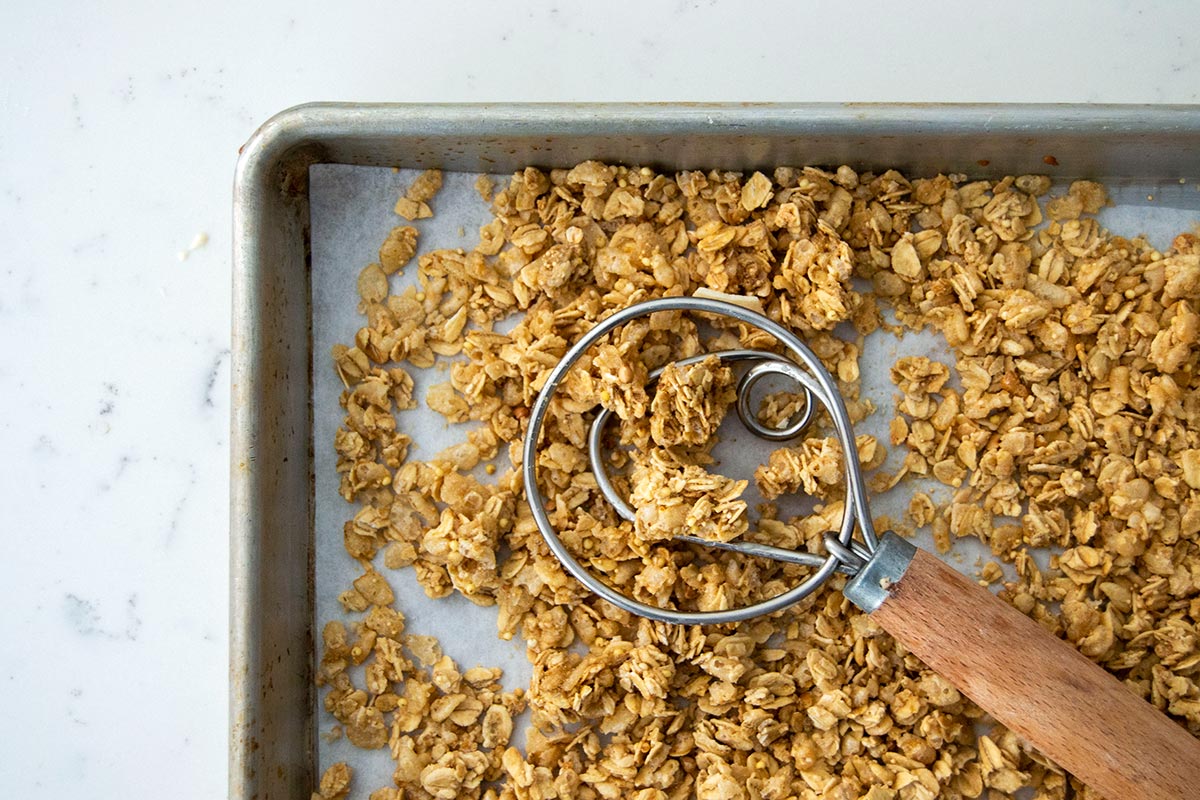 "Excellent, makes mixing dough an absolute joy! Wish I'd had this 3 decades ago!" — Linda from Georgia 
5) Make dough for tender baked goods like biscuits and scones 
Many recipes for buttery, tender baked goods — such as biscuits, scones, and pie crust — will direct you to lightly mix the ingredients just until a dough forms. The goal with all of these recipes is to avoid handling the dough too much, which can result in a dense, tough texture. With the dough whisk, this mission is even easier to accomplish. Tender doughs come together with minimal effort (and once again, the subsequent cleanup is a breeze). 
"These whisks are useful from the heaviest batter to the thinnest. I have been using these whisks for many years and bought two as gifts. In my kitchen, these are a must!" — Carol from New York 
6) Scoop buns and other boiling objects     
And beyond mixing, the dough whisk has a few extra perks. Like scooping buns and other baked goods from boiling water! 
If you don't have a spider or similar tool designed for lifting boiling objects, the dough whisk makes an excellent pinch hitter. Try using it when boiling Pretzel Bites or Stuffed Bagel Buns, for instance.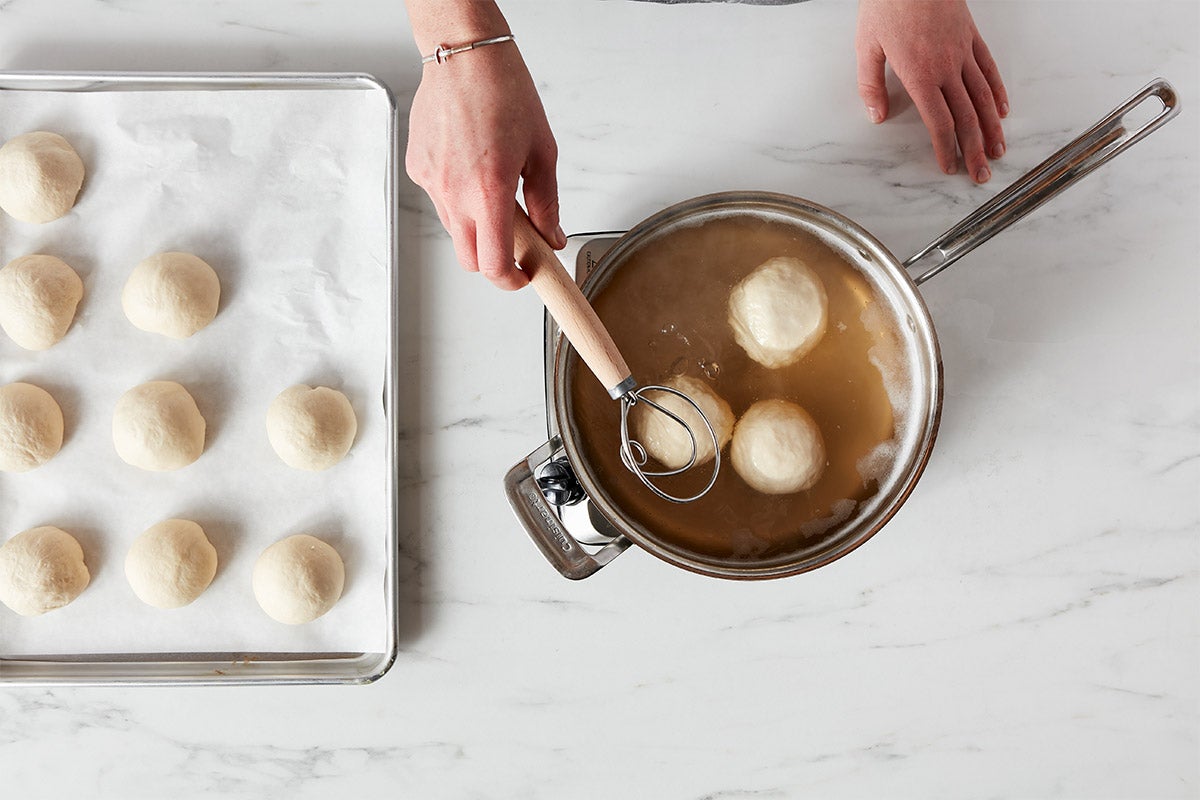 "How did I live without this dough whisk? The dough whisk is well made and it is so much easier to stir everything from cake batter to thick cookie dough. Most times my mixer can stay in the cabinet. Easy cleanup too!" — Patti from Iowa 
7) Mash bananas for banana bread
One more bonus skill of the dough whisk? It's a nice tool for mashing up ripe bananas when making Banana Bread. While a fork can be too small and a spoon too blunt, the dough whisk smoothly smashes up a banana while retaining distinguishable chunks, perfect for bakers who like a little texture in their baked bread. 
"I love my new whisk! Ordered one for each of my daughters as well. Made mixing my bread dough much easier, used it to make Banana Nut Bread as well. No beaters to mess with. Highly recommend this product." — Sunna from Arkansas
More than just a whisk 
"Dough whisk" almost feels like the wrong name for this tool, because it does so much more than mix doughs or mimic a whisk. Whether you're a daily bread baker or a weekend pancake eater (or even a granola aficionado), this tool can make your baking better. (And your dishwashing easier!) 
For more tools King Arthur bakers swear by, see the other kitchen products featured in Problem Solvers. 
Cover photo by Kristin Teig
Jump to Comments