The theme of our annual King Arthur Flour holiday cookie decorating contest this year is snow people and ginger people.
And the big winners? People in need – all over the world.
This year, in addition to the usual King Arthur gift certificate prizes for the winning cookie decorators, we decided to really make a difference in a lot of people's lives. The five prize winners each received a $100 gift certificate – but more importantly, we invited each winner to specify a food-related charity of their choice, to which we'd make a donation.
The result? King Arthur Flour is donating $7,000 to five charities, ranging from a food bank in Vermont to a community gardening program in Kentucky.
So, how did it all work? Avid cookie bakers, working in either snowman or ginger person motif, chose one of five categories to enter: standout execution; celebrity lookalike; fun/humorous; kids (10 and under), and most creative.
Contestants decorated cookies, and posted their photos to an online voting site, where anyone could vote for their favorites.
The leading vote-getters in each category were then reviewed by King Arthur's panel of judges, who selected five category winners; a grand prize winner from that group; and a personal favorite (judges' pick).
The grand prize winner's charity will receive $5,000; the other four finalists' charities will each receive a $500 donation.
Without further ado, here are our contest winners.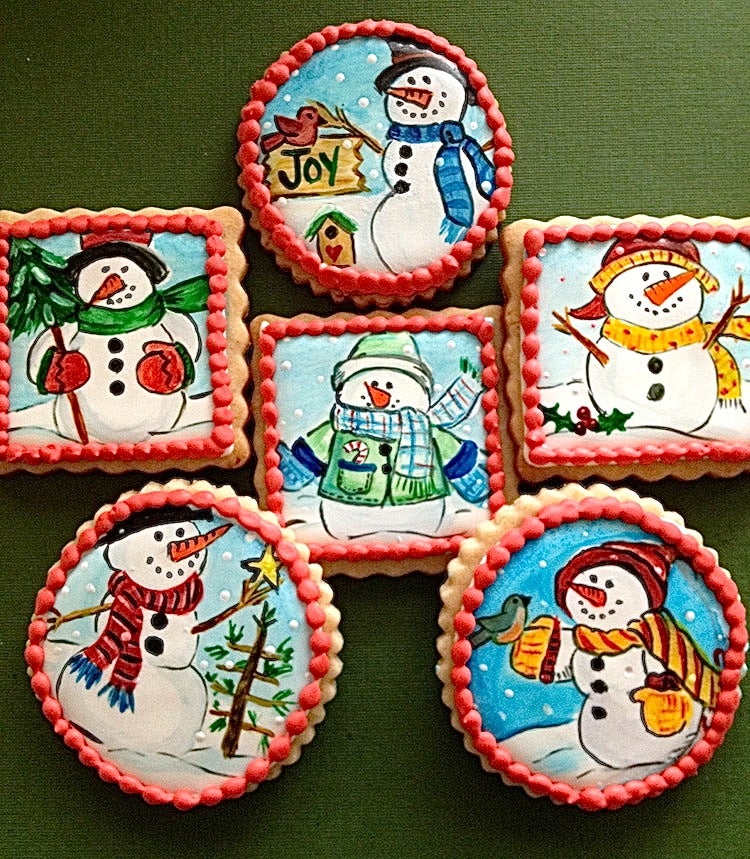 Grand Prize Winner  
Winner, Standout Execution
Nancy Cross
Title: Hand-Painted Snowmen Cookies
Charity: Iron Gate Food Pantry, Tulsa, OK
"If we can feed everyone who comes through our gates hungry today, we consider ourselves successful," says Iron Gate's Web site. In addition, the site notes the pantry's primary mission is food – a basic need. The soup kitchen provides a hot and nutritious meal every day. The food pantry distributes grocery bags every Tuesday, Thursday and Saturday. And the kids' pantry distributes kid's packs along with regular groceries to families with children.
King Arthur Flour will donate $5,000 to Iron Gate Food Pantry. Congratulations, Nancy!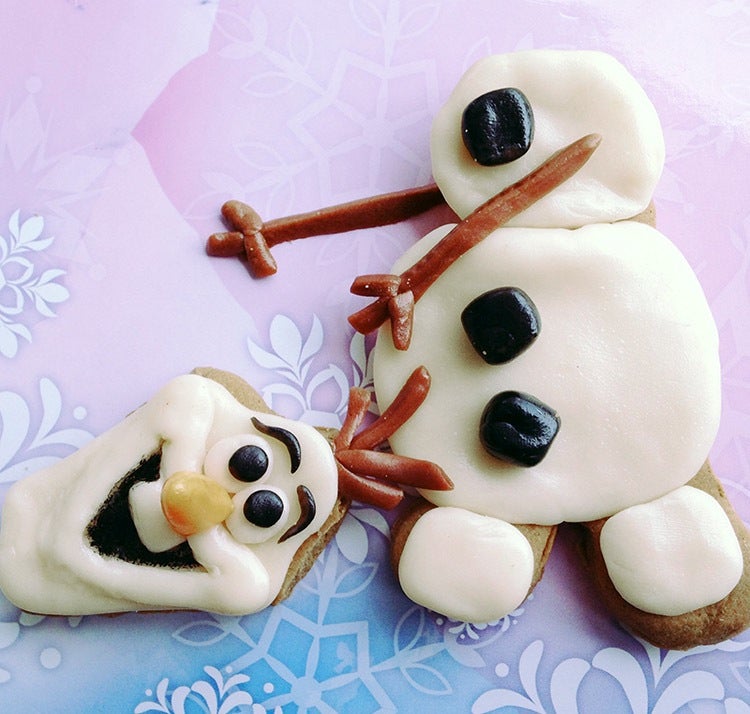 Winner, Celebrity Lookalike
Cathy Rehmeyer
Title: Olaf, from the movie "Frozen" (Cathy notes that Olaf is gluten-free!)
Charity: Grow Appalachia, Berea, KY
Grow Appalachia is planting the seeds for a sustainable future. Despite a rich agricultural history, family farming and gardening have become less popular and less profitable in Appalachia, limiting access to healthy, affordable food. Grow Appalachia seeks to solve pervasive food insecurity issues by restoring the relationship between the people and the land.
King Arthur Flour will donate $500 to Grow Appalachia. Congratulations, Cathy!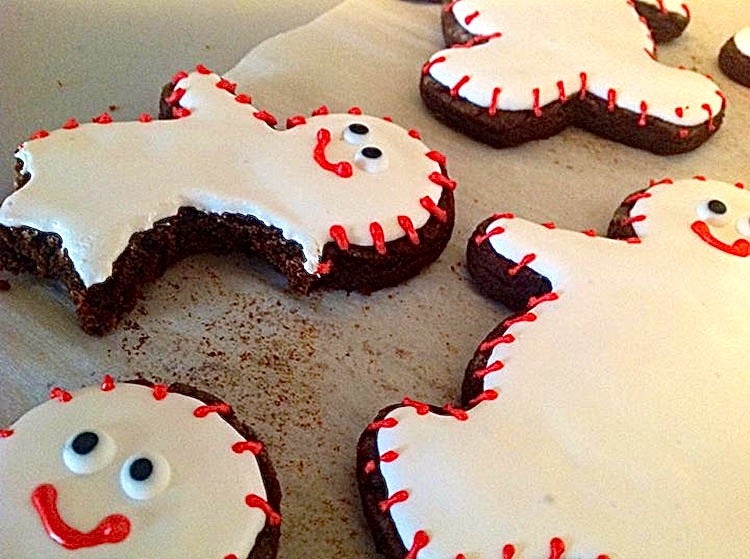 Winner, Fun/Humorous
Iris Lauber
Title: Soylent Green is People!
Charity: Toledo Northwestern Ohio Food Bank, Toledo, OH
The Toledo Northwestern Ohio Food Bank partners with 300 member agencies in eight counties every year to fight hunger in northwest Ohio.
King Arthur Flour will donate $500 to the Toledo Northwestern Ohio Food Bank. Congratulations, Iris!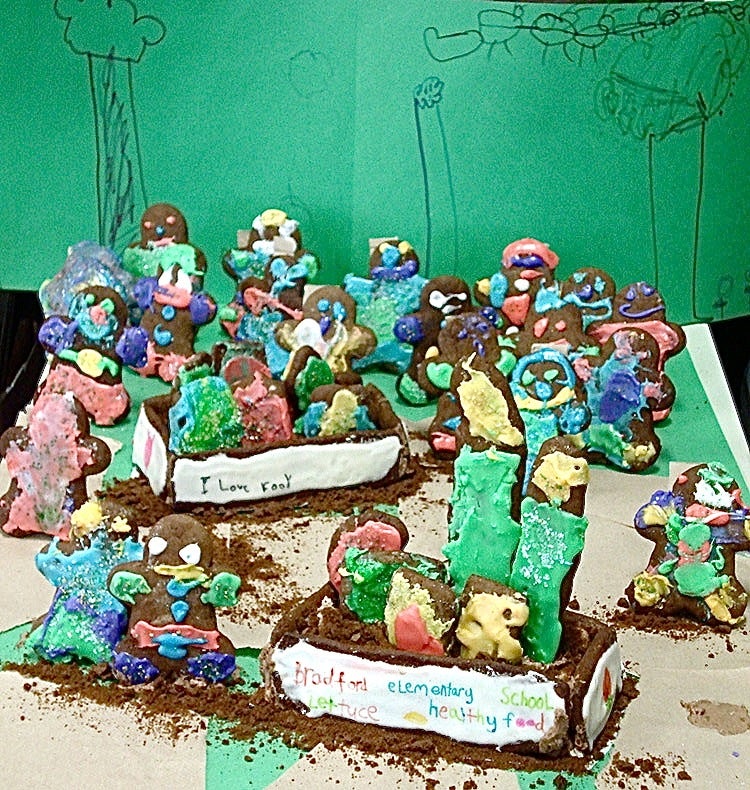 Winner, Kids (10 and under)
Bradford (VT) Elementary School 2nd Grade
Title: Potato Harvest from School Gardens Donated to Bradford Food Shelf
Charity: Bradford Food Shelf
The Bradford Food Shelf is a local food pantry feeding those in need in Bradford, VT, a rural town on the Connecticut River. Bradford Elementary School students regularly plant and tend a garden, then donate its bounty to the Food Shelf.
Said one contest voter, "The Bradford Elementary School Community does so much to give back to our town and our residents. It is not shocking that the children wanted to pay something forward and win a prize that would benefit so many families in our community that are struggling to make ends meet. These kids are the future leaders of our nation, and I for one know that the education in humanity and empathy that they are receiving is what is going to help them to be great men and women someday. Congrats kids, and thanks to the BES staff and teachers who go above and beyond in teaching our children to be better human beings."
King Arthur Flour will donate $500 to the Bradford Food Shelf. Congratulations, Bradford 2nd graders!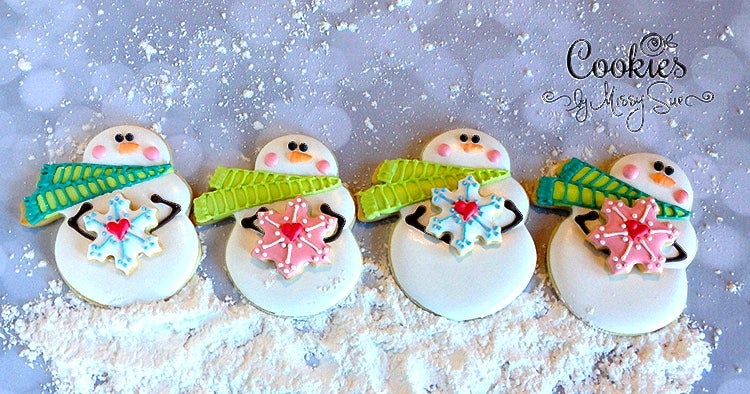 Winner, Most Creative
Melissa O'Regan
Title: A Warm Heart
Charity: Hand of Hope, Fenton, MO
Hand of Hope, headquartered in Fenton, MO, feeds hungry people in the U.S., as well as in England, Australia, Canada, Germany, India, Russia, and South Africa. The program  "serves hundreds of thousands of meals yearly through our feeding programs."
King Arthur Flour will donate $500 to Hand of Hope. Congratulations, Melissa!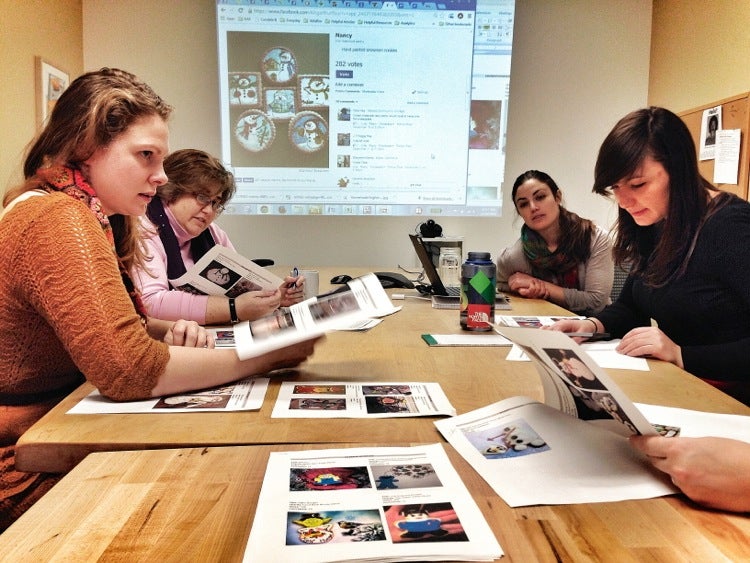 Considering all the stunning entries, it was really difficult to choose finalists. Our judges decided they'd each like to choose their own favorites. Each judge's favorite will receive a $20 King Arthur Flour gift card.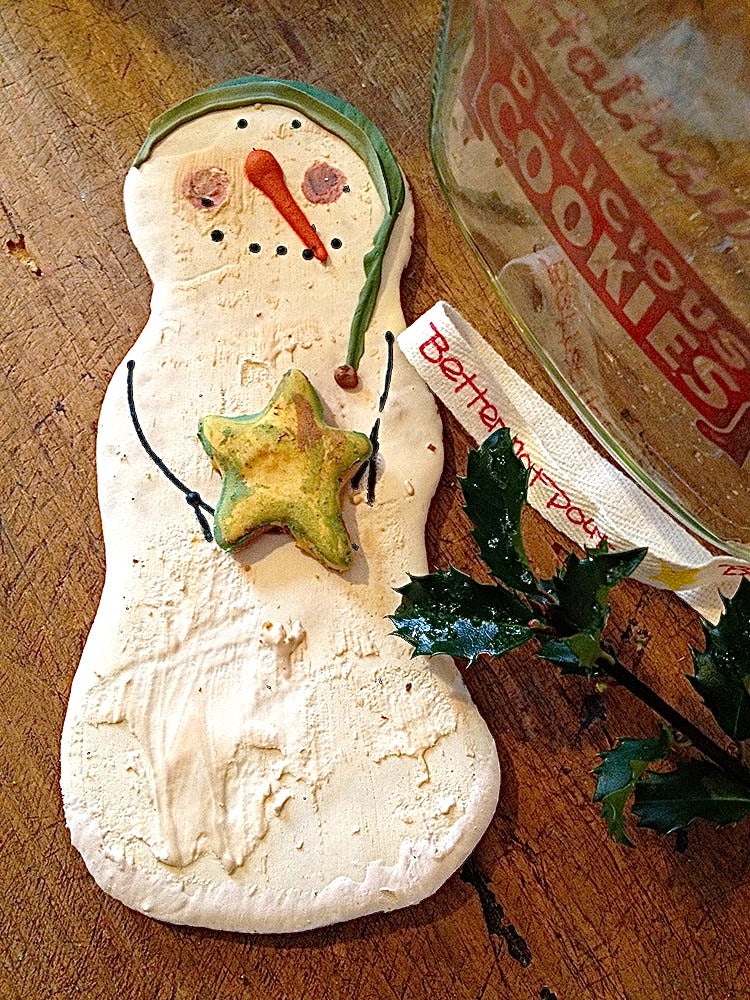 June Glidden
Title: Plain and Simple
Judge: Brook Stewart, visual merchandiser
"I'm going to go with June's Primitive snowman. It's a unique design and very well done. I like the non-traditional use of royal icing. Plus, it looks like a lot of votes were from her customers who buy cakes and cookies from her adorable bakeshop in New Braintree, MA – and they say they are sooo tasty!  So, even though it may look like a wooden decoration, I bet it tastes great. : ) A true work of art."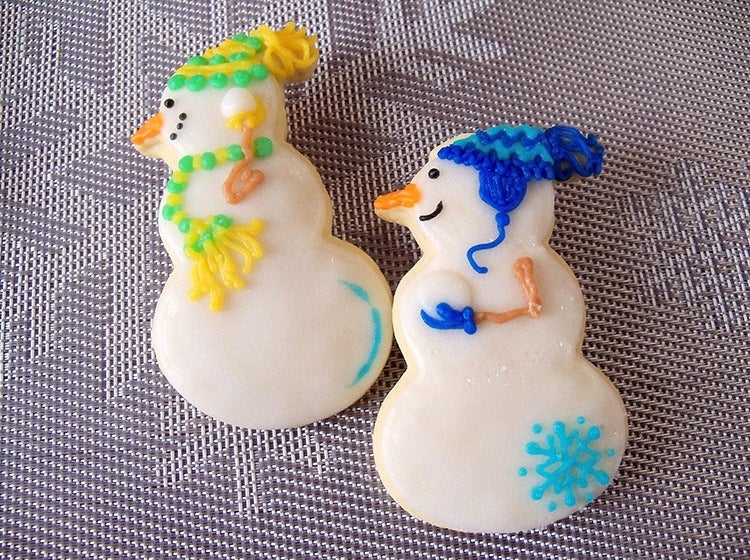 Michelle Dukes
Title: Snowball Fight!
Judge: MaryJane Robbins, baker/blogger
"They look like they're headed off to be naughty. I like that in a snowman. : )"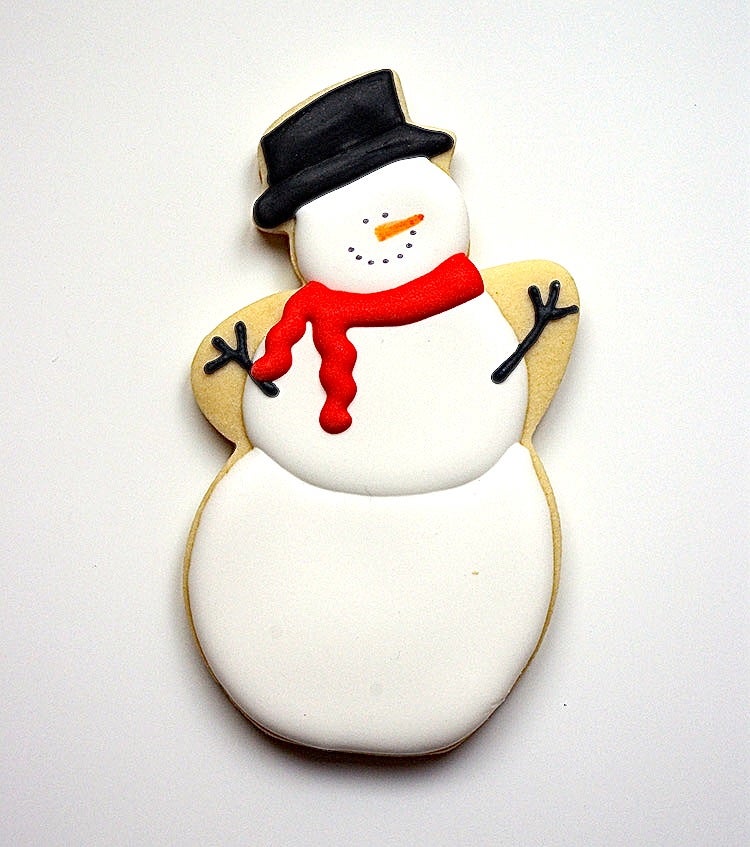 Jacqueline Long
Title: Classic Snowman
Judge: Rebekah Phelps, graphic designer
"My favorite had to be Jacqueline's Classic Snowman because it is just that, a classic snowman! I appreciate the simplicity of it and the way she used the icing to make it look like a nice plump snowman. Well done!"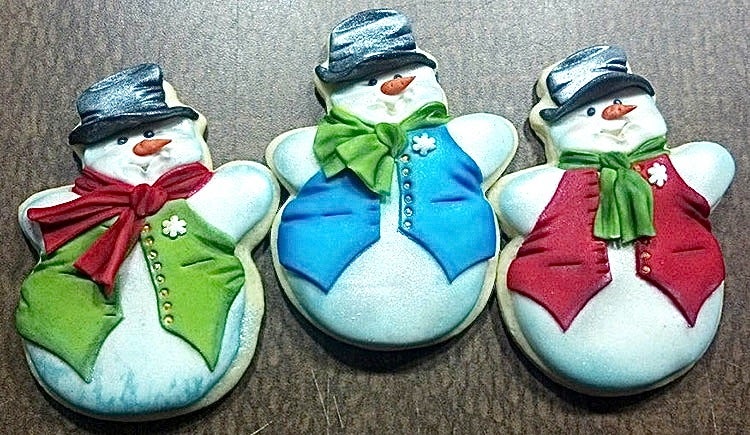 Peggy Higgins
Title: Front View Snowman
Judge: Kristen Fenn, King Arthur Flour Bakery
"Classic elegance and clean details."
Thanks, one and all, for decorating cookies, entering our contest, soliciting votes from your friends and family and, ultimately, helping to feed the hungry.
We're committed to using baking to bring people together. Find more recipes and stories about the power of baking on our Let Good Things Rise homepage. 
Jump to Comments