Anne Weaver is CEO of the Fairbanks Community Food Bank, located in Fairbanks, Alaska. The Food Bank first participated in the King Arthur Bake for Good program in 2014, and below, Anne shares the extraordinary story of how that initial collaboration has blossomed into a community-wide baking initiative.
* * *
There are some days in life when you receive a phone call that changes your course of direction. Early in 2014, I received such a call. Local sixth grader Nick Prayner, along with his mom Kim, wanted to know if the Fairbanks Community Food Bank would participate in King Arthur's Bake for Good program.
Kim had it all figured out: using supplies provided by King Arthur, the school kids would bake bread to be donated to the Food Bank, and I would tell students the story of the Food Bank so they'd be excited about donating their precious loaves. Sounded fun! So with an enthusiastic "Yes!" I began an adventure with Nick, Kim, and Nate Sandel from King Arthur that has since brought in almost 20,000 loaves of bread to the Fairbanks Community Food Bank.
Inviting our community to bake
As we started planning our collaboration with Bake for Good, our Food Bank team also wanted to build local excitement for the initiative. This desire to expand led Food Banker Sam Kirstein to come up with the brilliant idea to invite community members to participate alongside students. She reached out to House Representative Tammie Wilson about getting involved, and she jumped on the idea.
But before we could get started, we also needed Tammie's help to get around hurdles with the Alaska Department of Environmental Conservation (which oversees food handling safety). To be able to accept homemade bread, we needed a variance to the DEC's regulations. They ultimately produced a pamphlet on how to bake safely, which we incorporated into "baker sacks" that also included a bread bag, a twist tie, and a label for writing ingredients.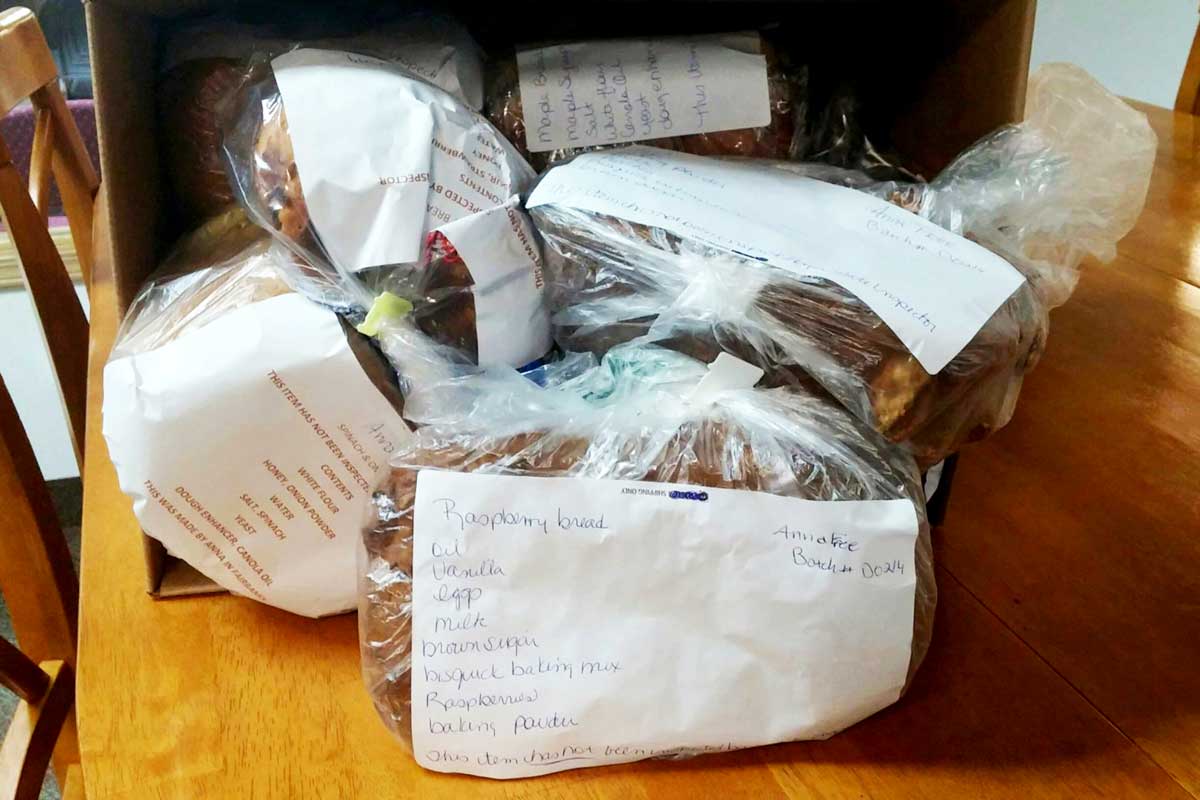 We wanted to make it as easy as possible for people to participate, and this way, the only thing the baker had to do was bake! 
Ready, set, bake!
We launched the project on the Food Bank's Facebook page in October of 2014, sharing instructions on how locals could participate by baking to donate for Thanksgiving. King Arthur donated an amazing amount of flour, and they also sent Nate up to Fairbanks to visit seven schools and teach students how to bake.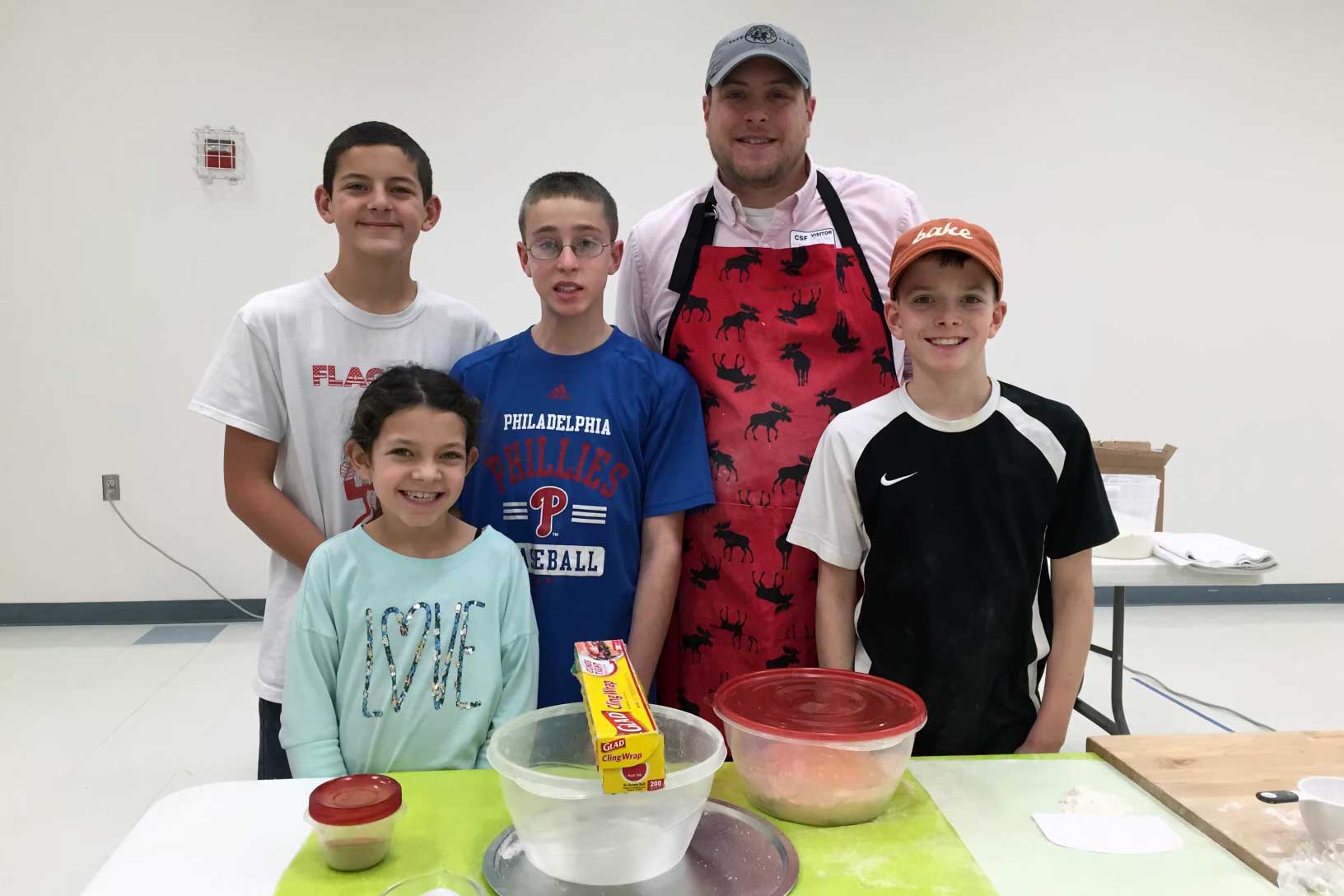 Ultimately, the community excitement exploded. The Food Bank was amazed by the joy and heartfelt stories this baking project was generating.
One boy from Watershed School was so inspired after Nate's Bake for Good presentation that he encouraged his friends to "keep on baking for people in need." He brought in an additional 45 loaves of bread on Monday, and then another 17 the following Tuesday!
A woman named Anna Free donated 15 loaves of homemade bread one morning. She had so much fun with it that she became the first person to start baking for the Food Bank year-round. Even now, six years later, she still brings in five loaves each week!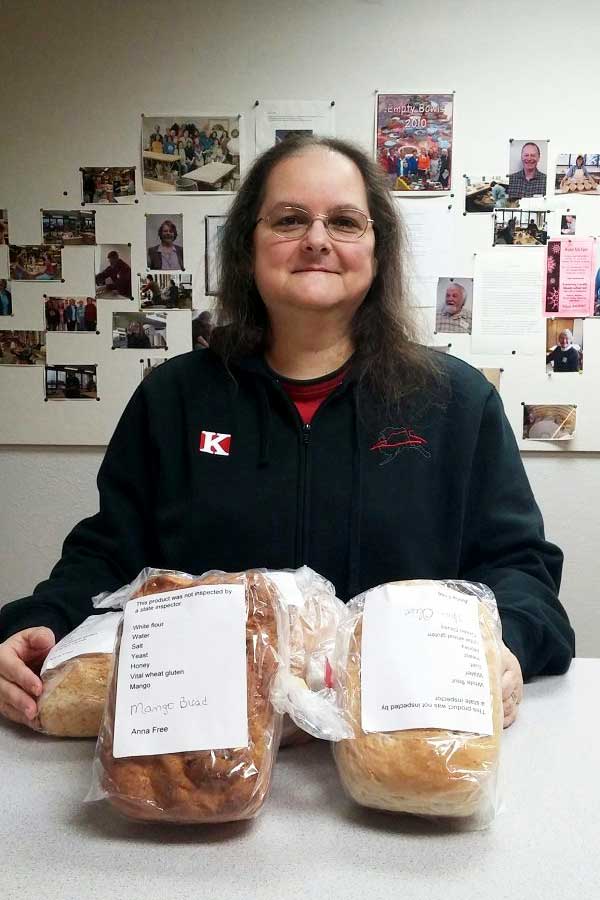 Hundreds of loaves were donated that year, and excitement spread throughout the community.
Continuing to bake for good
King Arthur continued to send baking supplies for several years after we first started working with Bake for Good, and since 2014, the Fairbanks Community Food Bank has kept up an annual tradition of collecting and supplying over 2,000 loaves of bread with our annual Thanksgiving food boxes. Not to mention, we also supply around 1,000 fresh homemade loaves throughout the year.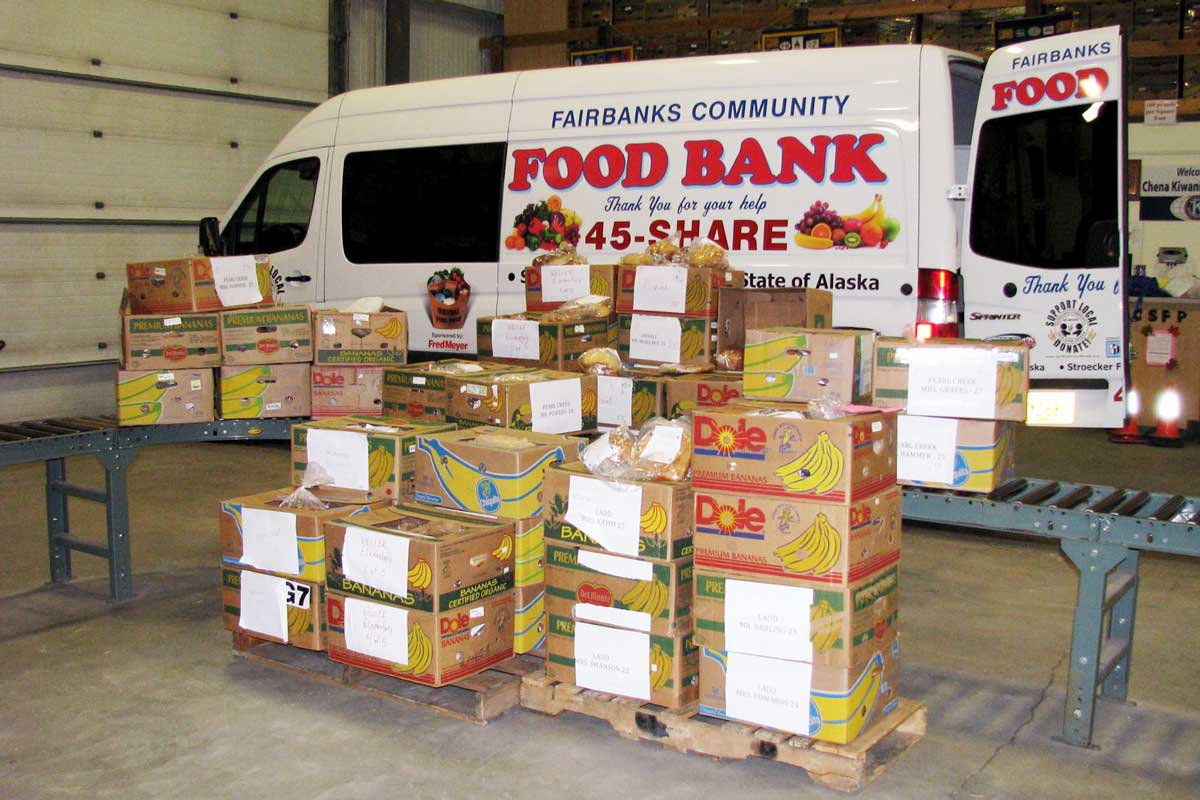 These precious loaves come from Girl Scout troops, homeschool projects, some of the same schools Nate visited (many of which have turned this into an annual classroom project), retirees, businesses, and individuals who simply want something meaningful and fun to do at home.
One year, a business located in a large office building called to let us know that every November they were bombarded with the aroma of freshly baked bread. As it turns out, people in other offices were bringing their bread machines into work and baking for the Food Bank. Inspired, this business jumped on the bandwagon and started baking as well! Community members have even started a contest with each other each autumn to see who can be the first to bring in 100 loaves of bread for Thanksgiving.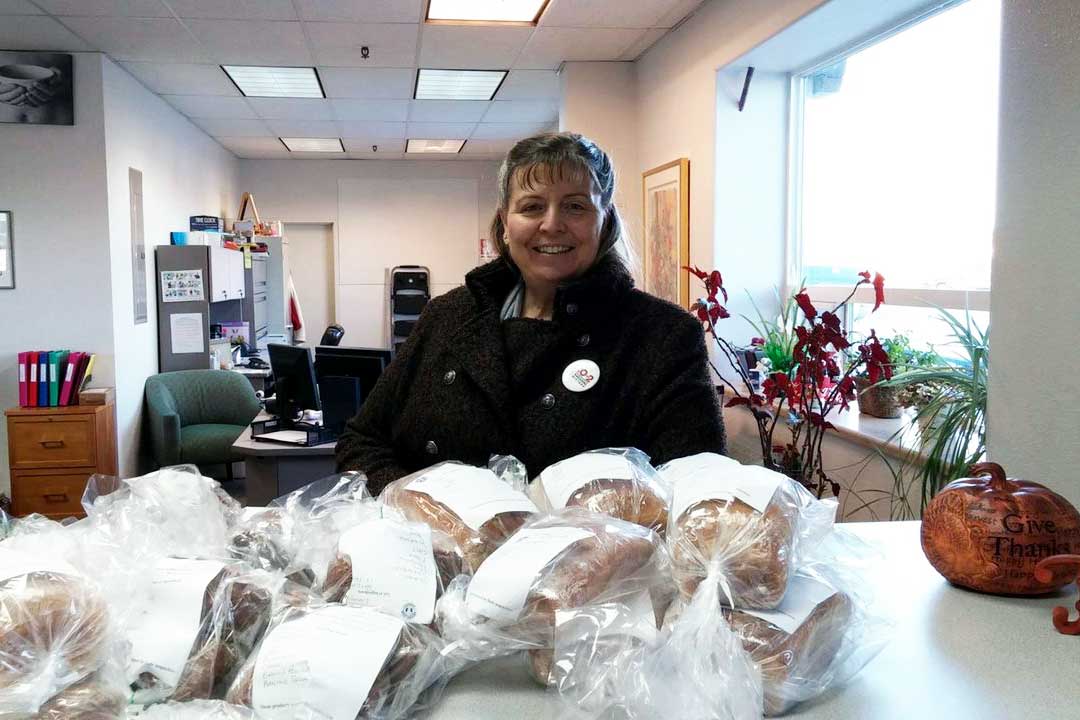 We've also expanded beyond bread. After one of our largest grocery stores closed in 2018, we no longer had access to the cookies and treats we used to receive from them, which were missed tremendously by the seniors we work with. We went back to the DEC and requested the variance be expanded to allow homemade cookies as well. Now, community members bake thousands of cookies for these seniors to enjoy.
Then 2020 hit … and in the midst of all the hard moments, I received a text from a schoolteacher named Craig, who sent me a photo of three beautiful loaves of bread he had just pulled out of his oven. With the photo he sent this note: "When you can't control the world around you, control what you can: yeast, water, flour, sugar. Baking bread for the Food Bank is proving quite therapeutic!"
A heartfelt baking tradition
The Prayner family — the original bakers who initiated our work with King Arthur — has since moved out of the Fairbanks area. But they're still part of the Food Bank family! Just before Thanksgiving this year, we sent 40 baking sacks to them. After filling those 40 bags with home-baked treasures, the Prayers drove six hours to hand deliver their loaves to the Food Bank, just in time for Thanksgiving.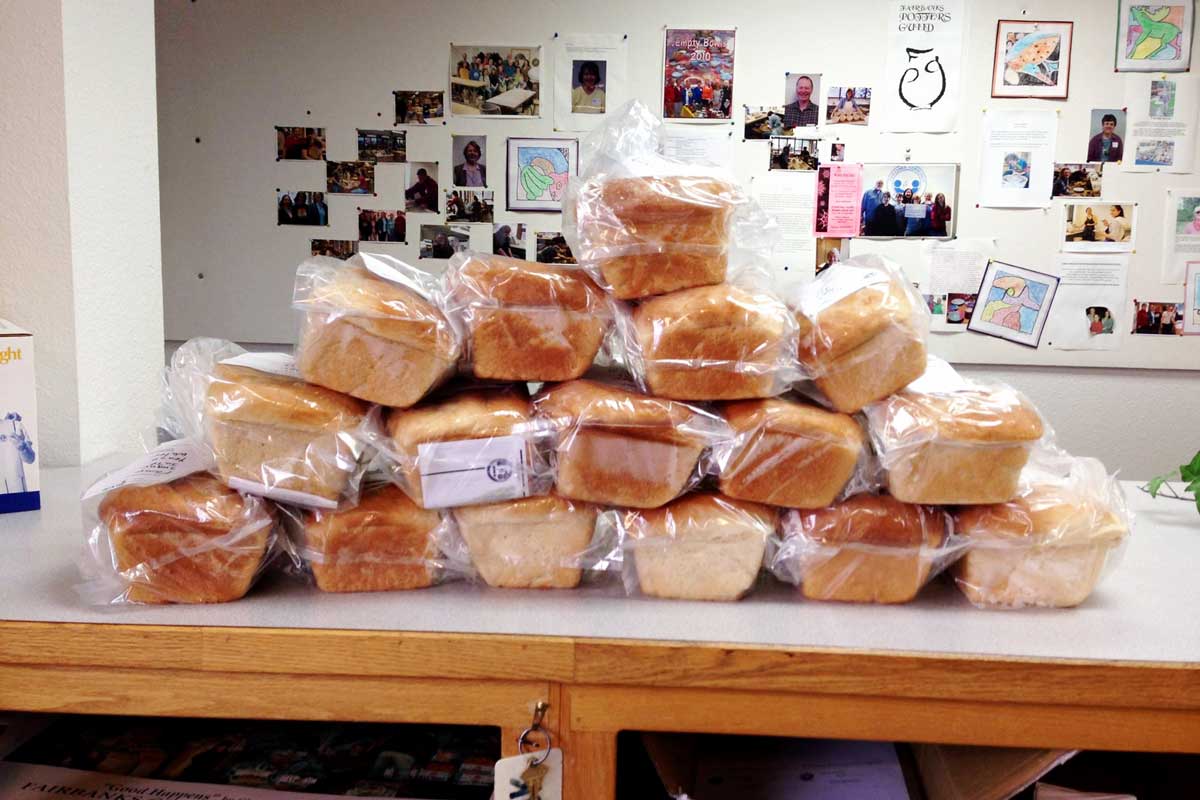 We're grateful for our neighbors and thrilled to have their ongoing support. King Arthur's Bake for Good program, along with the enthusiasm of a delightful family and the kindness of the local community, has built an entire town truly inspired to bake for good.
To learn more about Bake for Good and how to get involved in the program, please see the Bake for Good homepage.
Photos courtesy of the Fairbanks Community Food Bank. Cover photo by John Sherman.
Jump to Comments