Hundreds of fourth graders are gathered, at rapt attention, listening to Paula Gray talk about yeast. They wave their hands in the air, eager to answer her questions. Fascinated, they watch as she mixes bread dough and discusses gluten development.
The students are part of the annual STEM (Science, Technology, Engineering, and Math) day at the Johns Hopkins University Montgomery County campus; Gray is a baking instructor and manager of the King Arthur Flour Bake For Good: Kids program. The day-long event — a packed schedule of science demonstrations — is just one component of the university's robust K-12 educational outreach.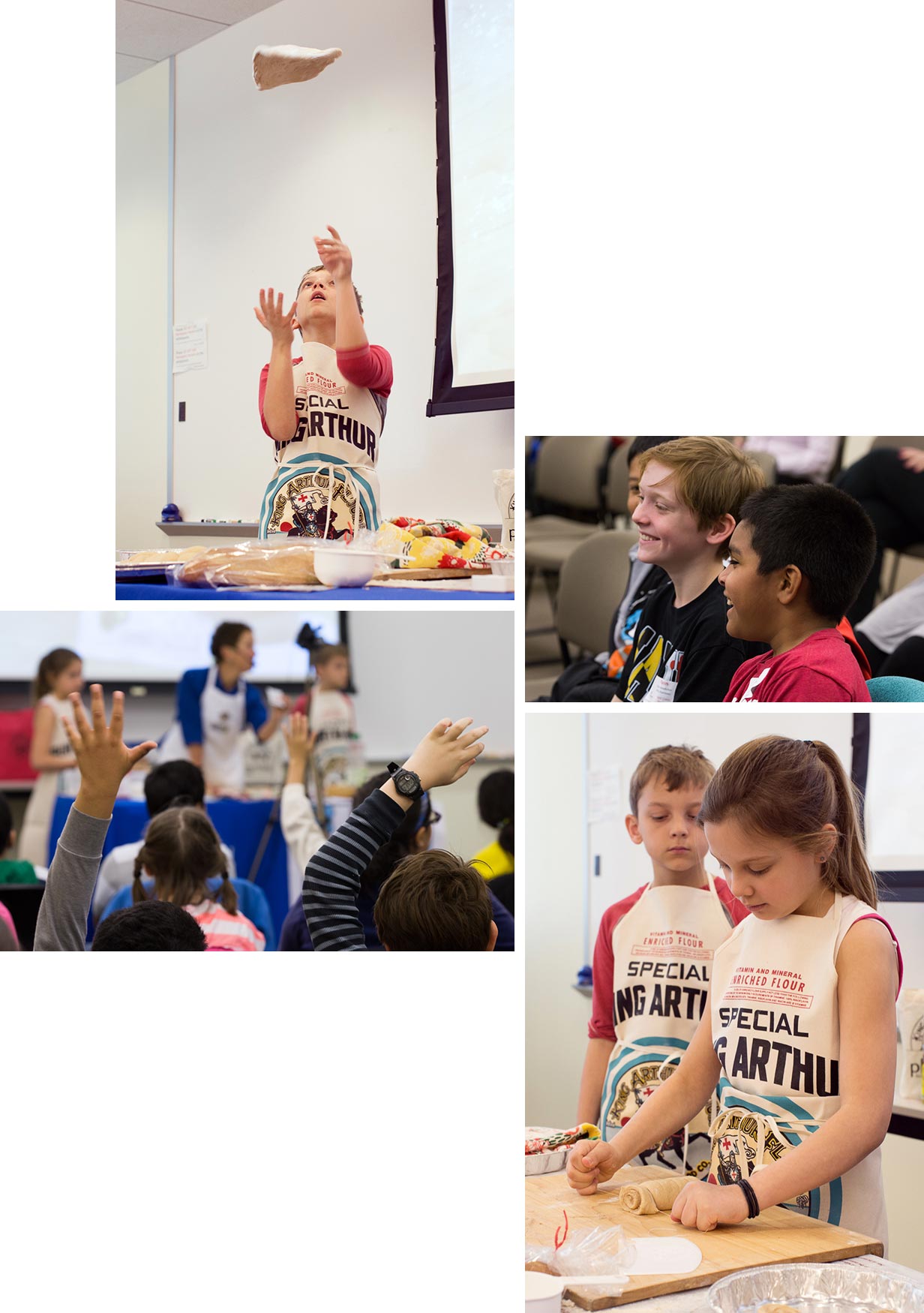 Six years ago, King Arthur Flour's Bake For Good: Kids program joined forces with Johns Hopkins to anchor the event with a baking lesson. In the years since, in this area alone, the program has taught over 2,300 fourth-grade students about the science of baking bread.
Students are thrilled to discover how their science lessons aren't such a far cry from the food they eat at home.
For 25 years, King Arthur Flour has run their Bake For Good: Kids program, sending instructors into schools across the country — over 175 annually — to teach students between fourth and seventh grade about baking. Free for schools (all materials are donated by King Arthur), the classes are designed to match the grade school curriculum. Instructors rely on concepts like fractions and changing states of matter to explain what happens when you mix up yeast, flour, salt, and water and turn it into bread dough. Students are thrilled to discover how their science lessons aren't such a far cry from the food they eat at home.

After a 50-minute lesson, each student takes home a custom baking kit in a reusable tote bag with a recipe booklet, a Red Star yeast packet, a dough scraper, two 2-pound bags of flour, and a bag for wrapping their bread. Over the weekend, students bake two loaves of bread with their families. One loaf is to enjoy at home, the second comes back to school to be given to a local charity, often a soup kitchen, senior center, or other community group.
The classes have a three-fold mission: learn, bake, and share. Over the years, Gray has carefully honed the curriculum. Students learn practical application of their science and math lessons, seeing firsthand how ideas in their textbook translate to the food they eat. Condensation isn't just a vocabulary word — it's what happens when you put a hot loaf of bread in a plastic bag too soon. Half isn't just a fraction — it's how you divide your risen dough.
Parents supervise the process, but the responsibility is entirely in the students' hands, and they take it seriously.
Since the recipe makes two loaves (one to eat and one to donate), the instructors are able to demonstrate how to vary the shape and turn half of the dough into cinnamon rolls, pizza crust, or even soft pretzels. After the lesson, kids bake at home, many for the first time. Making a simple wheat dough with their own two hands instills an appreciation for the craft of baking. Parents supervise the process, but the responsibility is entirely in the students' hands, and they take it seriously. Gray notes that "the baking at home piece is a very important part of it," because "many kids have no idea where bread comes from beyond the grocery store shelf, so [King Arthur Flour] gets a lot of love letters from parents after they see their kids engaged in baking."
The final component of the program — sharing — is the most important lesson of all. The bread donation is a way to show students the kind of impact an individual can make. Community-building is a key element of King Arthur Flour's mission, and the program helps to plant this seed in elementary school. As Johns Hopkins communications manager Ellen Poltilove puts it, "it's about learning, at 9 years old, that you can make a difference in the world. And it's right here at your fingertips."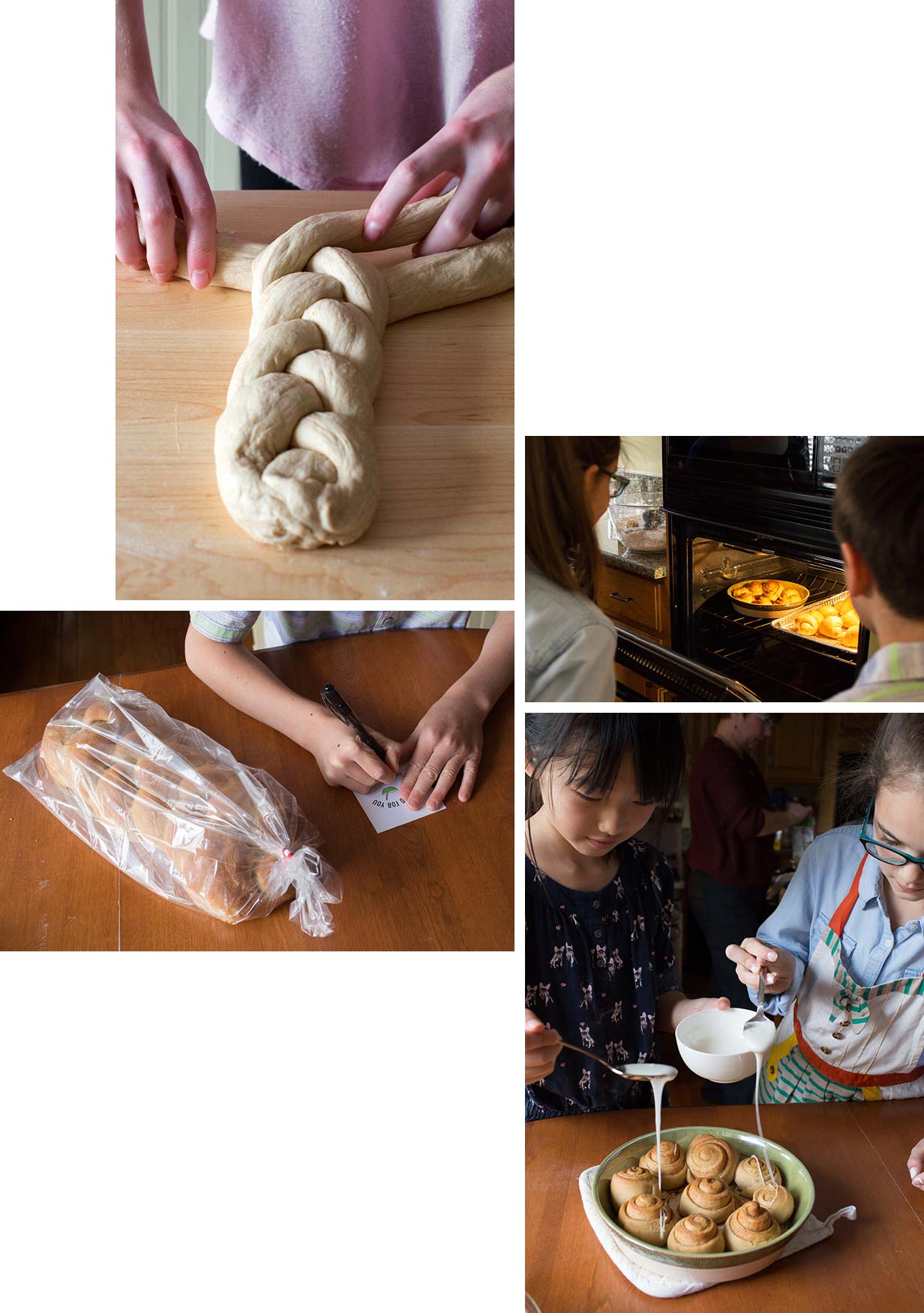 Gray has thought carefully about exactly how to structure the program for maximum educational impact. Each piece matters, or as she says, "every single aspect is good: kids learn a lifelong skill, it incorporates the school curriculum, it encourages family time, it helps people who need food, and it teaches students where their food comes from."
The annual Johns Hopkins program is a perfect stage for the Bake For Good: Kids program. The partnership greatly benefits both sides: King Arthur Flour reaches hundreds of kids in a single day, and the university engages the students with science in a meaningful, hands-on way.
Best of all, the students themselves are forever changed: "You see these kids light up. It really ignites a spark in them," says Poltilove. And when class results in deliciously warm loaves of bread, a generation of students gains a new taste for science.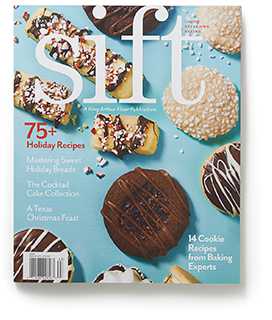 Since this article first appeared in the Holiday 2016 issue of Sift magazine, the Bake for Good: Kids program has expanded its reach to 44 states.
If you want to apply for the program, visit our Bake for Good: Kids page for more details and how to submit an application.
Want to start your kids baking right away? King Arthur offers a free online class geared toward students in fourth through seventh grade. Math, science, and reading add up to a lot of fresh-baked fun in this special mini-class from Craftsy and King Arthur Flour. Bake for Good: Kids instructor Amy Driscoll demonstrates each step of turning your dough into a classic loaf, a beautiful braid, scrumptious cinnamon rolls, popular dinner rolls, perfect pizza, and more.
Jump to Comments